Posts tagged: BBQ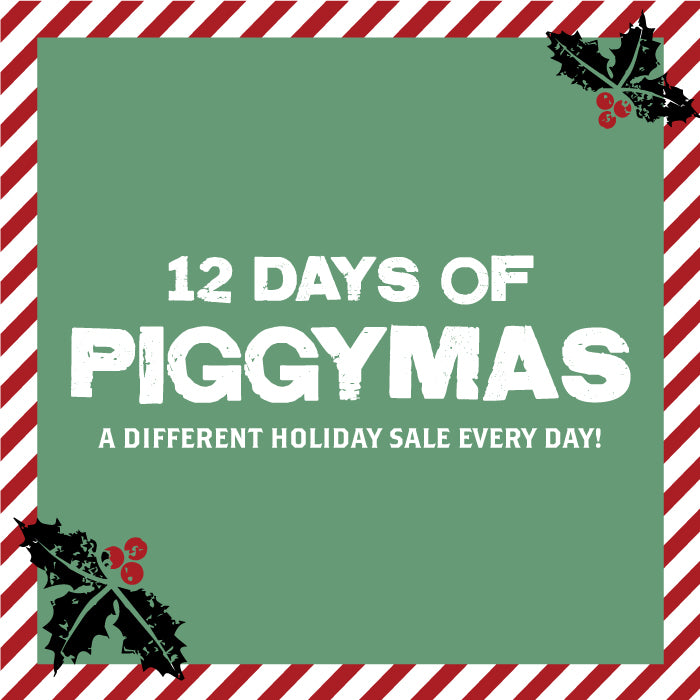 We're back with our favorite holiday giveaway and we're looking to spread a little holiday cheer...with BBQ sauce from ear to ear! :) We'll be giving away a little something tasty everyday for the next 12 days, so stay tuned on our Facebook page and find out more details below!
For our 12 days of Piggymas, we're sending you:
Day 1: A BBQ sauce sampler
Day 2: A trio of sweet and salty snacks - chocolate covered bacon, bacon jam and caramel cheddar bacon studded popcorn
Day 3: A bloody mary themed package with bloody mary mix, 1lb of peppered bacon, AND 1lb applewood smoked bacon
Day 4: 3 pounds of pulled meats; a little pork and a little chicken
Day 5: A bacon lovers dream with 3 specialty flavors of bacon
Day 6: Ribs!! 3 slabs of the good stuff, delivered
Day 7: All the sausage your heart could desire – sent to your door
Day 8: A heaping amount of BBQ brisket and baby back ribs…mmm mmm mmmm
Day 9: 6lbs of our best selling bacon and sausages
Day 10: A holiday ham to enjoy – we'll do all the cooking
Day 11: 6 slabs of ribs to enjoy for Christmas Dinner
Day 12: A mix of all of our best sellers; baby back ribs, pulled pork, BBQ sauce, brisket and bacon!
Look for instructions on how to enter each day on Facebook!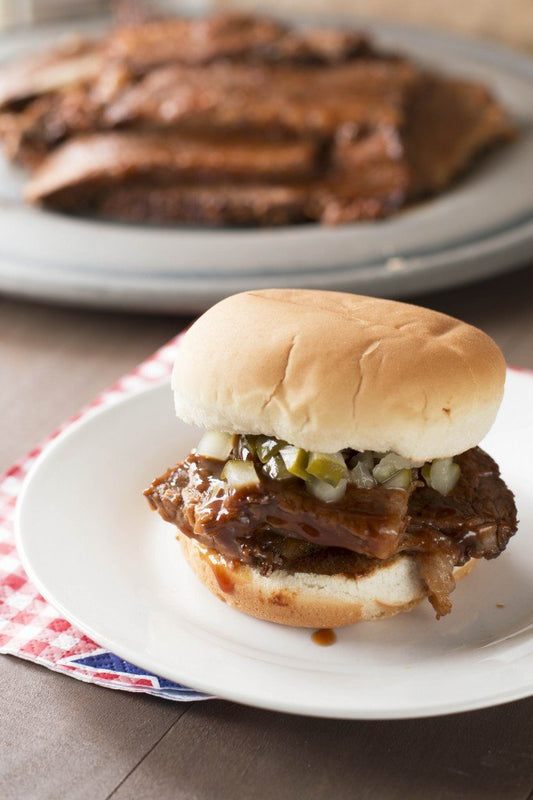 Delicious and tender smoked brisket is a hard thing to come by when you don't have hours to tend to a smoker. Nothing beats the smoke-filled flavor you get in every bite, so tender and comforting you feel like you could just melt away. I am thrilled to bring you my favorite, unbelievably simple and ridiculously tasty, slow cooker brisket. You might not be smoking it over wood chips all day, but you'll still
taste
that smoke flavor.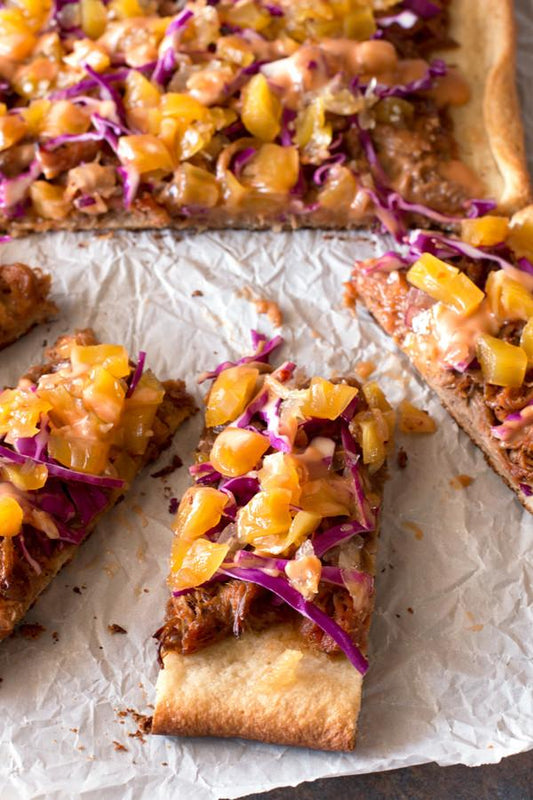 This is officially my new favorite way to devour pulled pork. I'm serious, I can't even begin to convey how much I love this flatbread. All of the layers of flavors on top of a perfectly crisp flatbread makes this dish a must have for anyone who loves pulled pork.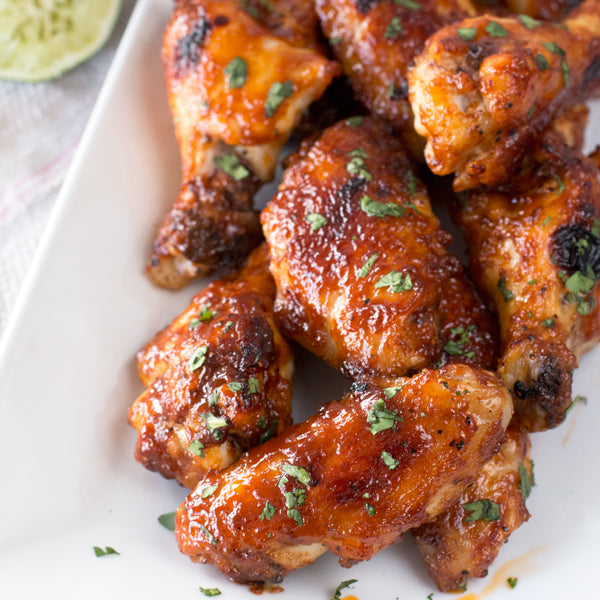 It's March and that means one thing in my foodie-obsessed brain - March Madness parties for days. That's right, that means chips and dip, guacamole, sliders, jalapeño poppers and, most importantly, crispy sticky chicken wings. Sriracha Lime Baked Chicken Wings, to be exact.
If you ever have a snack attack, March Madness-related or not, your next go-to recipe absolutely has to be these wings. They are baked to crispy perfection in the oven, and the sticky spicy and tangy glaze makes them positively finger-licking good. You'll need the wet wipes for these, folks.
The Sriracha and lime juice make this super simple glaze full of flavor that you simply can't find anywhere else. No need to go out for chicken wing perfection - time to stay in with your friends and family watching the next March madness game, or just enjoying a leisurely spring afternoon with a couple of hearty beers.
INSTRUCTIONS: Preheat oven to 400 degrees F. Line a large baking sheet with parchment paper. Set aside. In a medium saucepan over medium heat, melt 5 Tbsp unsalted butter. Once melted, whisk in 1 Tbsp flour and brown for approximately 1 minutes. Add in the hoisin sauce, Sriracha, soy sauce and lime juice, stirring to combine. The mixture should become nice and thick pretty quickly, in less than a minute. In a large bowl, combine the chicken wings, 2 Tbsp melted butter, vegetable oil, salt and pepper. Toss to coat the wings evenly.
Add the wings in an even layer to the lined baking sheet.
Brush the wings with a layer of glaze. Bake the wings for 25 minutes, turning them over halfway through and adding another coat of glaze. After 25 minutes are up, brush the wings with a final layer of glaze and broil for 4 to 5 minutes until crispy. Garnish with chopped fresh cilantro and serve immediately.
Recipe & photos by Meghan Bassett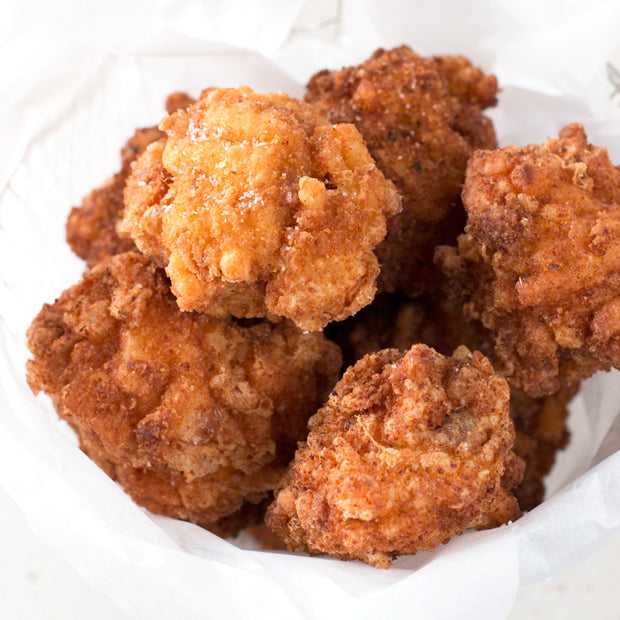 With the playoffs all wrapped up, that only means one thing. Time to get ready for the SUPER BOWL!
Since this year is the big number 50 for the Super Bowl, I'm going ALL out with the Super Bowl spread. Instead of the typical chips and dip, I'm opting to bring in the big guns with these golden, delicious fried bacon mac n cheese bites. They are crispy on the outside and warm, cheesy and bacon-packed on the inside.
The best part of this recipe is that you can simply use a few cups of leftover mac and cheese to make it! No need to let that mac and cheese sit lonely in the fridge anymore, you now have the best ever round two recipe for it that comes together in minutes.
No one will be able to step themselves at one, so be sure to triple this recipe if you've got a lot of hungry people headed your way on game day.
INSTRUCTIONS: In a medium bowl, mix together the mac and cheese and diced bacon. Form small balls (either one or two bite depending on your preference) out of the mac and cheese mixture and add them to a flat baking sheet. Once you have formed the balls (make sure you press them together tightly), cover with plastic wrap and freeze for at least 2 to 3 hours.
In a small bowl, beat the eggs. In another small bowl, combine the breadcrumbs and flour; season the coating with salt, pepper and cayenne. In a heavy bottomed saucepan, heat 3 to 4 inches of canola oil over medium-high heat. Working in small batches of 3 to 4, dredge the mac and cheese balls in the egg, then in the breadcrumb mixture. Add the the hot oil and fry until golden brown and hot in the center, approximately 4 to 5 minutes. Remove from the oil and drain on a paper towel-lined plate. Sprinkle with salt and repeat until all the mac and cheese balls are fried. Serve immediately.
Shop This Post
Pig of the Month Applewood Smoked Maple Bacon
Recipe & Photos by Meghan Bassett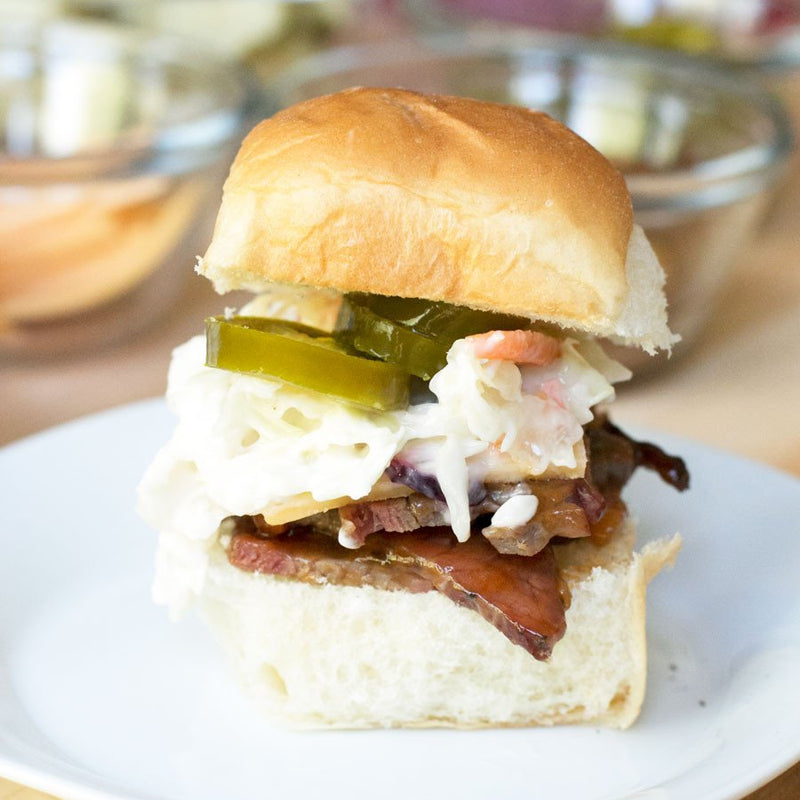 Stop trying to make the perfect sliders for everyone and have them make their own instead! Put the fun back into your food at your next gather with this super simple DIY Brisker Slider Bar. Instead of slaving away, trying to find the ideal slider that everyone will fall in love with, load up on some of our brisket and set out as many toppings as you can. All you guests will love jumping in to create their own version of the "best brisket slider", plus you can keep the options open no matter what foods some people love (or love to hate).
You can stick with a classic combo of a white bun, brisket, pickles, red onion and cheese.
Or shake things up with a Hawaiian bread bun, coleslaw and pickled jalapeños!
Not to mention all the stress this whole DIY slider bar takes off you as the host/hostess... But that's just an extra side bonus to everything loving the food and having fun, right? ;)
What You'll Need: Serves 12 to 14 2 types of slider buns (24 total) 1 lb Pig of the Month Brisket, warmed 1 red onion, thinly sliced 2 cups coleslaw 1 cup caramelized onions Sliced sharp cheddar cheese, cut into small squares Sandwich pickles Pickled jalapeños BBQ sauce Franks Red Hot Sauce
Place the buns on a large platter. Place warmed brisket on a separate large platter. Layer cheddar cheese slices on a small plate.
Add red onion, coleslaw, caramelized onions, sandwich pickles and pickled jalapeños to individual serving bowls. Place the buns to one side next to the brisket and then lay out all of the toppings in a line to make it easy for guests to pick and choose. Set out your favorite BBQ sauces and hot sauces for people to experiment with! Have fun with it!
Shop This Post
*Recipe & Photos by Meghan Bassett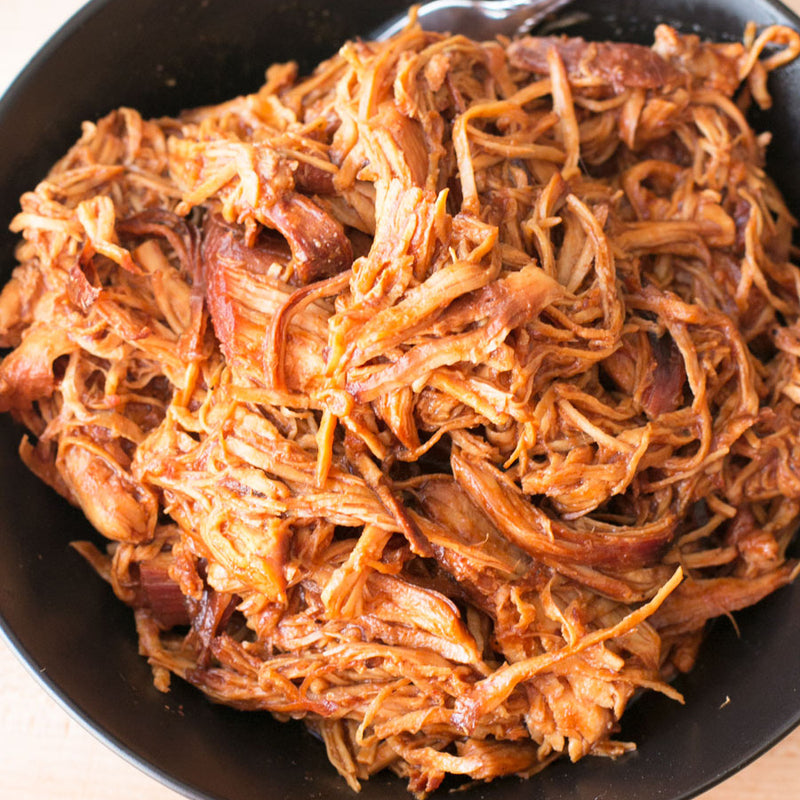 This new best ever crockpot BBQ chicken is going to be a family favorite in no time. With only 5 ingredients, all you gotta do is dump everything into your slow cooker and wait for the deliciousness to be ready. I love being able to dump meals like this before heading into the office. Coming home to a house filled with that tasty BBQ scent is more welcoming than any scented candle could ever be.
The final result is this tender, juicy chicken packed with flavor and ready to be eaten however you choose! You can eat it plain along with some veggies, make BBQ chicken sandwiches or sliders with it, or ever whip up some BBQ chicken tacos. You can even roll up the chicken with some avocado in an egg roll wrapper and fry them... The possibilities are endless with this simple recipe, and it'll keep the whole family happy! This crockpot BBQ chicken is even amazing for parties when you don't want to get stuck fussing over food in the kitchen for hours. You can simply leave the chicken in the sauce on low throughout the party to make sure it stays toasty and tasty.
No one will ever believe this recipe requires just 5 measly ingredients! Don't worry, I promise not to reveal our little secret... Let them think you slaved for hours!
[vimeo 186283536 w=640 h=360]
Best Ever Crockpot BBQ Chicken from Pig of the Month BBQ on Vimeo.
INSTRUCTIONS: Add chicken breasts to the insert of a slow cooker. Season breasts with salt and pepper. Add salt, cayenne, brown sugar and BBQ sauce. Stir briefly to coat the chicken breasts. Cook on high for 3 to 4 hours. Shred with two forks in the pan and let the chicken warm in the sauce for 15 minutes for extra flavor. Serve as sliders or sandwiches.
Shop This Post:
Pig of the Month Love Me Tender BBQ Sauce  
*Recipe, photos and video by Meghan Bassett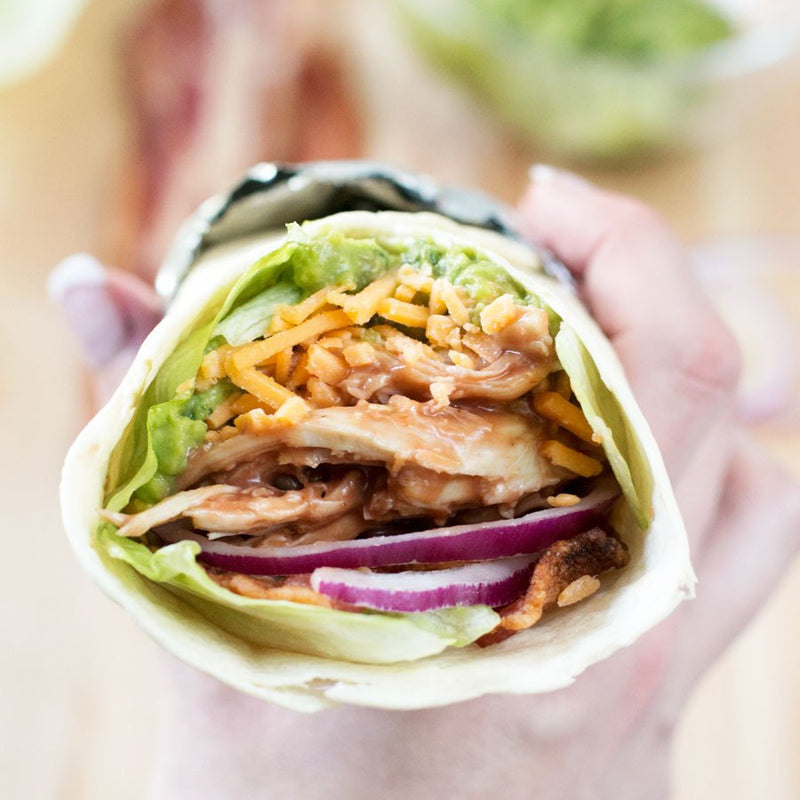 The New Year is upon us... How many of you have been able to keep those New Year's resolutions for a week?! With all the tasty meats and treats we make on the daily, it's tough to keep a healthy state of mind up in here. We might not be able to stick to a strict diet but with these 15 Guilty Pleasure Recipes That Are Actually Healthy, there's a chance the weight gain won't be as tragic as it could be in 2017. From BBQ to Tex Mex, flavorful pasta to pizza, this roundup of healthy meals will keep you in line with your New Year's resolutions (without giving up all those tasty meats - like, ahem, BACON)!
Best Ever Crockpot BBQ Chicken - Sauce + Style
BBQ Chicken & Bacon Guacamole Wraps - Sauce + Style
Bacon-Wrapped Caprese Stuffed Chicken  - Sauce + Style
Grilled Chili Rubbed Flank Steak - Sauce + Style
California Chicken, Veggie, Avocado and Rice Bowls - Half Baked Harvest
The Best Philly Style Italian Hoagie - Baker By Nature
Seared Pork with Roasted Grapes - Bev Cooks
Mexican Shredded Pork Polenta Bowls - Perpetually Hungry
Clam, Chard and Bacon Pizza - Bon Appetit
Easy Italian Chicken Skillet - Gimme Some Oven
Sloppy Jane Tex Mex Bowls - Naked Cuisine
20-Minute Lemon Pesto Penne - Pinch of Yum
Italian Sausage and Tortellini Soup - The Kitchen
Spicy Fish Taco Bowls - Jo Cooks Good luck staying a little healthier out there, piggy peeps!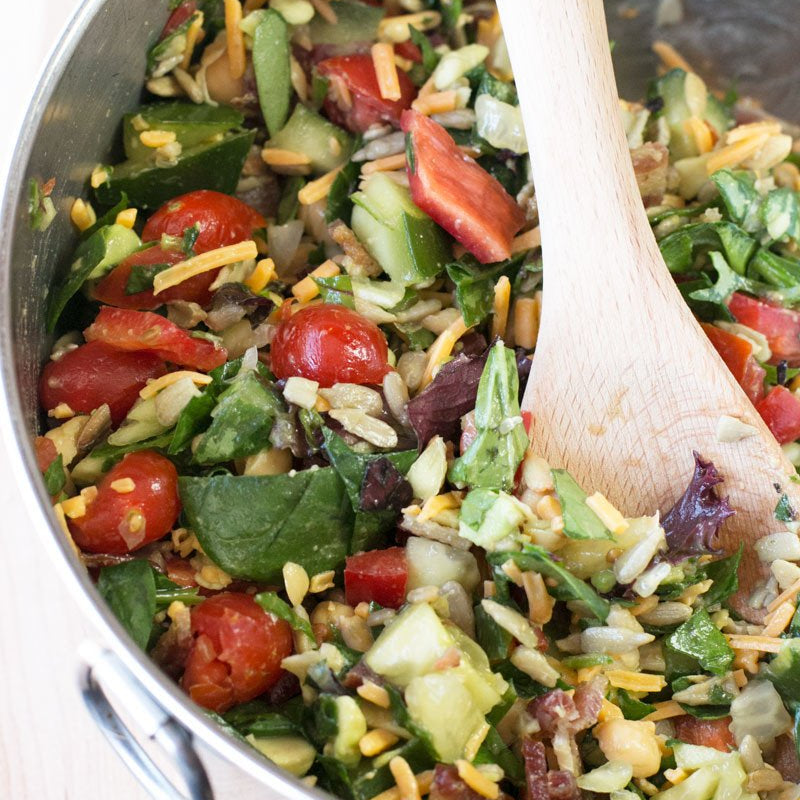 A salad?! On Sauce + Style?! I know it's a bit shocking to see something on the healthy side pop up here, but being on a teeny tiny cleanse inspired me to up my salad game. With bacon of course.
Normally I am NOT a salad person (as in I avoid it at all costs), but when a salad combines all my favorite things, I'll change my stance on it momentarily. This BBQ Ranch Chopped Salad is the perfect example of what'll get me in a salad-eating mood. Yes, this salad is loaded up with some healthy veggies, but there's also bacon and a BBQ ranch dressing that is going to blow your freaking mind.
Seriously, this salad is so good you'll actually find yourself CRAVING it. So wrong, it's gotta be right ;) am I right?
[vimeo 198218518 w=640 h=360]
BBQ Ranch Chopped Salad from Pig of the Month BBQ on Vimeo.
INSTRUCTIONS: In a small bowl, stir together ingredients for the dressing. Set aside. Add mixed greens, tomatoes, garbanzo beans, bell pepper, avocado, and cucumber to a cutting board. Chop all the ingredients up well. Add chopped ingredients to a bowl. Stir in cheddar, sunflower seeds and bacon. Top with dressing and toss to coat. Serve.
Shop This Post
Pig of the Month BBQ Applewood Smoked Bacon
*Recipe, photos and video by Meghan Bassett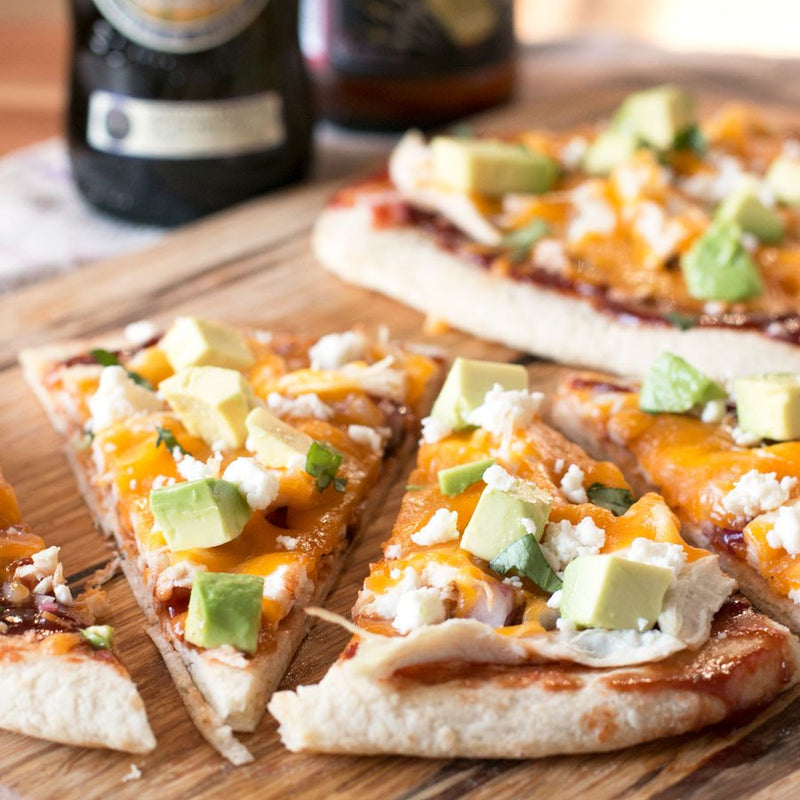 Welcome to 2017 piggy peeps! I don't know about you but I am not ready to get back into the swing of things to kick off the New Year. It feels like there are 5 million to-do's on my list and I am barely making a dent in them a few days into the new year... One thing that's falling off my radar? Dinner. I am struggling with pumping out tasty meals without spending wayyyyy too much time on them. Since I have too much to do at work, I am starting to rely on meals of popcorn and soda - NOT how I wanted to start the year.
Instead, I'm pulling out my Pig of the Month BBQ Shredded Chicken and I'm making something more than just a sandwich with it. These flatbreads are one of the easiest meals EVER and there's no one that can resist them, I don't care how picky of an eater they are. The fluffy naan with BBQ sauce, chicken and avocado is the best base for any pizza. Throw in the bite of some red onion and salty cheese and holy wow, this pizza is one the entire family will be begging you to make on a regular basis. Not to mention it's pretty dang healthy in terms of pizza, so you can feel ok about sticking to those New Year resolutions ;)
INSTRUCTIONS: Place naan on a lined baking sheet.
Spread each with half of the BBQ sauce.
Top with chicken, red onion and cheese.
Place under broiler set to high for approximately 2 to 3 minutes, or until the cheese melts.
Remove from oven, top with avocado, cilantro and a sprinkle of queso fresco. Serve.
Shop This Post
Pig of the Month BBQ Shredded Chicken
Pig of the Month BBQ Love Me Tender Sauce
*Recipe and photos by Meghan Bassett
1
2
3
4
Next »