Posts tagged: BBQ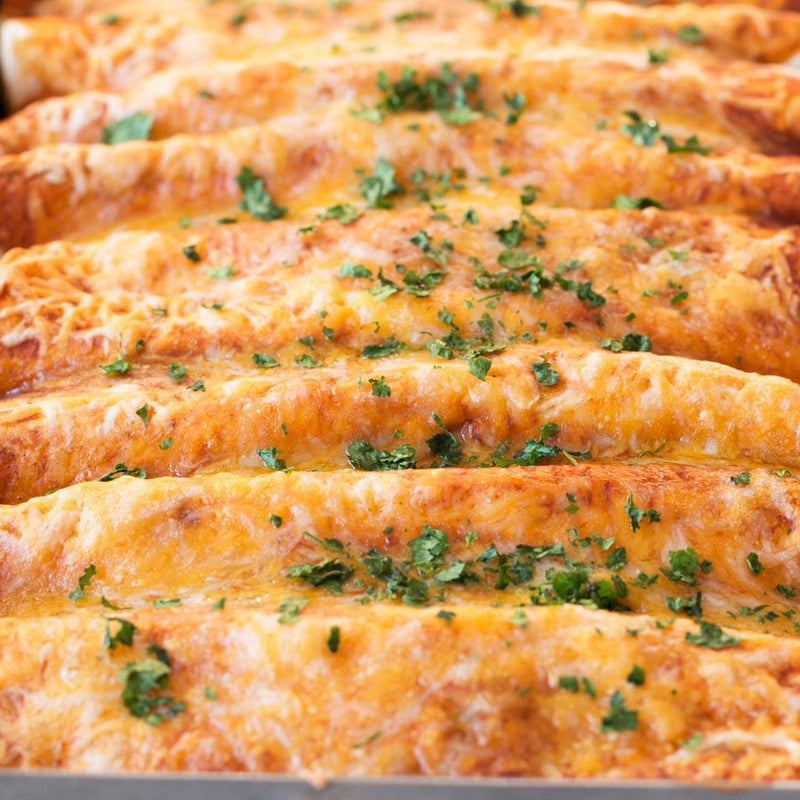 You know when you discover one of the best combinations ever? Because I just did. It's called the happy little crossing place between Mexican and BBQ....
I can't lie; it's freaking magical!
The cheesy, ooey gooey normal enchiladas recipe is made oh-so much better with the addition of BBQ sauce and the best ever Pig of the Month BBQ pulled chicken. It's a little spicy, a little sweet and totally tangy, making every bite the most dreamy thing to hit your taste buds since a slice o' crispy bacon.  If your tummy isn't rumbling at the sound of that, there's honestly something wrong with you...
Get down to Chow Town!
Serves 4 to 6 INSTRUCTIONS Preheat oven to 350 degrees. Grease a 9x13-inch baking dish. Add vegetable oil to a medium skillet and heat over medium-high heat. Add onion and cook until tender, approximately 3 minutes. Add chicken and chiles. Season with salt and pepper and cook until warm. Keep warm over low heat. Whisk together enchilada sauce and BBQ sauce in a small bowl. Set aside. Assemble the enchiladas by laying out the tortillas one at a time on a clean work surface. Spoon on 2 Tbsp of the enchilada BBQ sauce, spreading it out to coat the entire tortilla. Add 2 Tbsp of the chicken mixture down the center of the tortilla, then sprinkle with cheese. Roll up tightly and place in baking dish. Repeat with remaining tortillas. Spread remaining sauce over the top of the enchiladas. Top with remaining cheese. Bake for 20 minutes. Garnish with chopped cilantro and serve immediately.
Shop This Post
Pig of the Month BBQ Pulled Chicken  
*Recipe & photos by Meghan Bassett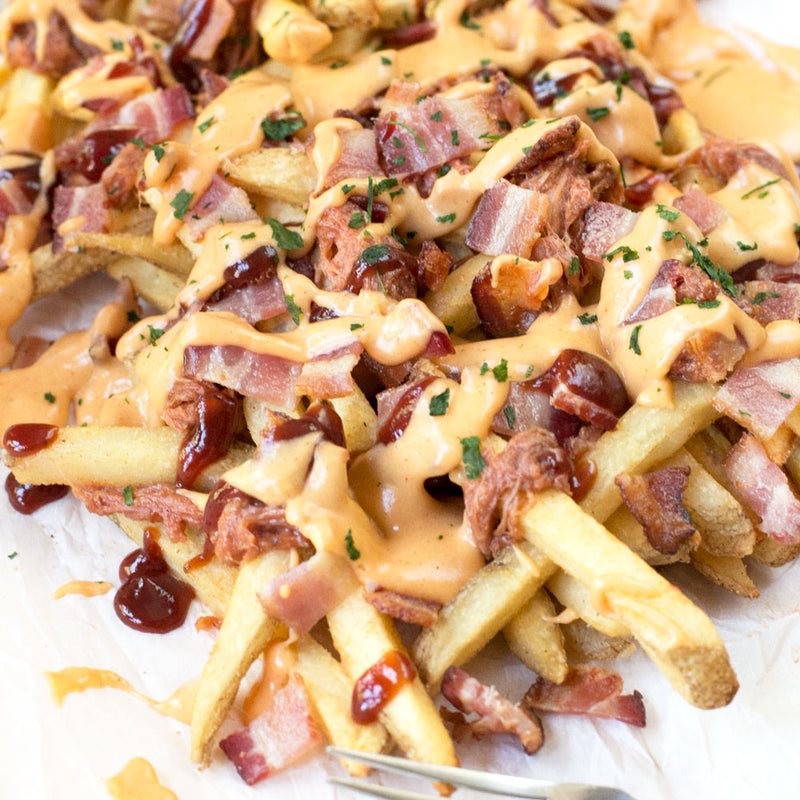 Who's ready to get down on some serious pig?? That's exactly what these Pig Overload Fries are here for! When it comes to watching that pigskin fly and rooting for my favorite team, football food is everything I need to make me happy in life. Well, along with a couple of beers of course.
It's only natural to load up all the pork and bacon on these delicious fries, because y'all know I like my fries with a side of meat, plus some extra meat. Then I load it up with some cheddar cheese deliciousness and top it all off with some BBQ sauce. Talk about a hot mess of deliciousness, am I right? Thus the best fries you will ever eat in your LIFE were born.
Seriously, these are the best fries ever. Just look at that gorgeous mess and then tell me that you can resist it... Yea, didn't think so. So go ahead, get messy. Eat it all. Feel no guilt and chug a cold brew. This IS football season, people. Get into it already!
INSTRUCTIONS: Cook French fries according the instructions on the package. In a medium saucepan over medium heat, melt the butter with paprika and cayenne powder. When melted and just starting to bubble, stir in 1/8 cup flour. Let brown, approximately 30 seconds to 1 minute, and whisk in 1 1/2 cups milk.
Continue to stir the milk mixture until it thickens, approximately 1 to 2 minutes. Remove from heat and stir in cheddar cheese until melted.
Place cooked fries in a large serving dish. Top with pulled pork and bacon. Drizzle over cheese sauce and BBQ sauce. Garnish with chopped parsley and serve immediately.
Shop This Post
Pig of the Month BBQ Pulled Pork
Pig of the Month BBQ Applewood Smoked Maple Bacon
*Recipe and photos by Meghan Bassett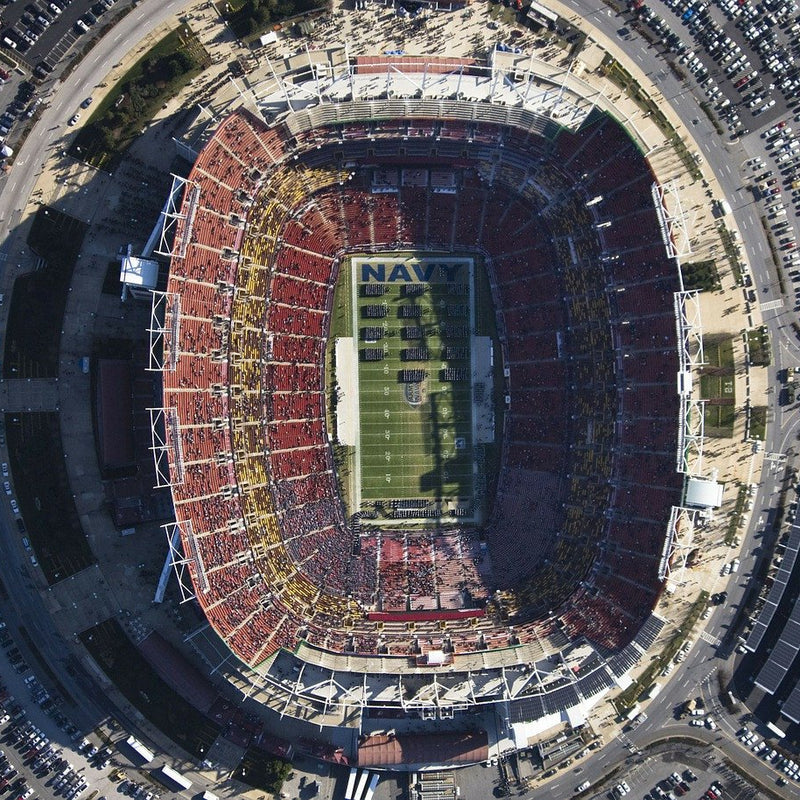 Tailgating is a must, no matter what team you are rooting for. Hitting the parking lots and getting amped up for the big game is the only way to ensure your team will bring home the victory. So you want to make sure you are hosting the most epic tailgating party ever, right? You might be a seasoned tailgater, or a complete newbie; regardless we've got the keys to assured tailgating party success right here. Buckle up BBQ peeps, it's time to get down and dirty with tailgating party prep.
Game Day Decorations You don't have to drop $500 on decorations, but making sure you are displaying those team colors loud and proud is the ultimate way to set the mood. Grab tablecloths, napkins, plates, the works. Everyone needs to know that you bleed those colors! Tailgating On the Go? Turn your SUV into table. That's right, just lay down the seats and pop the truck. Add a tablecloth to the floor and a cooler full of drinks. You can even set out your mad food spread right there so even a little rain can't ruin your party scene.
FOOD AND BOOZE Most importantly, don't skimp on the food and the booze, not to mention water for when everyone inevitably drinks too much without hydrating. Check out any of our killer Sauce + Style recipes for inspiration, or just grab a Pig of the Month BBQ feast so we can do the cooking for ya! Just make sure you're making everything handheld - no one wants to sit down with a knife and fork. Get Those Butts a Rest All that standing, boozing and eating means people will need a little rest from time to time. Be sure to grab plenty of collapsable seating for everyone! Chilly Out? Stock up on the blankets! You can even use this as an opportunity to bring in those team colors in another way.
Pump Up the Jams A mix of current jams and upbeat 80s classics are perfect for setting the mood. Don't forget to load up the team's fight song! Say Buh-Bye to Red Cups Those red cups are getting a little old aren't they? Class up your shindig with some mason jars instead. Give Them Something to Do Standing around for hours drinking and eating can get a little boring. Set up a game of cornhole, or just bring a couple balls so people can throw around the pigskin.
Grilling? If you are busting out the big guns and grilling up tasty meats for your peeps, don't forget to haul along extra charcoals and propane. Make sure you also have everything you need to safely cool down the grill and dispose of ashes before heading into the game. Follow these little tidbits of advice and you are going to have a legendary team celebration bash no one will forget. Just be prepared to be asked to host every tailgating party from now until forever.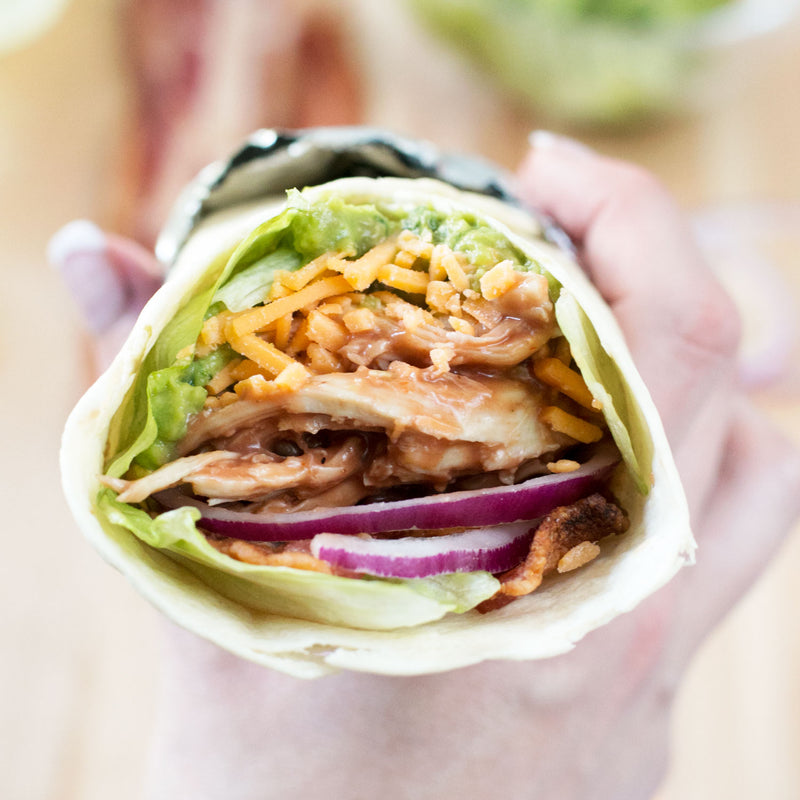 BBQ Chicken & Bacon Guacamole Wraps are here to make all your secret lunch dreams come true... I don't know about you all, but I get SO bored with eating salad and turkey club sandwiches for lunch every day. I can get into a serious rut when it comes to lunch. With all the work piling up, I never have time to really think about what I am eating unless I plan it out ahead of time.
Planning ahead is not necessarily my strong suit. As much as I would love to craft a gorgeous lunch every day, I need something that's ready to just dive into on the spot when my stomach starts rumbling. That's why this wrap is SO perfect. It's easy to make ahead of time (heck, you could even make it the night before) and it'll disappear in about 2.5 seconds. Surprised?
It's stuffed with BBQ-sauced chicken, guacamole and BACON so I'm not sure why you would be! It's better than any sandwich you'll ever grab at that sad little shop on the corner. Plus it even has some lettuce in there to make you feel even healthier as you wipe the BBQ sauce from your chin.
INSTRUCTIONS: In a medium bowl, stir together chicken, BBQ sauce and ranch dressing. Set aside. Microwave tortillas for 30 seconds to make them pliable.
To build the wraps, lay down a layer of lettuce and top with three strips of bacon in the center of each tortilla. Divide the red onion evenly between the two, then chicken, then cheddar cheese and finally guacamole.
Wrap tightly in foil and serve immediately or bring it with you for a delicious work lunch or picnic!
Shop This Post
Pig of the Month BBQ Applewood Smoked Maple Bacon
Pig of the Month BBQ Hand Pulled Chicken
*Recipe & photos by Meghan Bassett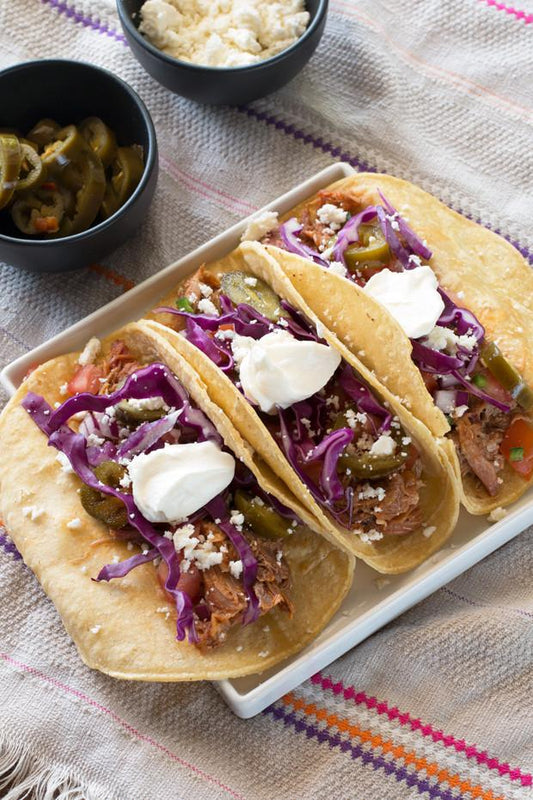 You know when you end up with too much shredded meat? You might have made one too many chicken breasts or that pork shoulder you bought is just a couple pounds too heavy. You might have a few containers of our very own tasty shredded chicken or pulled pork sitting in your freezer that you're wondering how you can use. I mean, making a tasty shredded meat sandwich is delicious don't get me wrong. After a while though, you start dreaming of new possibilities for that shredded chicken or pulled pork. There are SO many ways to use it up, from tacos to pasta, pizza to incredible casseroles! We've rounded up our top Sauce + Style recipes, along with some of our other blog favs so you'll never run out of ways to use up those meats again. Who loves ya baby? You know we do.
Shredded Chicken Chili - Ketogasm Chicken Tamale Casserole - Jo Cooks
Chicken Stuffed French Bread - Life in the Lofthouse Chicken Fajita Pasta - Kevin & Amanda
Skinny Buffalo Chicken Stuffed Sweet Potatoes - Not Enough Cinnamon BBQ Chicken Rollups - Life in the Lofthouse
Campfire Nachos - Sauce + Style "Cracked Out" Chicken Tater Tot Casserole - Plain Chicken
Pulled Pork Flatbread with Mango Chutney - Sauce + Style Pulled Pork Tacos - Sauce + Style
Loaded BBQ Pork Potato Casserole - Mom on Timeout Hawaiian BBQ Pulled Pork Calzones - Sauce + Style
BBQ Spaghetti Casserole - Spicy Southern Kitchen Chipotle Pulled Pork Lettuce Wraps with Avocado Aioli - Fashionable Foods
Pulled Pork Burrito Bowls - My Natural Family Chipotle Lime Carnitas Salad - Cafe Delites
Pulled Pork Enchiladas - Better Homes & Gardens Are you ready to get down on some meats on meats on meats? If you ran out of your fav shredded meat, just head over to our site to order more. Our shredded chicken and pulled pork is SO bomb.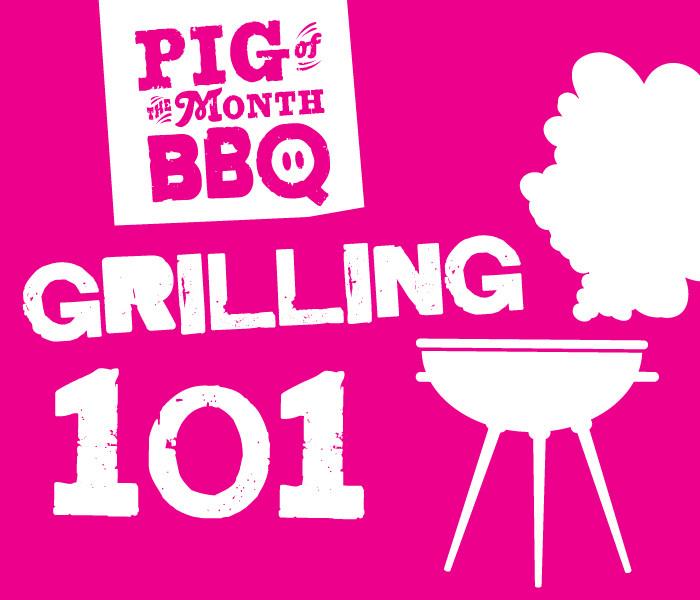 Hey BBQ peeps! Put down the lighter fluid and listen up. It's about time you quit it with that stuff and learned how to light a proper grill, isn't it?
Yea, that's what we thought too. There are some hard and fast rules that you need to know when lighting a charcoal grill. Get to know them, memorize them, and never stray from them. Trust us, we won't steer ya wrong!
Don't Use Briquettes There are wayyyy too many fillers and chemicals in briquettes. If you use them, all that nasty stuff is getting into your food and no one wants that. Real hard-wood charcoal is the only way to go - it even burns hotter without the chemicals which is a major bonus. Don't Use Lighter Fluid Lighter fluid = NO. Repeat that 10 times if you have to in your head. The chemicals in lighter fluid ruin the whole point of using real hard-wood charcoal. Don't do it. It's also a major fire hazard and no one wants to go the summer without eyebrows.
Use a Chimney Starter For REAL, folks. This is an easy one. If you've never tried lighting one before just follow these steps:
Stuff 2 pieces of newspaper in the chimney starter.
Fill the chimney with charcoal.
Light the newspaper with a match or lighter.
Remove the grate and set the chimney down in the grill, letting it burn for a bit.
Make sure there's smoke coming out of there or else that's a sign the fire's died.
When ready to grill, dump out the coals. If you need a two zone grill for direct and indirect heat, set the coals off to one side when you pour them in (they don't exactly move around easily once they're in there!)
Easy right?
Clean Your Grill Clean your grill before you use it, ideally right AFTER you use it each time. Having that leftover ash and residue will block the airflow and that will kill your fire. With these four things in mind, you'll be grilling stronger, longer and cleaner than ever before!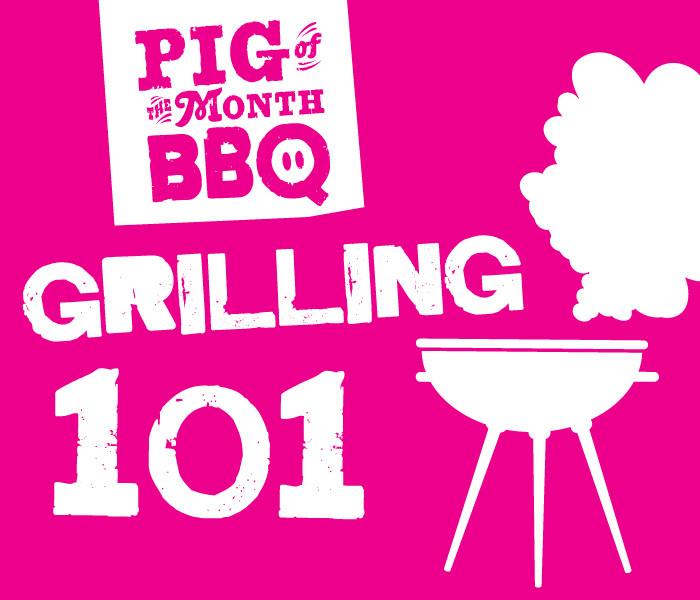 When you are grilling, there's always a little bit of pressure. It's not like cooking in a kitchen where you can control the temperature of the oven or stove within a few degrees. You're working with a grill that can sometimes be unpredictable depending on the weather and you're also dealing with direct fire. One of the most embarrassing things that can happen is having your food stick to your grill. Not only are you creating a giant mess to clean up later, the food itself looks like it's been ravaged by wild dogs. It might taste delicious, but everyone will be looking at it sideways. I mean, no one wants to eat food that looks like it's already been chewed to death. Don't make this rookie mistake, BBQ peeps. Know your Grilling 101 tips and never deal with food sticking to the grill again! Just watch the video below and you will have delicious, tasty food hot off the grill, looking pretty as a picture every time.
[vimeo 174374354 w=640 h=360]
How to Prevent Food From Sticking to the Grill from Pig of the Month BBQ.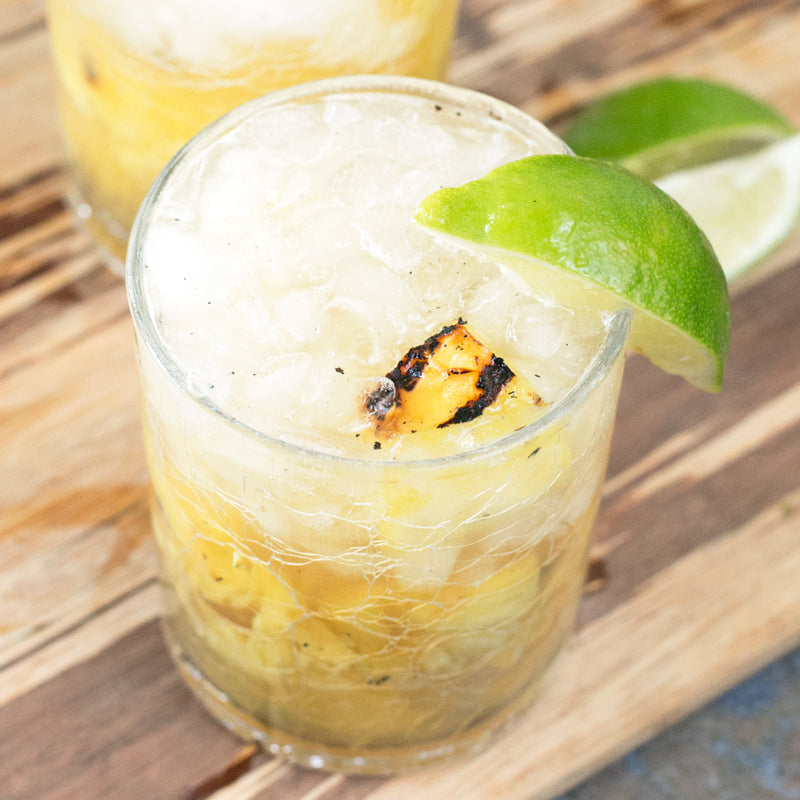 You all know we LOVE to get our grill on in the summer. There's only a few precious month's of grilling and boozing to make the most of before the cold weather sets in. As much as we still love those fall months (can you say 'tailgating heaven'?), we kind of wish we could grill all year round.
So when those warm temps hit, it's all about grilling all the things. We grill our meats, our veggies, our desserts and now, even our cocktails. Grilled pineapple is already one of our fav summer treats, so why not throw it in with some bourbon so you have something delicious to sip on while you're working hard over that hot grill? There's no reason not to, obviously.
These bourbon smash cocktails are packed with grilled pineapple so they are almost like a sangria with all that chunky fruit in there. Of course, instead of wine there's a ton o' bourbon - right up our alley for cocktail hour. Keeping those summer vibes going and working our grills as hard as possible is all we BBQ-loving peeps know how to do, after all. Cheers to the summer!
INSTRUCTIONS: In the bottom of a double old fashioned glass, muddle grilled pineapple with lime juice.
Pour in bourbon and stir. Fill glass with crushed ice and top with soda water. Stir once more to combine. Serve.
Recipe & photos by Meghan Bassett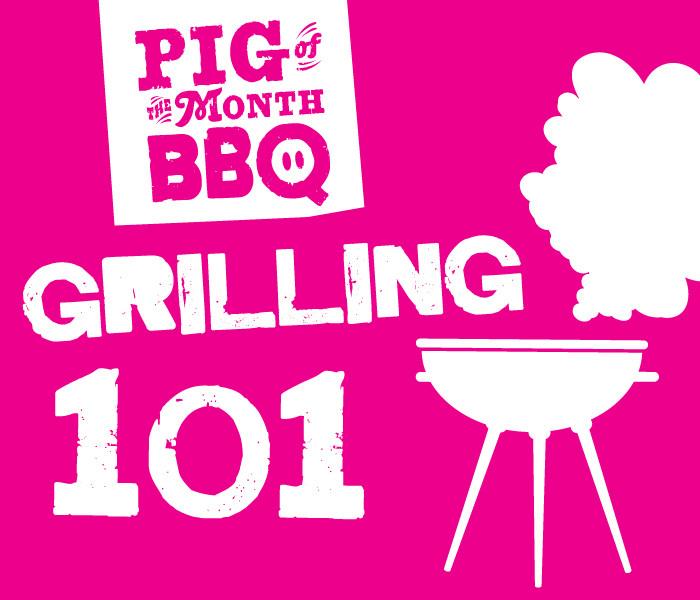 To be a true grill master, you have to know your stuff. One of the big ones that you have to know comes down to your wood. Get your mind out of the gutter! We're talking about smoking woods here. Come on now… ;) Woods can vary from mild to strong in flavor, and you have to know your woods to know what to cook with them. Some woods can overpower the food with their smoke and some woods aren't strong enough to stand up to the cut of meat, like a big ol' hearty brisket for example. Today we're sharing everything you need to know about smoking woods. Check out our comprehensive guide to smoking with all of our favorite smoking woods below... First up on the education list, it's time to get to know the flavor profiles! You have your mild fruit woods such as apple, peach, cherry and pear that are light, fruity and sweet. These tend to burn hot and can vary between slow and quick burning times. Take a step up the scale to hickory next. It's sweet and strong, heart and burns hot and slow. Then you've got maple which is sweet and light, on the milder end of the scale and burns hot and slow. Pecan and oak are more medium smoking woods, burning hot and slow. Finally, we wrap our list up with mesquite which is the big kahuna, so to speak. It's bold with lots of smoke, and burns hot and fast. Now that you've gotten the cliff notes to smoking woods, check out what to use them with this summer. From meat to poultry to fish, you've got the ultimate pairing list below to become a pro in no time. Share what you're planning on making next in the comments below!
Smoke it up grill masters!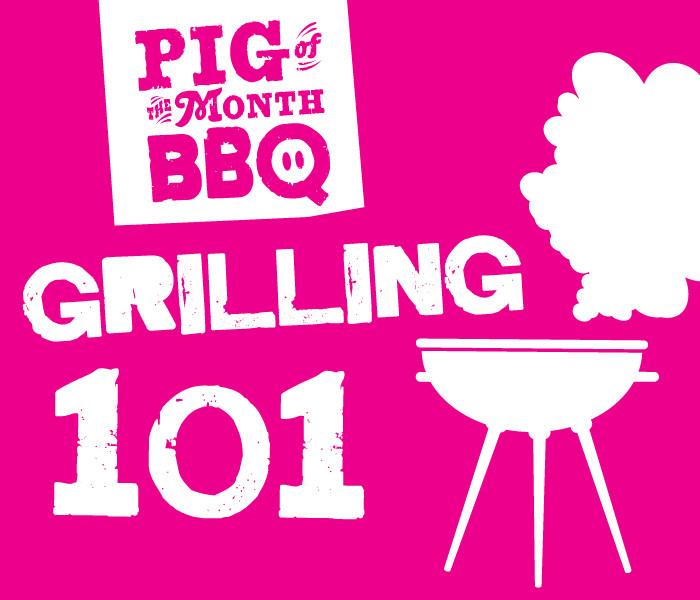 The ultimate question from anyone hoping to become a grill master this summer is... what kind of tools and grill should I be using? With all the tools and grills out there, both good and bad, it can be tough to know which ones you should be investing your money in. As grilling pros (not that we are trying to brag or anything), we want to make your grilling lives easier. So we're rounding up the top tools and grills on the market right now to make your decision-making process a bit easier. All the essentials are here! It doesn't matter if you are a seasoned grilling pro or just starting out, this roundup of tools and grills is the one guide you should be reading this summer. It's about time you finally invested in some good tongs isn't it...? The answer is yes. It's always yes. Who's ready to spend a little cash? It's all for a worthy cause... Delicious, juicy BBQ.
Best Grilling Tools
You can't start off a roundup of grilling tools without some reliable tongs. These OXO Good Grips Tongs are sturdy and will stand the test of time, without breaking the bank.
Yes, you need to actually clean that grill. We know it's a pain, but no one wants to eat meat that tastes like the shrimp you grilled last night. Grab this Weber brush and thank us later.
Brushing those ribs with sauce? Use this bomb extra long OXO Silicone Basting Brush for maximum coverage.
In our top grilling questions roundup, we told you the benefits of using a chimney starter versus lighter fluid. This Weber Rapidfire Chimney Starter will get things heating up fast.
If you are never sure when those steaks hit medium rare, skip the fuss and use this handy ThermoPro Wireless Remote Meat Thermometer. Yep, you read that right - it's wireless.
Know a wannabe grill master or simply want to have them all to yourself? Snag this Cuisinart Stainless-Steel Grill Set or this BBQ Grill Tools Stainless Steel Set and you'll be set for life.
A grill master would never be caught without his/her skewers. These X-Chef Stainless Steel Skewers are the BOMB.
Have all the essentials now? Great! Top it all off with some Cedar Grilling Planks to hit some next level grilling this summer.
Best Grills
All of these grills are seriously killer when it comes to getting the most bang for your buck. You've got top of the line down to more moderate options here, for both gas and charcoal. Take a look at each and decide which one is right for you! All we know is, if you don't have a grill or want an upgrade, there's no better convincing that a pile of tasty barbecued meats.... Can you see it? We sure can.
Char-Broil Classic 4-Burner Gas Grill
Weber Original Kettle Premium Charcoal Grill
Napoleon Rodeo Charcoal Kettle Grill
Weber Performer Deluxe Charcoal Grill
Lodge Pre-Seasoned Sportsman's Charcoal Grill
Disclosure: This posts contains affiliate links. If you purchase a product through an affiliate link, your cost will be the same but Pig of the Month BBQ will automatically receive a small commission. As always, we love your support!
« Previous
1
2
3
4
Next »