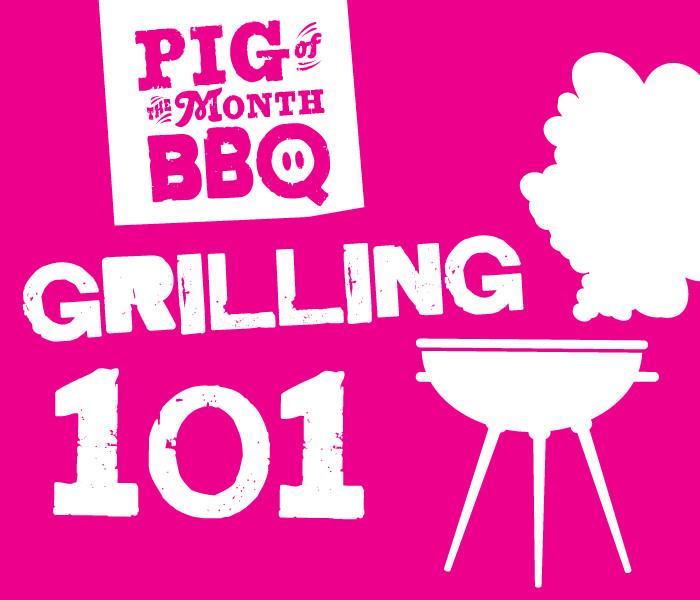 If you're anything like us, you're already busting out the charcoal and grilling ALL the things. Whether you are grilling up ribs, veggies or a whole lot of burgers and hot dogs, there's nothing better than the smell of burning coals and smoke. We get all sorts of grilling questions every year, from gas or charcoal preference to how to clean the grill. So this year we're going to be covering a ton of grilling recipes, techniques and tips and tricks throughout the summer! To kick things off, we've rounded up our most-asked grilling questions. Before you fire up those grills again, get to know your stuff!
What's better gas or charcoal? This is the ultimate grill question we get! There are a few factors that come into play to help you decide. First, price. Gas is more complicated and will cost more because of all the moving pieces inside the grill. Charcoal is a simpler grill so it will always be substantially cheaper. Second deciding factor? Taste. Gas burns clean so you'll get the char marks, but you won't get any special flavor in your food like using charcoal will get ya. Of course, gas grills will get to temperature faster and charcoal grills tend to take a long time to get hot. Gas grills are also a lot easier to clean up since charcoal grill cleaning can send ashes scattering all over the place. That's a lot of back and forth, you guys. Yea, we know. If you want our honest opinion, charcoal always wins out when it comes down to it. You get better flavor, better heat management and you aren't forking over as much money. When in doubt, go with the coal. Do I need to preheat my grill? YES. You need to preheat your grill whether you are using a gas or charcoal grill. A good rule of thumb is about 15 minutes for high temperatures (i.e. for searing) or 10 minutes for lower temperatures (i.e. for fish and such). Getting that preheat done before you start grilling the food will also help remove some of the residue left on the grill from past cooking.
How do I season my new grill? Oooohhhh look at you with your new killer grill! You are probably itching to get to grilling, but you have to season that baby first. No one wants the new grill residue on their food, trust us. Start with a cold grill and rub all the cooking surfaces down with canola oil. Wipe off any excess oil with a paper towel and light the grill. Let the grill heat up for about 15 minutes, or until the oil starts burning off and smoking. At this point the shiny finish that came with the grill should be turning dark brown or bronze. Turn off the grill and once coal, add a light coat of oil. To keep your grill in tip top shape, repeat this last light oil application step after each time you grill. Why you should never ever use lighter fluid...ever It's all about the taste and smell. If you use lighter fluid, you're going to get all those chemicals on your food. It's really pointless to use lighter fluid when you can use a chimney starter so easily. Plus no one wants to smell like lighter fluid all day. Yuck.
How do I deal with flare-ups? First, get that food off the grill so it doesn't get charred to oblivion. Then cover it up and wait it out. Flare ups survive off of the oxygen in the air so if you can smother it with the lid of the grill, do that. No matter what you do, DON'T squirt a water bottle on a flare up. It will get an ashy mess everywhere and it doesn't actually subdue the flare. Be sure to keep an extinguisher nearby though… Just in case.   Keep checking the blog for new Grilling 101 features throughout the summer. Your grill master status depends on it.  
Don't forget to check out our featured grilled recipes!
Grilled Chili Rubbed Flank Steak
Lemon Pepper Bacon Wrapped Shrimp Skewers
Recipes & recipes photos by Meghan Bassett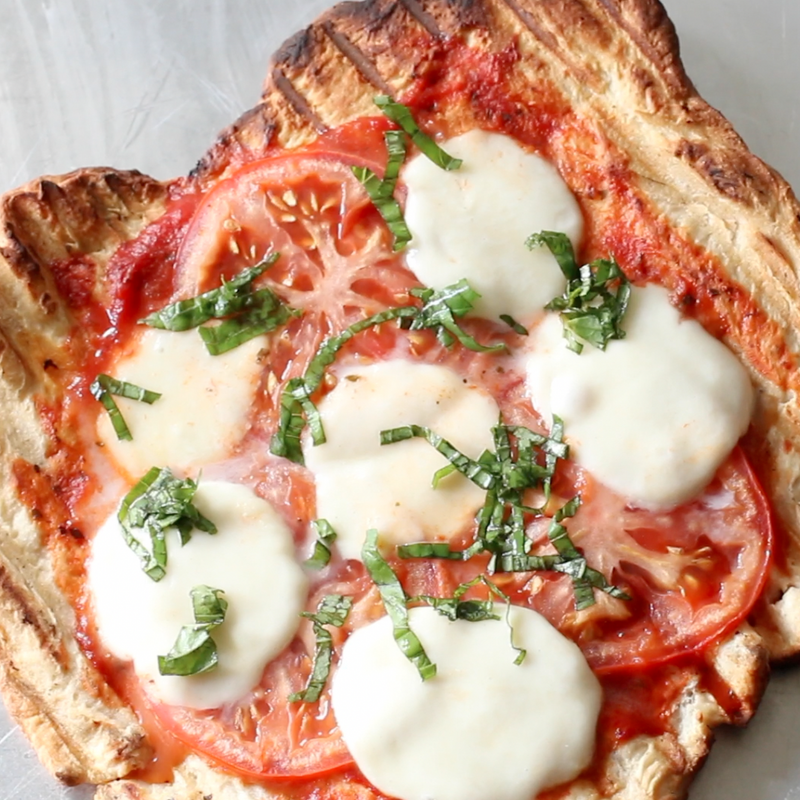 Want that killer grilled pizza at home? Just follow our super simple How to Grill Pizza video!
You might think grilled pizza is a luxury that you can only get when you go out, but you couldn't be more wrong! As long as you have a grill, a rolling pin and some toppings, you are mere minutes away from the best pizza of your LIFE. Grilled pizza is my all-time favorite thing to eat during the summer. The flavor from the charcoals and the crispy texture are totally drool worthy! I always keep some pizza dough in the freezer or refrigerator just for this reason during the summer. You can throw whatever toppings you want to and in about a half hour, you have the best pizza ever - no pizza oven or pizza stone required! Directly on the grill is the only way to do it, am I right? So just follow the video below the recipe card and get to grilling already!
Pig of the Month BBQ on Vimeo
  Recipe, Photos & Video by Meghan Bassett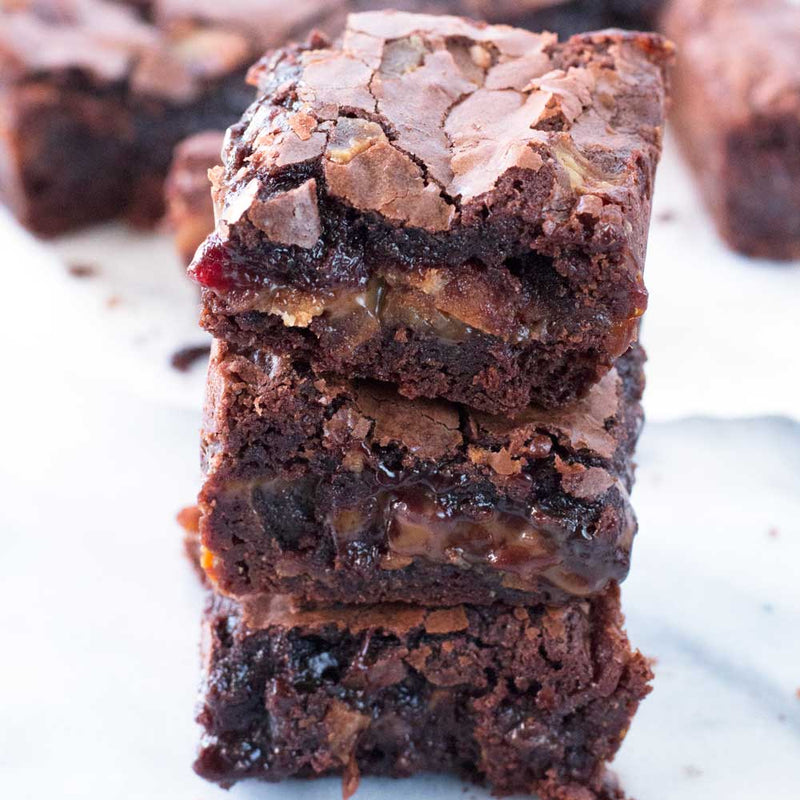 Bacon Bourbon Caramel Stuffed Brownies are an indulgent, decadent dessert that combines our love of bacon, chocolate, caramel and BOOZE. 
When we go for dessert, we go big. Real big. Like, Super Bowl big.
These bacon bourbon caramel stuffed brownies are the latest food porn creation that we absolutely can't get enough of. If you thought brownies couldn't get any better, well you're just plan wrong. We stuffed ours with a rich, creamy bourbon caramel and lots of our top selling bacon to really send it over the edge.
It's sweet, it's savory and it's so gooey and decadent, you might just faint after the first bite. If you really want to bring your A-game to your next party, picnic or to spoil your significant other, this is the ultimate recipe to bust out. Everyone will be freaking the hell out the moment you set these out. Then just sit back and watch as everyone clammers to get another one before they're all gone.
Chocoholics, bacon-lovers, bourbon-obsessed fans and caramel-cravers UNITE. This is the only dessert you need to make for the rest of your darn life. For real.
INSTRUCTIONS: Preheat oven to 350 degrees F. Grease an 8x8 baking dish with nonstick spray & line with parchment paper.
Make brownie batter according to the instructions on the package. Pour half the batter into the baking dish and bake for 20 minutes. Cool for 20 minutes.
Combine caramels, cream and bourbon in medium saucepan over medium heat. Stir constantly until smooth and creamy, about 4 to 5 minutes.
Pour in caramel then add layer of chopped bacon, reserving 1/4 of the chopped bacon for later.
Top with the rest of brownie batter and sprinkle with remaining bacon. Bake for 20 more minutes and cool completely before cutting.
Shop This Post
Recipe & Photos by Meghan Bassett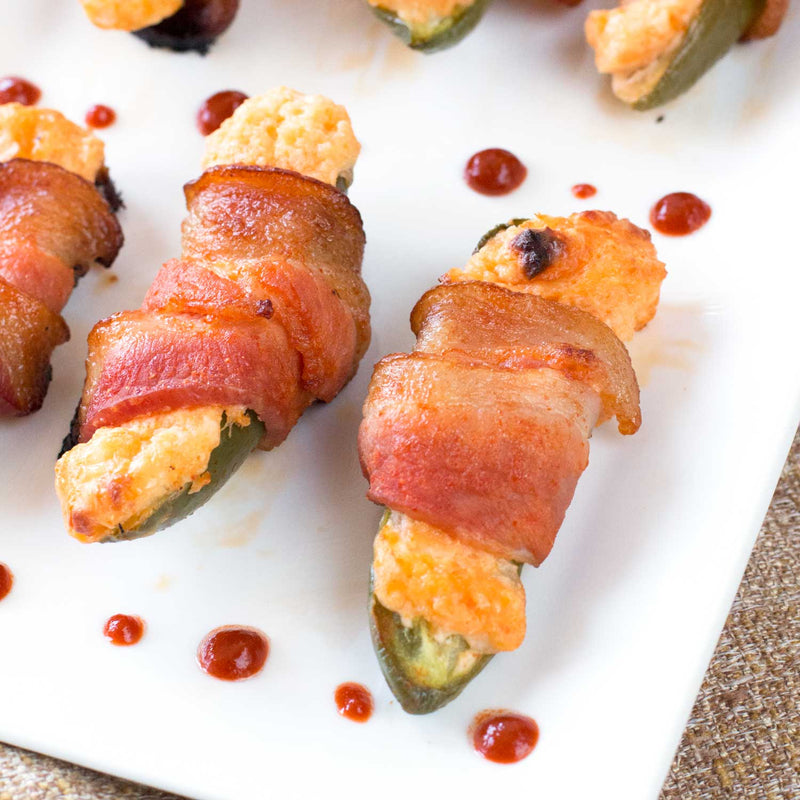 Sriracha Bacon Wrapped Stuffed Jalapeños really bring the heat! This spicy, crispy and creamy appetizer will win over everyone at your next party. 
Wrapping things in bacon is kind of a specialty of mine. If anything just isn't quite working for me in the kitchen, I usually head straight for the extra pound of bacon I always have sitting in my refrigerator. You know, just in case there's a bacon-related emergency - which surprisingly happens on a weekly basis for me. You'd be surprised by just how many things can be wrapped in bacon! Potatoes, rolls, scallops, shrimp, meatloaf, yea this list could go on forever. Today I'm bringing you one of my new favorite bacon-wrapped recipes that'll light a fire on your tongue and in your belly.
Sriracha Bacon Wrapped Stuffed Jalapeños are the best combo of crispy, creamy, spicy and extra cheesy. The Sriracha bacon and added Sriracha in the filling make these little guys just the right amount of wicked. You'll feel the heat but you won't be burning your taste buds off with each bite. Pro tip: try slicing a sausage or brat in half and stuffing it with one of these stuffed jalapeños. Next level amazingness right there, I'm just saying.
INSTRUCTIONS: Preheat oven to 400 degrees. Grease a baking dish and set aside.
In a medium bowl, beat together cream cheese, cheddar cheese, Monterrey Jack cheese, garlic, Sriracha and salt with an electric mixer until smooth and well-combined.
Add the halved jalapeños to the baking dish and fill each one evenly with the spicy cream cheese filling.
Wrap each stuffed jalapeño half with half a slice of Sriracha bacon, securing with a toothpick. Bake for 25 minutes, or until the bacon is as crispy as desired. Serve immediately.
Shop This Post:
Pig of the Month Sriracha Bacon  
Recipe & Photos by Meghan Bassett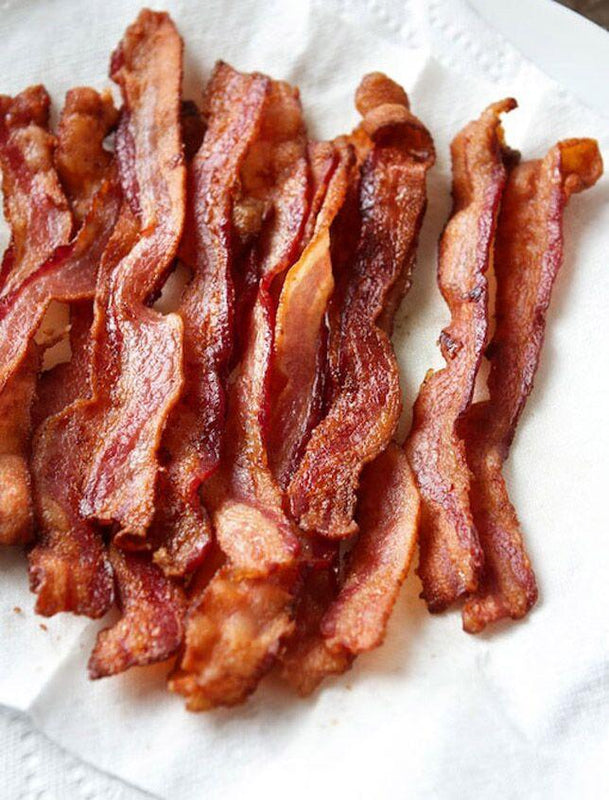 We've all been there in a pinch. The oven is taken, you've got 5 things working on the stove and you still need to cook up some bacon. This is the moment that knowing the one trick to microwave perfect bacon really comes in handy! There may be some naysayers out there that don't believe that microwaving bacon really works. Well, we're here to prove you wrong. If you do it right, you'll get that oh-so crispy, swoon-worthy bacon every time.
So what's the one trick you need to know? It's simple - paper towels. You might be scratching your head right about now - I mean, we don't blame you. What's so special about paper towels? We swear, paper towels really are the key here. They soak up all that extra grease as the bacon cooks in the microwave so you end up with bacon that is anything but soggy. No globs of gross, pathetic bacon here. We respect our bacon WAY too much to let that happen on our watch. Are you ready to know the secret of the paper towel power when it comes to microwaving bacon?
Here's how to do it right, every single time: Step 1: Line a baking dish (one that'll fit in your microwave, of course) with not one, not two, but THREE layers of papers towels. Step 2: Add bacon in a single layer and cover with another two layers of paper towels. Step 3: Microwave the bacon for 1 minute per slice of bacon. Check on it and cook in 30-second additional increments as needed. The price time will depend on the thickness of the cut and how much you are cooking at one time. Step 4: Once cooked through, transfer the bacon to a clean plate (NOT lined with paper towels) so the bacon slices don't stick to the paper towels as it crisps up. Step 5: Enjoy deliciously cooked bacon, right from your microwave! Did we just blow your mind?
Calling all grillers, smokers, BBQ fans and summer food fanatics!  It's our favorite time of year - grilling season. This is the time of year where we pull on the big kid gloves and strut our stuff around the grill every weekend. Grilling is what we live for, but we can't keep all of our secrets to ourselves... That's why we're bringing you a whole new video series dedicated to our grilling secrets. You heard us right, we're kicking off a new video series for the summer grilling season called "We Grill What YOU Want!" It's all about YOU this grilling season, piggy peeps. In our new rad series, we're going to cover all the top grilling recipes, tips and techniques that you are dying to know. Do you wish you knew how to properly start up your charcoal grill? Are you desperate to cook fall-of-the-bone tender ribs? Or are grilled vegetables giving you a run for your money? It doesn't matter what you want to know; no question is too big or too small for us! So how will it work? That's where YOU come in, BBQ-lovin' fans. Leave us a comment below telling us what YOU want to learn about grilling! You could be a first-timer wondering how to grill chicken, or you could be a seasoned pro that really wants to discover how take your grilling skills to the next level of awesomeness. Just tell us what you want to know about grilling below! Your question could get featured in our video series, which will give you some serious bragging rights around the grill at your next BBQ. We'll be choosing a handful of the top questions and then we'll highlight them in our upcoming "We Grill What YOU Want!" series. Comment below now for a chance to be featured! Happy grilling!
Spicy Dry Rub Ribs are smoky and spicy, perfect for your next BBQ gathering! The ribs come out extra tender and juicy, hot off the grill and finger-lickin' good.
It's finally grilling season! Is anyone else as excited as I am about this? I've been busting out the grill almost every single night for dinner and I gotta tell you, that grilled charcoal flavor is what I've been missing since Labor Day. Chicken, vegetables, burgers, steaks, I've been grilling it ALL.
Recently though, I've been obsessed about perfecting dry rub ribs on the grill. I've baked them more times than I can count, but nothing gets that BBQ flavor packed into the ribs like a grill. These ribs are the best combination of spicy and smoky on the outside, with perfectly tender and juicy meat on the inside. Seriously, the meat practically melts in your mouth with every bite.
Your next BBQ NEEDS these ribs. Or even your next weeknight meal! Rub the ribs down and wrap 'em up before you head to work in the morning, then just throw 'em on the grill when you get home. You'll have grilled up ribs in under an hour that'll curb all those BBQ cravings you've been having lately.
INSTRUCTIONS: In a medium bowl, stir to combine salt, brown sugar, paprika, garlic powder, onion powder, chili powder, cumin, black pepper and cayenne pepper.
Rub down the racks of ribs with the dry rub evenly. Wrap the racks in plastic wrap and let rest in the refrigerator for at least 2 hours.
Heat up your grill to 350 to 400 degrees and rub the grill racks with olive oil. Remove the ribs from the plastic wrap and place directly on the grill. Cook for 40 minutes, turning occasionally, until crispy and cooked through.
Allow the racks to rest 10 minutes before cutting into them and serving.
Recipe & photos by Meghan Bassett
Grilled Chili Rubbed Flank Steak is a super simple way to take your grilled steak to the next level of flavor. The wet rub infuses so much tastiness into the flank steak - you can't go wrong with this one!
Are you ready for Memorial Day?? I am tweaking my menu daily for the annual massive BBQ I host, and I was feeling a little stumped earlier this week. That is, until now. This grilled chili rubbed flank steak changed ev-er-y-thang for me once I made it. It's one of the simplest recipes I've ever created, but in terms of flavor, it's ridiculously complex. All of the flavors in the rub perfectly compliment the meat and that really good charred taste you get from the grill.
You can easily serve this bad boy as is or there are about a million other ideas you could try out. Throw it on a salad. Chop it up and add it to a grilled pizza. Serve it with tons of grilled veggies. You can even make some killer tacos or a Tex Mex inspired sandwich with this meat. The options are limitless and it'll take you less than 15 minutes of active cooking time to make it happen.
So obviously, you should be adding this recipe to your Memorial Day menu right NOW.
INSTRUCTIONS: In a small bowl, combine garlic, lime juice, chili powder, salt, cumin, paprika and cayenne.
Stir until all ingredients are incorporated.
Rub the paste all over the steak. Let rest in the refrigerator for 15 to 20 minutes.
Grill the steak on a hot grill or grill pan over medium-high heat until it reaches your desired doneness (approximately 6 to 8 minutes for medium). Remove from grill and rest for at least 10 minutes before slicing and serving.
Serve alone over rice, with salad or even in tacos! Give it an extra squeeze of lime for a touch of extra brightness too. Recipe & photos by Meghan Bassett
Meat Lovers Pizza Roll Ups are a meat lover's dream! Packed with three different Pig of the Month BBQ meats, you will be in BBQ pizza heaven with every bite. 
I have a serious obsession with BBQ pizza as soon as the warmer weather comes around. Aside from grilling everything and anything in sight, I'm all about the easy appetizers or snacks that I can munch on (or turn into a whole meal) while I messing with whatever I have going on the grill. These meat lovers pizza roll ups are my favorite solution for something summer and BBQ-packed that doesn't require me whipping out the grill - or something that doesn't take up that valuable real estate, you know?
Whether you are making these as a snack or appetizer for a party, or turning these into a fun weeknight BBQ meal for the family, you won't find a more meaty recipe out there that's this easy.
All you have to do is roll out some dough, stuff it with meat, bake and top with cheese. Just don't forget the extra BBQ sauce to serve them up with!
Sling me a beer and lets cheers to those tasty, juicy meats!
[vimeo 166821716 w=640 h=360]
Meat Lovers Pizza Roll Ups
from
Pig of the Month BBQ
on
Vimeo
.
INSTRUCTIONS:
Preheat oven to 425 degrees. Grease a baking sheet and set aside. On a lightly floured surface, roll out the pizza dough into a large 9x13-inch rectangle. Brush the dough with 1/3 cup of BBQ sauce. Layer on the pulled pork, brisket and bacon. Roll the dough up tightly and slice in 3/4-inch thick rolls. Add rolls to prepared baking sheet. Bake for 15 minutes. Sprinkle the rolls with cheese and broil until the cheese is melted. Serve immediately with extra BBQ sauce for dipping.
Shop This Post
Pig of the Month BBQ Pulled Pork
Pig of the Month BBQ Brisket
Pig of the Month BBQ Applewood Smoked Maple Bacon
  Recipe, photos & video by Meghan Bassett
March Munchie Madness is BACK!
Do you know what time it is?? GAME TIME. March Madness is upon us with all your fav teams facing off in that good ol' tournament they call 'the big dance.' This has become our fav time of the year because it's the one time we can bust out all the munchies we want while streaming the TV loud and proud at work all day, erryday. We root for the upsets and keep extra beer in the fridge, ready to celebrate at a moment's notice. The question is, what will YOU be snacking on to fuel yourself through all those nail biter moments of the final games? It's your turn to tell us what you want to chow down on…March Munchie Madness is BACK! We're here to kickoff our 2016 Bracket Contest. It's simple – every few days tune in to vote for your favorite snack pick in 4 different categories, all the way to the final munch off. There will be a prize given for each winning game! The March Munchie Madness Prizes Are: Morning Meats: Win a bacon & sausage sampling including 1lb each of our best-selling sausages and 1lb each of our best-selling bacon Desserts:  Win a duo of chocolate covered bacon and applewood bacon salted caramels Classic BBQ:  Win 6 racks of ribs and sauce to slather it all down Snacks:  Win the ultimate sweet and salty snack pack For the semi-finals and finals you could win a HUGE package with tons of tasty meats and treats! Here's the March Munchie Madness breakdown:
Facebook
and
Instagram
to see more ways to enter.
« Previous
1
…
15
16
17
18
Next »