Posts tagged: tomato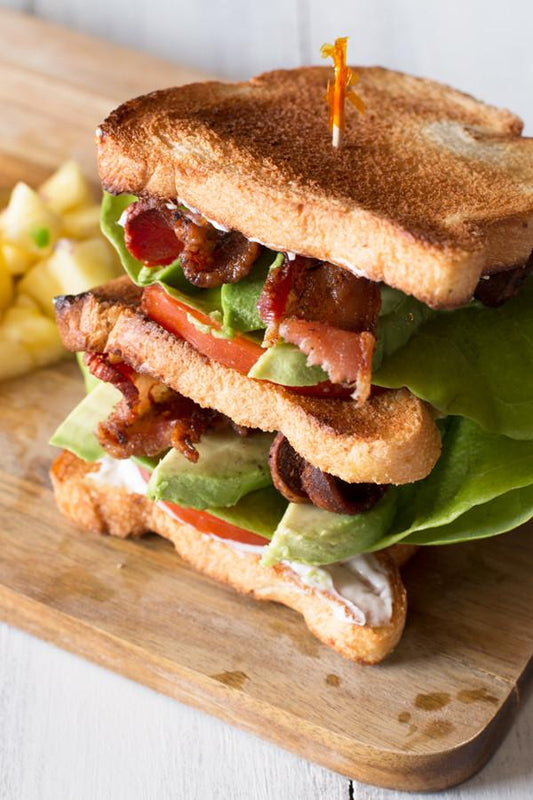 Who doesn't love a fun new twist on a classic sandwich? This the king of all sandwiches because of it's double-decker thickness and classic flavors, with the additional Jamaican Jerk seasoned bacon – holy YUM! Throw in a little mango pineapple salsa on the side and I am ready for a dip in Caribbean waters after I polish this bad boy off.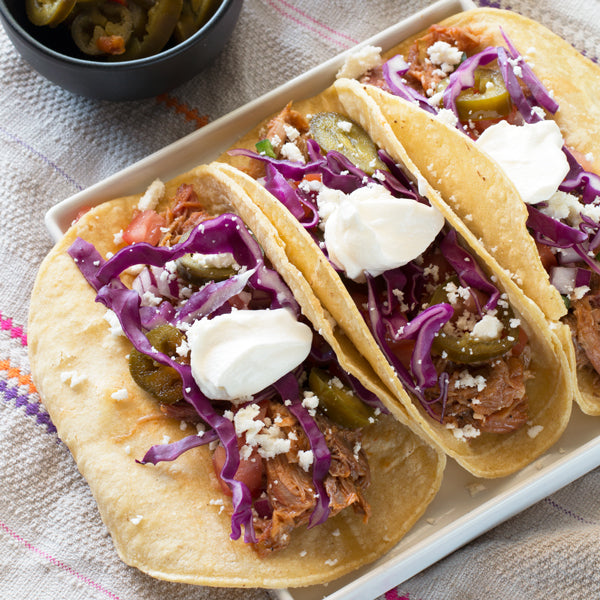 These pulled pork tacos are going to rock. your. world. I have to admit, I have a bit of an obsession with tacos. It's the one meal I can't seem to live without for more than a week. These pulled pork tacos are my new favorite in my taco rotation.
They are packed with pulled pork, pico de gallo, pickled jalapenos, cabbage, cheese and sour cream – everything you could every want from a taco! They are so flavorful that every bite practically explodes in your mouth. You'll find it extremely difficult to stop yourself from eating more than 3… or 4… or 5…
INSTRUCTIONS: Warm the corn tortillas for 15 to 30 seconds in the microwave to make them easier to work with. In a small bowl, stir together the ingredients for the quick pico de gallo. To assemble the tacos, pile on the pulled pork, pickled jalapeños and red onions, and pico de gallo. Top with queso fresco and sour cream. Serve immediately.
Shop This Post
Recipe & photos by Meghan Bassett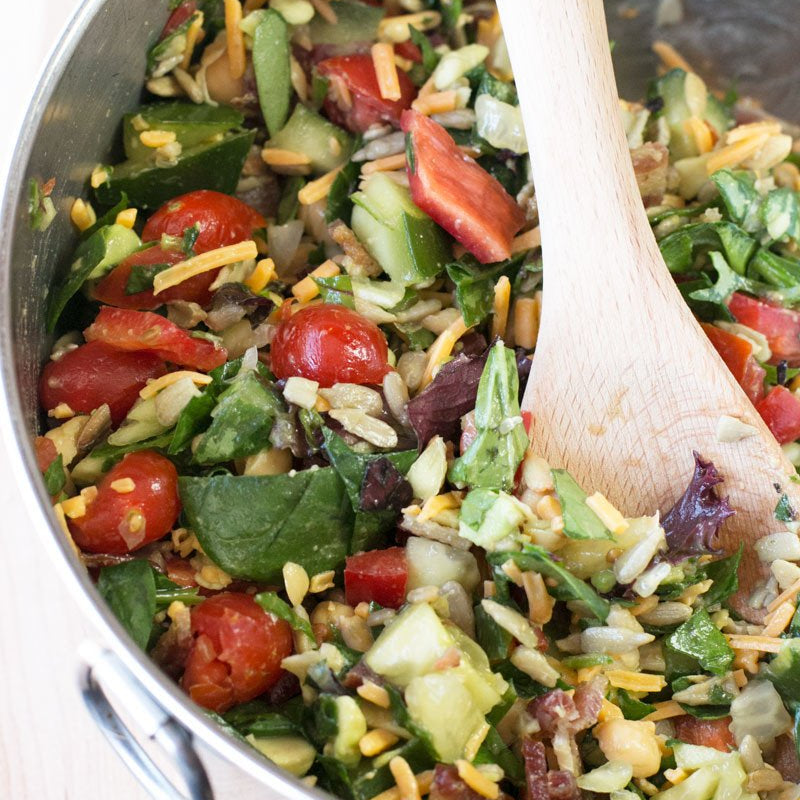 A salad?! On Sauce + Style?! I know it's a bit shocking to see something on the healthy side pop up here, but being on a teeny tiny cleanse inspired me to up my salad game. With bacon of course.
Normally I am NOT a salad person (as in I avoid it at all costs), but when a salad combines all my favorite things, I'll change my stance on it momentarily. This BBQ Ranch Chopped Salad is the perfect example of what'll get me in a salad-eating mood. Yes, this salad is loaded up with some healthy veggies, but there's also bacon and a BBQ ranch dressing that is going to blow your freaking mind.
Seriously, this salad is so good you'll actually find yourself CRAVING it. So wrong, it's gotta be right ;) am I right?
[vimeo 198218518 w=640 h=360]
BBQ Ranch Chopped Salad from Pig of the Month BBQ on Vimeo.
INSTRUCTIONS: In a small bowl, stir together ingredients for the dressing. Set aside. Add mixed greens, tomatoes, garbanzo beans, bell pepper, avocado, and cucumber to a cutting board. Chop all the ingredients up well. Add chopped ingredients to a bowl. Stir in cheddar, sunflower seeds and bacon. Top with dressing and toss to coat. Serve.
Shop This Post
Pig of the Month BBQ Applewood Smoked Bacon
*Recipe, photos and video by Meghan Bassett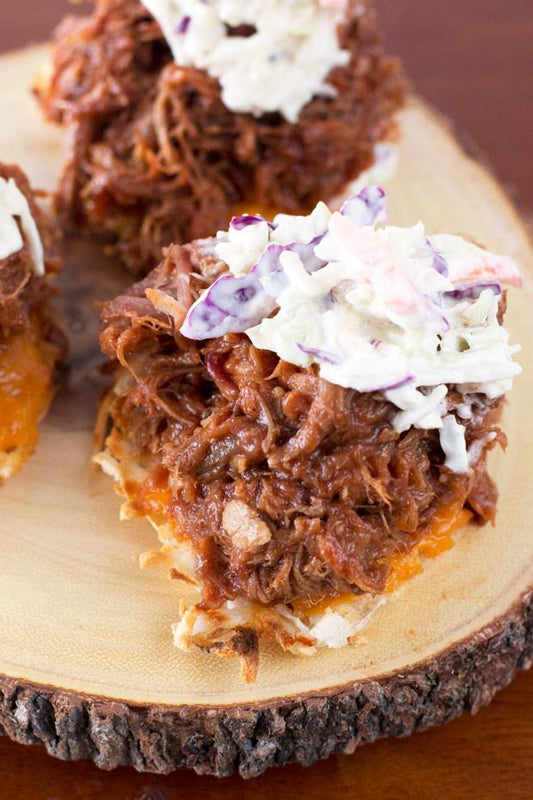 I can hardly believe that summer is almost over. Before you know it, Labor Day will have come and gone, the pumpkin spice lattes will be EVERYWHERE, and you'll be missing those long lazy summer afternoons of grilling so hard. I don't know about you, but I am packing in as much summer celebration as I can right about now. My weekends are all about party-hoppin' and backyard BBQ'ing. Of course, being the food-obsessed lady I am, I've got to bring the good stuff when I roll up to a party I'm not hosting. Now is the time to bust out those summer appetizers you have been meaning to make all summer long. You only live once right? Eat that extra slice of bacon. Stuff that sandwich with an extra slice of cheese. Get down on those summer flavors like there's no tomorrow, because soon tomorrow will be bringing that snowstorm that you've been dreading. I've rounded up some of my personal favorite summer appetizers below that are serious crowd-pleasers. These appetizer recipes are so bomb dot com, peeps! For real, I can promise you that you will never be heading home with leftovers.
Black Bean Jalapeño Poppers - Oh My Veggies Open-Faced Pulled Pork Sliders - Sauce + Style
Super-Size Bruschetta - Delish 5-Ingredient Garlic and Herb Cheese Bombs - Spoon University
Hawaiian BBQ Sliders - Nosh and Nourish Bacon-Wrapped Dates with Goat Cheese and Rosemary - Spoon University 
Lemon Pepper Bacon Wrapped Shrimp Skewers - Sauce + Style
Bacon Jalapeño Cream Cheese Poppers - Spoon University
Green Fries (AKA Crispy Baked Avocado Fries) - Sauce + Style
Tater Tot Nachos - Spoon University Hogs in a Blanket - Food & Wine Enjoy these last days of summer before it's too late!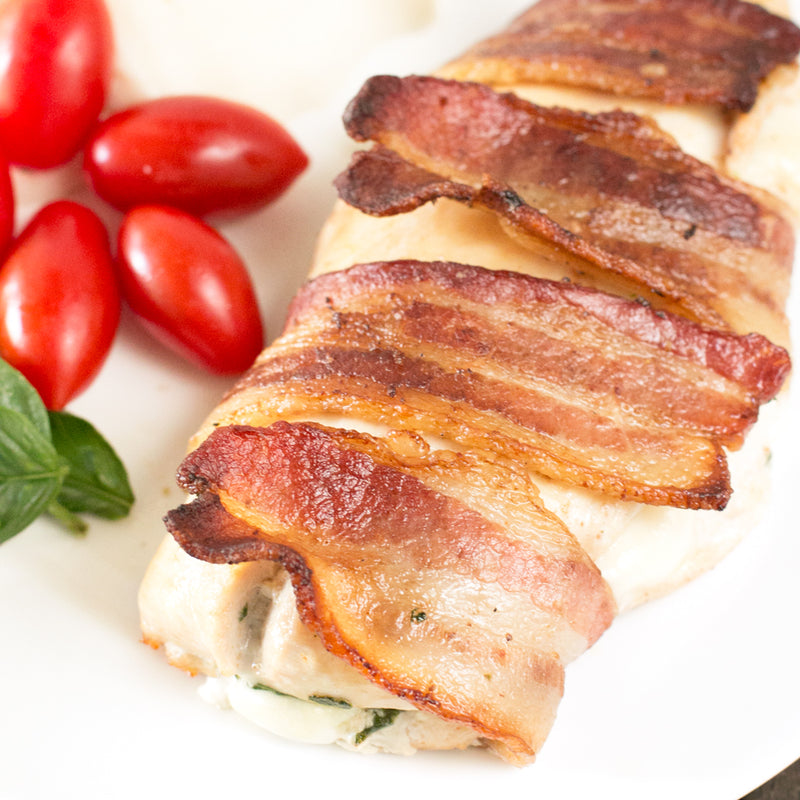 Weeknight meals can get really boring, am I right? I mean, there's only so many times you can cook a plain ol' chicken breast, match it up with some veggies and not get bored to tears. Sometimes you need to shake things up during the week, but you don't have time to master an insane recipe. Enter Bacon-Wrapped Caprese Stuffed Chicken.
These chicken breasts are going to seriously wow your family and I bet you already have most of these ingredients in your home (or even growing in your backyard for you herb and veggie growers out there!). All you have to do is stuff your chicken breasts with those classic caprese salad ingredients, wrap them in bacon and boom. Dinner is done in less than 30 minutes and your satisfying everyone at the table. I LOVE caprese salads - the mozzarella, the tomato, the basil - it all screams freshness and summer to me with every bite. Chicken lends itself so well to this combo so it only makes sense to stuff everything INSIDE the chicken breast. That combined with the bacon-wrapped exterior leaves you with one of the moistest pieces of chicken you'll ever dig into.
This will become a family fav in no time!
Bacon Wrapped Caprese Stuffed Chicken from Pig of the Month BBQ on Vimeo.
INSTRUCTIONS: Preheat oven to 400 degrees. Split each chicken breast in half. Stuff with 2 half slices of mozzarella, one half slice of tomato, and a generous sprinkle of chopped basil. Pinch the edges of the chicken breast closed.
Wrap each chicken breast with two slices of bacon, making sure the edges of the bacon overlap all on the same side of the breast. Heat olive oil in a large oven safe skillet over medium-high heat. Sear the chicken breasts for 2 to 3 minutes on each side, making sure to rotate to get it seared on all four sides. Place skillet in the oven and bake for 10 minutes, or until cooked through. Serve immediately.
Shop This Post
Pig of the Month Applewood Smoked Maple Bacon
*Recipe, photos and video by Meghan Bassett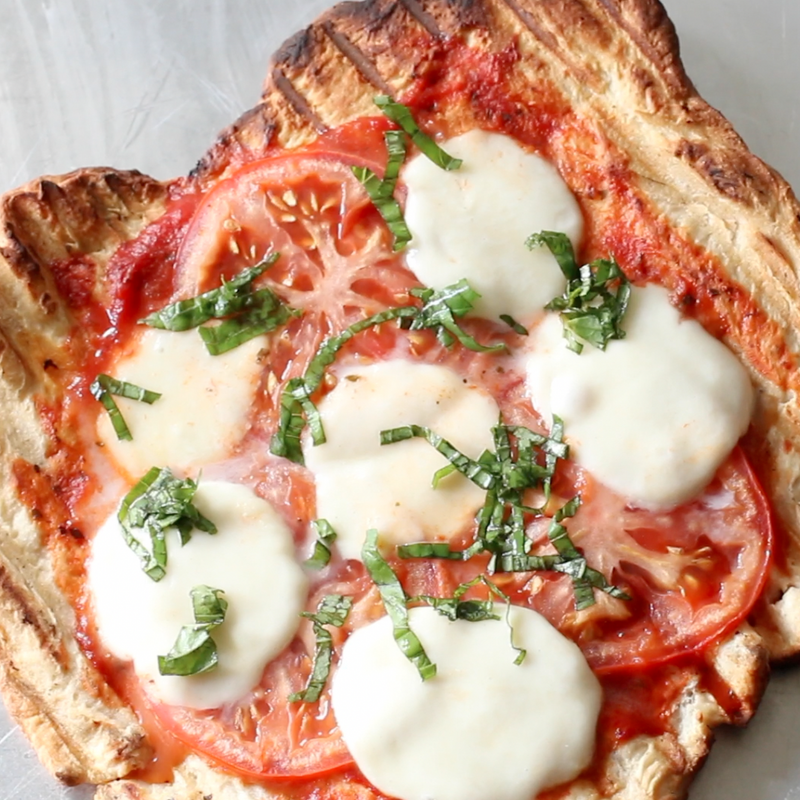 Want that killer grilled pizza at home? Just follow our super simple How to Grill Pizza video!
You might think grilled pizza is a luxury that you can only get when you go out, but you couldn't be more wrong! As long as you have a grill, a rolling pin and some toppings, you are mere minutes away from the best pizza of your LIFE. Grilled pizza is my all-time favorite thing to eat during the summer. The flavor from the charcoals and the crispy texture are totally drool worthy! I always keep some pizza dough in the freezer or refrigerator just for this reason during the summer. You can throw whatever toppings you want to and in about a half hour, you have the best pizza ever - no pizza oven or pizza stone required! Directly on the grill is the only way to do it, am I right? So just follow the video below the recipe card and get to grilling already!
Pig of the Month BBQ on Vimeo
  Recipe, Photos & Video by Meghan Bassett