Posts tagged: tailgating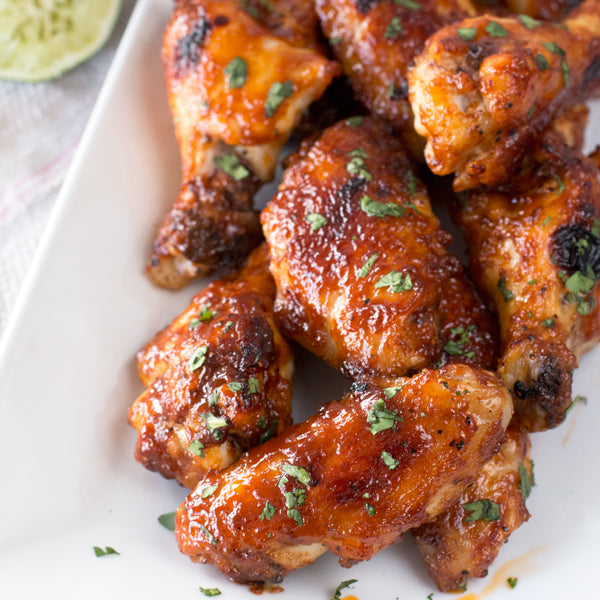 It's March and that means one thing in my foodie-obsessed brain - March Madness parties for days. That's right, that means chips and dip, guacamole, sliders, jalapeño poppers and, most importantly, crispy sticky chicken wings. Sriracha Lime Baked Chicken Wings, to be exact.
If you ever have a snack attack, March Madness-related or not, your next go-to recipe absolutely has to be these wings. They are baked to crispy perfection in the oven, and the sticky spicy and tangy glaze makes them positively finger-licking good. You'll need the wet wipes for these, folks.
The Sriracha and lime juice make this super simple glaze full of flavor that you simply can't find anywhere else. No need to go out for chicken wing perfection - time to stay in with your friends and family watching the next March madness game, or just enjoying a leisurely spring afternoon with a couple of hearty beers.
INSTRUCTIONS: Preheat oven to 400 degrees F. Line a large baking sheet with parchment paper. Set aside. In a medium saucepan over medium heat, melt 5 Tbsp unsalted butter. Once melted, whisk in 1 Tbsp flour and brown for approximately 1 minutes. Add in the hoisin sauce, Sriracha, soy sauce and lime juice, stirring to combine. The mixture should become nice and thick pretty quickly, in less than a minute. In a large bowl, combine the chicken wings, 2 Tbsp melted butter, vegetable oil, salt and pepper. Toss to coat the wings evenly.
Add the wings in an even layer to the lined baking sheet.
Brush the wings with a layer of glaze. Bake the wings for 25 minutes, turning them over halfway through and adding another coat of glaze. After 25 minutes are up, brush the wings with a final layer of glaze and broil for 4 to 5 minutes until crispy. Garnish with chopped fresh cilantro and serve immediately.
Recipe & photos by Meghan Bassett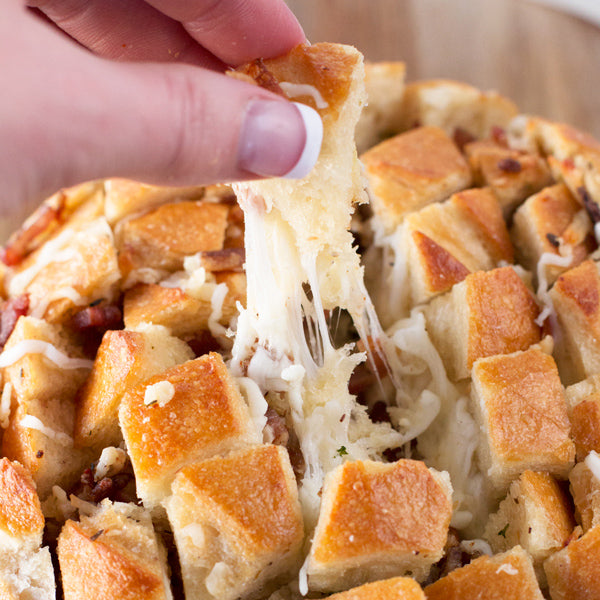 I'm about to blow your minds with some serious bacon and cheese action. You may think that it couldn't get any better than the fried mac n cheese we busted out earlier this week, but we just outdid ourselves. Yet again.
Pull apart breads are my new favorite recipe to whip out for a party, especially a huge spread like the one I'm hosting on Super Bowl Sunday in a couple weeks. This bread is so ridiculously simple, there's really no excuse for you to NOT make it. In about 5 minutes of prep time, you'll be a hot 15 minutes away from a cheesy, bacon-packed mess of a bread that everyone will gladly get messy for. Just take a gander at that cheese....
Ok one more... All that cheese and bacon stuffed into the cracks of that warm, crusty bread...
Enough torture, I promise. But seriously, can't you just taste the deliciousness that this cheesy, bacon bite must pack? Are you hungry yet?
INSTRUCTIONS: Preheat oven to 350 degrees F. In a small bowl, stir together melted butter, garlic, salt, pepper, parsley, thyme and oregano. In another small bowl, combine the two cheeses and bacon. Gently toss to combine.
Using a serrated knife, cut the bread on a diagonal angle into 1-inch diamond shapes, making sure you don't slice all the way through the loaf of bread.
Gently open up the cracks with your fingers. Drizzle each with a tsp of the butter mixture and a pinch of the cheese and bacon mix.
Wrap the loaf of bread in aluminum foil and bake for 15 minutes, until the cheese has mostly melted. Remove from the foil and bake for an additional 5 minutes, directly on the rack. Serve immediately.
Shop This Post 
Pig of the Month Applewood Smoked Maple Bacon
Recipe & Photos by Meghan Bassett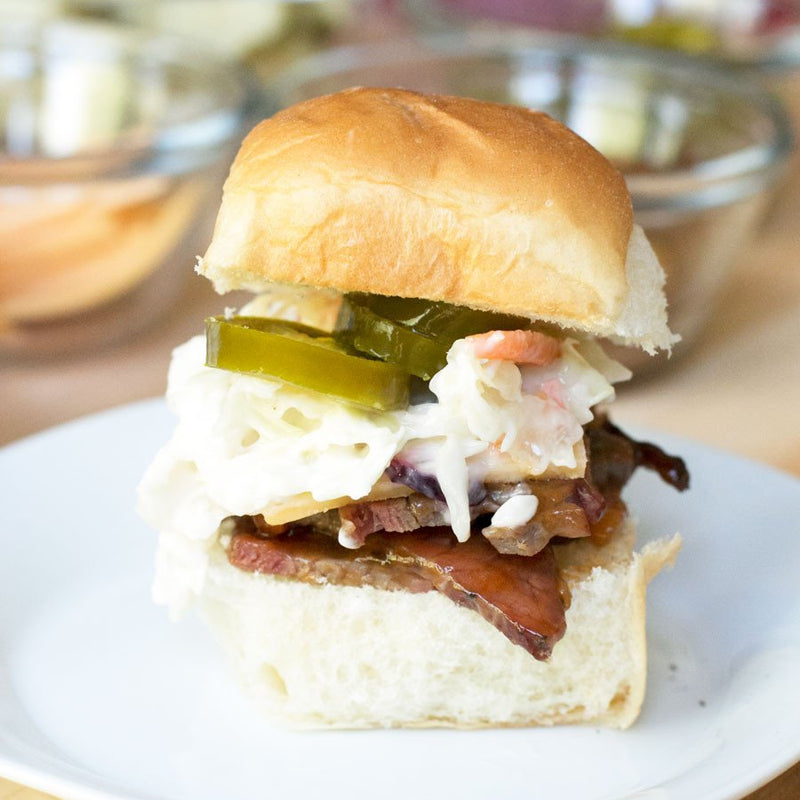 Stop trying to make the perfect sliders for everyone and have them make their own instead! Put the fun back into your food at your next gather with this super simple DIY Brisker Slider Bar. Instead of slaving away, trying to find the ideal slider that everyone will fall in love with, load up on some of our brisket and set out as many toppings as you can. All you guests will love jumping in to create their own version of the "best brisket slider", plus you can keep the options open no matter what foods some people love (or love to hate).
You can stick with a classic combo of a white bun, brisket, pickles, red onion and cheese.
Or shake things up with a Hawaiian bread bun, coleslaw and pickled jalapeños!
Not to mention all the stress this whole DIY slider bar takes off you as the host/hostess... But that's just an extra side bonus to everything loving the food and having fun, right? ;)
What You'll Need: Serves 12 to 14 2 types of slider buns (24 total) 1 lb Pig of the Month Brisket, warmed 1 red onion, thinly sliced 2 cups coleslaw 1 cup caramelized onions Sliced sharp cheddar cheese, cut into small squares Sandwich pickles Pickled jalapeños BBQ sauce Franks Red Hot Sauce
Place the buns on a large platter. Place warmed brisket on a separate large platter. Layer cheddar cheese slices on a small plate.
Add red onion, coleslaw, caramelized onions, sandwich pickles and pickled jalapeños to individual serving bowls. Place the buns to one side next to the brisket and then lay out all of the toppings in a line to make it easy for guests to pick and choose. Set out your favorite BBQ sauces and hot sauces for people to experiment with! Have fun with it!
Shop This Post
*Recipe & Photos by Meghan Bassett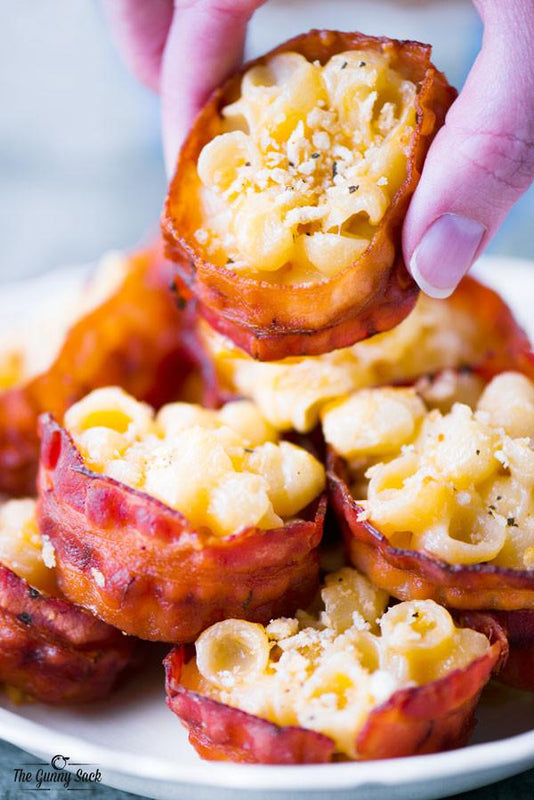 FOOTBALL IS FINALLY HERE! Who else out there is completely losing their minds? It feels like we've been waiting forever for the season to officially start - because we seriously have been - and now that it's here, we are going all out for every dang game. What does that mean for us Pig of the Month BBQ peeps? Wrap all the things in BACON. There's nothing much better than throwing bake some bacon deliciousness with those brews while taking in all that glorious pigskin action. You all know bacon is a part of daily life in our world, so having the excuse to whip it out yet again four days out of the week is our idea of hog heaven. Don't disappoint your favorite fans with some chips and dip and a couple beers this weekend. Bring out the bacon and make everyone lose their minds over all the goodness! Football was meant to be enjoyed with an extra side of bacon. Don't even try to argue with us. It's a FACT. Check out these KILLER bacon-wrapped recipes and head over to Pig of the Month BBQ's bacon section to get the good stuff. You can thank us later.
Teriyaki Chicken Skewers - Whitney Bond Parmesan Bacon Knots - A Spicy Perspective
Sweet Potato Fries Wrapped in Bacon - Spicy Southern Kitchen Tater Tot Bombs - Damn Delicious
Bacon Wrapped Pineapple Bites - Mama Loves Food
< Grilled Cheesy Potato Volcanoes - Tasty
Sriracha Bacon Wrapped Stuffed Jalapeños - Sauce + Style
Bacon-Wrapped Onion Rings - Sauce + Style
Bacon Wrapped Lil Smokies - Oh Sweet Basil Bacon-Wrapped Dates with Balsamic Reduction - Bright-Eyed Baker
Bacon-Wrapped Chicken Bites - Lovely Little Kitchen
Bacon Wrapped Avocados - Oh Sweet Basil
Bacon Mac and Cheese Bites - The Gunny Sack Bacon Cheeseburger Bombs - Pillsbury
Sweet and Spicy Bacon Wrapped Meatballs - The Gunny Sack Bacon Cream Cheese Bites - Garnish with Lemon
Bacon Wrapped Cheese Bombs - Crunchy Creamy Sweet
Shop This Post
Pig of the Month BBQ's INSANE bacon collection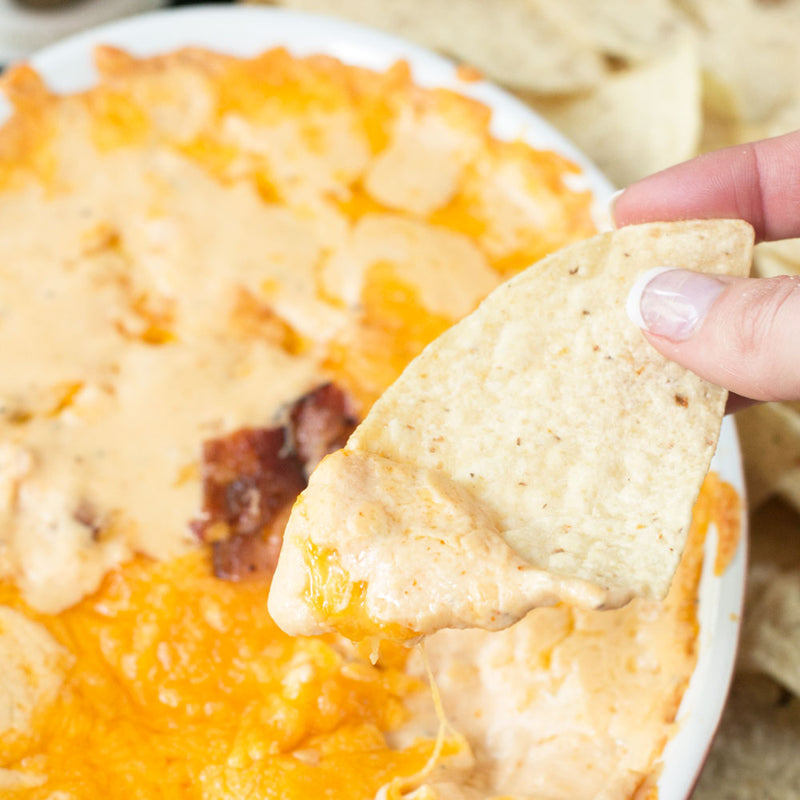 When beer, bacon and cheese come together, it's a beautiful thing. It's an even more beautiful thing when it's all baked up into a gooey dip like the one you see right here. I don't know of anyone who could resist diving into this dish headfirst. I mean, it's bacon and cheese so it's a given that everyone will be obsessed with it.
But it's the beer that really makes this dip insanely delicious. The hoppy IPA gives the dish a little bite of beer flavor that pairs so perfectly with all that crispy bacon and massive amounts of cheese. The result is a dip that needs to be busted out on the regular, especially during tailgating season. As you gather around the TV to watch your favorite team bring home the win, this cheesy mess of goodness will make the win that much sweeter (or cheesier....). Beer and beer always go hand in hand. Don't try to argue with that logic, because you'll lose.
Load up those chips and get to eating, piggy fans!
[vimeo 181794693 w=640 h=360]
Bacon & Beer Cheese Dip from Pig of the Month BBQ on Vimeo.
INSTRUCTIONS: Preheat oven to 350 degrees. In a medium saucepan over medium high heat, melt butter. Add onion and cook down til tender, approximately 3 minutes. Whisk in mustard, then pour in beer. Stir and bring to a boil for 5 minutes. Whisk in cream cheese and reduce heat to medium. Whisk until the cheese is melted. Remove from heat and add monterey jack cheese and 3/4 of the cheddar cheese. Stir until cheese is melted. Add spices and 3/4 of the bacon, stirring to combine. Pour cheese dip into a baking dish. Top with remaining cheese and bacon. Bake for 20 to 25 minutes.
Shop This Post
Pig of the Month Applewood Smoked Maple Bacon  
*Recipe, photos and video by Meghan Bassett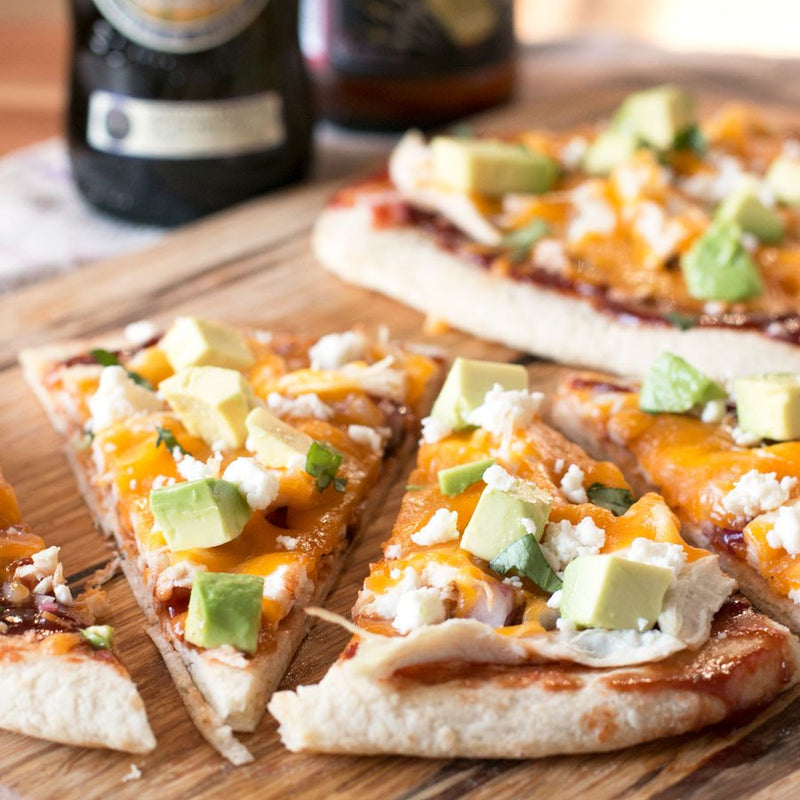 Welcome to 2017 piggy peeps! I don't know about you but I am not ready to get back into the swing of things to kick off the New Year. It feels like there are 5 million to-do's on my list and I am barely making a dent in them a few days into the new year... One thing that's falling off my radar? Dinner. I am struggling with pumping out tasty meals without spending wayyyyy too much time on them. Since I have too much to do at work, I am starting to rely on meals of popcorn and soda - NOT how I wanted to start the year.
Instead, I'm pulling out my Pig of the Month BBQ Shredded Chicken and I'm making something more than just a sandwich with it. These flatbreads are one of the easiest meals EVER and there's no one that can resist them, I don't care how picky of an eater they are. The fluffy naan with BBQ sauce, chicken and avocado is the best base for any pizza. Throw in the bite of some red onion and salty cheese and holy wow, this pizza is one the entire family will be begging you to make on a regular basis. Not to mention it's pretty dang healthy in terms of pizza, so you can feel ok about sticking to those New Year resolutions ;)
INSTRUCTIONS: Place naan on a lined baking sheet.
Spread each with half of the BBQ sauce.
Top with chicken, red onion and cheese.
Place under broiler set to high for approximately 2 to 3 minutes, or until the cheese melts.
Remove from oven, top with avocado, cilantro and a sprinkle of queso fresco. Serve.
Shop This Post
Pig of the Month BBQ Shredded Chicken
Pig of the Month BBQ Love Me Tender Sauce
*Recipe and photos by Meghan Bassett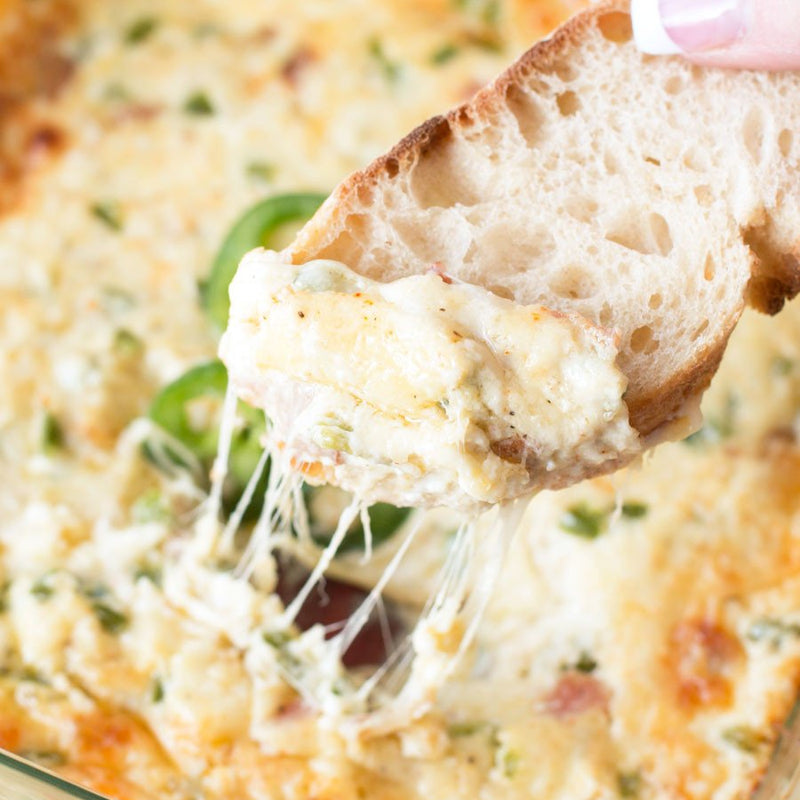 Y'all know I couldn't leave you hanging right before the big game on Sunday without something delicious to make, right? For the love of all things bacon and cheese, this Cheesy Jalapeno Bacon Dip is the one recipe that HAS to hit your game day spread this weekend.
I LOVE serving up cheesy dips for football parties because they are always the star of the entire day. The gooey cheese served up on crusty bread or tortilla chips is all too addicting (plus it helps balance out all those boozy drinks you'll be guzzling as you cheer your team on).
Heck, even if you are just watching for the commercials, you still need something to eat that'll warm you from the inside out! This creamy, cheesy dip is spicy and savory, with the perfect salty hit of bacon from Pig of the Month BBQ's Applewood Smoked Maple Bacon. The thick cuts of bacon really stick out in this dip, so it's ideal for all those bacon-lovers in yo life. When I dip, you dip, we dip! Time to DIG IN.
[vimeo 202231008 w=640 h=360]
Cheesy Jalapeno Bacon Dip from Pig of the Month BBQ on Vimeo.
Serves 6-8 INSTRUCTIONS: Preheat oven to 400 degrees. In a large bowl, mash together cream cheese, mozzarella cheese, jalapeños, mayonnaise, garlic, salt, pepper, cayenne, butter, and bacon until combined. Add mixture to a medium-sized baking dish. Bake for 20 to 25 minutes. Serve with tortilla chips or crusty bread. Shop This Post Pig of the Month BBQ Applewood Smoked Maple Bacon
*Recipe, photos and video by Meghan Bassett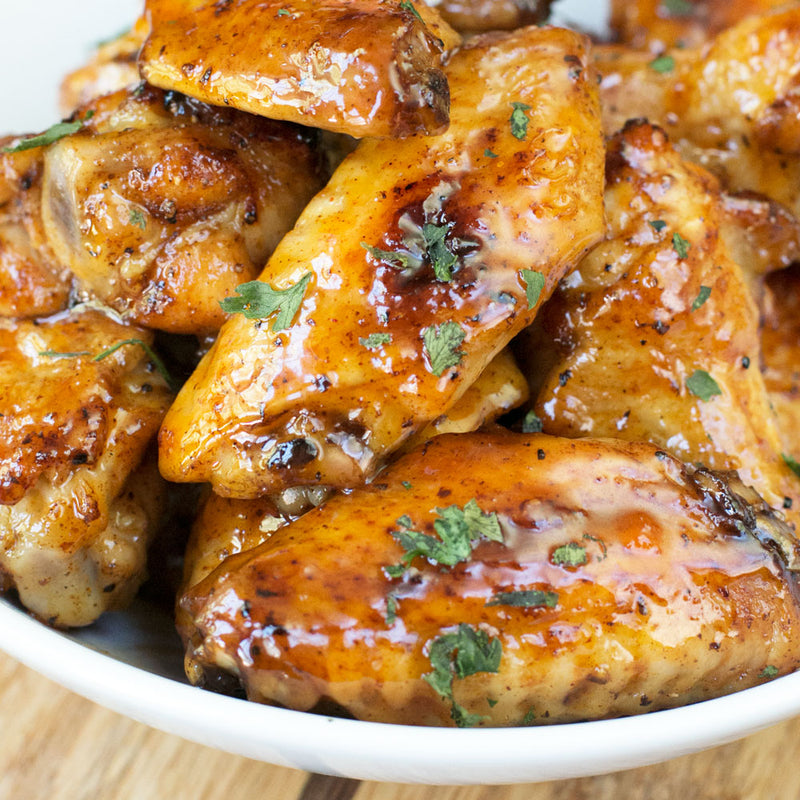 Tailgating season is back and better than ever, piggy peeps! I don't know about you but I also ready to bring football back into my life. I just drafted my fantasy team and I have big hopes that my home team is going to be putting up some major points throughout the season.
Let's be honest though, as much as we love that ol' game we call football, the tailgating food is where it's AT. It's the thing that gets you through between the end of summer recipes and the official start of the holiday season once November rolls around. That means we have two months to stuff our faces with all the cheese, bacon and meats we can get our hands on.
And I'm starting with wings. Sticky, sweet and spicy wings that make you bust out the wet wipes and get extra messy. This is just the recipe to start off with people! Just look at that sticky sauce covering those baked wings.... ALL. THE. YES. Are you ready to dig in??
INSTRUCTIONS: Preheat oven to 400 degrees. Line a baking sheet with parchment paper.
In a large bowl, whisk together vegetable oil, 2 Tbsp melted butter, salt, pepper, garlic powder and smoked paprika. Add the wings and toss. Lay wings on lined baking sheet in a single layer. Bake for 45 to 50 minutes. Turn the oven to broil on high. Move chicken wings to the top rack and broil for 3 to 4 minutes, until crispy. Flip and broil again on the other side.
In a medium saucepan over medium heat, stir together hot sauce and cornstarch. Add butter, molasses and honey, stirring to combine. Bring to a boil, then reduce to a simmer for 4 to 5 minutes until the sauce is thickened. Toss wings in a large bowl with the honey buffalo sauce. Serve with ranch or blue cheese dressing.
*Recipe and photos by Meghan Bassett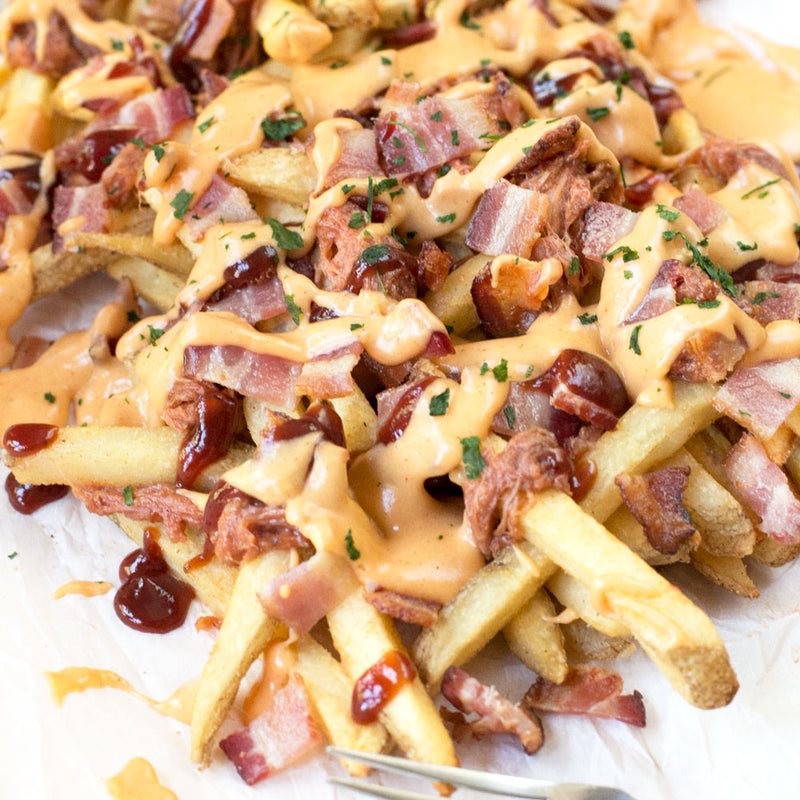 Who's ready to get down on some serious pig?? That's exactly what these Pig Overload Fries are here for! When it comes to watching that pigskin fly and rooting for my favorite team, football food is everything I need to make me happy in life. Well, along with a couple of beers of course.
It's only natural to load up all the pork and bacon on these delicious fries, because y'all know I like my fries with a side of meat, plus some extra meat. Then I load it up with some cheddar cheese deliciousness and top it all off with some BBQ sauce. Talk about a hot mess of deliciousness, am I right? Thus the best fries you will ever eat in your LIFE were born.
Seriously, these are the best fries ever. Just look at that gorgeous mess and then tell me that you can resist it... Yea, didn't think so. So go ahead, get messy. Eat it all. Feel no guilt and chug a cold brew. This IS football season, people. Get into it already!
INSTRUCTIONS: Cook French fries according the instructions on the package. In a medium saucepan over medium heat, melt the butter with paprika and cayenne powder. When melted and just starting to bubble, stir in 1/8 cup flour. Let brown, approximately 30 seconds to 1 minute, and whisk in 1 1/2 cups milk.
Continue to stir the milk mixture until it thickens, approximately 1 to 2 minutes. Remove from heat and stir in cheddar cheese until melted.
Place cooked fries in a large serving dish. Top with pulled pork and bacon. Drizzle over cheese sauce and BBQ sauce. Garnish with chopped parsley and serve immediately.
Shop This Post
Pig of the Month BBQ Pulled Pork
Pig of the Month BBQ Applewood Smoked Maple Bacon
*Recipe and photos by Meghan Bassett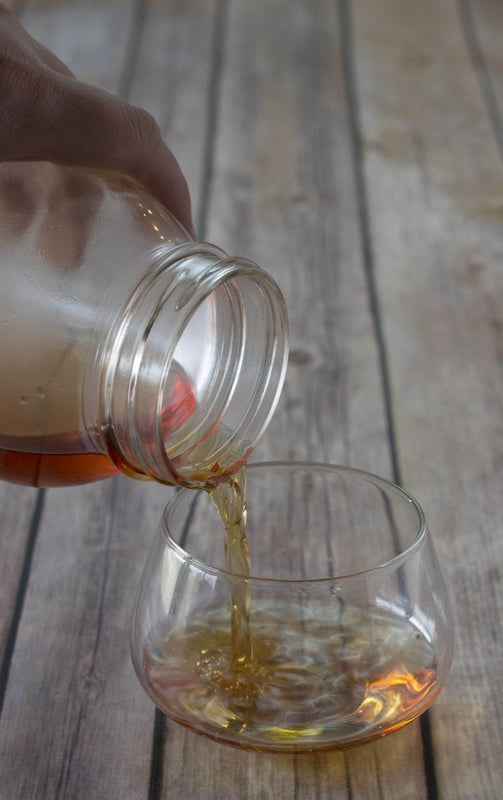 The first week of football is wrapping up and we couldn't be more excited. We are sad to see the end of summer so clearly, but all that football and tailgating amazingness in front of us is comforting our souls hardcore right about now. You know we are allllll about that tailgating food, but we also want to make sure we have the drinks part covered for y'all too. What's a tailgate party without some booze anyway? So we're bringing you these 15 fall cocktails to keep your tailgating spirits high (and extra boozy). These cocktails have all that apple and pumpkin goodness you start craving the moment September 1st rolls around, plus some extra odds and ends cocktails to give you a break once you start wearing yourself on everything apple and pumpkin. One of our favorite manly drinks below (pictured above) is Smoked Bourbon with Candied Bacon. Our smokers are running well into fall, low and slow, so we take advantage of that smoke by bottling it up with some bourbon. Top it with a slice of candied bacon and all the dudes out there basically melt as soon as they see it. It's also the perfect consolation prize if someone's team loses. As long as you give them one of these, you can mock them all you want.
DIY Brunch Bloody Mary Bar - Sauce + Style Apple Cider Margaritas - How Sweet It Is
Mulled Apple Cider Sangria - A Night Owl Bourbon Caramel Milkshake - Sauce + Style
Pumpkin and Apple Cider Fizz - Kitchen Konfidence Fresh Cranberry Margaritas - Cookie + Kate
Bourbon Apple Cider - Set the Table Cranberry Apple Cider Cocktail - Jelly Toast
Pumpkin Spice Whisky Cocktail - Dishing Up The Dirt Mexican Pumpkin Punch - We Are Not Martha But Can't We Try?
Apple Pie Bourbon Shots - Delish
Apple, Pumpkin Beer Cocktails - Cooking and Beer Pumpkin Old Fashioned - Saveur
Punch A La Taylor - Saveur Smoked Bourbon with Candied Bacon - Sauce + Style Cheers, y'all!
1
2
Next »