Posts tagged: sandwich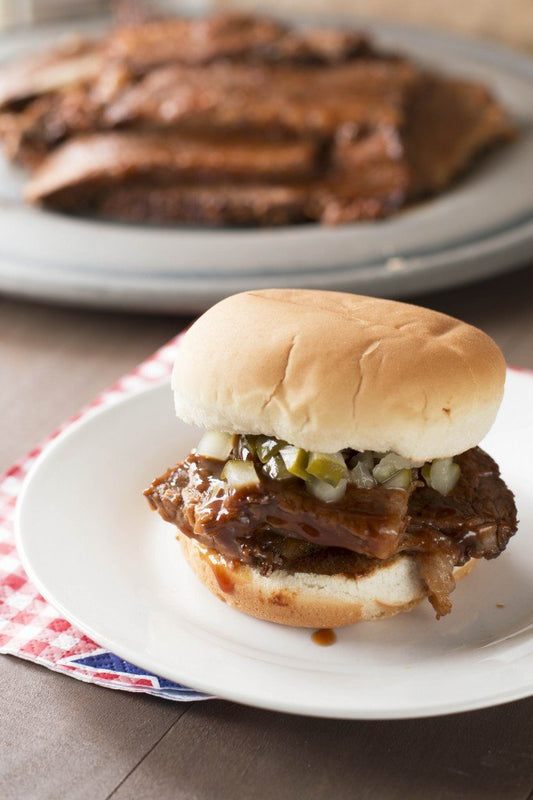 Delicious and tender smoked brisket is a hard thing to come by when you don't have hours to tend to a smoker. Nothing beats the smoke-filled flavor you get in every bite, so tender and comforting you feel like you could just melt away. I am thrilled to bring you my favorite, unbelievably simple and ridiculously tasty, slow cooker brisket. You might not be smoking it over wood chips all day, but you'll still
taste
that smoke flavor.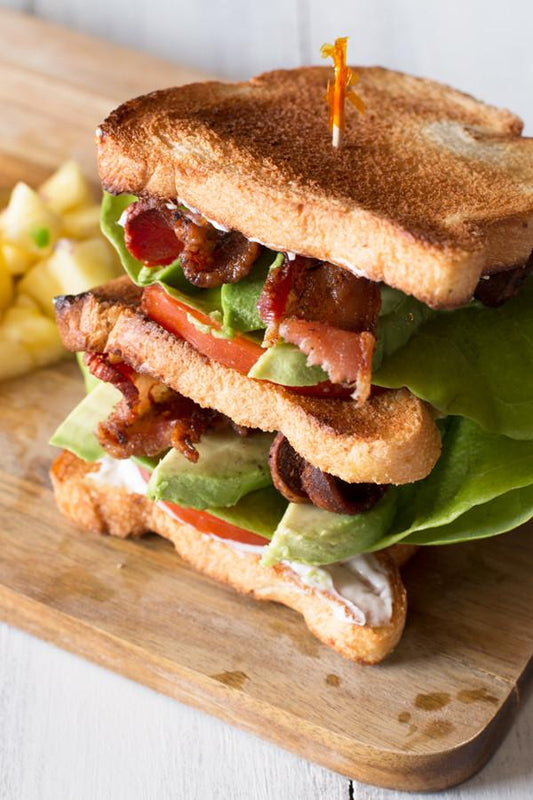 Who doesn't love a fun new twist on a classic sandwich? This the king of all sandwiches because of it's double-decker thickness and classic flavors, with the additional Jamaican Jerk seasoned bacon – holy YUM! Throw in a little mango pineapple salsa on the side and I am ready for a dip in Caribbean waters after I polish this bad boy off.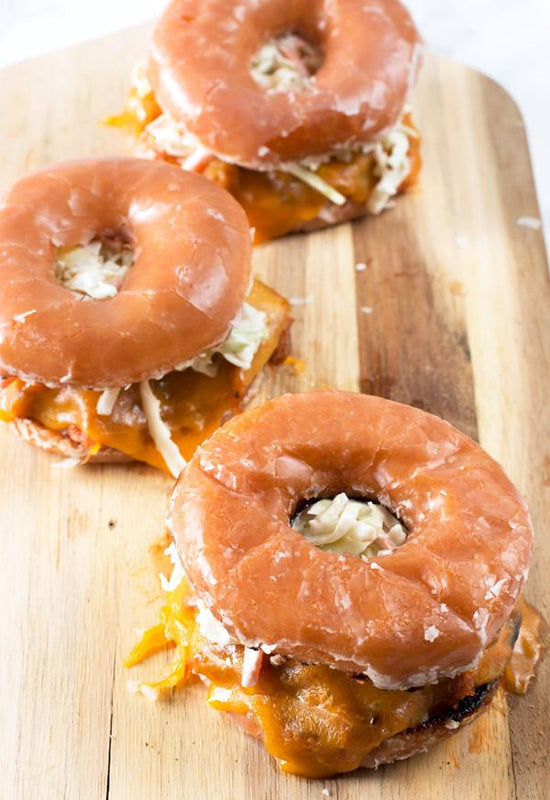 Say hello to the most decadent, soul-fulfilling pork sammie you will ever bite into… It's hard for me to describe these Krispy Kreme pulled pork sammies without my mouth beginning to water. Krispy Kreme doughnuts are still my all-time favorite doughnuts. Getting one fresh off the shelf at the shop is one of my guilt pleasures.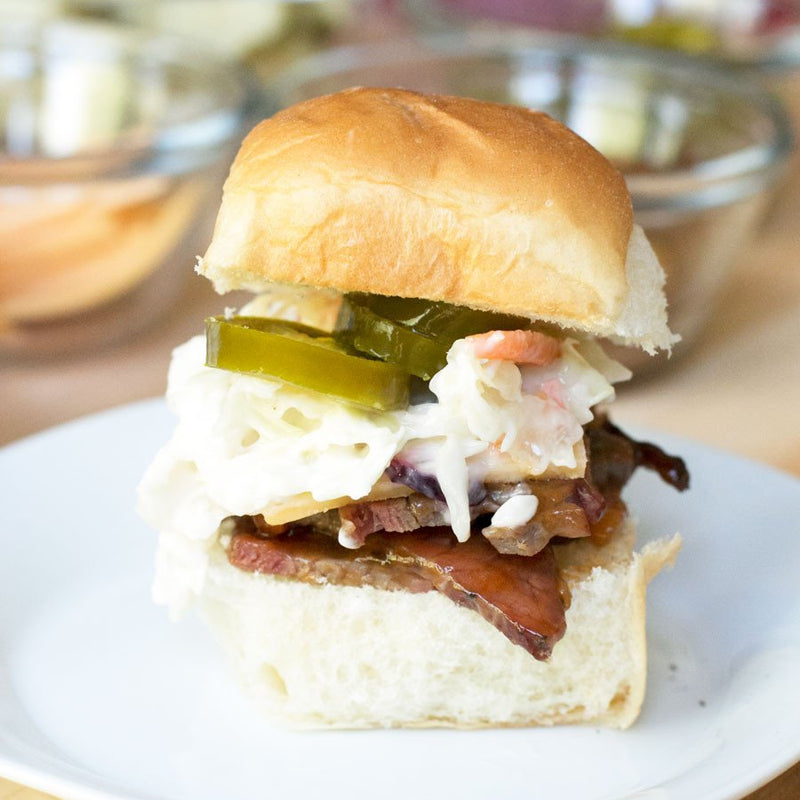 Stop trying to make the perfect sliders for everyone and have them make their own instead! Put the fun back into your food at your next gather with this super simple DIY Brisker Slider Bar. Instead of slaving away, trying to find the ideal slider that everyone will fall in love with, load up on some of our brisket and set out as many toppings as you can. All you guests will love jumping in to create their own version of the "best brisket slider", plus you can keep the options open no matter what foods some people love (or love to hate).
You can stick with a classic combo of a white bun, brisket, pickles, red onion and cheese.
Or shake things up with a Hawaiian bread bun, coleslaw and pickled jalapeños!
Not to mention all the stress this whole DIY slider bar takes off you as the host/hostess... But that's just an extra side bonus to everything loving the food and having fun, right? ;)
What You'll Need: Serves 12 to 14 2 types of slider buns (24 total) 1 lb Pig of the Month Brisket, warmed 1 red onion, thinly sliced 2 cups coleslaw 1 cup caramelized onions Sliced sharp cheddar cheese, cut into small squares Sandwich pickles Pickled jalapeños BBQ sauce Franks Red Hot Sauce
Place the buns on a large platter. Place warmed brisket on a separate large platter. Layer cheddar cheese slices on a small plate.
Add red onion, coleslaw, caramelized onions, sandwich pickles and pickled jalapeños to individual serving bowls. Place the buns to one side next to the brisket and then lay out all of the toppings in a line to make it easy for guests to pick and choose. Set out your favorite BBQ sauces and hot sauces for people to experiment with! Have fun with it!
Shop This Post
*Recipe & Photos by Meghan Bassett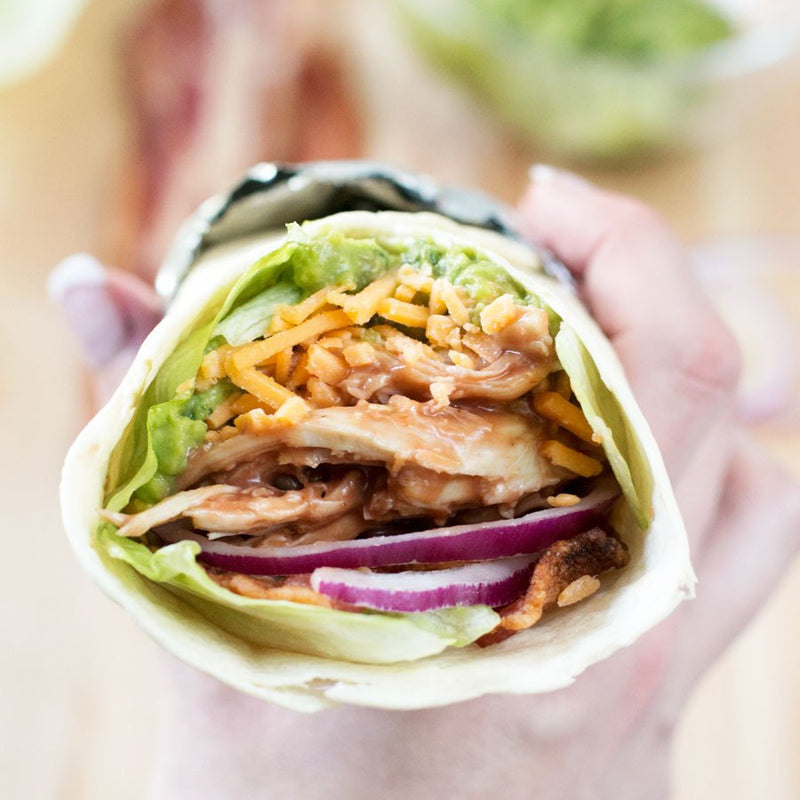 The New Year is upon us... How many of you have been able to keep those New Year's resolutions for a week?! With all the tasty meats and treats we make on the daily, it's tough to keep a healthy state of mind up in here. We might not be able to stick to a strict diet but with these 15 Guilty Pleasure Recipes That Are Actually Healthy, there's a chance the weight gain won't be as tragic as it could be in 2017. From BBQ to Tex Mex, flavorful pasta to pizza, this roundup of healthy meals will keep you in line with your New Year's resolutions (without giving up all those tasty meats - like, ahem, BACON)!
Best Ever Crockpot BBQ Chicken - Sauce + Style
BBQ Chicken & Bacon Guacamole Wraps - Sauce + Style
Bacon-Wrapped Caprese Stuffed Chicken  - Sauce + Style
Grilled Chili Rubbed Flank Steak - Sauce + Style
California Chicken, Veggie, Avocado and Rice Bowls - Half Baked Harvest
The Best Philly Style Italian Hoagie - Baker By Nature
Seared Pork with Roasted Grapes - Bev Cooks
Mexican Shredded Pork Polenta Bowls - Perpetually Hungry
Clam, Chard and Bacon Pizza - Bon Appetit
Easy Italian Chicken Skillet - Gimme Some Oven
Sloppy Jane Tex Mex Bowls - Naked Cuisine
20-Minute Lemon Pesto Penne - Pinch of Yum
Italian Sausage and Tortellini Soup - The Kitchen
Spicy Fish Taco Bowls - Jo Cooks Good luck staying a little healthier out there, piggy peeps!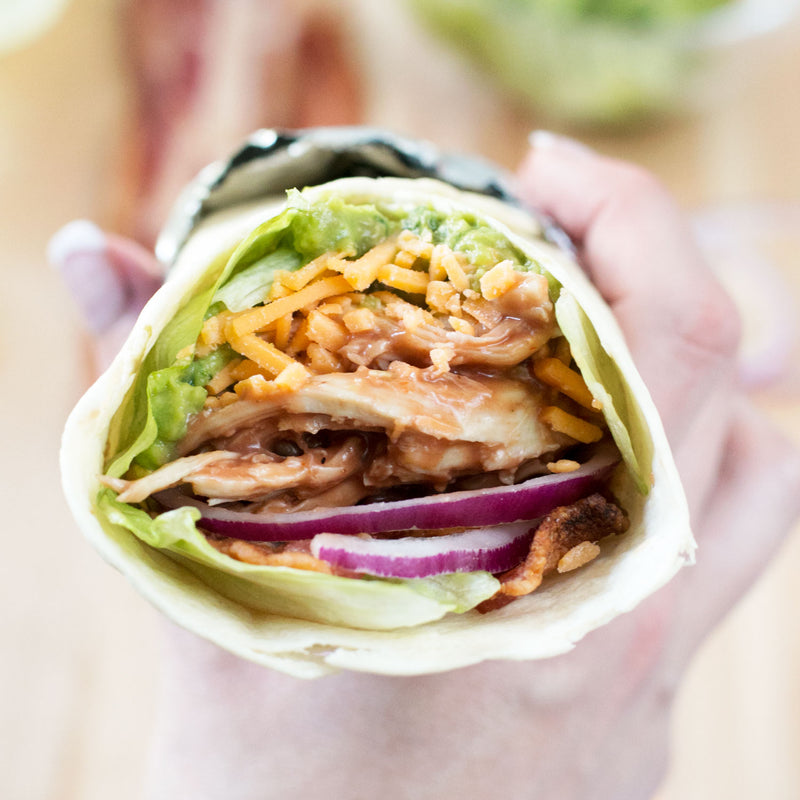 BBQ Chicken & Bacon Guacamole Wraps are here to make all your secret lunch dreams come true... I don't know about you all, but I get SO bored with eating salad and turkey club sandwiches for lunch every day. I can get into a serious rut when it comes to lunch. With all the work piling up, I never have time to really think about what I am eating unless I plan it out ahead of time.
Planning ahead is not necessarily my strong suit. As much as I would love to craft a gorgeous lunch every day, I need something that's ready to just dive into on the spot when my stomach starts rumbling. That's why this wrap is SO perfect. It's easy to make ahead of time (heck, you could even make it the night before) and it'll disappear in about 2.5 seconds. Surprised?
It's stuffed with BBQ-sauced chicken, guacamole and BACON so I'm not sure why you would be! It's better than any sandwich you'll ever grab at that sad little shop on the corner. Plus it even has some lettuce in there to make you feel even healthier as you wipe the BBQ sauce from your chin.
INSTRUCTIONS: In a medium bowl, stir together chicken, BBQ sauce and ranch dressing. Set aside. Microwave tortillas for 30 seconds to make them pliable.
To build the wraps, lay down a layer of lettuce and top with three strips of bacon in the center of each tortilla. Divide the red onion evenly between the two, then chicken, then cheddar cheese and finally guacamole.
Wrap tightly in foil and serve immediately or bring it with you for a delicious work lunch or picnic!
Shop This Post
Pig of the Month BBQ Applewood Smoked Maple Bacon
Pig of the Month BBQ Hand Pulled Chicken
*Recipe & photos by Meghan Bassett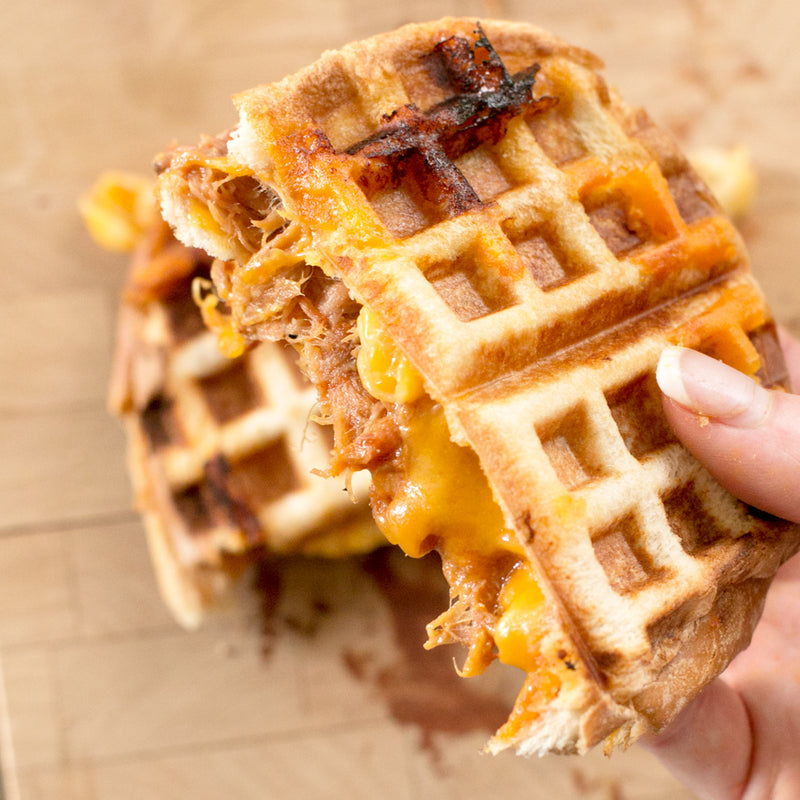 Hey food porn fans... I've got something extra special for you today... It's hot and crispy straight out of the waffle iron, stuffed with saucy pulled pork and so cheesy your head might explode. It's basically a giant mess of a sandwich, carefully contained in a pocket of waffle ironed bread.
This is seriously going to become your new favorite way to make grilled cheese sandwiches, period. The waffle iron crisps up the bread in a way that cooking it over the stove just doesn't do. It's like your own personal panini press, with more than one function in the kitchen! You just pinch down those edges and it forms a pocket of deliciousness.
When you open up this bad boy, all that pork, mac n cheese and cheddar comes oozing out in the most luscious way. You might have to stop and just stare at it before shoveling it in your mouth in one giant bite. Might have to stop. But we know you definitely won't delay the goodness, right?
Get those cameras ready folks, this is food worthy of that 'foodporn' hashtag on Instagram.
INSTRUCTIONS Grease waffle iron with cooking spray and turn on.
To assemble the sandwich, begin with adding one slice of cheese to a slice of bread.
Top with half of the pulled pork, then half of the mac and cheese.
Finish with the other slice of bread. Repeat with the second sandwich. When the waffle iron is hot, cook one sandwich at a time. Place the sandwich in the center and press down firmly. You may have to hold the waffle iron down as it will not close completely.
When the cheese is melted, approximately 1 to 2 minutes, remove sandwich from the waffle iron. Repeat with the other sandwich. Serve immediately.
Shop This Post
Pig of the Month BBQ Pulled Pork
*Recipe & photos by Meghan Bassett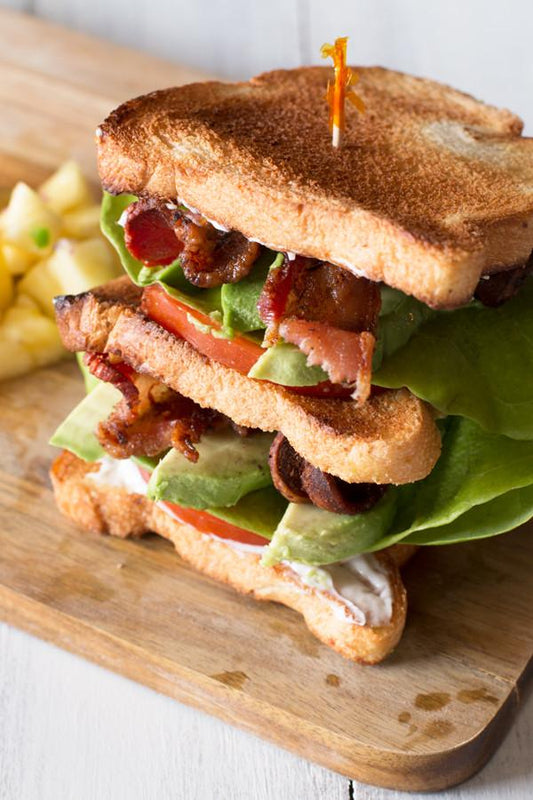 Another work week, another boring lunch packed away in the office refrigerator that you are dreading eating... We've all been there, haven't we? You get sucked into the monotony of easy "healthy" lunches and before you know it, your work lunches are no longer a blissful break. They are a sad way to attempt to fuel up and survive the rest of a crazy work day. Honestly, I believe you deserve a better lunch. Lunch breaks should be about stuffing your face with delicious homemade food and temporarily forgetting all the to-dos on your list for the rest of the day. There's no work, no kids, no distractions - just time for you to eat and enjoy the company of co-workers, or even just yourself (hey, we all need that breathing room some days!). Even if you can only spare 30 minutes, those 30 minutes should be special, right? What makes anything more special than bacon? Nothing. Bacon is the ingredient you need to not only get through the work day, but also to actually enjoy your lunch. With back-to-school craziness coming up, you need some easy lunch ideas in your back pocket to get your bacon fix with at work.
Bacon Cheeseburger Wraps - Lift in the Lofthouse Cobb Salad Wrap - POPSUGAR
Bacon Kale Salad with Lemon Vinaigrette - Sauce + Style BLT Salad - POPSUGAR
Meat Lovers Pizza Roll Ups - Sauce + Style BLT Panzanella - Annie's Eats
Bacon and Egg Salad Sandwich - Food52 Jamaican Jerk Double Decker BLAT - Sauce + Style
Alice Walters' Warm Spinach Salad - Alexandra Cooks Spicy Bacon Wrapped Cheese Stuffed Chicken - Handle the Heat
Avocado BLT's with Spicy Mayo and Fried Eggs - How Sweet It Is Bacon Cheeseburger Buns - Taste of Home
Turkey BLT - Martha Stewart Now no more excuses. Take back your lunch break and make it great again! I believe you can do it; you just need a little bacon-y help. *Post by Meghan Bassett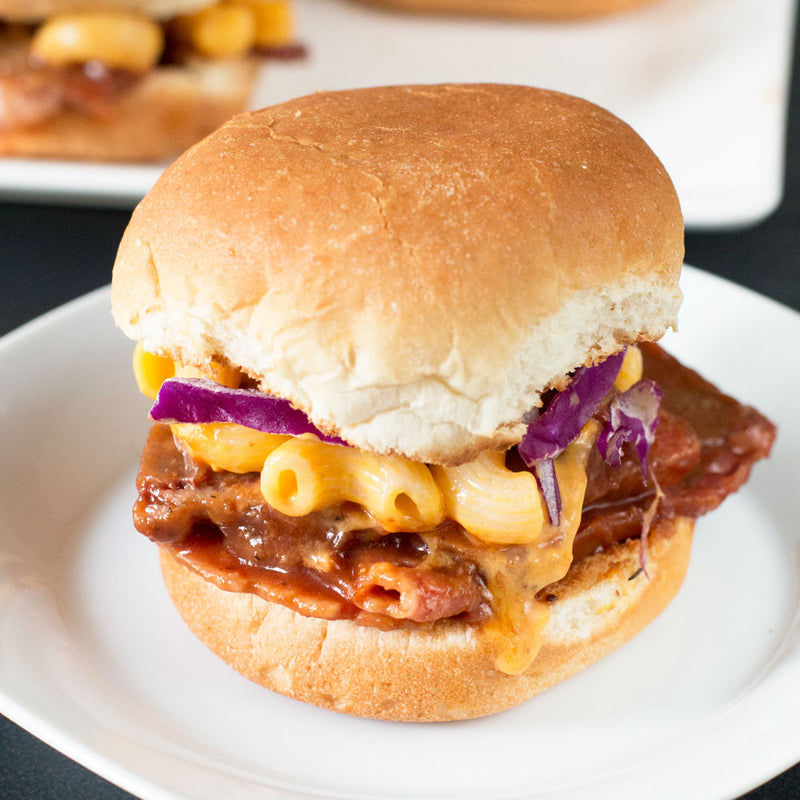 You know when you have leftovers hanging around and you have ZERO idea what to do with them? My refrigerator is usually a mash up of random BBQ leftovers, some pasta and whatever else I happen to have leftover from last night's BBQ party. There's a limit to how many times you can eat the same dish the same way. I mean, I love my brisket, but after a couple of nights of just brisket and a side salad, I'm getting bored.
I also happen to be lazy and have no desire to actually get too terribly creative unless I know it'll take me zero extra effort. Enter these little brisket mac n cheese sliders... Brisket Mac N Cheese Sliders are the new appetizer that you have absolutely no excuse not to make. Seriously, how easy are these little guys? You just throw some leftovers on a toasted bun and BAM, you have a completely new way to eat that brisket and mac n cheese that have been taking up valuable real estate in your refrigerator.
Plus, how fancy you get with this recipe is completely up to you. You can make your own smoked brisket or you can head over to Pig of the Month's shop to snag some of their oh-so tender brisket. For the mac n cheese, you can simply make these sliders with store-bought mac and cheese, or you can bust out grandma's favorite recipe to go the extra mile. Regardless, these sliders are just the right balance of meat and cheese to hit the spot with every bite. There's no going back once you've eaten these sliders, so get prepared to start craving mac n cheese on your sandwiches from here on out. Don't say I didn't warn you...
INSTRUCTIONS - Watch the video below!
Pig of the Month BBQ on Vimeo.
Shop This Post
Recipe, video & photos by Meghan Bassett