Posts tagged: dessert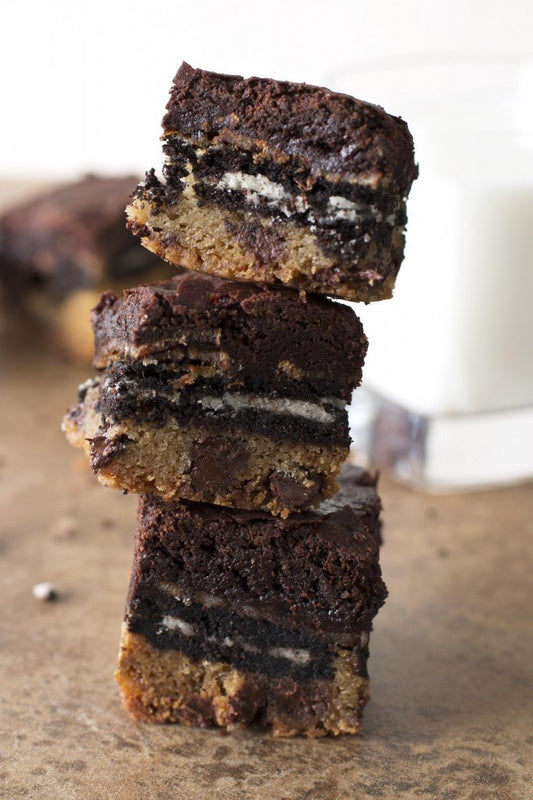 Oh yes, that's right. Just when you thought dessert couldn't get any better, it did. Look at those gorgeous layers - a layer of cookie, layer of Oreo, layer of candied BACON, and topped with a layer of brownie. If you've ever needed the perfect over-the-top, decadent, and oh-so addictive dessert, let me tell you right now folks - this is IT.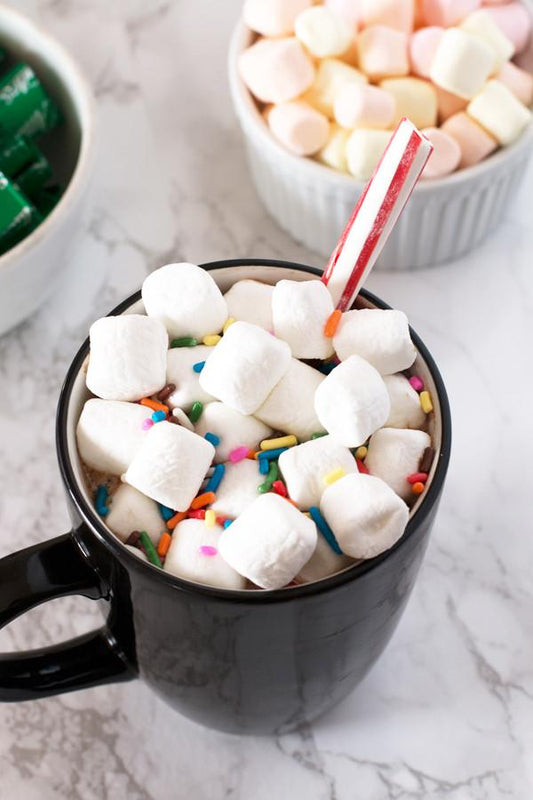 Nothing screams the holidays to me more than a huge glass of hot chocolate. Of course you can't forget the marshmallows. And a side of cookies too. :) I love hosting a hot chocolate bar around the holidays.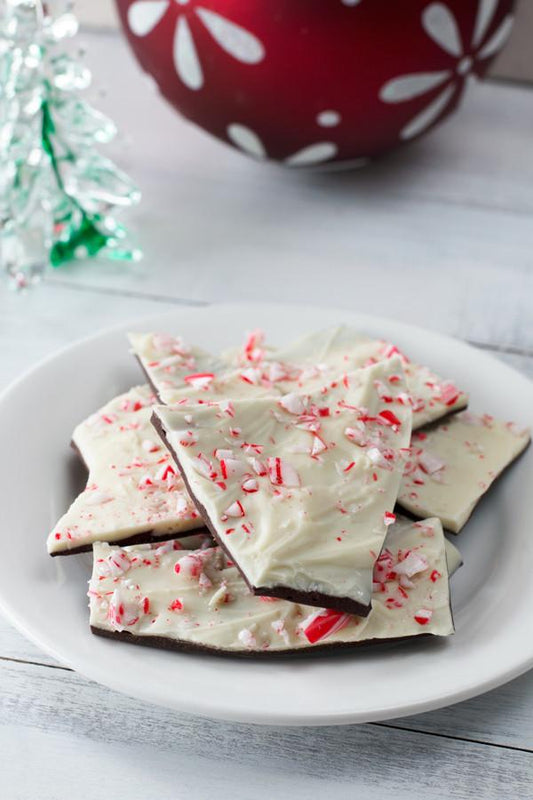 I LOVE to create DIY gifts when the holidays roll around every year. I always try to make some sort of sweet treat for all my friends and colleagues to enjoy. However when the time comes to actually make the gifts, I find myself flooded with holiday parties and get-togethers, which seriously limits my time to prepare custom gifts for everyone. That's why this year I am especially thrilled to share with you my recipe for oh-so easy peppermint bark! It comes together in a little over an hour, leaving the rest of your day wide open to enjoy the holiday season (doesn't it fly by way too quickly each time?!). My tip is to run by your local dollar store to stock up on all those cute little tins. Just line the inside with parchment paper, throw in as much peppermint bark as you can!
INSTRUCTIONS: Add the semi-sweet chocolate chips to a microwavable bowl. Microwave the semi-sweet chocolate for 45 seconds to 1 minute. Remove the bowl and stir. Place back in the microwave for 15-second intervals, stirring in between each, until the chocolate is melted and smooth. Line a baking sheet with wax paper. Spread the melted semi-sweet chocolate in an even layer on the wax paper. It should be approximately 1/4" thick. Allow it set for 30 minutes in the freezer.
In a microwaveable bowl, microwave the white chocolate chips in the same way you just did with the semi-sweet chocolate chips. Once melted and the mixture is smooth, spread the white chocolate in an even layer over the semi-sweet chocolate. You will need to work quickly so the semi-sweet chocolate doesn't melt and form streaks in your layer of white chocolate. Sprinkle the crushed candy canes on top of the melted white chocolate. Allow it set for an additional 30 minutes in the freezer. Remove and break into chunks.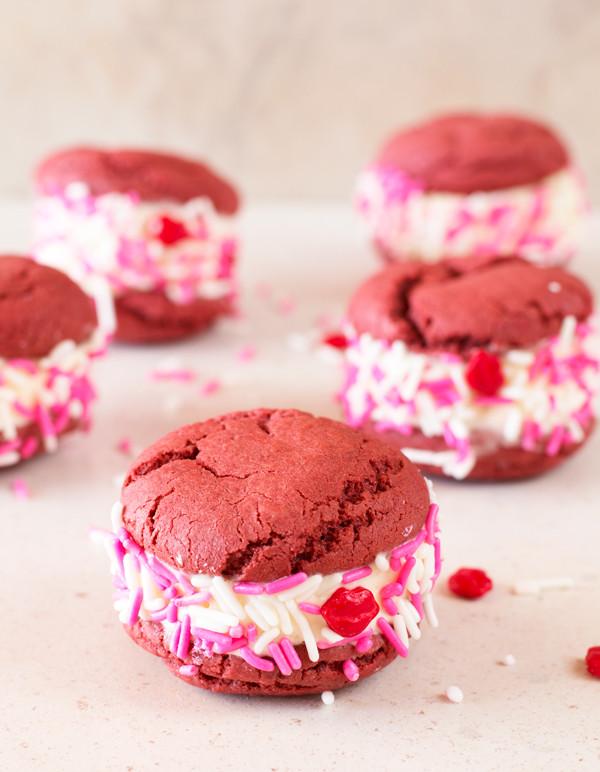 Is there anything more indulgent than red velvet? 
Soft, dreamy cream cheese ice cream is sandwiched between chewy red velvet cookies, making this the best ice cream sandwich you'll ever taste. You can roll the sides in sprinkles, mini chocolate chips, caramel bites, or anything else you can think of. They are fun to make and even more fun to eat!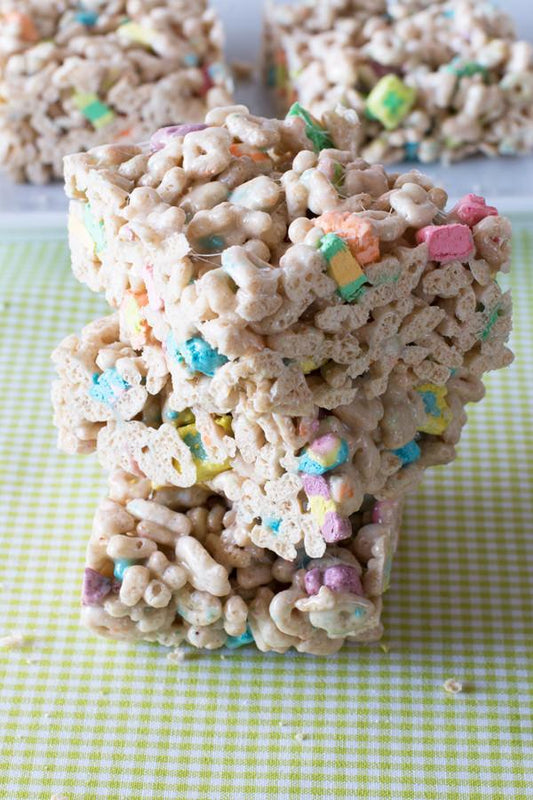 St. Patrick's Day is only one week away… Are you ready to start celebrating? These Lucky Charms marshmallow treats are the perfect way to get in the festive Irish mood! Lucky Charms used to be my favorite cereal growing up and I would always pick out just the marshmallows. Now I have discovered the ultimate solution and no longer feel the need to pick out those marshmallows! The answer was so obvious – add 
more
 marshmallow deliciousness to the mix!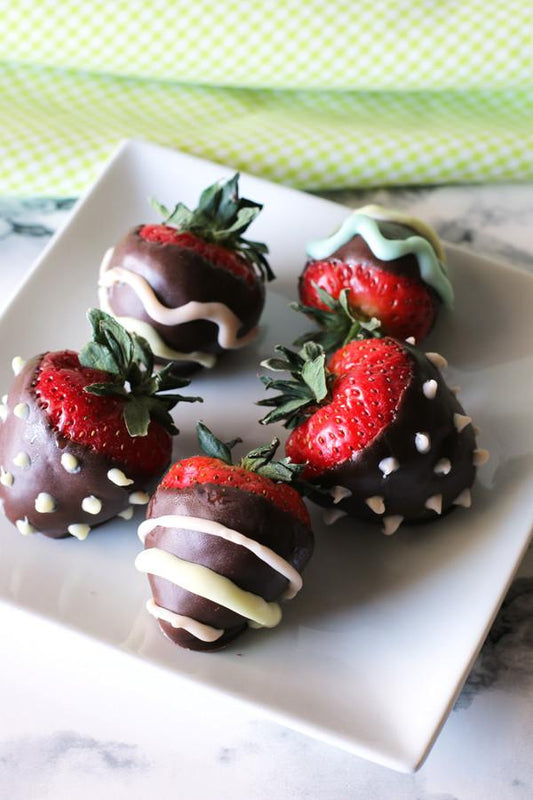 Easter brunch wouldn't be complete without these chocolate covered strawberry eggs on your dessert table! 
Chocolate covered strawberries may look difficult, but with the melting wafer they have out now, you don't even have to worry about tempering the chocolate. You just melt, dip and decorate!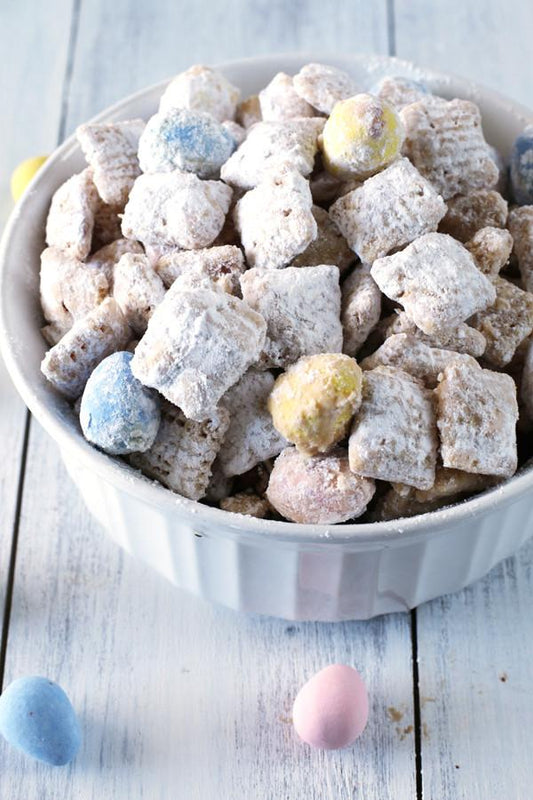 The Easter Bunny is on his way! If you plan to catch him and snag all the candy you can, be sure you are making a batch of this bunny bait. That Easter Bunny can't resist it! This Easter version of puppy chow is super simple to create and is dangerously addictive (you might finish it all before the Easter 
bunnys
 arrival). The combination of chocolate, peanut butter and crunchy cereal is already a draw, but add in the mini Cadbury milk chocolate eggs and you have powdered sugar-covered heaven.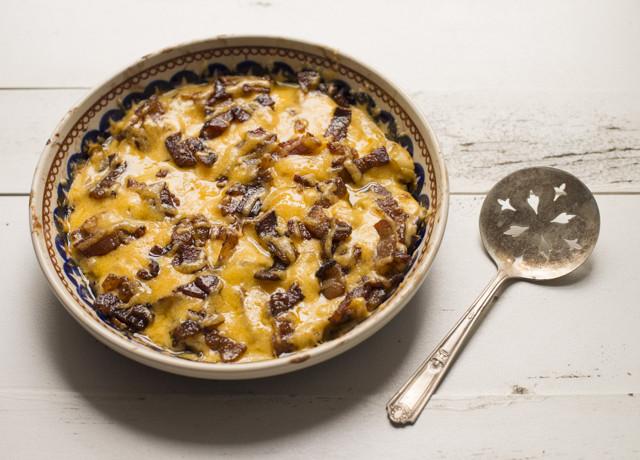 Pig of the Month has the perfect solution, for a gluten free dessert that is so good no one will even know it's a "special" dessert. Adding crisp fried Pig of the Month Apple Pie Bacon and using sharp cheddar cheese to top the cinnamon-y baked goodness of the apples, is our delicious rendition to the classic apple pie.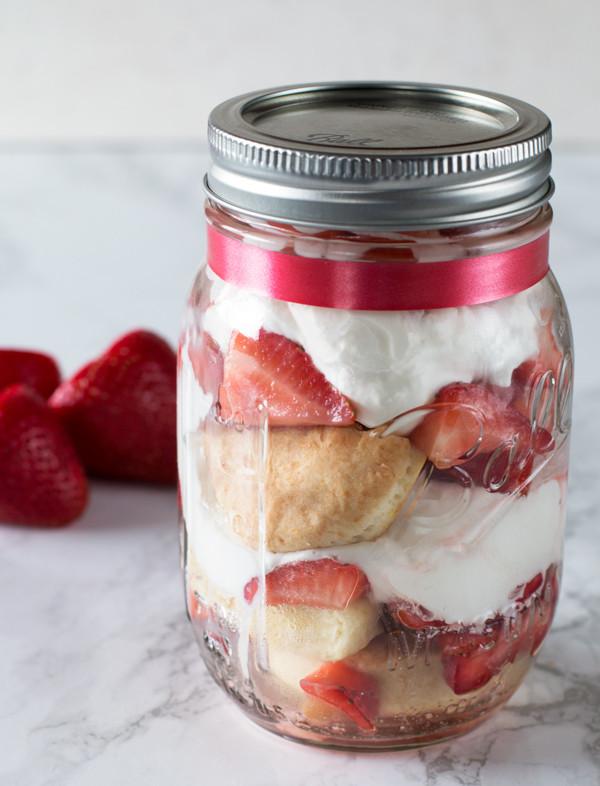 These strawberry shortcake mason jars add a fun twist to this dessert, making them easily portable for picnics or even surprise sweet treats for family and friends. Every element in this dessert is super simple to make (yes, even the biscuits are a breeze!). You'll love the 
sweetness from
 the fruit, the fresh and airy whipped cream, and the tiny golden brown biscuits.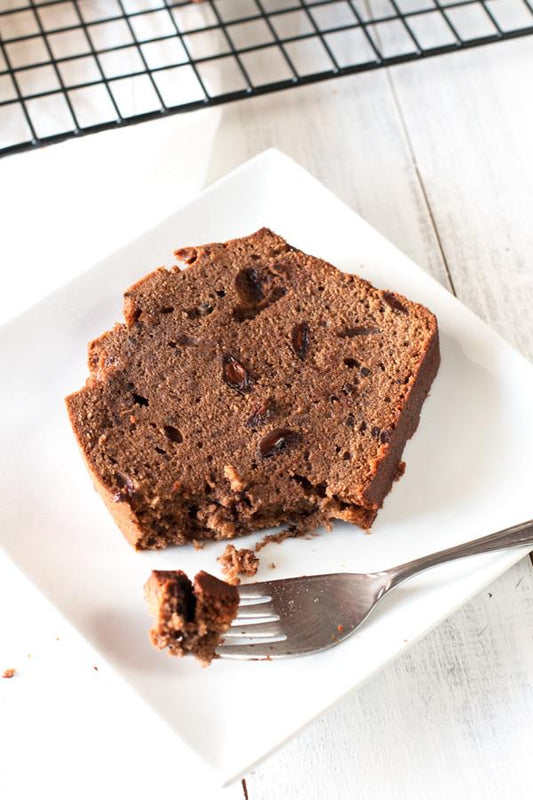 Yes, you read that correctly. This is a
double-chocolate
 pound cake... Chocolate is the ultimate pick-me-up in my opinion. Whether the weather outside is crummy, you've had a hard day at work, or you've got a case of the Mondays, a little bit of chocolate can go a long way to lifting your spirits. At the very least it will remind you that there are still good things in this world!
1
2
3
Next »