Posts tagged: dark chocolate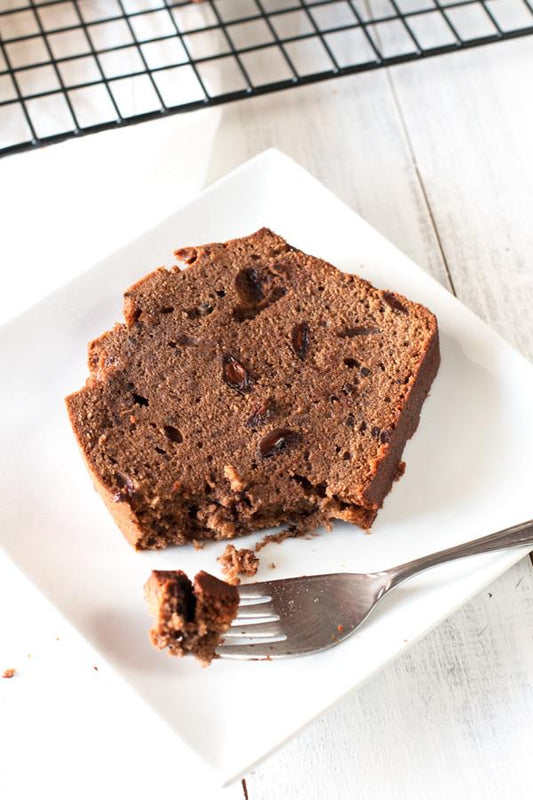 Yes, you read that correctly. This is a
double-chocolate
 pound cake... Chocolate is the ultimate pick-me-up in my opinion. Whether the weather outside is crummy, you've had a hard day at work, or you've got a case of the Mondays, a little bit of chocolate can go a long way to lifting your spirits. At the very least it will remind you that there are still good things in this world!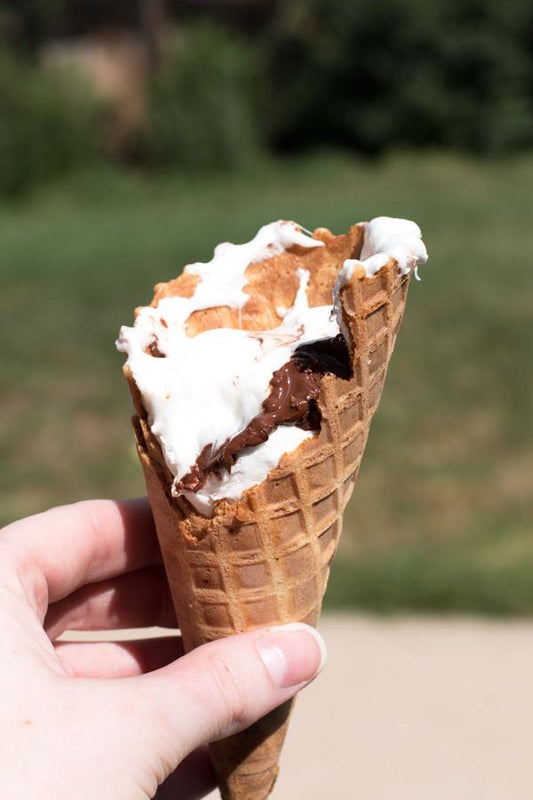 Boy, do I love s'mores… Nothing screams campfire and summer quite like melted, gooey s'mores! Of course, regular ol' s'mores can get a little boring. That's why I am currently loving these campfire s'mores cones! Instead of being limited to the chocolate bar for your s'mores, you can experiment with all the different flavors of chocolate chips (and even non-chocolate chips such as Reese's and butterscotch!).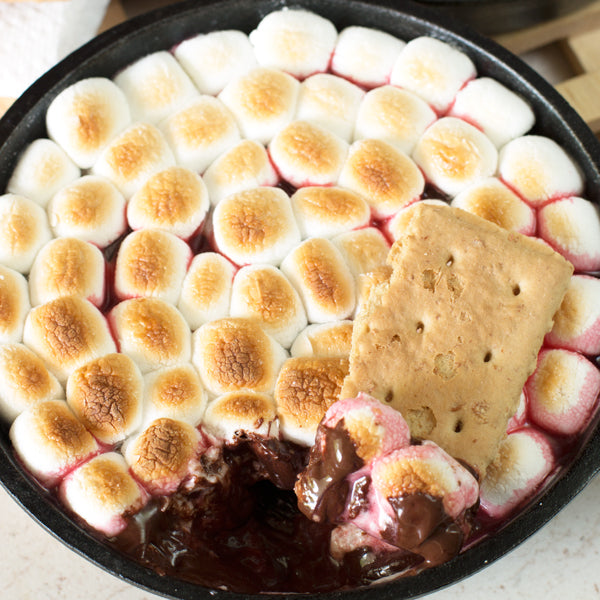 S'mores is my favorite dessert EVER. So much so that you'll find me heating up the gas burner on my stove in the dead of winter, just so I can get that perfectly toasted marshmallow. But what's even better than a perfect s'more...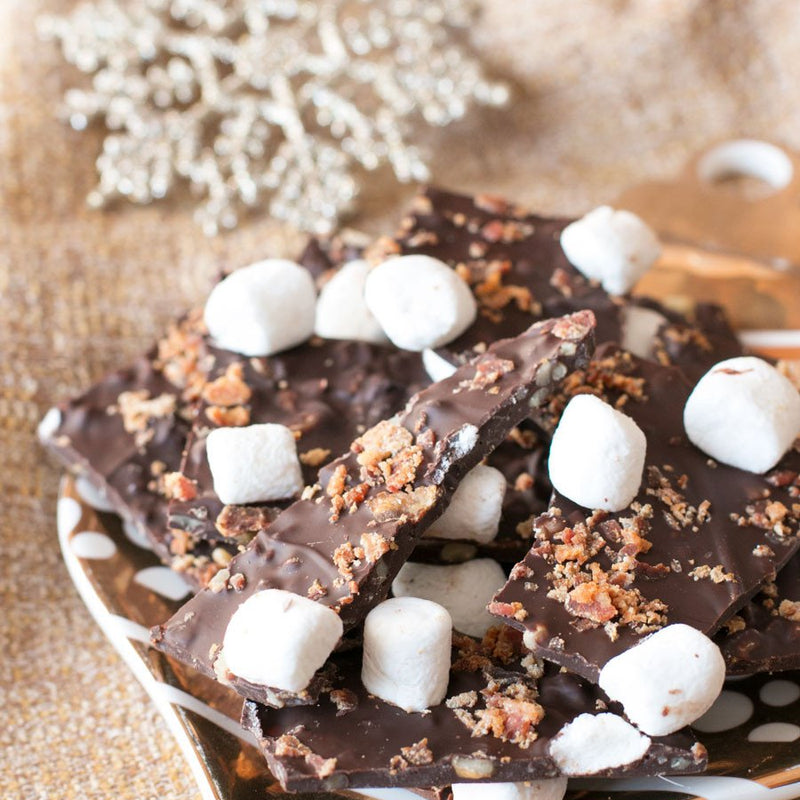 Can you believe it's almost December?! My mind is still reeling from Thanksgiving and holiday parties are already filling up each and every weekend from now until Christmas. I'm trying to think ahead and all I can think to give people is something food-related for Christmas presents...
Big surprise considering my entire life revolves around food. Well, more specifically bacon... This maple bacon marshmallow bark is a fun sweet and savory treat that no one will be able to get anywhere else! Forget candy canes or caramels, this chocolate bark can only be found in one place... your kitchen!
A treat like this one is SUPER easy to make and barely takes any time. You just need a microwave and a freezer to get this little pile of treats whipped up. Then box it up and give it out as Christmas presents, hostess gifts for all those parties you'll be attending, or just load up on massive amounts of this bark for yourself. The sweet and savory combination makes this bark the ultimate snack to indulge in on any chilly afternoon this December!
INSTRUCTIONS: Add the dark chocolate chips to a microwavable bowl. Microwave the chocolate for 45 seconds to 1 minute. Remove the bowl and stir. Place back in the microwave for 15-second intervals, stirring in between each, until the chocolate is melted and smooth. Stir in walnuts. Line a baking sheet with wax paper. Spread the melted semi-sweet chocolate in an even layer on the wax paper. It should be approximately 1/4″ thick. Sprinkle with bacon and mini marshmallows. Allow it set for 30 minutes in the freezer. Shop This Post Pig of the Month BBQ Applewood Smoked Maple Bacon 
*Recipe & photos by Meghan Bassett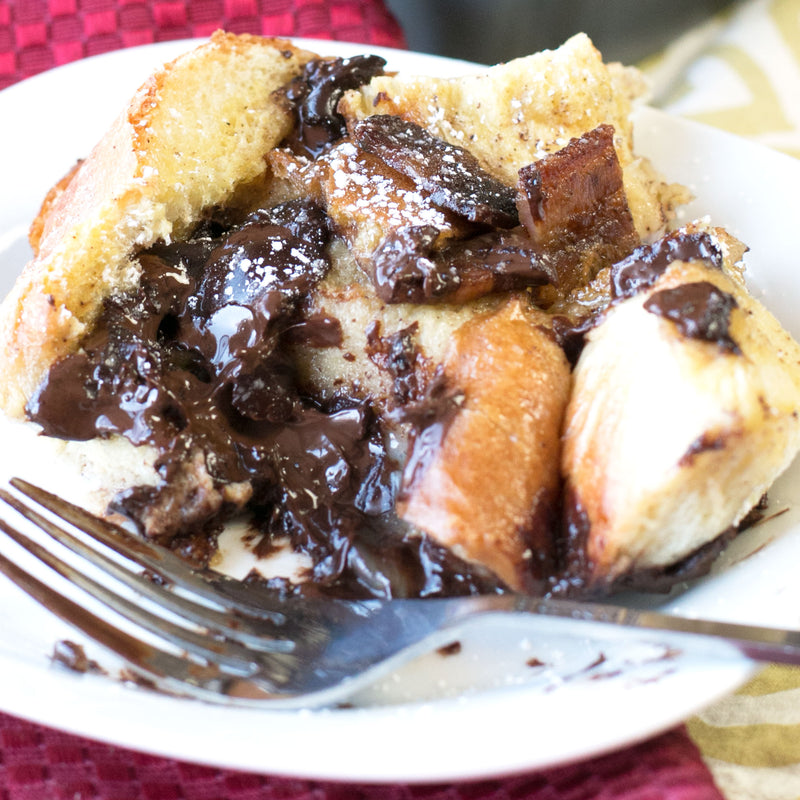 In the dead of winter, all I want to wake up to is something sweet, savory and super easy to make. That's why this Overnight Bacon & Chocolate Chip French Toast fits the bill almost every weekend. It's got sweet french toast, rich dark chocolate and savory bacon which when combined together in a baked up casserole of goodness, will completely blow you away with every single bite.
What I really love about this recipe is that you can easily make it the day or night before. That way when you are groggy in the morning, reaching for your cup of coffee, all you have to worry about is setting the oven and placing the baking dish in there. By the time you feel awake, you'll be sitting down to a heaping, gooey portion of this deliciousness...
It's perfect for the holidays, especially when you have family staying with you and the chaos of Christmas morning! However this recipe can keep you going and going throughout the cold months that are still ahead of us, so don't go only making it once ;) Happy holidays everyone! Enjoy the long weekend!
[vimeo 196762573 w=640 h=360]
Overnight Bacon & Chocolate Chip French Toast from Pig of the Month BBQ on Vimeo.
INSTRUCTIONS: Spray a 9x13-inch baking dish with non-stick cooking spray. Add half of the cubed bread to the pan and top it with half of the chopped bacon and chocolate chips. In a medium bowl, whisk together eggs, milk, sugar, vanilla, salt, cinnamon and cloves. Pour mixture over bread evenly to coat everything. Cover and refrigerate overnight. When ready to bake, preheat oven to 400 degrees. Bake uncovered for 15 to 20 minutes, until golden brown and the center is set. Top with powdered sugar and serve immediately.
Shop This Post:
Pig of the Month BBQ Applewood Smoked Maple Bacon  
*Recipe, video and photos by Meghan Bassett