Posts tagged: beef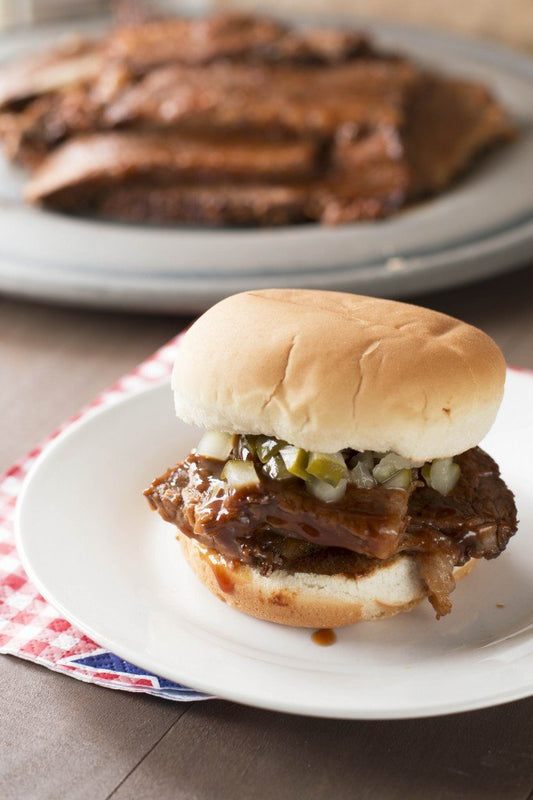 Delicious and tender smoked brisket is a hard thing to come by when you don't have hours to tend to a smoker. Nothing beats the smoke-filled flavor you get in every bite, so tender and comforting you feel like you could just melt away. I am thrilled to bring you my favorite, unbelievably simple and ridiculously tasty, slow cooker brisket. You might not be smoking it over wood chips all day, but you'll still
taste
that smoke flavor.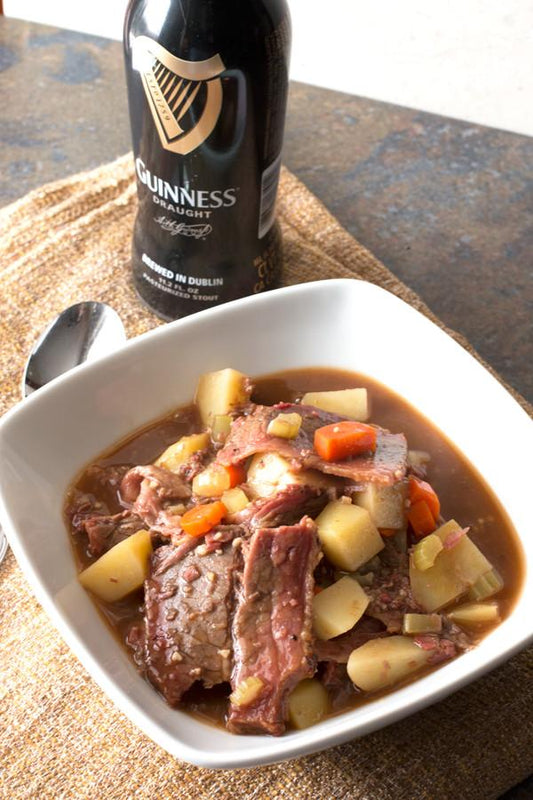 There's nothing like a Guinness stew on a cold day. Unfortunately a traditional Guinness stew can take a bit of time, which I rarely have on weeknights, especially after battling traffic in snow during rush hour. With this recipe i
n less than 30 minutes, you'll have a delicious stew that will warm you up inside and out!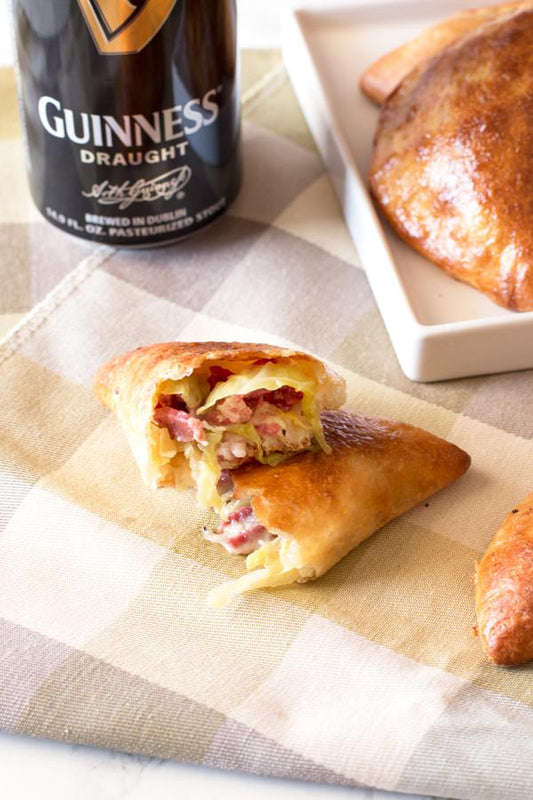 Corned beef and cabbage is a staple for us on St. Patrick's Day. No matter what, we always either make it or go out to eat it on St. Patrick's Day. It's become a great tradition, but this year I wasn't getting too excited about whipping out the same recipe for another year. This is exactly why I want to change things up this year and make something fun and playful!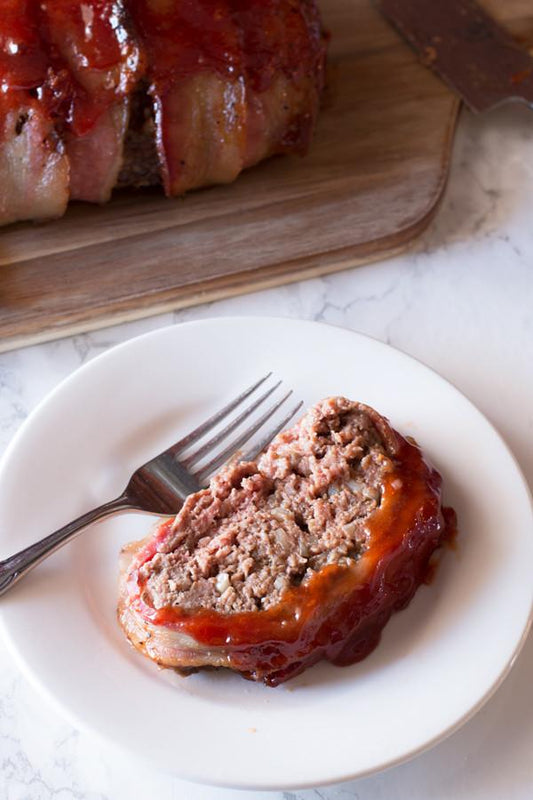 It's a fact that you can wrap anything in bacon and it instantly becomes better. This bacon wrapped meatloaf is living proof of this fact. Just look at this meaty, bacon-wrapped, mouthwatering meal…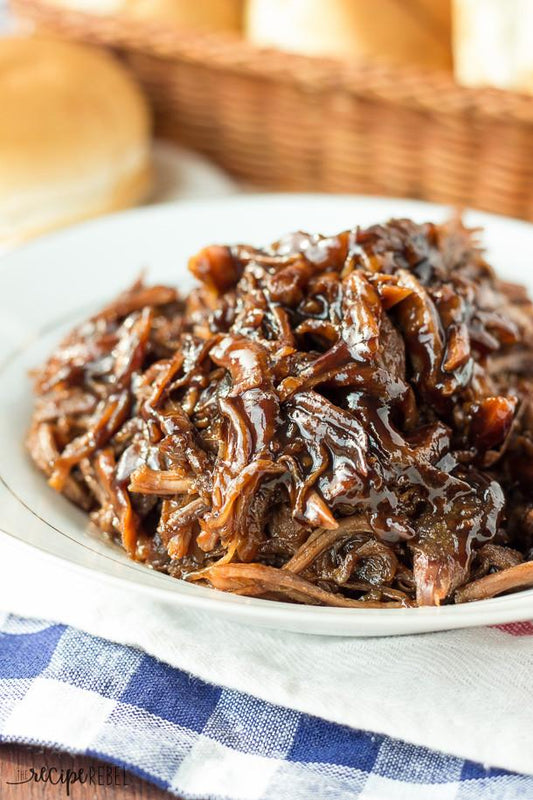 We're officially deep into crockpot season and it just so happens to be party season too! With all the football parties, holiday parties and dropping temperatures, we want to make our lives easier. That's why we're sharing these 13 best crockpot meats to whip up for a party. Now we don't know about you, but we don't love the idea of slaving in the kitchen all day and night long. While we love our cooking, when we are in party mode, we want to be part of the action wherever it's happening! This makes crockpot recipes so crucial to our party survival. Making a tender, delicious crockpot meat recipe means you can kick back, relax and even enjoy all that food you worked so hard on. With the main meat out of the way, you can turn any party into a self-serve array of deliciousness. From a taco bar to a brisket sandwich bar, pulled pork slider bar to wings and ribs, just set out the fixings and watch everyone's bellies get full. You can't go wrong with any of the recipes on this list, so the possibilities are endless!
Crockpot Salsa Verde Chicken - Diethood
Honey Balsamic Pulled Pork - The Recipe Rebel Hard Cider Pulled Pork - Flavor the Moments
Slow Cooker Chipotle BBQ Ribs - Mariah's Please Plates Easy Crockpot Sloppy Joe - Petite Allergy Treats
Crockpot Pork Carnitas - Live Well Bake Often BBQ Pulled Chicken Sliders - My Kitchen Craze
Easy Slow Cooker Pork Roast with Hoison-Blackberry Sauce - Floating Kitchen
Slow Cooker Soy and Lime Chicken Wings - Spoonful of Flavor
Slow Cooker Sweet and Spicy Pork Shoulder - How Sweet It Is Crockpot Root Beer Pulled Pork - Sauce + Style
Slow Cooker Texas Smoked Brisket - Sauce + Style
Slow Cooker Beer & Mustard Pulled Pork - Sauce + Style Just don't forget to drop us an invite to the big party, mmkay?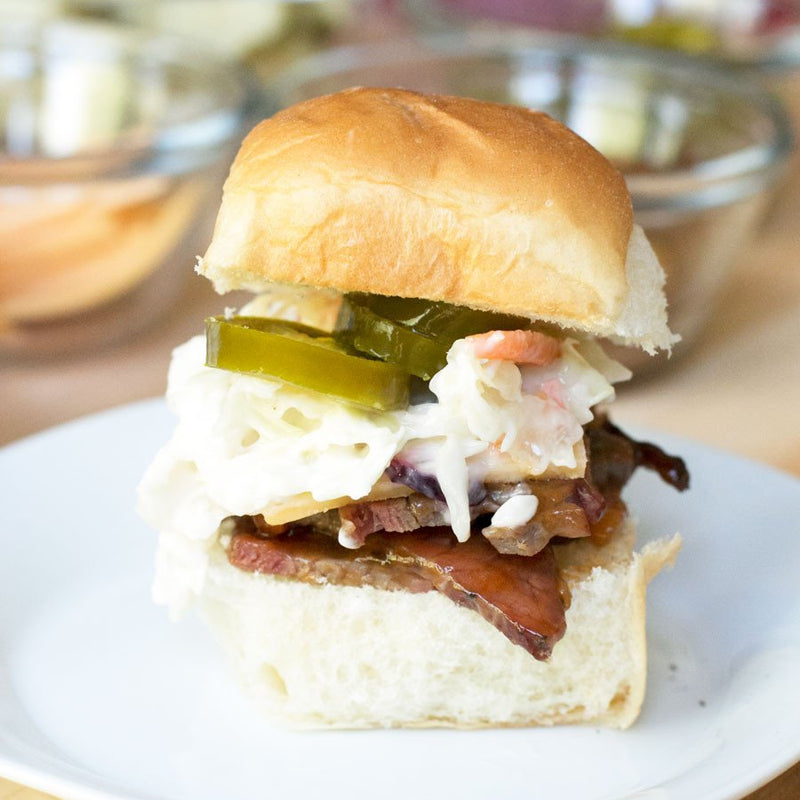 Stop trying to make the perfect sliders for everyone and have them make their own instead! Put the fun back into your food at your next gather with this super simple DIY Brisker Slider Bar. Instead of slaving away, trying to find the ideal slider that everyone will fall in love with, load up on some of our brisket and set out as many toppings as you can. All you guests will love jumping in to create their own version of the "best brisket slider", plus you can keep the options open no matter what foods some people love (or love to hate).
You can stick with a classic combo of a white bun, brisket, pickles, red onion and cheese.
Or shake things up with a Hawaiian bread bun, coleslaw and pickled jalapeños!
Not to mention all the stress this whole DIY slider bar takes off you as the host/hostess... But that's just an extra side bonus to everything loving the food and having fun, right? ;)
What You'll Need: Serves 12 to 14 2 types of slider buns (24 total) 1 lb Pig of the Month Brisket, warmed 1 red onion, thinly sliced 2 cups coleslaw 1 cup caramelized onions Sliced sharp cheddar cheese, cut into small squares Sandwich pickles Pickled jalapeños BBQ sauce Franks Red Hot Sauce
Place the buns on a large platter. Place warmed brisket on a separate large platter. Layer cheddar cheese slices on a small plate.
Add red onion, coleslaw, caramelized onions, sandwich pickles and pickled jalapeños to individual serving bowls. Place the buns to one side next to the brisket and then lay out all of the toppings in a line to make it easy for guests to pick and choose. Set out your favorite BBQ sauces and hot sauces for people to experiment with! Have fun with it!
Shop This Post
*Recipe & Photos by Meghan Bassett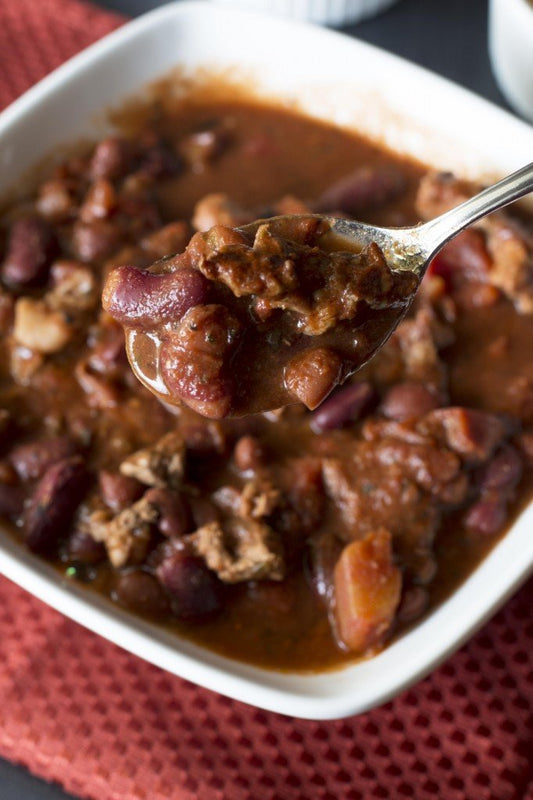 Some of you might pull out the slow cooker all year long, but if you're anything like us, you spend most of your time in the warmer months putting that grill to work. Now that the temperatures are starting to dip and the grills are getting their last hurrah, we're looking ahead to crockpot season. Is anyone else as excited as we are about this?!  There's nothing like coming home to a delicious meal all hot and ready, simply waiting for you to dish up, at the end of a long hard day. Those days seem to get even longer and harder as the cold temperatures set in and you get a bit of a chill walking from your car to your front door. We love putting our slow cookers to the test all fall and winter long, so we've rounded up the ultimate list of comfort crockpot foods to keep your belly and your heart happy! From classics like beef and bean chili, to new favorites like mozzarella stuffed meatballs, you'll be able to cure any weekday blues just a few minutes after you get home.
Slow Cooker Sriracha Bacon Mac N Cheese - Sauce + Style Slow Cooker Beef & Bean Chili - Sauce + Style
Slow Cooker Texas Smoked Beef Brisket - Sauce + Style Slow Cooker Lasagna - Sauce + Style
Crockpot Root Beer Pulled Pork - Sauce + Style Slow Cooker Melt-In-Your-Mouth Pot Roast - Joyously Domestic
Slow Cooker Mozzarella Stuffed Meatballs - Le Creme de la Crumb Slow Cooker Chicken Tortilla Soup - Rotel
Best Slow Cooker French Dip Sandwiches - Carlsbad Cravings Crockpot Hot Chocolate - Sauce + Style
Slow Cooker Broccoli Beef - Le Creme de la Crumb
Crockpot Sunday Sauce - Half Baked Harvest
Crockpot Beer Braised Chicken - Half Baked Harvest
Crockpot Carne Asada Nachos - How Sweet It Is Slow Cooker Pumpkin Pie - She Knows Be sure to keep up with our blog posts all month long because October is going to be ALL about the crockpots!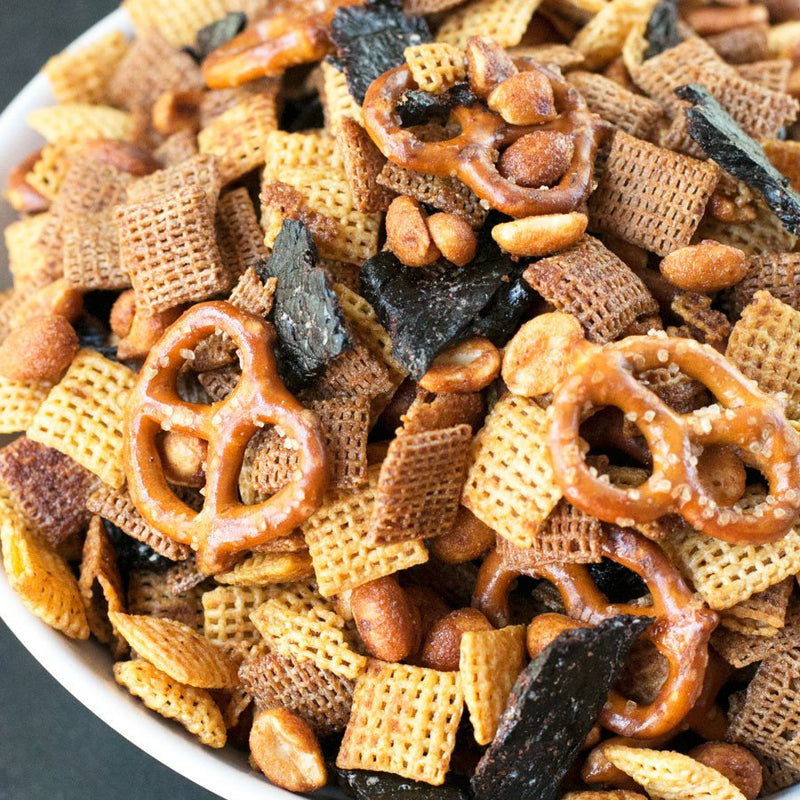 I always get into snacking whenever fall kicks in. I don't know if it's the cooler temperatures, the football, or the new batch of exciting flavors and recipes, but something comes over me and I turn into a grazer. This Quick & Easy Beef Jerky Chex Mix is one of my new favorite snacks to whip up any given day so I can keep up with my grazing habits all week long.
This whole snack mix requires such little effort! All you do is mix it all up and bake for a little over an hour. You'll just have to find a way to distract yourself while it bakes... Trust me when I say all you'll wanna do is reach in and snag a couple pieces every few minutes because the smell of this chex mix is way too intoxicating. You get the best of all worlds in each handful! This snack mix is a little sweet, a little spicy, and packed with our favorite Pig of the Month BBQ beef jerky. There's tons of variety to keep every taste bud in your mouth jumping for joy.
Pack a small bag to take with you to work, or set out the whole thing right before the big game kicks off this weekend. It'll all be gone before you know it!
[vimeo 183505889 w=640 h=360]
Quick & Easy Beef Jerky Chex Mix from Pig of the Month BBQ on Vimeo.
Happy snacking!
INSTRUCTIONS: Serves 8 to 10 Preheat oven to 250 degrees. Combine both types of chex, roasted peanuts, beef jerky and pretzels in a large bowl. Whisk together melted butter, Worcestershire sauce, garlic powder, onion powder, salt and cayenne pepper. Pour the sauce over the dry mix and toss to coat. Dump out chex mix onto lined rimmed baking sheet. Bake for 1 hour and 15 minutes, stirring every 20 minutes. Cool completely. Serve. Shop This Post Pig of the Month BBQ Beef Jerky
*Recipe, video and photos by Meghan Bassett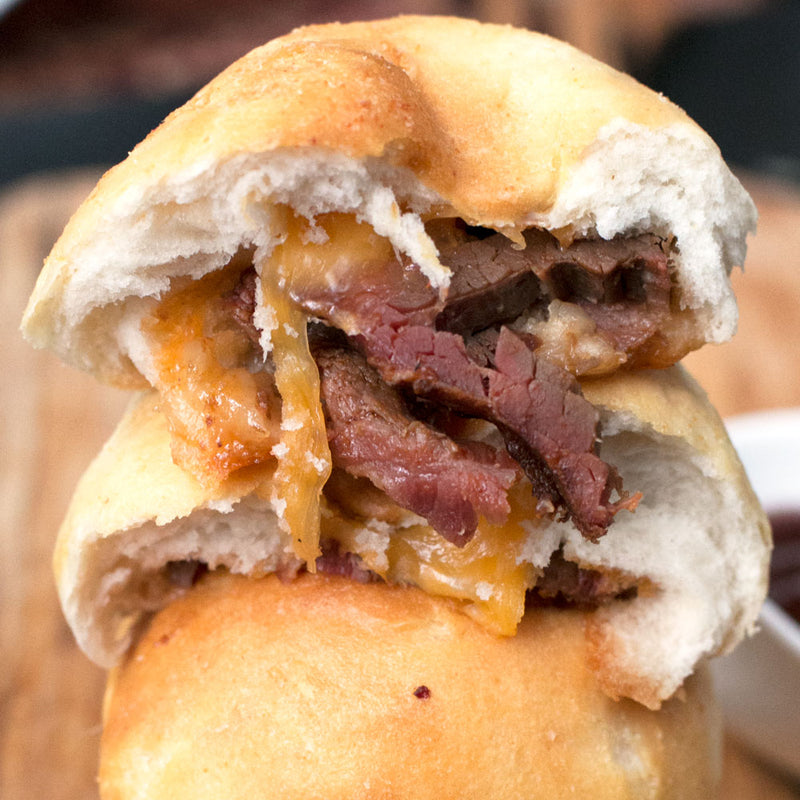 Ready to drop a bomb on that epic tailgating game this season? BOOM. These Brisket Bombs are here to do all the heavy lifting for ya.
Stuffed with Pig of the Month's INSANE brisket and all the cheddar cheese, these brisket bombs are the best football food you could ever ask for. It's got the carbs and the protein to load you up and balance out the booze, not to mention a ton of gooey cheese. Really, what is a football game without excessive amounts of cheese anyways?
It's a pretty boring event, that's what. You gotta get that cheese, meat and bread in while you tailgate for the big game this season! I mean, if you can't indulge before and during a football game, what the hell is the point of all the delicious, extravagant, decadent food out there in the world? I know that's a wee bit dramatic, but that's how freaking amazing these brisket bombs. They come together in about 15 minutes and they'll have everyone begging for more.
Brisket Bombs from Pig of the Month BBQ on Vimeo.
Don't believe me? I dare you to try these out for the next big game and prove me wrong...
INSTRUCTIONS: Preheat oven to 400 degrees. Line two baking sheets with a silicone baking mat or parchment paper. Separate biscuits. Flatten out each biscuit slightly and place 1 to 2 cubes of cheese in the center. Top with chopped biscuit and wrap the biscuit around the filling. Pinch the seams tightly and place seam-side down on the lined baking sheets. In a small bowl, combine melted butter, garlic powder and onion powder. Brush the tops of the biscuits with the seasoned butter. Bake 10 minutes. Remove from oven and brush the tops of the biscuits again with the seasoned butter. Serve with BBQ sauce.
Shop This Post
*Recipe, photos and video by Meghan Bassett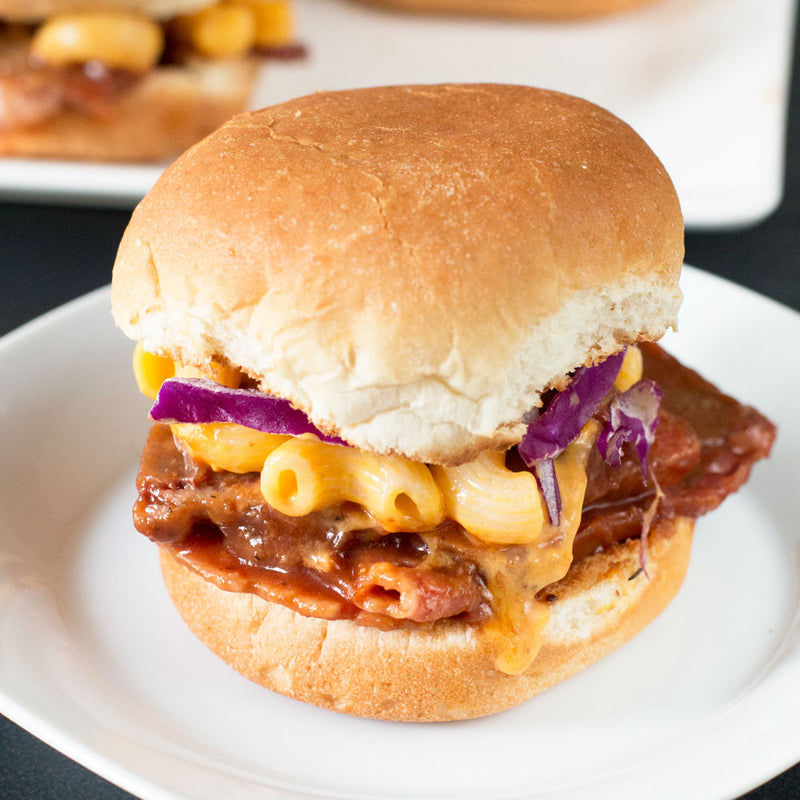 You know when you have leftovers hanging around and you have ZERO idea what to do with them? My refrigerator is usually a mash up of random BBQ leftovers, some pasta and whatever else I happen to have leftover from last night's BBQ party. There's a limit to how many times you can eat the same dish the same way. I mean, I love my brisket, but after a couple of nights of just brisket and a side salad, I'm getting bored.
I also happen to be lazy and have no desire to actually get too terribly creative unless I know it'll take me zero extra effort. Enter these little brisket mac n cheese sliders... Brisket Mac N Cheese Sliders are the new appetizer that you have absolutely no excuse not to make. Seriously, how easy are these little guys? You just throw some leftovers on a toasted bun and BAM, you have a completely new way to eat that brisket and mac n cheese that have been taking up valuable real estate in your refrigerator.
Plus, how fancy you get with this recipe is completely up to you. You can make your own smoked brisket or you can head over to Pig of the Month's shop to snag some of their oh-so tender brisket. For the mac n cheese, you can simply make these sliders with store-bought mac and cheese, or you can bust out grandma's favorite recipe to go the extra mile. Regardless, these sliders are just the right balance of meat and cheese to hit the spot with every bite. There's no going back once you've eaten these sliders, so get prepared to start craving mac n cheese on your sandwiches from here on out. Don't say I didn't warn you...
INSTRUCTIONS - Watch the video below!
Pig of the Month BBQ on Vimeo.
Shop This Post
Recipe, video & photos by Meghan Bassett
1
2
Next »