Posts tagged: appetizer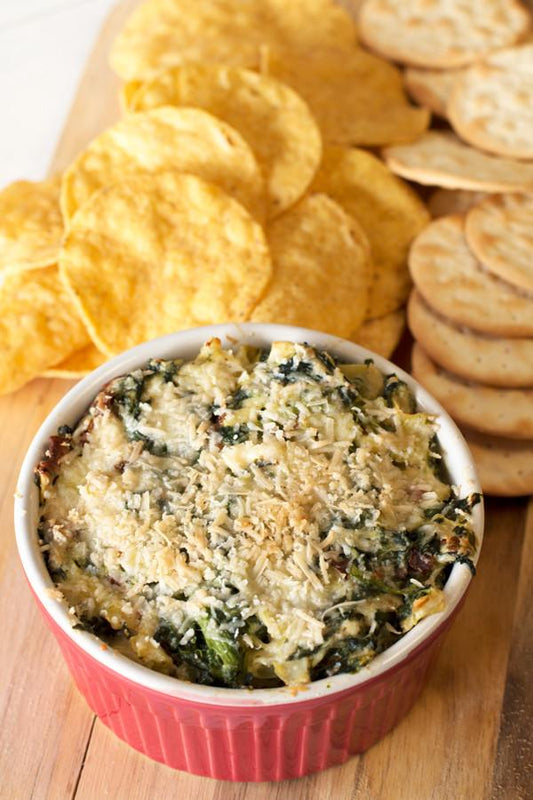 Spinach and artichoke dip is my ultimate go-to whenever I go out to eat. The one thing I always feel is missing from those spinach and artichoke dips is BACON (I mean really, what couldn't be improved with a bit of bacon?). This version of the classic dip is packed with chopped Pig of the Month bacon and it really makes this dip ten times better. Plus the whole recipe comes together in less than a half hour!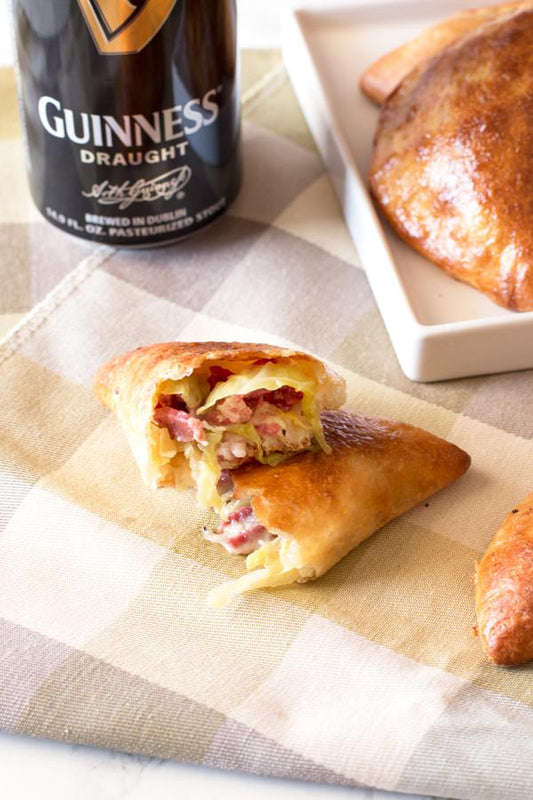 Corned beef and cabbage is a staple for us on St. Patrick's Day. No matter what, we always either make it or go out to eat it on St. Patrick's Day. It's become a great tradition, but this year I wasn't getting too excited about whipping out the same recipe for another year. This is exactly why I want to change things up this year and make something fun and playful!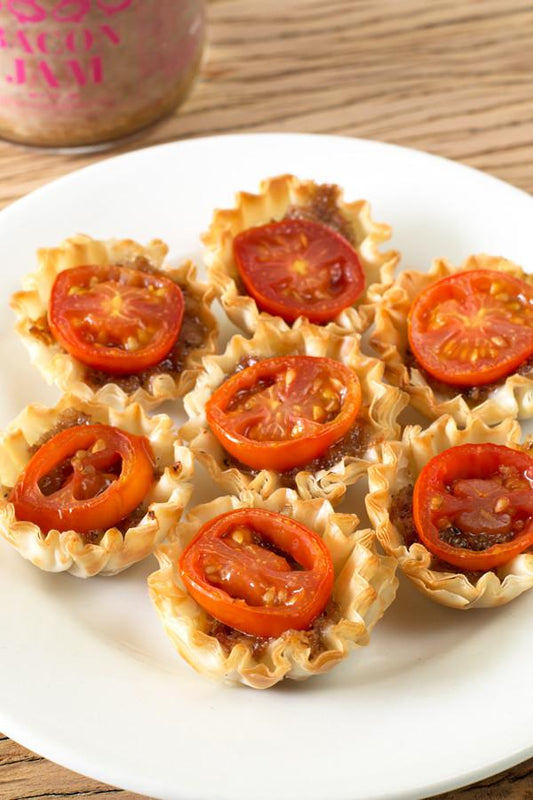 Bacon jam tartlets are officially the easiest and most addictive appetizer of the summer.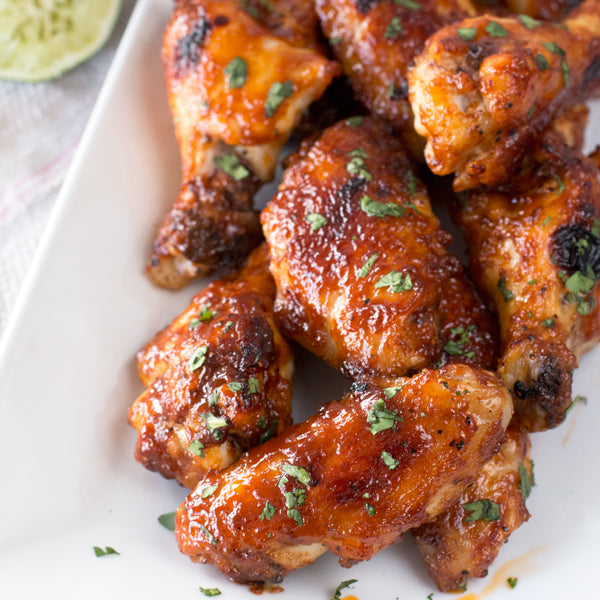 It's March and that means one thing in my foodie-obsessed brain - March Madness parties for days. That's right, that means chips and dip, guacamole, sliders, jalapeño poppers and, most importantly, crispy sticky chicken wings. Sriracha Lime Baked Chicken Wings, to be exact.
If you ever have a snack attack, March Madness-related or not, your next go-to recipe absolutely has to be these wings. They are baked to crispy perfection in the oven, and the sticky spicy and tangy glaze makes them positively finger-licking good. You'll need the wet wipes for these, folks.
The Sriracha and lime juice make this super simple glaze full of flavor that you simply can't find anywhere else. No need to go out for chicken wing perfection - time to stay in with your friends and family watching the next March madness game, or just enjoying a leisurely spring afternoon with a couple of hearty beers.
INSTRUCTIONS: Preheat oven to 400 degrees F. Line a large baking sheet with parchment paper. Set aside. In a medium saucepan over medium heat, melt 5 Tbsp unsalted butter. Once melted, whisk in 1 Tbsp flour and brown for approximately 1 minutes. Add in the hoisin sauce, Sriracha, soy sauce and lime juice, stirring to combine. The mixture should become nice and thick pretty quickly, in less than a minute. In a large bowl, combine the chicken wings, 2 Tbsp melted butter, vegetable oil, salt and pepper. Toss to coat the wings evenly.
Add the wings in an even layer to the lined baking sheet.
Brush the wings with a layer of glaze. Bake the wings for 25 minutes, turning them over halfway through and adding another coat of glaze. After 25 minutes are up, brush the wings with a final layer of glaze and broil for 4 to 5 minutes until crispy. Garnish with chopped fresh cilantro and serve immediately.
Recipe & photos by Meghan Bassett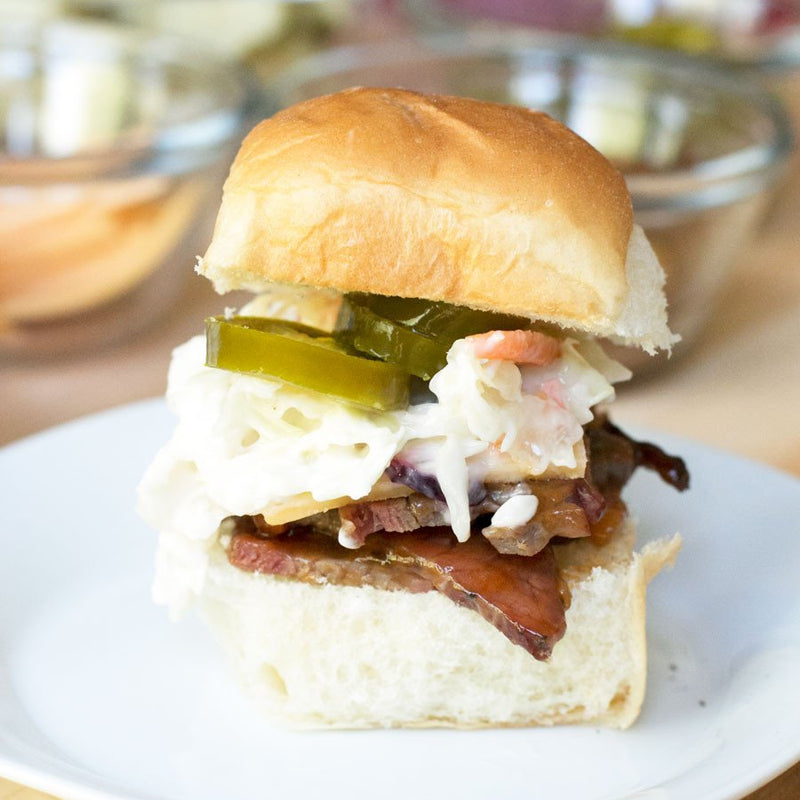 Stop trying to make the perfect sliders for everyone and have them make their own instead! Put the fun back into your food at your next gather with this super simple DIY Brisker Slider Bar. Instead of slaving away, trying to find the ideal slider that everyone will fall in love with, load up on some of our brisket and set out as many toppings as you can. All you guests will love jumping in to create their own version of the "best brisket slider", plus you can keep the options open no matter what foods some people love (or love to hate).
You can stick with a classic combo of a white bun, brisket, pickles, red onion and cheese.
Or shake things up with a Hawaiian bread bun, coleslaw and pickled jalapeños!
Not to mention all the stress this whole DIY slider bar takes off you as the host/hostess... But that's just an extra side bonus to everything loving the food and having fun, right? ;)
What You'll Need: Serves 12 to 14 2 types of slider buns (24 total) 1 lb Pig of the Month Brisket, warmed 1 red onion, thinly sliced 2 cups coleslaw 1 cup caramelized onions Sliced sharp cheddar cheese, cut into small squares Sandwich pickles Pickled jalapeños BBQ sauce Franks Red Hot Sauce
Place the buns on a large platter. Place warmed brisket on a separate large platter. Layer cheddar cheese slices on a small plate.
Add red onion, coleslaw, caramelized onions, sandwich pickles and pickled jalapeños to individual serving bowls. Place the buns to one side next to the brisket and then lay out all of the toppings in a line to make it easy for guests to pick and choose. Set out your favorite BBQ sauces and hot sauces for people to experiment with! Have fun with it!
Shop This Post
*Recipe & Photos by Meghan Bassett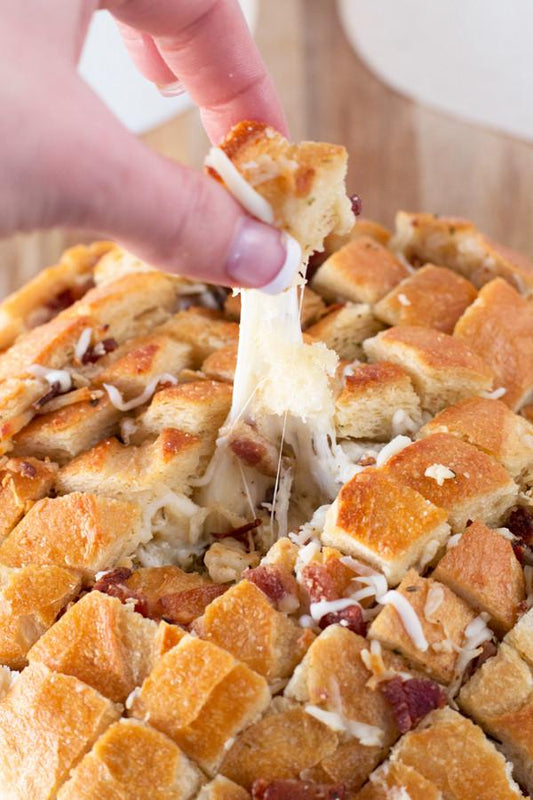 Hear that....? Gobble gobble! Thanksgiving is just around the corner and for all you piggy peeps out there, we know what you reallllllly want on turkey day. BACON. Seriously, though, when do any of us NOT crave bacon? The turkey might be the main event on Thanksgiving, but there's no reason you can't start out your day with some delicious bacon goodness. We're rounding up our top favorite bacon appetizers for you so you have plenty of time to prep for the big holiday. Even if the turkey turns out dry or the gravy is lumpy, at least you started off with a bang zoom pop of bacon to make up for it... HA don't worry, we know you pros wouldn't let any of that happen. Just make the bacon the opening act and we promise, your Thanksgiving is going to be off the HOOK. Bacon for the win, every dang time people!
Bacon Wrapped Tenderloin Bites with Creamy Horseradish Sauce - Joyful Healthy Eats Bacon Ranch Cheese Ball - Damn Delicious
Cream Cheese Stuffing Jalapeño Popovers - Whitney Bond Sweet and Spicy Sriracha Bacon Chicken Bites - The Gunny Sack
Bacon-Wrapped BBQ Shrimp with Chimichurri Dipping Sauce - Iowa Girl Eats
Feta and Bacon Stuffed Mushrooms - The Rustic Willow Grilled Bacon Wrapped Asparagus - Slim Sanity
Brown Sugar Candied Bacon - My Friend's Bakery Bacon Wrapped Dates with Goat Cheese and Rosemary - Spoon University
Bacon Wrapped Potato - Let the Baking Begin Maple Bacon Wrapped Andouille Bites - Loaves and Dishes
Bacon Straws - Army Wife to Suburban Life Sriracha Bacon Wrapped Stuffed Jalapeños - Sauce + Style
Pull Apart Bacon Garlic Cheese Bread - Sauce + Style
Bacon Jam Tartlets - Sauce + Style So after reading through all of these, which one do you want to start off your Thanksgiving feast with? Happy Turkey Day people!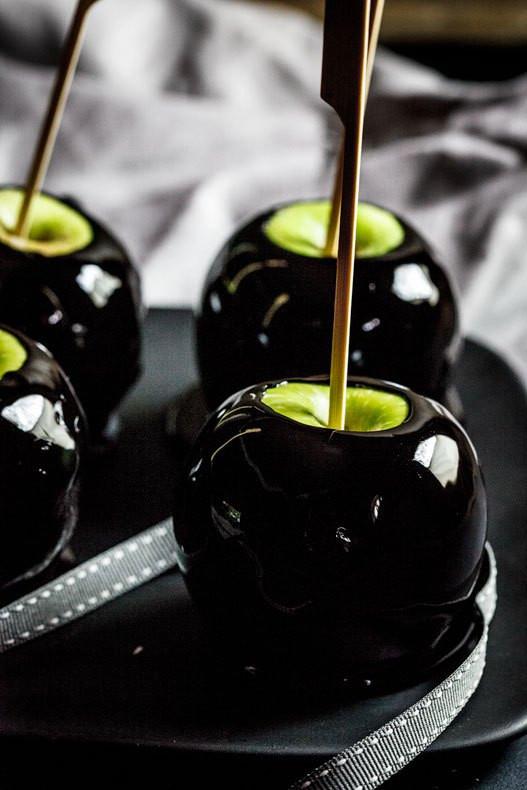 Halloween is one of those holidays that's mostly reserved for the kiddos. The dressing up, the trick-or-treating, the running all over the neighborhood like crazy gremlins - you start feeling a little silly about the whole thing as soon as you hit high school. Yea ok, you might be all grown up now. You might not see the fun in picking out a costume or staying out all night at a bar, but that doesn't mean you have to stop celebrating the holiday! Being a grown up means you get to do whatever the hell you want, and this year we wanna celebrate Halloween like the classy AF adults we are. Ditch that store-bought candy and whip up some tasty treats with a little spooky flair. It'll make that whole kids ringing your doorbell every 5 seconds thing SO much easier (or it'll take the edge of you running after your kiddos when they are all on crazy sugar highs). So grab the gang and have a party! Throw on a little Thriller and a witchy hat. Fill up those cocktail glasses and cheers to celebrating the holiday like the unbelievably mature adult you are. Just be sure to serve all of these spooky grown-up Halloween recipes, because that's how you really start adulting so hard.
Spiderweb Cake - Delish
Candied Apples - Delish Candy Corn Jello Shots - A Beautiful Mess
Strawberry Ghosts - Miss Candiquik
Dracula's Dentures - The Girl Who Ate Everything Twilight Bloody Good Vampire Milkshake Shots - Frog Prince Paperie
Pumpkin Cheesecake Truffle Mummies - Creme de la Crumb Tombstone Taco Dip - Better Homes & Gardens
Spooky Fried Mozzarella Eyeballs - Foodie Crush Pumpkin-Shaped Cheese Ball - lol foodie
Poison Toffee Apples - Simply Delicious Pumpkin Cocktail - Punchbowl
Petri Dish Jell-O - Sugar & Cloth
Halloween Candy Bag Caramel Corn - Sauce + Style And for a final treat, try pairing booze with all that leftover candy you have!
The Complete Guide to Pairing Halloween Candy with Booze - Sauce + Style Happy Halloween!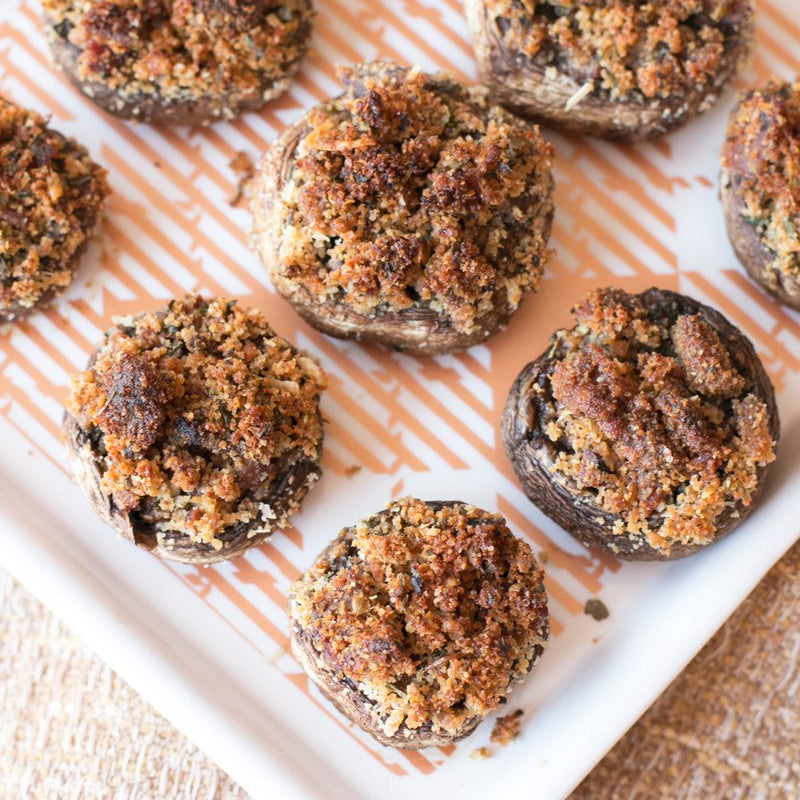 We are in prime holiday season and I don't know about you, but I need a ton of appetizer recipes on hand to get through to the end of the year.
From Thanksgiving to Christmas, Friendsgiving to New Year's Eve, there are about five million parties that are screaming for the perfect appetizer to stuff your face with. These little stuffed mushrooms are so easy to make and they are awesome for taking over to a party that you are attending. They are not too heavy so they won't spoil your appetite, but you might have trouble stopping at just one or too.
The earthy mushroom, the savory bacon and all the herbs blend together to make a delicious bite of crispy-topped perfection.
[vimeo 191819578 w=640 h=360]
Cheesy Bacon-Stuffed Mushrooms from Pig of the Month BBQ on Vimeo.
INSTRUCTIONS: Preheat oven to 400 degrees. In a medium bowl, stir together bread crumbs, cheese, garlic, bacon, oregano, parsley, pepper, salt and 2 Tbsp olive oil. Set aside. Drizzle a baking sheet with 1 1/2 Tbsp olive oil. Add 1 to 1 1/2 tsp of filling to each mushroom and place in an even layer on the baking sheet. Bake for 25 minutes, or until golden brown. Serve.
Shop This Post
Pig of the Month BBQ Applewood Smoked Maple Bacon
*Recipe, photos and video by Meghan Bassett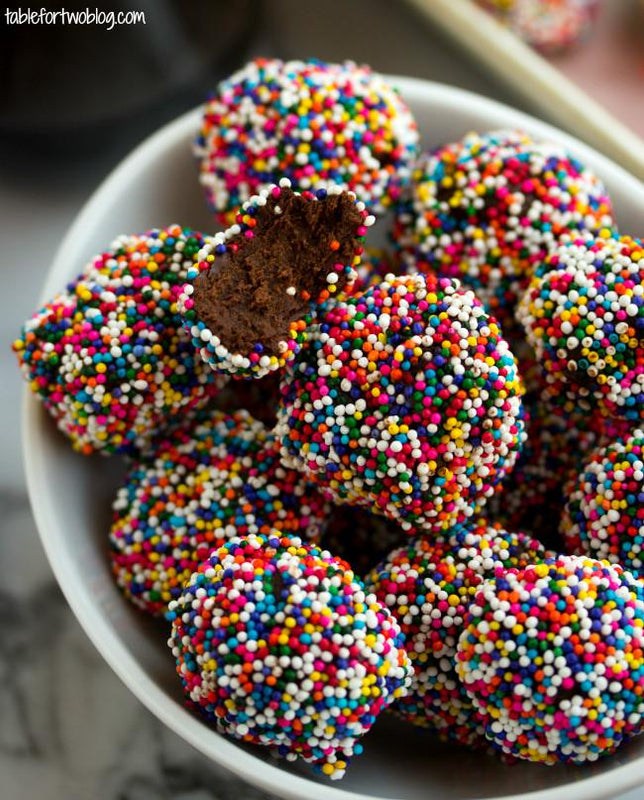 Now that the Christmas season is officially over, it's time to focus on all that New Year, New Me stuff. While other peeps are thinking about diets and how they can improve themselves in the coming year, we've got our eyes on the REAL prize... How to ring in the new year like a freakin' BOSS. There's no sense in making big plans for the new year if you are properly celebrating it's arrival, right? For us, it's all about DECADENCE. All the food, drink and more food that we want to double-down on before we feel the need to cleanse the holiday weight gain in January (you know, that diet that generally only lasts one week?). Check out our ultimate list of indulgent recipes from drinks to apps to desserts and even a burger made with beer cheese sauce and whiskey... Because why the F not? You can only say goodbye to 2016 once, so let's send that year out the right way.
Gingerbread Spice Cocktail - Sauce + Style
Cheesy Bacon-Stuffed Mushrooms - Sauce + Style Ultimate Hot Chocolate Bar - Sauce + Style
The Perfect Antipasti Platter - Sauce + Style
Peach and Vanilla Champagne Jello Shots - That's So Michelle
Sugar Cone Party Horns - Hungry Happenings
Glitter Champagne Bottles - Camp Makery
Double-Stuffed Oreo Jello Shots - A Beautiful Mess
Jameson Whiskey Blue Cheeseburger with Guinness Cheese Sauce + Crispy Onions - Half Baked Harvest
Chipotle Beer Shrimp Quesadillas with Spicy Guac - How Sweet It Is
One-Pan Baked Champagne Cream Sauce Fettucine with Truffle Oil - Half Baked Harvest
Crispy Beer Chicken with a Creamy Beer Mushroom Gravy - Cafe Delites
Drunken Cherry Galettes - The Brewer and the Baker
Boozy Truffles - Table for Two
Boozy Gummy Bear Cupcakes - Sweet Tooth Happy New Year, piggy peeps! We'll catch y'all on the flip side.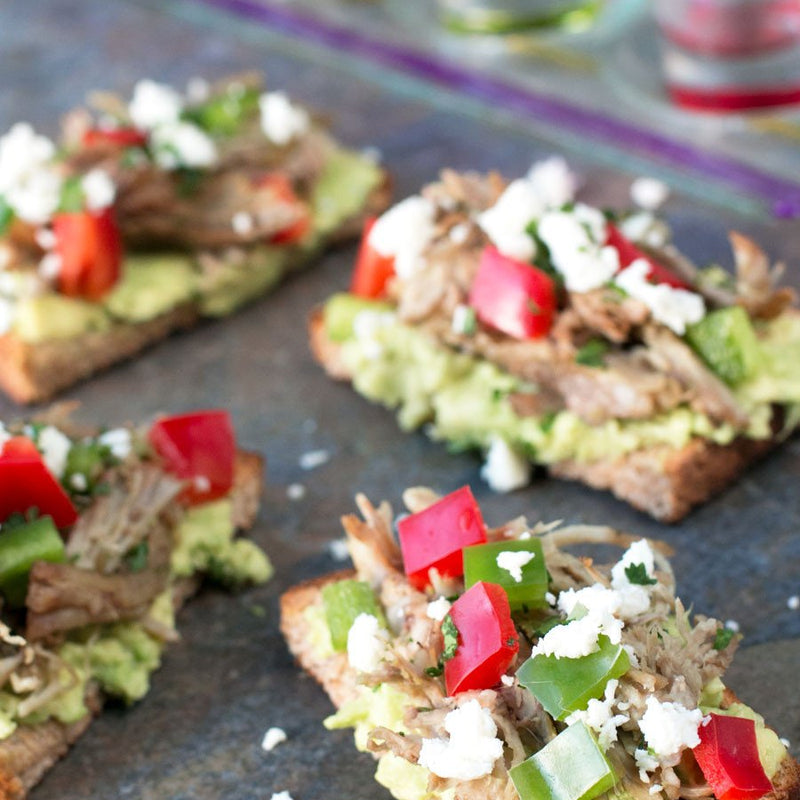 Avocado toast might be all the rage for all those health nuts out there wanting to eat something good for breakfast or lunch, and while we appreciate the healthy attempt, I kind of like to trash my healthy plans up... With a whole heaping helping of meat in these killer Pulled Pork Veggie Avocado Toasts!
I can honestly admit that my attempts at getting healthy this year are pretty dang lame... I am not the biggest fan of sticking to a strict diet. For obvious reasons I'm sure. I mean when I have Pig of the Month BBQ Pulled Pork in my fridge, why the heck would I ever want to just eat my fruits and veggies?! Nope, instead I want to load up on my pork and I GUESS I can load up on some veggies at the same time.
With the pulled pork, these veggie avocado toasts burst with tons of flavor. It's like eating a pulled pork taco but on toast! I love making this for breakfast or lunch, or a mid-afternoon snack, because it's super easy AND it's easy to throw together in even the smallest of kitchens (like that dinky one at your office...). So load up and get healthy (well healthy-ISH)!
INSTRUCTIONS: Spread toast with a layer of mashed avocado. Top with pulled pork, chopped bell peppers, queso fresco and chopped cilantro. Serve!
Shop This Post: Pig of the Month BBQ Pulled Pork *Recipe and photos by Meghan Bassett
1
2
Next »