Posts tagged: appetizer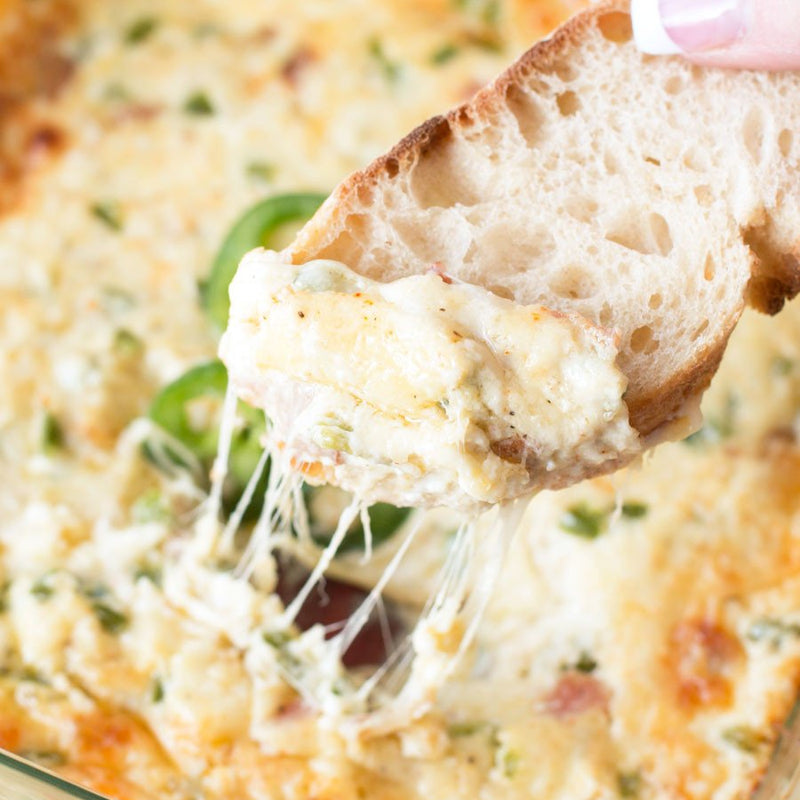 Y'all know I couldn't leave you hanging right before the big game on Sunday without something delicious to make, right? For the love of all things bacon and cheese, this Cheesy Jalapeno Bacon Dip is the one recipe that HAS to hit your game day spread this weekend.
I LOVE serving up cheesy dips for football parties because they are always the star of the entire day. The gooey cheese served up on crusty bread or tortilla chips is all too addicting (plus it helps balance out all those boozy drinks you'll be guzzling as you cheer your team on).
Heck, even if you are just watching for the commercials, you still need something to eat that'll warm you from the inside out! This creamy, cheesy dip is spicy and savory, with the perfect salty hit of bacon from Pig of the Month BBQ's Applewood Smoked Maple Bacon. The thick cuts of bacon really stick out in this dip, so it's ideal for all those bacon-lovers in yo life. When I dip, you dip, we dip! Time to DIG IN.
[vimeo 202231008 w=640 h=360]
Cheesy Jalapeno Bacon Dip from Pig of the Month BBQ on Vimeo.
Serves 6-8 INSTRUCTIONS: Preheat oven to 400 degrees. In a large bowl, mash together cream cheese, mozzarella cheese, jalapeños, mayonnaise, garlic, salt, pepper, cayenne, butter, and bacon until combined. Add mixture to a medium-sized baking dish. Bake for 20 to 25 minutes. Serve with tortilla chips or crusty bread. Shop This Post Pig of the Month BBQ Applewood Smoked Maple Bacon
*Recipe, photos and video by Meghan Bassett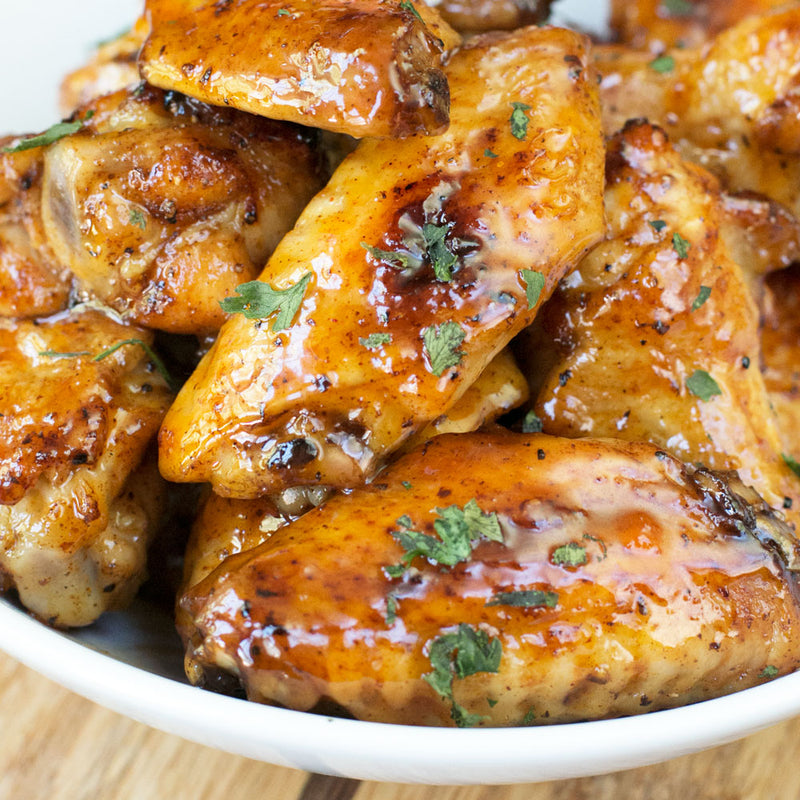 Tailgating season is back and better than ever, piggy peeps! I don't know about you but I also ready to bring football back into my life. I just drafted my fantasy team and I have big hopes that my home team is going to be putting up some major points throughout the season.
Let's be honest though, as much as we love that ol' game we call football, the tailgating food is where it's AT. It's the thing that gets you through between the end of summer recipes and the official start of the holiday season once November rolls around. That means we have two months to stuff our faces with all the cheese, bacon and meats we can get our hands on.
And I'm starting with wings. Sticky, sweet and spicy wings that make you bust out the wet wipes and get extra messy. This is just the recipe to start off with people! Just look at that sticky sauce covering those baked wings.... ALL. THE. YES. Are you ready to dig in??
INSTRUCTIONS: Preheat oven to 400 degrees. Line a baking sheet with parchment paper.
In a large bowl, whisk together vegetable oil, 2 Tbsp melted butter, salt, pepper, garlic powder and smoked paprika. Add the wings and toss. Lay wings on lined baking sheet in a single layer. Bake for 45 to 50 minutes. Turn the oven to broil on high. Move chicken wings to the top rack and broil for 3 to 4 minutes, until crispy. Flip and broil again on the other side.
In a medium saucepan over medium heat, stir together hot sauce and cornstarch. Add butter, molasses and honey, stirring to combine. Bring to a boil, then reduce to a simmer for 4 to 5 minutes until the sauce is thickened. Toss wings in a large bowl with the honey buffalo sauce. Serve with ranch or blue cheese dressing.
*Recipe and photos by Meghan Bassett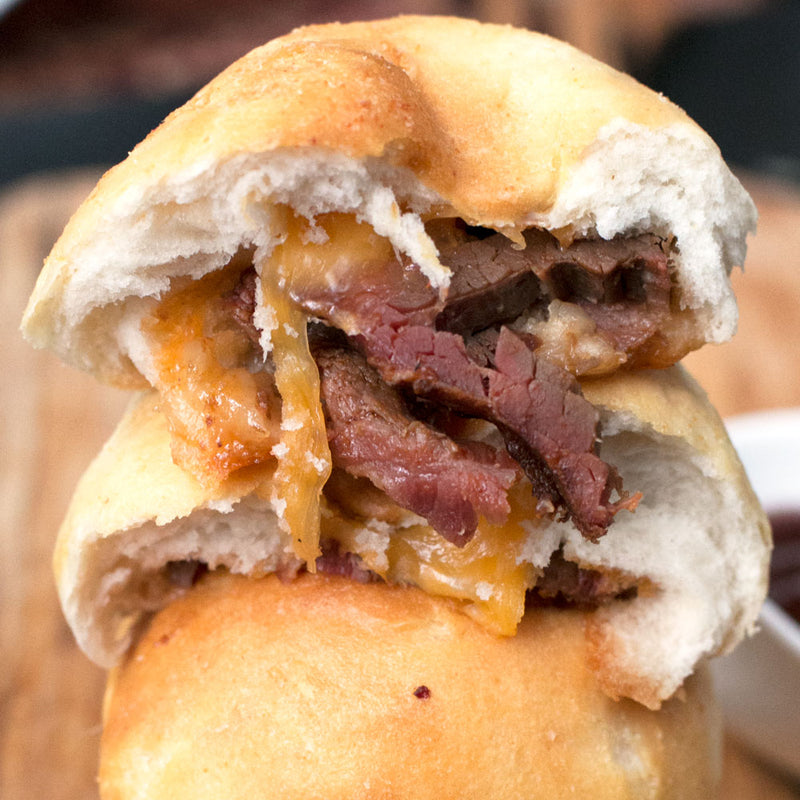 Ready to drop a bomb on that epic tailgating game this season? BOOM. These Brisket Bombs are here to do all the heavy lifting for ya.
Stuffed with Pig of the Month's INSANE brisket and all the cheddar cheese, these brisket bombs are the best football food you could ever ask for. It's got the carbs and the protein to load you up and balance out the booze, not to mention a ton of gooey cheese. Really, what is a football game without excessive amounts of cheese anyways?
It's a pretty boring event, that's what. You gotta get that cheese, meat and bread in while you tailgate for the big game this season! I mean, if you can't indulge before and during a football game, what the hell is the point of all the delicious, extravagant, decadent food out there in the world? I know that's a wee bit dramatic, but that's how freaking amazing these brisket bombs. They come together in about 15 minutes and they'll have everyone begging for more.
Brisket Bombs from Pig of the Month BBQ on Vimeo.
Don't believe me? I dare you to try these out for the next big game and prove me wrong...
INSTRUCTIONS: Preheat oven to 400 degrees. Line two baking sheets with a silicone baking mat or parchment paper. Separate biscuits. Flatten out each biscuit slightly and place 1 to 2 cubes of cheese in the center. Top with chopped biscuit and wrap the biscuit around the filling. Pinch the seams tightly and place seam-side down on the lined baking sheets. In a small bowl, combine melted butter, garlic powder and onion powder. Brush the tops of the biscuits with the seasoned butter. Bake 10 minutes. Remove from oven and brush the tops of the biscuits again with the seasoned butter. Serve with BBQ sauce.
Shop This Post
*Recipe, photos and video by Meghan Bassett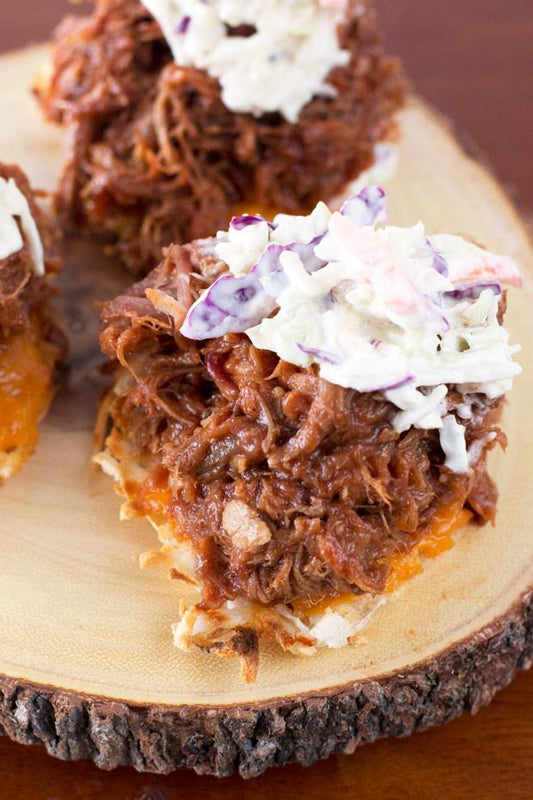 I can hardly believe that summer is almost over. Before you know it, Labor Day will have come and gone, the pumpkin spice lattes will be EVERYWHERE, and you'll be missing those long lazy summer afternoons of grilling so hard. I don't know about you, but I am packing in as much summer celebration as I can right about now. My weekends are all about party-hoppin' and backyard BBQ'ing. Of course, being the food-obsessed lady I am, I've got to bring the good stuff when I roll up to a party I'm not hosting. Now is the time to bust out those summer appetizers you have been meaning to make all summer long. You only live once right? Eat that extra slice of bacon. Stuff that sandwich with an extra slice of cheese. Get down on those summer flavors like there's no tomorrow, because soon tomorrow will be bringing that snowstorm that you've been dreading. I've rounded up some of my personal favorite summer appetizers below that are serious crowd-pleasers. These appetizer recipes are so bomb dot com, peeps! For real, I can promise you that you will never be heading home with leftovers.
Black Bean Jalapeño Poppers - Oh My Veggies Open-Faced Pulled Pork Sliders - Sauce + Style
Super-Size Bruschetta - Delish 5-Ingredient Garlic and Herb Cheese Bombs - Spoon University
Hawaiian BBQ Sliders - Nosh and Nourish Bacon-Wrapped Dates with Goat Cheese and Rosemary - Spoon University 
Lemon Pepper Bacon Wrapped Shrimp Skewers - Sauce + Style
Bacon Jalapeño Cream Cheese Poppers - Spoon University
Green Fries (AKA Crispy Baked Avocado Fries) - Sauce + Style
Tater Tot Nachos - Spoon University Hogs in a Blanket - Food & Wine Enjoy these last days of summer before it's too late!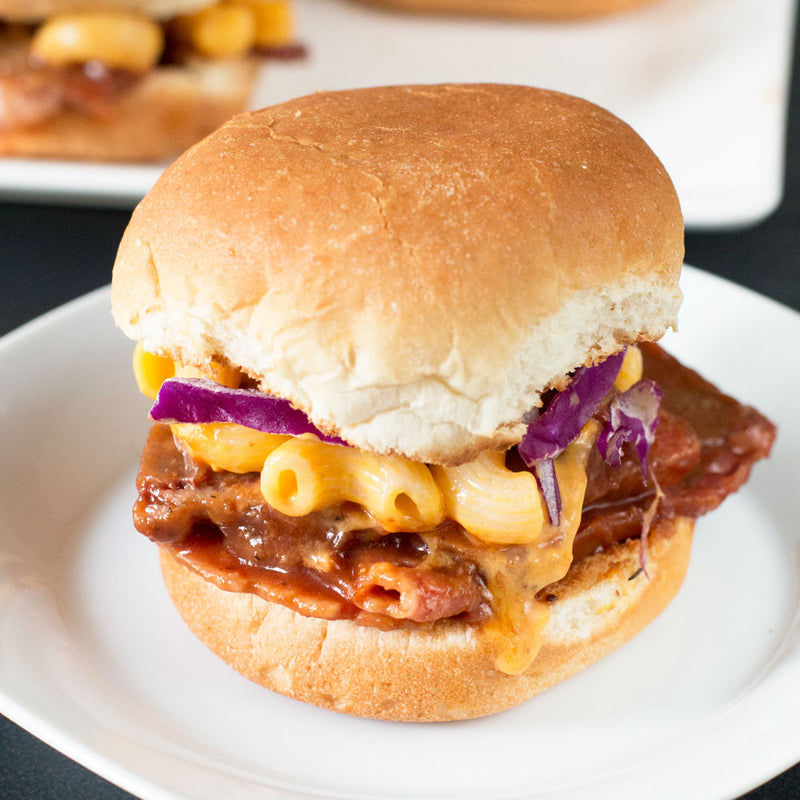 You know when you have leftovers hanging around and you have ZERO idea what to do with them? My refrigerator is usually a mash up of random BBQ leftovers, some pasta and whatever else I happen to have leftover from last night's BBQ party. There's a limit to how many times you can eat the same dish the same way. I mean, I love my brisket, but after a couple of nights of just brisket and a side salad, I'm getting bored.
I also happen to be lazy and have no desire to actually get too terribly creative unless I know it'll take me zero extra effort. Enter these little brisket mac n cheese sliders... Brisket Mac N Cheese Sliders are the new appetizer that you have absolutely no excuse not to make. Seriously, how easy are these little guys? You just throw some leftovers on a toasted bun and BAM, you have a completely new way to eat that brisket and mac n cheese that have been taking up valuable real estate in your refrigerator.
Plus, how fancy you get with this recipe is completely up to you. You can make your own smoked brisket or you can head over to Pig of the Month's shop to snag some of their oh-so tender brisket. For the mac n cheese, you can simply make these sliders with store-bought mac and cheese, or you can bust out grandma's favorite recipe to go the extra mile. Regardless, these sliders are just the right balance of meat and cheese to hit the spot with every bite. There's no going back once you've eaten these sliders, so get prepared to start craving mac n cheese on your sandwiches from here on out. Don't say I didn't warn you...
INSTRUCTIONS - Watch the video below!
Pig of the Month BBQ on Vimeo.
Shop This Post
Recipe, video & photos by Meghan Bassett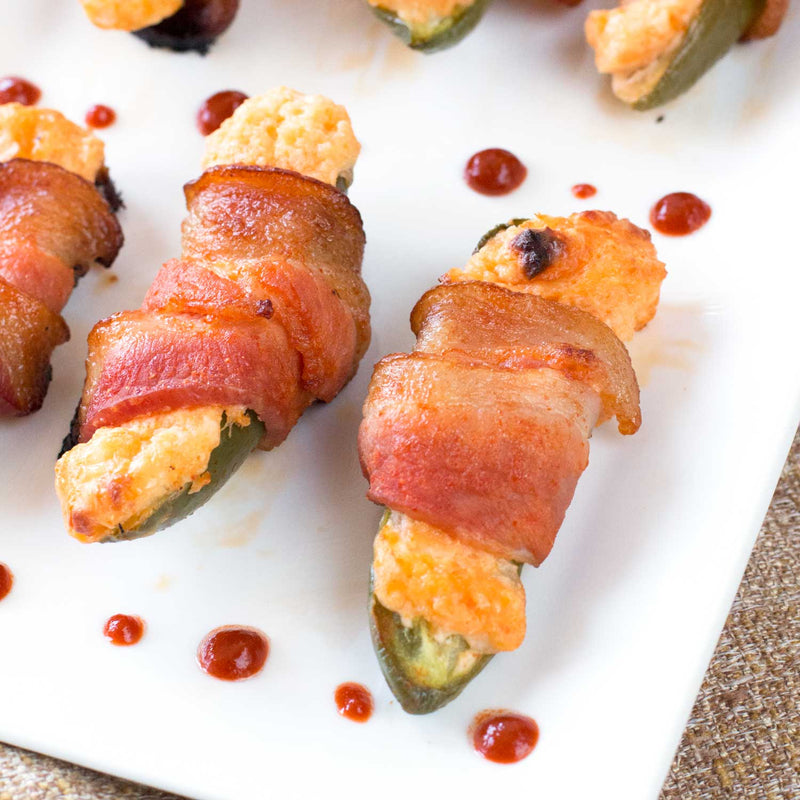 Sriracha Bacon Wrapped Stuffed Jalapeños really bring the heat! This spicy, crispy and creamy appetizer will win over everyone at your next party. 
Wrapping things in bacon is kind of a specialty of mine. If anything just isn't quite working for me in the kitchen, I usually head straight for the extra pound of bacon I always have sitting in my refrigerator. You know, just in case there's a bacon-related emergency - which surprisingly happens on a weekly basis for me. You'd be surprised by just how many things can be wrapped in bacon! Potatoes, rolls, scallops, shrimp, meatloaf, yea this list could go on forever. Today I'm bringing you one of my new favorite bacon-wrapped recipes that'll light a fire on your tongue and in your belly.
Sriracha Bacon Wrapped Stuffed Jalapeños are the best combo of crispy, creamy, spicy and extra cheesy. The Sriracha bacon and added Sriracha in the filling make these little guys just the right amount of wicked. You'll feel the heat but you won't be burning your taste buds off with each bite. Pro tip: try slicing a sausage or brat in half and stuffing it with one of these stuffed jalapeños. Next level amazingness right there, I'm just saying.
INSTRUCTIONS: Preheat oven to 400 degrees. Grease a baking dish and set aside.
In a medium bowl, beat together cream cheese, cheddar cheese, Monterrey Jack cheese, garlic, Sriracha and salt with an electric mixer until smooth and well-combined.
Add the halved jalapeños to the baking dish and fill each one evenly with the spicy cream cheese filling.
Wrap each stuffed jalapeño half with half a slice of Sriracha bacon, securing with a toothpick. Bake for 25 minutes, or until the bacon is as crispy as desired. Serve immediately.
Shop This Post:
Pig of the Month Sriracha Bacon  
Recipe & Photos by Meghan Bassett
Meat Lovers Pizza Roll Ups are a meat lover's dream! Packed with three different Pig of the Month BBQ meats, you will be in BBQ pizza heaven with every bite. 
I have a serious obsession with BBQ pizza as soon as the warmer weather comes around. Aside from grilling everything and anything in sight, I'm all about the easy appetizers or snacks that I can munch on (or turn into a whole meal) while I messing with whatever I have going on the grill. These meat lovers pizza roll ups are my favorite solution for something summer and BBQ-packed that doesn't require me whipping out the grill - or something that doesn't take up that valuable real estate, you know?
Whether you are making these as a snack or appetizer for a party, or turning these into a fun weeknight BBQ meal for the family, you won't find a more meaty recipe out there that's this easy.
All you have to do is roll out some dough, stuff it with meat, bake and top with cheese. Just don't forget the extra BBQ sauce to serve them up with!
Sling me a beer and lets cheers to those tasty, juicy meats!
[vimeo 166821716 w=640 h=360]
Meat Lovers Pizza Roll Ups
from
Pig of the Month BBQ
on
Vimeo
.
INSTRUCTIONS:
Preheat oven to 425 degrees. Grease a baking sheet and set aside. On a lightly floured surface, roll out the pizza dough into a large 9x13-inch rectangle. Brush the dough with 1/3 cup of BBQ sauce. Layer on the pulled pork, brisket and bacon. Roll the dough up tightly and slice in 3/4-inch thick rolls. Add rolls to prepared baking sheet. Bake for 15 minutes. Sprinkle the rolls with cheese and broil until the cheese is melted. Serve immediately with extra BBQ sauce for dipping.
Shop This Post
Pig of the Month BBQ Pulled Pork
Pig of the Month BBQ Brisket
Pig of the Month BBQ Applewood Smoked Maple Bacon
  Recipe, photos & video by Meghan Bassett
A couple of years ago, we served up a quick go-to appetizer of open-faced pulled pork sliders. We've been using this recipe ever since, but we decided it was about time to make a little update to this bad boy. Why not get on the food porn train and really blow your minds? So we broke out the waffle iron, all the cheese and piled on even more saucy pulled pork for this revisited version of an old fav.
This open-faced slider is the perfect combination of savory, spicy and sweet. Instead of being sandwiched between a bun, this pork sings with the crunchy, spicy coleslaw and the crisp waffle fry. I promise your mouth will be bursting with flavor! These sliders are the perfect opening bite to start your summer BBQ festivities with a bang. You get a little bit of everything you could ever want in each loaded bite!
Any excuse to get extra saucy at a BBQ, am I right? Happy BBQing, piggy fans!
Open Faced Pulled Pork Sliders from Pig of the Month BBQ.
INSTRUCTIONS: Heat up a waffle iron and grease with cooking spray. Add the shredded hash browns in batches, creating the base for your sliders. Remove once golden brown and crispy. Cut the hash brown waffle into 4 pieces. Top each piece of hash brown waffle with one slice of sharp cheddar cheese. Broil until melted. Set aside. In a small bowl, combine coleslaw, mayonnaise, lemon juice, salt and pepper. Stir until coated evenly. Warm the pulled pork in the microwave and stir in more BBQ sauce as desired. Top the cheesy hash brown waffles with pork and top with coleslaw. Serve immediately. Shop This Recipe: Pig of the Month BBQ Pulled Pork Pig of the Month BBQ Sauces Recipe, photos & video by Meghan Bassett
Boring old fried onion rings are sooooooo yesterday. No one needs all that greasy breading. Instead, you need all that greasy, crispy BACON. These bacon-wrapped onion rings are the only way you should be eating your onion rings from now on. Everything is better with bacon, you all know that! These onion rings might look a little intimidating to make, but they are so much easier than dragging out the fryer and going through the batter process normal onion rings require. Instead just wrap these bad boys up and bake until they are crispy and delicious. No possible oil burns and no risk of a grease fire. Which for someone as clumsy as myself is a serious MUST.
The hint of BBQ sauce and smoky flavor of the bacon give new life to onion rings that is downright addictive. Trust me when I say you won't regret diving into a bowl of these savory rings of bacon-wrapped onion rings (aka serious deliciousness) for a second; and if you do, hand them over, I'll finish off the rest for you.
INSTRUCTIONS: Preheat oven to 400 degrees F. Line with foil and place rack on baking sheet.
Brush the onion rings with BBQ sauce, then carefully wrap in bacon. Start by wrapping one end of a bacon slice snuggly around the onion ring so it just slightly overlaps itself. You'll use about 1 1/2 to 2 slices of bacon per onion ring.
Place the wrapped onion rings bacon-end side down on the rack and bake for 20 minutes. Flip the onion rings and bake another 15 to 20 minutes. Finish the onion rings with a few minutes under the broil if you like crispier bacon. Remove from oven and rest at least 5 minutes. Serve with more BBQ sauce if desired.
Shop This Post Pig of the Month BBQ Applewood Smoked Maple Bacon Recipe & photos by Meghan Bassett
« Previous
1
2