Posts tagged: white chocolate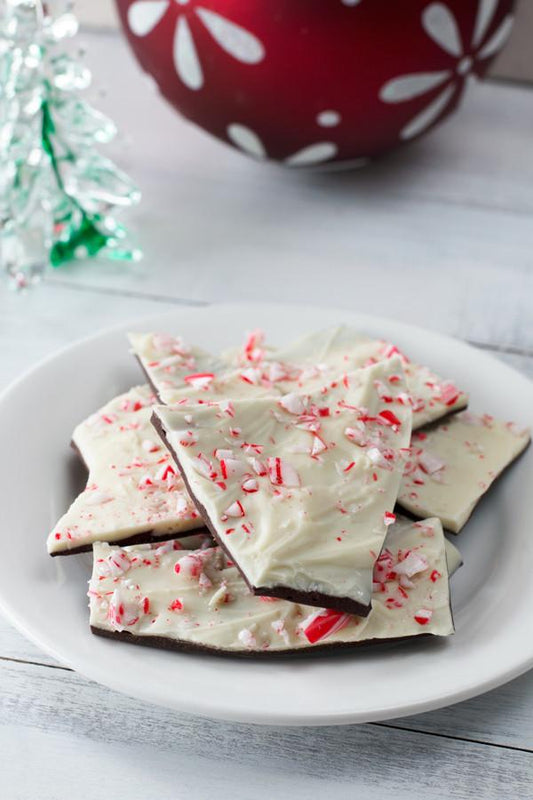 I LOVE to create DIY gifts when the holidays roll around every year. I always try to make some sort of sweet treat for all my friends and colleagues to enjoy. However when the time comes to actually make the gifts, I find myself flooded with holiday parties and get-togethers, which seriously limits my time to prepare custom gifts for everyone. That's why this year I am especially thrilled to share with you my recipe for oh-so easy peppermint bark! It comes together in a little over an hour, leaving the rest of your day wide open to enjoy the holiday season (doesn't it fly by way too quickly each time?!). My tip is to run by your local dollar store to stock up on all those cute little tins. Just line the inside with parchment paper, throw in as much peppermint bark as you can!
INSTRUCTIONS: Add the semi-sweet chocolate chips to a microwavable bowl. Microwave the semi-sweet chocolate for 45 seconds to 1 minute. Remove the bowl and stir. Place back in the microwave for 15-second intervals, stirring in between each, until the chocolate is melted and smooth. Line a baking sheet with wax paper. Spread the melted semi-sweet chocolate in an even layer on the wax paper. It should be approximately 1/4" thick. Allow it set for 30 minutes in the freezer.
In a microwaveable bowl, microwave the white chocolate chips in the same way you just did with the semi-sweet chocolate chips. Once melted and the mixture is smooth, spread the white chocolate in an even layer over the semi-sweet chocolate. You will need to work quickly so the semi-sweet chocolate doesn't melt and form streaks in your layer of white chocolate. Sprinkle the crushed candy canes on top of the melted white chocolate. Allow it set for an additional 30 minutes in the freezer. Remove and break into chunks.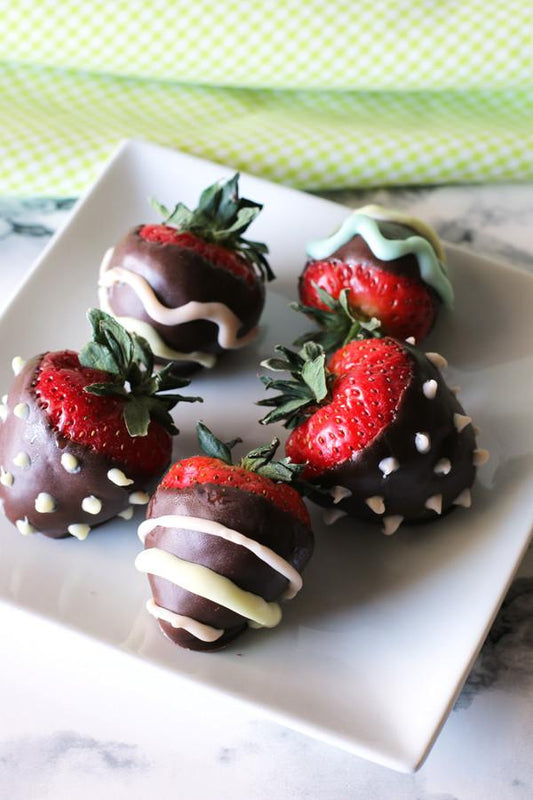 Easter brunch wouldn't be complete without these chocolate covered strawberry eggs on your dessert table! 
Chocolate covered strawberries may look difficult, but with the melting wafer they have out now, you don't even have to worry about tempering the chocolate. You just melt, dip and decorate!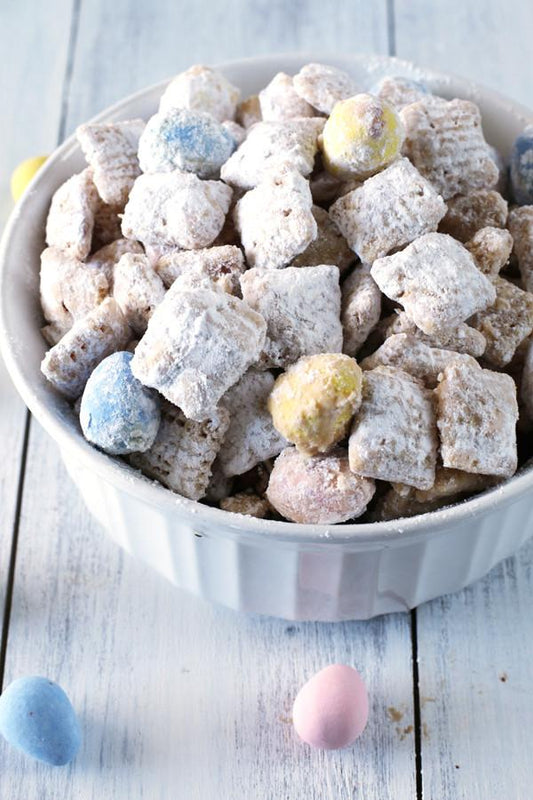 The Easter Bunny is on his way! If you plan to catch him and snag all the candy you can, be sure you are making a batch of this bunny bait. That Easter Bunny can't resist it! This Easter version of puppy chow is super simple to create and is dangerously addictive (you might finish it all before the Easter 
bunnys
 arrival). The combination of chocolate, peanut butter and crunchy cereal is already a draw, but add in the mini Cadbury milk chocolate eggs and you have powdered sugar-covered heaven.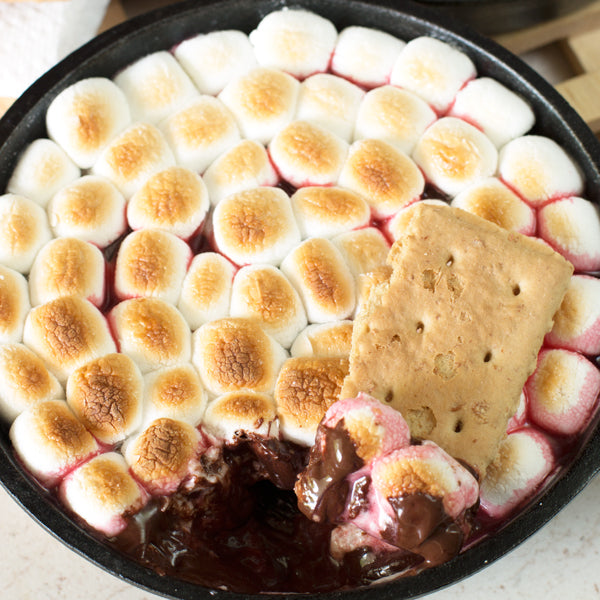 S'mores is my favorite dessert EVER. So much so that you'll find me heating up the gas burner on my stove in the dead of winter, just so I can get that perfectly toasted marshmallow. But what's even better than a perfect s'more...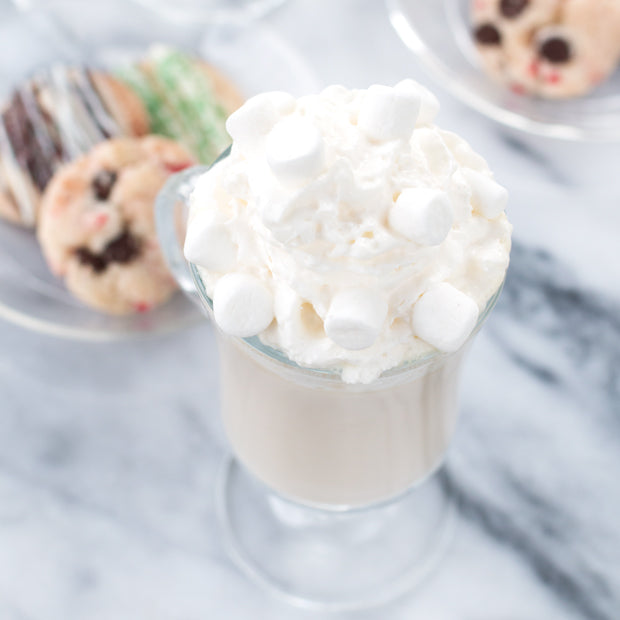 It's beginning to look a lot like winter! The temperatures are dropping, the snow is starting to fall, and it's about time to start snuggling up under blankets next to a roaring fire every night. Nothing goes better with a snuggly night in than a giant mug of warm hot chocolate, spiked with a little booze of course. :)
This Boozy White Hot Chocolate is a fun way to shake up your usual hot chocolate routine, featuring indulgent white chocolate and spiced rum for just the right touch of much-needed extra warmth.
Holiday movie marathon? Oh yea, this'll do the trick better than that tired ol' egg nog.
INSTRUCTIONS In a medium saucepan over medium heat, combine milk, chocolate chips and vanilla. Stirring constantly, heat the mixture until the chocolate is melted and the mixture begins to simmer, approximately 10 to 15 minutes. Remove from heat and stir in rum. Divide evenly between two large mugs and serve with marshmallows and whipped cream.
Recipe & Photos by Meghan Bassett