Posts tagged: Uncategorized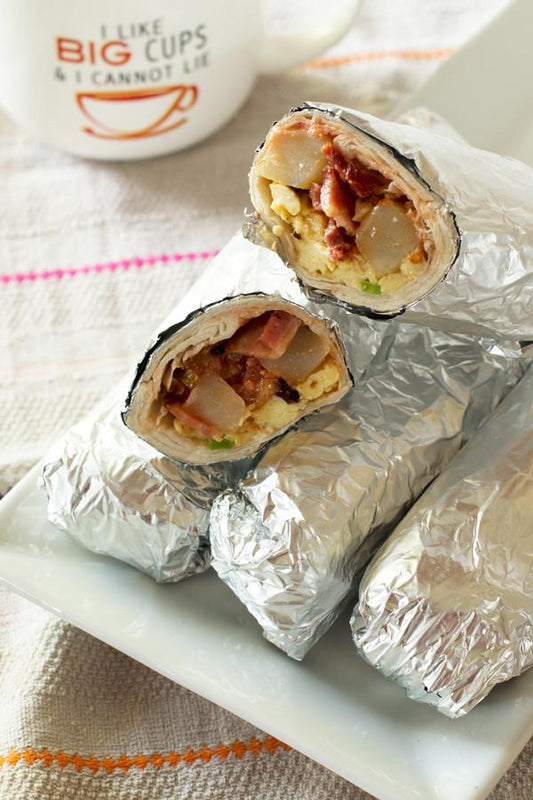 We've all been there… The morning after an epic night out filled with a pounding heading, aversion to light and a pain in your stomach that could or could not be helped by food.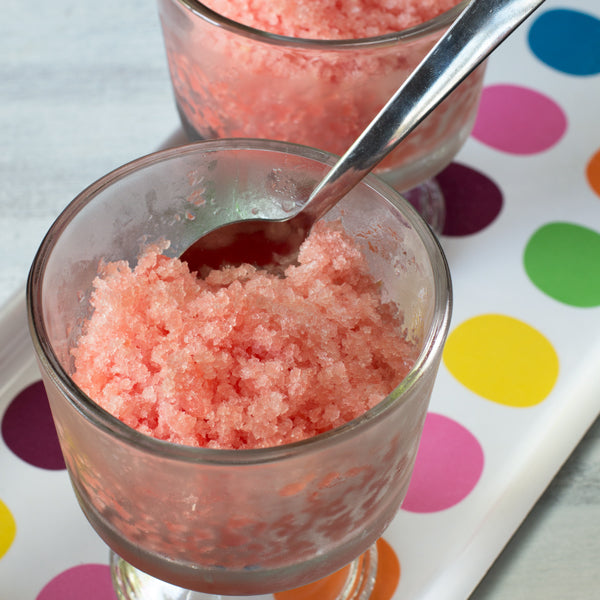 Looking for a refreshing, healthy dessert? Look no further than this icy cold watermelon granita!
Making a granita is such a simple task and it tastes absolutely heavenly on a hot summer day. It's also a fantastic way to create a great dessert with the kids while they are out of school! You and the kids can check on it as it freezes, scarping each frozen layer with a fork to create your very own shaved ice dessert.
We used watermelon to really capture the flavor of summer – it's light, refreshing and quite addictive. Plus, you don't have to worry about the kids eating too much of it! They'll be getting in their servings of fruit in such a fun way, leaving you happy and your kids cool.
INSTRUCTIONS: In the bowl of a food processor and working in batches if needed, puree the watermelon chunks. Add to a large bowl and stir in the sugar, lime juice, and lemon juice.
Add the mixture to a large baking dish and freeze for two hours. Remove from the freezer and scrape the frozen layer with a fork to create the texture of shaved ice.
Return the granita to the freeze and freeze for another hour before scraping again. Continue freezing for an hour at a time until the whole mixture is frozen and looks like shaved ice. Serve and enjoy!
Recipe & Photos by Meghan Bassett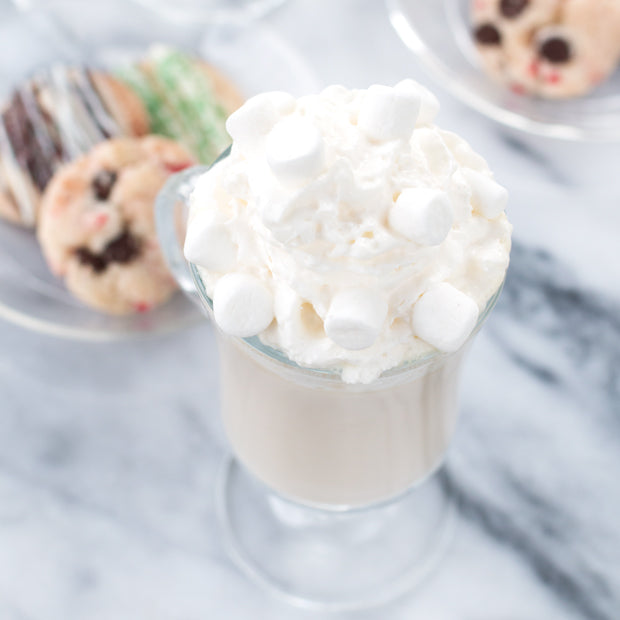 It's beginning to look a lot like winter! The temperatures are dropping, the snow is starting to fall, and it's about time to start snuggling up under blankets next to a roaring fire every night. Nothing goes better with a snuggly night in than a giant mug of warm hot chocolate, spiked with a little booze of course. :)
This Boozy White Hot Chocolate is a fun way to shake up your usual hot chocolate routine, featuring indulgent white chocolate and spiced rum for just the right touch of much-needed extra warmth.
Holiday movie marathon? Oh yea, this'll do the trick better than that tired ol' egg nog.
INSTRUCTIONS In a medium saucepan over medium heat, combine milk, chocolate chips and vanilla. Stirring constantly, heat the mixture until the chocolate is melted and the mixture begins to simmer, approximately 10 to 15 minutes. Remove from heat and stir in rum. Divide evenly between two large mugs and serve with marshmallows and whipped cream.
Recipe & Photos by Meghan Bassett
We're kind of obsessed with St. Patrick's Day this year. From Guinness Floats to Jameson, green beer to endless green shots, we know we'll be feeling the pain come Friday morning. That's why we're giving you a little two-part low down on how to avoid that hangover you are already dreading. So what should you eat before drinking all night on St. Patrick's Day? Let us break it down for ya. First of all, don't skip dinner and eat BEFORE you start drinking. That whole building a base layer for the booze to settle into only works if you're building it before the booze enters your system. Get that nosh in your stomach early so you can change the outcome of your all-night drinking binge.
Second, eat right and eat smart. The best thing to do to avoid feeling like death on March 18th is to eat these killer foods that'll get your mind and body right. Food really does counteract the effects of alcohol... who knew? - Spaghetti (or other carbs) - yep, carbo-load all night long baby. It's a real thing and it works. Try our Pull Apart Bacon Garlic Cheese Bread... - Chicken - protein-rich so it'll stay in ya longer and it will slow the blood alcohol level. That means you can drink longer and enjoy the entire night before you feel like passing out! Go for the small servings like a burrito bowl or even our delicious Sriracha Lime Baked Chicken Wings. - Avocado - protein + healthy fats will actually digest slower than carbs so whip out that guacamole like there's no tomorrow. - Low-fat yogurt - if you're worried about consuming too many calories on this delicious, boozy holiday, start off with some yogurt and granola. You'll get the healthy fats and vitamins in you before you go pigging out on beer and corned beef. - Water - this one's a no-brainer, but don't forget about it. When it comes to hangovers, water does a body good. Pro tip: always take a couple of ibuprofen and chug a gigantic glass of water before bed (or when you wake up with cotton mouth at 4AM). Thank us later.
If you do happen to skip dinner in all the craziness that is St. Patty's Day, never fear. Just load up on nuts and olives at the bar because they've got the fats and vitamins to help you out. Martini with 10 olives, anyone? Happy St. Patrick's Day! Stay tuned because we've got some more knowledge to drop on ya to fight that hellish hangover...
Photos by Meghan Bassett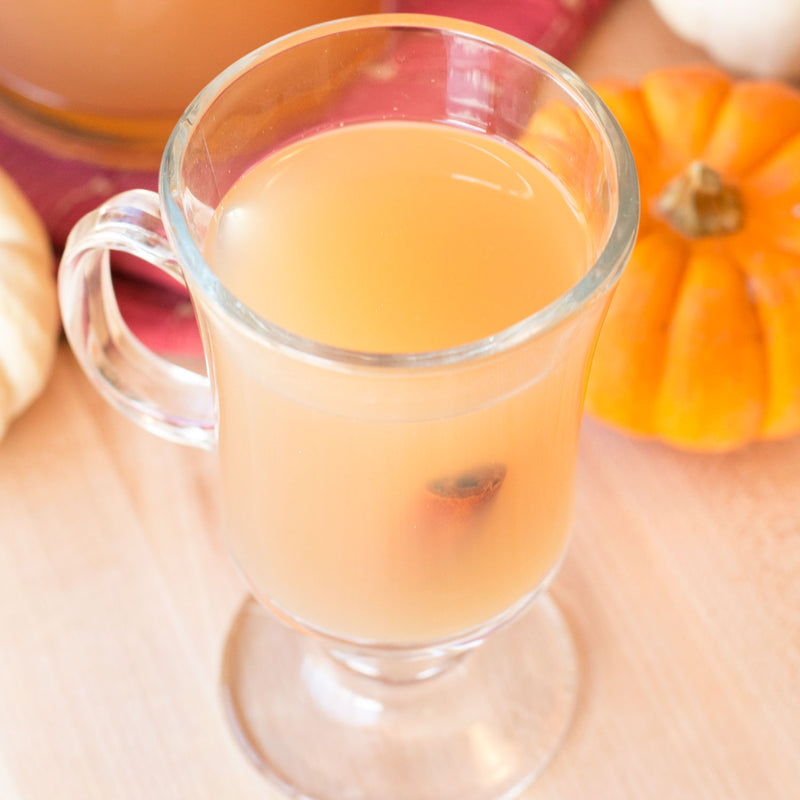 Who's thirsty?! Instead of hitting the wine this Wine Wednesday, I'm breaking out my slow cooker for some serious boozy deliciousness...
Nothing says fall and winter quite like a warm mug full of mulled apple cider. Cuddling up in a warm blanket, next to a wood burning fire, with some Netflix binging lined up for the remainder of the evening is how I like to take it easy.
This recipe is great to make and keep on hand in your refrigerator for the week so you can enjoy it each night, but it also works great as a holiday cocktail for your next party! Serve it up in some mugs with cinnamon sticks and everyone will go absolutely nuts over this stuff. It's highly addictive because it's so dang comforting. No matter how cold it gets outside, a glass of this cider will always warm ya right back up in moments.
The ingredients are super simple and the effort is basically NOTHING. Just dump it all in and let it simmer for the day. When you're ready to serve, stir in the vodka! We wouldn't want any of that booze burning off in the cooking process, now would we? ;)
I know what I am going to be whipping up all weekend long... And now you do too!
[vimeo 187844299 w=640 h=360]
Boozy Crockpot Apple Cider from Pig of the Month BBQ on Vimeo.
INSTRUCTIONS: Serves 12 Add apple cider, cinnamon sticks orange zest, cloves, star anise and allspice berries to the insert of a crockpot. Cook on low heat for 6 to 7 hours. When ready to serve, add vodka and stir to combine. Remove cinnamon sticks and spices with a fine mesh sieve. Serve immediately. If you are preparing this for a party, keep the slow cooker on it's lowest heat setting throughout the evening. Serve with cinnamon sticks for an added touch of deliciousness, and class.
*Recipe, photos and video by Meghan Bassett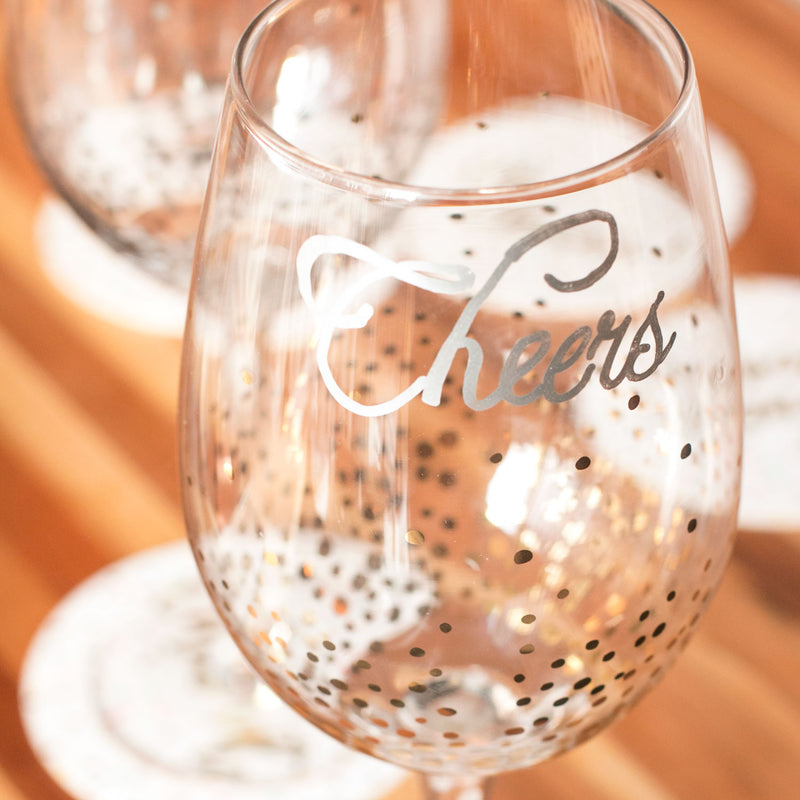 Can you believe we are only a couple weeks away from Christmas?! I don't know about you, but December is flying by. I am deep into the holiday celebrations and with tons of friends and family to give gifts to, I'm starting to get a little overwhelmed.
This year, I decided that all my boozy friends and family need a little homemade touch (and my wallet could honestly use the break too). Instead of buying a ton of gifts, I'm making everyone these adorable DIY Holiday Wine Glasses! I know they might look a little intimidating to make, but they are SO easy. You can just pick up some wine glasses on the cheap (this is where those dollar stores come in handy!), then decorate them any way you like. I love the simple "Cheers" on these glasses, but you can also decorate them with an artistic flair, or even use a longer quote. You can make them personal for everyone you plan to give them to!
INSTRUCTIONS: Decorate the glasses with random dots, lines or whatever pattern you desire (or no pattern at all!).
Print out desired quote or saying on a piece of paper. Using tape, attached the quote to the inside of the wine glass with the text facing out and in the position you desire.
Use a paint pen (one that works on glass!) to trace the quote in your desired color. Let dry completely.
Gift to any of your friends and family - or just keep these darling glasses to yourself to celebrate the holidays with!  
*DIY and Photos by Meghan Bassett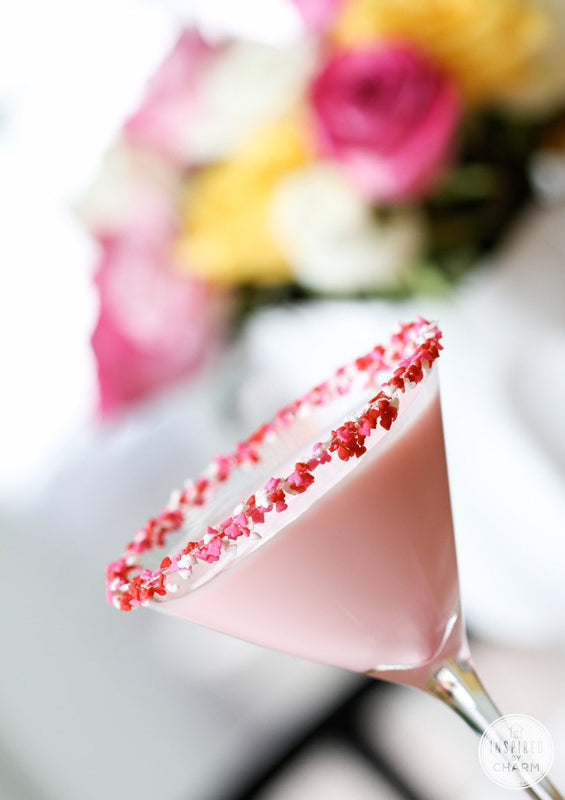 You either love or you hate Valentine's Day. You might be a romantic at heart, or the idea of the holiday just brings to mind too much candy and overdone nonsense. Either way, when that day full of hearts and flowers and candies rolls around, you can't help but have it on the brain. That's why we are serving up 9 Valentine's Day Cocktails To Get All Swoon-y Over. Even if you happen to dislike the holiday, you can drink your bitterness away with something delicious. See? There's an upside to practically everything, isn't there? Generally that upside involves some sort of booze, but we aren't ones to judge over here. In this round up you are going to find a variety of cocktails to fall in love with. There's everything from strong to sweet to fruity! You can toast another year past with your significant other or you can toast your general single awesomeness. Who says Valentine's Day is only for the lovers out there? ;) Happy drinking!
Singapore Sling - Casa Veneracion
Spiced Pomegranate Cocktail - Honestly Yum
Dirty Shirley - Stir & Scribble
Sparkling Strawberry Rose Sangria - Brooklyn Supper
Sweetie Martini - Inspired by Charm
Valentine Moscato Float - The Taylor House
Valentine's Day Cocktail - Honestly Yum
Chocolate Covered Cherry Cordial Cocktail - The Slow Roasted Italian
Strawberries & Champagne Margarita - Pizzazzerie The only question is.... will you be sharing with your boo, or keeping all the cocktail deliciousness to yourself?? We're thinking option B sounds pretty darn good.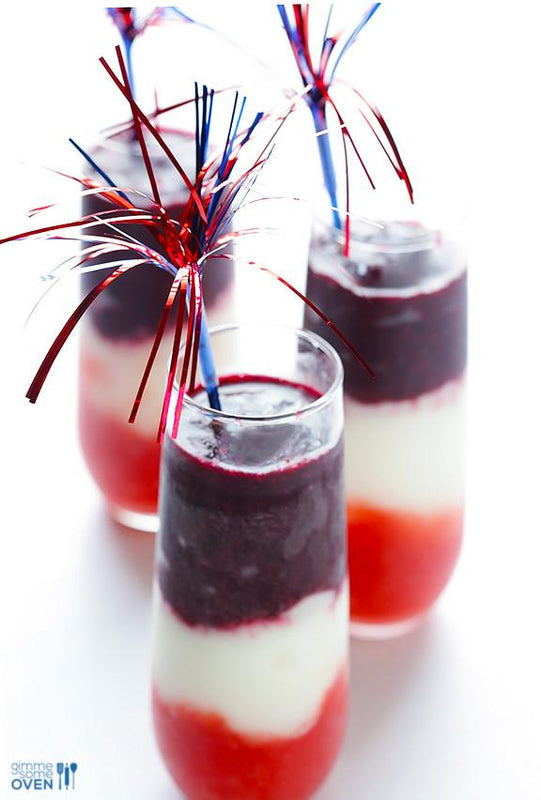 The Memorial Day BBQs are coming… We're already prepping our grills and rubbing down our tasty meats so we can rock this holiday like we've never rocked it before. Are you ready? It doesn't matter if you are hosting the most epic BBQ ever or you're planning on making the rounds, you need some killer recipes to wow everyone with. That's why we pulled together a list of our ultimate Memorial Day recipes, just for our piggy peeps to get in on. We've got the cream of the crop recipes here, from cocktails to desserts, snacks to the main grilling event. You'll find everything you need to make this Memorial Day weekend the best celebration EVER. The only question is, which ones will you be busting out like a boss?
Holiday Weekend Sipping Red White and Blue(berry) Margaritas - Gimme Some Oven DIY Fresh Fruit Ice Cubes + Cocktails - Sauce + Style Red, White, and Blue Sangria - Examiner.com Quick & Easy Margarita Shandy - Serious Eats Grilled Citrus Sangria - Sauce + Style Red White and Blue Ice Cubes - Momtastic Steak Island Beer Cocktail - Serious Eats Patriotic Punch - Sauce + Style
Grillmaster Favorites The Best Garlic Burgers Ever - Foodiecrush Ultimate Bacon Cheeseburgers - Serious Eats
Grilled Chili Rubbed Flank Steak - Sauce + Style Barbecue Bacon Burgers - Serious Eats
The Double Bacon Hamburger Fatty Melt - Serious Eats
Spicy Dry Rub Ribs - Sauce + Style
Snack Attack Sriracha Bacon Wrapped Stuffed Jalapeños - Sauce + Style Loaded Guacamole - What's Gaby Cooking? Bacon-Wrapped Onion Rings - Sauce + Style
Open-Faced Pulled Pork Sliders - Sauce + Style Sriracha Lime Baked Chicken Wings - Sauce + Style Sweet Finishes Firecracker Jell-O Cups - Cincy Shopper
Red White and Blueberry Yogurt Popsicles - the view from great island
Red Velvet Cupcakes - Your Cup of Cake
Independence Day Ombre Cake - Brit & Co. Happy Memorial Day, BBQ-lovin' fans! May your grills burn hot and your beers stay cold in the summer heat.
Grilled Chili Rubbed Flank Steak is a super simple way to take your grilled steak to the next level of flavor. The wet rub infuses so much tastiness into the flank steak - you can't go wrong with this one!
Are you ready for Memorial Day?? I am tweaking my menu daily for the annual massive BBQ I host, and I was feeling a little stumped earlier this week. That is, until now. This grilled chili rubbed flank steak changed ev-er-y-thang for me once I made it. It's one of the simplest recipes I've ever created, but in terms of flavor, it's ridiculously complex. All of the flavors in the rub perfectly compliment the meat and that really good charred taste you get from the grill.
You can easily serve this bad boy as is or there are about a million other ideas you could try out. Throw it on a salad. Chop it up and add it to a grilled pizza. Serve it with tons of grilled veggies. You can even make some killer tacos or a Tex Mex inspired sandwich with this meat. The options are limitless and it'll take you less than 15 minutes of active cooking time to make it happen.
So obviously, you should be adding this recipe to your Memorial Day menu right NOW.
INSTRUCTIONS: In a small bowl, combine garlic, lime juice, chili powder, salt, cumin, paprika and cayenne.
Stir until all ingredients are incorporated.
Rub the paste all over the steak. Let rest in the refrigerator for 15 to 20 minutes.
Grill the steak on a hot grill or grill pan over medium-high heat until it reaches your desired doneness (approximately 6 to 8 minutes for medium). Remove from grill and rest for at least 10 minutes before slicing and serving.
Serve alone over rice, with salad or even in tacos! Give it an extra squeeze of lime for a touch of extra brightness too. Recipe & photos by Meghan Bassett
With March Madness starting to set in, March is the month of snacks and munchies for us! It just so happens to be one of our favorite times of the year because it gives us the excuse to pull out all our favorite standby snacks as we stream the games all day, every day. Of course, sometimes we like to get a little classy up in here with our snacking. There's only so much beer you can drink in one month, right? It's about time we switched over to some wine for those grape-obsessed during our favorite time of the year. That's why we've put together the ULTIMATE snack and wine pairing guide so you can feel classy AF while you sit back, pig out on your favorite snacks and watch your favorite team demolish everyone else with each passing week. Love your white wines? Here's the snacks you'll want to bring to the table with your all-time fav wines while you root for the upsets:
More of a red aficionado? Get rich and deep with these tasty pairings as you discuss who will be in the final showdown:
Can't decide between red and white? Good news, we've got you covered with BOTH for these munchies. Who's got time and patience to choose when your team's championship is on the line, am I right?
You'll get that three-pointer you've been prepping for all season with this guide, trust me. Don't forget to check out our March Munchie Madness bracket challenge for the chance to win some serious tasty treats! We're about halfway through the brackets but there's plenty more knock-down drag out fights left in our tasty contest. One lucky winner will win each round, and the next winner could be YOU. Follow along on Facebook and Instagram for more ways to enter to win.
1
2
Next »