Posts tagged: tailgating food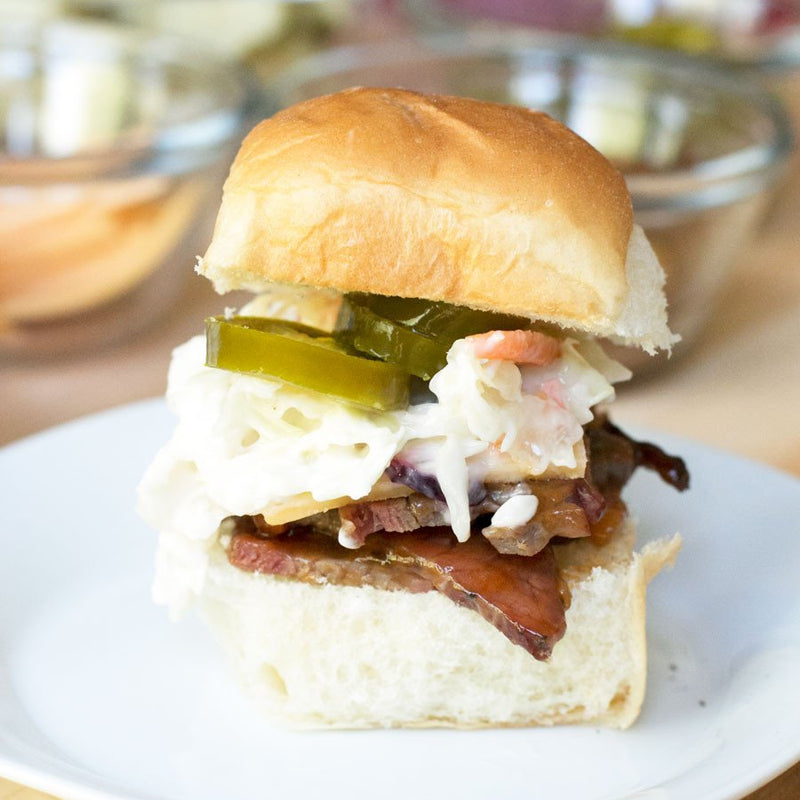 Stop trying to make the perfect sliders for everyone and have them make their own instead! Put the fun back into your food at your next gather with this super simple DIY Brisker Slider Bar. Instead of slaving away, trying to find the ideal slider that everyone will fall in love with, load up on some of our brisket and set out as many toppings as you can. All you guests will love jumping in to create their own version of the "best brisket slider", plus you can keep the options open no matter what foods some people love (or love to hate).
You can stick with a classic combo of a white bun, brisket, pickles, red onion and cheese.
Or shake things up with a Hawaiian bread bun, coleslaw and pickled jalapeños!
Not to mention all the stress this whole DIY slider bar takes off you as the host/hostess... But that's just an extra side bonus to everything loving the food and having fun, right? ;)
What You'll Need: Serves 12 to 14 2 types of slider buns (24 total) 1 lb Pig of the Month Brisket, warmed 1 red onion, thinly sliced 2 cups coleslaw 1 cup caramelized onions Sliced sharp cheddar cheese, cut into small squares Sandwich pickles Pickled jalapeños BBQ sauce Franks Red Hot Sauce
Place the buns on a large platter. Place warmed brisket on a separate large platter. Layer cheddar cheese slices on a small plate.
Add red onion, coleslaw, caramelized onions, sandwich pickles and pickled jalapeños to individual serving bowls. Place the buns to one side next to the brisket and then lay out all of the toppings in a line to make it easy for guests to pick and choose. Set out your favorite BBQ sauces and hot sauces for people to experiment with! Have fun with it!
Shop This Post
*Recipe & Photos by Meghan Bassett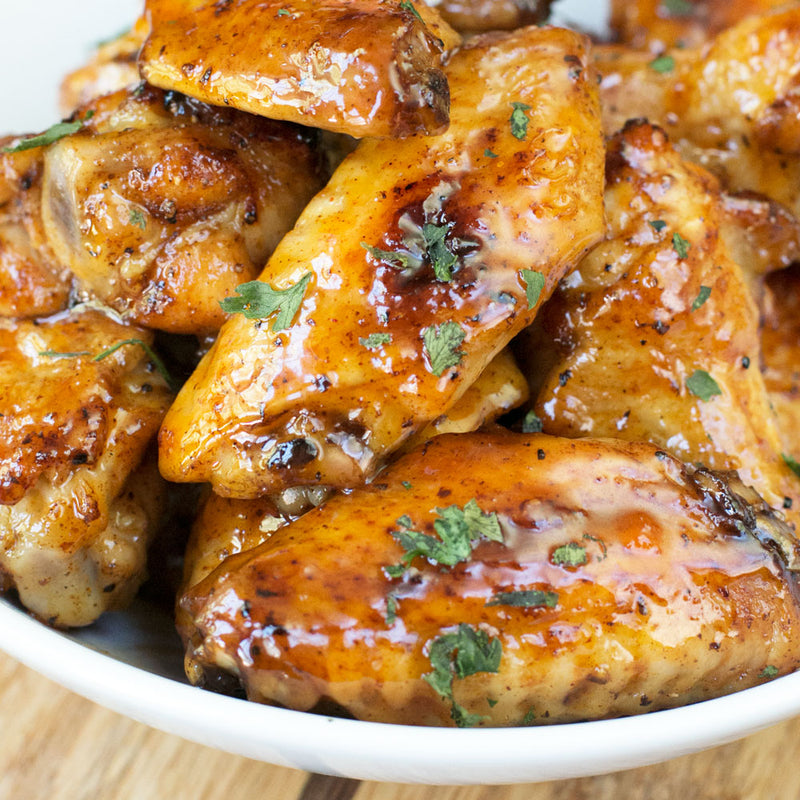 Tailgating season is back and better than ever, piggy peeps! I don't know about you but I also ready to bring football back into my life. I just drafted my fantasy team and I have big hopes that my home team is going to be putting up some major points throughout the season.
Let's be honest though, as much as we love that ol' game we call football, the tailgating food is where it's AT. It's the thing that gets you through between the end of summer recipes and the official start of the holiday season once November rolls around. That means we have two months to stuff our faces with all the cheese, bacon and meats we can get our hands on.
And I'm starting with wings. Sticky, sweet and spicy wings that make you bust out the wet wipes and get extra messy. This is just the recipe to start off with people! Just look at that sticky sauce covering those baked wings.... ALL. THE. YES. Are you ready to dig in??
INSTRUCTIONS: Preheat oven to 400 degrees. Line a baking sheet with parchment paper.
In a large bowl, whisk together vegetable oil, 2 Tbsp melted butter, salt, pepper, garlic powder and smoked paprika. Add the wings and toss. Lay wings on lined baking sheet in a single layer. Bake for 45 to 50 minutes. Turn the oven to broil on high. Move chicken wings to the top rack and broil for 3 to 4 minutes, until crispy. Flip and broil again on the other side.
In a medium saucepan over medium heat, stir together hot sauce and cornstarch. Add butter, molasses and honey, stirring to combine. Bring to a boil, then reduce to a simmer for 4 to 5 minutes until the sauce is thickened. Toss wings in a large bowl with the honey buffalo sauce. Serve with ranch or blue cheese dressing.
*Recipe and photos by Meghan Bassett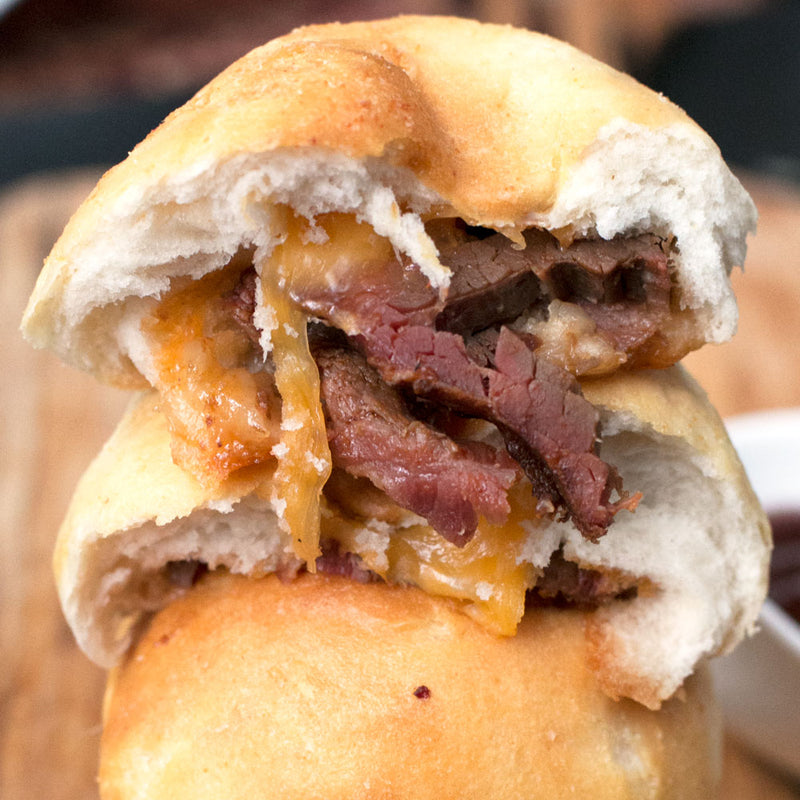 Ready to drop a bomb on that epic tailgating game this season? BOOM. These Brisket Bombs are here to do all the heavy lifting for ya.
Stuffed with Pig of the Month's INSANE brisket and all the cheddar cheese, these brisket bombs are the best football food you could ever ask for. It's got the carbs and the protein to load you up and balance out the booze, not to mention a ton of gooey cheese. Really, what is a football game without excessive amounts of cheese anyways?
It's a pretty boring event, that's what. You gotta get that cheese, meat and bread in while you tailgate for the big game this season! I mean, if you can't indulge before and during a football game, what the hell is the point of all the delicious, extravagant, decadent food out there in the world? I know that's a wee bit dramatic, but that's how freaking amazing these brisket bombs. They come together in about 15 minutes and they'll have everyone begging for more.
Brisket Bombs from Pig of the Month BBQ on Vimeo.
Don't believe me? I dare you to try these out for the next big game and prove me wrong...
INSTRUCTIONS: Preheat oven to 400 degrees. Line two baking sheets with a silicone baking mat or parchment paper. Separate biscuits. Flatten out each biscuit slightly and place 1 to 2 cubes of cheese in the center. Top with chopped biscuit and wrap the biscuit around the filling. Pinch the seams tightly and place seam-side down on the lined baking sheets. In a small bowl, combine melted butter, garlic powder and onion powder. Brush the tops of the biscuits with the seasoned butter. Bake 10 minutes. Remove from oven and brush the tops of the biscuits again with the seasoned butter. Serve with BBQ sauce.
Shop This Post
*Recipe, photos and video by Meghan Bassett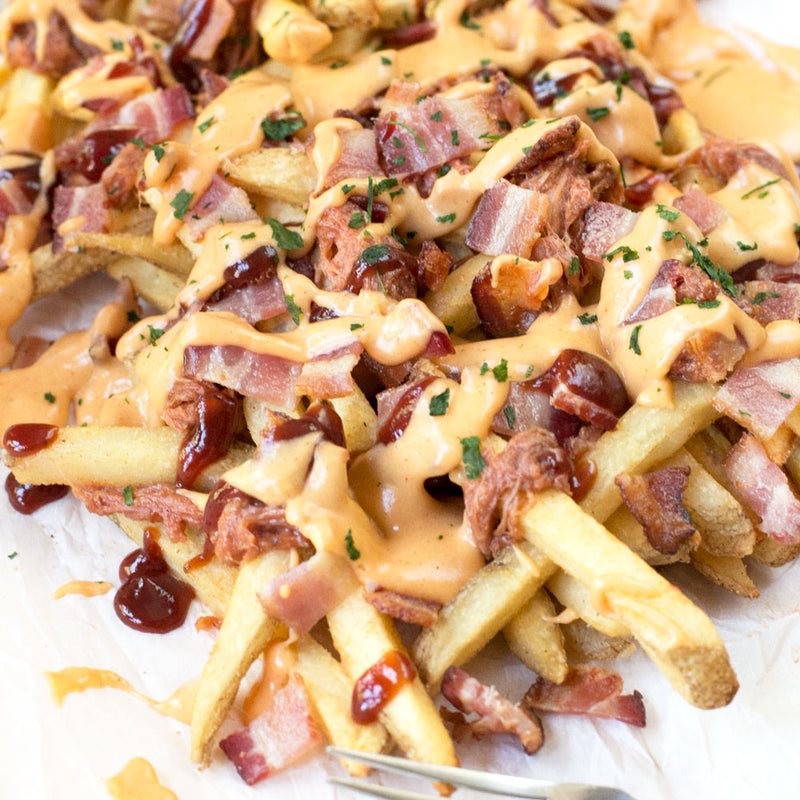 Who's ready to get down on some serious pig?? That's exactly what these Pig Overload Fries are here for! When it comes to watching that pigskin fly and rooting for my favorite team, football food is everything I need to make me happy in life. Well, along with a couple of beers of course.
It's only natural to load up all the pork and bacon on these delicious fries, because y'all know I like my fries with a side of meat, plus some extra meat. Then I load it up with some cheddar cheese deliciousness and top it all off with some BBQ sauce. Talk about a hot mess of deliciousness, am I right? Thus the best fries you will ever eat in your LIFE were born.
Seriously, these are the best fries ever. Just look at that gorgeous mess and then tell me that you can resist it... Yea, didn't think so. So go ahead, get messy. Eat it all. Feel no guilt and chug a cold brew. This IS football season, people. Get into it already!
INSTRUCTIONS: Cook French fries according the instructions on the package. In a medium saucepan over medium heat, melt the butter with paprika and cayenne powder. When melted and just starting to bubble, stir in 1/8 cup flour. Let brown, approximately 30 seconds to 1 minute, and whisk in 1 1/2 cups milk.
Continue to stir the milk mixture until it thickens, approximately 1 to 2 minutes. Remove from heat and stir in cheddar cheese until melted.
Place cooked fries in a large serving dish. Top with pulled pork and bacon. Drizzle over cheese sauce and BBQ sauce. Garnish with chopped parsley and serve immediately.
Shop This Post
Pig of the Month BBQ Pulled Pork
Pig of the Month BBQ Applewood Smoked Maple Bacon
*Recipe and photos by Meghan Bassett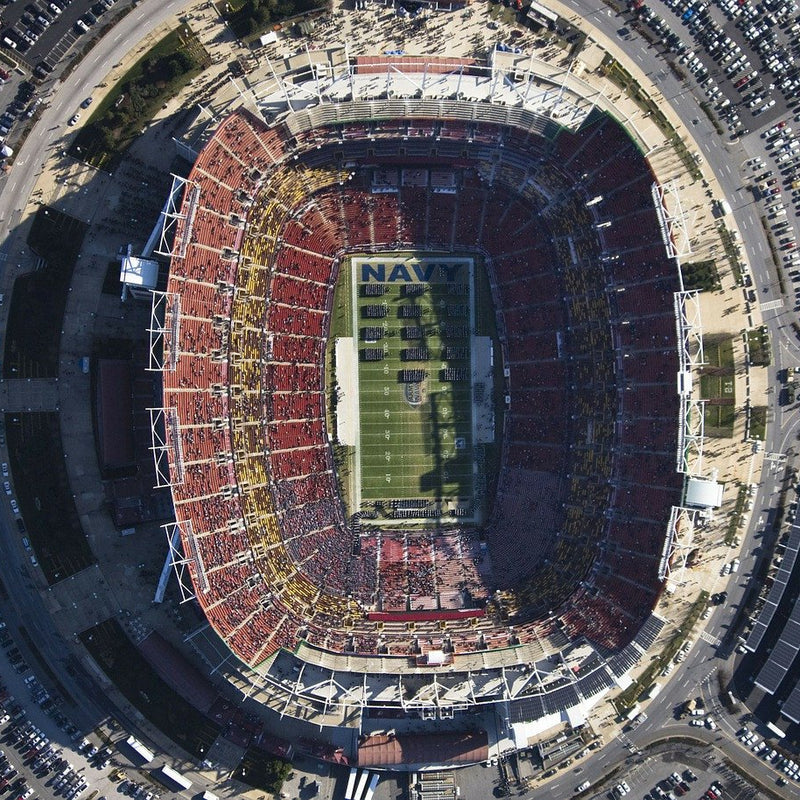 Tailgating is a must, no matter what team you are rooting for. Hitting the parking lots and getting amped up for the big game is the only way to ensure your team will bring home the victory. So you want to make sure you are hosting the most epic tailgating party ever, right? You might be a seasoned tailgater, or a complete newbie; regardless we've got the keys to assured tailgating party success right here. Buckle up BBQ peeps, it's time to get down and dirty with tailgating party prep.
Game Day Decorations You don't have to drop $500 on decorations, but making sure you are displaying those team colors loud and proud is the ultimate way to set the mood. Grab tablecloths, napkins, plates, the works. Everyone needs to know that you bleed those colors! Tailgating On the Go? Turn your SUV into table. That's right, just lay down the seats and pop the truck. Add a tablecloth to the floor and a cooler full of drinks. You can even set out your mad food spread right there so even a little rain can't ruin your party scene.
FOOD AND BOOZE Most importantly, don't skimp on the food and the booze, not to mention water for when everyone inevitably drinks too much without hydrating. Check out any of our killer Sauce + Style recipes for inspiration, or just grab a Pig of the Month BBQ feast so we can do the cooking for ya! Just make sure you're making everything handheld - no one wants to sit down with a knife and fork. Get Those Butts a Rest All that standing, boozing and eating means people will need a little rest from time to time. Be sure to grab plenty of collapsable seating for everyone! Chilly Out? Stock up on the blankets! You can even use this as an opportunity to bring in those team colors in another way.
Pump Up the Jams A mix of current jams and upbeat 80s classics are perfect for setting the mood. Don't forget to load up the team's fight song! Say Buh-Bye to Red Cups Those red cups are getting a little old aren't they? Class up your shindig with some mason jars instead. Give Them Something to Do Standing around for hours drinking and eating can get a little boring. Set up a game of cornhole, or just bring a couple balls so people can throw around the pigskin.
Grilling? If you are busting out the big guns and grilling up tasty meats for your peeps, don't forget to haul along extra charcoals and propane. Make sure you also have everything you need to safely cool down the grill and dispose of ashes before heading into the game. Follow these little tidbits of advice and you are going to have a legendary team celebration bash no one will forget. Just be prepared to be asked to host every tailgating party from now until forever.