Posts tagged: St. Patrick's Day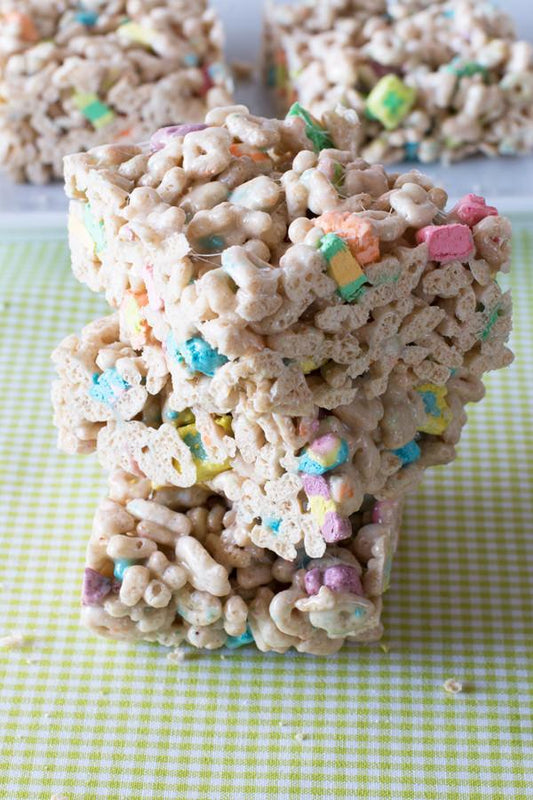 St. Patrick's Day is only one week away… Are you ready to start celebrating? These Lucky Charms marshmallow treats are the perfect way to get in the festive Irish mood! Lucky Charms used to be my favorite cereal growing up and I would always pick out just the marshmallows. Now I have discovered the ultimate solution and no longer feel the need to pick out those marshmallows! The answer was so obvious – add 
more
 marshmallow deliciousness to the mix!
We're kind of obsessed with St. Patrick's Day this year. From Guinness Floats to Jameson, green beer to endless green shots, we know we'll be feeling the pain come Friday morning. That's why we're giving you a little two-part low down on how to avoid that hangover you are already dreading. So what should you eat before drinking all night on St. Patrick's Day? Let us break it down for ya. First of all, don't skip dinner and eat BEFORE you start drinking. That whole building a base layer for the booze to settle into only works if you're building it before the booze enters your system. Get that nosh in your stomach early so you can change the outcome of your all-night drinking binge.
Second, eat right and eat smart. The best thing to do to avoid feeling like death on March 18th is to eat these killer foods that'll get your mind and body right. Food really does counteract the effects of alcohol... who knew? - Spaghetti (or other carbs) - yep, carbo-load all night long baby. It's a real thing and it works. Try our Pull Apart Bacon Garlic Cheese Bread... - Chicken - protein-rich so it'll stay in ya longer and it will slow the blood alcohol level. That means you can drink longer and enjoy the entire night before you feel like passing out! Go for the small servings like a burrito bowl or even our delicious Sriracha Lime Baked Chicken Wings. - Avocado - protein + healthy fats will actually digest slower than carbs so whip out that guacamole like there's no tomorrow. - Low-fat yogurt - if you're worried about consuming too many calories on this delicious, boozy holiday, start off with some yogurt and granola. You'll get the healthy fats and vitamins in you before you go pigging out on beer and corned beef. - Water - this one's a no-brainer, but don't forget about it. When it comes to hangovers, water does a body good. Pro tip: always take a couple of ibuprofen and chug a gigantic glass of water before bed (or when you wake up with cotton mouth at 4AM). Thank us later.
If you do happen to skip dinner in all the craziness that is St. Patty's Day, never fear. Just load up on nuts and olives at the bar because they've got the fats and vitamins to help you out. Martini with 10 olives, anyone? Happy St. Patrick's Day! Stay tuned because we've got some more knowledge to drop on ya to fight that hellish hangover...
Photos by Meghan Bassett
If you are planning on celebrating St. Patrick's Day in any way this year, do it with these Ultimate Loaded Irish Skillet Nachos made with Pig of the Month BBQ Corned Beef. Forget the corned beef and cabbage (no one really likes cabbage as a side, do they?), these nachos are the best way to honor the land of the leprechauns! Regardless of when St. Patrick's Day falls during the week, you'll always find me celebrating with some corned beef and Guinness. Perhaps it's an homage to my Irish heritage, or perhaps it's just that I'll take any excuse to celebrate life with beer and some seriously delicious meat.
No matter why or how you celebrate this year, you owe it to yourself to include these Ultimate Loaded Irish Skillet Nachos. They are loaded up with thick-cut potato slices, a heaping helping of corned beef, cheese, avocado, sour cream and pickled jalapeños. It's the tastiest St. Patrick's Day recipe you'll come across, just trust us on this one.
And while you're digging in, remember to read what to eat before and after drinking so you can save yourself from a hangover tomorrow (bonus: this recipe covers those for you... Just saying - miracle recipe).
INSTRUCTIONS: Preheat oven to 400 degrees. Grease a baking sheet with cooking spray and set aside. In a large bowl, toss the sliced potatoes with olive oil, salt and pepper to coat. Place the potato slices on the greased baking sheet in one even layer. Bake for 15 minutes, flip the slices over and bake for another 15 minutes.
To assemble the nachos, add the potato slices to the bottom of a large cast iron skillet or other ovenproof skillet. Add the corned beef on top, followed by the pepper jack cheese and cheddar cheese. Place under the broiler set to high for 1 to 2 minutes, or until the cheese has melted.
Top with mashed avocado, pickled jalapeños, cherry tomatoes, cilantro, green onion and sour cream. Serve immediately.
Recipe & Photos by Meghan Bassett
With St. Patrick's Day coming up tomorrow, you all know what that means. It's time to down some serious Jameson and green beer. Yesterday we told you all about how to try to avoid a hangover before you go out on an epic all-night drinking fest, but what about when you're drunk, on your way home from the bars and feeling the starvation that drinking inevitably brings? You probably already have your very own hangover remedy (mine is a massive glass of water and ibuprofen the moment I wake up at 5am - my body hates me apparently too much to sleep in until 10am), but when you're five sheets to the wind and on your way down… Well not everyone knows that you should be avoiding that greasy fast food like the freaking plague. Unless you like waking up feeling like hell and saturated with grossness.
Hunger always strikes when you're out on the town and drunk as hell so you need something to get you along til morning when you wake up - hopefully without a hangover. Here's the magical rundown of what to eat after drinking all night on St. Patrick's Day: - Miso Soup - yes, it's a little weird and random, but miso soup actually rehydrates you. Plus it's light enough to digest quick and can ward off those crazy hellish stomach pains the following morning - not to mention other, ahem, indigestion issues. - Lean meats - yes I know, you want that pizza and mozzarella sticks, but just say NO. Those won't help you out as much as some lean protein like grilled chicken will to keep you from feeling nauseous. - French fries - not sold on the first two options? Fine, you can hit the fast food but stick with just the fries. Potatoes have potassium and sodium to help you balance out the crap that you just put into your body. It'll also force you to drink more water! - Eggs - just like when you have a hangover, eggs can help before the hangover even starts. Eggs break down the toxins booze puts into your system that gives you that nasty hangover in the first place. - Water, all the water - Drink. Water. Can't emphasize this enough. Water, especially coconut water, will get your head right. If you are really dedicated to not feeling pain, add a pinch of salt so it makes you pee less (thanks #science). Pop a multivitamin and then hit the hay folks.
We'll see you on the other side. With no hangover. You're welcome. Photos by Meghan Bassett
You know that moment when you get those late night craving for something crunchy and spicy, but your waistline screams at you, "for the love of God woman, don't eat yet another serving of fries!" It's one that us foodies know all too well. That's EXACTLY why I had to create a healthy, crunchy snack to help you with those late night cravings, so you can make more room for bacon at breakfast in the morning.
Green Fries (aka Crispy Baked Avocado Fries) are the best way to get your healthy snacking on without feeling like you're a rabbit. Munching on carrots and celery with ranch dressing gets old pretty fast, you know? Not only are these fries tasty and easy to make, they are served with a Chipotle Dipping Sauce that'll knock your socks off. If you are eating anything this weekend, it should be these fries because they are crispy perfection PLUS all those healthy fats and protein in avocado is proven to help you avoid a hangover. Win-win-win, baby. Happy snacking! [vimeo 161647570 w=500 h=281]Crispy Baked Avocado Fries from Pig of the Month BBQ. 
INSTRUCTIONS: Preheat oven to 450 degrees. Add flour to one bowl, beaten eggs to a second bowl and combine the breadcrumbs, cayenne, salt and pepper for the fries in a third bowl. Dredge the avocado slices in the flour, then the beaten egg, and finally the spiced breadcrumbs. Lay in an even layer on a greased, rimmed baking sheet. Bake for 15 minutes until the fries are golden and crispy. In a small bowl, whisk together all the ingredients for the sauce. Serve with the fries, fresh from the oven. Now just pair these Green Fries with a big ol' cocktail or beer and you'll have the healthy balance you've always dreamed of! Recipe, video & photos by Meghan Bassett