Posts tagged: pulled pork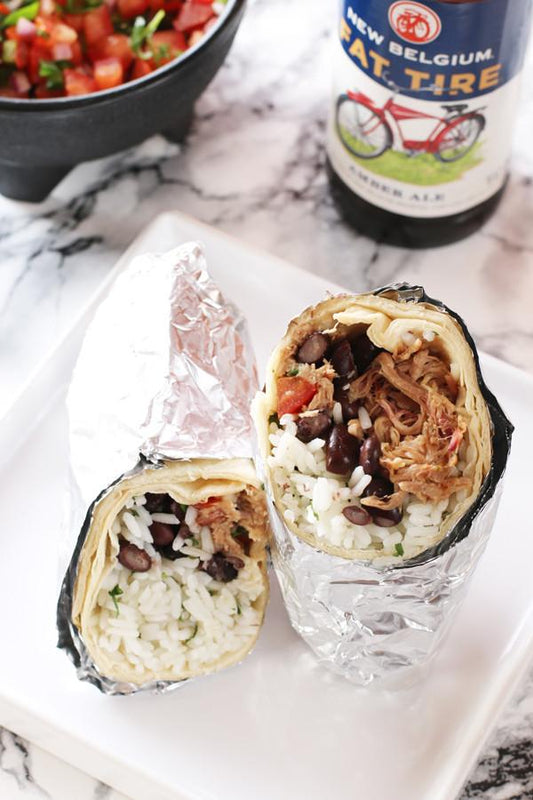 Chipotle happens to be one of my favorite places to eat in the entire world. I could live off their carnitas and guacamole for the rest of my life and be in bliss with every single bite. So when Chipotle announced a shortage of my beloved carnitas in January, I was going out of my mind. How in the world would I get my carnitas burrito fix?!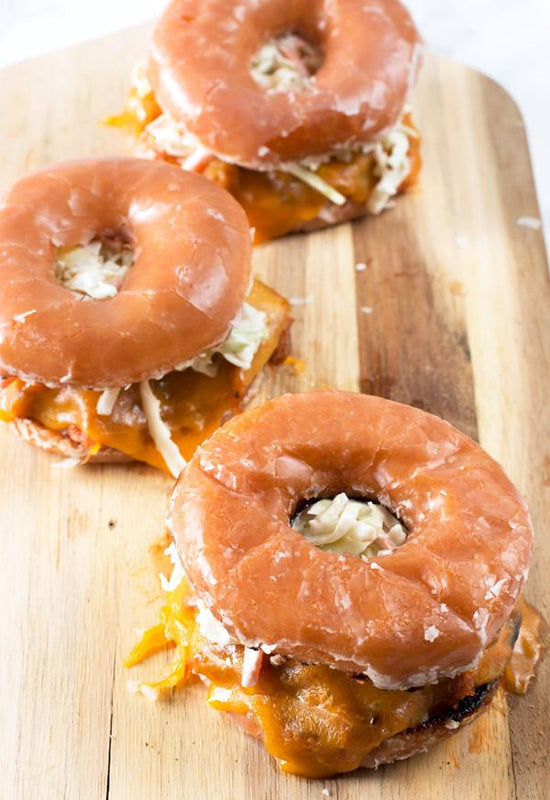 Say hello to the most decadent, soul-fulfilling pork sammie you will ever bite into… It's hard for me to describe these Krispy Kreme pulled pork sammies without my mouth beginning to water. Krispy Kreme doughnuts are still my all-time favorite doughnuts. Getting one fresh off the shelf at the shop is one of my guilt pleasures.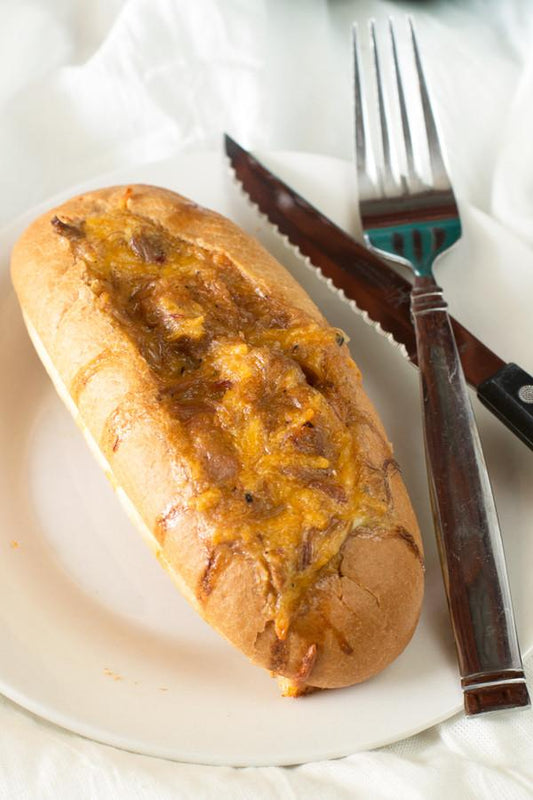 You'll want to get up early for one of these pulled pork egg boats. Egg boats are one of the most hearty and fulfilling breakfasts for me. You get eggs, meat, and carbs that you crave from a hearty breakfast, all in an individually portioned boat of perfection.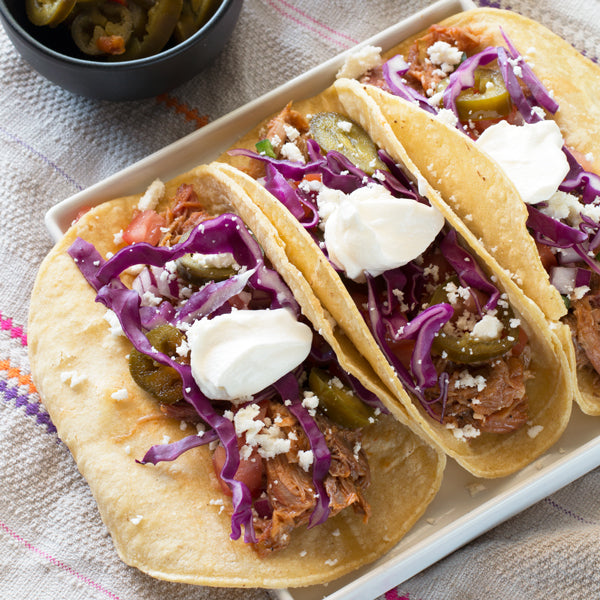 These pulled pork tacos are going to rock. your. world. I have to admit, I have a bit of an obsession with tacos. It's the one meal I can't seem to live without for more than a week. These pulled pork tacos are my new favorite in my taco rotation.
They are packed with pulled pork, pico de gallo, pickled jalapenos, cabbage, cheese and sour cream – everything you could every want from a taco! They are so flavorful that every bite practically explodes in your mouth. You'll find it extremely difficult to stop yourself from eating more than 3… or 4… or 5…
INSTRUCTIONS: Warm the corn tortillas for 15 to 30 seconds in the microwave to make them easier to work with. In a small bowl, stir together the ingredients for the quick pico de gallo. To assemble the tacos, pile on the pulled pork, pickled jalapeños and red onions, and pico de gallo. Top with queso fresco and sour cream. Serve immediately.
Shop This Post
Recipe & photos by Meghan Bassett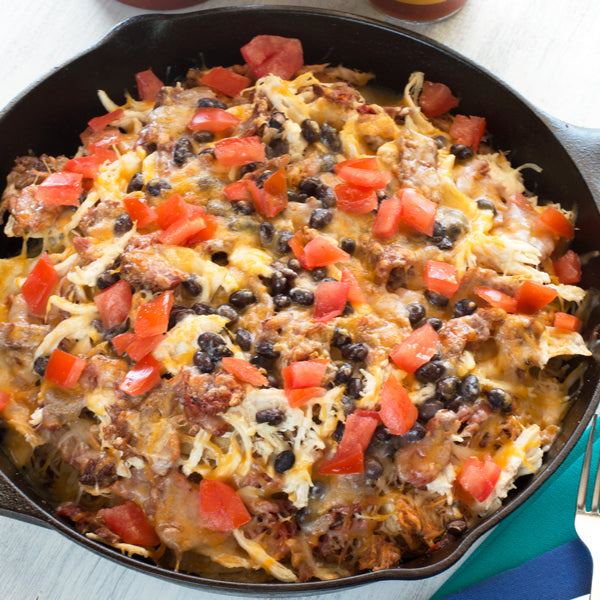 Imagine this… You're sitting around the campfire, drinking a couple beers and joking with your friends. Then someone says, "dinner's ready" and you all gather around a large cast iron skillet. The aluminum foil gets peeled off and you instantly smell the best campfire dinner smell ever – barbeque.
Now I'm turning that imagined experience into a reality for you with these campfire barbeque nachos! Featuring Pig of the Month meats, all you have to worry about is preparing shredded chicken prior to packing up and heading to your campsite. Then simply assemble all the ingredients, cover with foil and cook directly on the campfire until everything's warm and the cheese is melted.
You'll end up loving the three-meat combination on these campfire nachos so much, you'll be building fire pits in your backyard just for an excuse to eat them on a weeknight! DIG IN!
INSTRUCTIONS: Layer the tortilla chips on the bottom of the cast iron skillet, filling it approximately 1/3 of the way full. Add the pulled pork, brisket and pulled chicken in an even layer on top of the chips.
Top the meats with black beans, sliced jalapeños, and cheese. Cover the cast iron skillet with aluminum foil and place directly on the campfire. Cook until the dish is warmed through and the cheese is melted, approximately 5 to 10 minutes. You can also cook this under the broiler on low for approximately 5 minutes at home!
Remove from heat, peel off the foil and top with the fresh tomato chunks. Serve immediately with either barbeque sauce or salsa and hot sauce.
  Shop This Post
Pig of the Month Pulled Pork Pig of the Month Brisket
Recipe & Photos by Meghan Bassett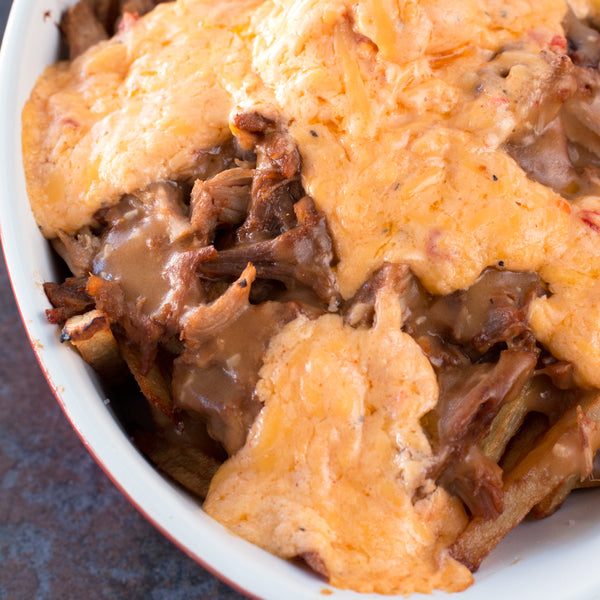 Pimento Pulled Pork Poutine! I dare you to say that five times fast...
Tongue-tied yet? Well, this poutine is exactly what you need to untie that bad boy and get down on some serious pulled pork. Poutine is one of my all-time favorite gluttonous meals to indulge in. After years and years of eating the same go-to recipe, I've decided to shake things up a bit by adding a hefty helping of pulled pork and ditching the cheese curds for some creamy, spicy pimento cheese spread. This is quite possibly the best combo of Canada meets Southern comfort you've ever tasted.
This dish is a glorious mess that people will be swooning for on game day this Sunday. Whether you're rooting for the Broncos or the Panthers on game day, this poutine is a must-have for your Super Bowl spread.
Hint: You can even whip up some frozen fries for this dish if you'd like to save time and get to the poutine sooner!
INSTRUCTIONS: Place the cut potatoes in a large bowl and cover with cold water. Refrigerate for about 1 hour.
While the potatoes are chilling, melt butter in a medium saucepan over medium-high heat. Stir in flour until the mixture is smooth. Stir in garlic and cook until fragrant, approximately 1 minute. Add beef stock, ketchup, and Worcestershire. Bring the mixture to a boil, stirring occasionally, until thickened, approximately 6 minutes. Season with salt and pepper to taste. Cover and keep warm on low heat until ready to serve.
Pour enough oil into a dutch oven to be 3" deep. Heat over medium heat until the temperature reaches 325 degrees. Drain potatoes and dry completely with paper towels. Fry the potatoes, working in small batches, until tender and just crisp. Remove to a paper towel lined plate to drain. Cool for 20 minutes.
Increase heat to medium-high and allow oil to heat to reach 375 degrees. Fry potatoes in the same small batches, until golden brown, approximately  2 minutes. Remove to fresh paper towel lined plate and sprinkle with salt. Preheat oven to 450 degrees F.
Add fries to an overproof baking dish. Top with the pulled pork, spreading it evenly across the whole dish.
Spoon the gravy over the fries and dollop the pimento cheese spread all over the top. Bake for approximately 5 minutes, until the cheese is melted and bubbly. Serve immediately.
Shop This Post
Recipe & Photos by Meghan Bassett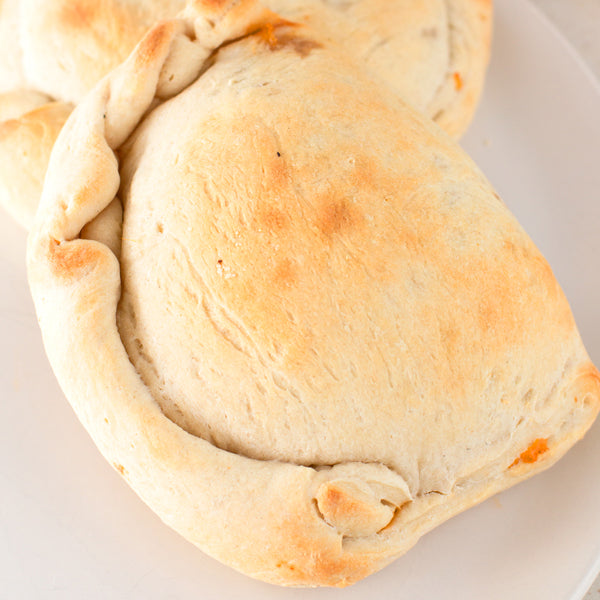 My love for Hawaiian pizza runs pretty deep. Almost as deep as my love for truly amazing pulled pork and BBQ. As I sat down to come up with my Super Bowl menu, I couldn't stop thinking about Hawaiian pizza. I didn't want to do the same ol' pizza I've been doing for years though. Nope, it was time to change things up.
So why not stuff pork, pineapple, cheese and barbecue sauce into warm, gooey pockets of deliciousness? These Hawaiian BBQ Pulled Pork Calzones are the perfect game day meal for your upcoming Super Bowl celebration (or any excuse for a celebration, let's face it, they are THAT good). They take little to no effort and are ready in less than 20 minutes. Plus you get that oh-so good Pig of the Month pulled pork...
When you're cheering your team for that touchdown, just try not to get BBQ sauce everywhere, ok?
INSTRUCTIONS: Preheat oven to 425 degrees. Line a large baking sheet with a silicone baking mat or aluminum foil (be sure to grease it!). In a medium bowl, stir together pulled pork, BBQ sauce and diced pineapple until combined. Set aside.
Roll out pizza dough into a large rectangle, approximately 1/4" thick. Cut the rectangle in half crosswise and then again lengthwise to form 4 small rectangles. In the center of each, add approximately 1/4 cup of the pork mixture.
Top with 1/4 cup of cheddar cheese. Fold the dough over to form the calzone, pinching the edges together before rolling them up and in. Place all four calzones on the lined baking sheet.
Bake for 15 to 17 minutes, or until just starting to brown on top. Remove from oven and wait 5 minutes before cutting and serving with extra sauce.
Shop This Post
Recipe & Photos by Meghan Bassett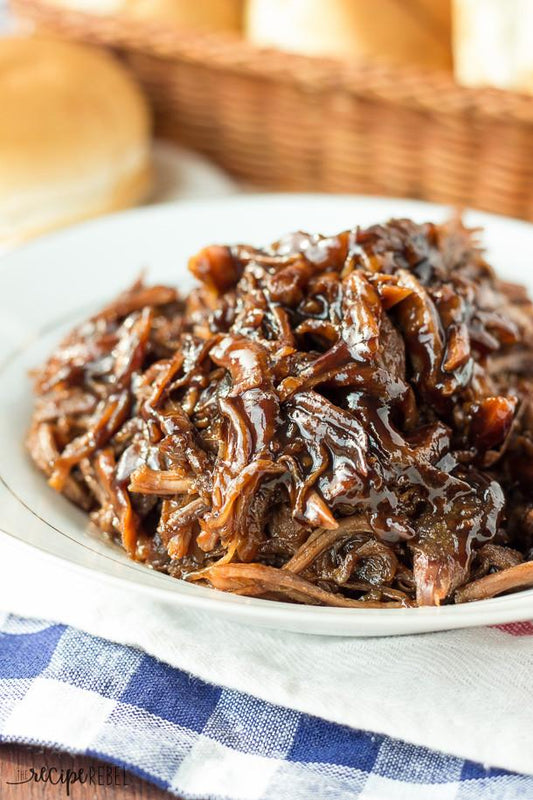 We're officially deep into crockpot season and it just so happens to be party season too! With all the football parties, holiday parties and dropping temperatures, we want to make our lives easier. That's why we're sharing these 13 best crockpot meats to whip up for a party. Now we don't know about you, but we don't love the idea of slaving in the kitchen all day and night long. While we love our cooking, when we are in party mode, we want to be part of the action wherever it's happening! This makes crockpot recipes so crucial to our party survival. Making a tender, delicious crockpot meat recipe means you can kick back, relax and even enjoy all that food you worked so hard on. With the main meat out of the way, you can turn any party into a self-serve array of deliciousness. From a taco bar to a brisket sandwich bar, pulled pork slider bar to wings and ribs, just set out the fixings and watch everyone's bellies get full. You can't go wrong with any of the recipes on this list, so the possibilities are endless!
Crockpot Salsa Verde Chicken - Diethood
Honey Balsamic Pulled Pork - The Recipe Rebel Hard Cider Pulled Pork - Flavor the Moments
Slow Cooker Chipotle BBQ Ribs - Mariah's Please Plates Easy Crockpot Sloppy Joe - Petite Allergy Treats
Crockpot Pork Carnitas - Live Well Bake Often BBQ Pulled Chicken Sliders - My Kitchen Craze
Easy Slow Cooker Pork Roast with Hoison-Blackberry Sauce - Floating Kitchen
Slow Cooker Soy and Lime Chicken Wings - Spoonful of Flavor
Slow Cooker Sweet and Spicy Pork Shoulder - How Sweet It Is Crockpot Root Beer Pulled Pork - Sauce + Style
Slow Cooker Texas Smoked Brisket - Sauce + Style
Slow Cooker Beer & Mustard Pulled Pork - Sauce + Style Just don't forget to drop us an invite to the big party, mmkay?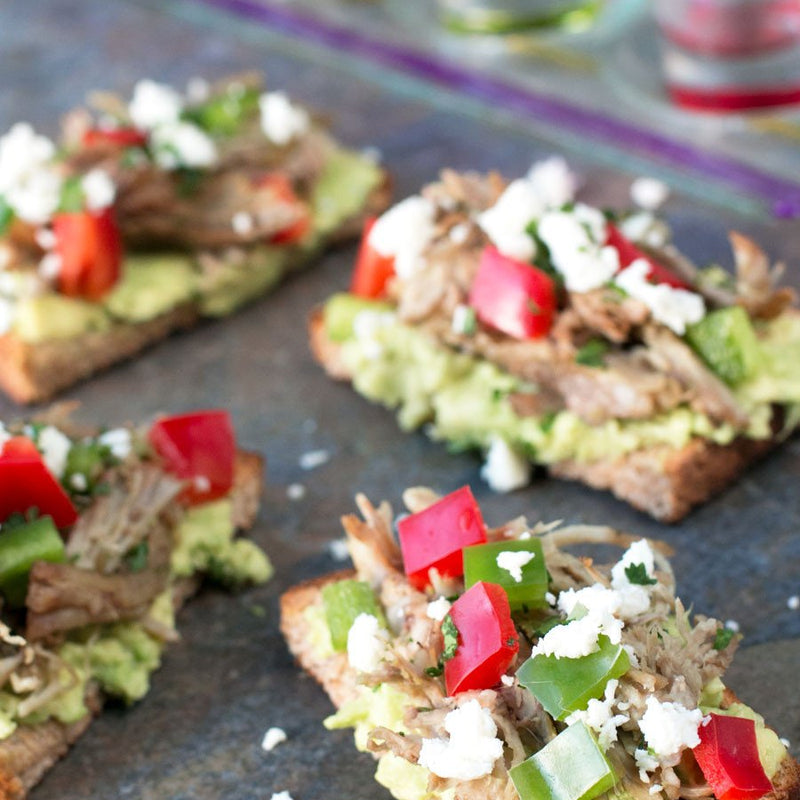 Avocado toast might be all the rage for all those health nuts out there wanting to eat something good for breakfast or lunch, and while we appreciate the healthy attempt, I kind of like to trash my healthy plans up... With a whole heaping helping of meat in these killer Pulled Pork Veggie Avocado Toasts!
I can honestly admit that my attempts at getting healthy this year are pretty dang lame... I am not the biggest fan of sticking to a strict diet. For obvious reasons I'm sure. I mean when I have Pig of the Month BBQ Pulled Pork in my fridge, why the heck would I ever want to just eat my fruits and veggies?! Nope, instead I want to load up on my pork and I GUESS I can load up on some veggies at the same time.
With the pulled pork, these veggie avocado toasts burst with tons of flavor. It's like eating a pulled pork taco but on toast! I love making this for breakfast or lunch, or a mid-afternoon snack, because it's super easy AND it's easy to throw together in even the smallest of kitchens (like that dinky one at your office...). So load up and get healthy (well healthy-ISH)!
INSTRUCTIONS: Spread toast with a layer of mashed avocado. Top with pulled pork, chopped bell peppers, queso fresco and chopped cilantro. Serve!
Shop This Post: Pig of the Month BBQ Pulled Pork *Recipe and photos by Meghan Bassett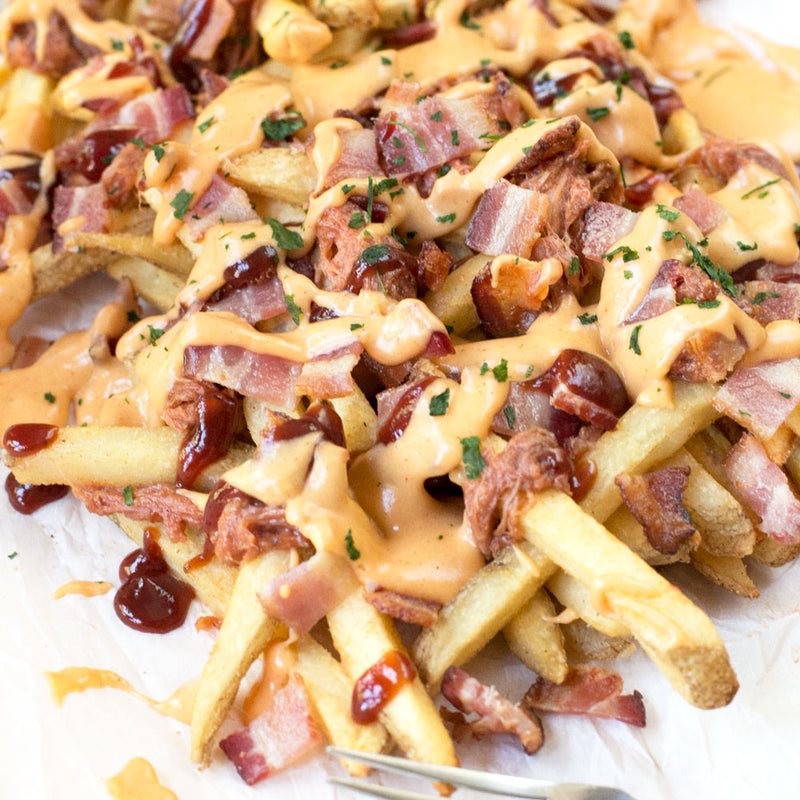 Who's ready to get down on some serious pig?? That's exactly what these Pig Overload Fries are here for! When it comes to watching that pigskin fly and rooting for my favorite team, football food is everything I need to make me happy in life. Well, along with a couple of beers of course.
It's only natural to load up all the pork and bacon on these delicious fries, because y'all know I like my fries with a side of meat, plus some extra meat. Then I load it up with some cheddar cheese deliciousness and top it all off with some BBQ sauce. Talk about a hot mess of deliciousness, am I right? Thus the best fries you will ever eat in your LIFE were born.
Seriously, these are the best fries ever. Just look at that gorgeous mess and then tell me that you can resist it... Yea, didn't think so. So go ahead, get messy. Eat it all. Feel no guilt and chug a cold brew. This IS football season, people. Get into it already!
INSTRUCTIONS: Cook French fries according the instructions on the package. In a medium saucepan over medium heat, melt the butter with paprika and cayenne powder. When melted and just starting to bubble, stir in 1/8 cup flour. Let brown, approximately 30 seconds to 1 minute, and whisk in 1 1/2 cups milk.
Continue to stir the milk mixture until it thickens, approximately 1 to 2 minutes. Remove from heat and stir in cheddar cheese until melted.
Place cooked fries in a large serving dish. Top with pulled pork and bacon. Drizzle over cheese sauce and BBQ sauce. Garnish with chopped parsley and serve immediately.
Shop This Post
Pig of the Month BBQ Pulled Pork
Pig of the Month BBQ Applewood Smoked Maple Bacon
*Recipe and photos by Meghan Bassett
1
2
Next »