Posts tagged: mozzarella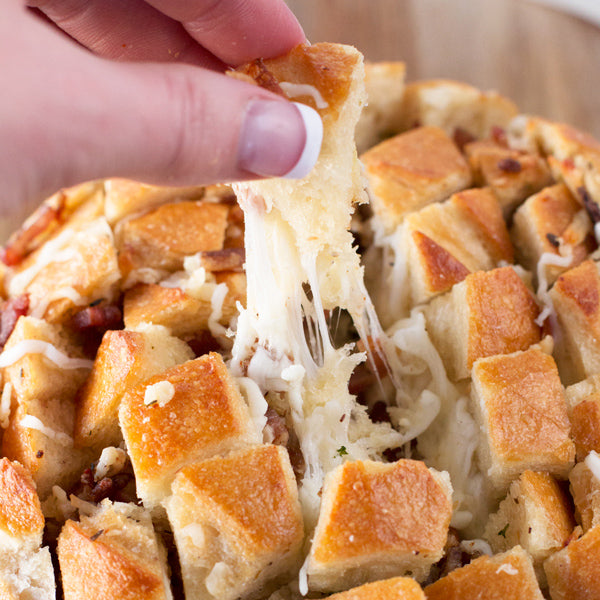 I'm about to blow your minds with some serious bacon and cheese action. You may think that it couldn't get any better than the fried mac n cheese we busted out earlier this week, but we just outdid ourselves. Yet again.
Pull apart breads are my new favorite recipe to whip out for a party, especially a huge spread like the one I'm hosting on Super Bowl Sunday in a couple weeks. This bread is so ridiculously simple, there's really no excuse for you to NOT make it. In about 5 minutes of prep time, you'll be a hot 15 minutes away from a cheesy, bacon-packed mess of a bread that everyone will gladly get messy for. Just take a gander at that cheese....
Ok one more... All that cheese and bacon stuffed into the cracks of that warm, crusty bread...
Enough torture, I promise. But seriously, can't you just taste the deliciousness that this cheesy, bacon bite must pack? Are you hungry yet?
INSTRUCTIONS: Preheat oven to 350 degrees F. In a small bowl, stir together melted butter, garlic, salt, pepper, parsley, thyme and oregano. In another small bowl, combine the two cheeses and bacon. Gently toss to combine.
Using a serrated knife, cut the bread on a diagonal angle into 1-inch diamond shapes, making sure you don't slice all the way through the loaf of bread.
Gently open up the cracks with your fingers. Drizzle each with a tsp of the butter mixture and a pinch of the cheese and bacon mix.
Wrap the loaf of bread in aluminum foil and bake for 15 minutes, until the cheese has mostly melted. Remove from the foil and bake for an additional 5 minutes, directly on the rack. Serve immediately.
Shop This Post 
Pig of the Month Applewood Smoked Maple Bacon
Recipe & Photos by Meghan Bassett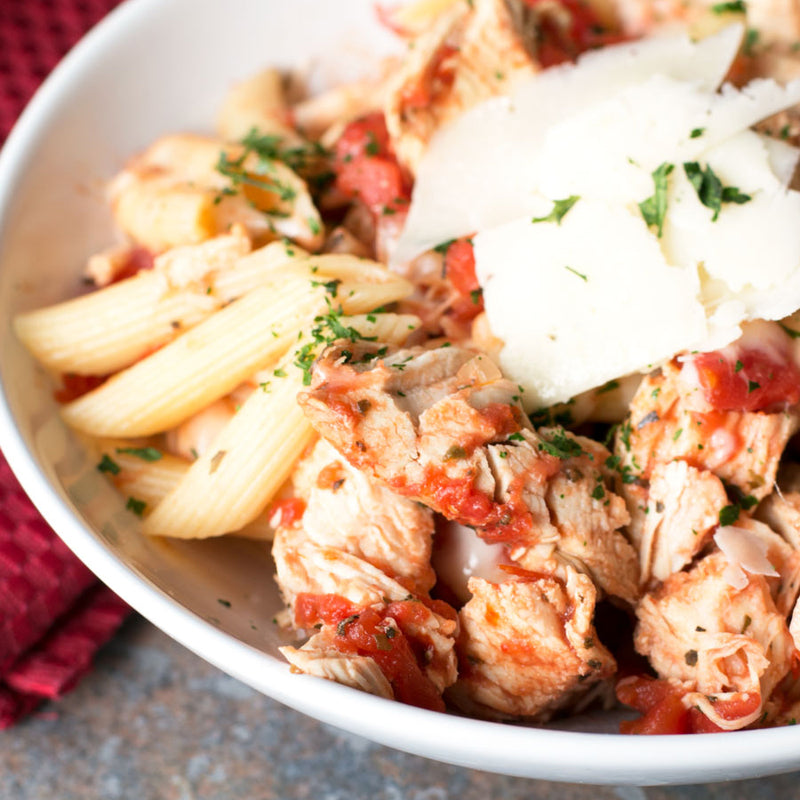 Want to get everyone to the dinner table on time? There's nothing like a heaping cheesy helping of Slow Cooker Chicken Parmesan Pasta to get everyone's mouth watering! I LOVE chicken parmesan. It's that Italian comfort food that is perfect to whip out once the temperatures start dipping. However making a true chicken parmesan in the middle of the week can be a little bit of a pain. By the time I am done with work, I want to kick back and eat. I don't want to deal with a bunch of cooking and baking when I'm finishing a hard day.
I know it sounds lazy, but sometimes cooking is the LAST thing I want to do. But I still want great food and I don't want to have to pay for it from some expensive delivery service (of course I'm not leaving my house once I get there - DUH). That's why this Slow Cooker Chicken Parmesan Pasta is such a perfect recipe. It can cook while you are at work so when you get home, all you have to do is boil some pasta and add the cheese. In less than 15 minutes of actual active cooking time, you will have a hot and fresh dinner to comfort you after a rough day.
Your entire family will go crazy for it, or you can simply hoard the leftovers for yourself for lunches throughout the week! #winning
[vimeo 189804825 w=640 h=360]
Slow Cooker Chicken Parmesan Pasta from Pig of the Month BBQ on Vimeo.
INSTRUCTIONS: Add chicken breasts to the insert of a slow cooker. Add in diced tomatoes, onion, basil, oregano, red pepper flakes, salt and pepper. Stir to combine. Cover and cook on low for 4 hours. Remove chicken breasts and cube them. Return chicken to the slow cooker. Add in cooked penne pasta and top with mozzarella cheese. Cook on low for 15 minutes until the cheese melts. Serve and garnish with parmesan cheese and parsley.
*Recipe, photos and video by Meghan Bassett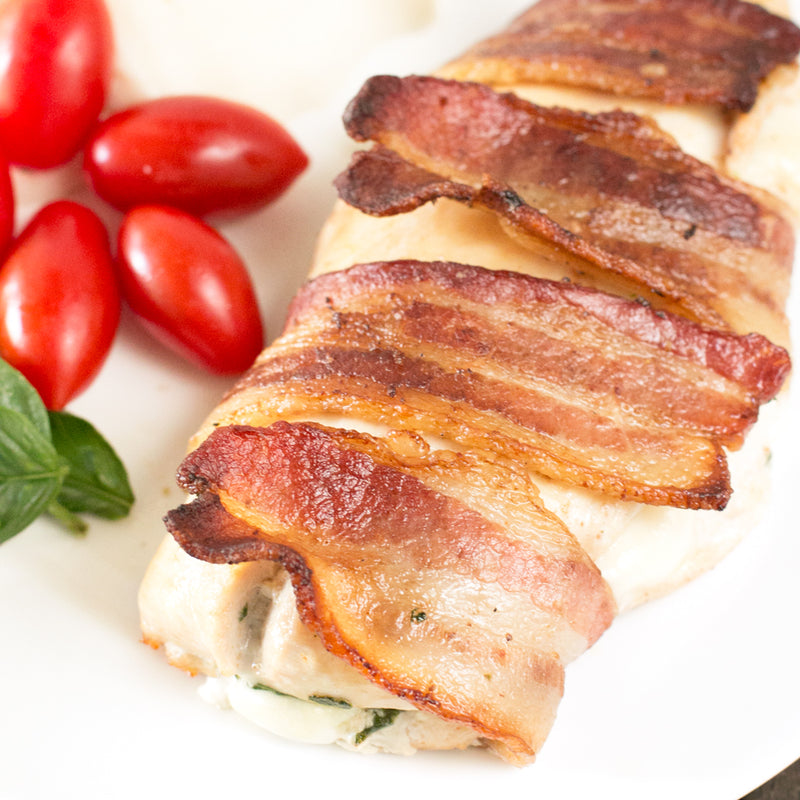 Weeknight meals can get really boring, am I right? I mean, there's only so many times you can cook a plain ol' chicken breast, match it up with some veggies and not get bored to tears. Sometimes you need to shake things up during the week, but you don't have time to master an insane recipe. Enter Bacon-Wrapped Caprese Stuffed Chicken.
These chicken breasts are going to seriously wow your family and I bet you already have most of these ingredients in your home (or even growing in your backyard for you herb and veggie growers out there!). All you have to do is stuff your chicken breasts with those classic caprese salad ingredients, wrap them in bacon and boom. Dinner is done in less than 30 minutes and your satisfying everyone at the table. I LOVE caprese salads - the mozzarella, the tomato, the basil - it all screams freshness and summer to me with every bite. Chicken lends itself so well to this combo so it only makes sense to stuff everything INSIDE the chicken breast. That combined with the bacon-wrapped exterior leaves you with one of the moistest pieces of chicken you'll ever dig into.
This will become a family fav in no time!
Bacon Wrapped Caprese Stuffed Chicken from Pig of the Month BBQ on Vimeo.
INSTRUCTIONS: Preheat oven to 400 degrees. Split each chicken breast in half. Stuff with 2 half slices of mozzarella, one half slice of tomato, and a generous sprinkle of chopped basil. Pinch the edges of the chicken breast closed.
Wrap each chicken breast with two slices of bacon, making sure the edges of the bacon overlap all on the same side of the breast. Heat olive oil in a large oven safe skillet over medium-high heat. Sear the chicken breasts for 2 to 3 minutes on each side, making sure to rotate to get it seared on all four sides. Place skillet in the oven and bake for 10 minutes, or until cooked through. Serve immediately.
Shop This Post
Pig of the Month Applewood Smoked Maple Bacon
*Recipe, photos and video by Meghan Bassett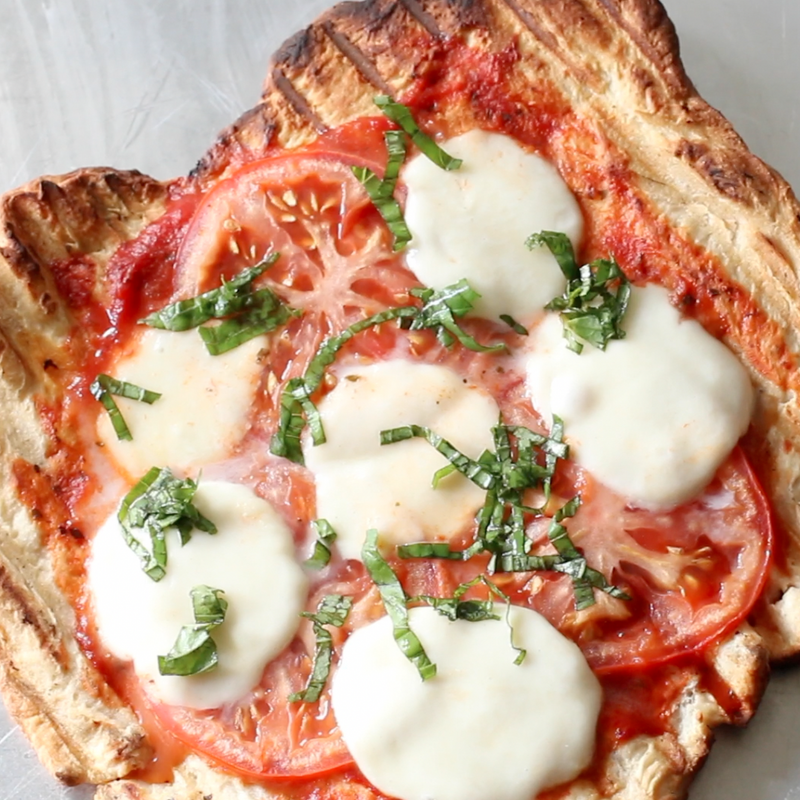 Want that killer grilled pizza at home? Just follow our super simple How to Grill Pizza video!
You might think grilled pizza is a luxury that you can only get when you go out, but you couldn't be more wrong! As long as you have a grill, a rolling pin and some toppings, you are mere minutes away from the best pizza of your LIFE. Grilled pizza is my all-time favorite thing to eat during the summer. The flavor from the charcoals and the crispy texture are totally drool worthy! I always keep some pizza dough in the freezer or refrigerator just for this reason during the summer. You can throw whatever toppings you want to and in about a half hour, you have the best pizza ever - no pizza oven or pizza stone required! Directly on the grill is the only way to do it, am I right? So just follow the video below the recipe card and get to grilling already!
Pig of the Month BBQ on Vimeo
  Recipe, Photos & Video by Meghan Bassett
A little sweet, a little savory, a little spicy and a whole lotta meat... That's how I sum up this easy peasy chicken wrap! It has all the flavors you want to tickle your taste buds, but it won't take you more than 5 minutes to throw the thing together before you head off to work. In my opinion, this is the best lunch possible. It's full of meat to keep you full all day, but just because it's a little lighter than say, a double-cheeseburger with extra bacon, it doesn't mean that it won't keep ya going strong throughout the rest of your work day.
I seriously LIVE off things like these Spicy Hawaiian BBQ Chicken Wraps in January because I am so busy trying to stick to work resolutions and start the year off with a serious BANG. I need quick, easy and delicious in the middle of my day - because if it takes a long time to make and eat, I'll end up napping under my desk and I'm pretty sure the boss would frown on that whole idea... So get your grab-and-go from your own kitchen instead of hitting that pathetic little sandwich cart, and being disappointed with your lunch yet again. This meaty feast of goodness wrapped up inside this tortilla is all your heart (and tummy) needs!
INSTRUCTIONS: Warm each tortilla in the microwave for 10 to 15 seconds each. Spread each tortilla with half of the BBQ sauce. Divide the chicken, pineapple, bacon, and cheese evenly between the two. Sprinkle with red pepper flakes. Wrap one side over the center and then the other side over the center. Serve.
Shop This Post
Pig of the Month BBQ Pulled Chicken
Pig of the Month BBQ Love Me Tender BBQ Sauce
*Recipe and photos by Meghan Bassett