Posts tagged: grilling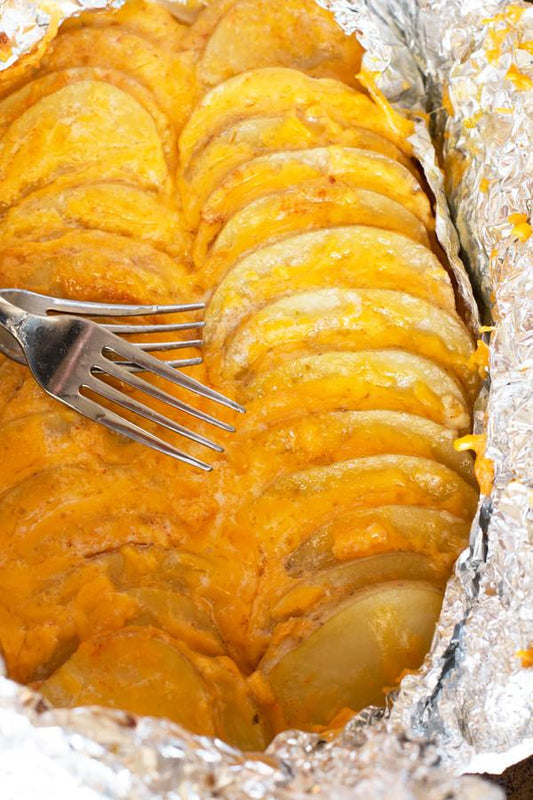 Have you broken out your grill yet? If not, I've got the perfect recipe for you to kick off grilling season with! Foil-wrapped cheesy potatoes! Whether you are grilling or heading out on a camping trip, these cheese potatoes are AWESOME. Wrapped up tightly in foil they can cook over any type of grill or straight over the campfire. They are bursting with all the flavors you love from cheesy potatoes, with just the right hint of spice to balance out that ooey gooey mess.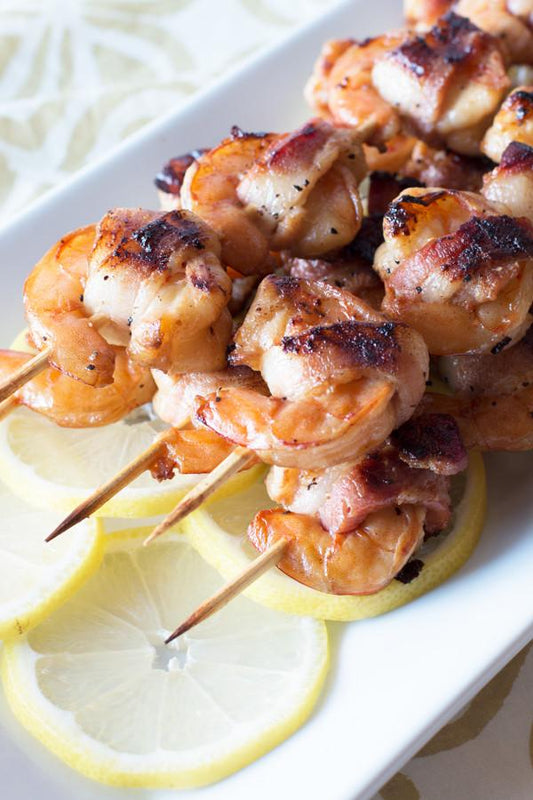 I can't seem to stop myself from wrapping things in bacon and to be honest, I don't want to stop. These little lemon pepper bacon wrapped shrimp skewers are the perfect spring recipe to kick off the grilling season! They are so simple to make, the marinade comes together in a snap, and the lemon pepper bacon is my new favorite bacon flavor! It has just the right amount of tart acidity to balance the thick-cut, greasy, delicious por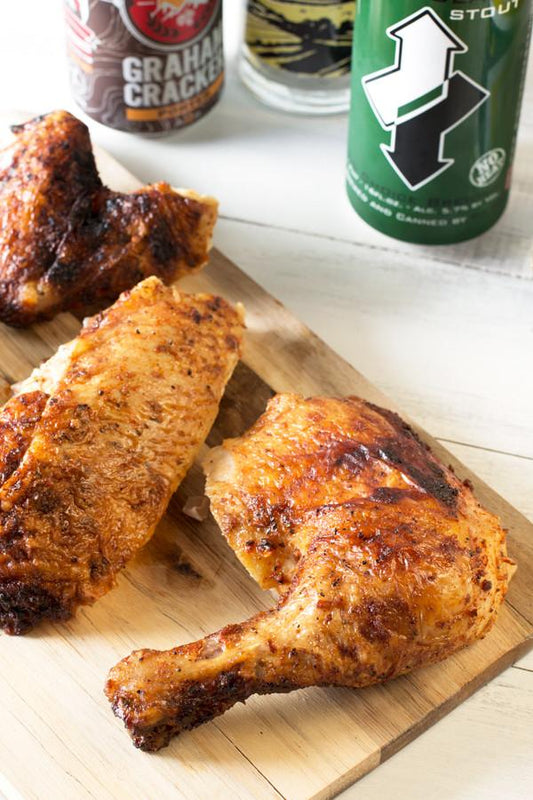 How do you kick beer can chicken up a notch? Swap out that Budweiser for a specialty craft beer! When you get tired of burgers, hot dogs and ribs (or in addition to all those burgers, dogs and ribs!), a roasted chicken on the grill is a great way to shake things up at your yearly barbecues. Remember Memorial Day is just around the corner! This is the perfect way to celebrate.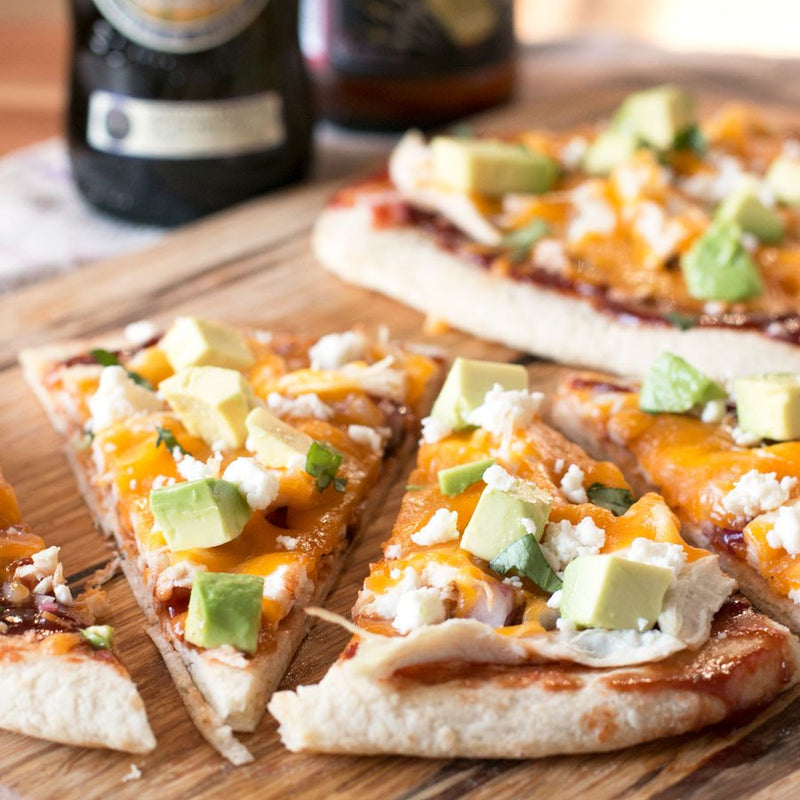 Welcome to 2017 piggy peeps! I don't know about you but I am not ready to get back into the swing of things to kick off the New Year. It feels like there are 5 million to-do's on my list and I am barely making a dent in them a few days into the new year... One thing that's falling off my radar? Dinner. I am struggling with pumping out tasty meals without spending wayyyyy too much time on them. Since I have too much to do at work, I am starting to rely on meals of popcorn and soda - NOT how I wanted to start the year.
Instead, I'm pulling out my Pig of the Month BBQ Shredded Chicken and I'm making something more than just a sandwich with it. These flatbreads are one of the easiest meals EVER and there's no one that can resist them, I don't care how picky of an eater they are. The fluffy naan with BBQ sauce, chicken and avocado is the best base for any pizza. Throw in the bite of some red onion and salty cheese and holy wow, this pizza is one the entire family will be begging you to make on a regular basis. Not to mention it's pretty dang healthy in terms of pizza, so you can feel ok about sticking to those New Year resolutions ;)
INSTRUCTIONS: Place naan on a lined baking sheet.
Spread each with half of the BBQ sauce.
Top with chicken, red onion and cheese.
Place under broiler set to high for approximately 2 to 3 minutes, or until the cheese melts.
Remove from oven, top with avocado, cilantro and a sprinkle of queso fresco. Serve.
Shop This Post
Pig of the Month BBQ Shredded Chicken
Pig of the Month BBQ Love Me Tender Sauce
*Recipe and photos by Meghan Bassett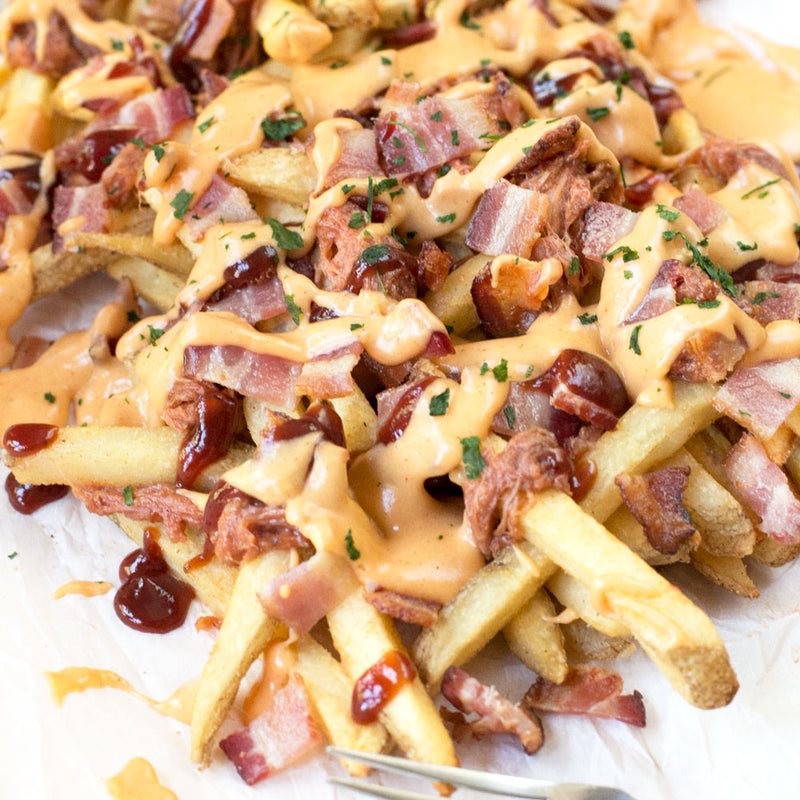 Who's ready to get down on some serious pig?? That's exactly what these Pig Overload Fries are here for! When it comes to watching that pigskin fly and rooting for my favorite team, football food is everything I need to make me happy in life. Well, along with a couple of beers of course.
It's only natural to load up all the pork and bacon on these delicious fries, because y'all know I like my fries with a side of meat, plus some extra meat. Then I load it up with some cheddar cheese deliciousness and top it all off with some BBQ sauce. Talk about a hot mess of deliciousness, am I right? Thus the best fries you will ever eat in your LIFE were born.
Seriously, these are the best fries ever. Just look at that gorgeous mess and then tell me that you can resist it... Yea, didn't think so. So go ahead, get messy. Eat it all. Feel no guilt and chug a cold brew. This IS football season, people. Get into it already!
INSTRUCTIONS: Cook French fries according the instructions on the package. In a medium saucepan over medium heat, melt the butter with paprika and cayenne powder. When melted and just starting to bubble, stir in 1/8 cup flour. Let brown, approximately 30 seconds to 1 minute, and whisk in 1 1/2 cups milk.
Continue to stir the milk mixture until it thickens, approximately 1 to 2 minutes. Remove from heat and stir in cheddar cheese until melted.
Place cooked fries in a large serving dish. Top with pulled pork and bacon. Drizzle over cheese sauce and BBQ sauce. Garnish with chopped parsley and serve immediately.
Shop This Post
Pig of the Month BBQ Pulled Pork
Pig of the Month BBQ Applewood Smoked Maple Bacon
*Recipe and photos by Meghan Bassett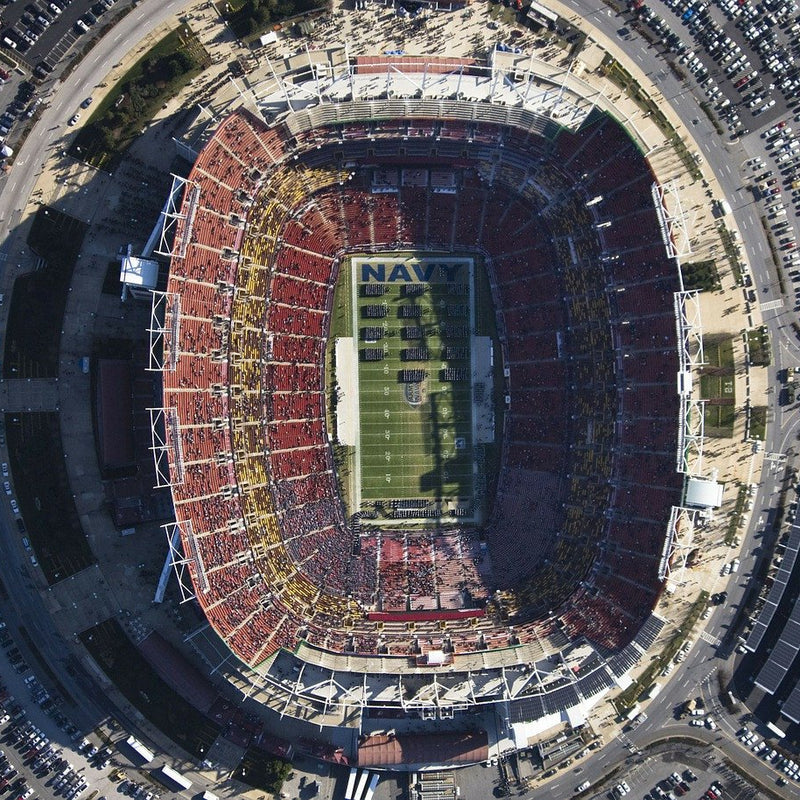 Tailgating is a must, no matter what team you are rooting for. Hitting the parking lots and getting amped up for the big game is the only way to ensure your team will bring home the victory. So you want to make sure you are hosting the most epic tailgating party ever, right? You might be a seasoned tailgater, or a complete newbie; regardless we've got the keys to assured tailgating party success right here. Buckle up BBQ peeps, it's time to get down and dirty with tailgating party prep.
Game Day Decorations You don't have to drop $500 on decorations, but making sure you are displaying those team colors loud and proud is the ultimate way to set the mood. Grab tablecloths, napkins, plates, the works. Everyone needs to know that you bleed those colors! Tailgating On the Go? Turn your SUV into table. That's right, just lay down the seats and pop the truck. Add a tablecloth to the floor and a cooler full of drinks. You can even set out your mad food spread right there so even a little rain can't ruin your party scene.
FOOD AND BOOZE Most importantly, don't skimp on the food and the booze, not to mention water for when everyone inevitably drinks too much without hydrating. Check out any of our killer Sauce + Style recipes for inspiration, or just grab a Pig of the Month BBQ feast so we can do the cooking for ya! Just make sure you're making everything handheld - no one wants to sit down with a knife and fork. Get Those Butts a Rest All that standing, boozing and eating means people will need a little rest from time to time. Be sure to grab plenty of collapsable seating for everyone! Chilly Out? Stock up on the blankets! You can even use this as an opportunity to bring in those team colors in another way.
Pump Up the Jams A mix of current jams and upbeat 80s classics are perfect for setting the mood. Don't forget to load up the team's fight song! Say Buh-Bye to Red Cups Those red cups are getting a little old aren't they? Class up your shindig with some mason jars instead. Give Them Something to Do Standing around for hours drinking and eating can get a little boring. Set up a game of cornhole, or just bring a couple balls so people can throw around the pigskin.
Grilling? If you are busting out the big guns and grilling up tasty meats for your peeps, don't forget to haul along extra charcoals and propane. Make sure you also have everything you need to safely cool down the grill and dispose of ashes before heading into the game. Follow these little tidbits of advice and you are going to have a legendary team celebration bash no one will forget. Just be prepared to be asked to host every tailgating party from now until forever.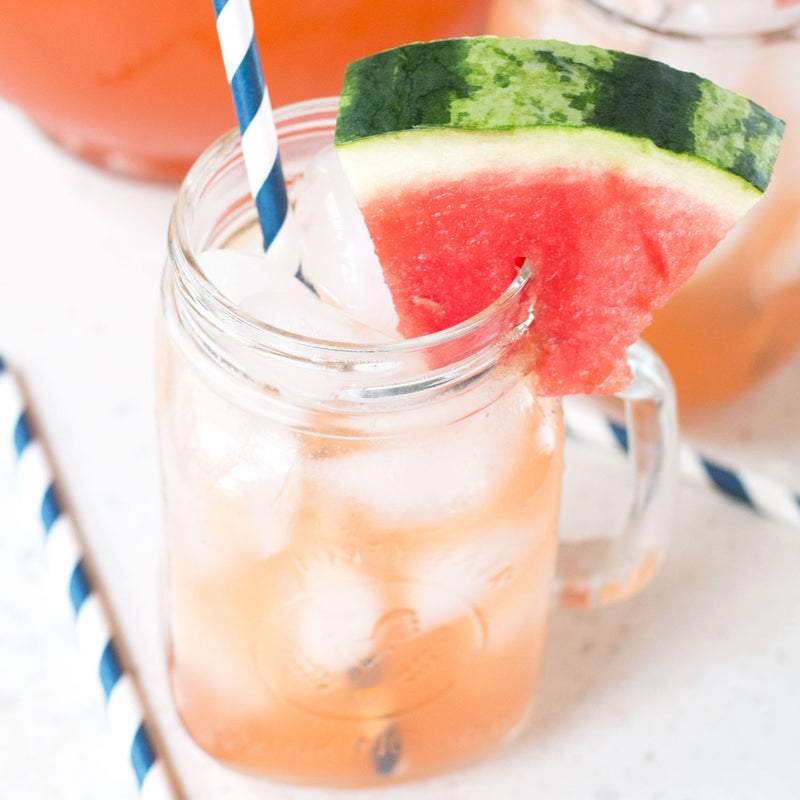 How is it already the end of August?! Before we know it the summer will be over and we'll be sipping pumpkin spice lattes while we tailgate for our fav football team. So how am I getting the most out of these final days of summer? Three words. Sparkling Watermelon Punch.
Watermelon is my favorite fruit to gorge on during the summer. It's refreshing and light so you can eat an entire watermelon and not feel like a total whale afterwards. Not that I've ever tried to do that or anything... So it's only natural to put all that fresh watermelon to good use - in a cocktail. This big batch punch is perfect for your next summer BBQ. It's light and bubbly, which is exactly what you want to be sipping on while you are grilling up all those meats. It's just a little tart and not too sweet, so even the dudes at the party won't feel too girly sipping on it too.
The best part? It's only 4 ingredients and it comes together in less than 2 minutes. Forget spending all that time fussing over complicated recipes! You need to be out on the patio, sipping this punch and soaking up what's left of the summer sun. Go ahead and pin this bad boy now because you know you're gonna want to bust this out all weekend long when Labor Day rolls around next week! Speaking of Labor Day, keep an eye out on the blog, because we're rounding up our favorite Sauce + Style recipes to keep your celebrations going all weekend long, Pig of the Month BBQ style.
[vimeo 180181266 w=640 h=360]
Sparkling Watermelon Punch from Pig of the Month BBQ on Vimeo.
INSTRUCTIONS: In a pitcher filled halfway with ice, combine, watermelon juice, pineapple juice, prosecco and cognac. Stir to combine. Serve in mason jar glasses and garnish with a wedge of watermelon.
*Recipe, photos and video by Meghan Bassett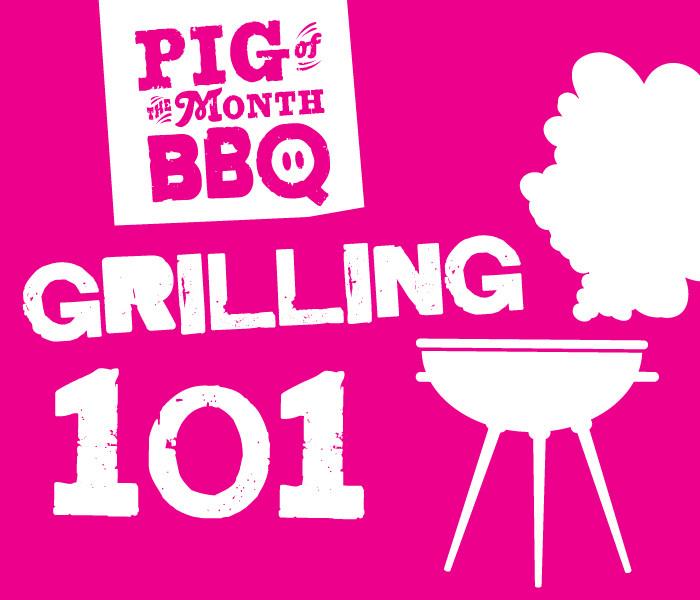 Hey BBQ peeps! Put down the lighter fluid and listen up. It's about time you quit it with that stuff and learned how to light a proper grill, isn't it?
Yea, that's what we thought too. There are some hard and fast rules that you need to know when lighting a charcoal grill. Get to know them, memorize them, and never stray from them. Trust us, we won't steer ya wrong!
Don't Use Briquettes There are wayyyy too many fillers and chemicals in briquettes. If you use them, all that nasty stuff is getting into your food and no one wants that. Real hard-wood charcoal is the only way to go - it even burns hotter without the chemicals which is a major bonus. Don't Use Lighter Fluid Lighter fluid = NO. Repeat that 10 times if you have to in your head. The chemicals in lighter fluid ruin the whole point of using real hard-wood charcoal. Don't do it. It's also a major fire hazard and no one wants to go the summer without eyebrows.
Use a Chimney Starter For REAL, folks. This is an easy one. If you've never tried lighting one before just follow these steps:
Stuff 2 pieces of newspaper in the chimney starter.
Fill the chimney with charcoal.
Light the newspaper with a match or lighter.
Remove the grate and set the chimney down in the grill, letting it burn for a bit.
Make sure there's smoke coming out of there or else that's a sign the fire's died.
When ready to grill, dump out the coals. If you need a two zone grill for direct and indirect heat, set the coals off to one side when you pour them in (they don't exactly move around easily once they're in there!)
Easy right?
Clean Your Grill Clean your grill before you use it, ideally right AFTER you use it each time. Having that leftover ash and residue will block the airflow and that will kill your fire. With these four things in mind, you'll be grilling stronger, longer and cleaner than ever before!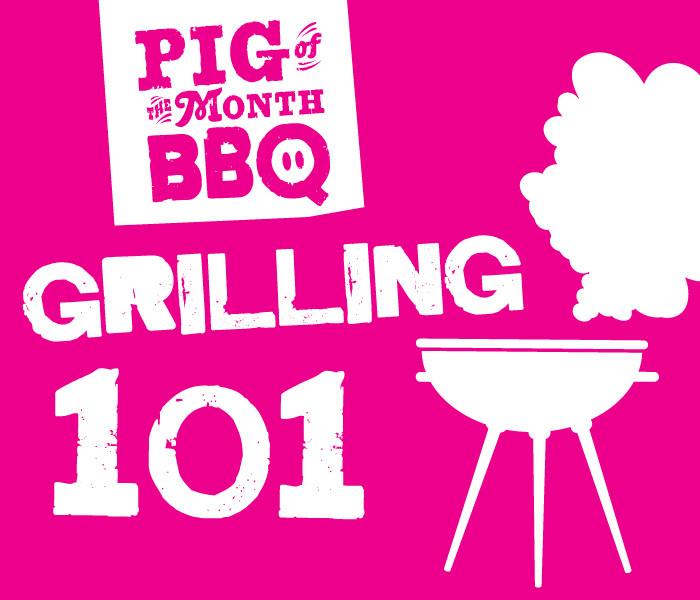 When you are grilling, there's always a little bit of pressure. It's not like cooking in a kitchen where you can control the temperature of the oven or stove within a few degrees. You're working with a grill that can sometimes be unpredictable depending on the weather and you're also dealing with direct fire. One of the most embarrassing things that can happen is having your food stick to your grill. Not only are you creating a giant mess to clean up later, the food itself looks like it's been ravaged by wild dogs. It might taste delicious, but everyone will be looking at it sideways. I mean, no one wants to eat food that looks like it's already been chewed to death. Don't make this rookie mistake, BBQ peeps. Know your Grilling 101 tips and never deal with food sticking to the grill again! Just watch the video below and you will have delicious, tasty food hot off the grill, looking pretty as a picture every time.
[vimeo 174374354 w=640 h=360]
How to Prevent Food From Sticking to the Grill from Pig of the Month BBQ.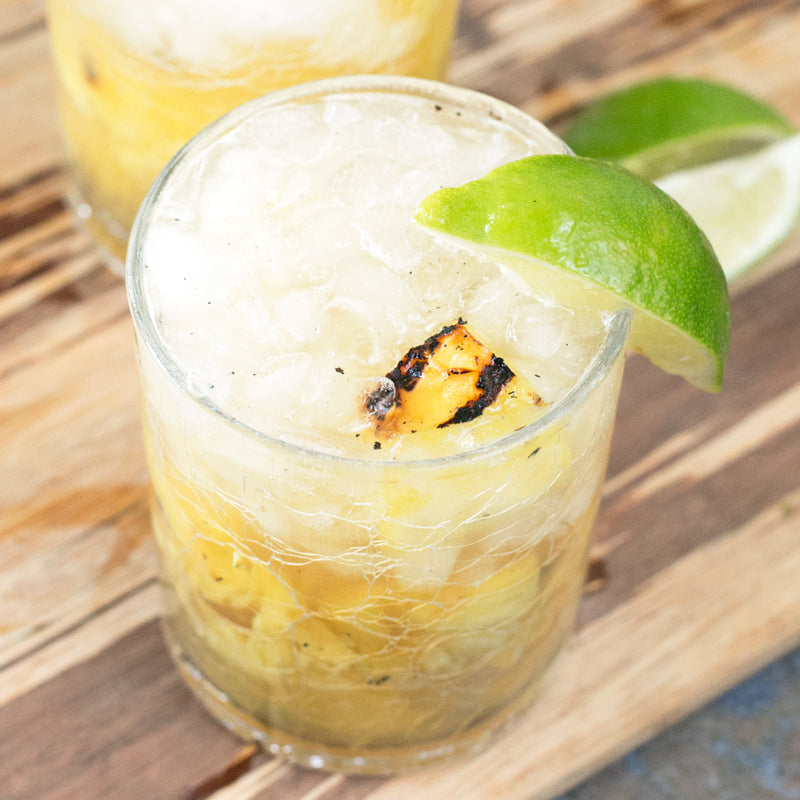 You all know we LOVE to get our grill on in the summer. There's only a few precious month's of grilling and boozing to make the most of before the cold weather sets in. As much as we still love those fall months (can you say 'tailgating heaven'?), we kind of wish we could grill all year round.
So when those warm temps hit, it's all about grilling all the things. We grill our meats, our veggies, our desserts and now, even our cocktails. Grilled pineapple is already one of our fav summer treats, so why not throw it in with some bourbon so you have something delicious to sip on while you're working hard over that hot grill? There's no reason not to, obviously.
These bourbon smash cocktails are packed with grilled pineapple so they are almost like a sangria with all that chunky fruit in there. Of course, instead of wine there's a ton o' bourbon - right up our alley for cocktail hour. Keeping those summer vibes going and working our grills as hard as possible is all we BBQ-loving peeps know how to do, after all. Cheers to the summer!
INSTRUCTIONS: In the bottom of a double old fashioned glass, muddle grilled pineapple with lime juice.
Pour in bourbon and stir. Fill glass with crushed ice and top with soda water. Stir once more to combine. Serve.
Recipe & photos by Meghan Bassett
1
2
3
Next »