Posts tagged: entree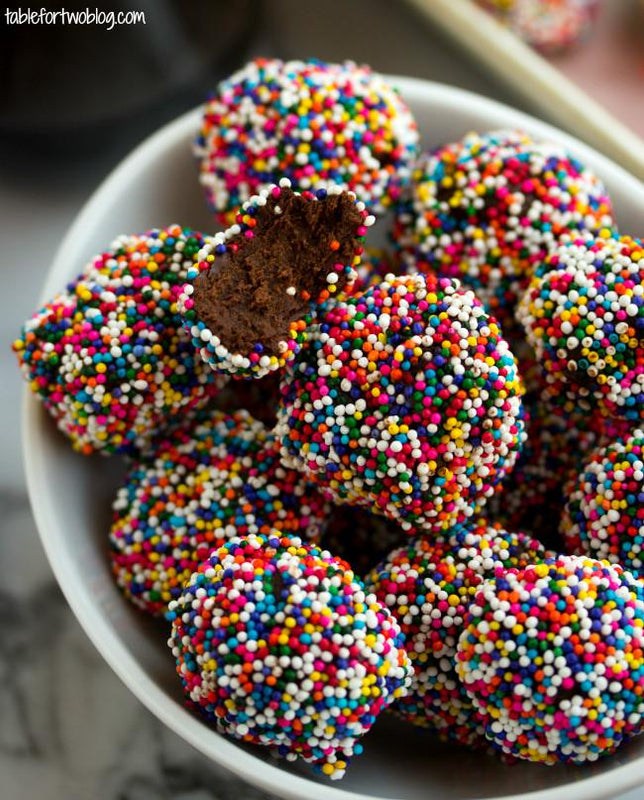 Now that the Christmas season is officially over, it's time to focus on all that New Year, New Me stuff. While other peeps are thinking about diets and how they can improve themselves in the coming year, we've got our eyes on the REAL prize... How to ring in the new year like a freakin' BOSS. There's no sense in making big plans for the new year if you are properly celebrating it's arrival, right? For us, it's all about DECADENCE. All the food, drink and more food that we want to double-down on before we feel the need to cleanse the holiday weight gain in January (you know, that diet that generally only lasts one week?). Check out our ultimate list of indulgent recipes from drinks to apps to desserts and even a burger made with beer cheese sauce and whiskey... Because why the F not? You can only say goodbye to 2016 once, so let's send that year out the right way.
Gingerbread Spice Cocktail - Sauce + Style
Cheesy Bacon-Stuffed Mushrooms - Sauce + Style Ultimate Hot Chocolate Bar - Sauce + Style
The Perfect Antipasti Platter - Sauce + Style
Peach and Vanilla Champagne Jello Shots - That's So Michelle
Sugar Cone Party Horns - Hungry Happenings
Glitter Champagne Bottles - Camp Makery
Double-Stuffed Oreo Jello Shots - A Beautiful Mess
Jameson Whiskey Blue Cheeseburger with Guinness Cheese Sauce + Crispy Onions - Half Baked Harvest
Chipotle Beer Shrimp Quesadillas with Spicy Guac - How Sweet It Is
One-Pan Baked Champagne Cream Sauce Fettucine with Truffle Oil - Half Baked Harvest
Crispy Beer Chicken with a Creamy Beer Mushroom Gravy - Cafe Delites
Drunken Cherry Galettes - The Brewer and the Baker
Boozy Truffles - Table for Two
Boozy Gummy Bear Cupcakes - Sweet Tooth Happy New Year, piggy peeps! We'll catch y'all on the flip side.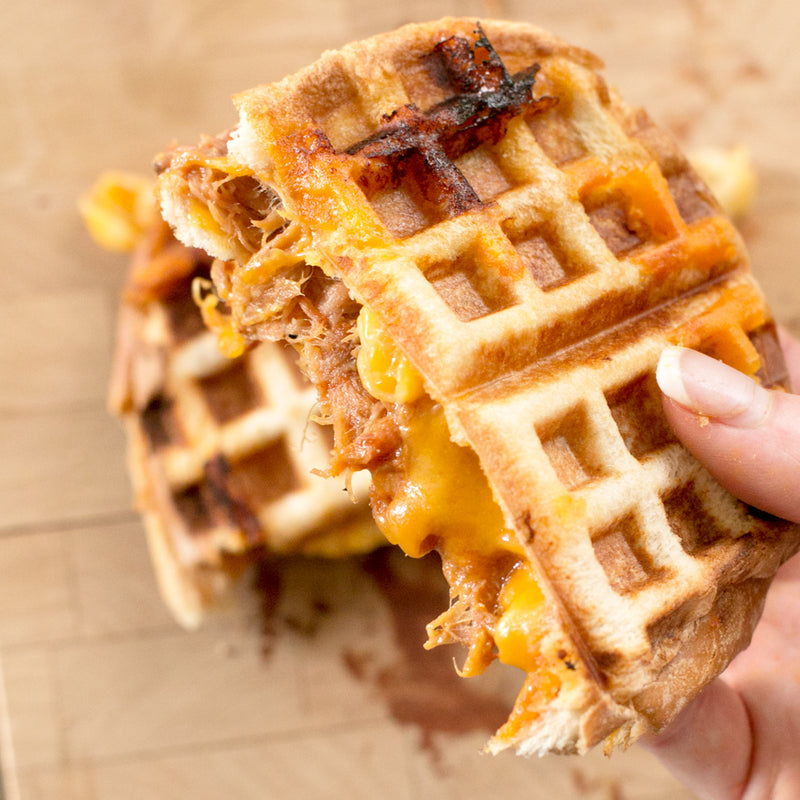 Hey food porn fans... I've got something extra special for you today... It's hot and crispy straight out of the waffle iron, stuffed with saucy pulled pork and so cheesy your head might explode. It's basically a giant mess of a sandwich, carefully contained in a pocket of waffle ironed bread.
This is seriously going to become your new favorite way to make grilled cheese sandwiches, period. The waffle iron crisps up the bread in a way that cooking it over the stove just doesn't do. It's like your own personal panini press, with more than one function in the kitchen! You just pinch down those edges and it forms a pocket of deliciousness.
When you open up this bad boy, all that pork, mac n cheese and cheddar comes oozing out in the most luscious way. You might have to stop and just stare at it before shoveling it in your mouth in one giant bite. Might have to stop. But we know you definitely won't delay the goodness, right?
Get those cameras ready folks, this is food worthy of that 'foodporn' hashtag on Instagram.
INSTRUCTIONS Grease waffle iron with cooking spray and turn on.
To assemble the sandwich, begin with adding one slice of cheese to a slice of bread.
Top with half of the pulled pork, then half of the mac and cheese.
Finish with the other slice of bread. Repeat with the second sandwich. When the waffle iron is hot, cook one sandwich at a time. Place the sandwich in the center and press down firmly. You may have to hold the waffle iron down as it will not close completely.
When the cheese is melted, approximately 1 to 2 minutes, remove sandwich from the waffle iron. Repeat with the other sandwich. Serve immediately.
Shop This Post
Pig of the Month BBQ Pulled Pork
*Recipe & photos by Meghan Bassett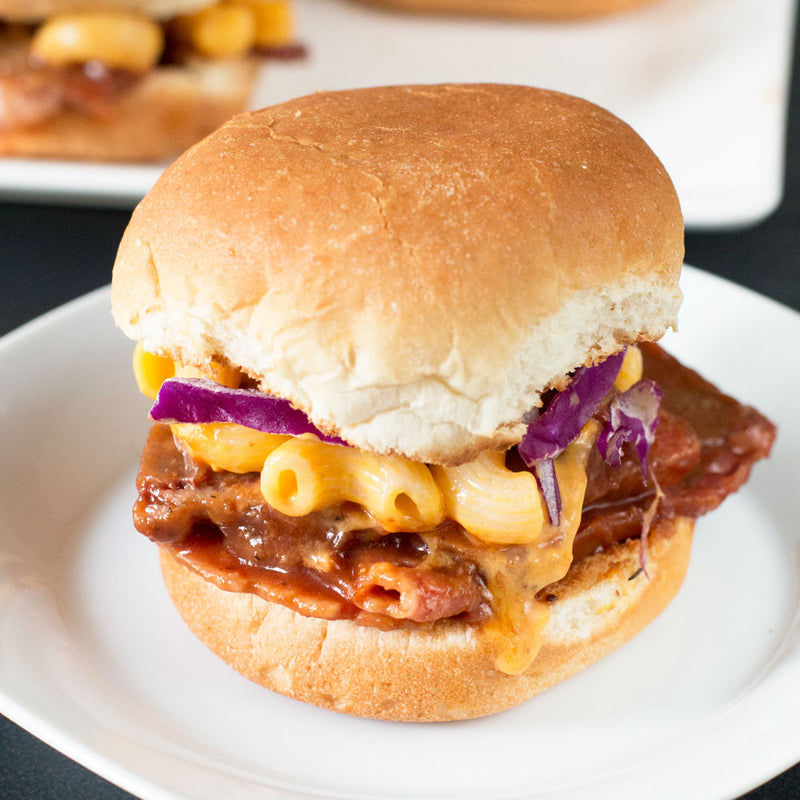 You know when you have leftovers hanging around and you have ZERO idea what to do with them? My refrigerator is usually a mash up of random BBQ leftovers, some pasta and whatever else I happen to have leftover from last night's BBQ party. There's a limit to how many times you can eat the same dish the same way. I mean, I love my brisket, but after a couple of nights of just brisket and a side salad, I'm getting bored.
I also happen to be lazy and have no desire to actually get too terribly creative unless I know it'll take me zero extra effort. Enter these little brisket mac n cheese sliders... Brisket Mac N Cheese Sliders are the new appetizer that you have absolutely no excuse not to make. Seriously, how easy are these little guys? You just throw some leftovers on a toasted bun and BAM, you have a completely new way to eat that brisket and mac n cheese that have been taking up valuable real estate in your refrigerator.
Plus, how fancy you get with this recipe is completely up to you. You can make your own smoked brisket or you can head over to Pig of the Month's shop to snag some of their oh-so tender brisket. For the mac n cheese, you can simply make these sliders with store-bought mac and cheese, or you can bust out grandma's favorite recipe to go the extra mile. Regardless, these sliders are just the right balance of meat and cheese to hit the spot with every bite. There's no going back once you've eaten these sliders, so get prepared to start craving mac n cheese on your sandwiches from here on out. Don't say I didn't warn you...
INSTRUCTIONS - Watch the video below!
Pig of the Month BBQ on Vimeo.
Shop This Post
Recipe, video & photos by Meghan Bassett
Spicy Dry Rub Ribs are smoky and spicy, perfect for your next BBQ gathering! The ribs come out extra tender and juicy, hot off the grill and finger-lickin' good.
It's finally grilling season! Is anyone else as excited as I am about this? I've been busting out the grill almost every single night for dinner and I gotta tell you, that grilled charcoal flavor is what I've been missing since Labor Day. Chicken, vegetables, burgers, steaks, I've been grilling it ALL.
Recently though, I've been obsessed about perfecting dry rub ribs on the grill. I've baked them more times than I can count, but nothing gets that BBQ flavor packed into the ribs like a grill. These ribs are the best combination of spicy and smoky on the outside, with perfectly tender and juicy meat on the inside. Seriously, the meat practically melts in your mouth with every bite.
Your next BBQ NEEDS these ribs. Or even your next weeknight meal! Rub the ribs down and wrap 'em up before you head to work in the morning, then just throw 'em on the grill when you get home. You'll have grilled up ribs in under an hour that'll curb all those BBQ cravings you've been having lately.
INSTRUCTIONS: In a medium bowl, stir to combine salt, brown sugar, paprika, garlic powder, onion powder, chili powder, cumin, black pepper and cayenne pepper.
Rub down the racks of ribs with the dry rub evenly. Wrap the racks in plastic wrap and let rest in the refrigerator for at least 2 hours.
Heat up your grill to 350 to 400 degrees and rub the grill racks with olive oil. Remove the ribs from the plastic wrap and place directly on the grill. Cook for 40 minutes, turning occasionally, until crispy and cooked through.
Allow the racks to rest 10 minutes before cutting into them and serving.
Recipe & photos by Meghan Bassett