Posts tagged: DIY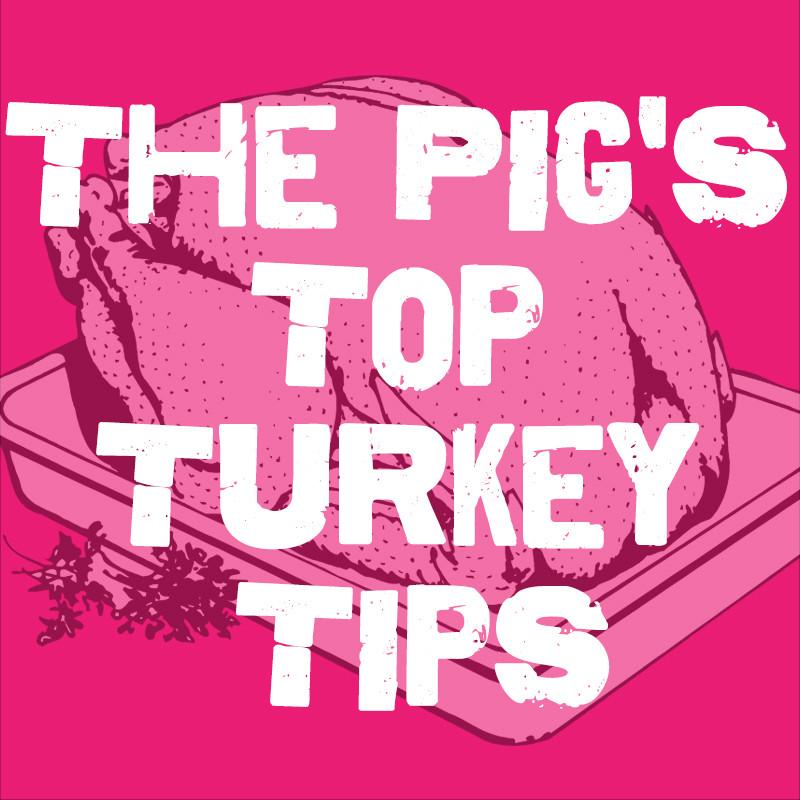 Thanksgiving is ONE WEEK AWAY! It always sneaks up on us and no matter how well-prepared we think we are, there are some last minute questions that always come up. We're rounding up our top Thanksgiving tips for you this year to make sure you're on your game! Look no further pig-lovin' friends, we've got your Thanksgiving covered.
Don't forget how long defrosting a turkey actually takes! You can thaw your bird either in the refrigerator or cold water. If you're using the refrigerator, use the equation of 1 day to thaw for every 4lbs of meat. Short on time? No problem. Cold water thawing is much faster at a rate of 30 minutes to thaw for every pound.
No one likes lumpy gravy... Bust out the sieve or strainer! This will get all those gross lumps right out. You can also use your good ol' blender to puree the lumps outta there.
Did you mail-order a Pig of the Month BBQ Feast, Whole Turkey, or Smoked Turkey Breast? First off, high five for being a Thanksgiving genius. You just made your life SO much easier. Now that you've got the main attractions covered, it's time to think sides that go with all the POM deliciousness. If you want to make something extra, go for the veggies. For a quick fix, grab your fav veggies, chop them up and toss with olive oil, salt, pepper, and a little garlic powder or chopped garlic. Roast on a lined, rimmed baking sheet at 400 degrees until tender. Have everyone else bring the rest of the fixings and kick up you feet to watch the Thanksgiving parade.
Come on, you can do better than plain ol' canned cranberry sauce. We'll solve this with one word – ORANGE. Add about 1 tsp of orange zest and 1/2 Tbsp of orange juice (or more if you prefer). This will brighten up that plain old canned cranberry sauce so much that your guests will be asking for the recipe. Shhhhh, we'll keep the secret for ya!
Aren't Thanksgiving leftovers the BEST? Answer = YES. The best (and safest) way is to cool everything down. Pack leftovers in shallow containers instead of big deep containers so they cool faster. Yes, it's a bit of work with all those containers and playing refrigerator Tetris, but the small containers will help your leftovers stay fresh and take up less space in the fridge!
This is the tip that will save you countless times in the kitchen on Thanksgiving Day. Chicken stock is your ultimate Thanksgiving savior. Simply keep a large saucepan of chicken stock warm on the stove throughout the day. It can rescue dry stuffing, too-thick gravy, dry turkey, and countless other emergencies that pop up at the absolute worst time. Anything you have leftover can be stored or frozen for later use, or use it as a base for leftover turkey soup! Who's ready to conquer Thanksgiving? You are! Don't forget to check out our mega list of 50+ Thanksgiving tips for even more turkey day wisdom! If it's all too much and you're tired of basting a bird for 6+hours, let us do all the work and order you smoked turkey today! Ships free with code "novship"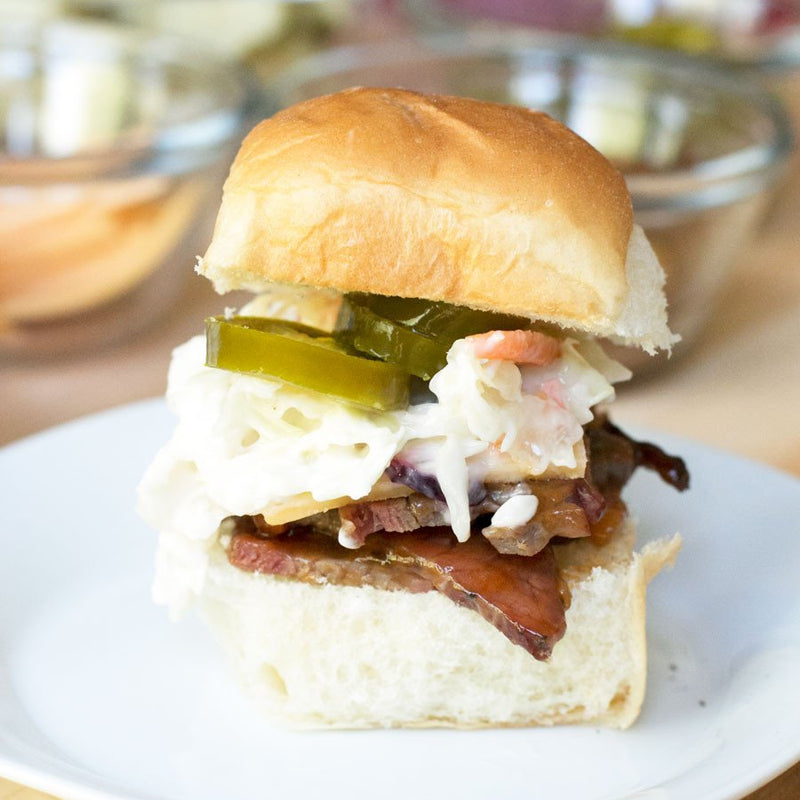 Stop trying to make the perfect sliders for everyone and have them make their own instead! Put the fun back into your food at your next gather with this super simple DIY Brisker Slider Bar. Instead of slaving away, trying to find the ideal slider that everyone will fall in love with, load up on some of our brisket and set out as many toppings as you can. All you guests will love jumping in to create their own version of the "best brisket slider", plus you can keep the options open no matter what foods some people love (or love to hate).
You can stick with a classic combo of a white bun, brisket, pickles, red onion and cheese.
Or shake things up with a Hawaiian bread bun, coleslaw and pickled jalapeños!
Not to mention all the stress this whole DIY slider bar takes off you as the host/hostess... But that's just an extra side bonus to everything loving the food and having fun, right? ;)
What You'll Need: Serves 12 to 14 2 types of slider buns (24 total) 1 lb Pig of the Month Brisket, warmed 1 red onion, thinly sliced 2 cups coleslaw 1 cup caramelized onions Sliced sharp cheddar cheese, cut into small squares Sandwich pickles Pickled jalapeños BBQ sauce Franks Red Hot Sauce
Place the buns on a large platter. Place warmed brisket on a separate large platter. Layer cheddar cheese slices on a small plate.
Add red onion, coleslaw, caramelized onions, sandwich pickles and pickled jalapeños to individual serving bowls. Place the buns to one side next to the brisket and then lay out all of the toppings in a line to make it easy for guests to pick and choose. Set out your favorite BBQ sauces and hot sauces for people to experiment with! Have fun with it!
Shop This Post
*Recipe & Photos by Meghan Bassett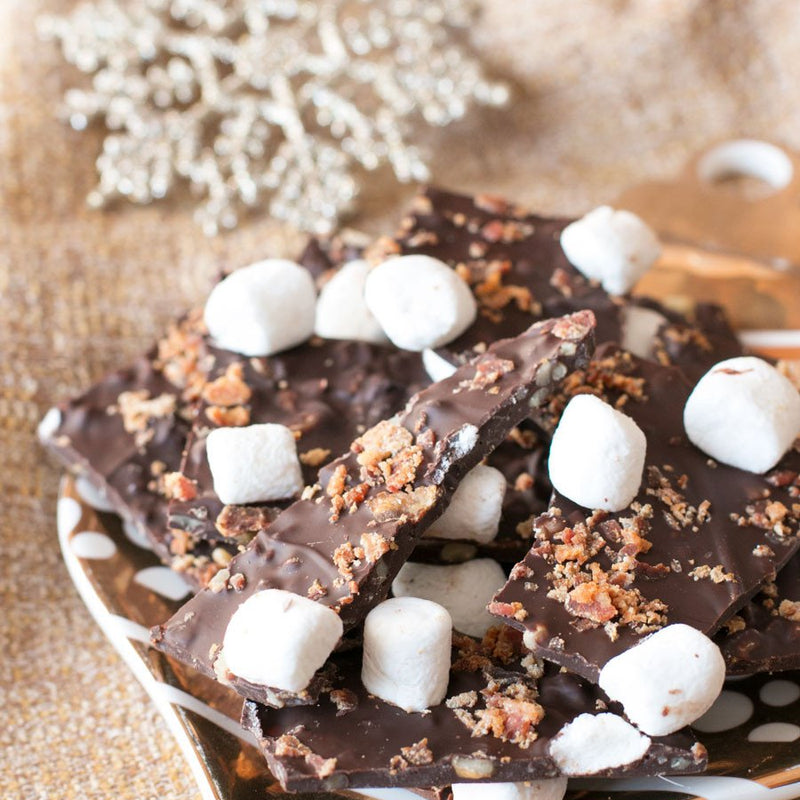 Can you believe it's almost December?! My mind is still reeling from Thanksgiving and holiday parties are already filling up each and every weekend from now until Christmas. I'm trying to think ahead and all I can think to give people is something food-related for Christmas presents...
Big surprise considering my entire life revolves around food. Well, more specifically bacon... This maple bacon marshmallow bark is a fun sweet and savory treat that no one will be able to get anywhere else! Forget candy canes or caramels, this chocolate bark can only be found in one place... your kitchen!
A treat like this one is SUPER easy to make and barely takes any time. You just need a microwave and a freezer to get this little pile of treats whipped up. Then box it up and give it out as Christmas presents, hostess gifts for all those parties you'll be attending, or just load up on massive amounts of this bark for yourself. The sweet and savory combination makes this bark the ultimate snack to indulge in on any chilly afternoon this December!
INSTRUCTIONS: Add the dark chocolate chips to a microwavable bowl. Microwave the chocolate for 45 seconds to 1 minute. Remove the bowl and stir. Place back in the microwave for 15-second intervals, stirring in between each, until the chocolate is melted and smooth. Stir in walnuts. Line a baking sheet with wax paper. Spread the melted semi-sweet chocolate in an even layer on the wax paper. It should be approximately 1/4″ thick. Sprinkle with bacon and mini marshmallows. Allow it set for 30 minutes in the freezer. Shop This Post Pig of the Month BBQ Applewood Smoked Maple Bacon 
*Recipe & photos by Meghan Bassett
'Tis the season to shower your friends and family with gifts, so what's better than the gift of food. Not much. I'm sure it's no big surprise that we here at Pig of the Month BBQ are alllllll about the foodie gifts. From bacon to ribs to brisket, we love to give the gift of tasty BBQ meat whenever we can. To go alongside all that finger-licking goodness, we like to dole out a few special gifts that range from chocolate to oils to even more bacon. Check out our holiday foodie gift roundup below and give the gifts everyone REALLY wants to get underneath the tree this year!
Chocolate Dipped Candied Citrus Slices - Sauce + Style
Maple Bacon Marshmallow Bark - Sauce + Style
Infused Olive Oils - Sauce + Style
Easy Peppermint Bark - Sauce + Style
Homemade Bacon Bits - Sauce + Style Trio of Chocolate Truffles - Sauce + Style
Homemade S'mores Kit - Twig and Thistle
Homemade Bacon Salt - Not Quite Nigella
Set of Flavored Sugars - Country Living
Homemade Dark Chocolate Nutella Chips - Desserts with Benefits
Homemade Tonic Syrup - Pinch and Swirl
Roasted Pumpkin Seeds - Inspiration Kitchen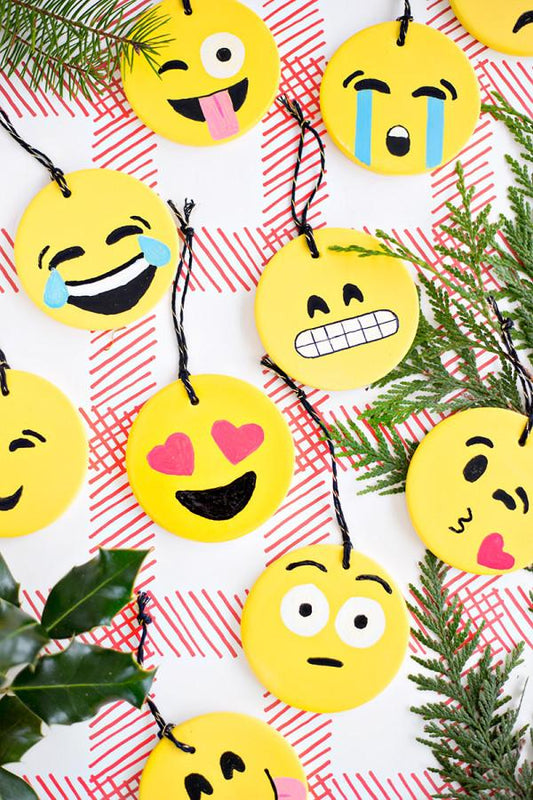 We are all about the holidays up in here and with all the friends and family we've got coming over, we want our home to be a festive freakin' wonderland of holiday cheer. We also don't want to spend too much effort crafting because.... well, because it's us after all. These DIY Christmas decorations are THE way to make your home classy AF this holiday season. Spend one day crafting up a storm and you'll have holiday cheer in every room (with just the right mix of class and sass). Which one of these would you make first??
Ornament Decor - My Invisible Crown
Swank Stir Sticks - Julie Blanner
String Art Christmas Tree - My Poppet Makes
DIY Emoji Ornaments - Studio DIY
Christmas Light Up Marquee DIY - A Beautiful Mess
Pinecones-and-Ribbon Decoration - BHG
Fun and Simple Holiday Place Setting - BHG
Christmas Card Holiday Garland - BHG Now break out the nog and get to crafting!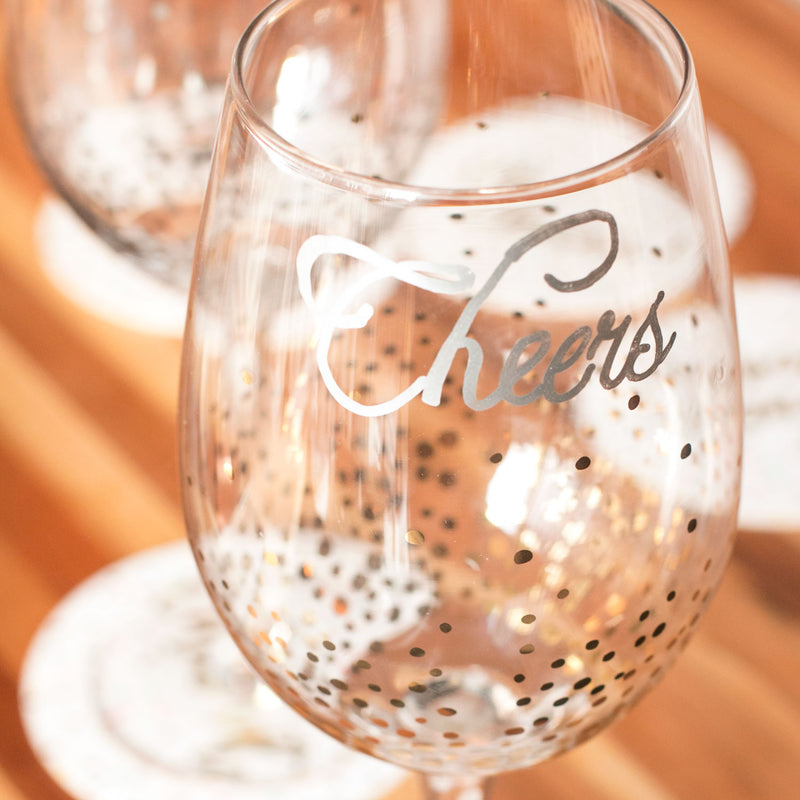 Can you believe we are only a couple weeks away from Christmas?! I don't know about you, but December is flying by. I am deep into the holiday celebrations and with tons of friends and family to give gifts to, I'm starting to get a little overwhelmed.
This year, I decided that all my boozy friends and family need a little homemade touch (and my wallet could honestly use the break too). Instead of buying a ton of gifts, I'm making everyone these adorable DIY Holiday Wine Glasses! I know they might look a little intimidating to make, but they are SO easy. You can just pick up some wine glasses on the cheap (this is where those dollar stores come in handy!), then decorate them any way you like. I love the simple "Cheers" on these glasses, but you can also decorate them with an artistic flair, or even use a longer quote. You can make them personal for everyone you plan to give them to!
INSTRUCTIONS: Decorate the glasses with random dots, lines or whatever pattern you desire (or no pattern at all!).
Print out desired quote or saying on a piece of paper. Using tape, attached the quote to the inside of the wine glass with the text facing out and in the position you desire.
Use a paint pen (one that works on glass!) to trace the quote in your desired color. Let dry completely.
Gift to any of your friends and family - or just keep these darling glasses to yourself to celebrate the holidays with!  
*DIY and Photos by Meghan Bassett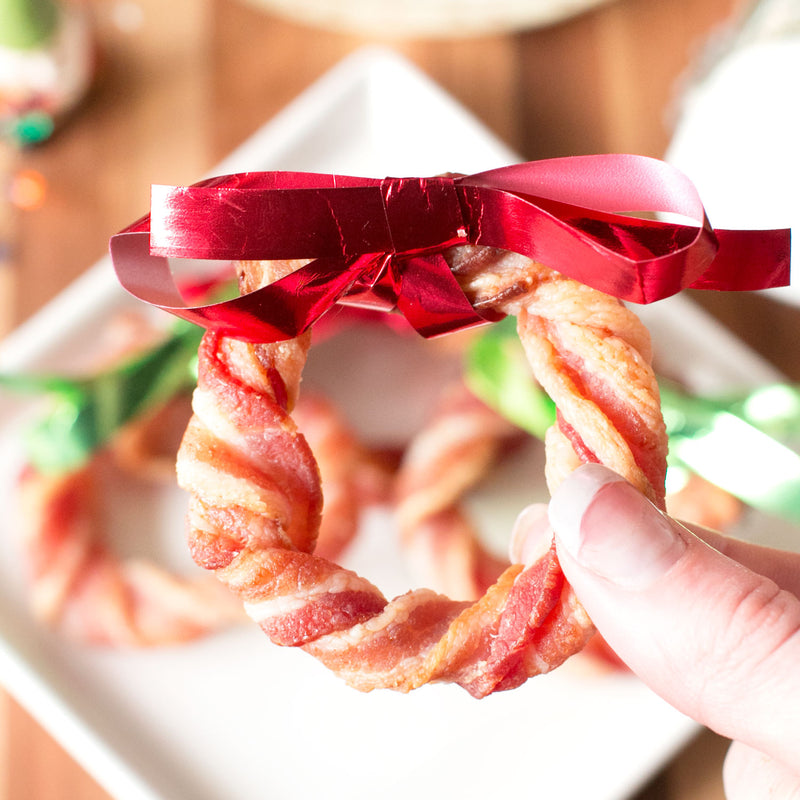 'Tis the season for all things BACON! Right?
I mean, everything's better with bacon, so really Christmas decorations should also be much improved with some crispy slices of delicious tasty bacon. These little bacon wreaths are the most adorable bacon surprise for all of you bacon-loving friends and family. You can hang them up on the tree (assuming you have no dogs of course...) or simply make them for Christmas morning breakfast to get extra festive!
They are super easy to make and everyone will think they are just the cutest darn things they've ever seen!
INSTRUCTIONS: Preheat oven to 425 degrees. Lay two pieces of bacon on a clean work surface, stacking the ends furthest away from you on top of each other.
Twist the bacon slices around each other to create a twisted rope of bacon.
Form the rope of bacon into a circle and attach all four ends of bacon together with a toothpick. Place on a rack on a lined baking sheet. Repeat with remaining bacon slices.
Bake for 15 minutes, until cooked through. Let cool. Once cool enough to handle. remove toothpicks and wrap ribbon around where the ends connect. Make a pretty bow and then give them out as presents to all your bacon-lovin' pals!
Shop This Post
Pig of the Month Applewood Smoked Maple Bacon (or any one of these flavors!)  
*Recipe and photos by Meghan Bassett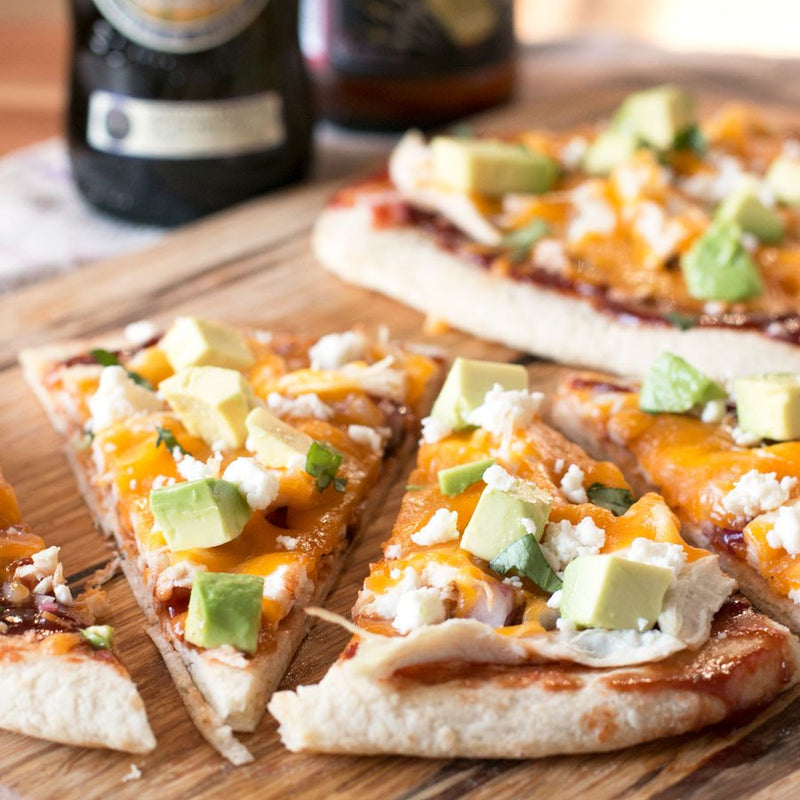 Welcome to 2017 piggy peeps! I don't know about you but I am not ready to get back into the swing of things to kick off the New Year. It feels like there are 5 million to-do's on my list and I am barely making a dent in them a few days into the new year... One thing that's falling off my radar? Dinner. I am struggling with pumping out tasty meals without spending wayyyyy too much time on them. Since I have too much to do at work, I am starting to rely on meals of popcorn and soda - NOT how I wanted to start the year.
Instead, I'm pulling out my Pig of the Month BBQ Shredded Chicken and I'm making something more than just a sandwich with it. These flatbreads are one of the easiest meals EVER and there's no one that can resist them, I don't care how picky of an eater they are. The fluffy naan with BBQ sauce, chicken and avocado is the best base for any pizza. Throw in the bite of some red onion and salty cheese and holy wow, this pizza is one the entire family will be begging you to make on a regular basis. Not to mention it's pretty dang healthy in terms of pizza, so you can feel ok about sticking to those New Year resolutions ;)
INSTRUCTIONS: Place naan on a lined baking sheet.
Spread each with half of the BBQ sauce.
Top with chicken, red onion and cheese.
Place under broiler set to high for approximately 2 to 3 minutes, or until the cheese melts.
Remove from oven, top with avocado, cilantro and a sprinkle of queso fresco. Serve.
Shop This Post
Pig of the Month BBQ Shredded Chicken
Pig of the Month BBQ Love Me Tender Sauce
*Recipe and photos by Meghan Bassett
It's almost time to ring in a brand New Year! I don't know about you, but when the clock strikes midnight, I want to have something fun and festive in hand to toast a brand new start to a year. That's where these sparkling Raspberry Champagne Glitter Jell-O Shots come in!
Instead of regular ol' champagne Jell-O shots, these adorable homemade glitter shot glasses make the whole party so much more festive - not to mention switching things up with some raspberry-flavored Jell-O... You can make these guys well in advance of your party, from 3 hours before to the night before (ahem, like tonight!), so all you have to worry about is enjoying the party and ending 2016 in the best way possible - boozy and sparkly!
Happy New Year to all!
[vimeo 197411369 w=640 h=360]
Raspberry Champagne Glitter Jell-O Shots from Pig of the Month BBQ on Vimeo.
INSTRUCTIONS: Clear a clean work space and put down either newspaper or parchment paper. Spray the bottoms of the clear plastic shot glasses with a light coat of adhesive. Gently shake glitter over the glasses and tap to shake off excess glitter. Place upside down on clean newspaper or parchment paper to dry, approximately 5 minutes. In a large bowl, combine boiling water with Jell-O. Whisk for 3 minutes, until the powder is dissolved. Stir in champagne and water until well-combined. Carefully pour mixture into glitter shot glasses. Chill 3 to 4 hours before serving.  
*Recipe, photos and video by Meghan Bassett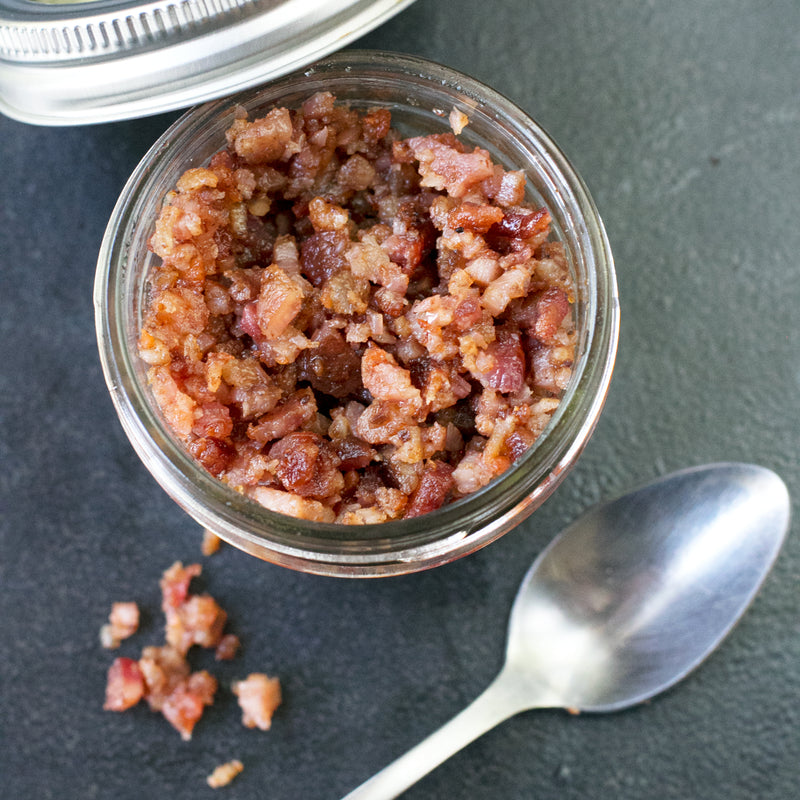 Do you buy your bacon bits at the store? If you do, I have to say, you are 100% doing it wrong. What you really need in your life are HOMEMADE bacon bits. Now, it might seem easier to just buy them at the store, but really, that processed stuff is no where near as good as what you could be making at home. Especially if you are making those little bits with infamous Pig of the Month BBQ bacon.
Not only is this bacon SO bomb, it comes in a ridiculous amount of flavors (if you didn't already know, click here to see for yourself)! So you can make some classic bacon bits to put on your baked potato or salad with Applewood Smoked Maple Bacon as you see in this recipe OR you can get crazy with some Apple Pie bacon bits or Sriracha bacon bits. Just think about sprinkling some Sriracha bacon on your mac and cheese the next time you make it. Best idea ever, right?? I KNOW. You'll never go back to that store-bought stuff again after you make these, trust me. And you'll start putting them on EVERYTHANG as soon as you do. Check out the video and the full recipe below!
[vimeo 178483789 w=640 h=360]
Homemade Bacon Bits from Pig of the Month BBQ on Vimeo.
INSTRUCTIONS:
Preheat oven to 425 degrees. Line a rimmed baking sheet with aluminum foil and place a baking rack on top.
Lay bacon slices on baking rack in an even layer. Bake for 15 to 18 minutes until cooked through.
Place bacon slices in the bowl of a food processor. Pulse until finely chopped into bits. Store in an airtight container in the refrigerator for up to 4 to 5 days.
Shop This Post
Pig of the Month BBQ Applewood Smoked Maple Bacon
*Recipe, video and photos by Meghan Bassett
« Previous
1
2
3
Next »