Posts tagged: dessert recipe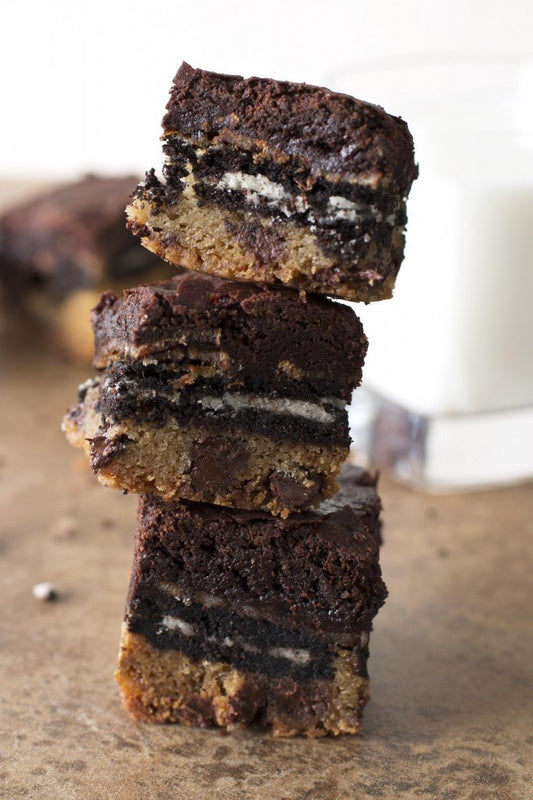 Oh yes, that's right. Just when you thought dessert couldn't get any better, it did. Look at those gorgeous layers - a layer of cookie, layer of Oreo, layer of candied BACON, and topped with a layer of brownie. If you've ever needed the perfect over-the-top, decadent, and oh-so addictive dessert, let me tell you right now folks - this is IT.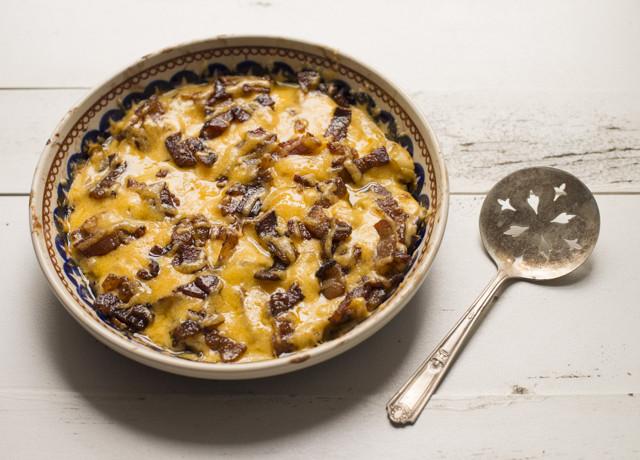 Pig of the Month has the perfect solution, for a gluten free dessert that is so good no one will even know it's a "special" dessert. Adding crisp fried Pig of the Month Apple Pie Bacon and using sharp cheddar cheese to top the cinnamon-y baked goodness of the apples, is our delicious rendition to the classic apple pie.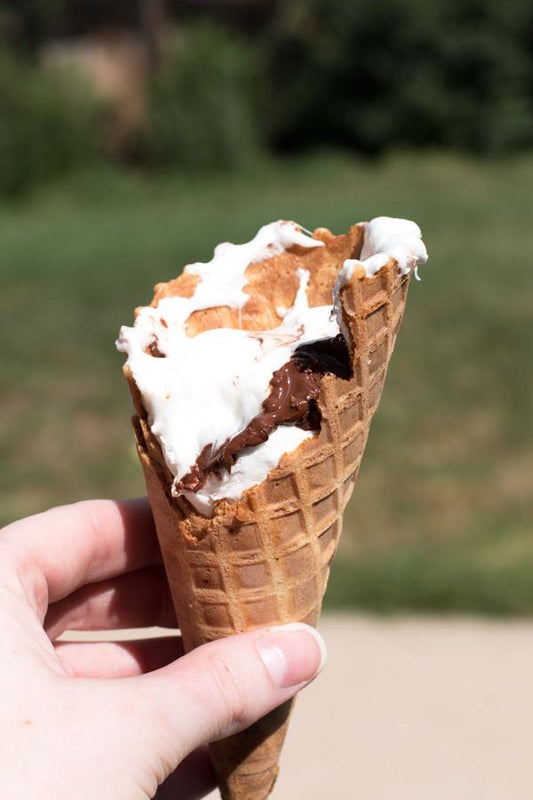 Boy, do I love s'mores… Nothing screams campfire and summer quite like melted, gooey s'mores! Of course, regular ol' s'mores can get a little boring. That's why I am currently loving these campfire s'mores cones! Instead of being limited to the chocolate bar for your s'mores, you can experiment with all the different flavors of chocolate chips (and even non-chocolate chips such as Reese's and butterscotch!).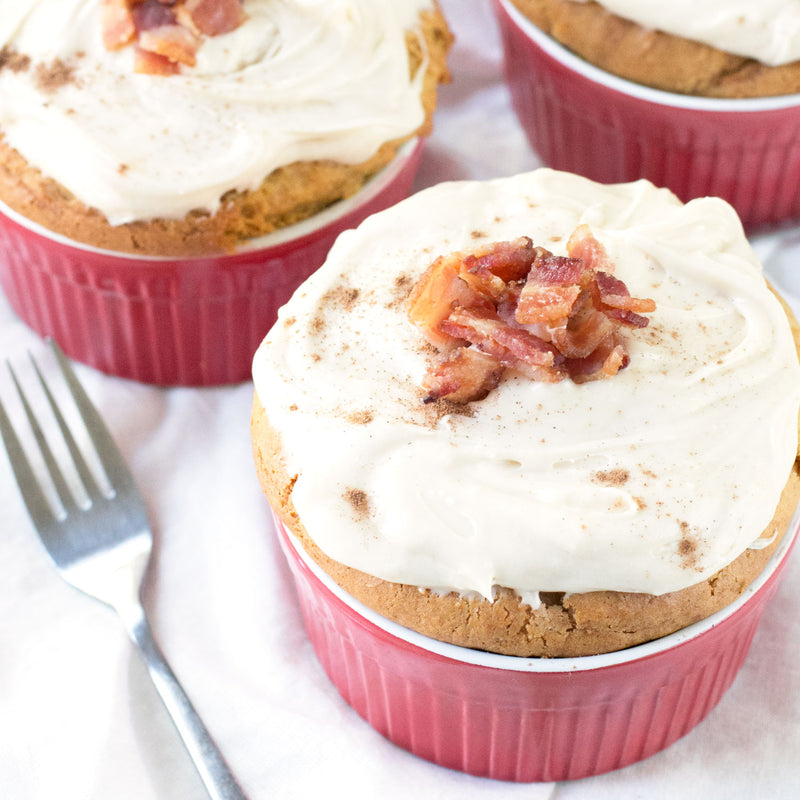 Pumpkin spice everything season is here! I don't know about you, but sometimes I need a break from all the meats and BBQ to satisfy that sweet tooth of mine. These little cakes are perfect for fall. They are packed with so much pumpkin spice, you will forget all about that PSL you were craving earlier this morning. Then you top of the moist, dense, delicious cake with cream cheese frosting and a little sprinkle of candied bacon (because we can't completely give up our meats now can we?).
I love making these cakes in the larger ramekins because they end up looking like giant frosted cupcakes! You can also make them in smaller ramekins if you don't want to be SO gluttonous. But who really wants to do that, right?
You can even make them cupcakes if you want to! Regardless, these cakes will be gone in a blink of an eye as soon as you serve them. Are you drooling yet? Time to get your bake on piggy peeps! Celebrate fall before that cold cold winter sets in. ;)
Serves 4 INSTRUCTIONS: Preheat oven to 350 degrees. In the bowl of a stand mixer, beat together butter and cream cheese. Add sugar and beat completely to combine. Add eggs one at a time, beating to combine fully between each. Beat in pumpkin and vanilla. Add dry ingredients and beat to incorporate fully. Grease 4 large ramekins. Fill the ramekins with the pumpkin batter approximately 3/4 of the way full. In a clean bowl, beat together cream cheese, butter, confectioners sugar, vanilla extract and milk for the cream cheese frosting until fully combined. Bake 20 minutes. Cool completely. Frost with cream cheese frosting and sprinkle with candied bacon.
Shop This Post
Pig of the Month BBQ Applewood Smoked Bacon  
*Recipe and photos by Meghan Bassett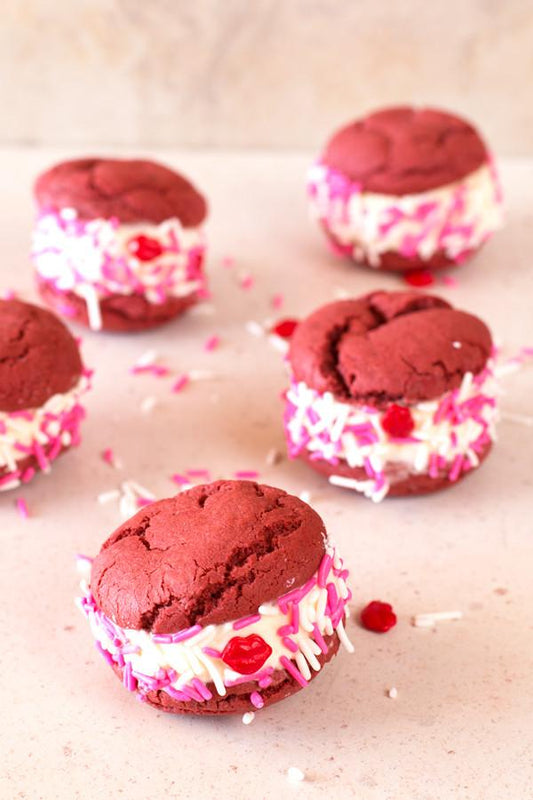 Valentine's Day is sneaking up fast, isn't it? That ooey gooey emotion-filled holiday where you can't help but dote on your loved ones with all sorts of treats and tasty delights. Even if you don't have a significant other in your life, you can still chow down on all the chocolate things as you celebrate your single-ness (trust me when I say it can be a freaking blessing at times...)! We love to be allllll about the love leading up to Valentine's Day, and the only way we know how to celebrate is through baking (and EATING) all the sweets. Heart-shaped delights, brownies covered in caramel and bacon, and red velvet delights are rounded up below for your Valentine's Day baking pleasure. Everything you could possible want to say "I love you" to the one you love the most (even if that someone happens to be Y-O-U!).
Double Chocolate Raspberry Mason Jars - Sauce + Style
Cinnamon Bun Bacon Cinnamon Buns - Sauce + Style
Bacon Bourbon Caramel Stuffed Brownies - Sauce + Style
Spicy Bacon Chocolate Chip Cookies - Sauce + Style
Red Velvet Ice Cream Sandwiches - Sauce + Style
Red Velvet Oreo Truffle Chocolate Cake - Pizzazzerie
The Ultimate Gooey Caramel Brownie Mug Cake Sundae - Willowbird Baking
Copycat Zupas Rockslide Brownies - Lovely Little Kitchen
Conversation Heart Cookies - Martha Stewart
Chocolate Covered Strawberry Cupcakes - Smells Like Home
Easy Chocolate Lava Cakes for 2 - Bakerita
Dreamy Chocolate Cupcakes filled with White Buttercream - Baker By Nature
Frosted Chocolate Fudge Brownies - Bakerita
Chocolate Chip Cookie Dippers - Supergolden Bakes Happy Baking!