Posts tagged: crockpot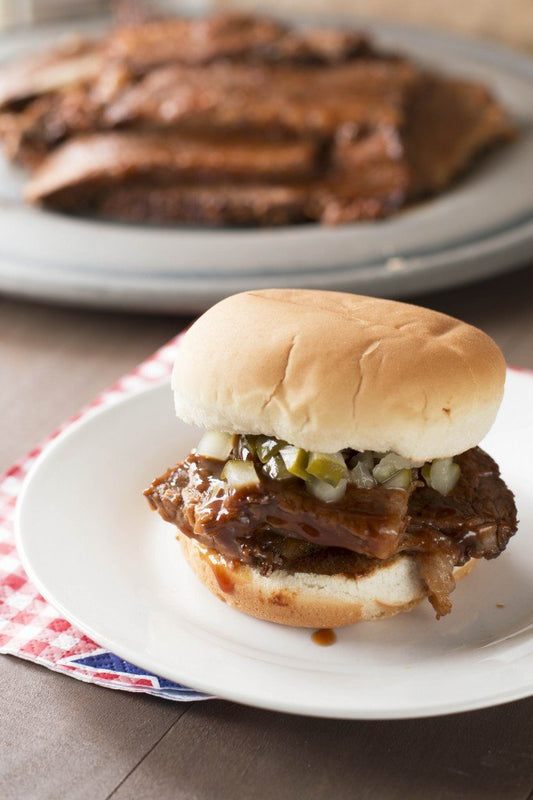 Delicious and tender smoked brisket is a hard thing to come by when you don't have hours to tend to a smoker. Nothing beats the smoke-filled flavor you get in every bite, so tender and comforting you feel like you could just melt away. I am thrilled to bring you my favorite, unbelievably simple and ridiculously tasty, slow cooker brisket. You might not be smoking it over wood chips all day, but you'll still
taste
that smoke flavor.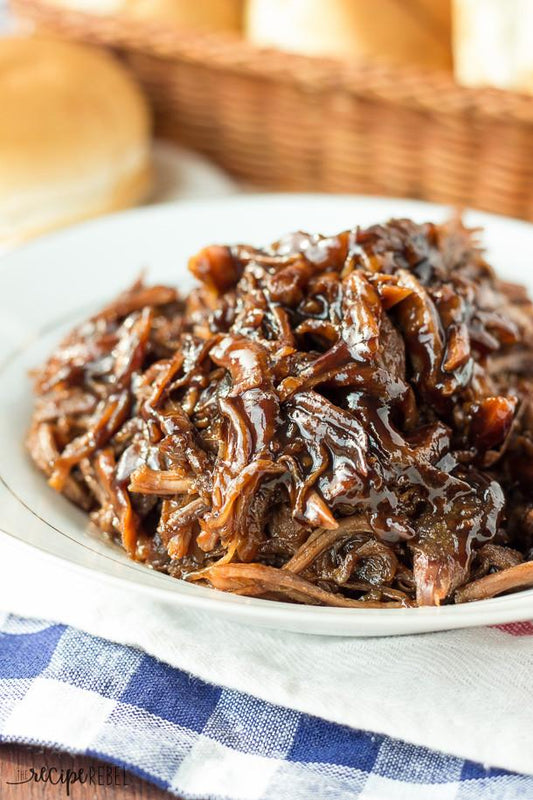 We're officially deep into crockpot season and it just so happens to be party season too! With all the football parties, holiday parties and dropping temperatures, we want to make our lives easier. That's why we're sharing these 13 best crockpot meats to whip up for a party. Now we don't know about you, but we don't love the idea of slaving in the kitchen all day and night long. While we love our cooking, when we are in party mode, we want to be part of the action wherever it's happening! This makes crockpot recipes so crucial to our party survival. Making a tender, delicious crockpot meat recipe means you can kick back, relax and even enjoy all that food you worked so hard on. With the main meat out of the way, you can turn any party into a self-serve array of deliciousness. From a taco bar to a brisket sandwich bar, pulled pork slider bar to wings and ribs, just set out the fixings and watch everyone's bellies get full. You can't go wrong with any of the recipes on this list, so the possibilities are endless!
Crockpot Salsa Verde Chicken - Diethood
Honey Balsamic Pulled Pork - The Recipe Rebel Hard Cider Pulled Pork - Flavor the Moments
Slow Cooker Chipotle BBQ Ribs - Mariah's Please Plates Easy Crockpot Sloppy Joe - Petite Allergy Treats
Crockpot Pork Carnitas - Live Well Bake Often BBQ Pulled Chicken Sliders - My Kitchen Craze
Easy Slow Cooker Pork Roast with Hoison-Blackberry Sauce - Floating Kitchen
Slow Cooker Soy and Lime Chicken Wings - Spoonful of Flavor
Slow Cooker Sweet and Spicy Pork Shoulder - How Sweet It Is Crockpot Root Beer Pulled Pork - Sauce + Style
Slow Cooker Texas Smoked Brisket - Sauce + Style
Slow Cooker Beer & Mustard Pulled Pork - Sauce + Style Just don't forget to drop us an invite to the big party, mmkay?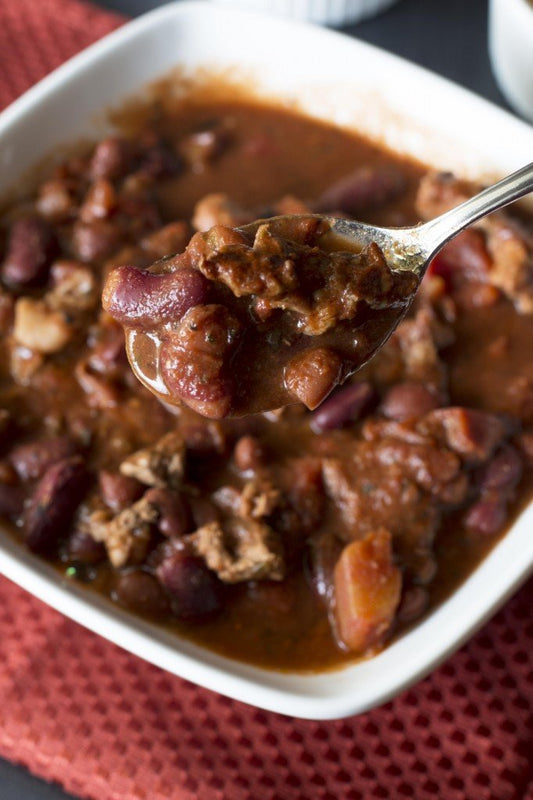 Some of you might pull out the slow cooker all year long, but if you're anything like us, you spend most of your time in the warmer months putting that grill to work. Now that the temperatures are starting to dip and the grills are getting their last hurrah, we're looking ahead to crockpot season. Is anyone else as excited as we are about this?!  There's nothing like coming home to a delicious meal all hot and ready, simply waiting for you to dish up, at the end of a long hard day. Those days seem to get even longer and harder as the cold temperatures set in and you get a bit of a chill walking from your car to your front door. We love putting our slow cookers to the test all fall and winter long, so we've rounded up the ultimate list of comfort crockpot foods to keep your belly and your heart happy! From classics like beef and bean chili, to new favorites like mozzarella stuffed meatballs, you'll be able to cure any weekday blues just a few minutes after you get home.
Slow Cooker Sriracha Bacon Mac N Cheese - Sauce + Style Slow Cooker Beef & Bean Chili - Sauce + Style
Slow Cooker Texas Smoked Beef Brisket - Sauce + Style Slow Cooker Lasagna - Sauce + Style
Crockpot Root Beer Pulled Pork - Sauce + Style Slow Cooker Melt-In-Your-Mouth Pot Roast - Joyously Domestic
Slow Cooker Mozzarella Stuffed Meatballs - Le Creme de la Crumb Slow Cooker Chicken Tortilla Soup - Rotel
Best Slow Cooker French Dip Sandwiches - Carlsbad Cravings Crockpot Hot Chocolate - Sauce + Style
Slow Cooker Broccoli Beef - Le Creme de la Crumb
Crockpot Sunday Sauce - Half Baked Harvest
Crockpot Beer Braised Chicken - Half Baked Harvest
Crockpot Carne Asada Nachos - How Sweet It Is Slow Cooker Pumpkin Pie - She Knows Be sure to keep up with our blog posts all month long because October is going to be ALL about the crockpots!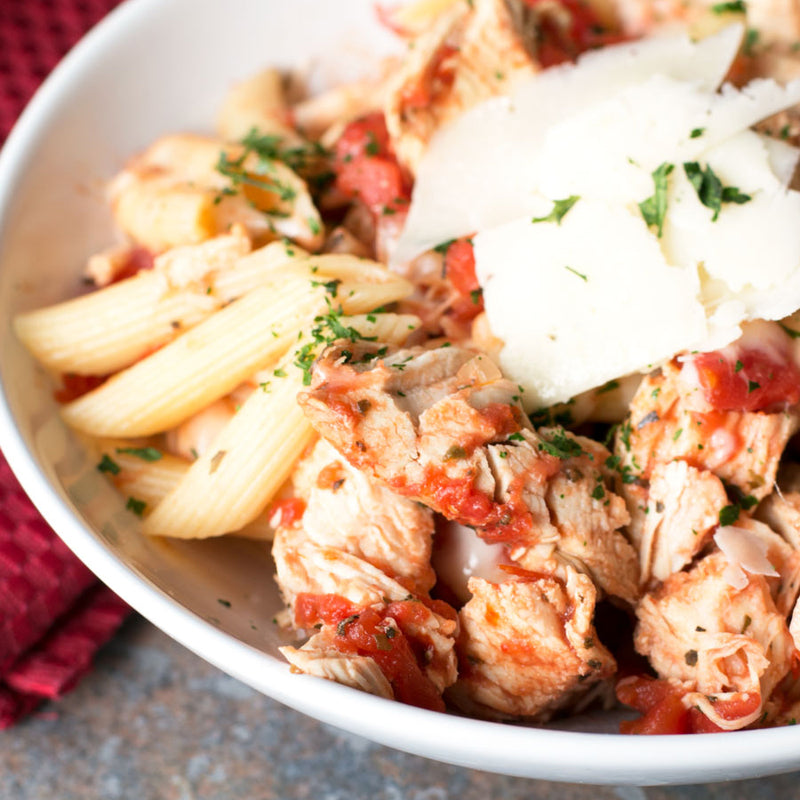 Want to get everyone to the dinner table on time? There's nothing like a heaping cheesy helping of Slow Cooker Chicken Parmesan Pasta to get everyone's mouth watering! I LOVE chicken parmesan. It's that Italian comfort food that is perfect to whip out once the temperatures start dipping. However making a true chicken parmesan in the middle of the week can be a little bit of a pain. By the time I am done with work, I want to kick back and eat. I don't want to deal with a bunch of cooking and baking when I'm finishing a hard day.
I know it sounds lazy, but sometimes cooking is the LAST thing I want to do. But I still want great food and I don't want to have to pay for it from some expensive delivery service (of course I'm not leaving my house once I get there - DUH). That's why this Slow Cooker Chicken Parmesan Pasta is such a perfect recipe. It can cook while you are at work so when you get home, all you have to do is boil some pasta and add the cheese. In less than 15 minutes of actual active cooking time, you will have a hot and fresh dinner to comfort you after a rough day.
Your entire family will go crazy for it, or you can simply hoard the leftovers for yourself for lunches throughout the week! #winning
[vimeo 189804825 w=640 h=360]
Slow Cooker Chicken Parmesan Pasta from Pig of the Month BBQ on Vimeo.
INSTRUCTIONS: Add chicken breasts to the insert of a slow cooker. Add in diced tomatoes, onion, basil, oregano, red pepper flakes, salt and pepper. Stir to combine. Cover and cook on low for 4 hours. Remove chicken breasts and cube them. Return chicken to the slow cooker. Add in cooked penne pasta and top with mozzarella cheese. Cook on low for 15 minutes until the cheese melts. Serve and garnish with parmesan cheese and parsley.
*Recipe, photos and video by Meghan Bassett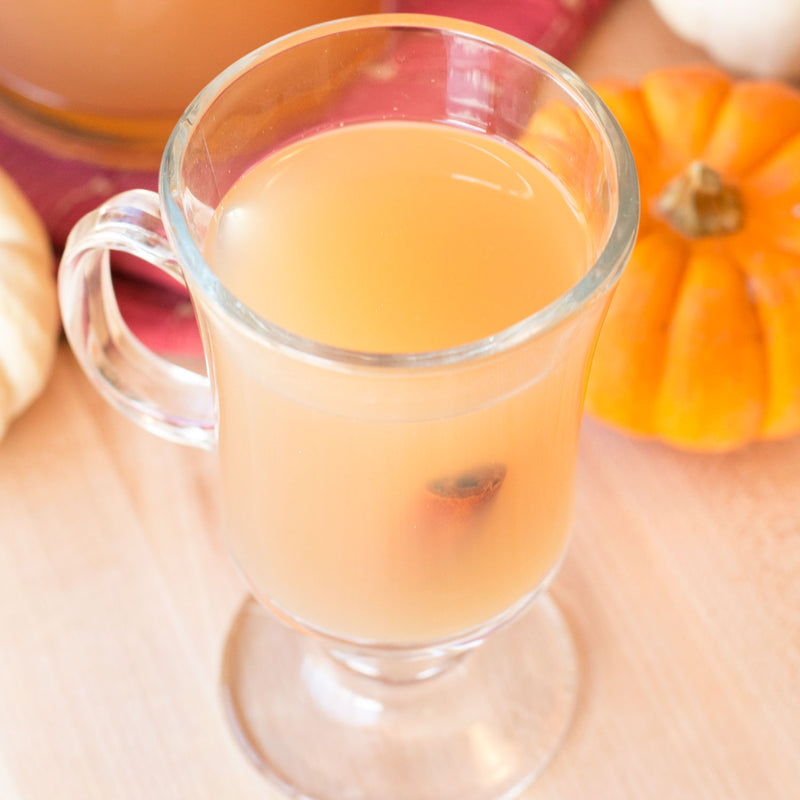 Who's thirsty?! Instead of hitting the wine this Wine Wednesday, I'm breaking out my slow cooker for some serious boozy deliciousness...
Nothing says fall and winter quite like a warm mug full of mulled apple cider. Cuddling up in a warm blanket, next to a wood burning fire, with some Netflix binging lined up for the remainder of the evening is how I like to take it easy.
This recipe is great to make and keep on hand in your refrigerator for the week so you can enjoy it each night, but it also works great as a holiday cocktail for your next party! Serve it up in some mugs with cinnamon sticks and everyone will go absolutely nuts over this stuff. It's highly addictive because it's so dang comforting. No matter how cold it gets outside, a glass of this cider will always warm ya right back up in moments.
The ingredients are super simple and the effort is basically NOTHING. Just dump it all in and let it simmer for the day. When you're ready to serve, stir in the vodka! We wouldn't want any of that booze burning off in the cooking process, now would we? ;)
I know what I am going to be whipping up all weekend long... And now you do too!
[vimeo 187844299 w=640 h=360]
Boozy Crockpot Apple Cider from Pig of the Month BBQ on Vimeo.
INSTRUCTIONS: Serves 12 Add apple cider, cinnamon sticks orange zest, cloves, star anise and allspice berries to the insert of a crockpot. Cook on low heat for 6 to 7 hours. When ready to serve, add vodka and stir to combine. Remove cinnamon sticks and spices with a fine mesh sieve. Serve immediately. If you are preparing this for a party, keep the slow cooker on it's lowest heat setting throughout the evening. Serve with cinnamon sticks for an added touch of deliciousness, and class.
*Recipe, photos and video by Meghan Bassett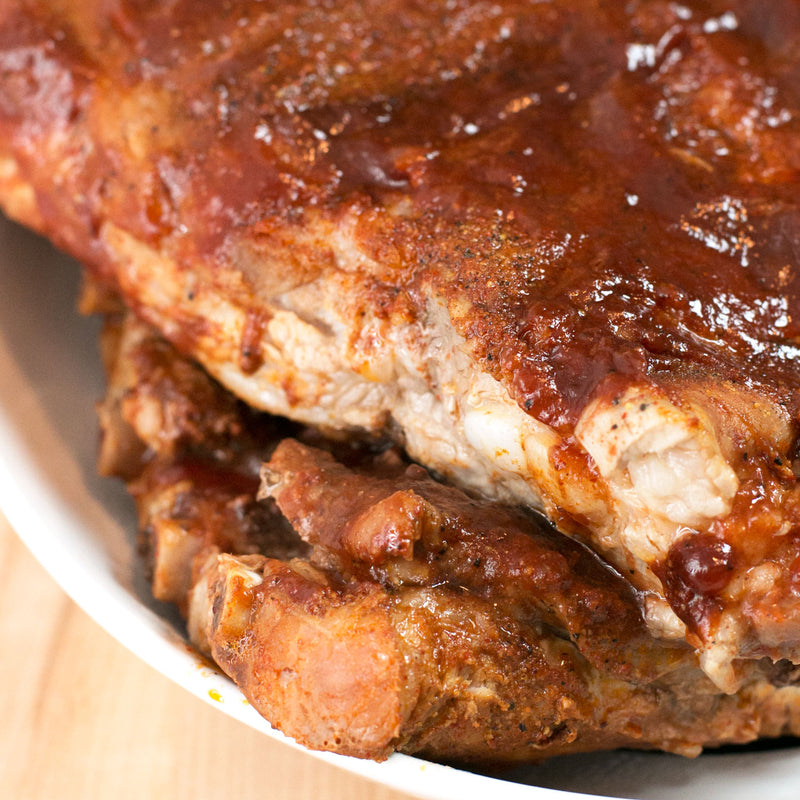 You know when you want those tasty, saucy, oh-so tender ribs but you don't have the time to slave away over the grill? I'm talking about those weeknights when you want to roll up to a giant slab of ribs without spending an arm and a leg, and without having to tend to a grill all dang day.
Wish no more, because I've got your weeknight meal run rescue right here. All you have to do is get your slow cooker ready for a day's worth of cooking those meaty bones low and slow. When you get home to these bad boys, your home will smell like BBQ and you'll be drooling in anticipation of that fall off the bone tender meat!
It's the rub PLUS the Pig of the Month BBQ Love Me Tender BBQ Sauce that make these ribs so ridiculously flavorful and delicious. You don't have to worry about adding extra liquid because these ribs will put their own juices to work. You don't end up with a gross watery mess at the end of this cooking round. Nope, you get those perfectly cooked, tender, melt-in-your-mouth ribs you've been dreaming of. So who's hungry?!
[vimeo 187700215 w=640 h=360]
Crockpot Memphis Style BBQ Ribs from Pig of the Month BBQ on Vimeo.
INSTRUCTIONS: In a small bowl, whisk together spices to create the super secret rub. Remove the membrane from the ribs and cut slab into three equal pieces. Add one of the three piece to the insert of a slow cooker. Top with one third of the rub, using your hands to rub it into the meat. Top the slab piece with one third of the BBQ sauce. Repeats these layers (ribs, rub, sauce) until the last layer of sauce. Cook on low for 8 to 10 hours. Remove from slow cooker and serve.
Shop This Post
Pig of the Month BBQ Love Me Tender BBQ Sauce  
*Recipe, photos and video by Meghan Bassett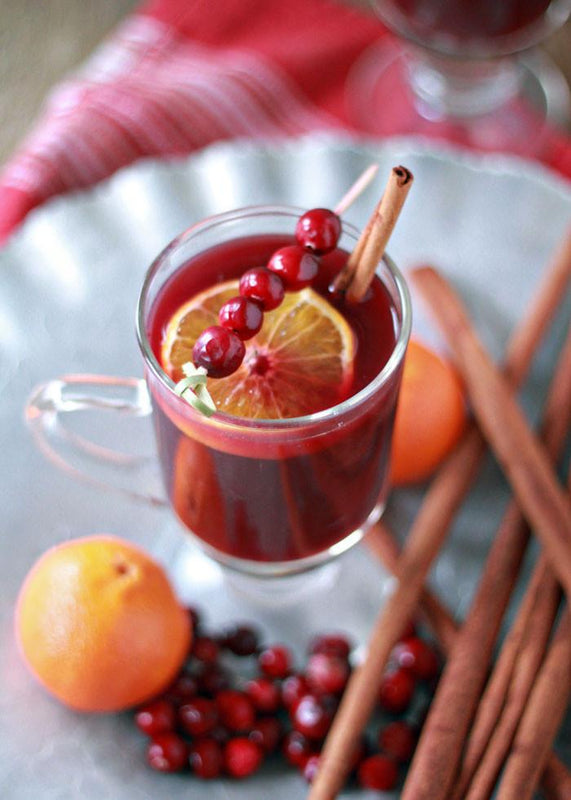 You know that warm feeling when you are enjoying a cocktail? The boozy heat that rises inside of you and makes you feel all cozy and happy from the inside out. You know the one I'm talking about, right? It's the one that makes you grateful for everything in your life as you let the stress of the day wash away in a single sip. Now imagine that happy feeling, but multiply it by about 5,000. That's the feeling I get whenever I sip on a really good warm cocktail, like mulled wine or warm boozy cider. It's like a warm hug for your belly that your entire body can sink into and enjoy. You all know we've been putting our crockpots to work already this month, but we can't forget about one of the most important kinds of recipes. Big batch cocktails... Whether you have a party coming up you need drinks for, or you are simply craving a perfectly balanced, warm cocktail, the cocktails we've rounded up below are the simplest ones around. They pack in the flavor and the warmth, without making you do any work. While it's brewing away in the slow cooker, you can simply sit back and enjoy the season. You'll find some classics in the list below - and even some fun new twists on your favorite nonalcoholic beverages! We absolutely can't stop, won't stop with any of these; and we're pretty dang sure you won't be able to either...
Slow Cooker Spiced Wine - Well Plated
Crock Pot Cranberry Cider - Kleinworth & Co. Slow Cooker Cranberry-Orange Mulled Wine - Kitchen Treaty
Slow Cooker Gingerbread Latte - The Cookie Rookie
Slow Cooker Peppermint Vanilla Lattes - Kitchen Treaty Slow Cooker Maple Pumpkin Spice Lattes - The Yummy Life
Slow Cooker Mulled Wine - The View From Great Island Slow Cooker Winter Rose Sangria - Hungry Girl Por Vida
Mulled Wine - Gimme Some Oven
Hot Caramel Apple Cocktail - Busy Mommy Cheers everyone!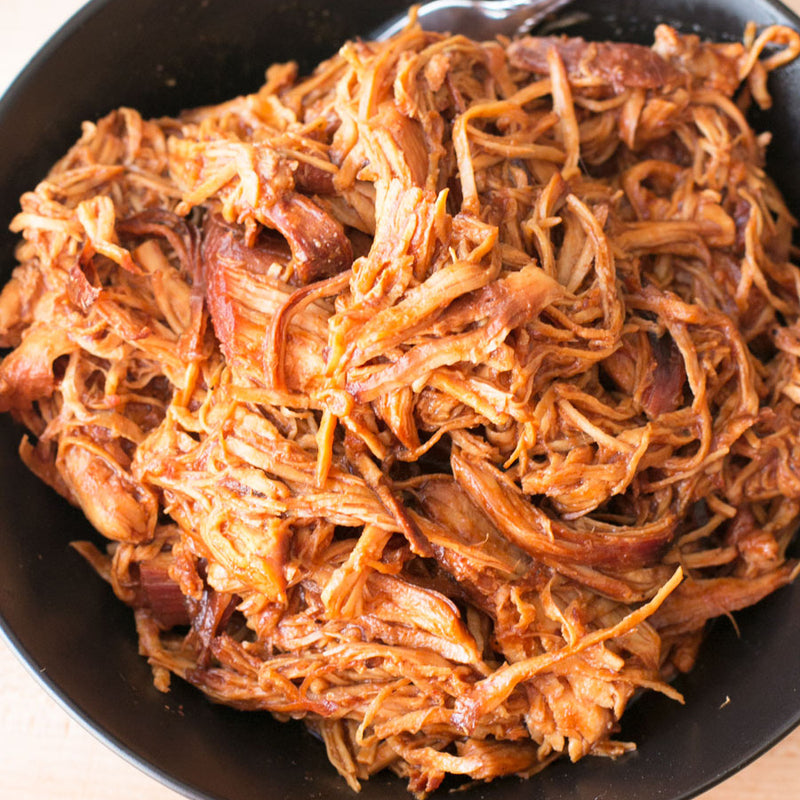 This new best ever crockpot BBQ chicken is going to be a family favorite in no time. With only 5 ingredients, all you gotta do is dump everything into your slow cooker and wait for the deliciousness to be ready. I love being able to dump meals like this before heading into the office. Coming home to a house filled with that tasty BBQ scent is more welcoming than any scented candle could ever be.
The final result is this tender, juicy chicken packed with flavor and ready to be eaten however you choose! You can eat it plain along with some veggies, make BBQ chicken sandwiches or sliders with it, or ever whip up some BBQ chicken tacos. You can even roll up the chicken with some avocado in an egg roll wrapper and fry them... The possibilities are endless with this simple recipe, and it'll keep the whole family happy! This crockpot BBQ chicken is even amazing for parties when you don't want to get stuck fussing over food in the kitchen for hours. You can simply leave the chicken in the sauce on low throughout the party to make sure it stays toasty and tasty.
No one will ever believe this recipe requires just 5 measly ingredients! Don't worry, I promise not to reveal our little secret... Let them think you slaved for hours!
[vimeo 186283536 w=640 h=360]
Best Ever Crockpot BBQ Chicken from Pig of the Month BBQ on Vimeo.
INSTRUCTIONS: Add chicken breasts to the insert of a slow cooker. Season breasts with salt and pepper. Add salt, cayenne, brown sugar and BBQ sauce. Stir briefly to coat the chicken breasts. Cook on high for 3 to 4 hours. Shred with two forks in the pan and let the chicken warm in the sauce for 15 minutes for extra flavor. Serve as sliders or sandwiches.
Shop This Post:
Pig of the Month Love Me Tender BBQ Sauce  
*Recipe, photos and video by Meghan Bassett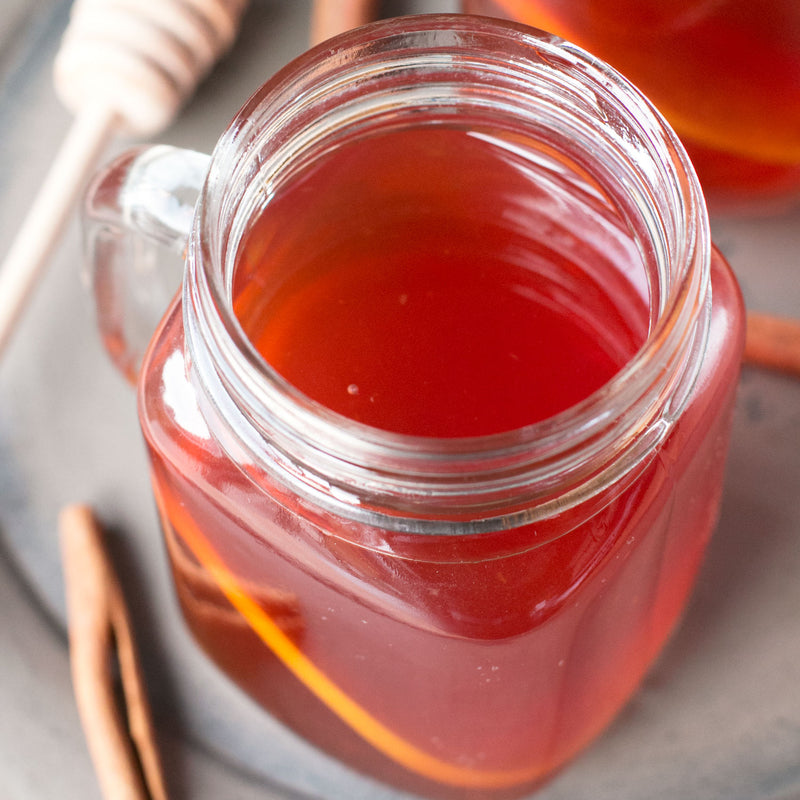 Sometimes you just want something the whole family can enjoy and warm up with during these cold months. With Christmas right around the corner, we like to whip out an easy drink recipe that even the little kiddos can indulge in. This Crockpot Cranberry Mulled Cider is the perfect festive drink for all of your family and friends to enjoy!
It's warm, full of delicious spices and takes literally no effort to make. While you are enjoying Christmas morning festivities, this cider can be brewing in the slow cooker so by the time all the presents are opened, you can pour a giant glass for everyone. If you have an annual family snowball fight or sledding planned anytime this winter, this is the drink to warm you up from the inside out.
Simply add some vodka for in the adult glasses so that the season can be even more merry and bright!
Serves 10 to 12 INSTRUCTIONS: Combine all ingredients in a crockpot. Heat for 2 to 3 hours on low. Serve.
*Recipe and photos by Meghan Bassett