Posts tagged: chocolate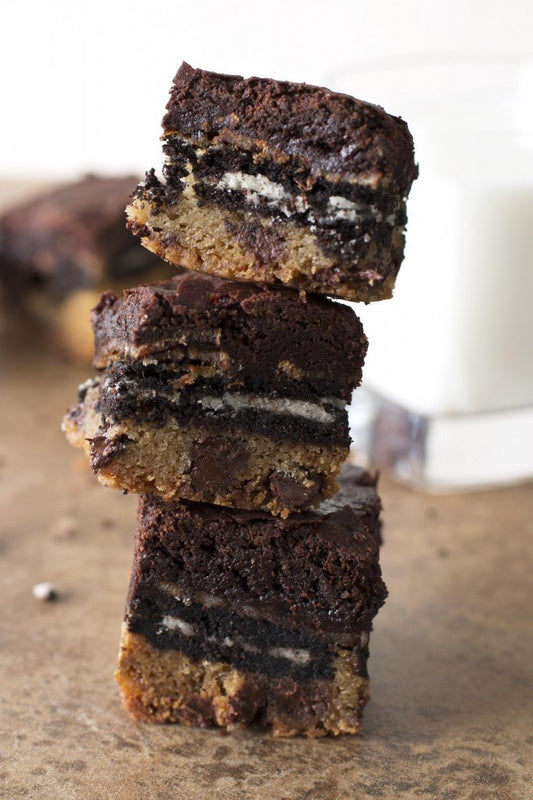 Oh yes, that's right. Just when you thought dessert couldn't get any better, it did. Look at those gorgeous layers - a layer of cookie, layer of Oreo, layer of candied BACON, and topped with a layer of brownie. If you've ever needed the perfect over-the-top, decadent, and oh-so addictive dessert, let me tell you right now folks - this is IT.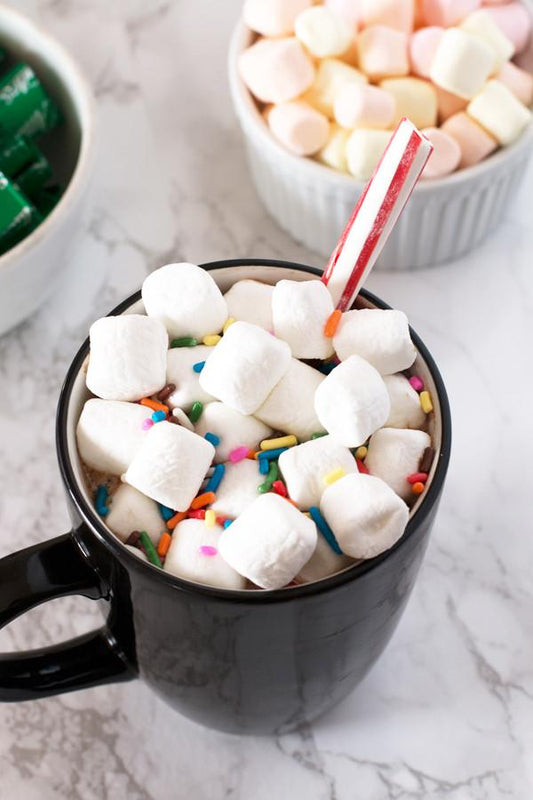 Nothing screams the holidays to me more than a huge glass of hot chocolate. Of course you can't forget the marshmallows. And a side of cookies too. :) I love hosting a hot chocolate bar around the holidays.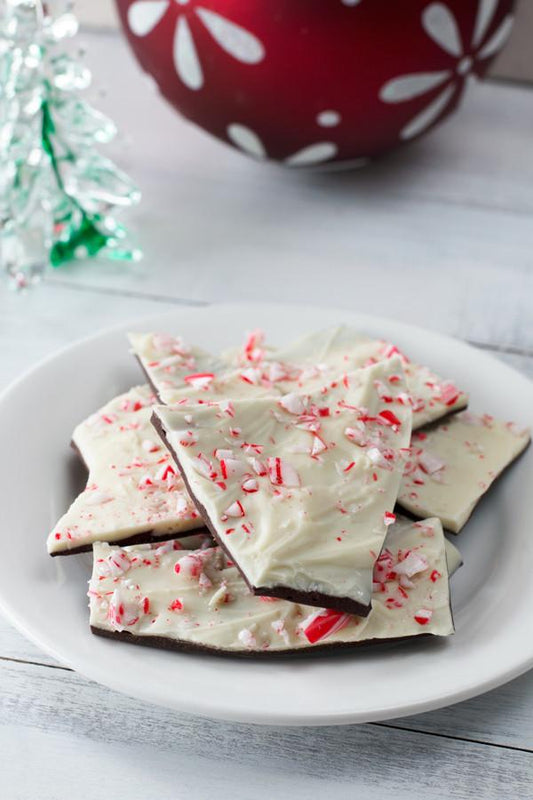 I LOVE to create DIY gifts when the holidays roll around every year. I always try to make some sort of sweet treat for all my friends and colleagues to enjoy. However when the time comes to actually make the gifts, I find myself flooded with holiday parties and get-togethers, which seriously limits my time to prepare custom gifts for everyone. That's why this year I am especially thrilled to share with you my recipe for oh-so easy peppermint bark! It comes together in a little over an hour, leaving the rest of your day wide open to enjoy the holiday season (doesn't it fly by way too quickly each time?!). My tip is to run by your local dollar store to stock up on all those cute little tins. Just line the inside with parchment paper, throw in as much peppermint bark as you can!
INSTRUCTIONS: Add the semi-sweet chocolate chips to a microwavable bowl. Microwave the semi-sweet chocolate for 45 seconds to 1 minute. Remove the bowl and stir. Place back in the microwave for 15-second intervals, stirring in between each, until the chocolate is melted and smooth. Line a baking sheet with wax paper. Spread the melted semi-sweet chocolate in an even layer on the wax paper. It should be approximately 1/4" thick. Allow it set for 30 minutes in the freezer.
In a microwaveable bowl, microwave the white chocolate chips in the same way you just did with the semi-sweet chocolate chips. Once melted and the mixture is smooth, spread the white chocolate in an even layer over the semi-sweet chocolate. You will need to work quickly so the semi-sweet chocolate doesn't melt and form streaks in your layer of white chocolate. Sprinkle the crushed candy canes on top of the melted white chocolate. Allow it set for an additional 30 minutes in the freezer. Remove and break into chunks.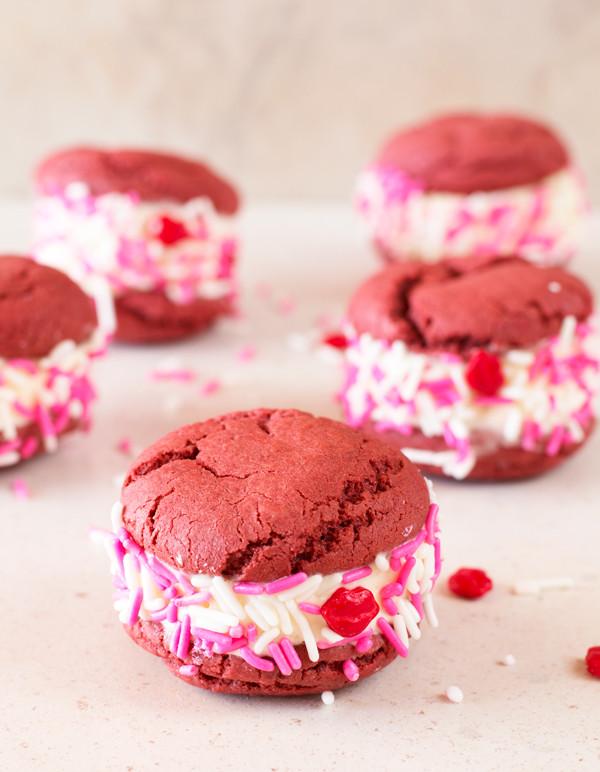 Is there anything more indulgent than red velvet? 
Soft, dreamy cream cheese ice cream is sandwiched between chewy red velvet cookies, making this the best ice cream sandwich you'll ever taste. You can roll the sides in sprinkles, mini chocolate chips, caramel bites, or anything else you can think of. They are fun to make and even more fun to eat!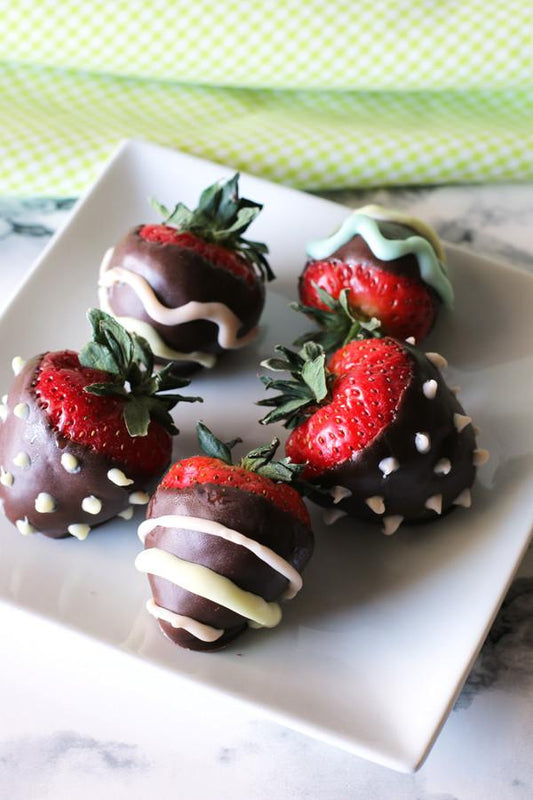 Easter brunch wouldn't be complete without these chocolate covered strawberry eggs on your dessert table! 
Chocolate covered strawberries may look difficult, but with the melting wafer they have out now, you don't even have to worry about tempering the chocolate. You just melt, dip and decorate!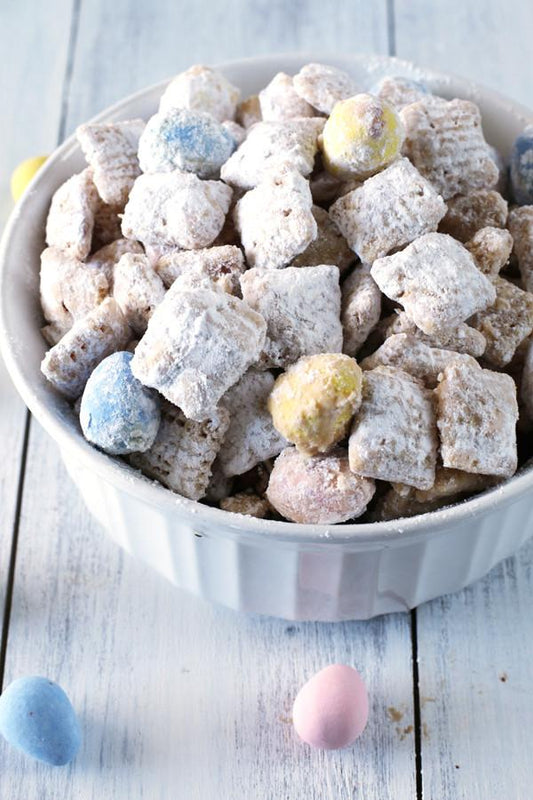 The Easter Bunny is on his way! If you plan to catch him and snag all the candy you can, be sure you are making a batch of this bunny bait. That Easter Bunny can't resist it! This Easter version of puppy chow is super simple to create and is dangerously addictive (you might finish it all before the Easter 
bunnys
 arrival). The combination of chocolate, peanut butter and crunchy cereal is already a draw, but add in the mini Cadbury milk chocolate eggs and you have powdered sugar-covered heaven.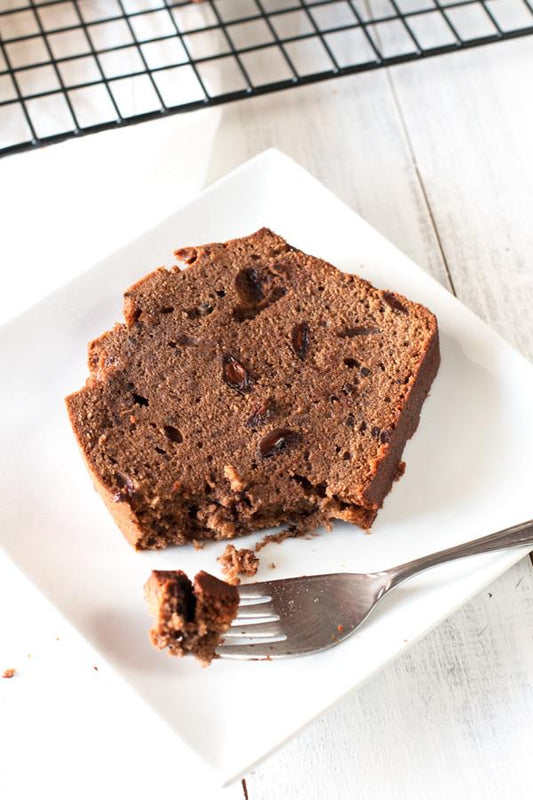 Yes, you read that correctly. This is a
double-chocolate
 pound cake... Chocolate is the ultimate pick-me-up in my opinion. Whether the weather outside is crummy, you've had a hard day at work, or you've got a case of the Mondays, a little bit of chocolate can go a long way to lifting your spirits. At the very least it will remind you that there are still good things in this world!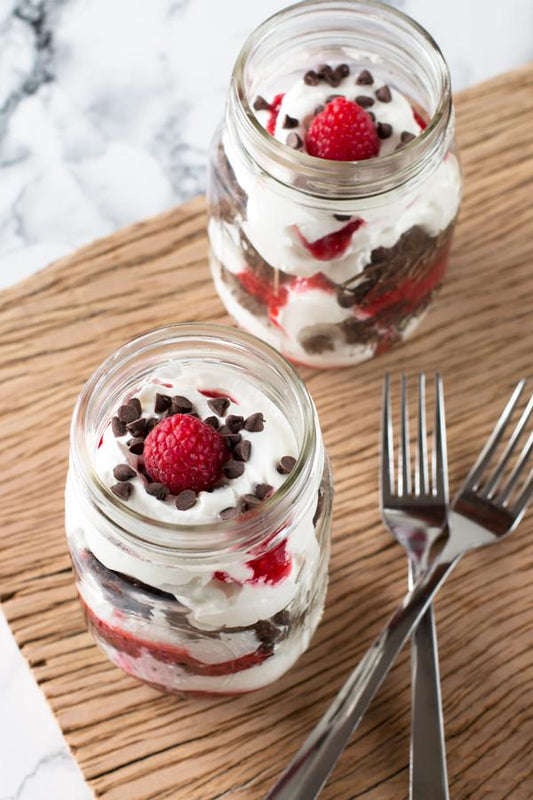 These double chocolate raspberry mason jars are a combination of all my favorite things – chocolate, fresh fruit, more chocolate and pillowy whipped cream. With every forkful you pull up a little bit of everything, guaranteeing an incredible bite. Plus chocolate cake AND chocolate chips?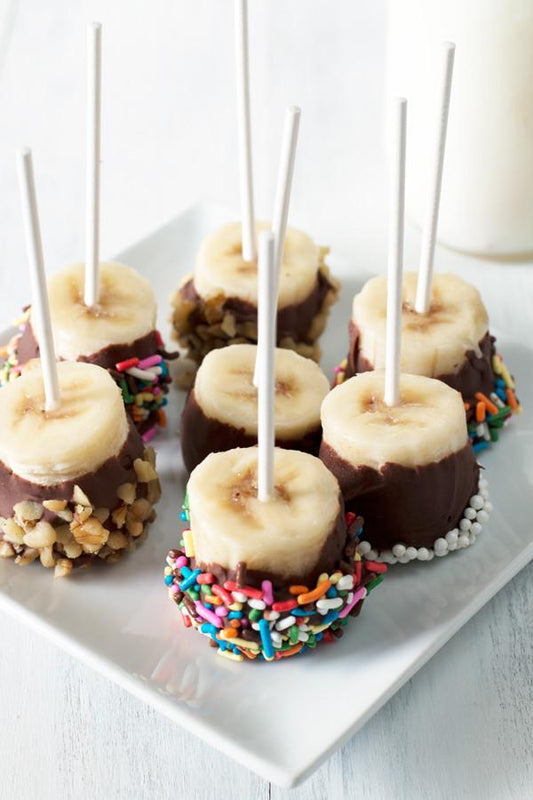 School's out for the summer! Are you dying to figure out a fun, healthy snack that will entertain the kiddos and keep you sane over the next three months? These frozen chocolate covered  banana pops are the perfect afternoon activity that turns into a healthy and satisfying summer snack to beat the summer heat.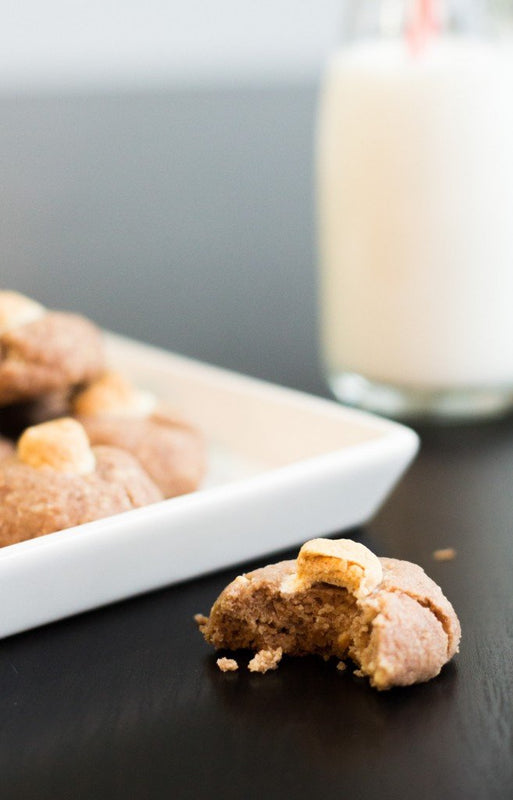 Let's agree that December, is a month to treat ourselves with nice homemade sweets. There is no better way to say thank you than by giving a little box of cookies prepared with love in your kitchen.
Get your apron on and choose a recipe!
You can easily gift them, carefully sealed in a container. Even though they probably won't last too long, just know that you can store them up to one week in an airtight container. But who am I kidding, the cookies weren't even cooled, and half of the batch was already gone. I had to hide a few to be able to share these cuties with you! 
I know the statement "My diet starts next week." very well, I say it month after month. If that's the case for you, you might want to consider this quinoa salad. If not, here are some tasty recipes for you.
If you are baking for a nut-free environment or want to stay classic, you can't go wrong with those shortbread cookies. The warmth of the sugary-buttery mix will make you eat them by the handful.
Classic Shortbread cookies
(Yield 15-20)
Ingredients: -
1 cup of butter, diced 
1/2 a cup of sugar 
1 cup of flour, sifted
Vanilla, optional
Preparation:  - Preheat oven to 370 degrees F. In a bowl, mix the butter, sugar, and flour until it holds together. Refrigerate 15-20 min. Roll the dough out half an inch thick. Using a cookie cutter, make squares. Repeat until finished. On a baking sheet, place the shaped cookies. Bake 25 minutes. 
Is it cold outside? Are you are in a hot chocolate and marshmallows kind of mood? No problem, we got you covered with those oh so addictive almond-chocolate shortbread bites. Don't try to control yourself in front of those, you can't. They are a buttery treat with the perfect balance of chocolate and almond, plus a sweet touch of marshmallow. Irresistible.
'Hot chocolate cookie', almond-chocolate and marshmallow
(Yield 15)
Ingredients: -
1 cup of flour
1/2 a cup of almond ground 
1/4 a cup of sugar 
A pinch of salt 
2 tablespoon of cocoa powder
1 cup of soft butter, diced 
1 egg yolk, medium size
Preparation: - Preheat oven to 325 F. In a bowl, put the flour, ground almond, sugar, salt and cocoa powder. Mixing well, add in the butter, it will be crumbly. Add the egg yolk and continue to mix. Roll into balls and place on cookie sheet. Bake for 20 minutes.
If you want to add a little European twist, with a world-flavored cookie, you'll impress your friends with your pronunciation of Maaantecaos, if you make these delicious cookies! You'll be the Christmas star of the evening... not the one on the tree! You'll love that little orange flavor... Close your eyes, you could be on the street of a little town in Andalucia, where Orange trees make the shadows on the sidewalk...
Spanish Mantecaos (Yield 15)
Ingredients: -
1 and 1/2 half cups of flour 
1/2 cup of sugar 
100ml of oil 
2 teaspoons of orange blossom water
1/2 teaspoon of cinnamon
Preparation: - Preheat oven to 370 degrees F. In a bowl, put the flour and the sugar. Mix. Pour the oil and the orange water. Mix well until it holds together. Make little balls of 1.5 inches diameters. Bake 25 minutes or until golden. Decorate with icing sugar and sprinkle with cinnamon on top.
Written and photographed by Melanie from Bon Appét'Eat.
1
2
Next »