Posts tagged: chicken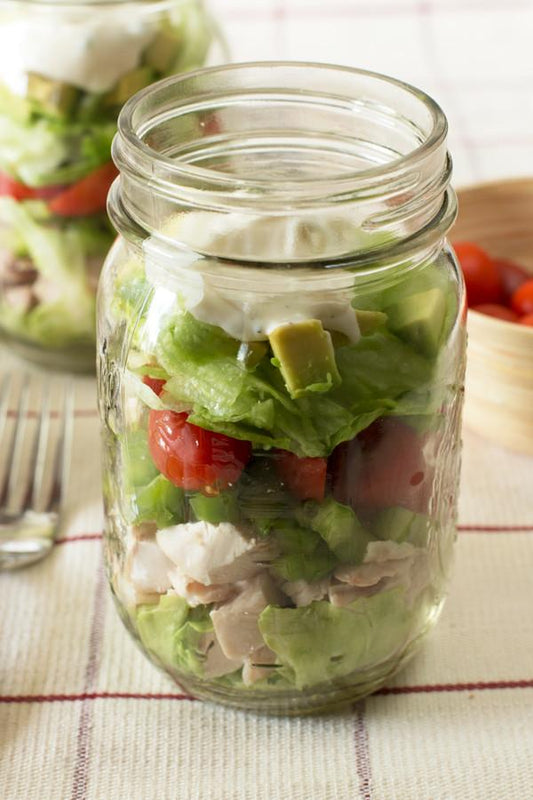 Have you started with the picnic festivities yet? Because I sure have! It's so wonderful to be outside with friends and family, enjoying the sun and some really good food. I will take any excuse I can get to go on a picnic, even if it's a quick one on my lunch hour. Just get me outside!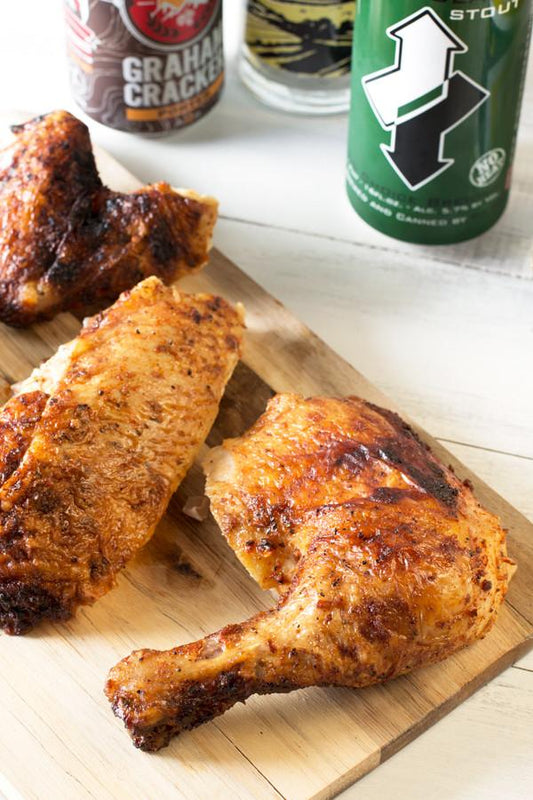 How do you kick beer can chicken up a notch? Swap out that Budweiser for a specialty craft beer! When you get tired of burgers, hot dogs and ribs (or in addition to all those burgers, dogs and ribs!), a roasted chicken on the grill is a great way to shake things up at your yearly barbecues. Remember Memorial Day is just around the corner! This is the perfect way to celebrate.
We're kind of obsessed with St. Patrick's Day this year. From Guinness Floats to Jameson, green beer to endless green shots, we know we'll be feeling the pain come Friday morning. That's why we're giving you a little two-part low down on how to avoid that hangover you are already dreading. So what should you eat before drinking all night on St. Patrick's Day? Let us break it down for ya. First of all, don't skip dinner and eat BEFORE you start drinking. That whole building a base layer for the booze to settle into only works if you're building it before the booze enters your system. Get that nosh in your stomach early so you can change the outcome of your all-night drinking binge.
Second, eat right and eat smart. The best thing to do to avoid feeling like death on March 18th is to eat these killer foods that'll get your mind and body right. Food really does counteract the effects of alcohol... who knew? - Spaghetti (or other carbs) - yep, carbo-load all night long baby. It's a real thing and it works. Try our Pull Apart Bacon Garlic Cheese Bread... - Chicken - protein-rich so it'll stay in ya longer and it will slow the blood alcohol level. That means you can drink longer and enjoy the entire night before you feel like passing out! Go for the small servings like a burrito bowl or even our delicious Sriracha Lime Baked Chicken Wings. - Avocado - protein + healthy fats will actually digest slower than carbs so whip out that guacamole like there's no tomorrow. - Low-fat yogurt - if you're worried about consuming too many calories on this delicious, boozy holiday, start off with some yogurt and granola. You'll get the healthy fats and vitamins in you before you go pigging out on beer and corned beef. - Water - this one's a no-brainer, but don't forget about it. When it comes to hangovers, water does a body good. Pro tip: always take a couple of ibuprofen and chug a gigantic glass of water before bed (or when you wake up with cotton mouth at 4AM). Thank us later.
If you do happen to skip dinner in all the craziness that is St. Patty's Day, never fear. Just load up on nuts and olives at the bar because they've got the fats and vitamins to help you out. Martini with 10 olives, anyone? Happy St. Patrick's Day! Stay tuned because we've got some more knowledge to drop on ya to fight that hellish hangover...
Photos by Meghan Bassett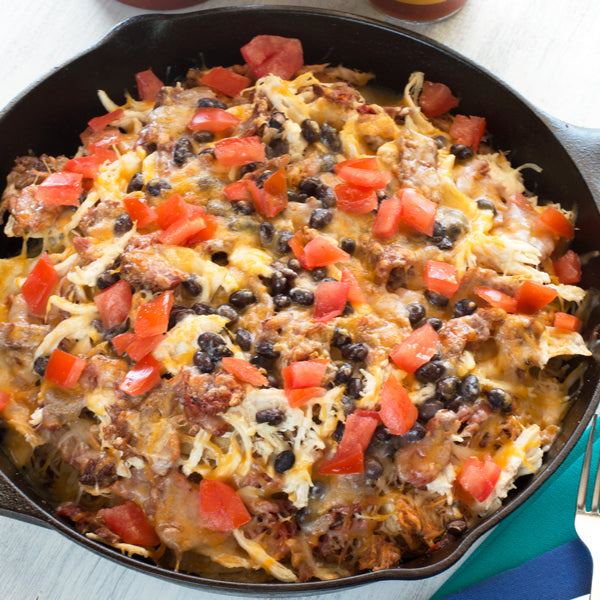 Imagine this… You're sitting around the campfire, drinking a couple beers and joking with your friends. Then someone says, "dinner's ready" and you all gather around a large cast iron skillet. The aluminum foil gets peeled off and you instantly smell the best campfire dinner smell ever – barbeque.
Now I'm turning that imagined experience into a reality for you with these campfire barbeque nachos! Featuring Pig of the Month meats, all you have to worry about is preparing shredded chicken prior to packing up and heading to your campsite. Then simply assemble all the ingredients, cover with foil and cook directly on the campfire until everything's warm and the cheese is melted.
You'll end up loving the three-meat combination on these campfire nachos so much, you'll be building fire pits in your backyard just for an excuse to eat them on a weeknight! DIG IN!
INSTRUCTIONS: Layer the tortilla chips on the bottom of the cast iron skillet, filling it approximately 1/3 of the way full. Add the pulled pork, brisket and pulled chicken in an even layer on top of the chips.
Top the meats with black beans, sliced jalapeños, and cheese. Cover the cast iron skillet with aluminum foil and place directly on the campfire. Cook until the dish is warmed through and the cheese is melted, approximately 5 to 10 minutes. You can also cook this under the broiler on low for approximately 5 minutes at home!
Remove from heat, peel off the foil and top with the fresh tomato chunks. Serve immediately with either barbeque sauce or salsa and hot sauce.
  Shop This Post
Pig of the Month Pulled Pork Pig of the Month Brisket
Recipe & Photos by Meghan Bassett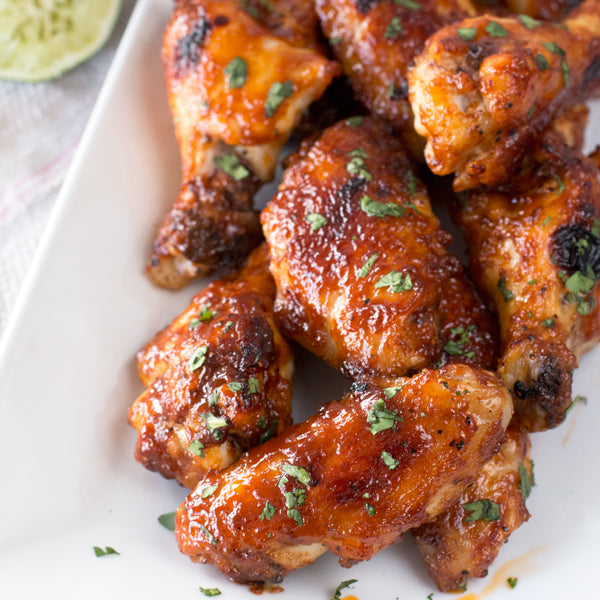 It's March and that means one thing in my foodie-obsessed brain - March Madness parties for days. That's right, that means chips and dip, guacamole, sliders, jalapeño poppers and, most importantly, crispy sticky chicken wings. Sriracha Lime Baked Chicken Wings, to be exact.
If you ever have a snack attack, March Madness-related or not, your next go-to recipe absolutely has to be these wings. They are baked to crispy perfection in the oven, and the sticky spicy and tangy glaze makes them positively finger-licking good. You'll need the wet wipes for these, folks.
The Sriracha and lime juice make this super simple glaze full of flavor that you simply can't find anywhere else. No need to go out for chicken wing perfection - time to stay in with your friends and family watching the next March madness game, or just enjoying a leisurely spring afternoon with a couple of hearty beers.
INSTRUCTIONS: Preheat oven to 400 degrees F. Line a large baking sheet with parchment paper. Set aside. In a medium saucepan over medium heat, melt 5 Tbsp unsalted butter. Once melted, whisk in 1 Tbsp flour and brown for approximately 1 minutes. Add in the hoisin sauce, Sriracha, soy sauce and lime juice, stirring to combine. The mixture should become nice and thick pretty quickly, in less than a minute. In a large bowl, combine the chicken wings, 2 Tbsp melted butter, vegetable oil, salt and pepper. Toss to coat the wings evenly.
Add the wings in an even layer to the lined baking sheet.
Brush the wings with a layer of glaze. Bake the wings for 25 minutes, turning them over halfway through and adding another coat of glaze. After 25 minutes are up, brush the wings with a final layer of glaze and broil for 4 to 5 minutes until crispy. Garnish with chopped fresh cilantro and serve immediately.
Recipe & photos by Meghan Bassett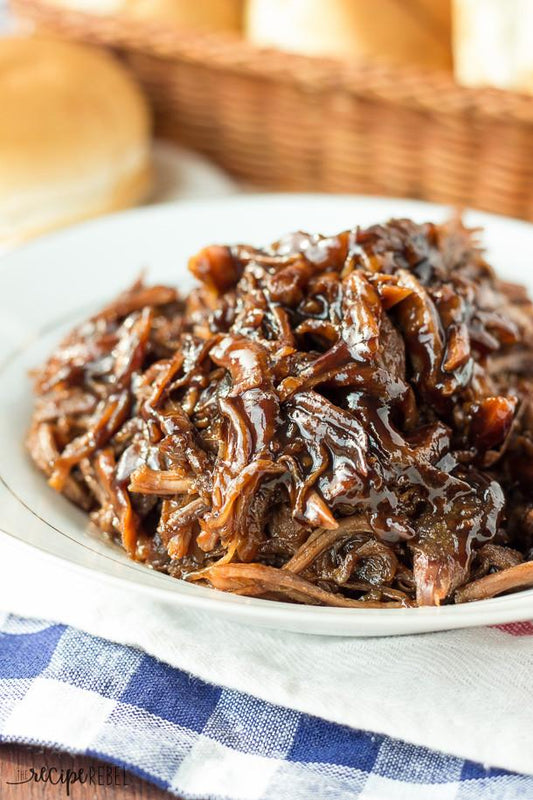 We're officially deep into crockpot season and it just so happens to be party season too! With all the football parties, holiday parties and dropping temperatures, we want to make our lives easier. That's why we're sharing these 13 best crockpot meats to whip up for a party. Now we don't know about you, but we don't love the idea of slaving in the kitchen all day and night long. While we love our cooking, when we are in party mode, we want to be part of the action wherever it's happening! This makes crockpot recipes so crucial to our party survival. Making a tender, delicious crockpot meat recipe means you can kick back, relax and even enjoy all that food you worked so hard on. With the main meat out of the way, you can turn any party into a self-serve array of deliciousness. From a taco bar to a brisket sandwich bar, pulled pork slider bar to wings and ribs, just set out the fixings and watch everyone's bellies get full. You can't go wrong with any of the recipes on this list, so the possibilities are endless!
Crockpot Salsa Verde Chicken - Diethood
Honey Balsamic Pulled Pork - The Recipe Rebel Hard Cider Pulled Pork - Flavor the Moments
Slow Cooker Chipotle BBQ Ribs - Mariah's Please Plates Easy Crockpot Sloppy Joe - Petite Allergy Treats
Crockpot Pork Carnitas - Live Well Bake Often BBQ Pulled Chicken Sliders - My Kitchen Craze
Easy Slow Cooker Pork Roast with Hoison-Blackberry Sauce - Floating Kitchen
Slow Cooker Soy and Lime Chicken Wings - Spoonful of Flavor
Slow Cooker Sweet and Spicy Pork Shoulder - How Sweet It Is Crockpot Root Beer Pulled Pork - Sauce + Style
Slow Cooker Texas Smoked Brisket - Sauce + Style
Slow Cooker Beer & Mustard Pulled Pork - Sauce + Style Just don't forget to drop us an invite to the big party, mmkay?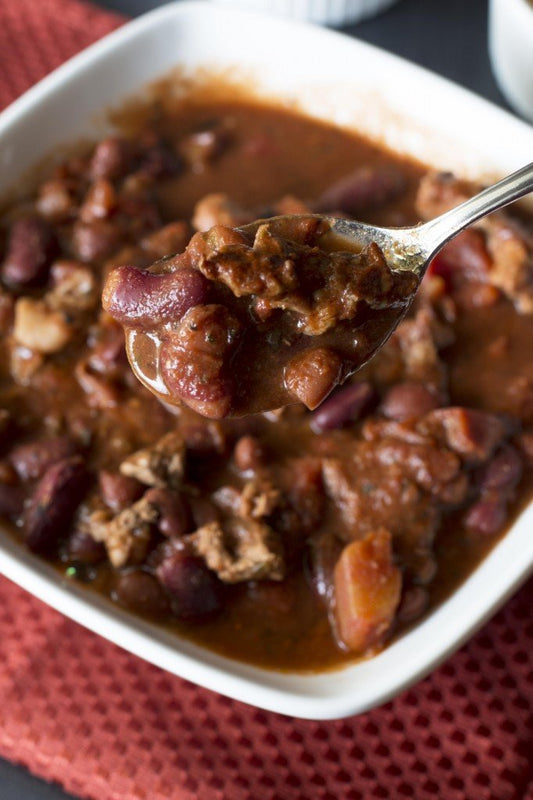 Some of you might pull out the slow cooker all year long, but if you're anything like us, you spend most of your time in the warmer months putting that grill to work. Now that the temperatures are starting to dip and the grills are getting their last hurrah, we're looking ahead to crockpot season. Is anyone else as excited as we are about this?!  There's nothing like coming home to a delicious meal all hot and ready, simply waiting for you to dish up, at the end of a long hard day. Those days seem to get even longer and harder as the cold temperatures set in and you get a bit of a chill walking from your car to your front door. We love putting our slow cookers to the test all fall and winter long, so we've rounded up the ultimate list of comfort crockpot foods to keep your belly and your heart happy! From classics like beef and bean chili, to new favorites like mozzarella stuffed meatballs, you'll be able to cure any weekday blues just a few minutes after you get home.
Slow Cooker Sriracha Bacon Mac N Cheese - Sauce + Style Slow Cooker Beef & Bean Chili - Sauce + Style
Slow Cooker Texas Smoked Beef Brisket - Sauce + Style Slow Cooker Lasagna - Sauce + Style
Crockpot Root Beer Pulled Pork - Sauce + Style Slow Cooker Melt-In-Your-Mouth Pot Roast - Joyously Domestic
Slow Cooker Mozzarella Stuffed Meatballs - Le Creme de la Crumb Slow Cooker Chicken Tortilla Soup - Rotel
Best Slow Cooker French Dip Sandwiches - Carlsbad Cravings Crockpot Hot Chocolate - Sauce + Style
Slow Cooker Broccoli Beef - Le Creme de la Crumb
Crockpot Sunday Sauce - Half Baked Harvest
Crockpot Beer Braised Chicken - Half Baked Harvest
Crockpot Carne Asada Nachos - How Sweet It Is Slow Cooker Pumpkin Pie - She Knows Be sure to keep up with our blog posts all month long because October is going to be ALL about the crockpots!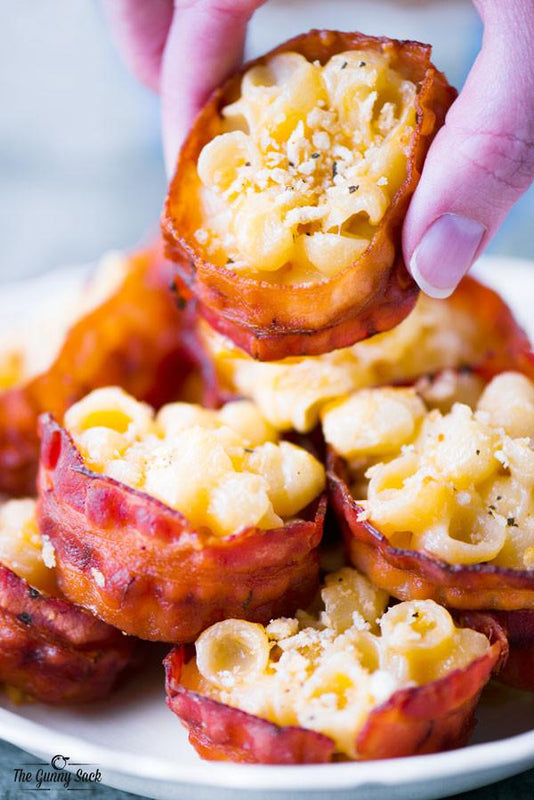 FOOTBALL IS FINALLY HERE! Who else out there is completely losing their minds? It feels like we've been waiting forever for the season to officially start - because we seriously have been - and now that it's here, we are going all out for every dang game. What does that mean for us Pig of the Month BBQ peeps? Wrap all the things in BACON. There's nothing much better than throwing bake some bacon deliciousness with those brews while taking in all that glorious pigskin action. You all know bacon is a part of daily life in our world, so having the excuse to whip it out yet again four days out of the week is our idea of hog heaven. Don't disappoint your favorite fans with some chips and dip and a couple beers this weekend. Bring out the bacon and make everyone lose their minds over all the goodness! Football was meant to be enjoyed with an extra side of bacon. Don't even try to argue with us. It's a FACT. Check out these KILLER bacon-wrapped recipes and head over to Pig of the Month BBQ's bacon section to get the good stuff. You can thank us later.
Teriyaki Chicken Skewers - Whitney Bond Parmesan Bacon Knots - A Spicy Perspective
Sweet Potato Fries Wrapped in Bacon - Spicy Southern Kitchen Tater Tot Bombs - Damn Delicious
Bacon Wrapped Pineapple Bites - Mama Loves Food
< Grilled Cheesy Potato Volcanoes - Tasty
Sriracha Bacon Wrapped Stuffed Jalapeños - Sauce + Style
Bacon-Wrapped Onion Rings - Sauce + Style
Bacon Wrapped Lil Smokies - Oh Sweet Basil Bacon-Wrapped Dates with Balsamic Reduction - Bright-Eyed Baker
Bacon-Wrapped Chicken Bites - Lovely Little Kitchen
Bacon Wrapped Avocados - Oh Sweet Basil
Bacon Mac and Cheese Bites - The Gunny Sack Bacon Cheeseburger Bombs - Pillsbury
Sweet and Spicy Bacon Wrapped Meatballs - The Gunny Sack Bacon Cream Cheese Bites - Garnish with Lemon
Bacon Wrapped Cheese Bombs - Crunchy Creamy Sweet
Shop This Post
Pig of the Month BBQ's INSANE bacon collection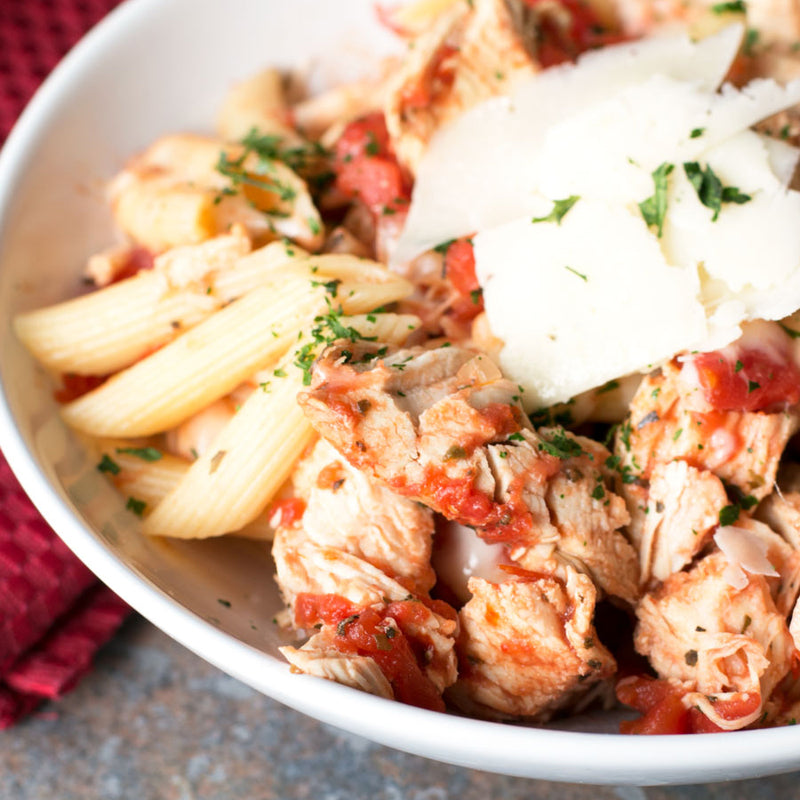 Want to get everyone to the dinner table on time? There's nothing like a heaping cheesy helping of Slow Cooker Chicken Parmesan Pasta to get everyone's mouth watering! I LOVE chicken parmesan. It's that Italian comfort food that is perfect to whip out once the temperatures start dipping. However making a true chicken parmesan in the middle of the week can be a little bit of a pain. By the time I am done with work, I want to kick back and eat. I don't want to deal with a bunch of cooking and baking when I'm finishing a hard day.
I know it sounds lazy, but sometimes cooking is the LAST thing I want to do. But I still want great food and I don't want to have to pay for it from some expensive delivery service (of course I'm not leaving my house once I get there - DUH). That's why this Slow Cooker Chicken Parmesan Pasta is such a perfect recipe. It can cook while you are at work so when you get home, all you have to do is boil some pasta and add the cheese. In less than 15 minutes of actual active cooking time, you will have a hot and fresh dinner to comfort you after a rough day.
Your entire family will go crazy for it, or you can simply hoard the leftovers for yourself for lunches throughout the week! #winning
[vimeo 189804825 w=640 h=360]
Slow Cooker Chicken Parmesan Pasta from Pig of the Month BBQ on Vimeo.
INSTRUCTIONS: Add chicken breasts to the insert of a slow cooker. Add in diced tomatoes, onion, basil, oregano, red pepper flakes, salt and pepper. Stir to combine. Cover and cook on low for 4 hours. Remove chicken breasts and cube them. Return chicken to the slow cooker. Add in cooked penne pasta and top with mozzarella cheese. Cook on low for 15 minutes until the cheese melts. Serve and garnish with parmesan cheese and parsley.
*Recipe, photos and video by Meghan Bassett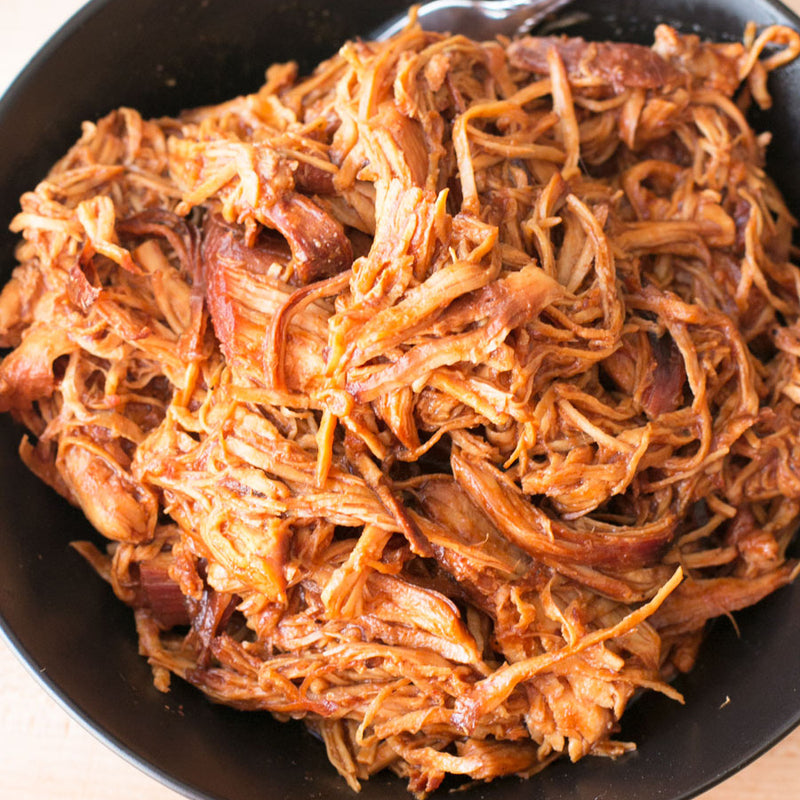 This new best ever crockpot BBQ chicken is going to be a family favorite in no time. With only 5 ingredients, all you gotta do is dump everything into your slow cooker and wait for the deliciousness to be ready. I love being able to dump meals like this before heading into the office. Coming home to a house filled with that tasty BBQ scent is more welcoming than any scented candle could ever be.
The final result is this tender, juicy chicken packed with flavor and ready to be eaten however you choose! You can eat it plain along with some veggies, make BBQ chicken sandwiches or sliders with it, or ever whip up some BBQ chicken tacos. You can even roll up the chicken with some avocado in an egg roll wrapper and fry them... The possibilities are endless with this simple recipe, and it'll keep the whole family happy! This crockpot BBQ chicken is even amazing for parties when you don't want to get stuck fussing over food in the kitchen for hours. You can simply leave the chicken in the sauce on low throughout the party to make sure it stays toasty and tasty.
No one will ever believe this recipe requires just 5 measly ingredients! Don't worry, I promise not to reveal our little secret... Let them think you slaved for hours!
[vimeo 186283536 w=640 h=360]
Best Ever Crockpot BBQ Chicken from Pig of the Month BBQ on Vimeo.
INSTRUCTIONS: Add chicken breasts to the insert of a slow cooker. Season breasts with salt and pepper. Add salt, cayenne, brown sugar and BBQ sauce. Stir briefly to coat the chicken breasts. Cook on high for 3 to 4 hours. Shred with two forks in the pan and let the chicken warm in the sauce for 15 minutes for extra flavor. Serve as sliders or sandwiches.
Shop This Post:
Pig of the Month Love Me Tender BBQ Sauce  
*Recipe, photos and video by Meghan Bassett
1
2
3
Next »