Posts tagged: cheddar cheese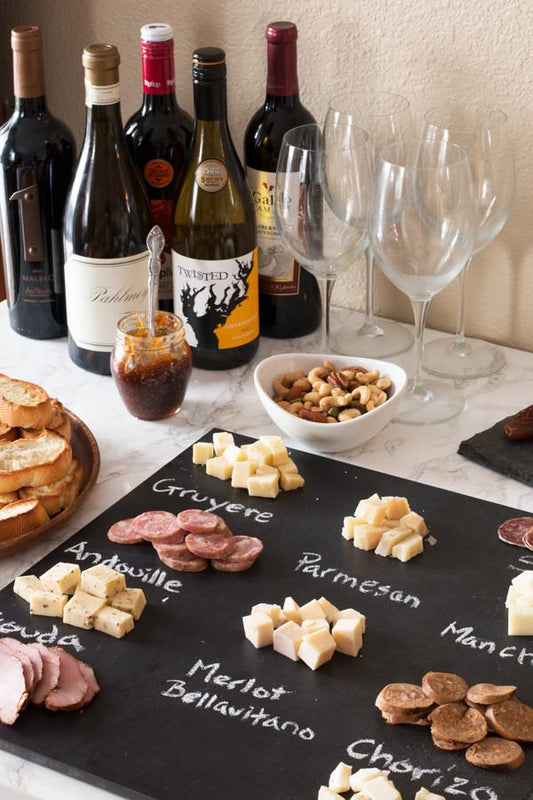 My ultimate go-to holiday party item is always a huge antipasti platter. I love all the different flavors and textures. You can really have a lot of fun with it! The real bonus is it requires very little effort and it always looks stunning.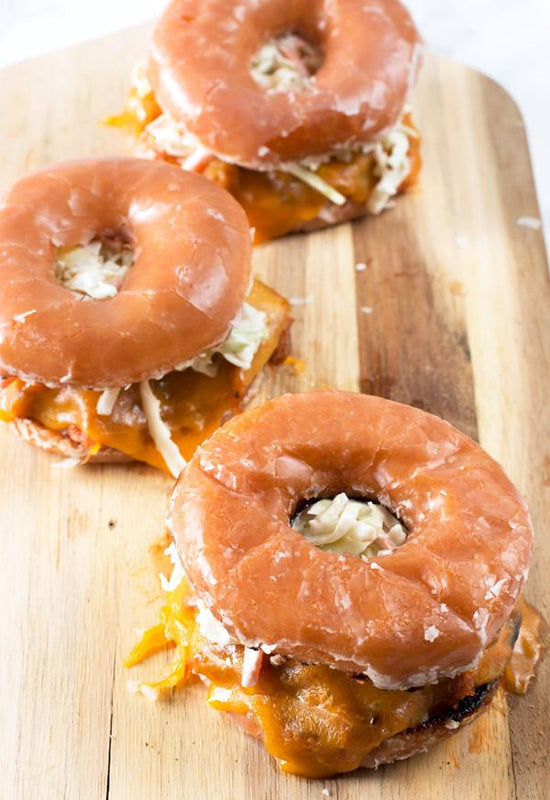 Say hello to the most decadent, soul-fulfilling pork sammie you will ever bite into… It's hard for me to describe these Krispy Kreme pulled pork sammies without my mouth beginning to water. Krispy Kreme doughnuts are still my all-time favorite doughnuts. Getting one fresh off the shelf at the shop is one of my guilt pleasures.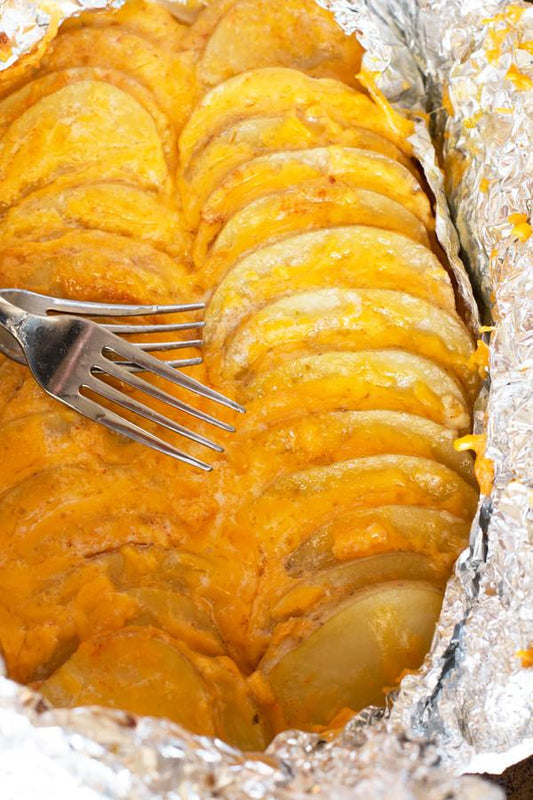 Have you broken out your grill yet? If not, I've got the perfect recipe for you to kick off grilling season with! Foil-wrapped cheesy potatoes! Whether you are grilling or heading out on a camping trip, these cheese potatoes are AWESOME. Wrapped up tightly in foil they can cook over any type of grill or straight over the campfire. They are bursting with all the flavors you love from cheesy potatoes, with just the right hint of spice to balance out that ooey gooey mess.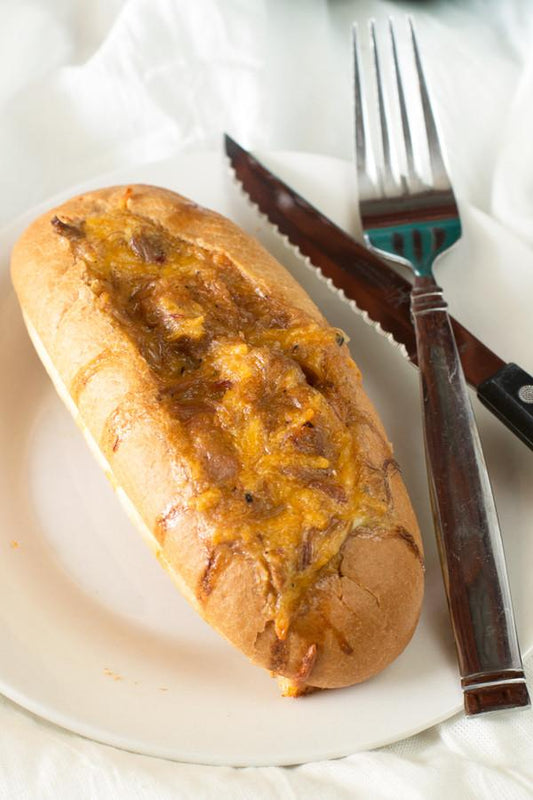 You'll want to get up early for one of these pulled pork egg boats. Egg boats are one of the most hearty and fulfilling breakfasts for me. You get eggs, meat, and carbs that you crave from a hearty breakfast, all in an individually portioned boat of perfection.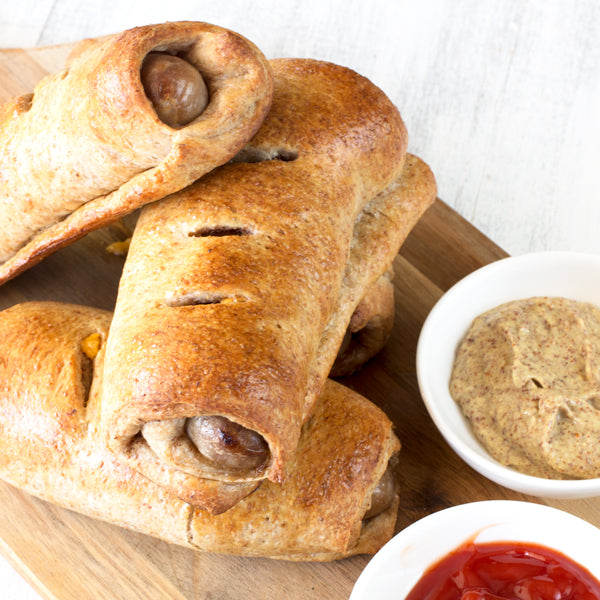 When I ventured to Scotland about a year ago and had my first good sausage in a blanket I was blown away. Such a simple dish packed so much flavor and satisfaction; it seemed too good to be true. I was sure there was some sort of secret Scottish trick to making these wrapped sausages so addictive. Turns out, all you need is some dough, Dijon mustard, cheese and incredible sausage to make the dream come true at home!
I used Pig of the Month's Wine & Swine Sausages here, but you can use any of their sausage selections to make your own variation of this recipe. This is a great weeknight dinner that will satisfy both the kids and the adults! It also makes for a great handheld lunch on the go, so be sure to pin this for those back to school lunches.
INSTRUCTIONS: Preheat oven to 375 degrees. Line a rimmed baking sheet with aluminum foil and spray with non-stick spray (or use a silicone mat). Add the beaten egg and water to a small bowl and whisk briefly to combine. Set aside. Roll out the pizza dough on a clean surface. Cut the pizza dough into 4 rectangles, about 4x5 inches in size. You may need to roll out the dough a bit from its original size to accommodate the squares. Prick each square all over with a fork. Spread 1 Tbsp of Dijon mustard on each piece of dough. Divide the slices of cheese into 2 triangles each and place them on the dough, spread out a little so the cheese doesn't get stuck all in one place.
In a medium skillet over high heat, brown the sausages until a nice medium brown sear forms on both sides, approximately 4 to 5 minutes per side. Remove from heat. When sausages are cool enough to handle, roll each one up in a piece of prepared dough. Spread the seal with a thin brush of egg wash. Place seam side down on the baking sheet and brush the top with egg wash. Cut three slits in the top with a sharp knife to create vents. Bake for approximately 20 minutes until the dough and sausages are cooked through. Serve with dipping sauces such as extra Dijon mustard, ketchup and barbecue sauce.
Shop This Post
Pig of the Month Garlic Sausage Links
Recipe & Photos by Meghan Bassett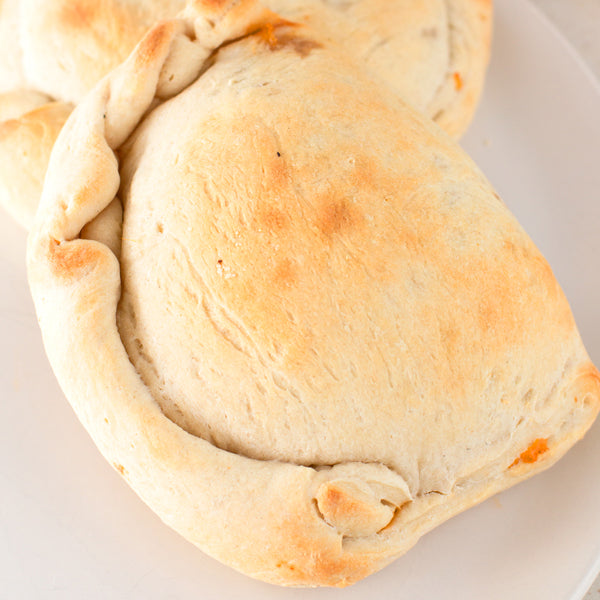 My love for Hawaiian pizza runs pretty deep. Almost as deep as my love for truly amazing pulled pork and BBQ. As I sat down to come up with my Super Bowl menu, I couldn't stop thinking about Hawaiian pizza. I didn't want to do the same ol' pizza I've been doing for years though. Nope, it was time to change things up.
So why not stuff pork, pineapple, cheese and barbecue sauce into warm, gooey pockets of deliciousness? These Hawaiian BBQ Pulled Pork Calzones are the perfect game day meal for your upcoming Super Bowl celebration (or any excuse for a celebration, let's face it, they are THAT good). They take little to no effort and are ready in less than 20 minutes. Plus you get that oh-so good Pig of the Month pulled pork...
When you're cheering your team for that touchdown, just try not to get BBQ sauce everywhere, ok?
INSTRUCTIONS: Preheat oven to 425 degrees. Line a large baking sheet with a silicone baking mat or aluminum foil (be sure to grease it!). In a medium bowl, stir together pulled pork, BBQ sauce and diced pineapple until combined. Set aside.
Roll out pizza dough into a large rectangle, approximately 1/4" thick. Cut the rectangle in half crosswise and then again lengthwise to form 4 small rectangles. In the center of each, add approximately 1/4 cup of the pork mixture.
Top with 1/4 cup of cheddar cheese. Fold the dough over to form the calzone, pinching the edges together before rolling them up and in. Place all four calzones on the lined baking sheet.
Bake for 15 to 17 minutes, or until just starting to brown on top. Remove from oven and wait 5 minutes before cutting and serving with extra sauce.
Shop This Post
Recipe & Photos by Meghan Bassett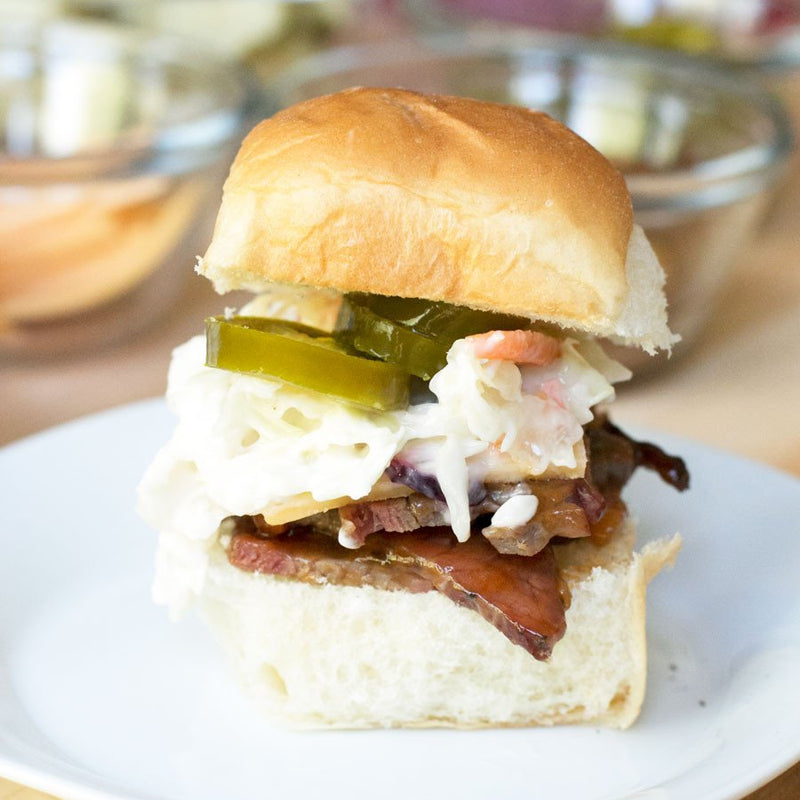 Stop trying to make the perfect sliders for everyone and have them make their own instead! Put the fun back into your food at your next gather with this super simple DIY Brisker Slider Bar. Instead of slaving away, trying to find the ideal slider that everyone will fall in love with, load up on some of our brisket and set out as many toppings as you can. All you guests will love jumping in to create their own version of the "best brisket slider", plus you can keep the options open no matter what foods some people love (or love to hate).
You can stick with a classic combo of a white bun, brisket, pickles, red onion and cheese.
Or shake things up with a Hawaiian bread bun, coleslaw and pickled jalapeños!
Not to mention all the stress this whole DIY slider bar takes off you as the host/hostess... But that's just an extra side bonus to everything loving the food and having fun, right? ;)
What You'll Need: Serves 12 to 14 2 types of slider buns (24 total) 1 lb Pig of the Month Brisket, warmed 1 red onion, thinly sliced 2 cups coleslaw 1 cup caramelized onions Sliced sharp cheddar cheese, cut into small squares Sandwich pickles Pickled jalapeños BBQ sauce Franks Red Hot Sauce
Place the buns on a large platter. Place warmed brisket on a separate large platter. Layer cheddar cheese slices on a small plate.
Add red onion, coleslaw, caramelized onions, sandwich pickles and pickled jalapeños to individual serving bowls. Place the buns to one side next to the brisket and then lay out all of the toppings in a line to make it easy for guests to pick and choose. Set out your favorite BBQ sauces and hot sauces for people to experiment with! Have fun with it!
Shop This Post
*Recipe & Photos by Meghan Bassett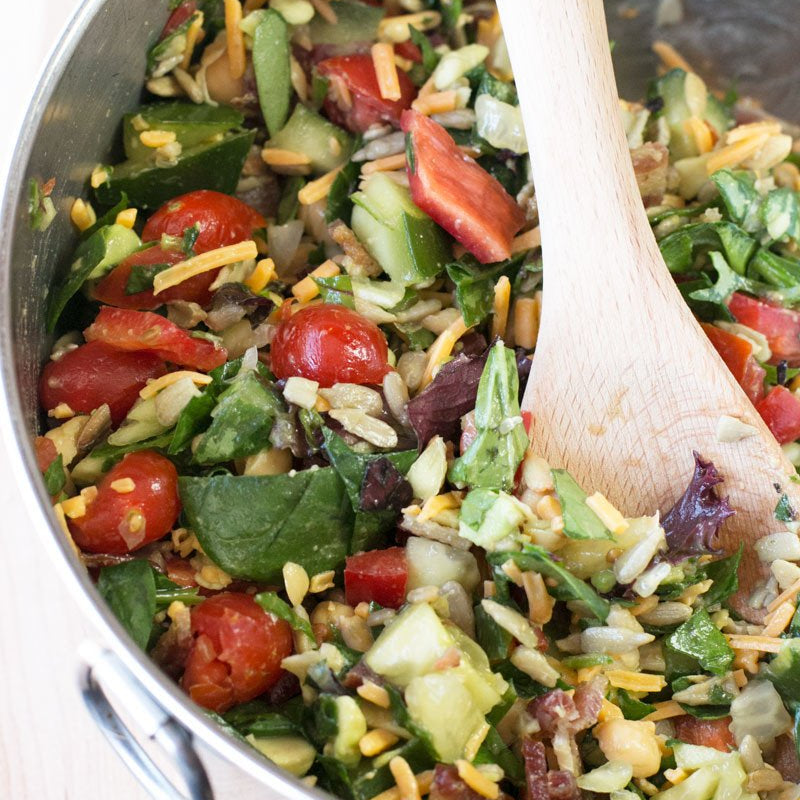 A salad?! On Sauce + Style?! I know it's a bit shocking to see something on the healthy side pop up here, but being on a teeny tiny cleanse inspired me to up my salad game. With bacon of course.
Normally I am NOT a salad person (as in I avoid it at all costs), but when a salad combines all my favorite things, I'll change my stance on it momentarily. This BBQ Ranch Chopped Salad is the perfect example of what'll get me in a salad-eating mood. Yes, this salad is loaded up with some healthy veggies, but there's also bacon and a BBQ ranch dressing that is going to blow your freaking mind.
Seriously, this salad is so good you'll actually find yourself CRAVING it. So wrong, it's gotta be right ;) am I right?
[vimeo 198218518 w=640 h=360]
BBQ Ranch Chopped Salad from Pig of the Month BBQ on Vimeo.
INSTRUCTIONS: In a small bowl, stir together ingredients for the dressing. Set aside. Add mixed greens, tomatoes, garbanzo beans, bell pepper, avocado, and cucumber to a cutting board. Chop all the ingredients up well. Add chopped ingredients to a bowl. Stir in cheddar, sunflower seeds and bacon. Top with dressing and toss to coat. Serve.
Shop This Post
Pig of the Month BBQ Applewood Smoked Bacon
*Recipe, photos and video by Meghan Bassett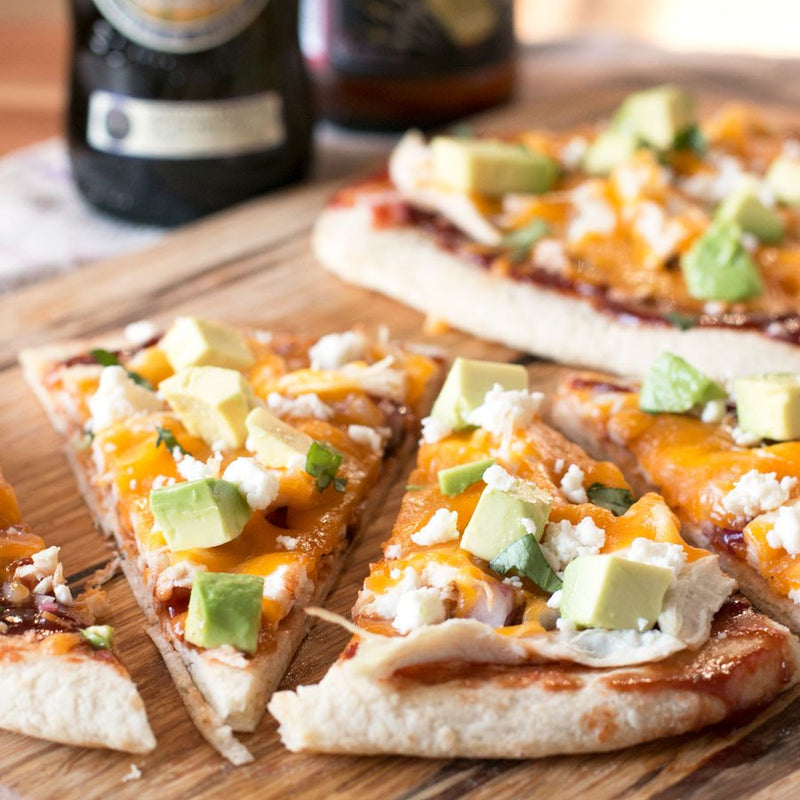 Welcome to 2017 piggy peeps! I don't know about you but I am not ready to get back into the swing of things to kick off the New Year. It feels like there are 5 million to-do's on my list and I am barely making a dent in them a few days into the new year... One thing that's falling off my radar? Dinner. I am struggling with pumping out tasty meals without spending wayyyyy too much time on them. Since I have too much to do at work, I am starting to rely on meals of popcorn and soda - NOT how I wanted to start the year.
Instead, I'm pulling out my Pig of the Month BBQ Shredded Chicken and I'm making something more than just a sandwich with it. These flatbreads are one of the easiest meals EVER and there's no one that can resist them, I don't care how picky of an eater they are. The fluffy naan with BBQ sauce, chicken and avocado is the best base for any pizza. Throw in the bite of some red onion and salty cheese and holy wow, this pizza is one the entire family will be begging you to make on a regular basis. Not to mention it's pretty dang healthy in terms of pizza, so you can feel ok about sticking to those New Year resolutions ;)
INSTRUCTIONS: Place naan on a lined baking sheet.
Spread each with half of the BBQ sauce.
Top with chicken, red onion and cheese.
Place under broiler set to high for approximately 2 to 3 minutes, or until the cheese melts.
Remove from oven, top with avocado, cilantro and a sprinkle of queso fresco. Serve.
Shop This Post
Pig of the Month BBQ Shredded Chicken
Pig of the Month BBQ Love Me Tender Sauce
*Recipe and photos by Meghan Bassett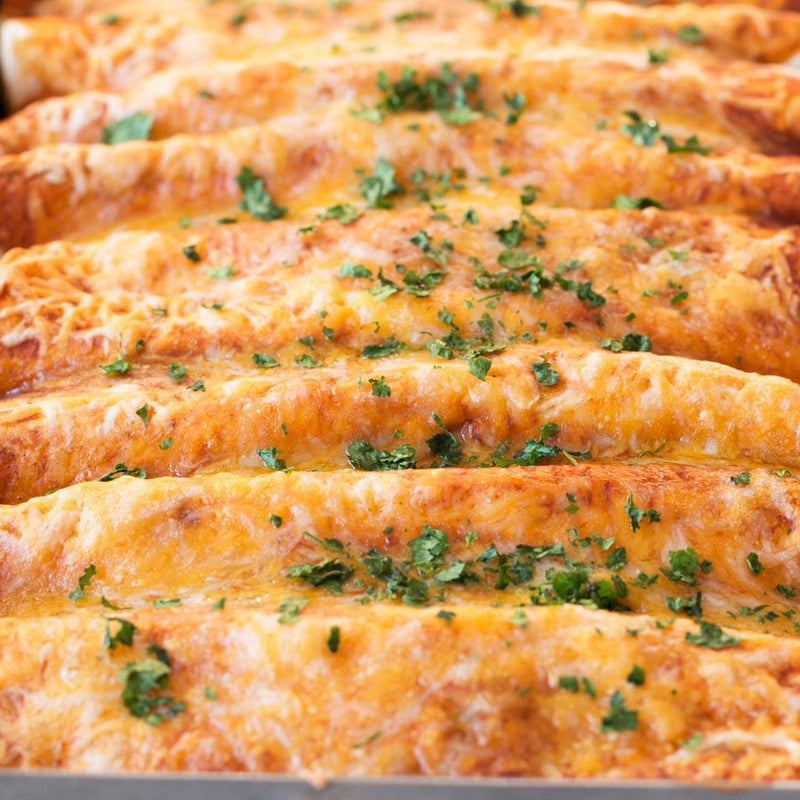 You know when you discover one of the best combinations ever? Because I just did. It's called the happy little crossing place between Mexican and BBQ....
I can't lie; it's freaking magical!
The cheesy, ooey gooey normal enchiladas recipe is made oh-so much better with the addition of BBQ sauce and the best ever Pig of the Month BBQ pulled chicken. It's a little spicy, a little sweet and totally tangy, making every bite the most dreamy thing to hit your taste buds since a slice o' crispy bacon.  If your tummy isn't rumbling at the sound of that, there's honestly something wrong with you...
Get down to Chow Town!
Serves 4 to 6 INSTRUCTIONS Preheat oven to 350 degrees. Grease a 9x13-inch baking dish. Add vegetable oil to a medium skillet and heat over medium-high heat. Add onion and cook until tender, approximately 3 minutes. Add chicken and chiles. Season with salt and pepper and cook until warm. Keep warm over low heat. Whisk together enchilada sauce and BBQ sauce in a small bowl. Set aside. Assemble the enchiladas by laying out the tortillas one at a time on a clean work surface. Spoon on 2 Tbsp of the enchilada BBQ sauce, spreading it out to coat the entire tortilla. Add 2 Tbsp of the chicken mixture down the center of the tortilla, then sprinkle with cheese. Roll up tightly and place in baking dish. Repeat with remaining tortillas. Spread remaining sauce over the top of the enchiladas. Top with remaining cheese. Bake for 20 minutes. Garnish with chopped cilantro and serve immediately.
Shop This Post
Pig of the Month BBQ Pulled Chicken  
*Recipe & photos by Meghan Bassett
1
2
Next »