Posts tagged: caramel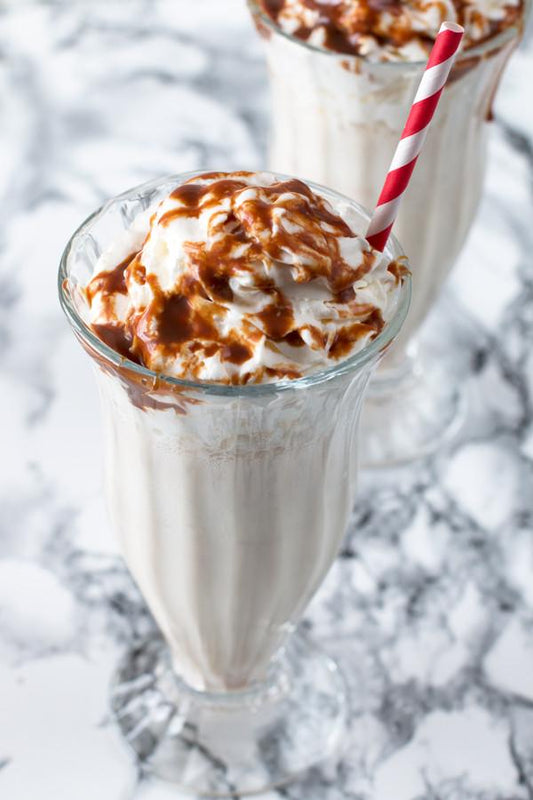 This is the ultimate milkshake. I mean, bourbon, caramel, AND ice cream. Need I say more? If you've never experienced a boozy milkshake with bourbon, you need to make this milkshake IMMEDIATELY. What use is being a grown up if you can't add booze to your favorite childhood treat?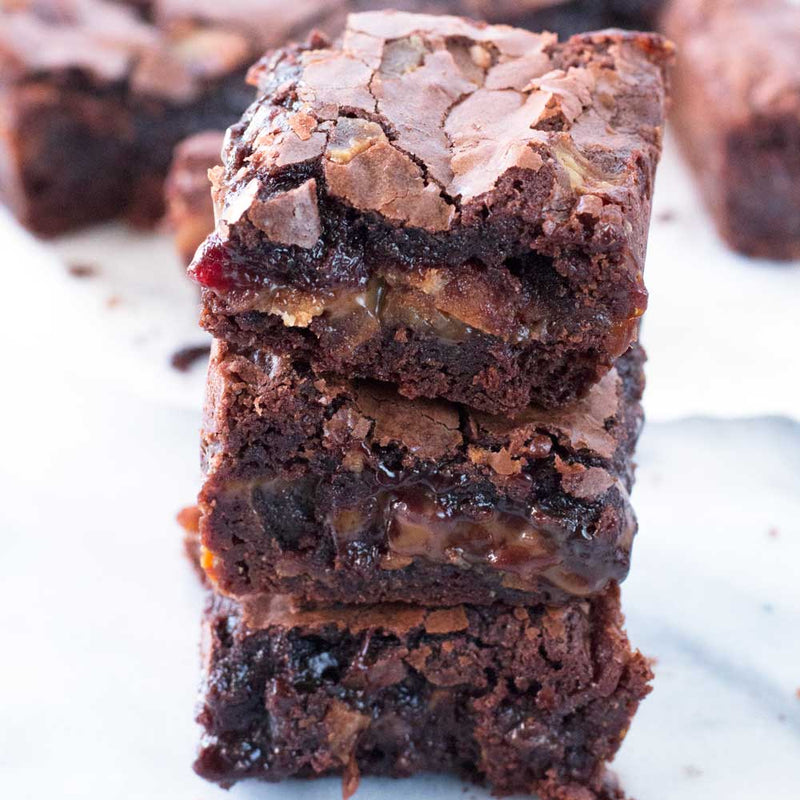 Bacon Bourbon Caramel Stuffed Brownies are an indulgent, decadent dessert that combines our love of bacon, chocolate, caramel and BOOZE. 
When we go for dessert, we go big. Real big. Like, Super Bowl big.
These bacon bourbon caramel stuffed brownies are the latest food porn creation that we absolutely can't get enough of. If you thought brownies couldn't get any better, well you're just plan wrong. We stuffed ours with a rich, creamy bourbon caramel and lots of our top selling bacon to really send it over the edge.
It's sweet, it's savory and it's so gooey and decadent, you might just faint after the first bite. If you really want to bring your A-game to your next party, picnic or to spoil your significant other, this is the ultimate recipe to bust out. Everyone will be freaking the hell out the moment you set these out. Then just sit back and watch as everyone clammers to get another one before they're all gone.
Chocoholics, bacon-lovers, bourbon-obsessed fans and caramel-cravers UNITE. This is the only dessert you need to make for the rest of your darn life. For real.
INSTRUCTIONS: Preheat oven to 350 degrees F. Grease an 8x8 baking dish with nonstick spray & line with parchment paper.
Make brownie batter according to the instructions on the package. Pour half the batter into the baking dish and bake for 20 minutes. Cool for 20 minutes.
Combine caramels, cream and bourbon in medium saucepan over medium heat. Stir constantly until smooth and creamy, about 4 to 5 minutes.
Pour in caramel then add layer of chopped bacon, reserving 1/4 of the chopped bacon for later.
Top with the rest of brownie batter and sprinkle with remaining bacon. Bake for 20 more minutes and cool completely before cutting.
Shop This Post
Recipe & Photos by Meghan Bassett
March Munchie Madness is BACK!
Do you know what time it is?? GAME TIME. March Madness is upon us with all your fav teams facing off in that good ol' tournament they call 'the big dance.' This has become our fav time of the year because it's the one time we can bust out all the munchies we want while streaming the TV loud and proud at work all day, erryday. We root for the upsets and keep extra beer in the fridge, ready to celebrate at a moment's notice. The question is, what will YOU be snacking on to fuel yourself through all those nail biter moments of the final games? It's your turn to tell us what you want to chow down on…March Munchie Madness is BACK! We're here to kickoff our 2016 Bracket Contest. It's simple – every few days tune in to vote for your favorite snack pick in 4 different categories, all the way to the final munch off. There will be a prize given for each winning game! The March Munchie Madness Prizes Are: Morning Meats: Win a bacon & sausage sampling including 1lb each of our best-selling sausages and 1lb each of our best-selling bacon Desserts:  Win a duo of chocolate covered bacon and applewood bacon salted caramels Classic BBQ:  Win 6 racks of ribs and sauce to slather it all down Snacks:  Win the ultimate sweet and salty snack pack For the semi-finals and finals you could win a HUGE package with tons of tasty meats and treats! Here's the March Munchie Madness breakdown:
Facebook
and
Instagram
to see more ways to enter.