Posts tagged: cake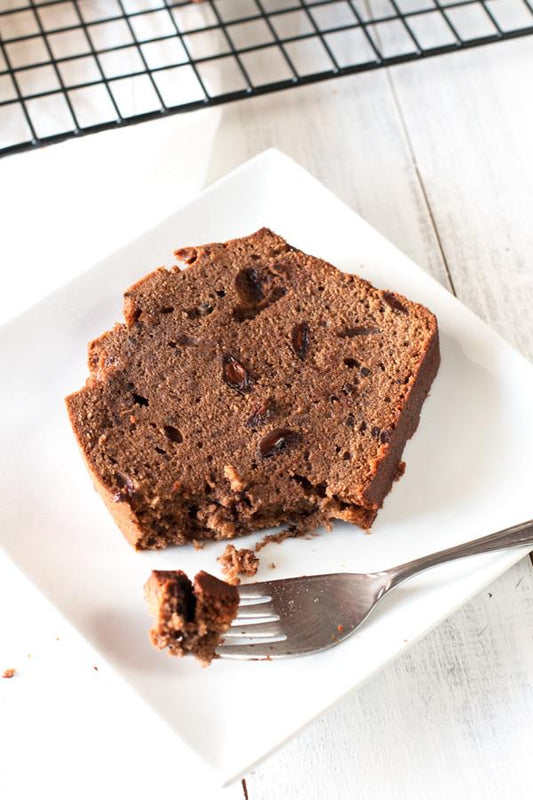 Yes, you read that correctly. This is a
double-chocolate
 pound cake... Chocolate is the ultimate pick-me-up in my opinion. Whether the weather outside is crummy, you've had a hard day at work, or you've got a case of the Mondays, a little bit of chocolate can go a long way to lifting your spirits. At the very least it will remind you that there are still good things in this world!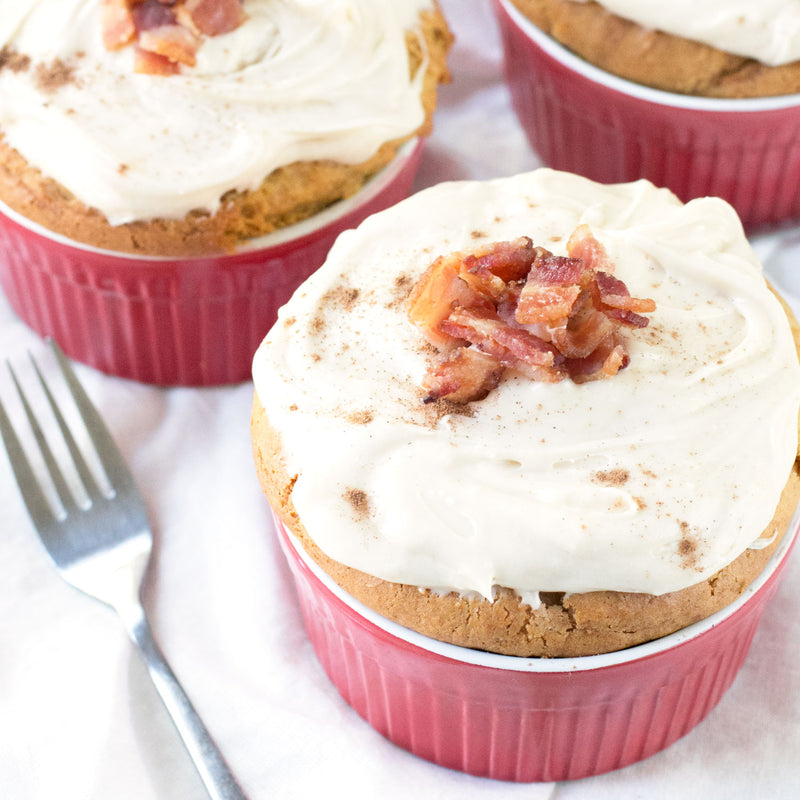 Pumpkin spice everything season is here! I don't know about you, but sometimes I need a break from all the meats and BBQ to satisfy that sweet tooth of mine. These little cakes are perfect for fall. They are packed with so much pumpkin spice, you will forget all about that PSL you were craving earlier this morning. Then you top of the moist, dense, delicious cake with cream cheese frosting and a little sprinkle of candied bacon (because we can't completely give up our meats now can we?).
I love making these cakes in the larger ramekins because they end up looking like giant frosted cupcakes! You can also make them in smaller ramekins if you don't want to be SO gluttonous. But who really wants to do that, right?
You can even make them cupcakes if you want to! Regardless, these cakes will be gone in a blink of an eye as soon as you serve them. Are you drooling yet? Time to get your bake on piggy peeps! Celebrate fall before that cold cold winter sets in. ;)
Serves 4 INSTRUCTIONS: Preheat oven to 350 degrees. In the bowl of a stand mixer, beat together butter and cream cheese. Add sugar and beat completely to combine. Add eggs one at a time, beating to combine fully between each. Beat in pumpkin and vanilla. Add dry ingredients and beat to incorporate fully. Grease 4 large ramekins. Fill the ramekins with the pumpkin batter approximately 3/4 of the way full. In a clean bowl, beat together cream cheese, butter, confectioners sugar, vanilla extract and milk for the cream cheese frosting until fully combined. Bake 20 minutes. Cool completely. Frost with cream cheese frosting and sprinkle with candied bacon.
Shop This Post
Pig of the Month BBQ Applewood Smoked Bacon  
*Recipe and photos by Meghan Bassett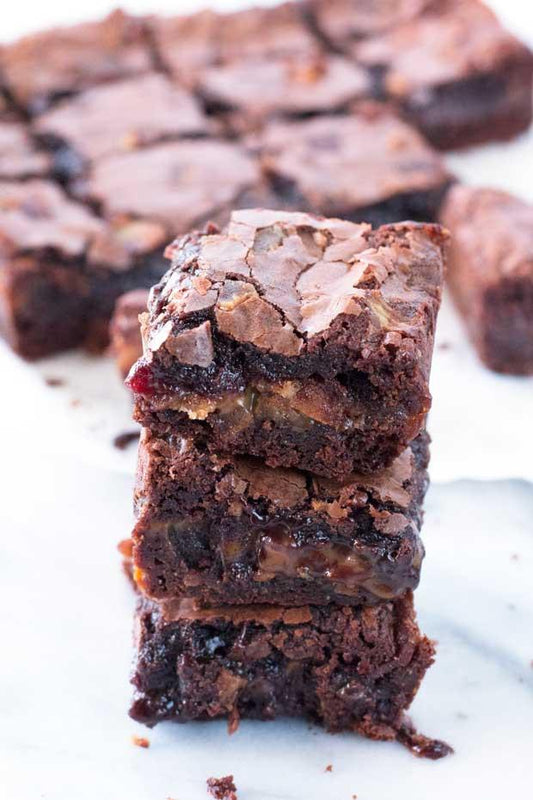 They say that everything is better with bacon and here at Pig of the Month BBQ, y'all know we are inclined to agree with them. ESPECIALLY when it comes to desserts with bacon. That salty, savory taste of bacon goes so perfectly with everything from apples to chocolate, caramel to maple - it's a insane party of flavor that we will stuff our faces with all day, erry day! Now that Thanksgiving is all wrapped up (and we are still a little sad that the leftovers didn't last longer...), it's time to hit that holiday baking and treat making... HARD. We are rounding up all the things that are topping our wishlist to make this holiday season, and a few that we're planning to make for a second (ok more like tenth) time. You really can't argue with a classic like Bacon Bourbon Caramel Stuffed Brownies, you know? So whip out the apron and turn that oven on. It's time to get into that sweater body with alllll the bacon-packed desserts. You can save hitting the gym for your New Year's resolution... ;)
Individual Pumpkin Spice Cakes with Cream Cheese Frosting & Candied Bacon - Sauce + Style
Bacon Bourbon Caramel Stuffed Brownies - Sauce + Style
Cinnamon Bun Bacon Cinnamon Rolls - Sauce + Style
Spicy Bacon Chocolate Chip Cookies - Sauce + Style
Slutty Brownies with Candied Bacon - Sauce + Style
Apple Pie with Bacon Lattice - Babble Chocolate Bacon Cupcakes with Dulce de Leche Frosting - Food Network
Bacon Bomb Pie - Wine & Glue
Bourbon Bacon Brittle - Baking the Goods
Easy Sticky Buns with Bacon - Just a Taste Beer & Bacon Pecan Bars - The Beeroness
Chocolate Bacon Bundt Cake - Your Cup of Cake
Chocolate Covered Bacon Bites - Cooking Classy Chocolate Bacon Truffles - Candiquik Blog
Chocolate Covered Pretzels with Maple Smoked Bacon Crumbles - Butterlust Maple Bacon & Chocolate Peanut Butter - Keepin' It Kind
Maple-Bacon Marshmallows - Epicurious Happy baking, piggy fans!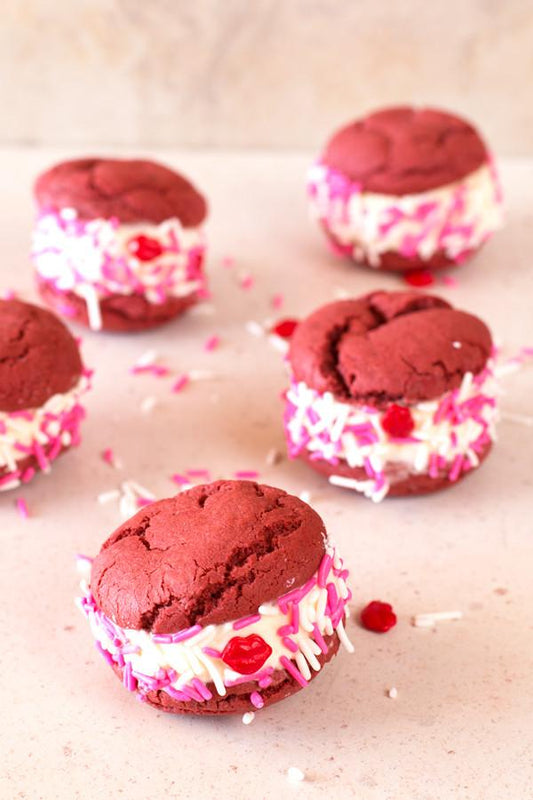 Valentine's Day is sneaking up fast, isn't it? That ooey gooey emotion-filled holiday where you can't help but dote on your loved ones with all sorts of treats and tasty delights. Even if you don't have a significant other in your life, you can still chow down on all the chocolate things as you celebrate your single-ness (trust me when I say it can be a freaking blessing at times...)! We love to be allllll about the love leading up to Valentine's Day, and the only way we know how to celebrate is through baking (and EATING) all the sweets. Heart-shaped delights, brownies covered in caramel and bacon, and red velvet delights are rounded up below for your Valentine's Day baking pleasure. Everything you could possible want to say "I love you" to the one you love the most (even if that someone happens to be Y-O-U!).
Double Chocolate Raspberry Mason Jars - Sauce + Style
Cinnamon Bun Bacon Cinnamon Buns - Sauce + Style
Bacon Bourbon Caramel Stuffed Brownies - Sauce + Style
Spicy Bacon Chocolate Chip Cookies - Sauce + Style
Red Velvet Ice Cream Sandwiches - Sauce + Style
Red Velvet Oreo Truffle Chocolate Cake - Pizzazzerie
The Ultimate Gooey Caramel Brownie Mug Cake Sundae - Willowbird Baking
Copycat Zupas Rockslide Brownies - Lovely Little Kitchen
Conversation Heart Cookies - Martha Stewart
Chocolate Covered Strawberry Cupcakes - Smells Like Home
Easy Chocolate Lava Cakes for 2 - Bakerita
Dreamy Chocolate Cupcakes filled with White Buttercream - Baker By Nature
Frosted Chocolate Fudge Brownies - Bakerita
Chocolate Chip Cookie Dippers - Supergolden Bakes Happy Baking!