Posts tagged: bread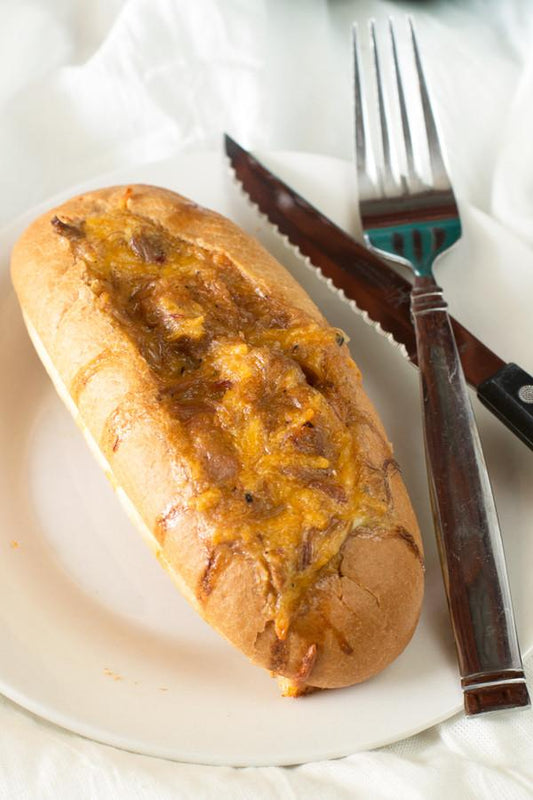 You'll want to get up early for one of these pulled pork egg boats. Egg boats are one of the most hearty and fulfilling breakfasts for me. You get eggs, meat, and carbs that you crave from a hearty breakfast, all in an individually portioned boat of perfection.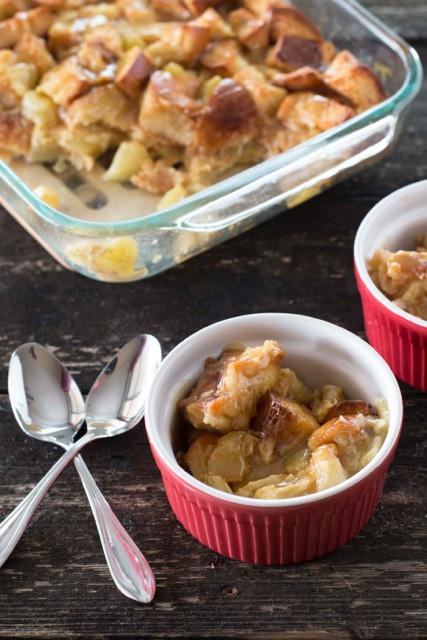 There's something about bread pudding that is so comforting, isn't there?  This bread pudding is made especially more inviting because of the addition of apples and a bourbon caramel sauce. It's like we packed an entire apple pie into this bread pudding!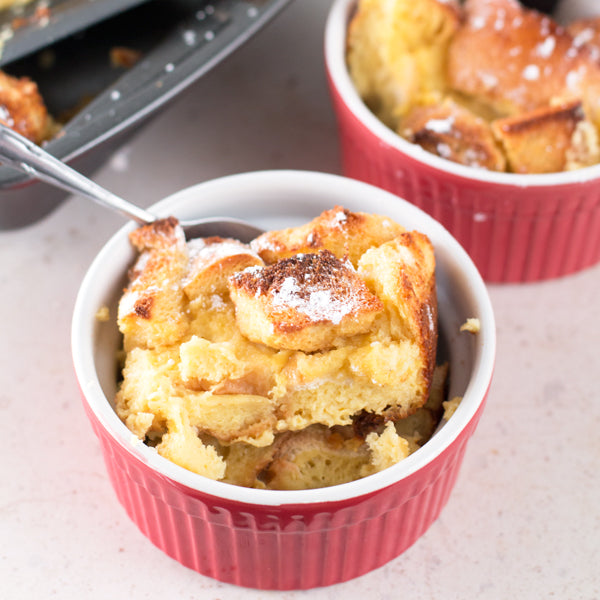 What do I love most about the holidays? EGGNOG.
As soon as eggnog shows up on the shelves in the grocery store, I'm buying it in bulk and enjoyed every smooth, rich moment of joy. Since eggnog never graces grocery store shelves for long enough in my opinion, I try to find new ways to use it throughout the holiday season.
Nothing says holidays more than eggnog and this eggnog bread pudding is going to be your new favorite holiday dessert. It's smooth, creamy, spiked and filled with the eggnog flavor you love. It makes for a delicious dessert, or even breakfast on Christmas morning!
With only a few steps to eggnog perfection, there's no reason not to make this gorgeous dish. No one will know how easy it was for you to make!
INSTRUCTIONS: Grease a large baking dish with butter or cooking spray. Add bread cubes to the baking dish and set aside. Over medium heat in a large saucepan, heat eggnog and milk until it just begins to bubble. While the milk and eggnog are heating, whisk together eggs, yolks, sugar, and salt until frothy. Add 1 cup of the warm eggnog mixture, whisking as you pour. Whisk in the remaining eggnog mixture, vanilla, rum and nutmeg.
Pour custard over the bread in the baking dish, making sure to slightly push down the bread pieces to get them saturated with the liquid. Chill for at least 1 hour or up to overnight (breakfast, anyone?). Preheat oven to 375 degrees and bake the bread pudding for 40 to 45 minutes, until golden brown and the custard is set. Serve warm.
Recipe & Photos by Meghan Bassett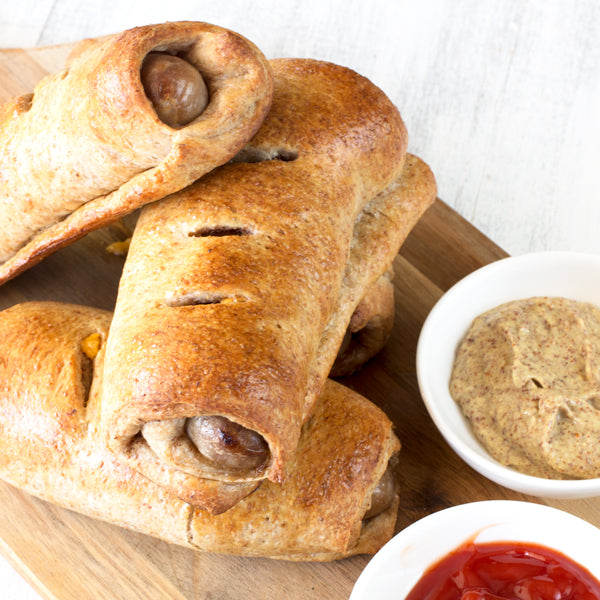 When I ventured to Scotland about a year ago and had my first good sausage in a blanket I was blown away. Such a simple dish packed so much flavor and satisfaction; it seemed too good to be true. I was sure there was some sort of secret Scottish trick to making these wrapped sausages so addictive. Turns out, all you need is some dough, Dijon mustard, cheese and incredible sausage to make the dream come true at home!
I used Pig of the Month's Wine & Swine Sausages here, but you can use any of their sausage selections to make your own variation of this recipe. This is a great weeknight dinner that will satisfy both the kids and the adults! It also makes for a great handheld lunch on the go, so be sure to pin this for those back to school lunches.
INSTRUCTIONS: Preheat oven to 375 degrees. Line a rimmed baking sheet with aluminum foil and spray with non-stick spray (or use a silicone mat). Add the beaten egg and water to a small bowl and whisk briefly to combine. Set aside. Roll out the pizza dough on a clean surface. Cut the pizza dough into 4 rectangles, about 4x5 inches in size. You may need to roll out the dough a bit from its original size to accommodate the squares. Prick each square all over with a fork. Spread 1 Tbsp of Dijon mustard on each piece of dough. Divide the slices of cheese into 2 triangles each and place them on the dough, spread out a little so the cheese doesn't get stuck all in one place.
In a medium skillet over high heat, brown the sausages until a nice medium brown sear forms on both sides, approximately 4 to 5 minutes per side. Remove from heat. When sausages are cool enough to handle, roll each one up in a piece of prepared dough. Spread the seal with a thin brush of egg wash. Place seam side down on the baking sheet and brush the top with egg wash. Cut three slits in the top with a sharp knife to create vents. Bake for approximately 20 minutes until the dough and sausages are cooked through. Serve with dipping sauces such as extra Dijon mustard, ketchup and barbecue sauce.
Shop This Post
Pig of the Month Garlic Sausage Links
Recipe & Photos by Meghan Bassett
We're kind of obsessed with St. Patrick's Day this year. From Guinness Floats to Jameson, green beer to endless green shots, we know we'll be feeling the pain come Friday morning. That's why we're giving you a little two-part low down on how to avoid that hangover you are already dreading. So what should you eat before drinking all night on St. Patrick's Day? Let us break it down for ya. First of all, don't skip dinner and eat BEFORE you start drinking. That whole building a base layer for the booze to settle into only works if you're building it before the booze enters your system. Get that nosh in your stomach early so you can change the outcome of your all-night drinking binge.
Second, eat right and eat smart. The best thing to do to avoid feeling like death on March 18th is to eat these killer foods that'll get your mind and body right. Food really does counteract the effects of alcohol... who knew? - Spaghetti (or other carbs) - yep, carbo-load all night long baby. It's a real thing and it works. Try our Pull Apart Bacon Garlic Cheese Bread... - Chicken - protein-rich so it'll stay in ya longer and it will slow the blood alcohol level. That means you can drink longer and enjoy the entire night before you feel like passing out! Go for the small servings like a burrito bowl or even our delicious Sriracha Lime Baked Chicken Wings. - Avocado - protein + healthy fats will actually digest slower than carbs so whip out that guacamole like there's no tomorrow. - Low-fat yogurt - if you're worried about consuming too many calories on this delicious, boozy holiday, start off with some yogurt and granola. You'll get the healthy fats and vitamins in you before you go pigging out on beer and corned beef. - Water - this one's a no-brainer, but don't forget about it. When it comes to hangovers, water does a body good. Pro tip: always take a couple of ibuprofen and chug a gigantic glass of water before bed (or when you wake up with cotton mouth at 4AM). Thank us later.
If you do happen to skip dinner in all the craziness that is St. Patty's Day, never fear. Just load up on nuts and olives at the bar because they've got the fats and vitamins to help you out. Martini with 10 olives, anyone? Happy St. Patrick's Day! Stay tuned because we've got some more knowledge to drop on ya to fight that hellish hangover...
Photos by Meghan Bassett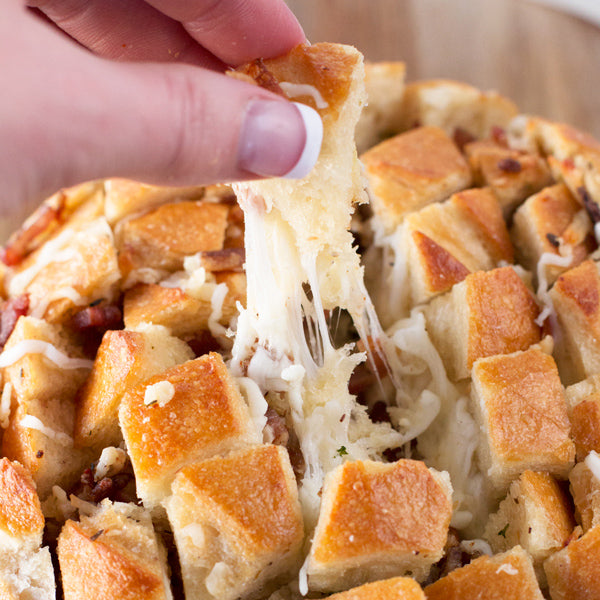 I'm about to blow your minds with some serious bacon and cheese action. You may think that it couldn't get any better than the fried mac n cheese we busted out earlier this week, but we just outdid ourselves. Yet again.
Pull apart breads are my new favorite recipe to whip out for a party, especially a huge spread like the one I'm hosting on Super Bowl Sunday in a couple weeks. This bread is so ridiculously simple, there's really no excuse for you to NOT make it. In about 5 minutes of prep time, you'll be a hot 15 minutes away from a cheesy, bacon-packed mess of a bread that everyone will gladly get messy for. Just take a gander at that cheese....
Ok one more... All that cheese and bacon stuffed into the cracks of that warm, crusty bread...
Enough torture, I promise. But seriously, can't you just taste the deliciousness that this cheesy, bacon bite must pack? Are you hungry yet?
INSTRUCTIONS: Preheat oven to 350 degrees F. In a small bowl, stir together melted butter, garlic, salt, pepper, parsley, thyme and oregano. In another small bowl, combine the two cheeses and bacon. Gently toss to combine.
Using a serrated knife, cut the bread on a diagonal angle into 1-inch diamond shapes, making sure you don't slice all the way through the loaf of bread.
Gently open up the cracks with your fingers. Drizzle each with a tsp of the butter mixture and a pinch of the cheese and bacon mix.
Wrap the loaf of bread in aluminum foil and bake for 15 minutes, until the cheese has mostly melted. Remove from the foil and bake for an additional 5 minutes, directly on the rack. Serve immediately.
Shop This Post 
Pig of the Month Applewood Smoked Maple Bacon
Recipe & Photos by Meghan Bassett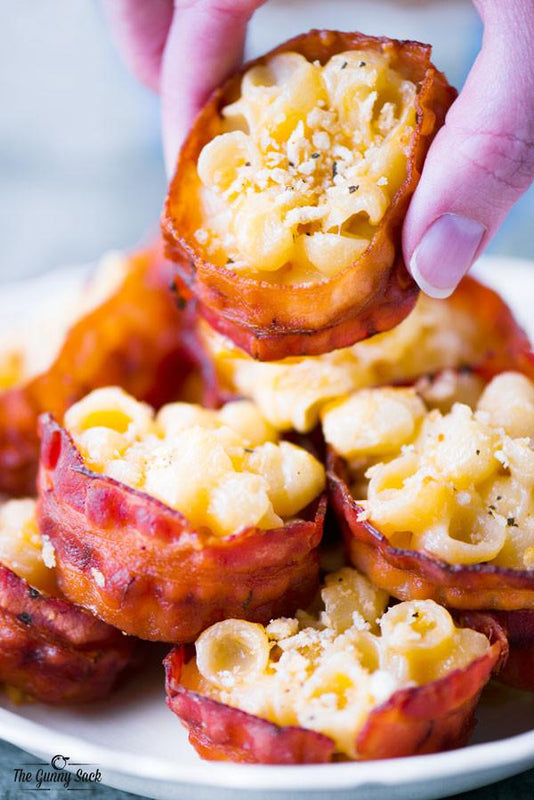 FOOTBALL IS FINALLY HERE! Who else out there is completely losing their minds? It feels like we've been waiting forever for the season to officially start - because we seriously have been - and now that it's here, we are going all out for every dang game. What does that mean for us Pig of the Month BBQ peeps? Wrap all the things in BACON. There's nothing much better than throwing bake some bacon deliciousness with those brews while taking in all that glorious pigskin action. You all know bacon is a part of daily life in our world, so having the excuse to whip it out yet again four days out of the week is our idea of hog heaven. Don't disappoint your favorite fans with some chips and dip and a couple beers this weekend. Bring out the bacon and make everyone lose their minds over all the goodness! Football was meant to be enjoyed with an extra side of bacon. Don't even try to argue with us. It's a FACT. Check out these KILLER bacon-wrapped recipes and head over to Pig of the Month BBQ's bacon section to get the good stuff. You can thank us later.
Teriyaki Chicken Skewers - Whitney Bond Parmesan Bacon Knots - A Spicy Perspective
Sweet Potato Fries Wrapped in Bacon - Spicy Southern Kitchen Tater Tot Bombs - Damn Delicious
Bacon Wrapped Pineapple Bites - Mama Loves Food
< Grilled Cheesy Potato Volcanoes - Tasty
Sriracha Bacon Wrapped Stuffed Jalapeños - Sauce + Style
Bacon-Wrapped Onion Rings - Sauce + Style
Bacon Wrapped Lil Smokies - Oh Sweet Basil Bacon-Wrapped Dates with Balsamic Reduction - Bright-Eyed Baker
Bacon-Wrapped Chicken Bites - Lovely Little Kitchen
Bacon Wrapped Avocados - Oh Sweet Basil
Bacon Mac and Cheese Bites - The Gunny Sack Bacon Cheeseburger Bombs - Pillsbury
Sweet and Spicy Bacon Wrapped Meatballs - The Gunny Sack Bacon Cream Cheese Bites - Garnish with Lemon
Bacon Wrapped Cheese Bombs - Crunchy Creamy Sweet
Shop This Post
Pig of the Month BBQ's INSANE bacon collection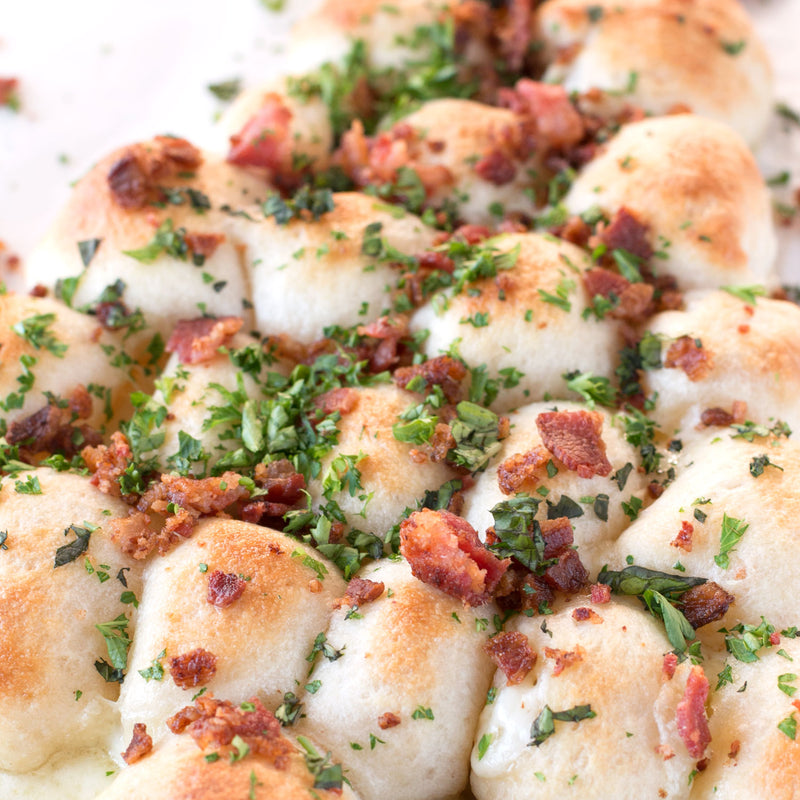 Nothing says Christmas like a Christmas tree, am I right? Even better than a Christmas tree? One made out of bread. Stuffed with cheese. Topped with fresh herbs and delicious, crispy bacon...
This treat of a tree is one of my favorite recipes to bust out around the holidays. It's bright and full of flavor, and being stuffed with gooey cheese in the perfect surprise for everyone attending your holiday meal.
The whole thing comes together in only 20 minutes, so there's no kneading. No waiting for bread to rise. And no sharing if you don't have the heart to... I'm just saying, I wouldn't blame ya if you don't share.
INSTRUCTIONS: Preheat oven to 400 degrees. Slightly roll out pizza dough and cut into 22 squares. Place one cube of cheese in the center of a square of dough. Wrap the dough up and around the cheese, pinching the edges together.
Place seam side down on a parchment paper lined baking sheet. Continue with the remaining cheese and dough, creating a Christmas tree shaped as shown in photos above.
Brush the tops of the dough balls with butter. Bake 15 minutes. Remove from oven and brush again with butter. Sprinkle with fresh herbs and bacon. Serve immediately.
Shop This Post
Pig of the Month BBQ Garden Herb Bacon
*Recipe and photos by Meghan Bassett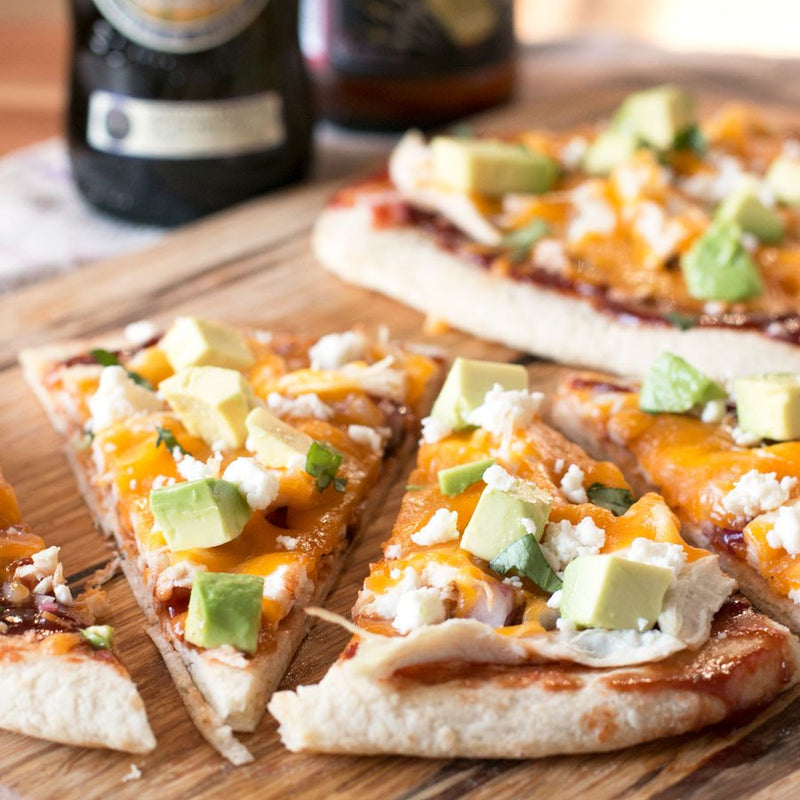 Welcome to 2017 piggy peeps! I don't know about you but I am not ready to get back into the swing of things to kick off the New Year. It feels like there are 5 million to-do's on my list and I am barely making a dent in them a few days into the new year... One thing that's falling off my radar? Dinner. I am struggling with pumping out tasty meals without spending wayyyyy too much time on them. Since I have too much to do at work, I am starting to rely on meals of popcorn and soda - NOT how I wanted to start the year.
Instead, I'm pulling out my Pig of the Month BBQ Shredded Chicken and I'm making something more than just a sandwich with it. These flatbreads are one of the easiest meals EVER and there's no one that can resist them, I don't care how picky of an eater they are. The fluffy naan with BBQ sauce, chicken and avocado is the best base for any pizza. Throw in the bite of some red onion and salty cheese and holy wow, this pizza is one the entire family will be begging you to make on a regular basis. Not to mention it's pretty dang healthy in terms of pizza, so you can feel ok about sticking to those New Year resolutions ;)
INSTRUCTIONS: Place naan on a lined baking sheet.
Spread each with half of the BBQ sauce.
Top with chicken, red onion and cheese.
Place under broiler set to high for approximately 2 to 3 minutes, or until the cheese melts.
Remove from oven, top with avocado, cilantro and a sprinkle of queso fresco. Serve.
Shop This Post
Pig of the Month BBQ Shredded Chicken
Pig of the Month BBQ Love Me Tender Sauce
*Recipe and photos by Meghan Bassett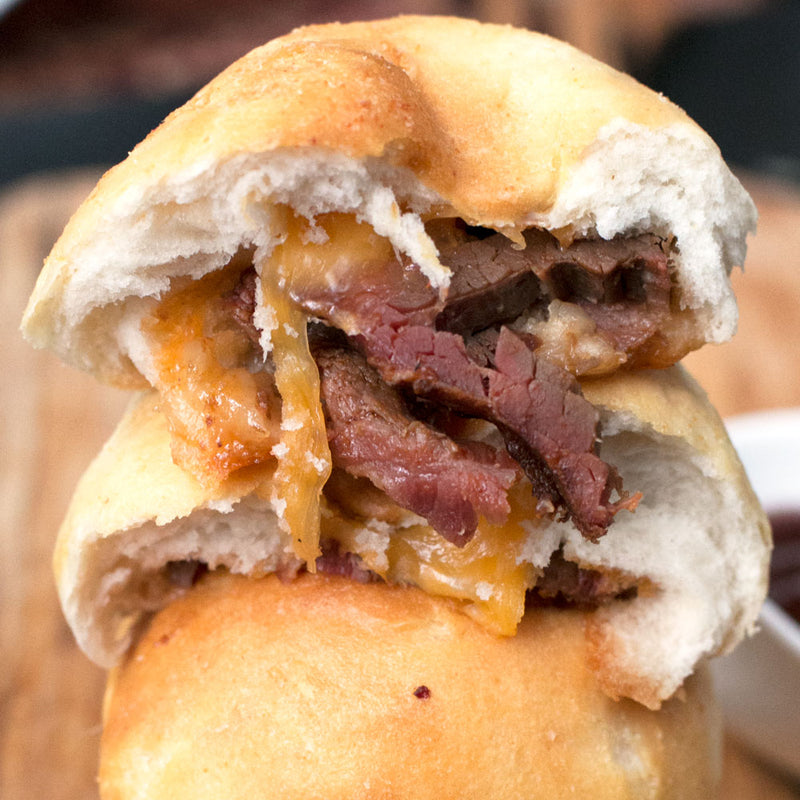 Ready to drop a bomb on that epic tailgating game this season? BOOM. These Brisket Bombs are here to do all the heavy lifting for ya.
Stuffed with Pig of the Month's INSANE brisket and all the cheddar cheese, these brisket bombs are the best football food you could ever ask for. It's got the carbs and the protein to load you up and balance out the booze, not to mention a ton of gooey cheese. Really, what is a football game without excessive amounts of cheese anyways?
It's a pretty boring event, that's what. You gotta get that cheese, meat and bread in while you tailgate for the big game this season! I mean, if you can't indulge before and during a football game, what the hell is the point of all the delicious, extravagant, decadent food out there in the world? I know that's a wee bit dramatic, but that's how freaking amazing these brisket bombs. They come together in about 15 minutes and they'll have everyone begging for more.
Brisket Bombs from Pig of the Month BBQ on Vimeo.
Don't believe me? I dare you to try these out for the next big game and prove me wrong...
INSTRUCTIONS: Preheat oven to 400 degrees. Line two baking sheets with a silicone baking mat or parchment paper. Separate biscuits. Flatten out each biscuit slightly and place 1 to 2 cubes of cheese in the center. Top with chopped biscuit and wrap the biscuit around the filling. Pinch the seams tightly and place seam-side down on the lined baking sheets. In a small bowl, combine melted butter, garlic powder and onion powder. Brush the tops of the biscuits with the seasoned butter. Bake 10 minutes. Remove from oven and brush the tops of the biscuits again with the seasoned butter. Serve with BBQ sauce.
Shop This Post
*Recipe, photos and video by Meghan Bassett
1
2
Next »