Posts tagged: bourbon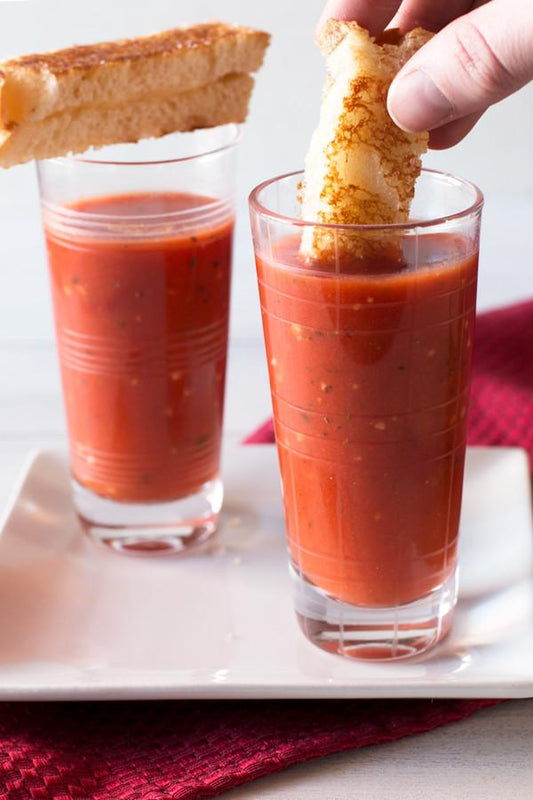 Remember your favorite meals from your childhood? This Valentine's Day they are coming back just for you and your special someone! Except we are turning it up a notch this time...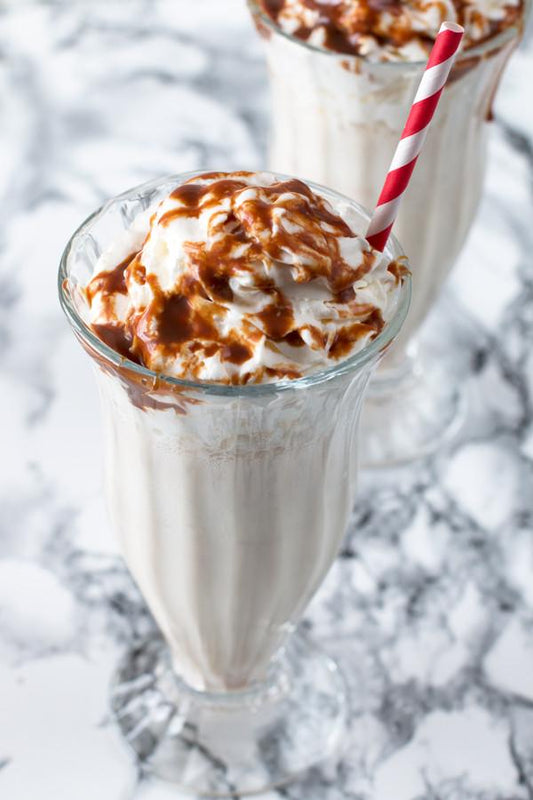 This is the ultimate milkshake. I mean, bourbon, caramel, AND ice cream. Need I say more? If you've never experienced a boozy milkshake with bourbon, you need to make this milkshake IMMEDIATELY. What use is being a grown up if you can't add booze to your favorite childhood treat?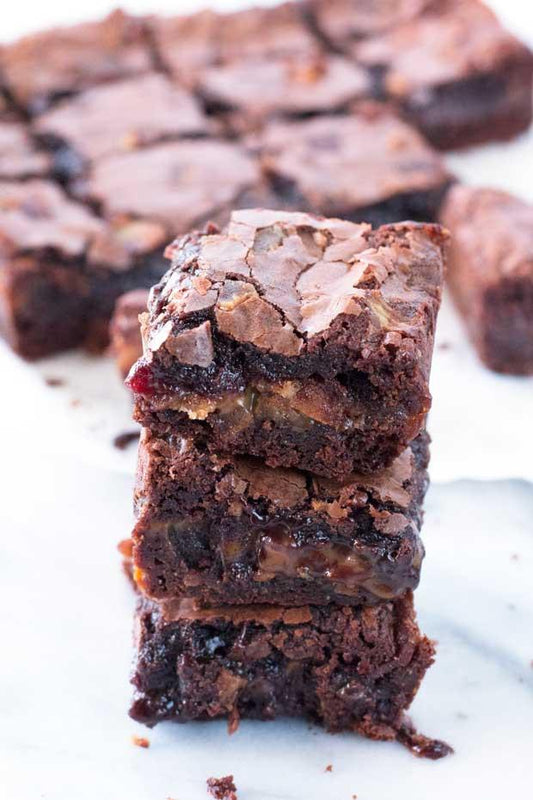 They say that everything is better with bacon and here at Pig of the Month BBQ, y'all know we are inclined to agree with them. ESPECIALLY when it comes to desserts with bacon. That salty, savory taste of bacon goes so perfectly with everything from apples to chocolate, caramel to maple - it's a insane party of flavor that we will stuff our faces with all day, erry day! Now that Thanksgiving is all wrapped up (and we are still a little sad that the leftovers didn't last longer...), it's time to hit that holiday baking and treat making... HARD. We are rounding up all the things that are topping our wishlist to make this holiday season, and a few that we're planning to make for a second (ok more like tenth) time. You really can't argue with a classic like Bacon Bourbon Caramel Stuffed Brownies, you know? So whip out the apron and turn that oven on. It's time to get into that sweater body with alllll the bacon-packed desserts. You can save hitting the gym for your New Year's resolution... ;)
Individual Pumpkin Spice Cakes with Cream Cheese Frosting & Candied Bacon - Sauce + Style
Bacon Bourbon Caramel Stuffed Brownies - Sauce + Style
Cinnamon Bun Bacon Cinnamon Rolls - Sauce + Style
Spicy Bacon Chocolate Chip Cookies - Sauce + Style
Slutty Brownies with Candied Bacon - Sauce + Style
Apple Pie with Bacon Lattice - Babble Chocolate Bacon Cupcakes with Dulce de Leche Frosting - Food Network
Bacon Bomb Pie - Wine & Glue
Bourbon Bacon Brittle - Baking the Goods
Easy Sticky Buns with Bacon - Just a Taste Beer & Bacon Pecan Bars - The Beeroness
Chocolate Bacon Bundt Cake - Your Cup of Cake
Chocolate Covered Bacon Bites - Cooking Classy Chocolate Bacon Truffles - Candiquik Blog
Chocolate Covered Pretzels with Maple Smoked Bacon Crumbles - Butterlust Maple Bacon & Chocolate Peanut Butter - Keepin' It Kind
Maple-Bacon Marshmallows - Epicurious Happy baking, piggy fans!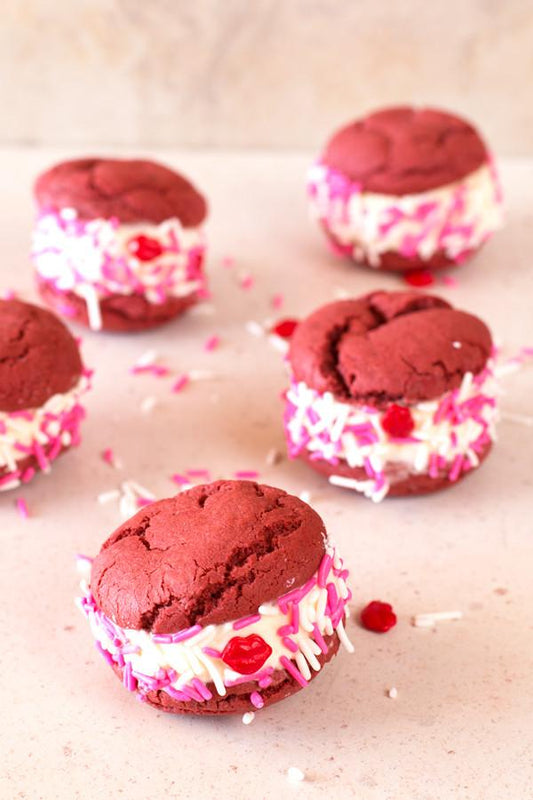 Valentine's Day is sneaking up fast, isn't it? That ooey gooey emotion-filled holiday where you can't help but dote on your loved ones with all sorts of treats and tasty delights. Even if you don't have a significant other in your life, you can still chow down on all the chocolate things as you celebrate your single-ness (trust me when I say it can be a freaking blessing at times...)! We love to be allllll about the love leading up to Valentine's Day, and the only way we know how to celebrate is through baking (and EATING) all the sweets. Heart-shaped delights, brownies covered in caramel and bacon, and red velvet delights are rounded up below for your Valentine's Day baking pleasure. Everything you could possible want to say "I love you" to the one you love the most (even if that someone happens to be Y-O-U!).
Double Chocolate Raspberry Mason Jars - Sauce + Style
Cinnamon Bun Bacon Cinnamon Buns - Sauce + Style
Bacon Bourbon Caramel Stuffed Brownies - Sauce + Style
Spicy Bacon Chocolate Chip Cookies - Sauce + Style
Red Velvet Ice Cream Sandwiches - Sauce + Style
Red Velvet Oreo Truffle Chocolate Cake - Pizzazzerie
The Ultimate Gooey Caramel Brownie Mug Cake Sundae - Willowbird Baking
Copycat Zupas Rockslide Brownies - Lovely Little Kitchen
Conversation Heart Cookies - Martha Stewart
Chocolate Covered Strawberry Cupcakes - Smells Like Home
Easy Chocolate Lava Cakes for 2 - Bakerita
Dreamy Chocolate Cupcakes filled with White Buttercream - Baker By Nature
Frosted Chocolate Fudge Brownies - Bakerita
Chocolate Chip Cookie Dippers - Supergolden Bakes Happy Baking!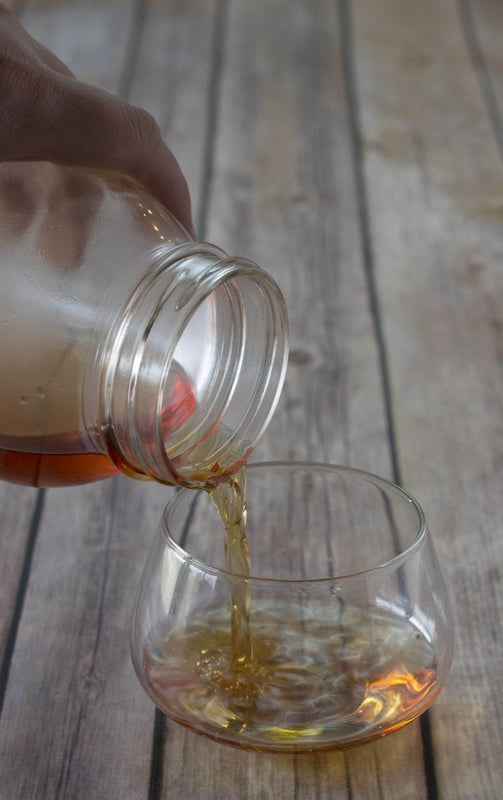 The first week of football is wrapping up and we couldn't be more excited. We are sad to see the end of summer so clearly, but all that football and tailgating amazingness in front of us is comforting our souls hardcore right about now. You know we are allllll about that tailgating food, but we also want to make sure we have the drinks part covered for y'all too. What's a tailgate party without some booze anyway? So we're bringing you these 15 fall cocktails to keep your tailgating spirits high (and extra boozy). These cocktails have all that apple and pumpkin goodness you start craving the moment September 1st rolls around, plus some extra odds and ends cocktails to give you a break once you start wearing yourself on everything apple and pumpkin. One of our favorite manly drinks below (pictured above) is Smoked Bourbon with Candied Bacon. Our smokers are running well into fall, low and slow, so we take advantage of that smoke by bottling it up with some bourbon. Top it with a slice of candied bacon and all the dudes out there basically melt as soon as they see it. It's also the perfect consolation prize if someone's team loses. As long as you give them one of these, you can mock them all you want.
DIY Brunch Bloody Mary Bar - Sauce + Style Apple Cider Margaritas - How Sweet It Is
Mulled Apple Cider Sangria - A Night Owl Bourbon Caramel Milkshake - Sauce + Style
Pumpkin and Apple Cider Fizz - Kitchen Konfidence Fresh Cranberry Margaritas - Cookie + Kate
Bourbon Apple Cider - Set the Table Cranberry Apple Cider Cocktail - Jelly Toast
Pumpkin Spice Whisky Cocktail - Dishing Up The Dirt Mexican Pumpkin Punch - We Are Not Martha But Can't We Try?
Apple Pie Bourbon Shots - Delish
Apple, Pumpkin Beer Cocktails - Cooking and Beer Pumpkin Old Fashioned - Saveur
Punch A La Taylor - Saveur Smoked Bourbon with Candied Bacon - Sauce + Style Cheers, y'all!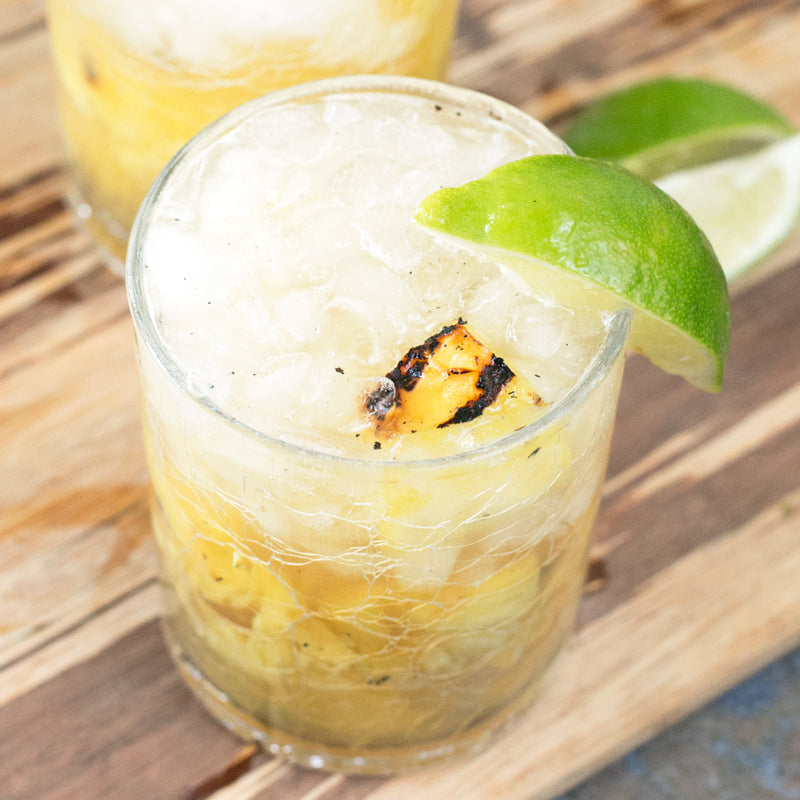 You all know we LOVE to get our grill on in the summer. There's only a few precious month's of grilling and boozing to make the most of before the cold weather sets in. As much as we still love those fall months (can you say 'tailgating heaven'?), we kind of wish we could grill all year round.
So when those warm temps hit, it's all about grilling all the things. We grill our meats, our veggies, our desserts and now, even our cocktails. Grilled pineapple is already one of our fav summer treats, so why not throw it in with some bourbon so you have something delicious to sip on while you're working hard over that hot grill? There's no reason not to, obviously.
These bourbon smash cocktails are packed with grilled pineapple so they are almost like a sangria with all that chunky fruit in there. Of course, instead of wine there's a ton o' bourbon - right up our alley for cocktail hour. Keeping those summer vibes going and working our grills as hard as possible is all we BBQ-loving peeps know how to do, after all. Cheers to the summer!
INSTRUCTIONS: In the bottom of a double old fashioned glass, muddle grilled pineapple with lime juice.
Pour in bourbon and stir. Fill glass with crushed ice and top with soda water. Stir once more to combine. Serve.
Recipe & photos by Meghan Bassett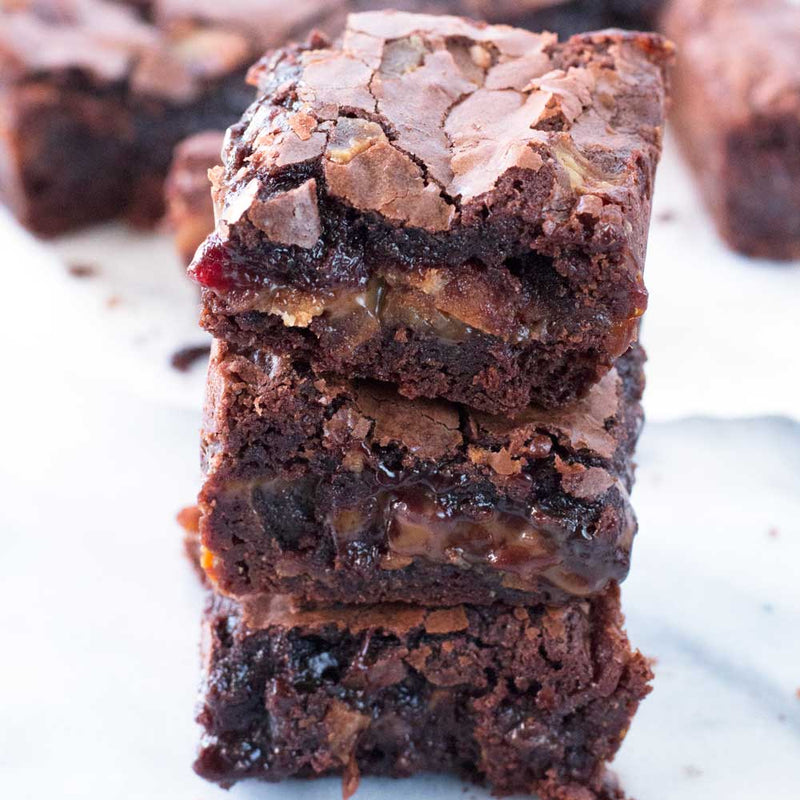 Bacon Bourbon Caramel Stuffed Brownies are an indulgent, decadent dessert that combines our love of bacon, chocolate, caramel and BOOZE. 
When we go for dessert, we go big. Real big. Like, Super Bowl big.
These bacon bourbon caramel stuffed brownies are the latest food porn creation that we absolutely can't get enough of. If you thought brownies couldn't get any better, well you're just plan wrong. We stuffed ours with a rich, creamy bourbon caramel and lots of our top selling bacon to really send it over the edge.
It's sweet, it's savory and it's so gooey and decadent, you might just faint after the first bite. If you really want to bring your A-game to your next party, picnic or to spoil your significant other, this is the ultimate recipe to bust out. Everyone will be freaking the hell out the moment you set these out. Then just sit back and watch as everyone clammers to get another one before they're all gone.
Chocoholics, bacon-lovers, bourbon-obsessed fans and caramel-cravers UNITE. This is the only dessert you need to make for the rest of your darn life. For real.
INSTRUCTIONS: Preheat oven to 350 degrees F. Grease an 8x8 baking dish with nonstick spray & line with parchment paper.
Make brownie batter according to the instructions on the package. Pour half the batter into the baking dish and bake for 20 minutes. Cool for 20 minutes.
Combine caramels, cream and bourbon in medium saucepan over medium heat. Stir constantly until smooth and creamy, about 4 to 5 minutes.
Pour in caramel then add layer of chopped bacon, reserving 1/4 of the chopped bacon for later.
Top with the rest of brownie batter and sprinkle with remaining bacon. Bake for 20 more minutes and cool completely before cutting.
Shop This Post
Recipe & Photos by Meghan Bassett
It's that one final long weekend before the holiday season starts kicking in, people. How many of you can even believe it's almost September?! The beginning of summer feels like it was just last week and now… Well the grilling season is coming to an end and we area little broken up about it. Labor Day Weekend is that final big blowout we prepare for the moment July 4th is all wrapped up. It's the last long weekend of the summer and we want to send out summer and the best grilling season yet in the best way possible - with ALL the food and booze. This is the most epic Pig of the Month BBQ recipe round up yet. All your favs from Sauce + Style are below. You'll find cocktails, main grilling favs, grilled sides and even some dishes that won't take up all the precious grill space. With these recipes, you'll be able to keep the festivities going all weekend long. That three-day weekend's got nothing on you because you're about to host the biggest blowout anyone's ever seen! Cocktails Grilled Pineapple Bourbon Smash
Strawberry Daiquiri Popsicles Pina Colada Popsicles Mojito Popsicles
Old-Fashioned Strawberry Rhubarb Margarita Grilled Mains Chipotle Bacon-Wrapped Juicy Lucy Burgers
Grilled Chili Rubbed Flank Steak Spicy Dry Rub Ribs Sweet Chile and Orange Ribs
Bacon Jam Burgers Craft Beer Can Chicken Gourmet Hot Dogs
Grilled Sides Mexican Street Corn Lemon Pepper Bacon Wrapped Shrimp Skewers
Fan Faves (no grill necessary!) Sriracha Bacon Wrapped Stuffed Jalapeños  Sriracha Lime Baked Chicken Wings
Pull Apart Bacon Garlic Cheese Bread Bacon Jam Tartlets
Spicy Homemade Potato Chips 1, 2, 3, 4 Pulled Pork Crescent Rolls Want to skip the hassle of cooking? We've got ya covered there too! Just head over to Pig of the Month BBQ to order everything you need. You have until August 30th to get in on the action. Hurry up and order to get it in time for your Labor Day celebrations!