Posts tagged: BBQ chicken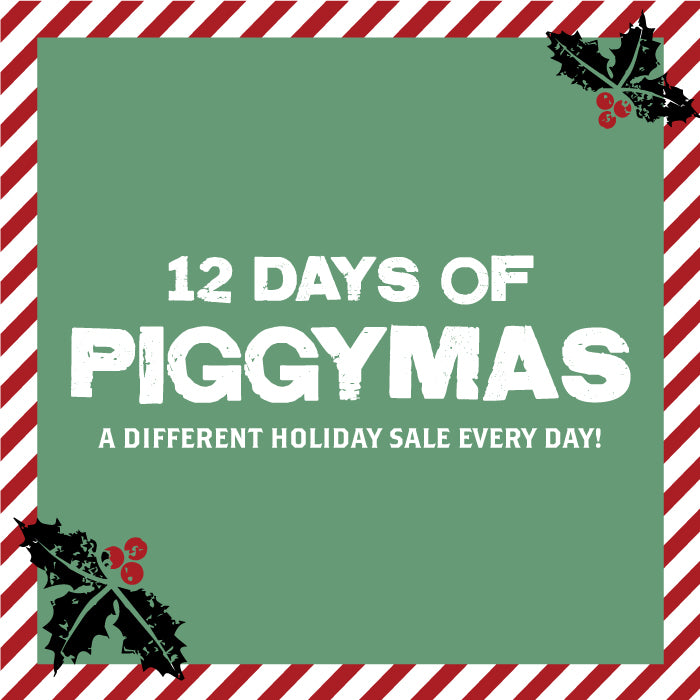 We're back with our favorite holiday giveaway and we're looking to spread a little holiday cheer...with BBQ sauce from ear to ear! :) We'll be giving away a little something tasty everyday for the next 12 days, so stay tuned on our Facebook page and find out more details below!
For our 12 days of Piggymas, we're sending you:
Day 1: A BBQ sauce sampler
Day 2: A trio of sweet and salty snacks - chocolate covered bacon, bacon jam and caramel cheddar bacon studded popcorn
Day 3: A bloody mary themed package with bloody mary mix, 1lb of peppered bacon, AND 1lb applewood smoked bacon
Day 4: 3 pounds of pulled meats; a little pork and a little chicken
Day 5: A bacon lovers dream with 3 specialty flavors of bacon
Day 6: Ribs!! 3 slabs of the good stuff, delivered
Day 7: All the sausage your heart could desire – sent to your door
Day 8: A heaping amount of BBQ brisket and baby back ribs…mmm mmm mmmm
Day 9: 6lbs of our best selling bacon and sausages
Day 10: A holiday ham to enjoy – we'll do all the cooking
Day 11: 6 slabs of ribs to enjoy for Christmas Dinner
Day 12: A mix of all of our best sellers; baby back ribs, pulled pork, BBQ sauce, brisket and bacon!
Look for instructions on how to enter each day on Facebook!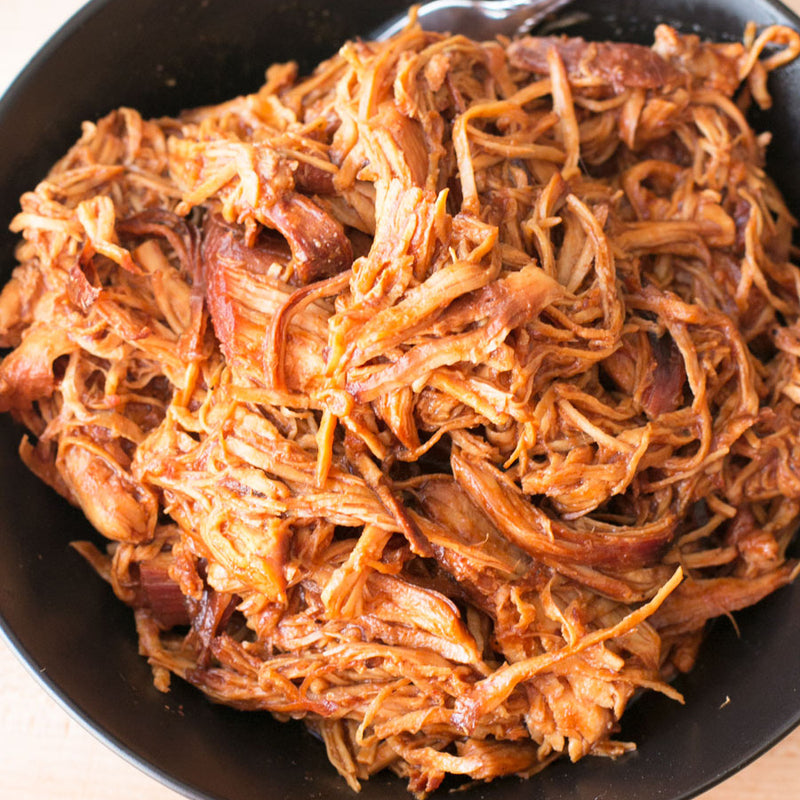 This new best ever crockpot BBQ chicken is going to be a family favorite in no time. With only 5 ingredients, all you gotta do is dump everything into your slow cooker and wait for the deliciousness to be ready. I love being able to dump meals like this before heading into the office. Coming home to a house filled with that tasty BBQ scent is more welcoming than any scented candle could ever be.
The final result is this tender, juicy chicken packed with flavor and ready to be eaten however you choose! You can eat it plain along with some veggies, make BBQ chicken sandwiches or sliders with it, or ever whip up some BBQ chicken tacos. You can even roll up the chicken with some avocado in an egg roll wrapper and fry them... The possibilities are endless with this simple recipe, and it'll keep the whole family happy! This crockpot BBQ chicken is even amazing for parties when you don't want to get stuck fussing over food in the kitchen for hours. You can simply leave the chicken in the sauce on low throughout the party to make sure it stays toasty and tasty.
No one will ever believe this recipe requires just 5 measly ingredients! Don't worry, I promise not to reveal our little secret... Let them think you slaved for hours!
[vimeo 186283536 w=640 h=360]
Best Ever Crockpot BBQ Chicken from Pig of the Month BBQ on Vimeo.
INSTRUCTIONS: Add chicken breasts to the insert of a slow cooker. Season breasts with salt and pepper. Add salt, cayenne, brown sugar and BBQ sauce. Stir briefly to coat the chicken breasts. Cook on high for 3 to 4 hours. Shred with two forks in the pan and let the chicken warm in the sauce for 15 minutes for extra flavor. Serve as sliders or sandwiches.
Shop This Post:
Pig of the Month Love Me Tender BBQ Sauce  
*Recipe, photos and video by Meghan Bassett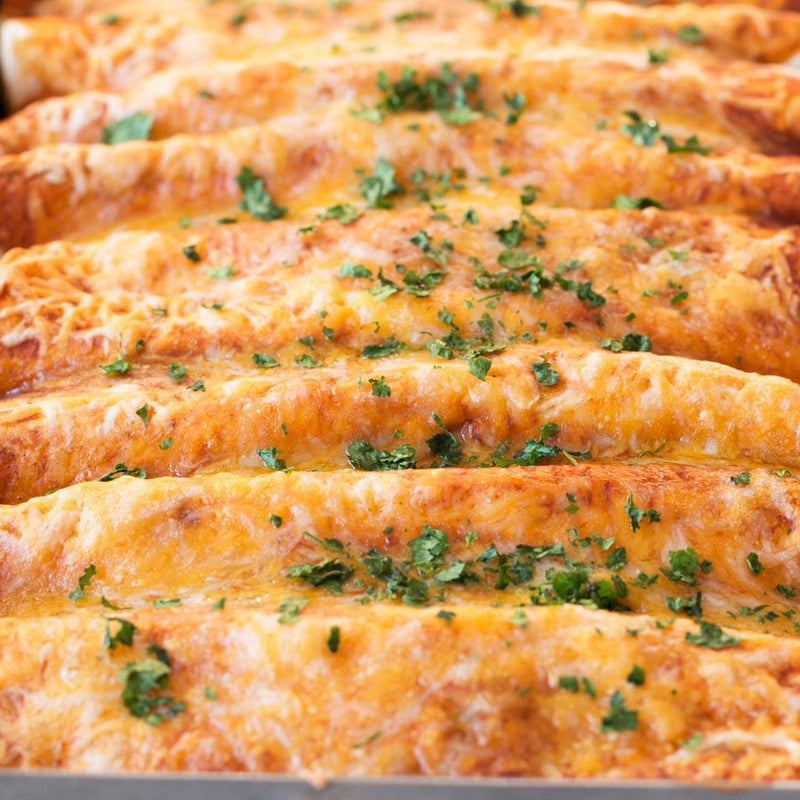 You know when you discover one of the best combinations ever? Because I just did. It's called the happy little crossing place between Mexican and BBQ....
I can't lie; it's freaking magical!
The cheesy, ooey gooey normal enchiladas recipe is made oh-so much better with the addition of BBQ sauce and the best ever Pig of the Month BBQ pulled chicken. It's a little spicy, a little sweet and totally tangy, making every bite the most dreamy thing to hit your taste buds since a slice o' crispy bacon.  If your tummy isn't rumbling at the sound of that, there's honestly something wrong with you...
Get down to Chow Town!
Serves 4 to 6 INSTRUCTIONS Preheat oven to 350 degrees. Grease a 9x13-inch baking dish. Add vegetable oil to a medium skillet and heat over medium-high heat. Add onion and cook until tender, approximately 3 minutes. Add chicken and chiles. Season with salt and pepper and cook until warm. Keep warm over low heat. Whisk together enchilada sauce and BBQ sauce in a small bowl. Set aside. Assemble the enchiladas by laying out the tortillas one at a time on a clean work surface. Spoon on 2 Tbsp of the enchilada BBQ sauce, spreading it out to coat the entire tortilla. Add 2 Tbsp of the chicken mixture down the center of the tortilla, then sprinkle with cheese. Roll up tightly and place in baking dish. Repeat with remaining tortillas. Spread remaining sauce over the top of the enchiladas. Top with remaining cheese. Bake for 20 minutes. Garnish with chopped cilantro and serve immediately.
Shop This Post
Pig of the Month BBQ Pulled Chicken  
*Recipe & photos by Meghan Bassett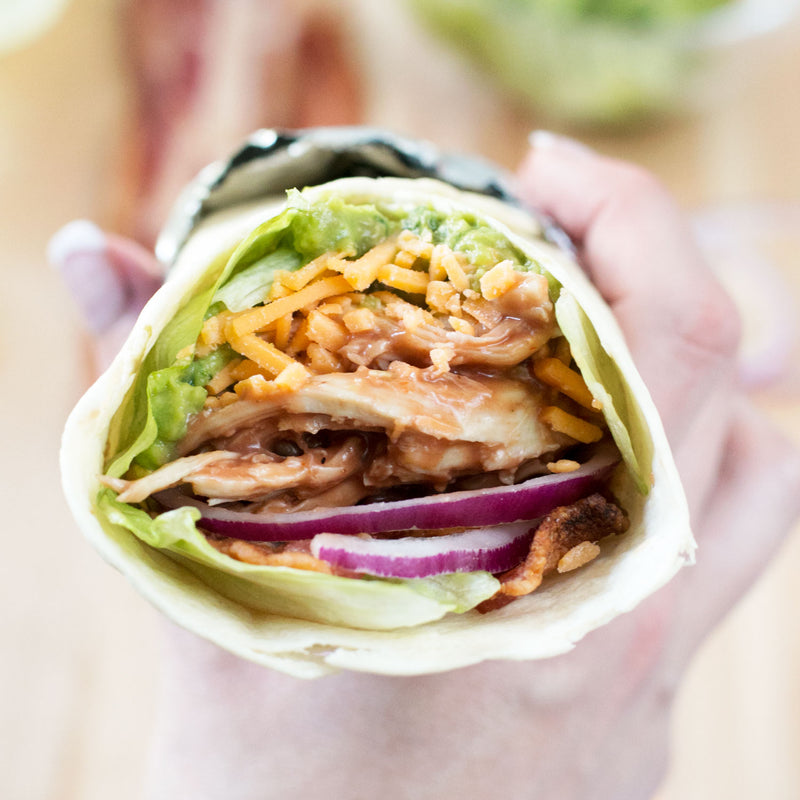 BBQ Chicken & Bacon Guacamole Wraps are here to make all your secret lunch dreams come true... I don't know about you all, but I get SO bored with eating salad and turkey club sandwiches for lunch every day. I can get into a serious rut when it comes to lunch. With all the work piling up, I never have time to really think about what I am eating unless I plan it out ahead of time.
Planning ahead is not necessarily my strong suit. As much as I would love to craft a gorgeous lunch every day, I need something that's ready to just dive into on the spot when my stomach starts rumbling. That's why this wrap is SO perfect. It's easy to make ahead of time (heck, you could even make it the night before) and it'll disappear in about 2.5 seconds. Surprised?
It's stuffed with BBQ-sauced chicken, guacamole and BACON so I'm not sure why you would be! It's better than any sandwich you'll ever grab at that sad little shop on the corner. Plus it even has some lettuce in there to make you feel even healthier as you wipe the BBQ sauce from your chin.
INSTRUCTIONS: In a medium bowl, stir together chicken, BBQ sauce and ranch dressing. Set aside. Microwave tortillas for 30 seconds to make them pliable.
To build the wraps, lay down a layer of lettuce and top with three strips of bacon in the center of each tortilla. Divide the red onion evenly between the two, then chicken, then cheddar cheese and finally guacamole.
Wrap tightly in foil and serve immediately or bring it with you for a delicious work lunch or picnic!
Shop This Post
Pig of the Month BBQ Applewood Smoked Maple Bacon
Pig of the Month BBQ Hand Pulled Chicken
*Recipe & photos by Meghan Bassett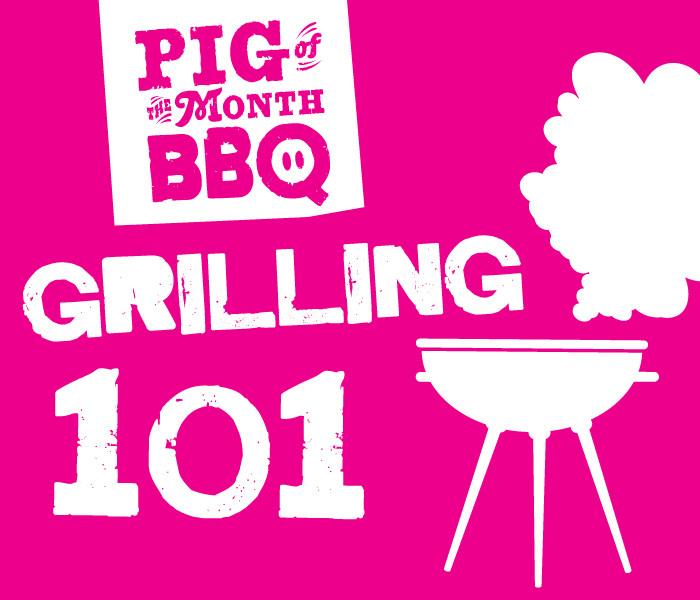 You know that magical juicy chicken you dream of getting hot off the grill in your very own backyard? It ain't as easy to make as you think. We hear it all the time - "how do I grill chicken breasts and keep them moist?" "Is there any way to avoid dry chicken? Help!" You asked BBQ-loving peeps and we are here to answer your grilling prayers. Just follow the crazy simple steps below and boom, just like that you'll be the envy of the entire neighborhood. Get that grill master cap ready...
First, use the bottom of a wide jar or glass (or even a small skillet) to flatten those chicken breasts in an even thickness. You don't need to pound them to super thin cutlets, just make them even. Now, brine that bird! Even a mere 30 minutes in a salty brine or marinade will make all the difference - plus you need time to fire up the grill anyway 😉
An easy brine is super salty water with a dash of black peppercorns will do the trick, or go fancy with a marinade for a couple of hours. Either way, make sure you are letting the chicken rest in the brine or marinade for at least 30 minutes.
Once the grill is hot, oil it up and grill the chicken breasts over medium high heat, approximately 350 to 425 degrees. Make sure they are over direct heat and grill them for just a few minutes per side. Fast and hot gives you a good sear and keeps the meat nice and juicy. When the meat reaches 155 degrees, remove it from the heat and let it rest. Don't worry, it'll keep cooking and reach that safe zone of 165 degrees while it rests. Just don't cut it too soon or you'll lose those tasty juices! Serve with any Pig of the Month BBQ sauce, chimichurri, or salsa. Happy grilling folks!
A little sweet, a little savory, a little spicy and a whole lotta meat... That's how I sum up this easy peasy chicken wrap! It has all the flavors you want to tickle your taste buds, but it won't take you more than 5 minutes to throw the thing together before you head off to work. In my opinion, this is the best lunch possible. It's full of meat to keep you full all day, but just because it's a little lighter than say, a double-cheeseburger with extra bacon, it doesn't mean that it won't keep ya going strong throughout the rest of your work day.
I seriously LIVE off things like these Spicy Hawaiian BBQ Chicken Wraps in January because I am so busy trying to stick to work resolutions and start the year off with a serious BANG. I need quick, easy and delicious in the middle of my day - because if it takes a long time to make and eat, I'll end up napping under my desk and I'm pretty sure the boss would frown on that whole idea... So get your grab-and-go from your own kitchen instead of hitting that pathetic little sandwich cart, and being disappointed with your lunch yet again. This meaty feast of goodness wrapped up inside this tortilla is all your heart (and tummy) needs!
INSTRUCTIONS: Warm each tortilla in the microwave for 10 to 15 seconds each. Spread each tortilla with half of the BBQ sauce. Divide the chicken, pineapple, bacon, and cheese evenly between the two. Sprinkle with red pepper flakes. Wrap one side over the center and then the other side over the center. Serve.
Shop This Post
Pig of the Month BBQ Pulled Chicken
Pig of the Month BBQ Love Me Tender BBQ Sauce
*Recipe and photos by Meghan Bassett