Posts tagged: wonton cups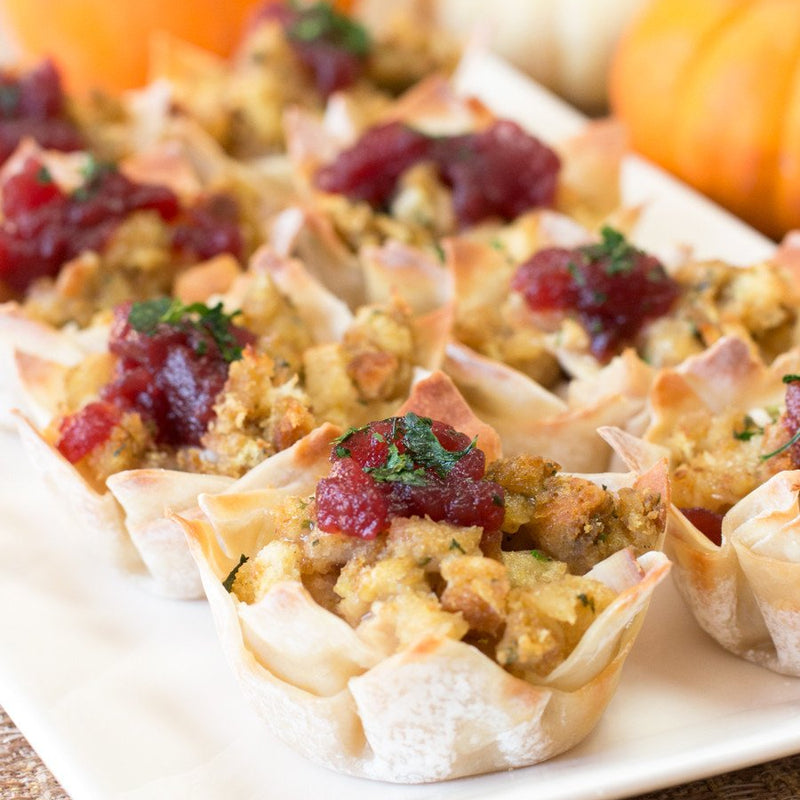 What to do with all those Thanksgiving leftovers....? That's the question that always haunts my brain when I wake up the day after Thanksgiving. You have so many tasty things stored up in containers, but eating plate after plate of the same thing is not exactly the most exciting thing in the world...
So I packed everything into these little crispy wonton cups to make the best, most portable Thanksgiving leftovers deliciousness known to man!
These cups layer up all the flavors that you love from Thanksgiving in the easiest and most delicious way possible. It's essentially Thanksgiving in a cup! If you have any parties to attend over the weekend and don't want to worry about making something from scratch, use up those tasty leftovers instead! Easy, delicious, and all the flavors that no one will ever get tired of. YUM!
[vimeo 192656878 w=640 h=360]
Thanksgiving Leftovers Cups from Pig of the Month BBQ on Vimeo.
INSTRUCTIONS: Preheat oven to 375 degrees. Grease a 12-cup muffin tin with cooking spray. Place one wonton wrapper flat in the palm of your hand with a corner pointing towards you. Brush with canola oil and place another wonton wrapper on top without a corner pointing towards you (so it looks like a square). Press stacked wonton wrappers into one muffin tin. Repeat with remaining wrappers. Add mashed potato, then turkey, and then stuffing. Top with 1 Tbsp of gravy. Bake for 10 minutes. Remove from oven and top each cup with 1 tsp cranberry sauce. Garnish with parsley and serve.
*Recipe, photos and video by Meghan Bassett