Posts tagged: wings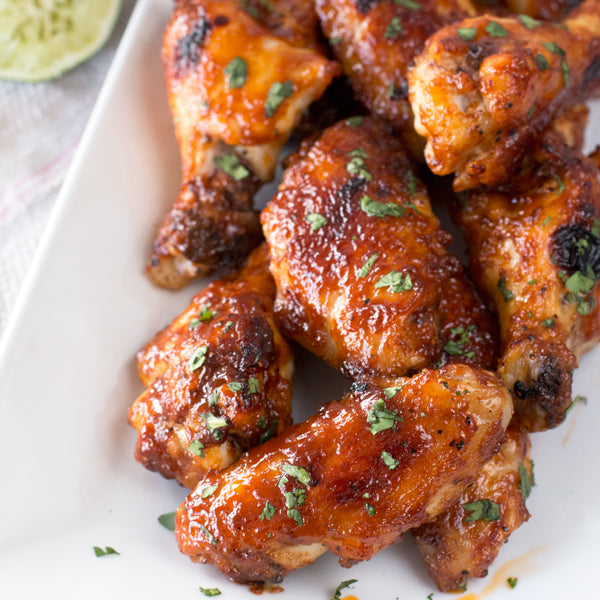 It's March and that means one thing in my foodie-obsessed brain - March Madness parties for days. That's right, that means chips and dip, guacamole, sliders, jalapeño poppers and, most importantly, crispy sticky chicken wings. Sriracha Lime Baked Chicken Wings, to be exact.
If you ever have a snack attack, March Madness-related or not, your next go-to recipe absolutely has to be these wings. They are baked to crispy perfection in the oven, and the sticky spicy and tangy glaze makes them positively finger-licking good. You'll need the wet wipes for these, folks.
The Sriracha and lime juice make this super simple glaze full of flavor that you simply can't find anywhere else. No need to go out for chicken wing perfection - time to stay in with your friends and family watching the next March madness game, or just enjoying a leisurely spring afternoon with a couple of hearty beers.
INSTRUCTIONS: Preheat oven to 400 degrees F. Line a large baking sheet with parchment paper. Set aside. In a medium saucepan over medium heat, melt 5 Tbsp unsalted butter. Once melted, whisk in 1 Tbsp flour and brown for approximately 1 minutes. Add in the hoisin sauce, Sriracha, soy sauce and lime juice, stirring to combine. The mixture should become nice and thick pretty quickly, in less than a minute. In a large bowl, combine the chicken wings, 2 Tbsp melted butter, vegetable oil, salt and pepper. Toss to coat the wings evenly.
Add the wings in an even layer to the lined baking sheet.
Brush the wings with a layer of glaze. Bake the wings for 25 minutes, turning them over halfway through and adding another coat of glaze. After 25 minutes are up, brush the wings with a final layer of glaze and broil for 4 to 5 minutes until crispy. Garnish with chopped fresh cilantro and serve immediately.
Recipe & photos by Meghan Bassett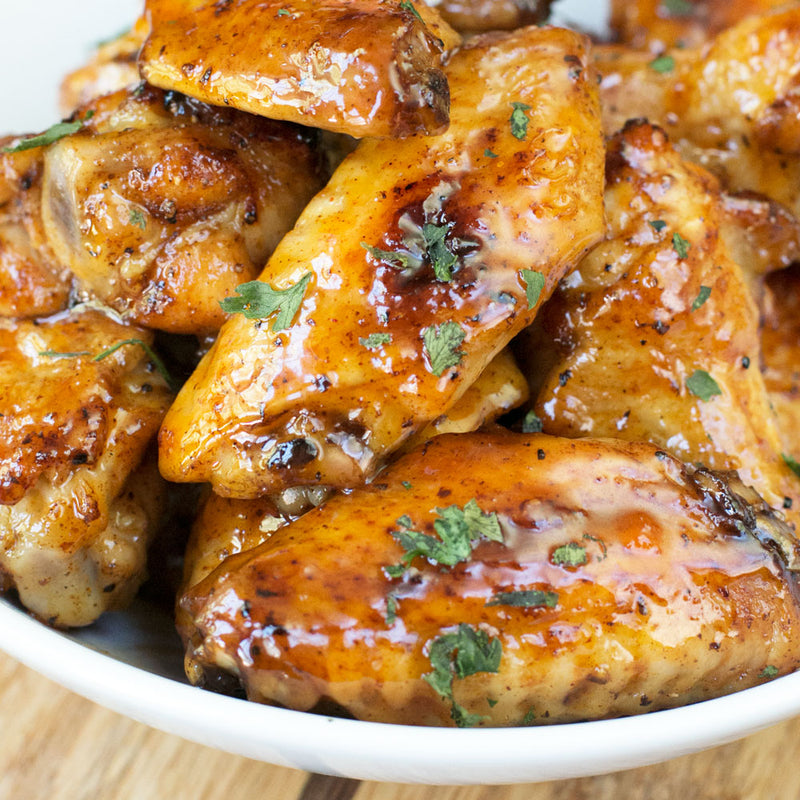 Tailgating season is back and better than ever, piggy peeps! I don't know about you but I also ready to bring football back into my life. I just drafted my fantasy team and I have big hopes that my home team is going to be putting up some major points throughout the season.
Let's be honest though, as much as we love that ol' game we call football, the tailgating food is where it's AT. It's the thing that gets you through between the end of summer recipes and the official start of the holiday season once November rolls around. That means we have two months to stuff our faces with all the cheese, bacon and meats we can get our hands on.
And I'm starting with wings. Sticky, sweet and spicy wings that make you bust out the wet wipes and get extra messy. This is just the recipe to start off with people! Just look at that sticky sauce covering those baked wings.... ALL. THE. YES. Are you ready to dig in??
INSTRUCTIONS: Preheat oven to 400 degrees. Line a baking sheet with parchment paper.
In a large bowl, whisk together vegetable oil, 2 Tbsp melted butter, salt, pepper, garlic powder and smoked paprika. Add the wings and toss. Lay wings on lined baking sheet in a single layer. Bake for 45 to 50 minutes. Turn the oven to broil on high. Move chicken wings to the top rack and broil for 3 to 4 minutes, until crispy. Flip and broil again on the other side.
In a medium saucepan over medium heat, stir together hot sauce and cornstarch. Add butter, molasses and honey, stirring to combine. Bring to a boil, then reduce to a simmer for 4 to 5 minutes until the sauce is thickened. Toss wings in a large bowl with the honey buffalo sauce. Serve with ranch or blue cheese dressing.
*Recipe and photos by Meghan Bassett
It's that one final long weekend before the holiday season starts kicking in, people. How many of you can even believe it's almost September?! The beginning of summer feels like it was just last week and now… Well the grilling season is coming to an end and we area little broken up about it. Labor Day Weekend is that final big blowout we prepare for the moment July 4th is all wrapped up. It's the last long weekend of the summer and we want to send out summer and the best grilling season yet in the best way possible - with ALL the food and booze. This is the most epic Pig of the Month BBQ recipe round up yet. All your favs from Sauce + Style are below. You'll find cocktails, main grilling favs, grilled sides and even some dishes that won't take up all the precious grill space. With these recipes, you'll be able to keep the festivities going all weekend long. That three-day weekend's got nothing on you because you're about to host the biggest blowout anyone's ever seen! Cocktails Grilled Pineapple Bourbon Smash
Strawberry Daiquiri Popsicles Pina Colada Popsicles Mojito Popsicles
Old-Fashioned Strawberry Rhubarb Margarita Grilled Mains Chipotle Bacon-Wrapped Juicy Lucy Burgers
Grilled Chili Rubbed Flank Steak Spicy Dry Rub Ribs Sweet Chile and Orange Ribs
Bacon Jam Burgers Craft Beer Can Chicken Gourmet Hot Dogs
Grilled Sides Mexican Street Corn Lemon Pepper Bacon Wrapped Shrimp Skewers
Fan Faves (no grill necessary!) Sriracha Bacon Wrapped Stuffed Jalapeños  Sriracha Lime Baked Chicken Wings
Pull Apart Bacon Garlic Cheese Bread Bacon Jam Tartlets
Spicy Homemade Potato Chips 1, 2, 3, 4 Pulled Pork Crescent Rolls Want to skip the hassle of cooking? We've got ya covered there too! Just head over to Pig of the Month BBQ to order everything you need. You have until August 30th to get in on the action. Hurry up and order to get it in time for your Labor Day celebrations!