Posts tagged: weeknight meal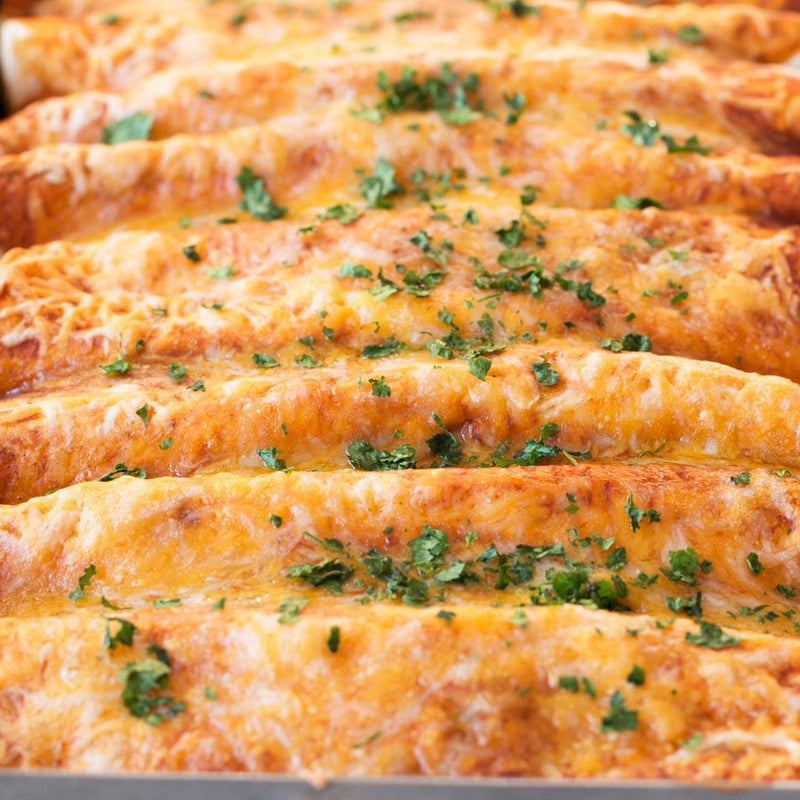 You know when you discover one of the best combinations ever? Because I just did. It's called the happy little crossing place between Mexican and BBQ....
I can't lie; it's freaking magical!
The cheesy, ooey gooey normal enchiladas recipe is made oh-so much better with the addition of BBQ sauce and the best ever Pig of the Month BBQ pulled chicken. It's a little spicy, a little sweet and totally tangy, making every bite the most dreamy thing to hit your taste buds since a slice o' crispy bacon.  If your tummy isn't rumbling at the sound of that, there's honestly something wrong with you...
Get down to Chow Town!
Serves 4 to 6 INSTRUCTIONS Preheat oven to 350 degrees. Grease a 9x13-inch baking dish. Add vegetable oil to a medium skillet and heat over medium-high heat. Add onion and cook until tender, approximately 3 minutes. Add chicken and chiles. Season with salt and pepper and cook until warm. Keep warm over low heat. Whisk together enchilada sauce and BBQ sauce in a small bowl. Set aside. Assemble the enchiladas by laying out the tortillas one at a time on a clean work surface. Spoon on 2 Tbsp of the enchilada BBQ sauce, spreading it out to coat the entire tortilla. Add 2 Tbsp of the chicken mixture down the center of the tortilla, then sprinkle with cheese. Roll up tightly and place in baking dish. Repeat with remaining tortillas. Spread remaining sauce over the top of the enchiladas. Top with remaining cheese. Bake for 20 minutes. Garnish with chopped cilantro and serve immediately.
Shop This Post
Pig of the Month BBQ Pulled Chicken  
*Recipe & photos by Meghan Bassett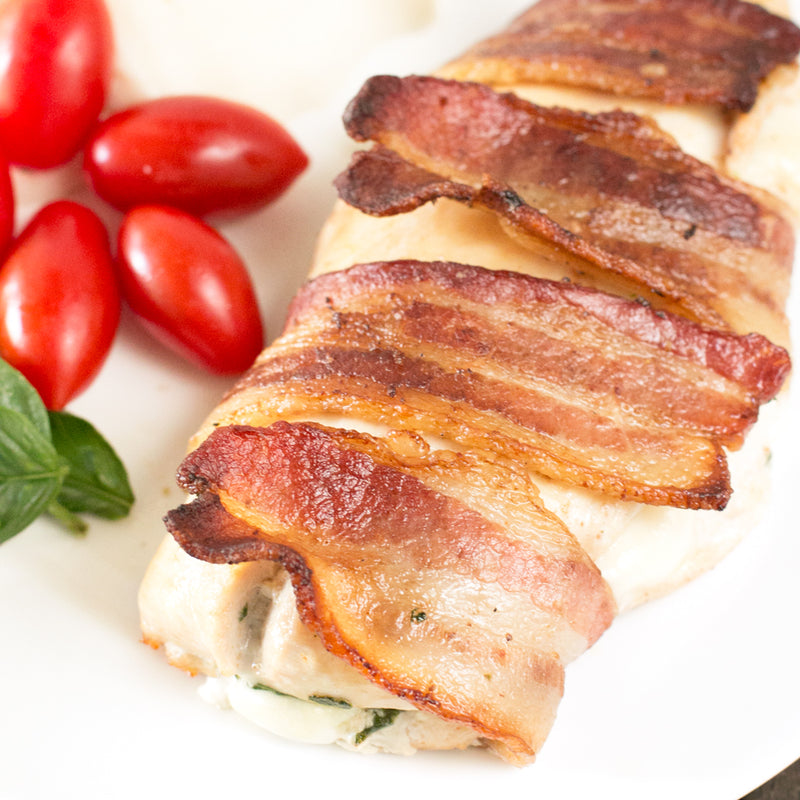 Weeknight meals can get really boring, am I right? I mean, there's only so many times you can cook a plain ol' chicken breast, match it up with some veggies and not get bored to tears. Sometimes you need to shake things up during the week, but you don't have time to master an insane recipe. Enter Bacon-Wrapped Caprese Stuffed Chicken.
These chicken breasts are going to seriously wow your family and I bet you already have most of these ingredients in your home (or even growing in your backyard for you herb and veggie growers out there!). All you have to do is stuff your chicken breasts with those classic caprese salad ingredients, wrap them in bacon and boom. Dinner is done in less than 30 minutes and your satisfying everyone at the table. I LOVE caprese salads - the mozzarella, the tomato, the basil - it all screams freshness and summer to me with every bite. Chicken lends itself so well to this combo so it only makes sense to stuff everything INSIDE the chicken breast. That combined with the bacon-wrapped exterior leaves you with one of the moistest pieces of chicken you'll ever dig into.
This will become a family fav in no time!
Bacon Wrapped Caprese Stuffed Chicken from Pig of the Month BBQ on Vimeo.
INSTRUCTIONS: Preheat oven to 400 degrees. Split each chicken breast in half. Stuff with 2 half slices of mozzarella, one half slice of tomato, and a generous sprinkle of chopped basil. Pinch the edges of the chicken breast closed.
Wrap each chicken breast with two slices of bacon, making sure the edges of the bacon overlap all on the same side of the breast. Heat olive oil in a large oven safe skillet over medium-high heat. Sear the chicken breasts for 2 to 3 minutes on each side, making sure to rotate to get it seared on all four sides. Place skillet in the oven and bake for 10 minutes, or until cooked through. Serve immediately.
Shop This Post
Pig of the Month Applewood Smoked Maple Bacon
*Recipe, photos and video by Meghan Bassett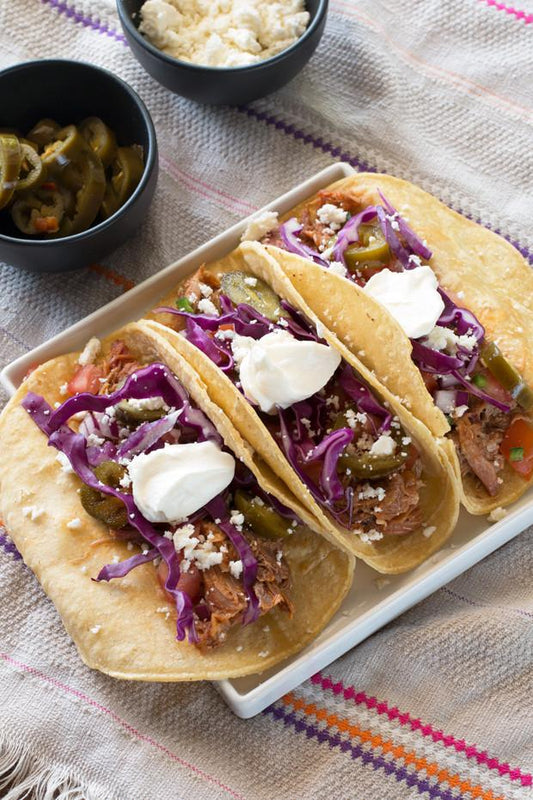 You know when you end up with too much shredded meat? You might have made one too many chicken breasts or that pork shoulder you bought is just a couple pounds too heavy. You might have a few containers of our very own tasty shredded chicken or pulled pork sitting in your freezer that you're wondering how you can use. I mean, making a tasty shredded meat sandwich is delicious don't get me wrong. After a while though, you start dreaming of new possibilities for that shredded chicken or pulled pork. There are SO many ways to use it up, from tacos to pasta, pizza to incredible casseroles! We've rounded up our top Sauce + Style recipes, along with some of our other blog favs so you'll never run out of ways to use up those meats again. Who loves ya baby? You know we do.
Shredded Chicken Chili - Ketogasm Chicken Tamale Casserole - Jo Cooks
Chicken Stuffed French Bread - Life in the Lofthouse Chicken Fajita Pasta - Kevin & Amanda
Skinny Buffalo Chicken Stuffed Sweet Potatoes - Not Enough Cinnamon BBQ Chicken Rollups - Life in the Lofthouse
Campfire Nachos - Sauce + Style "Cracked Out" Chicken Tater Tot Casserole - Plain Chicken
Pulled Pork Flatbread with Mango Chutney - Sauce + Style Pulled Pork Tacos - Sauce + Style
Loaded BBQ Pork Potato Casserole - Mom on Timeout Hawaiian BBQ Pulled Pork Calzones - Sauce + Style
BBQ Spaghetti Casserole - Spicy Southern Kitchen Chipotle Pulled Pork Lettuce Wraps with Avocado Aioli - Fashionable Foods
Pulled Pork Burrito Bowls - My Natural Family Chipotle Lime Carnitas Salad - Cafe Delites
Pulled Pork Enchiladas - Better Homes & Gardens Are you ready to get down on some meats on meats on meats? If you ran out of your fav shredded meat, just head over to our site to order more. Our shredded chicken and pulled pork is SO bomb.