Posts tagged: Thanksgiving tips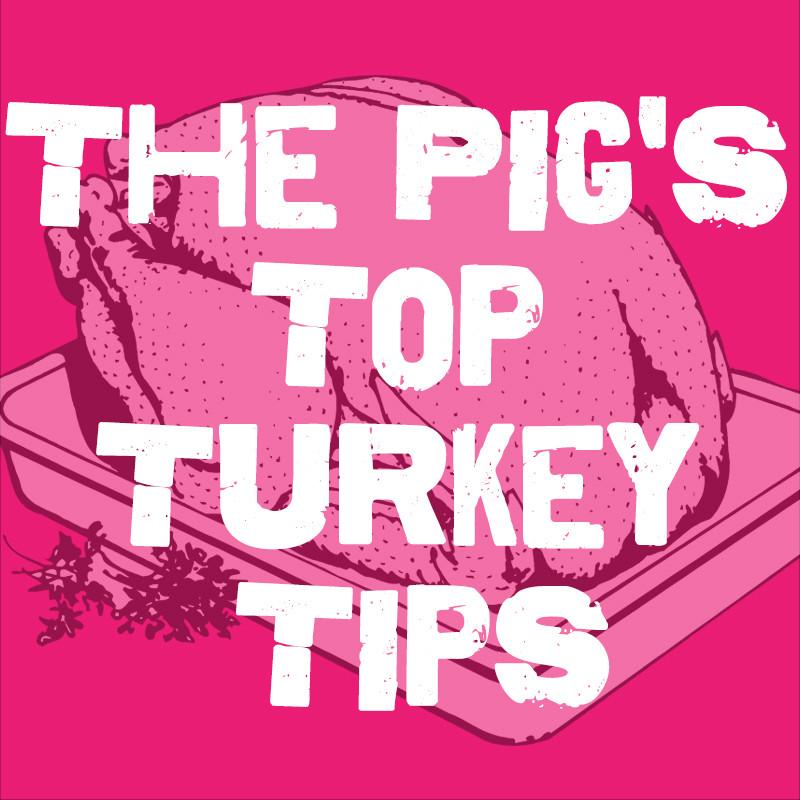 Thanksgiving is ONE WEEK AWAY! It always sneaks up on us and no matter how well-prepared we think we are, there are some last minute questions that always come up. We're rounding up our top Thanksgiving tips for you this year to make sure you're on your game! Look no further pig-lovin' friends, we've got your Thanksgiving covered.
Don't forget how long defrosting a turkey actually takes! You can thaw your bird either in the refrigerator or cold water. If you're using the refrigerator, use the equation of 1 day to thaw for every 4lbs of meat. Short on time? No problem. Cold water thawing is much faster at a rate of 30 minutes to thaw for every pound.
No one likes lumpy gravy... Bust out the sieve or strainer! This will get all those gross lumps right out. You can also use your good ol' blender to puree the lumps outta there.
Did you mail-order a Pig of the Month BBQ Feast, Whole Turkey, or Smoked Turkey Breast? First off, high five for being a Thanksgiving genius. You just made your life SO much easier. Now that you've got the main attractions covered, it's time to think sides that go with all the POM deliciousness. If you want to make something extra, go for the veggies. For a quick fix, grab your fav veggies, chop them up and toss with olive oil, salt, pepper, and a little garlic powder or chopped garlic. Roast on a lined, rimmed baking sheet at 400 degrees until tender. Have everyone else bring the rest of the fixings and kick up you feet to watch the Thanksgiving parade.
Come on, you can do better than plain ol' canned cranberry sauce. We'll solve this with one word – ORANGE. Add about 1 tsp of orange zest and 1/2 Tbsp of orange juice (or more if you prefer). This will brighten up that plain old canned cranberry sauce so much that your guests will be asking for the recipe. Shhhhh, we'll keep the secret for ya!
Aren't Thanksgiving leftovers the BEST? Answer = YES. The best (and safest) way is to cool everything down. Pack leftovers in shallow containers instead of big deep containers so they cool faster. Yes, it's a bit of work with all those containers and playing refrigerator Tetris, but the small containers will help your leftovers stay fresh and take up less space in the fridge!
This is the tip that will save you countless times in the kitchen on Thanksgiving Day. Chicken stock is your ultimate Thanksgiving savior. Simply keep a large saucepan of chicken stock warm on the stove throughout the day. It can rescue dry stuffing, too-thick gravy, dry turkey, and countless other emergencies that pop up at the absolute worst time. Anything you have leftover can be stored or frozen for later use, or use it as a base for leftover turkey soup! Who's ready to conquer Thanksgiving? You are! Don't forget to check out our mega list of 50+ Thanksgiving tips for even more turkey day wisdom! If it's all too much and you're tired of basting a bird for 6+hours, let us do all the work and order you smoked turkey today! Ships free with code "novship"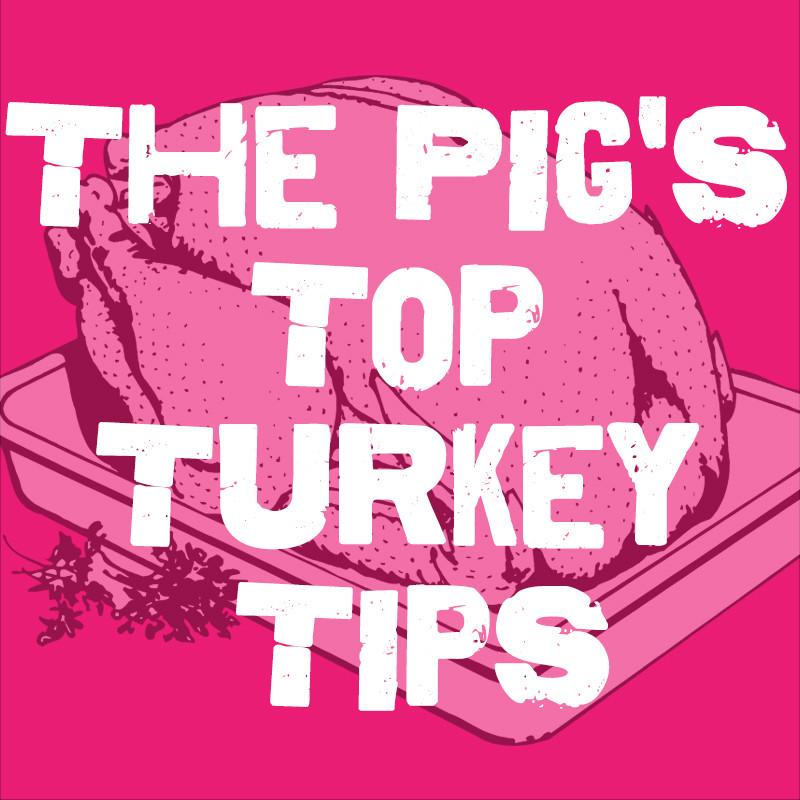 It's Thanksgiving once again! We are here to share another round of The Pig's Top Turkey Tips! This year, we're excited to share....
The Pig's Top Turkey Tips: How to Survive Without Going Insane Edition
Ready.... Set.... MASTER THANKSGIVING!
Make a schedule: For the day of (and the days leading up to Thanksgiving), make a schedule so it's not a giant cluster of craziness. Know what you can prep in advance. know how long everything needs to cook and at what temperature, etc. That way you don't end up in pure and utter chaos right when people start showing up, expecting to be fed. Stock up on booze - Family's in town, people are expecting a lot out of you... The pressure is on. Stock up on the booze, not only to make sure friends and family are tipsy enough to love your food no matter WHAT you do, but also so you can keep your sanity (and a sorta level head).
Check all your cookware and kitchen tools - Don't get stuck without a potato masher on the day of or too few serving dishes! Check all the tools, the cookware and the serving dishes in your kitchen to make sure you have everything's covered.
Get ready to thaw - For the love of everything that's holy, PLEASE know how long it will take to thaw your turkey. Also, make room in the fridge so the bird can actually fit in there (or load up a cooler and stock it with ice). Leave your turkey unwrapped in the fridge overnight - The result? Crispier skin. You're welcome.
Buy a meat thermometer - Yes, it's worth not having dried out turkey. Get the meat thermometer and know when to pull the turkey (at 160 degrees, it'll go up the other 5 degrees as it rests and stay moist). Make and freeze pie crust ahead of time - How much easier is it to just bake the crust and fill it the day of Thanksgiving instead of trying to make it all that day? You could even do this TONIGHT and be more prepared for relaxation on Thursday.
Make and freeze gravy - Again, another item you can make ahead and freeze. Just reheat on the stove when it's time to serve! Make and freeze mashed potatoes - Sorry, but we've got one more for ya! Mashed potatoes frozen and reheated will not lose their fluffiness, and you'll be grateful to not have to mash all those potatoes on the big day.
Make sure there are leftovers -  Remember YOURSELF. The day after Thanksgiving is the day for you, the cook. Have leftovers all stored up and ready as people are sitting down to eat on Thanksgiving. That way you can make a giant leftovers sandwich and kick back for a day of serious "you time".