Posts tagged: Super Bowl food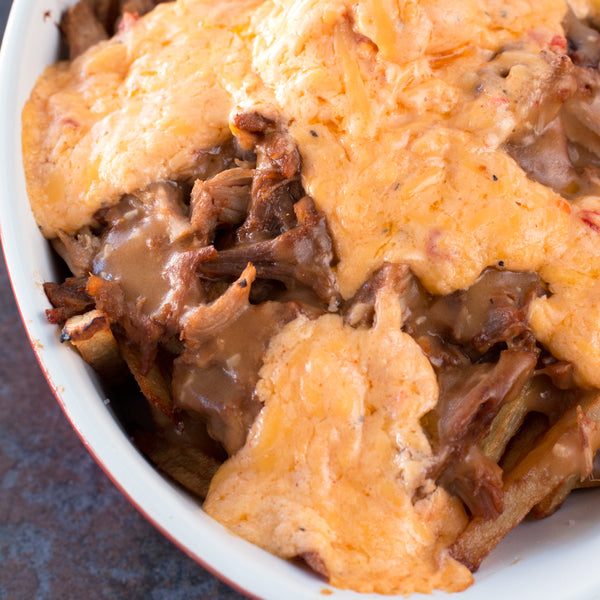 Pimento Pulled Pork Poutine! I dare you to say that five times fast...
Tongue-tied yet? Well, this poutine is exactly what you need to untie that bad boy and get down on some serious pulled pork. Poutine is one of my all-time favorite gluttonous meals to indulge in. After years and years of eating the same go-to recipe, I've decided to shake things up a bit by adding a hefty helping of pulled pork and ditching the cheese curds for some creamy, spicy pimento cheese spread. This is quite possibly the best combo of Canada meets Southern comfort you've ever tasted.
This dish is a glorious mess that people will be swooning for on game day this Sunday. Whether you're rooting for the Broncos or the Panthers on game day, this poutine is a must-have for your Super Bowl spread.
Hint: You can even whip up some frozen fries for this dish if you'd like to save time and get to the poutine sooner!
INSTRUCTIONS: Place the cut potatoes in a large bowl and cover with cold water. Refrigerate for about 1 hour.
While the potatoes are chilling, melt butter in a medium saucepan over medium-high heat. Stir in flour until the mixture is smooth. Stir in garlic and cook until fragrant, approximately 1 minute. Add beef stock, ketchup, and Worcestershire. Bring the mixture to a boil, stirring occasionally, until thickened, approximately 6 minutes. Season with salt and pepper to taste. Cover and keep warm on low heat until ready to serve.
Pour enough oil into a dutch oven to be 3" deep. Heat over medium heat until the temperature reaches 325 degrees. Drain potatoes and dry completely with paper towels. Fry the potatoes, working in small batches, until tender and just crisp. Remove to a paper towel lined plate to drain. Cool for 20 minutes.
Increase heat to medium-high and allow oil to heat to reach 375 degrees. Fry potatoes in the same small batches, until golden brown, approximately  2 minutes. Remove to fresh paper towel lined plate and sprinkle with salt. Preheat oven to 450 degrees F.
Add fries to an overproof baking dish. Top with the pulled pork, spreading it evenly across the whole dish.
Spoon the gravy over the fries and dollop the pimento cheese spread all over the top. Bake for approximately 5 minutes, until the cheese is melted and bubbly. Serve immediately.
Shop This Post
Recipe & Photos by Meghan Bassett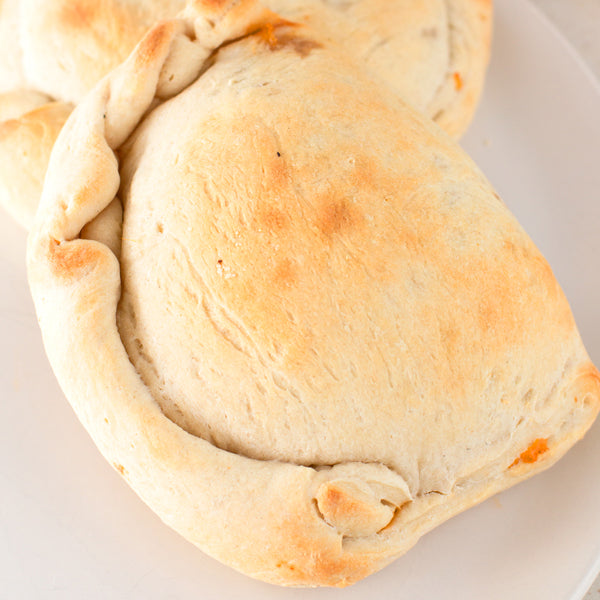 My love for Hawaiian pizza runs pretty deep. Almost as deep as my love for truly amazing pulled pork and BBQ. As I sat down to come up with my Super Bowl menu, I couldn't stop thinking about Hawaiian pizza. I didn't want to do the same ol' pizza I've been doing for years though. Nope, it was time to change things up.
So why not stuff pork, pineapple, cheese and barbecue sauce into warm, gooey pockets of deliciousness? These Hawaiian BBQ Pulled Pork Calzones are the perfect game day meal for your upcoming Super Bowl celebration (or any excuse for a celebration, let's face it, they are THAT good). They take little to no effort and are ready in less than 20 minutes. Plus you get that oh-so good Pig of the Month pulled pork...
When you're cheering your team for that touchdown, just try not to get BBQ sauce everywhere, ok?
INSTRUCTIONS: Preheat oven to 425 degrees. Line a large baking sheet with a silicone baking mat or aluminum foil (be sure to grease it!). In a medium bowl, stir together pulled pork, BBQ sauce and diced pineapple until combined. Set aside.
Roll out pizza dough into a large rectangle, approximately 1/4" thick. Cut the rectangle in half crosswise and then again lengthwise to form 4 small rectangles. In the center of each, add approximately 1/4 cup of the pork mixture.
Top with 1/4 cup of cheddar cheese. Fold the dough over to form the calzone, pinching the edges together before rolling them up and in. Place all four calzones on the lined baking sheet.
Bake for 15 to 17 minutes, or until just starting to brown on top. Remove from oven and wait 5 minutes before cutting and serving with extra sauce.
Shop This Post
Recipe & Photos by Meghan Bassett