Posts tagged: Super Bowl appetizer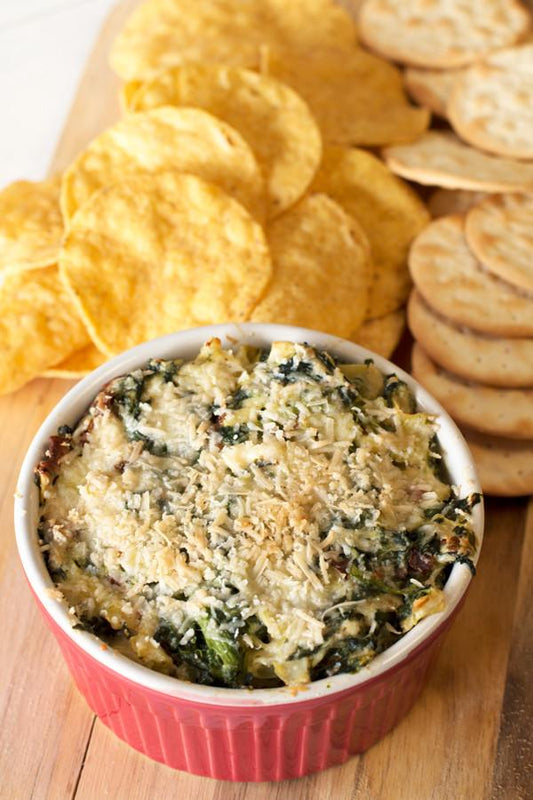 Spinach and artichoke dip is my ultimate go-to whenever I go out to eat. The one thing I always feel is missing from those spinach and artichoke dips is BACON (I mean really, what couldn't be improved with a bit of bacon?). This version of the classic dip is packed with chopped Pig of the Month bacon and it really makes this dip ten times better. Plus the whole recipe comes together in less than a half hour!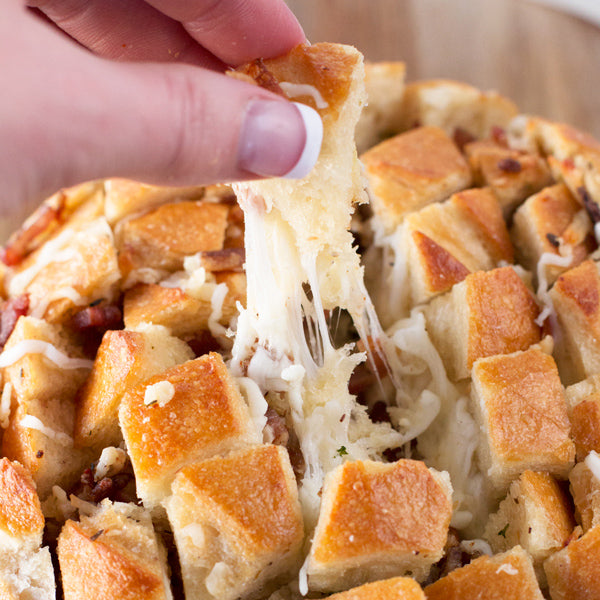 I'm about to blow your minds with some serious bacon and cheese action. You may think that it couldn't get any better than the fried mac n cheese we busted out earlier this week, but we just outdid ourselves. Yet again.
Pull apart breads are my new favorite recipe to whip out for a party, especially a huge spread like the one I'm hosting on Super Bowl Sunday in a couple weeks. This bread is so ridiculously simple, there's really no excuse for you to NOT make it. In about 5 minutes of prep time, you'll be a hot 15 minutes away from a cheesy, bacon-packed mess of a bread that everyone will gladly get messy for. Just take a gander at that cheese....
Ok one more... All that cheese and bacon stuffed into the cracks of that warm, crusty bread...
Enough torture, I promise. But seriously, can't you just taste the deliciousness that this cheesy, bacon bite must pack? Are you hungry yet?
INSTRUCTIONS: Preheat oven to 350 degrees F. In a small bowl, stir together melted butter, garlic, salt, pepper, parsley, thyme and oregano. In another small bowl, combine the two cheeses and bacon. Gently toss to combine.
Using a serrated knife, cut the bread on a diagonal angle into 1-inch diamond shapes, making sure you don't slice all the way through the loaf of bread.
Gently open up the cracks with your fingers. Drizzle each with a tsp of the butter mixture and a pinch of the cheese and bacon mix.
Wrap the loaf of bread in aluminum foil and bake for 15 minutes, until the cheese has mostly melted. Remove from the foil and bake for an additional 5 minutes, directly on the rack. Serve immediately.
Shop This Post 
Pig of the Month Applewood Smoked Maple Bacon
Recipe & Photos by Meghan Bassett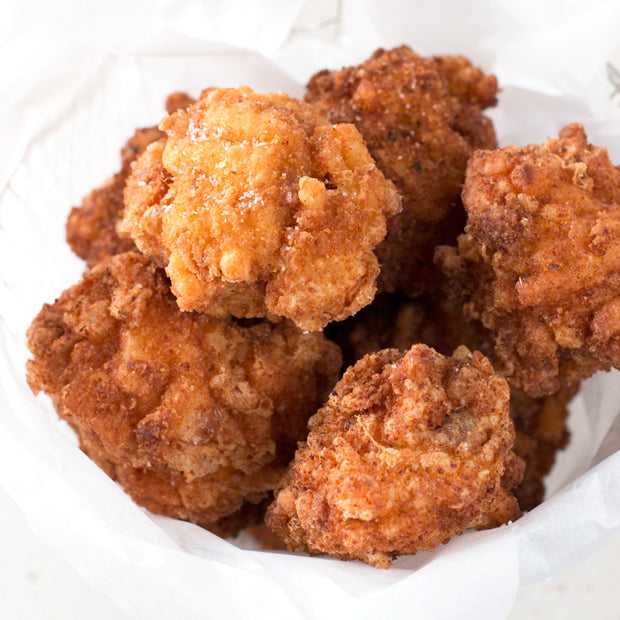 With the playoffs all wrapped up, that only means one thing. Time to get ready for the SUPER BOWL!
Since this year is the big number 50 for the Super Bowl, I'm going ALL out with the Super Bowl spread. Instead of the typical chips and dip, I'm opting to bring in the big guns with these golden, delicious fried bacon mac n cheese bites. They are crispy on the outside and warm, cheesy and bacon-packed on the inside.
The best part of this recipe is that you can simply use a few cups of leftover mac and cheese to make it! No need to let that mac and cheese sit lonely in the fridge anymore, you now have the best ever round two recipe for it that comes together in minutes.
No one will be able to step themselves at one, so be sure to triple this recipe if you've got a lot of hungry people headed your way on game day.
INSTRUCTIONS: In a medium bowl, mix together the mac and cheese and diced bacon. Form small balls (either one or two bite depending on your preference) out of the mac and cheese mixture and add them to a flat baking sheet. Once you have formed the balls (make sure you press them together tightly), cover with plastic wrap and freeze for at least 2 to 3 hours.
In a small bowl, beat the eggs. In another small bowl, combine the breadcrumbs and flour; season the coating with salt, pepper and cayenne. In a heavy bottomed saucepan, heat 3 to 4 inches of canola oil over medium-high heat. Working in small batches of 3 to 4, dredge the mac and cheese balls in the egg, then in the breadcrumb mixture. Add the the hot oil and fry until golden brown and hot in the center, approximately 4 to 5 minutes. Remove from the oil and drain on a paper towel-lined plate. Sprinkle with salt and repeat until all the mac and cheese balls are fried. Serve immediately.
Shop This Post
Pig of the Month Applewood Smoked Maple Bacon
Recipe & Photos by Meghan Bassett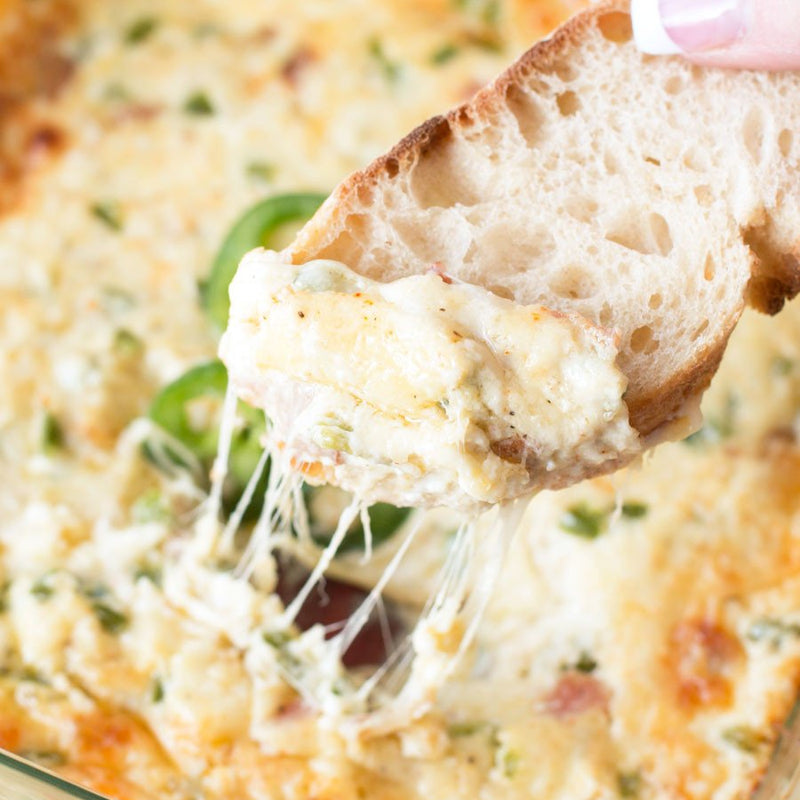 Y'all know I couldn't leave you hanging right before the big game on Sunday without something delicious to make, right? For the love of all things bacon and cheese, this Cheesy Jalapeno Bacon Dip is the one recipe that HAS to hit your game day spread this weekend.
I LOVE serving up cheesy dips for football parties because they are always the star of the entire day. The gooey cheese served up on crusty bread or tortilla chips is all too addicting (plus it helps balance out all those boozy drinks you'll be guzzling as you cheer your team on).
Heck, even if you are just watching for the commercials, you still need something to eat that'll warm you from the inside out! This creamy, cheesy dip is spicy and savory, with the perfect salty hit of bacon from Pig of the Month BBQ's Applewood Smoked Maple Bacon. The thick cuts of bacon really stick out in this dip, so it's ideal for all those bacon-lovers in yo life. When I dip, you dip, we dip! Time to DIG IN.
[vimeo 202231008 w=640 h=360]
Cheesy Jalapeno Bacon Dip from Pig of the Month BBQ on Vimeo.
Serves 6-8 INSTRUCTIONS: Preheat oven to 400 degrees. In a large bowl, mash together cream cheese, mozzarella cheese, jalapeños, mayonnaise, garlic, salt, pepper, cayenne, butter, and bacon until combined. Add mixture to a medium-sized baking dish. Bake for 20 to 25 minutes. Serve with tortilla chips or crusty bread. Shop This Post Pig of the Month BBQ Applewood Smoked Maple Bacon
*Recipe, photos and video by Meghan Bassett