Posts tagged: summer recipe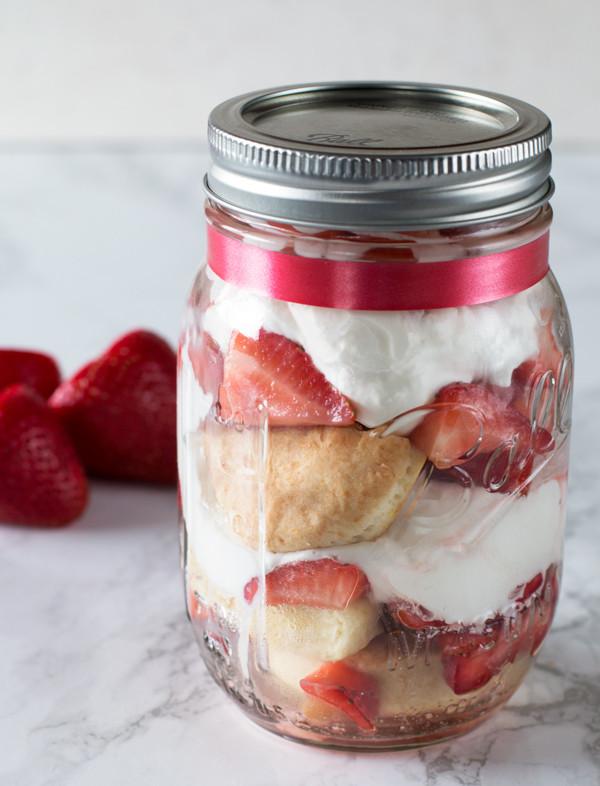 These strawberry shortcake mason jars add a fun twist to this dessert, making them easily portable for picnics or even surprise sweet treats for family and friends. Every element in this dessert is super simple to make (yes, even the biscuits are a breeze!). You'll love the 
sweetness from
 the fruit, the fresh and airy whipped cream, and the tiny golden brown biscuits.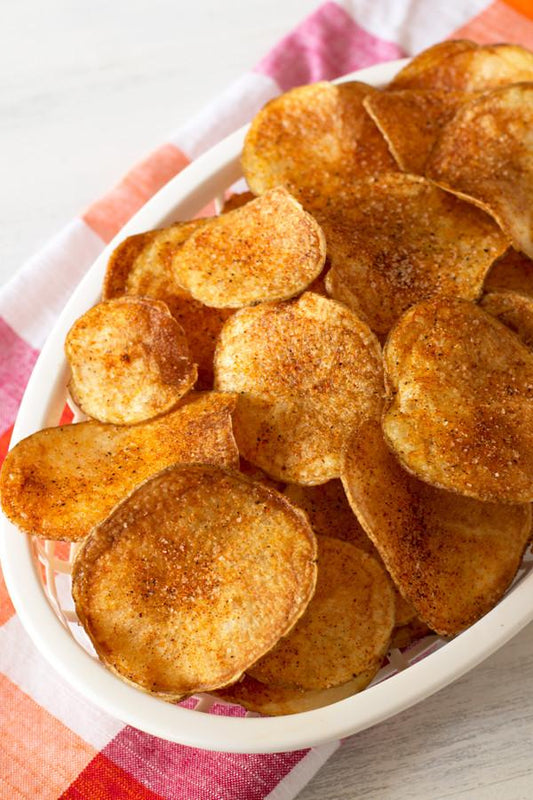 Summer is here and that means it is picnic season! No picnic would be complete without a crunchy handful of potato chips. For your next picnic, ditch those boring ol' bagged potato chips and fry up some of your own spicy homemade potato chips!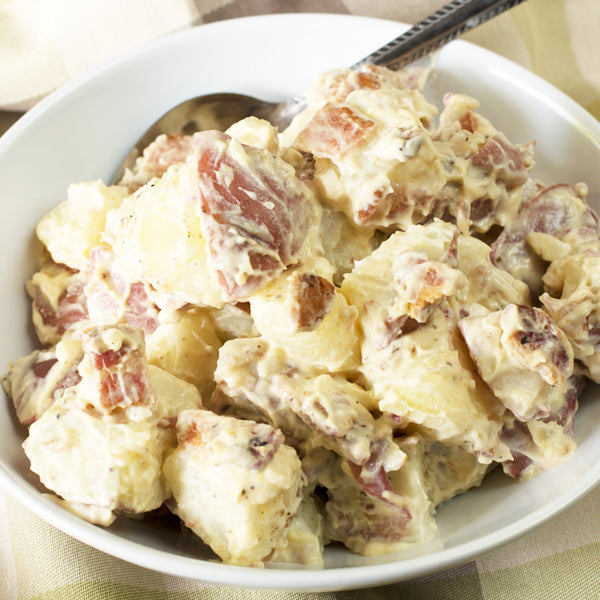 I've got a creamy, dreamy pile of bacon-packed potato salad for you today!
Before I go any further, tell me you've tasted the Pig of the Month Garden Herb bacon. If you haven't, I demand that you immediately order some RIGHT NOW. This just so happens to be one of my favorite flavors of bacon for summer cooking. It's the perfect balance of herbs and savory bacon in every bite.
And it just so happens to be the star ingredient of this garden herb bacon potato salad! The fresh herbs and bacon really come through in this super simple potato salad, making it a perfect side dish for your picnics and barbeques. The flavors are fresh and savory with a slight tang from the mustard and vinegar, making it a cooling salad to pair against a massive deli sandwich or a good ol' burger.
Happy picnicking!
INSTRUCTIONS Fill a large pot with water and season with 1 Tbsp salt. Bring to a boil over high heat and add the cubed potatoes. Cook potatoes until fork tender (approximately 10-15 minutes). Drain potatoes and add to a large serving bowl. Allow to cool completely. Add mayonnaise, onion, white wine vinegar, mustard, garlic, salt and pepper. Stir until all the potatoes have been evenly coated with the mayonnaise and spices. Cover and refrigerate for at least 2-3 hours before serving.
Shop This Post
Pig of the Month Garden Herb Bacon
Recipe & Photos by Meghan Bassett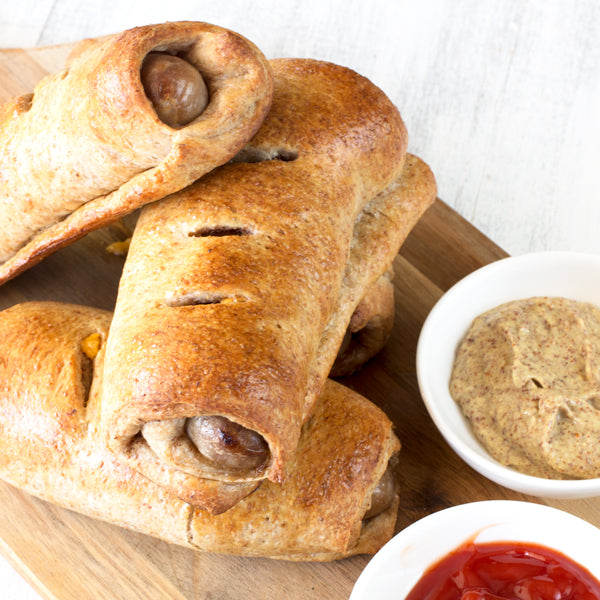 When I ventured to Scotland about a year ago and had my first good sausage in a blanket I was blown away. Such a simple dish packed so much flavor and satisfaction; it seemed too good to be true. I was sure there was some sort of secret Scottish trick to making these wrapped sausages so addictive. Turns out, all you need is some dough, Dijon mustard, cheese and incredible sausage to make the dream come true at home!
I used Pig of the Month's Wine & Swine Sausages here, but you can use any of their sausage selections to make your own variation of this recipe. This is a great weeknight dinner that will satisfy both the kids and the adults! It also makes for a great handheld lunch on the go, so be sure to pin this for those back to school lunches.
INSTRUCTIONS: Preheat oven to 375 degrees. Line a rimmed baking sheet with aluminum foil and spray with non-stick spray (or use a silicone mat). Add the beaten egg and water to a small bowl and whisk briefly to combine. Set aside. Roll out the pizza dough on a clean surface. Cut the pizza dough into 4 rectangles, about 4x5 inches in size. You may need to roll out the dough a bit from its original size to accommodate the squares. Prick each square all over with a fork. Spread 1 Tbsp of Dijon mustard on each piece of dough. Divide the slices of cheese into 2 triangles each and place them on the dough, spread out a little so the cheese doesn't get stuck all in one place.
In a medium skillet over high heat, brown the sausages until a nice medium brown sear forms on both sides, approximately 4 to 5 minutes per side. Remove from heat. When sausages are cool enough to handle, roll each one up in a piece of prepared dough. Spread the seal with a thin brush of egg wash. Place seam side down on the baking sheet and brush the top with egg wash. Cut three slits in the top with a sharp knife to create vents. Bake for approximately 20 minutes until the dough and sausages are cooked through. Serve with dipping sauces such as extra Dijon mustard, ketchup and barbecue sauce.
Shop This Post
Pig of the Month Garlic Sausage Links
Recipe & Photos by Meghan Bassett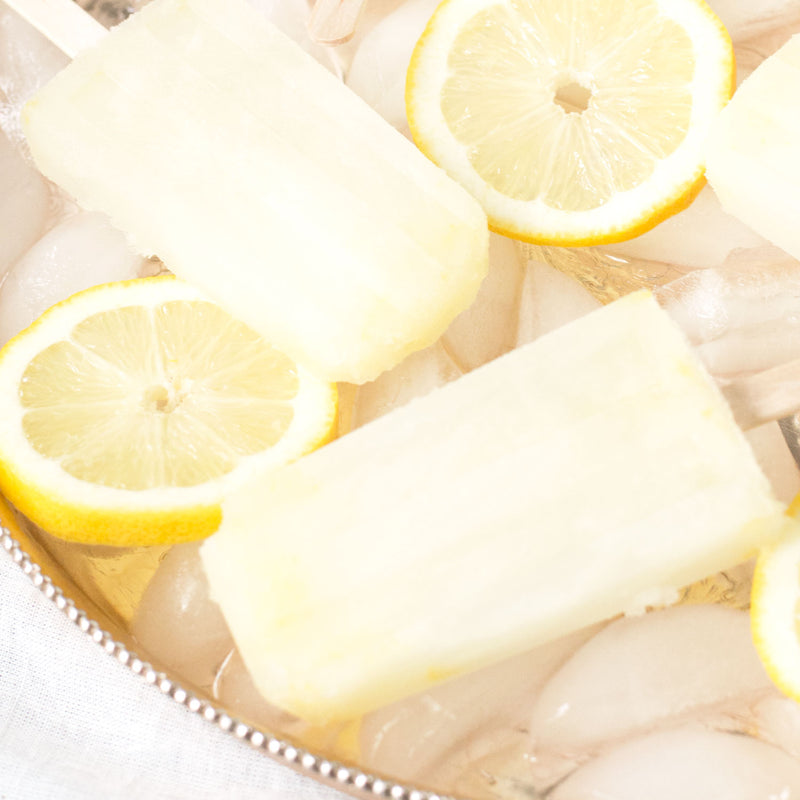 It's finally here! The final long weekend before the holidays kick in. The final long weekend of the summer. It's time to bust out all the indulgent crazy recipes you can because the holiday weight gain officially starts NOW. This summer is going to be one of the last really hot ones we get as we dig deeper into September, so I'm using that as an excuse to indulge in ALL the Vodka Lemonade Popsicles.
You know y'all will be day drinking all day, erry day, for the next three days anyway, so why not enjoy the booze with a side of dessert? These boozy popsicles are all that you need for the entire weekend. You can keep cool with the frozen lemonade, and no one will ask a question as you stroll through the parks with your boozy treat!
Not that I would encourage such reckless behavior or anything....
Holiday weekends are meant for having fun, aren't they? Come on people, there's only so much time you can be silly in the summer sun before it's gone. Not to mention, these treats are going to be perfect for those scorcher tailgating days! Trust me when I say these will be a hit with EVERYONE.
Happy Labor Day piggy peeps!
[vimeo 180320697 w=640 h=360]
Vodka Lemonade Popsicles from Pig of the Month BBQ on Vimeo.
INSTRUCTIONS: Whisk together all ingredients in a large bowl until the sugar is combined. Pour into 8 popsicle molds and freeze 2 hours. Insert popsicle sticks and freeze an additional 8 hours until firm.
*Recipe, photos and video by Meghan Bassett