Posts tagged: spicy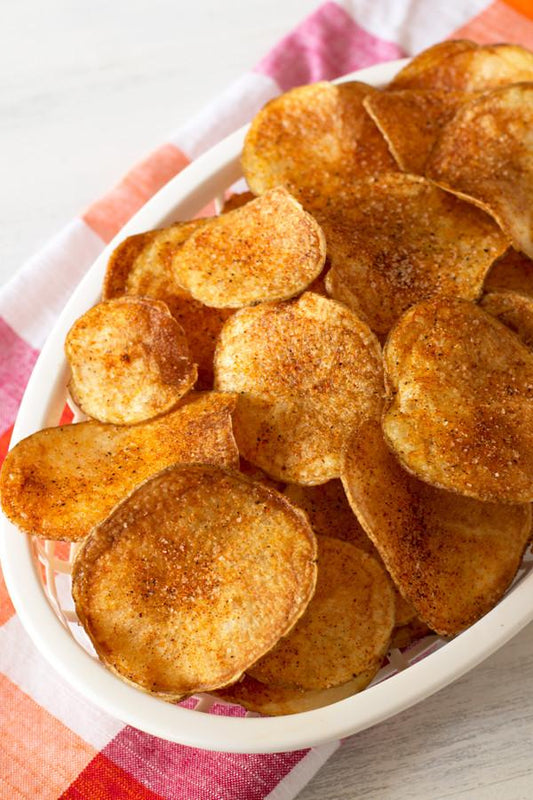 Summer is here and that means it is picnic season! No picnic would be complete without a crunchy handful of potato chips. For your next picnic, ditch those boring ol' bagged potato chips and fry up some of your own spicy homemade potato chips!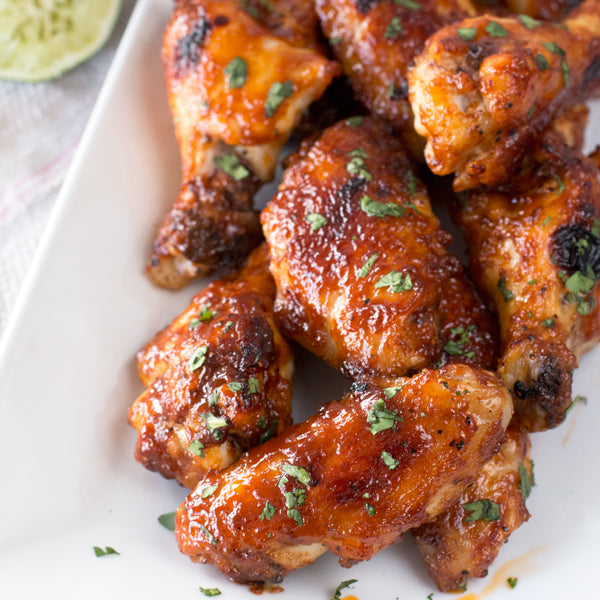 It's March and that means one thing in my foodie-obsessed brain - March Madness parties for days. That's right, that means chips and dip, guacamole, sliders, jalapeño poppers and, most importantly, crispy sticky chicken wings. Sriracha Lime Baked Chicken Wings, to be exact.
If you ever have a snack attack, March Madness-related or not, your next go-to recipe absolutely has to be these wings. They are baked to crispy perfection in the oven, and the sticky spicy and tangy glaze makes them positively finger-licking good. You'll need the wet wipes for these, folks.
The Sriracha and lime juice make this super simple glaze full of flavor that you simply can't find anywhere else. No need to go out for chicken wing perfection - time to stay in with your friends and family watching the next March madness game, or just enjoying a leisurely spring afternoon with a couple of hearty beers.
INSTRUCTIONS: Preheat oven to 400 degrees F. Line a large baking sheet with parchment paper. Set aside. In a medium saucepan over medium heat, melt 5 Tbsp unsalted butter. Once melted, whisk in 1 Tbsp flour and brown for approximately 1 minutes. Add in the hoisin sauce, Sriracha, soy sauce and lime juice, stirring to combine. The mixture should become nice and thick pretty quickly, in less than a minute. In a large bowl, combine the chicken wings, 2 Tbsp melted butter, vegetable oil, salt and pepper. Toss to coat the wings evenly.
Add the wings in an even layer to the lined baking sheet.
Brush the wings with a layer of glaze. Bake the wings for 25 minutes, turning them over halfway through and adding another coat of glaze. After 25 minutes are up, brush the wings with a final layer of glaze and broil for 4 to 5 minutes until crispy. Garnish with chopped fresh cilantro and serve immediately.
Recipe & photos by Meghan Bassett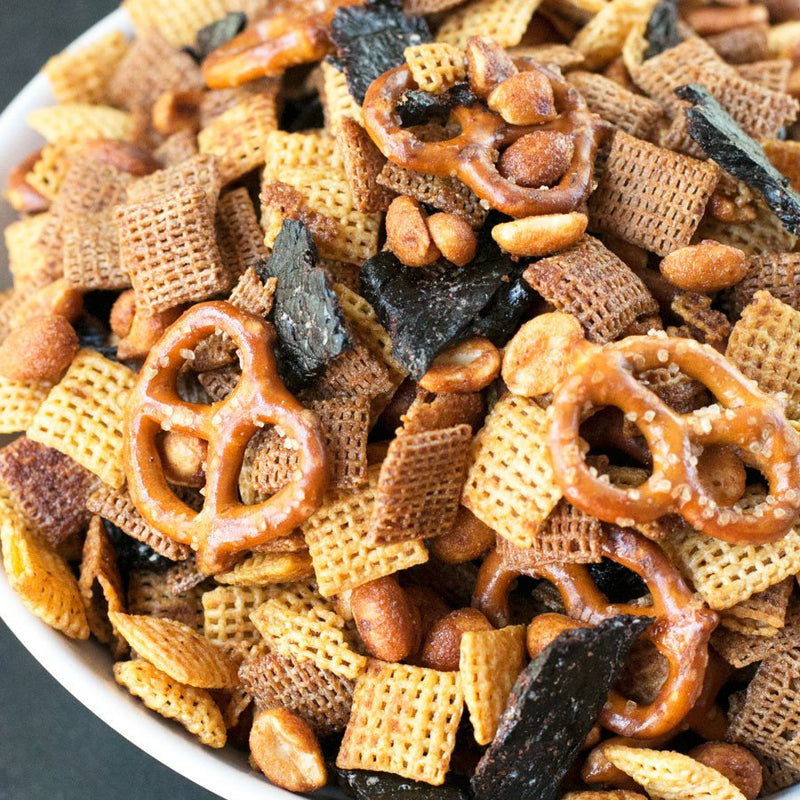 I always get into snacking whenever fall kicks in. I don't know if it's the cooler temperatures, the football, or the new batch of exciting flavors and recipes, but something comes over me and I turn into a grazer. This Quick & Easy Beef Jerky Chex Mix is one of my new favorite snacks to whip up any given day so I can keep up with my grazing habits all week long.
This whole snack mix requires such little effort! All you do is mix it all up and bake for a little over an hour. You'll just have to find a way to distract yourself while it bakes... Trust me when I say all you'll wanna do is reach in and snag a couple pieces every few minutes because the smell of this chex mix is way too intoxicating. You get the best of all worlds in each handful! This snack mix is a little sweet, a little spicy, and packed with our favorite Pig of the Month BBQ beef jerky. There's tons of variety to keep every taste bud in your mouth jumping for joy.
Pack a small bag to take with you to work, or set out the whole thing right before the big game kicks off this weekend. It'll all be gone before you know it!
[vimeo 183505889 w=640 h=360]
Quick & Easy Beef Jerky Chex Mix from Pig of the Month BBQ on Vimeo.
Happy snacking!
INSTRUCTIONS: Serves 8 to 10 Preheat oven to 250 degrees. Combine both types of chex, roasted peanuts, beef jerky and pretzels in a large bowl. Whisk together melted butter, Worcestershire sauce, garlic powder, onion powder, salt and cayenne pepper. Pour the sauce over the dry mix and toss to coat. Dump out chex mix onto lined rimmed baking sheet. Bake for 1 hour and 15 minutes, stirring every 20 minutes. Cool completely. Serve. Shop This Post Pig of the Month BBQ Beef Jerky
*Recipe, video and photos by Meghan Bassett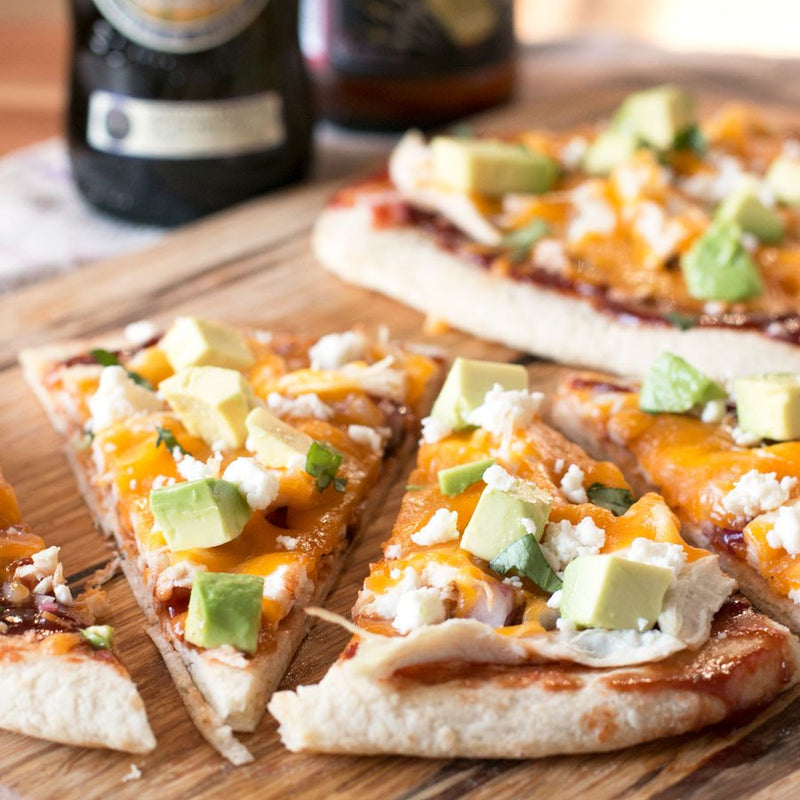 Welcome to 2017 piggy peeps! I don't know about you but I am not ready to get back into the swing of things to kick off the New Year. It feels like there are 5 million to-do's on my list and I am barely making a dent in them a few days into the new year... One thing that's falling off my radar? Dinner. I am struggling with pumping out tasty meals without spending wayyyyy too much time on them. Since I have too much to do at work, I am starting to rely on meals of popcorn and soda - NOT how I wanted to start the year.
Instead, I'm pulling out my Pig of the Month BBQ Shredded Chicken and I'm making something more than just a sandwich with it. These flatbreads are one of the easiest meals EVER and there's no one that can resist them, I don't care how picky of an eater they are. The fluffy naan with BBQ sauce, chicken and avocado is the best base for any pizza. Throw in the bite of some red onion and salty cheese and holy wow, this pizza is one the entire family will be begging you to make on a regular basis. Not to mention it's pretty dang healthy in terms of pizza, so you can feel ok about sticking to those New Year resolutions ;)
INSTRUCTIONS: Place naan on a lined baking sheet.
Spread each with half of the BBQ sauce.
Top with chicken, red onion and cheese.
Place under broiler set to high for approximately 2 to 3 minutes, or until the cheese melts.
Remove from oven, top with avocado, cilantro and a sprinkle of queso fresco. Serve.
Shop This Post
Pig of the Month BBQ Shredded Chicken
Pig of the Month BBQ Love Me Tender Sauce
*Recipe and photos by Meghan Bassett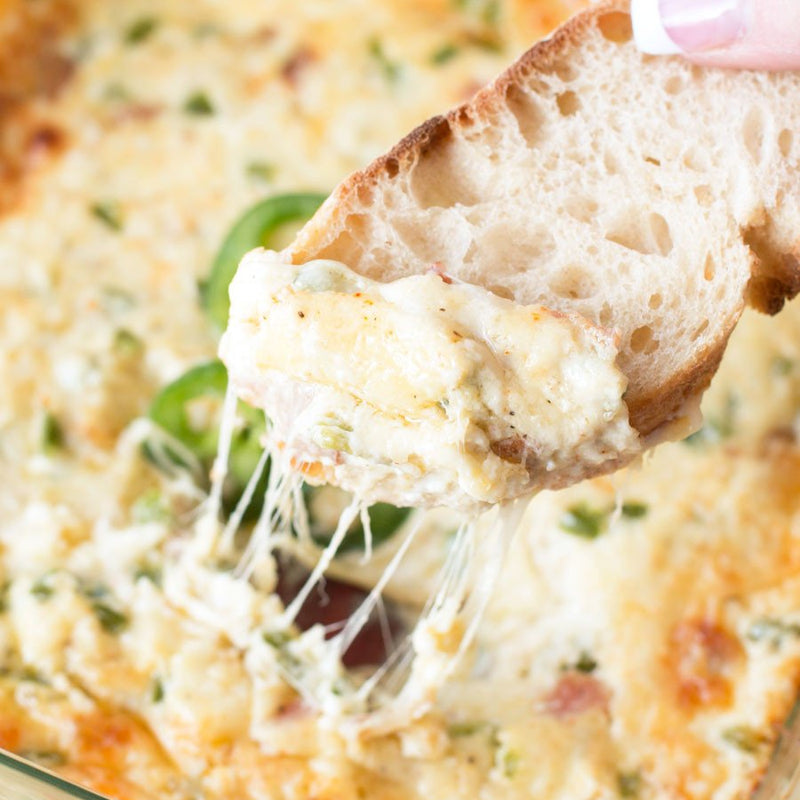 Y'all know I couldn't leave you hanging right before the big game on Sunday without something delicious to make, right? For the love of all things bacon and cheese, this Cheesy Jalapeno Bacon Dip is the one recipe that HAS to hit your game day spread this weekend.
I LOVE serving up cheesy dips for football parties because they are always the star of the entire day. The gooey cheese served up on crusty bread or tortilla chips is all too addicting (plus it helps balance out all those boozy drinks you'll be guzzling as you cheer your team on).
Heck, even if you are just watching for the commercials, you still need something to eat that'll warm you from the inside out! This creamy, cheesy dip is spicy and savory, with the perfect salty hit of bacon from Pig of the Month BBQ's Applewood Smoked Maple Bacon. The thick cuts of bacon really stick out in this dip, so it's ideal for all those bacon-lovers in yo life. When I dip, you dip, we dip! Time to DIG IN.
[vimeo 202231008 w=640 h=360]
Cheesy Jalapeno Bacon Dip from Pig of the Month BBQ on Vimeo.
Serves 6-8 INSTRUCTIONS: Preheat oven to 400 degrees. In a large bowl, mash together cream cheese, mozzarella cheese, jalapeños, mayonnaise, garlic, salt, pepper, cayenne, butter, and bacon until combined. Add mixture to a medium-sized baking dish. Bake for 20 to 25 minutes. Serve with tortilla chips or crusty bread. Shop This Post Pig of the Month BBQ Applewood Smoked Maple Bacon
*Recipe, photos and video by Meghan Bassett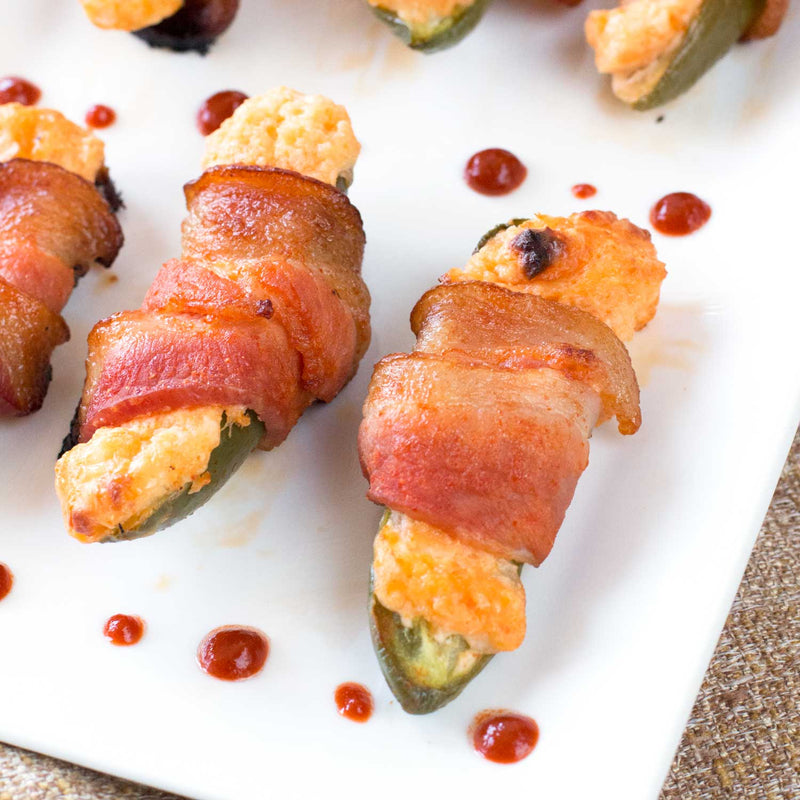 Sriracha Bacon Wrapped Stuffed Jalapeños really bring the heat! This spicy, crispy and creamy appetizer will win over everyone at your next party. 
Wrapping things in bacon is kind of a specialty of mine. If anything just isn't quite working for me in the kitchen, I usually head straight for the extra pound of bacon I always have sitting in my refrigerator. You know, just in case there's a bacon-related emergency - which surprisingly happens on a weekly basis for me. You'd be surprised by just how many things can be wrapped in bacon! Potatoes, rolls, scallops, shrimp, meatloaf, yea this list could go on forever. Today I'm bringing you one of my new favorite bacon-wrapped recipes that'll light a fire on your tongue and in your belly.
Sriracha Bacon Wrapped Stuffed Jalapeños are the best combo of crispy, creamy, spicy and extra cheesy. The Sriracha bacon and added Sriracha in the filling make these little guys just the right amount of wicked. You'll feel the heat but you won't be burning your taste buds off with each bite. Pro tip: try slicing a sausage or brat in half and stuffing it with one of these stuffed jalapeños. Next level amazingness right there, I'm just saying.
INSTRUCTIONS: Preheat oven to 400 degrees. Grease a baking dish and set aside.
In a medium bowl, beat together cream cheese, cheddar cheese, Monterrey Jack cheese, garlic, Sriracha and salt with an electric mixer until smooth and well-combined.
Add the halved jalapeños to the baking dish and fill each one evenly with the spicy cream cheese filling.
Wrap each stuffed jalapeño half with half a slice of Sriracha bacon, securing with a toothpick. Bake for 25 minutes, or until the bacon is as crispy as desired. Serve immediately.
Shop This Post:
Pig of the Month Sriracha Bacon  
Recipe & Photos by Meghan Bassett
Spicy Dry Rub Ribs are smoky and spicy, perfect for your next BBQ gathering! The ribs come out extra tender and juicy, hot off the grill and finger-lickin' good.
It's finally grilling season! Is anyone else as excited as I am about this? I've been busting out the grill almost every single night for dinner and I gotta tell you, that grilled charcoal flavor is what I've been missing since Labor Day. Chicken, vegetables, burgers, steaks, I've been grilling it ALL.
Recently though, I've been obsessed about perfecting dry rub ribs on the grill. I've baked them more times than I can count, but nothing gets that BBQ flavor packed into the ribs like a grill. These ribs are the best combination of spicy and smoky on the outside, with perfectly tender and juicy meat on the inside. Seriously, the meat practically melts in your mouth with every bite.
Your next BBQ NEEDS these ribs. Or even your next weeknight meal! Rub the ribs down and wrap 'em up before you head to work in the morning, then just throw 'em on the grill when you get home. You'll have grilled up ribs in under an hour that'll curb all those BBQ cravings you've been having lately.
INSTRUCTIONS: In a medium bowl, stir to combine salt, brown sugar, paprika, garlic powder, onion powder, chili powder, cumin, black pepper and cayenne pepper.
Rub down the racks of ribs with the dry rub evenly. Wrap the racks in plastic wrap and let rest in the refrigerator for at least 2 hours.
Heat up your grill to 350 to 400 degrees and rub the grill racks with olive oil. Remove the ribs from the plastic wrap and place directly on the grill. Cook for 40 minutes, turning occasionally, until crispy and cooked through.
Allow the racks to rest 10 minutes before cutting into them and serving.
Recipe & photos by Meghan Bassett