Posts tagged: snack recipe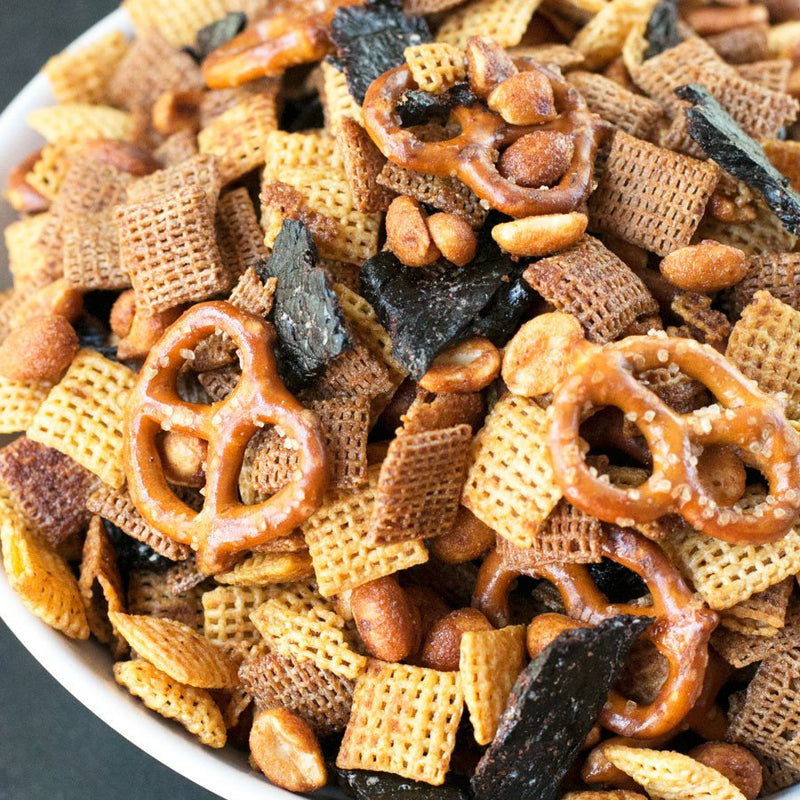 I always get into snacking whenever fall kicks in. I don't know if it's the cooler temperatures, the football, or the new batch of exciting flavors and recipes, but something comes over me and I turn into a grazer. This Quick & Easy Beef Jerky Chex Mix is one of my new favorite snacks to whip up any given day so I can keep up with my grazing habits all week long.
This whole snack mix requires such little effort! All you do is mix it all up and bake for a little over an hour. You'll just have to find a way to distract yourself while it bakes... Trust me when I say all you'll wanna do is reach in and snag a couple pieces every few minutes because the smell of this chex mix is way too intoxicating. You get the best of all worlds in each handful! This snack mix is a little sweet, a little spicy, and packed with our favorite Pig of the Month BBQ beef jerky. There's tons of variety to keep every taste bud in your mouth jumping for joy.
Pack a small bag to take with you to work, or set out the whole thing right before the big game kicks off this weekend. It'll all be gone before you know it!
[vimeo 183505889 w=640 h=360]
Quick & Easy Beef Jerky Chex Mix from Pig of the Month BBQ on Vimeo.
Happy snacking!
INSTRUCTIONS: Serves 8 to 10 Preheat oven to 250 degrees. Combine both types of chex, roasted peanuts, beef jerky and pretzels in a large bowl. Whisk together melted butter, Worcestershire sauce, garlic powder, onion powder, salt and cayenne pepper. Pour the sauce over the dry mix and toss to coat. Dump out chex mix onto lined rimmed baking sheet. Bake for 1 hour and 15 minutes, stirring every 20 minutes. Cool completely. Serve. Shop This Post Pig of the Month BBQ Beef Jerky
*Recipe, video and photos by Meghan Bassett