Posts tagged: snack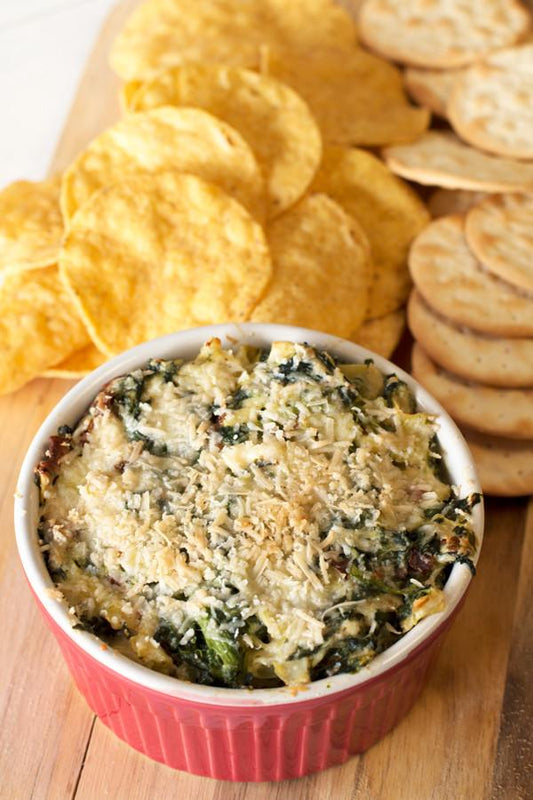 Spinach and artichoke dip is my ultimate go-to whenever I go out to eat. The one thing I always feel is missing from those spinach and artichoke dips is BACON (I mean really, what couldn't be improved with a bit of bacon?). This version of the classic dip is packed with chopped Pig of the Month bacon and it really makes this dip ten times better. Plus the whole recipe comes together in less than a half hour!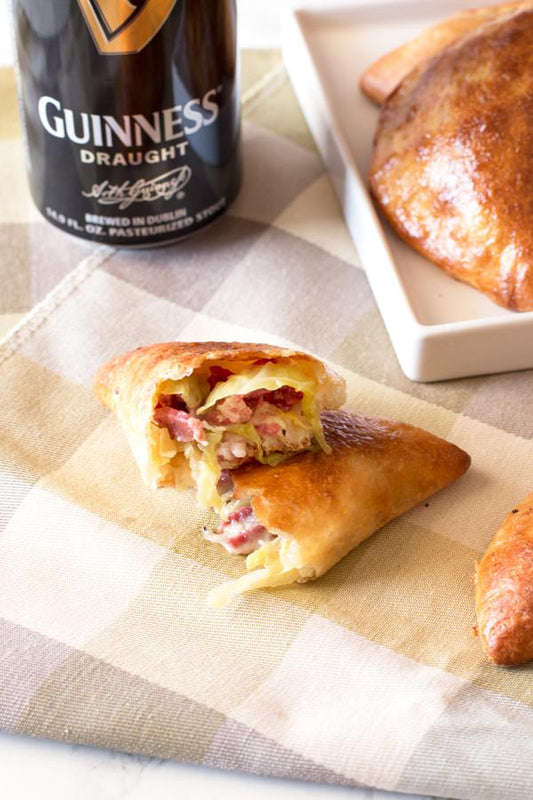 Corned beef and cabbage is a staple for us on St. Patrick's Day. No matter what, we always either make it or go out to eat it on St. Patrick's Day. It's become a great tradition, but this year I wasn't getting too excited about whipping out the same recipe for another year. This is exactly why I want to change things up this year and make something fun and playful!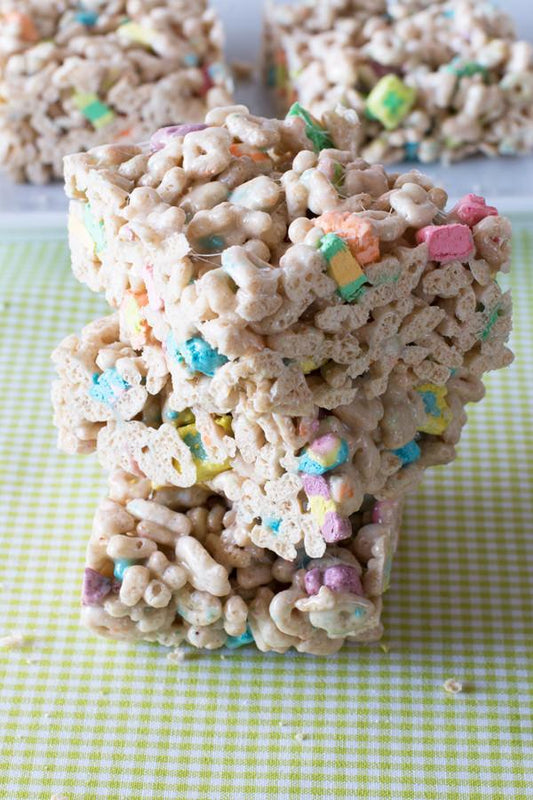 St. Patrick's Day is only one week away… Are you ready to start celebrating? These Lucky Charms marshmallow treats are the perfect way to get in the festive Irish mood! Lucky Charms used to be my favorite cereal growing up and I would always pick out just the marshmallows. Now I have discovered the ultimate solution and no longer feel the need to pick out those marshmallows! The answer was so obvious – add 
more
 marshmallow deliciousness to the mix!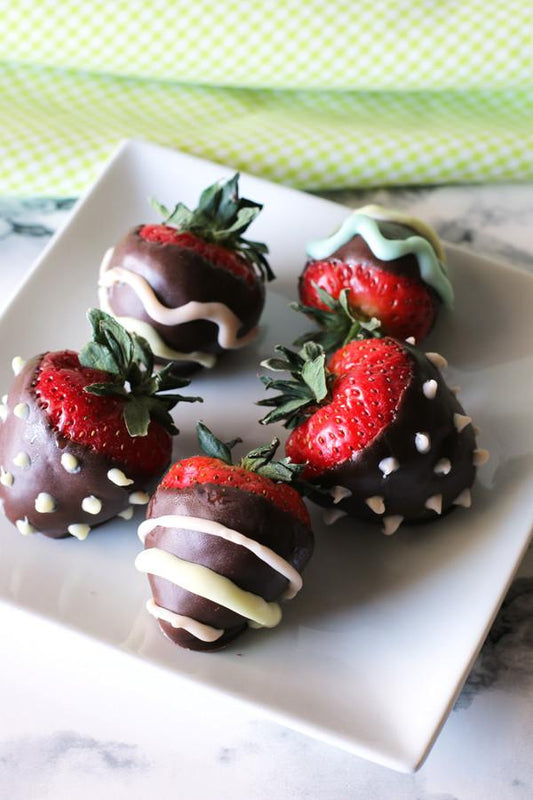 Easter brunch wouldn't be complete without these chocolate covered strawberry eggs on your dessert table! 
Chocolate covered strawberries may look difficult, but with the melting wafer they have out now, you don't even have to worry about tempering the chocolate. You just melt, dip and decorate!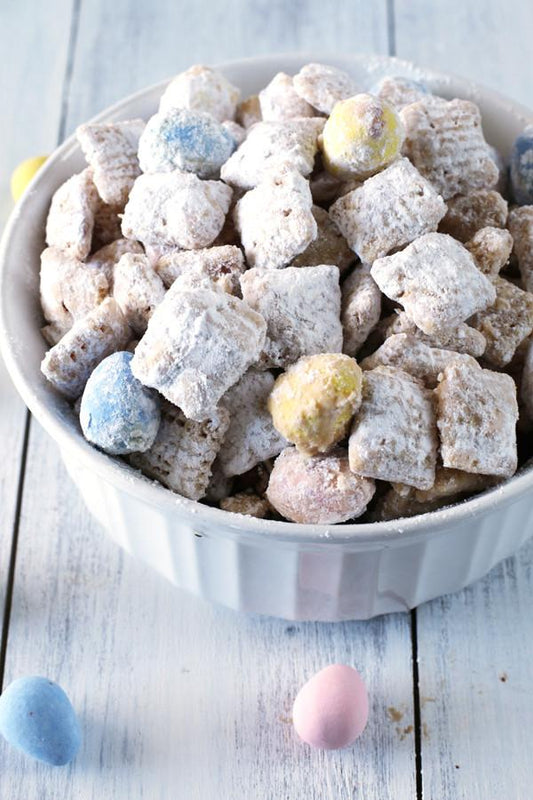 The Easter Bunny is on his way! If you plan to catch him and snag all the candy you can, be sure you are making a batch of this bunny bait. That Easter Bunny can't resist it! This Easter version of puppy chow is super simple to create and is dangerously addictive (you might finish it all before the Easter 
bunnys
 arrival). The combination of chocolate, peanut butter and crunchy cereal is already a draw, but add in the mini Cadbury milk chocolate eggs and you have powdered sugar-covered heaven.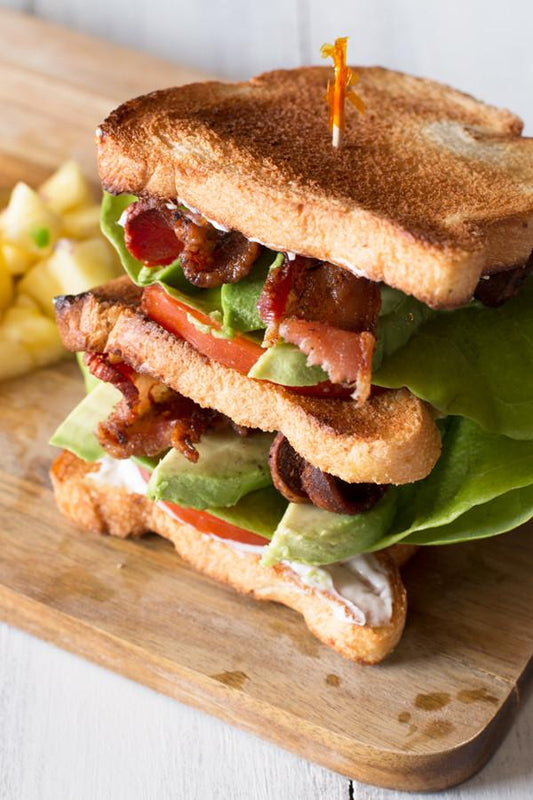 Who doesn't love a fun new twist on a classic sandwich? This the king of all sandwiches because of it's double-decker thickness and classic flavors, with the additional Jamaican Jerk seasoned bacon – holy YUM! Throw in a little mango pineapple salsa on the side and I am ready for a dip in Caribbean waters after I polish this bad boy off.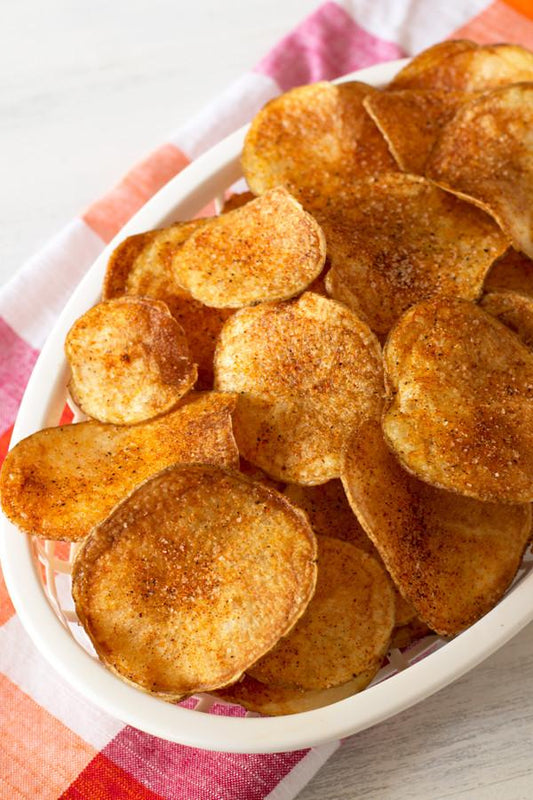 Summer is here and that means it is picnic season! No picnic would be complete without a crunchy handful of potato chips. For your next picnic, ditch those boring ol' bagged potato chips and fry up some of your own spicy homemade potato chips!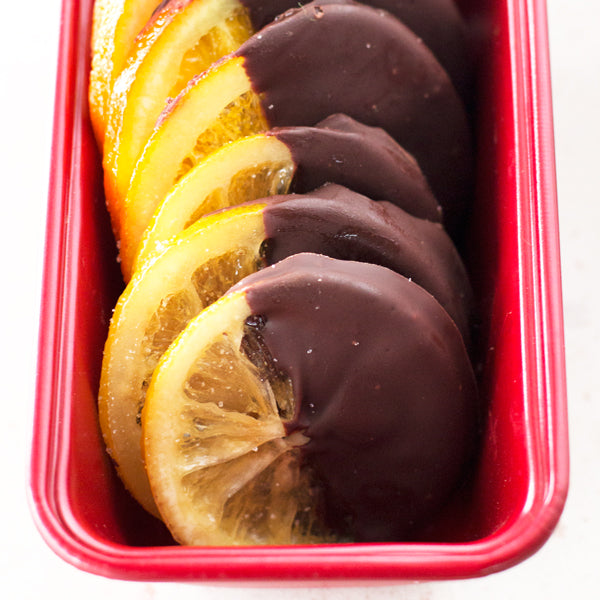 Still wondering what in the world you're going to get that special someone for Christmas this year? Don't worry, because I've got you covered with these chocolate dipped candied citrus slices!
After a while, buying presents gets a bit tough because everyone seems to have everything they need or want. When you want to show you care, I always say go for the tastebuds. Nothing says I love you like a plate full of beautifully candied citrus slices, dipped in chocolate and served with a bow, am I right?
These elegant slices of sugary citrus are dipped in dark chocolate and look so fancy, no one will know that it took you very little time and effort to create them.
INSTRUCTIONS: In a large skillet, heat water and sugar over medium-high heat and bring to a boil. Add the orange and lemon slices and continue to cook over medium heat, turning from time to time. Once the liquid is reduced to a thick syrup and the slices are translucent, approximately 20 minutes, reduce heat to low and simmer until the syrup is thick. Turn the slices occasionally as then cook, approximately 10 minutes.
Transfer the slices to a cooling rack and you can save the syrup to use as a citrus simple syrup in cocktails! Cool the slices for at least 12 hours before dipping.
Dip the citrus slices halfway into the melted chocolate and set on parchment paper to harden, approximately 1 hour. Package in cute little mini loaf pans and wrap as desired.
Recipe & Photos by Meghan Bassett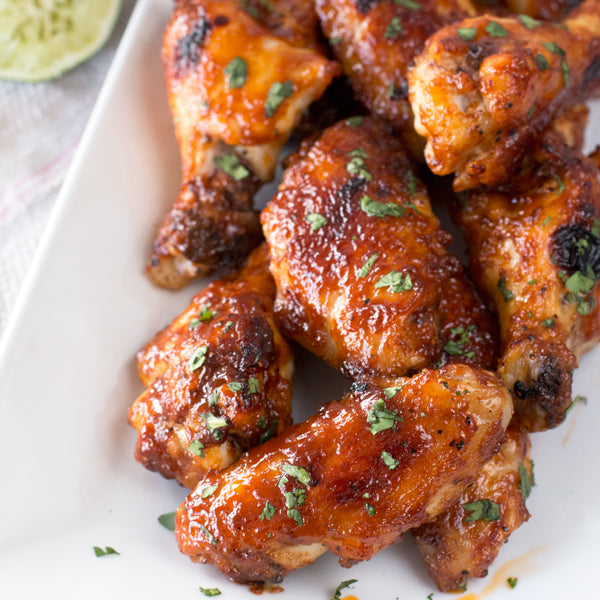 It's March and that means one thing in my foodie-obsessed brain - March Madness parties for days. That's right, that means chips and dip, guacamole, sliders, jalapeño poppers and, most importantly, crispy sticky chicken wings. Sriracha Lime Baked Chicken Wings, to be exact.
If you ever have a snack attack, March Madness-related or not, your next go-to recipe absolutely has to be these wings. They are baked to crispy perfection in the oven, and the sticky spicy and tangy glaze makes them positively finger-licking good. You'll need the wet wipes for these, folks.
The Sriracha and lime juice make this super simple glaze full of flavor that you simply can't find anywhere else. No need to go out for chicken wing perfection - time to stay in with your friends and family watching the next March madness game, or just enjoying a leisurely spring afternoon with a couple of hearty beers.
INSTRUCTIONS: Preheat oven to 400 degrees F. Line a large baking sheet with parchment paper. Set aside. In a medium saucepan over medium heat, melt 5 Tbsp unsalted butter. Once melted, whisk in 1 Tbsp flour and brown for approximately 1 minutes. Add in the hoisin sauce, Sriracha, soy sauce and lime juice, stirring to combine. The mixture should become nice and thick pretty quickly, in less than a minute. In a large bowl, combine the chicken wings, 2 Tbsp melted butter, vegetable oil, salt and pepper. Toss to coat the wings evenly.
Add the wings in an even layer to the lined baking sheet.
Brush the wings with a layer of glaze. Bake the wings for 25 minutes, turning them over halfway through and adding another coat of glaze. After 25 minutes are up, brush the wings with a final layer of glaze and broil for 4 to 5 minutes until crispy. Garnish with chopped fresh cilantro and serve immediately.
Recipe & photos by Meghan Bassett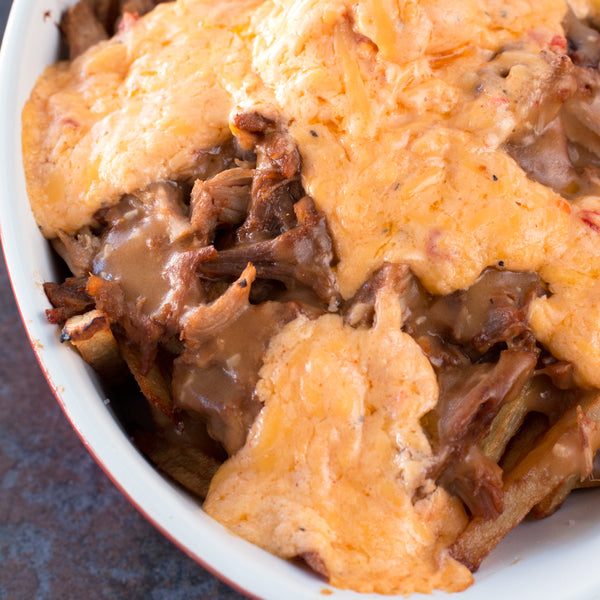 Pimento Pulled Pork Poutine! I dare you to say that five times fast...
Tongue-tied yet? Well, this poutine is exactly what you need to untie that bad boy and get down on some serious pulled pork. Poutine is one of my all-time favorite gluttonous meals to indulge in. After years and years of eating the same go-to recipe, I've decided to shake things up a bit by adding a hefty helping of pulled pork and ditching the cheese curds for some creamy, spicy pimento cheese spread. This is quite possibly the best combo of Canada meets Southern comfort you've ever tasted.
This dish is a glorious mess that people will be swooning for on game day this Sunday. Whether you're rooting for the Broncos or the Panthers on game day, this poutine is a must-have for your Super Bowl spread.
Hint: You can even whip up some frozen fries for this dish if you'd like to save time and get to the poutine sooner!
INSTRUCTIONS: Place the cut potatoes in a large bowl and cover with cold water. Refrigerate for about 1 hour.
While the potatoes are chilling, melt butter in a medium saucepan over medium-high heat. Stir in flour until the mixture is smooth. Stir in garlic and cook until fragrant, approximately 1 minute. Add beef stock, ketchup, and Worcestershire. Bring the mixture to a boil, stirring occasionally, until thickened, approximately 6 minutes. Season with salt and pepper to taste. Cover and keep warm on low heat until ready to serve.
Pour enough oil into a dutch oven to be 3" deep. Heat over medium heat until the temperature reaches 325 degrees. Drain potatoes and dry completely with paper towels. Fry the potatoes, working in small batches, until tender and just crisp. Remove to a paper towel lined plate to drain. Cool for 20 minutes.
Increase heat to medium-high and allow oil to heat to reach 375 degrees. Fry potatoes in the same small batches, until golden brown, approximately  2 minutes. Remove to fresh paper towel lined plate and sprinkle with salt. Preheat oven to 450 degrees F.
Add fries to an overproof baking dish. Top with the pulled pork, spreading it evenly across the whole dish.
Spoon the gravy over the fries and dollop the pimento cheese spread all over the top. Bake for approximately 5 minutes, until the cheese is melted and bubbly. Serve immediately.
Shop This Post
Recipe & Photos by Meghan Bassett
1
2
3
Next »