Posts tagged: side dish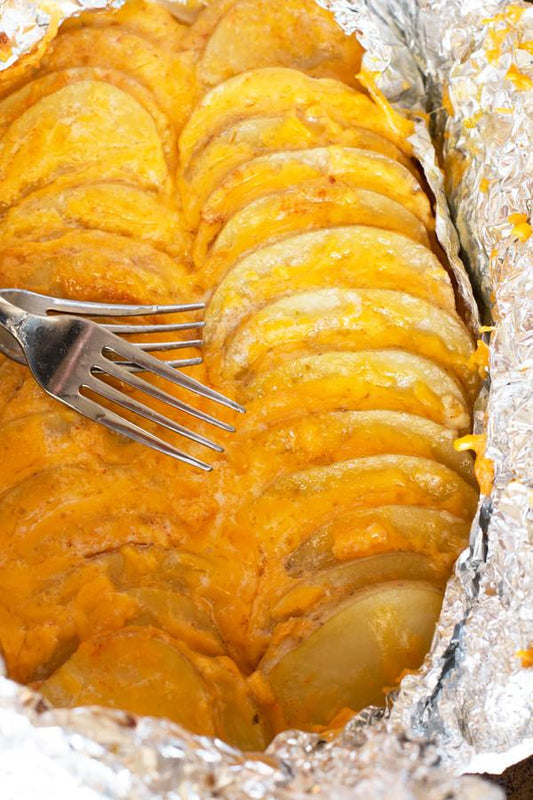 Have you broken out your grill yet? If not, I've got the perfect recipe for you to kick off grilling season with! Foil-wrapped cheesy potatoes! Whether you are grilling or heading out on a camping trip, these cheese potatoes are AWESOME. Wrapped up tightly in foil they can cook over any type of grill or straight over the campfire. They are bursting with all the flavors you love from cheesy potatoes, with just the right hint of spice to balance out that ooey gooey mess.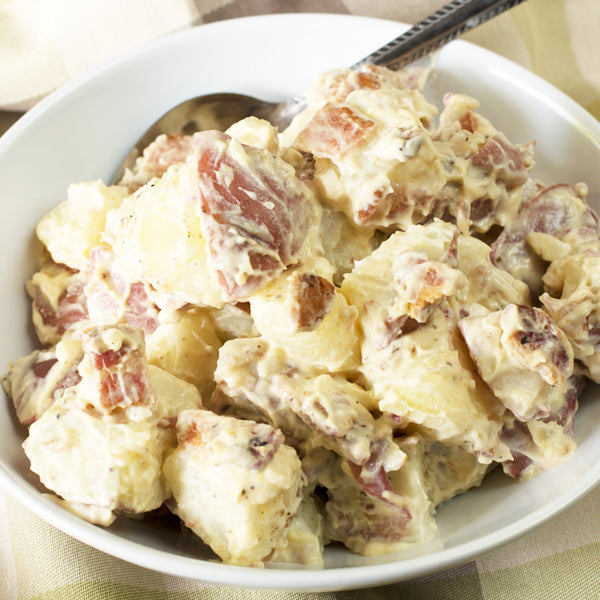 I've got a creamy, dreamy pile of bacon-packed potato salad for you today!
Before I go any further, tell me you've tasted the Pig of the Month Garden Herb bacon. If you haven't, I demand that you immediately order some RIGHT NOW. This just so happens to be one of my favorite flavors of bacon for summer cooking. It's the perfect balance of herbs and savory bacon in every bite.
And it just so happens to be the star ingredient of this garden herb bacon potato salad! The fresh herbs and bacon really come through in this super simple potato salad, making it a perfect side dish for your picnics and barbeques. The flavors are fresh and savory with a slight tang from the mustard and vinegar, making it a cooling salad to pair against a massive deli sandwich or a good ol' burger.
Happy picnicking!
INSTRUCTIONS Fill a large pot with water and season with 1 Tbsp salt. Bring to a boil over high heat and add the cubed potatoes. Cook potatoes until fork tender (approximately 10-15 minutes). Drain potatoes and add to a large serving bowl. Allow to cool completely. Add mayonnaise, onion, white wine vinegar, mustard, garlic, salt and pepper. Stir until all the potatoes have been evenly coated with the mayonnaise and spices. Cover and refrigerate for at least 2-3 hours before serving.
Shop This Post
Pig of the Month Garden Herb Bacon
Recipe & Photos by Meghan Bassett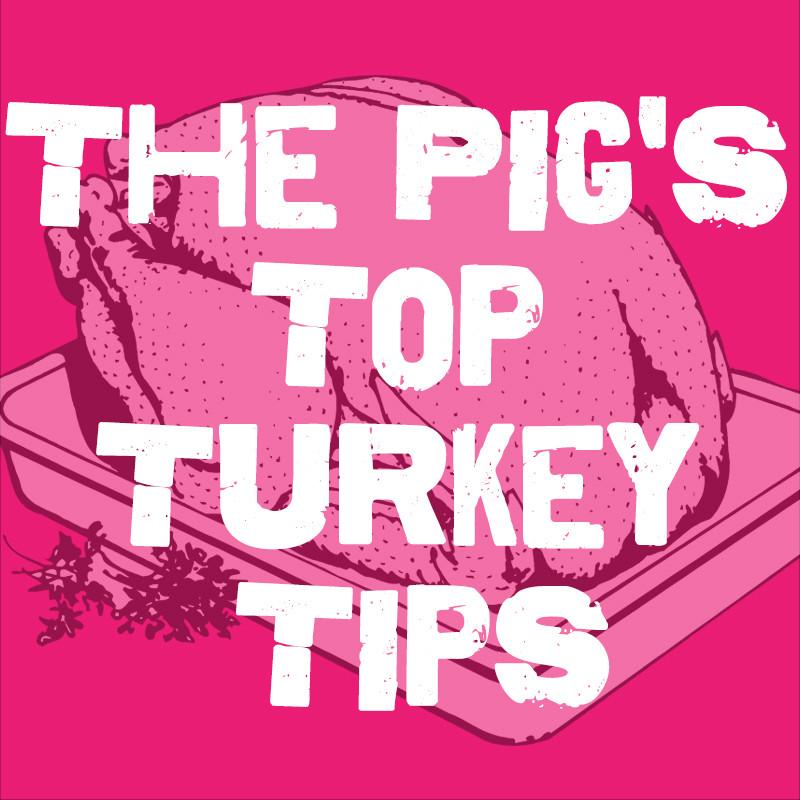 Thanksgiving is ONE WEEK AWAY! It always sneaks up on us and no matter how well-prepared we think we are, there are some last minute questions that always come up. We're rounding up our top Thanksgiving tips for you this year to make sure you're on your game! Look no further pig-lovin' friends, we've got your Thanksgiving covered.
Don't forget how long defrosting a turkey actually takes! You can thaw your bird either in the refrigerator or cold water. If you're using the refrigerator, use the equation of 1 day to thaw for every 4lbs of meat. Short on time? No problem. Cold water thawing is much faster at a rate of 30 minutes to thaw for every pound.
No one likes lumpy gravy... Bust out the sieve or strainer! This will get all those gross lumps right out. You can also use your good ol' blender to puree the lumps outta there.
Did you mail-order a Pig of the Month BBQ Feast, Whole Turkey, or Smoked Turkey Breast? First off, high five for being a Thanksgiving genius. You just made your life SO much easier. Now that you've got the main attractions covered, it's time to think sides that go with all the POM deliciousness. If you want to make something extra, go for the veggies. For a quick fix, grab your fav veggies, chop them up and toss with olive oil, salt, pepper, and a little garlic powder or chopped garlic. Roast on a lined, rimmed baking sheet at 400 degrees until tender. Have everyone else bring the rest of the fixings and kick up you feet to watch the Thanksgiving parade.
Come on, you can do better than plain ol' canned cranberry sauce. We'll solve this with one word – ORANGE. Add about 1 tsp of orange zest and 1/2 Tbsp of orange juice (or more if you prefer). This will brighten up that plain old canned cranberry sauce so much that your guests will be asking for the recipe. Shhhhh, we'll keep the secret for ya!
Aren't Thanksgiving leftovers the BEST? Answer = YES. The best (and safest) way is to cool everything down. Pack leftovers in shallow containers instead of big deep containers so they cool faster. Yes, it's a bit of work with all those containers and playing refrigerator Tetris, but the small containers will help your leftovers stay fresh and take up less space in the fridge!
This is the tip that will save you countless times in the kitchen on Thanksgiving Day. Chicken stock is your ultimate Thanksgiving savior. Simply keep a large saucepan of chicken stock warm on the stove throughout the day. It can rescue dry stuffing, too-thick gravy, dry turkey, and countless other emergencies that pop up at the absolute worst time. Anything you have leftover can be stored or frozen for later use, or use it as a base for leftover turkey soup! Who's ready to conquer Thanksgiving? You are! Don't forget to check out our mega list of 50+ Thanksgiving tips for even more turkey day wisdom! If it's all too much and you're tired of basting a bird for 6+hours, let us do all the work and order you smoked turkey today! Ships free with code "novship"
I've got the big wowza side dish for your Thanksgiving feast this year. I LOVE sweet potato casserole topped with mini marshmallows. However I always feel like there's never enough sweet potato to go around. It gets overwhelmed by the mini marshmallows and you miss out on that delish sweet potato taste.
So I decided, why not make things easier and individually portioned this year? You get more sweet potato deliciousness AND it's so much easier than putting together a casserole. All you have to do is bake up some sweet potatoes and top them with an AMAZING sauce filled with butter and sugar and spices. Not to mention mini marshmallows and BACON.
The savory sweet combo in these potatoes will have everyone going crazy at your Thanksgiving table. Everyone from the kiddos to the adults will swoon for it, and it makes the easiest and best side for all that turkey that you plan to inhale. Not to mention the leftovers are completely bomb diggity and you are going to want to set one (or two) aside to indulge in the weekend after Thanksgiving.
Happy turkey day folks!
[vimeo 191064381 w=640 h=360]
Fully Loaded Bacon Sweet Potatoes from Pig of the Month BBQ on Vimeo.
INSTRUCTIONS: Preheat oven to 425 degrees. Bake potatoes on a foil-lined rimmed baking sheet for 45 minutes to one hour, until tender. Remove from oven and make a slice in the center, leaving approximately a 1/2-inch on either end. In a small bowl, whisk together unsalted butter, brown sugar, ground cinnamon, ground cloves, ground nutmeg and vanilla. Spoon in the melted butter mixture into each sweet potato, distributing evenly. Add bacon evenly between the four potatoes. Top each with mini marshmallows. Broil for 1 to 2 minutes, until the marshmallows are toasted on top. Remove from oven and serve.
Shop This Post:
Pig of the Month BBQ Applewood Smoked Bacon  
*Recipe, photos and video by Meghan Bassett