Posts tagged: shrimp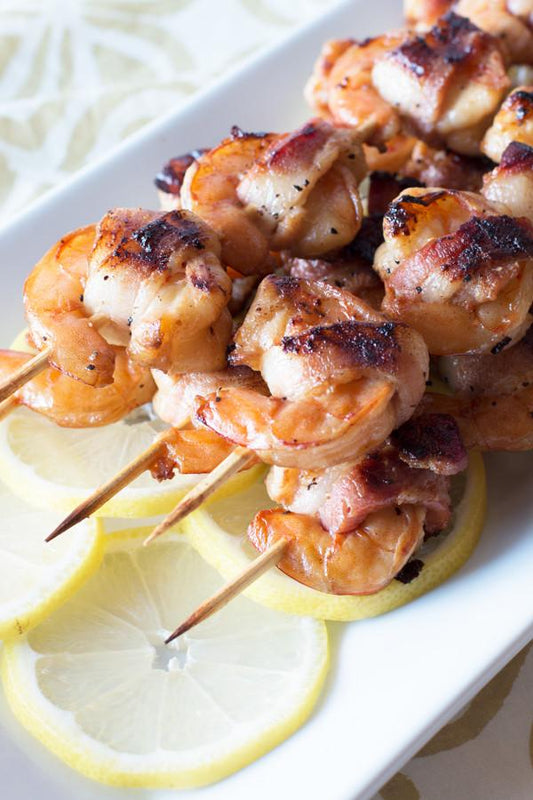 I can't seem to stop myself from wrapping things in bacon and to be honest, I don't want to stop. These little lemon pepper bacon wrapped shrimp skewers are the perfect spring recipe to kick off the grilling season! They are so simple to make, the marinade comes together in a snap, and the lemon pepper bacon is my new favorite bacon flavor! It has just the right amount of tart acidity to balance the thick-cut, greasy, delicious por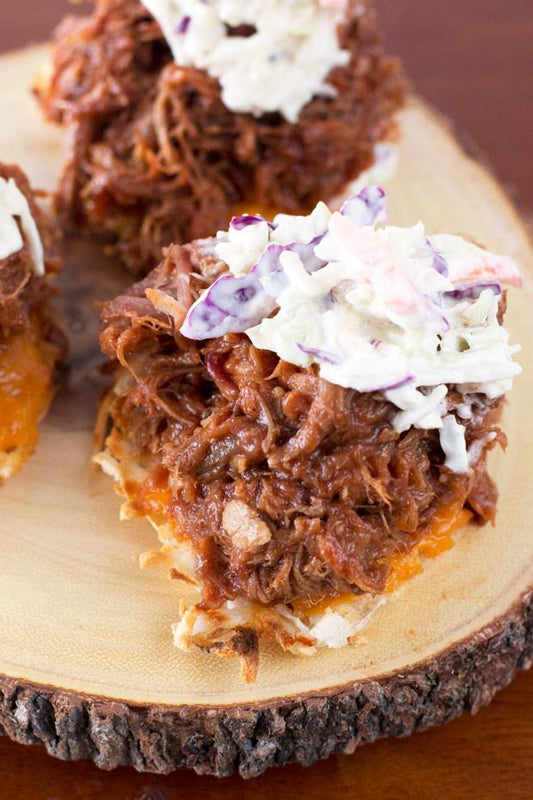 I can hardly believe that summer is almost over. Before you know it, Labor Day will have come and gone, the pumpkin spice lattes will be EVERYWHERE, and you'll be missing those long lazy summer afternoons of grilling so hard. I don't know about you, but I am packing in as much summer celebration as I can right about now. My weekends are all about party-hoppin' and backyard BBQ'ing. Of course, being the food-obsessed lady I am, I've got to bring the good stuff when I roll up to a party I'm not hosting. Now is the time to bust out those summer appetizers you have been meaning to make all summer long. You only live once right? Eat that extra slice of bacon. Stuff that sandwich with an extra slice of cheese. Get down on those summer flavors like there's no tomorrow, because soon tomorrow will be bringing that snowstorm that you've been dreading. I've rounded up some of my personal favorite summer appetizers below that are serious crowd-pleasers. These appetizer recipes are so bomb dot com, peeps! For real, I can promise you that you will never be heading home with leftovers.
Black Bean Jalapeño Poppers - Oh My Veggies Open-Faced Pulled Pork Sliders - Sauce + Style
Super-Size Bruschetta - Delish 5-Ingredient Garlic and Herb Cheese Bombs - Spoon University
Hawaiian BBQ Sliders - Nosh and Nourish Bacon-Wrapped Dates with Goat Cheese and Rosemary - Spoon University 
Lemon Pepper Bacon Wrapped Shrimp Skewers - Sauce + Style
Bacon Jalapeño Cream Cheese Poppers - Spoon University
Green Fries (AKA Crispy Baked Avocado Fries) - Sauce + Style
Tater Tot Nachos - Spoon University Hogs in a Blanket - Food & Wine Enjoy these last days of summer before it's too late!
It's that one final long weekend before the holiday season starts kicking in, people. How many of you can even believe it's almost September?! The beginning of summer feels like it was just last week and now… Well the grilling season is coming to an end and we area little broken up about it. Labor Day Weekend is that final big blowout we prepare for the moment July 4th is all wrapped up. It's the last long weekend of the summer and we want to send out summer and the best grilling season yet in the best way possible - with ALL the food and booze. This is the most epic Pig of the Month BBQ recipe round up yet. All your favs from Sauce + Style are below. You'll find cocktails, main grilling favs, grilled sides and even some dishes that won't take up all the precious grill space. With these recipes, you'll be able to keep the festivities going all weekend long. That three-day weekend's got nothing on you because you're about to host the biggest blowout anyone's ever seen! Cocktails Grilled Pineapple Bourbon Smash
Strawberry Daiquiri Popsicles Pina Colada Popsicles Mojito Popsicles
Old-Fashioned Strawberry Rhubarb Margarita Grilled Mains Chipotle Bacon-Wrapped Juicy Lucy Burgers
Grilled Chili Rubbed Flank Steak Spicy Dry Rub Ribs Sweet Chile and Orange Ribs
Bacon Jam Burgers Craft Beer Can Chicken Gourmet Hot Dogs
Grilled Sides Mexican Street Corn Lemon Pepper Bacon Wrapped Shrimp Skewers
Fan Faves (no grill necessary!) Sriracha Bacon Wrapped Stuffed Jalapeños  Sriracha Lime Baked Chicken Wings
Pull Apart Bacon Garlic Cheese Bread Bacon Jam Tartlets
Spicy Homemade Potato Chips 1, 2, 3, 4 Pulled Pork Crescent Rolls Want to skip the hassle of cooking? We've got ya covered there too! Just head over to Pig of the Month BBQ to order everything you need. You have until August 30th to get in on the action. Hurry up and order to get it in time for your Labor Day celebrations!