Posts tagged: recipe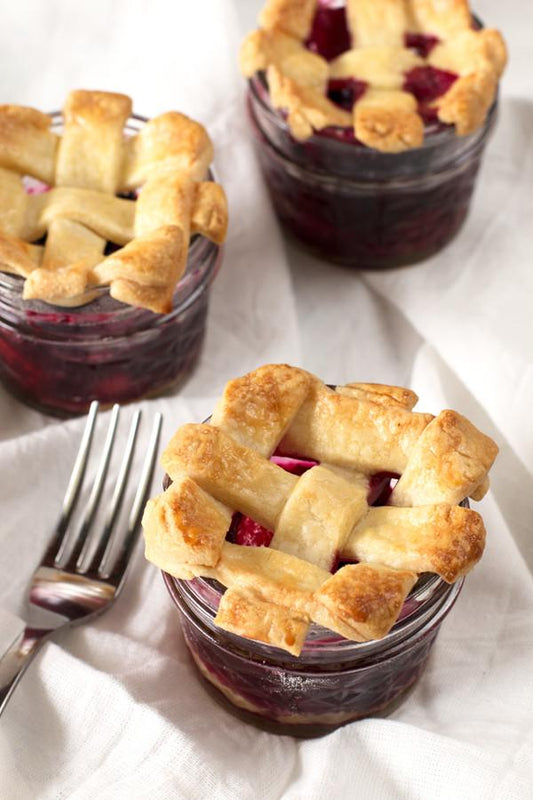 These mixed berry mason jar pies are so gosh darn cute, you will be able to make your worst enemy a friend simply by handing them one. The mix of the three berries is delicious and the addition of lemon zest really brings out those tart and sweet flavors. No need to fight over who gets the biggest piece anymore! Everyone gets their own, perfectly individual-sized portion.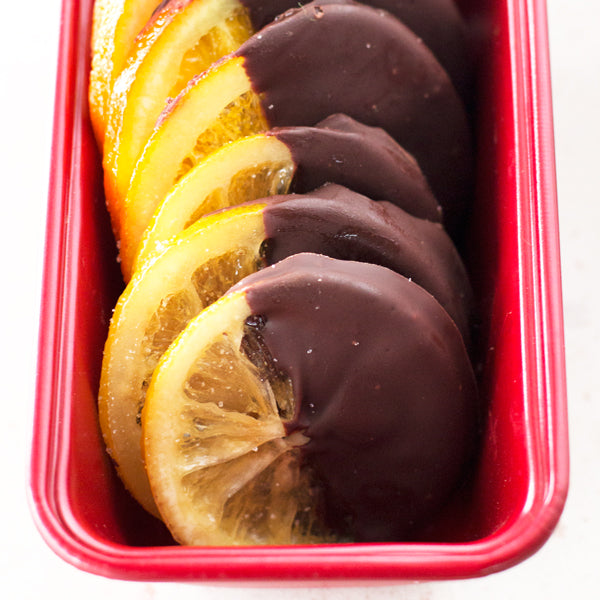 Still wondering what in the world you're going to get that special someone for Christmas this year? Don't worry, because I've got you covered with these chocolate dipped candied citrus slices!
After a while, buying presents gets a bit tough because everyone seems to have everything they need or want. When you want to show you care, I always say go for the tastebuds. Nothing says I love you like a plate full of beautifully candied citrus slices, dipped in chocolate and served with a bow, am I right?
These elegant slices of sugary citrus are dipped in dark chocolate and look so fancy, no one will know that it took you very little time and effort to create them.
INSTRUCTIONS: In a large skillet, heat water and sugar over medium-high heat and bring to a boil. Add the orange and lemon slices and continue to cook over medium heat, turning from time to time. Once the liquid is reduced to a thick syrup and the slices are translucent, approximately 20 minutes, reduce heat to low and simmer until the syrup is thick. Turn the slices occasionally as then cook, approximately 10 minutes.
Transfer the slices to a cooling rack and you can save the syrup to use as a citrus simple syrup in cocktails! Cool the slices for at least 12 hours before dipping.
Dip the citrus slices halfway into the melted chocolate and set on parchment paper to harden, approximately 1 hour. Package in cute little mini loaf pans and wrap as desired.
Recipe & Photos by Meghan Bassett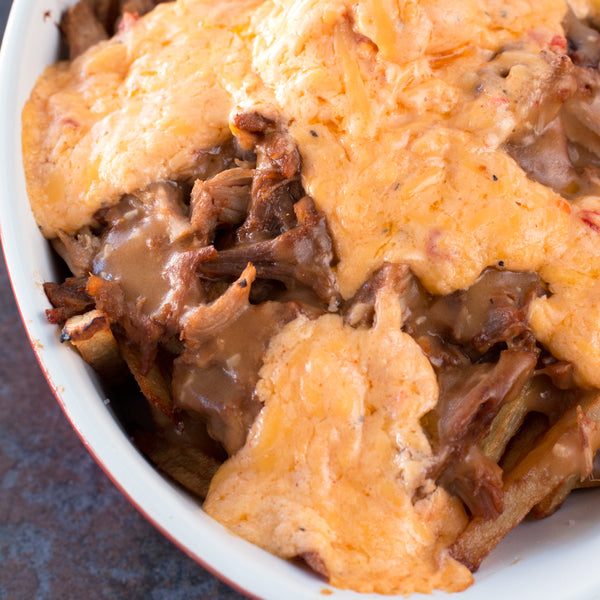 Pimento Pulled Pork Poutine! I dare you to say that five times fast...
Tongue-tied yet? Well, this poutine is exactly what you need to untie that bad boy and get down on some serious pulled pork. Poutine is one of my all-time favorite gluttonous meals to indulge in. After years and years of eating the same go-to recipe, I've decided to shake things up a bit by adding a hefty helping of pulled pork and ditching the cheese curds for some creamy, spicy pimento cheese spread. This is quite possibly the best combo of Canada meets Southern comfort you've ever tasted.
This dish is a glorious mess that people will be swooning for on game day this Sunday. Whether you're rooting for the Broncos or the Panthers on game day, this poutine is a must-have for your Super Bowl spread.
Hint: You can even whip up some frozen fries for this dish if you'd like to save time and get to the poutine sooner!
INSTRUCTIONS: Place the cut potatoes in a large bowl and cover with cold water. Refrigerate for about 1 hour.
While the potatoes are chilling, melt butter in a medium saucepan over medium-high heat. Stir in flour until the mixture is smooth. Stir in garlic and cook until fragrant, approximately 1 minute. Add beef stock, ketchup, and Worcestershire. Bring the mixture to a boil, stirring occasionally, until thickened, approximately 6 minutes. Season with salt and pepper to taste. Cover and keep warm on low heat until ready to serve.
Pour enough oil into a dutch oven to be 3" deep. Heat over medium heat until the temperature reaches 325 degrees. Drain potatoes and dry completely with paper towels. Fry the potatoes, working in small batches, until tender and just crisp. Remove to a paper towel lined plate to drain. Cool for 20 minutes.
Increase heat to medium-high and allow oil to heat to reach 375 degrees. Fry potatoes in the same small batches, until golden brown, approximately  2 minutes. Remove to fresh paper towel lined plate and sprinkle with salt. Preheat oven to 450 degrees F.
Add fries to an overproof baking dish. Top with the pulled pork, spreading it evenly across the whole dish.
Spoon the gravy over the fries and dollop the pimento cheese spread all over the top. Bake for approximately 5 minutes, until the cheese is melted and bubbly. Serve immediately.
Shop This Post
Recipe & Photos by Meghan Bassett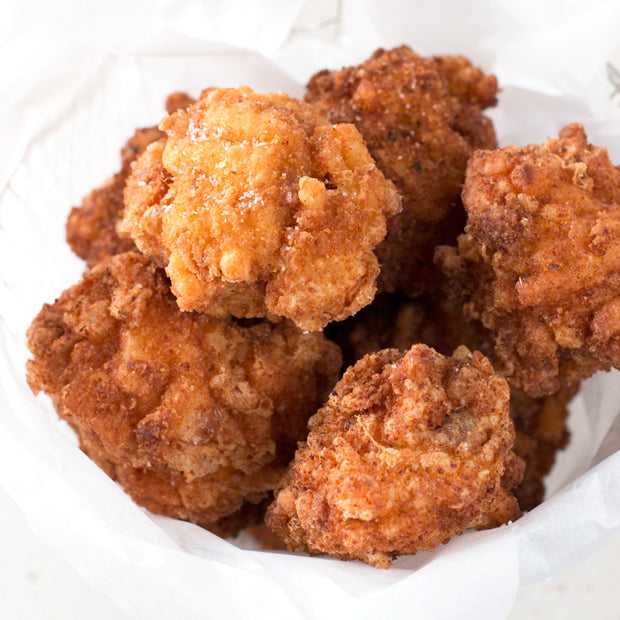 With the playoffs all wrapped up, that only means one thing. Time to get ready for the SUPER BOWL!
Since this year is the big number 50 for the Super Bowl, I'm going ALL out with the Super Bowl spread. Instead of the typical chips and dip, I'm opting to bring in the big guns with these golden, delicious fried bacon mac n cheese bites. They are crispy on the outside and warm, cheesy and bacon-packed on the inside.
The best part of this recipe is that you can simply use a few cups of leftover mac and cheese to make it! No need to let that mac and cheese sit lonely in the fridge anymore, you now have the best ever round two recipe for it that comes together in minutes.
No one will be able to step themselves at one, so be sure to triple this recipe if you've got a lot of hungry people headed your way on game day.
INSTRUCTIONS: In a medium bowl, mix together the mac and cheese and diced bacon. Form small balls (either one or two bite depending on your preference) out of the mac and cheese mixture and add them to a flat baking sheet. Once you have formed the balls (make sure you press them together tightly), cover with plastic wrap and freeze for at least 2 to 3 hours.
In a small bowl, beat the eggs. In another small bowl, combine the breadcrumbs and flour; season the coating with salt, pepper and cayenne. In a heavy bottomed saucepan, heat 3 to 4 inches of canola oil over medium-high heat. Working in small batches of 3 to 4, dredge the mac and cheese balls in the egg, then in the breadcrumb mixture. Add the the hot oil and fry until golden brown and hot in the center, approximately 4 to 5 minutes. Remove from the oil and drain on a paper towel-lined plate. Sprinkle with salt and repeat until all the mac and cheese balls are fried. Serve immediately.
Shop This Post
Pig of the Month Applewood Smoked Maple Bacon
Recipe & Photos by Meghan Bassett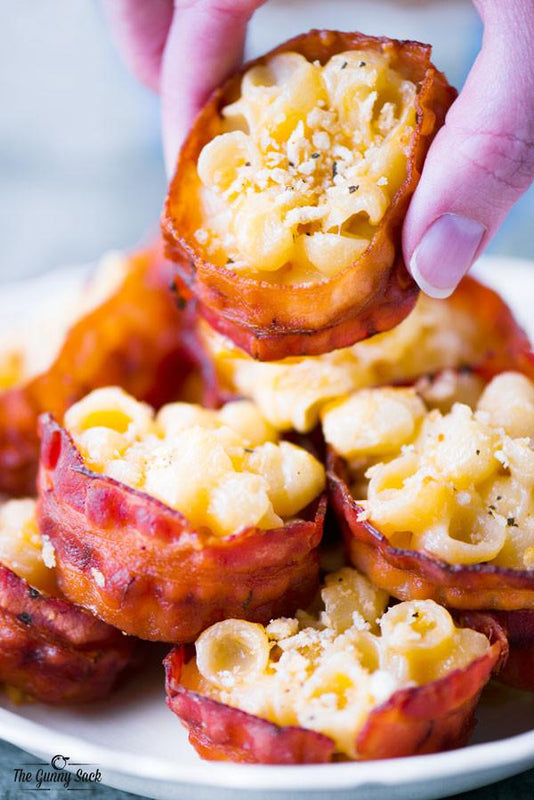 FOOTBALL IS FINALLY HERE! Who else out there is completely losing their minds? It feels like we've been waiting forever for the season to officially start - because we seriously have been - and now that it's here, we are going all out for every dang game. What does that mean for us Pig of the Month BBQ peeps? Wrap all the things in BACON. There's nothing much better than throwing bake some bacon deliciousness with those brews while taking in all that glorious pigskin action. You all know bacon is a part of daily life in our world, so having the excuse to whip it out yet again four days out of the week is our idea of hog heaven. Don't disappoint your favorite fans with some chips and dip and a couple beers this weekend. Bring out the bacon and make everyone lose their minds over all the goodness! Football was meant to be enjoyed with an extra side of bacon. Don't even try to argue with us. It's a FACT. Check out these KILLER bacon-wrapped recipes and head over to Pig of the Month BBQ's bacon section to get the good stuff. You can thank us later.
Teriyaki Chicken Skewers - Whitney Bond Parmesan Bacon Knots - A Spicy Perspective
Sweet Potato Fries Wrapped in Bacon - Spicy Southern Kitchen Tater Tot Bombs - Damn Delicious
Bacon Wrapped Pineapple Bites - Mama Loves Food
< Grilled Cheesy Potato Volcanoes - Tasty
Sriracha Bacon Wrapped Stuffed Jalapeños - Sauce + Style
Bacon-Wrapped Onion Rings - Sauce + Style
Bacon Wrapped Lil Smokies - Oh Sweet Basil Bacon-Wrapped Dates with Balsamic Reduction - Bright-Eyed Baker
Bacon-Wrapped Chicken Bites - Lovely Little Kitchen
Bacon Wrapped Avocados - Oh Sweet Basil
Bacon Mac and Cheese Bites - The Gunny Sack Bacon Cheeseburger Bombs - Pillsbury
Sweet and Spicy Bacon Wrapped Meatballs - The Gunny Sack Bacon Cream Cheese Bites - Garnish with Lemon
Bacon Wrapped Cheese Bombs - Crunchy Creamy Sweet
Shop This Post
Pig of the Month BBQ's INSANE bacon collection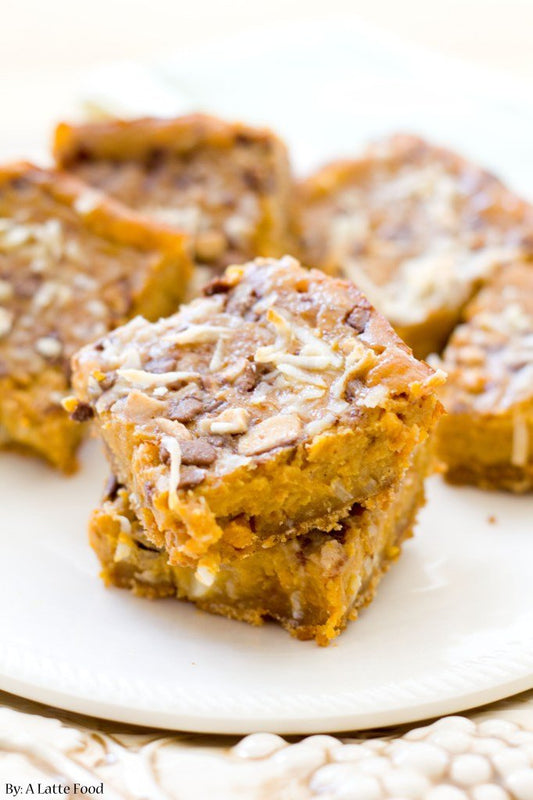 When Starbucks announced that the Pumpkin Spice Latte was back, I'm pretty sure the entire world lost its freaking mind. Have you already downed fifty pumpkin spice lattes at this point? Are you in the pumpkin spice ZONE? Are you ending every tweet with #PSL?? We sure are! September is already wrapping up (how did THAT happen??) and we can't stop, won't stop with all things pumpkin spice. Pumpkin spice latte runs have become somewhat regular during the mid-afternoon lull and we're oh-so ready for those extra large sweaters and boots. But those pumpkin spice lattes at Starbucks sure can get expensive, can't they...? It's about time we stopped losing all our money and starting getting that pumpkin spice fix a home! Today we're rounding up our favorite ways to get a little kick of pumpkin spice right in your own kitchen. From milkshakes to desserts, breakfasts to cocktails, the list below has everything you need for the rest of pumpkin spice season. Even if you aren't absolutely obsessed with pumpkin spice lattes, we bet you will find it hard to resist whipping up any one of these insanely addictive recipes.
Dark Chocolate-Espresso Pumpkin Bread Pudding with Salted Caramel Sauce - Portuguese Girl Cooks
Grown Up Pumpkin Pie Milkshakes - How Sweet It Is Pumpkin Spice Latte Brownies -
Pumpkin Bread Pudding with Dulce de Leche - Martha Stewart Pumpkin Coffee Cake Donuts - Delightful E Made
Nutella Swirled Pumpkin Bread - Broma Bakery Pumpkin Pie Dream Bars - A Latte Food
Pumpkin Dulce de Leche Baked Doughnuts - Bakerita.com
PSL Cake with Spiced Buttercream - Bethcakes
Triple-Chocolate Pumpkin Pie - Martha Stewart Pumpkin Spice Fudge - Aunt Peg's Recipe Box
Pumpkin Spice Syrup - Popsugar Pumpkin Margarita - Sweet Life Cheers to the pumpkin spice season! Take advantage now before it's too late... Before you know it, it'll be Christmas. WHAT.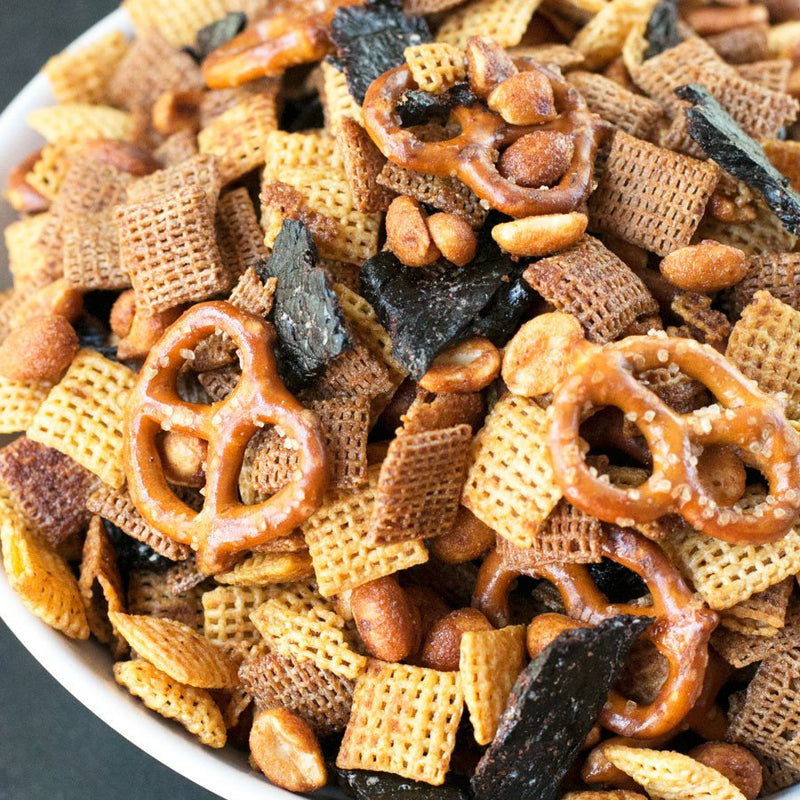 I always get into snacking whenever fall kicks in. I don't know if it's the cooler temperatures, the football, or the new batch of exciting flavors and recipes, but something comes over me and I turn into a grazer. This Quick & Easy Beef Jerky Chex Mix is one of my new favorite snacks to whip up any given day so I can keep up with my grazing habits all week long.
This whole snack mix requires such little effort! All you do is mix it all up and bake for a little over an hour. You'll just have to find a way to distract yourself while it bakes... Trust me when I say all you'll wanna do is reach in and snag a couple pieces every few minutes because the smell of this chex mix is way too intoxicating. You get the best of all worlds in each handful! This snack mix is a little sweet, a little spicy, and packed with our favorite Pig of the Month BBQ beef jerky. There's tons of variety to keep every taste bud in your mouth jumping for joy.
Pack a small bag to take with you to work, or set out the whole thing right before the big game kicks off this weekend. It'll all be gone before you know it!
[vimeo 183505889 w=640 h=360]
Quick & Easy Beef Jerky Chex Mix from Pig of the Month BBQ on Vimeo.
Happy snacking!
INSTRUCTIONS: Serves 8 to 10 Preheat oven to 250 degrees. Combine both types of chex, roasted peanuts, beef jerky and pretzels in a large bowl. Whisk together melted butter, Worcestershire sauce, garlic powder, onion powder, salt and cayenne pepper. Pour the sauce over the dry mix and toss to coat. Dump out chex mix onto lined rimmed baking sheet. Bake for 1 hour and 15 minutes, stirring every 20 minutes. Cool completely. Serve. Shop This Post Pig of the Month BBQ Beef Jerky
*Recipe, video and photos by Meghan Bassett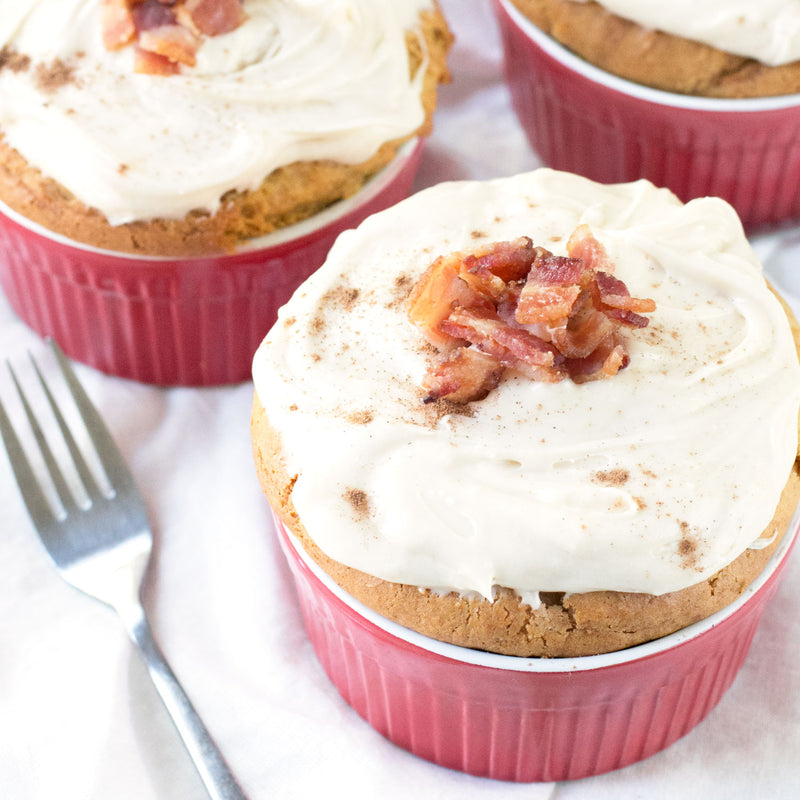 Pumpkin spice everything season is here! I don't know about you, but sometimes I need a break from all the meats and BBQ to satisfy that sweet tooth of mine. These little cakes are perfect for fall. They are packed with so much pumpkin spice, you will forget all about that PSL you were craving earlier this morning. Then you top of the moist, dense, delicious cake with cream cheese frosting and a little sprinkle of candied bacon (because we can't completely give up our meats now can we?).
I love making these cakes in the larger ramekins because they end up looking like giant frosted cupcakes! You can also make them in smaller ramekins if you don't want to be SO gluttonous. But who really wants to do that, right?
You can even make them cupcakes if you want to! Regardless, these cakes will be gone in a blink of an eye as soon as you serve them. Are you drooling yet? Time to get your bake on piggy peeps! Celebrate fall before that cold cold winter sets in. ;)
Serves 4 INSTRUCTIONS: Preheat oven to 350 degrees. In the bowl of a stand mixer, beat together butter and cream cheese. Add sugar and beat completely to combine. Add eggs one at a time, beating to combine fully between each. Beat in pumpkin and vanilla. Add dry ingredients and beat to incorporate fully. Grease 4 large ramekins. Fill the ramekins with the pumpkin batter approximately 3/4 of the way full. In a clean bowl, beat together cream cheese, butter, confectioners sugar, vanilla extract and milk for the cream cheese frosting until fully combined. Bake 20 minutes. Cool completely. Frost with cream cheese frosting and sprinkle with candied bacon.
Shop This Post
Pig of the Month BBQ Applewood Smoked Bacon  
*Recipe and photos by Meghan Bassett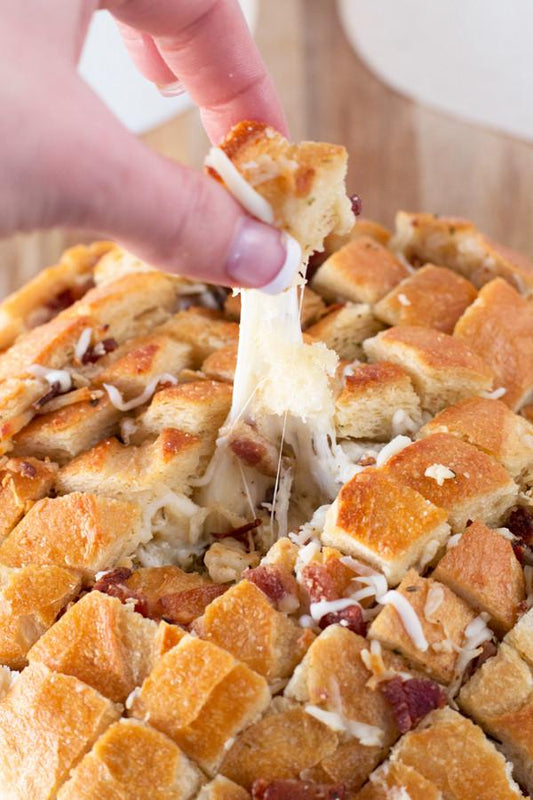 Hear that....? Gobble gobble! Thanksgiving is just around the corner and for all you piggy peeps out there, we know what you reallllllly want on turkey day. BACON. Seriously, though, when do any of us NOT crave bacon? The turkey might be the main event on Thanksgiving, but there's no reason you can't start out your day with some delicious bacon goodness. We're rounding up our top favorite bacon appetizers for you so you have plenty of time to prep for the big holiday. Even if the turkey turns out dry or the gravy is lumpy, at least you started off with a bang zoom pop of bacon to make up for it... HA don't worry, we know you pros wouldn't let any of that happen. Just make the bacon the opening act and we promise, your Thanksgiving is going to be off the HOOK. Bacon for the win, every dang time people!
Bacon Wrapped Tenderloin Bites with Creamy Horseradish Sauce - Joyful Healthy Eats Bacon Ranch Cheese Ball - Damn Delicious
Cream Cheese Stuffing Jalapeño Popovers - Whitney Bond Sweet and Spicy Sriracha Bacon Chicken Bites - The Gunny Sack
Bacon-Wrapped BBQ Shrimp with Chimichurri Dipping Sauce - Iowa Girl Eats
Feta and Bacon Stuffed Mushrooms - The Rustic Willow Grilled Bacon Wrapped Asparagus - Slim Sanity
Brown Sugar Candied Bacon - My Friend's Bakery Bacon Wrapped Dates with Goat Cheese and Rosemary - Spoon University
Bacon Wrapped Potato - Let the Baking Begin Maple Bacon Wrapped Andouille Bites - Loaves and Dishes
Bacon Straws - Army Wife to Suburban Life Sriracha Bacon Wrapped Stuffed Jalapeños - Sauce + Style
Pull Apart Bacon Garlic Cheese Bread - Sauce + Style
Bacon Jam Tartlets - Sauce + Style So after reading through all of these, which one do you want to start off your Thanksgiving feast with? Happy Turkey Day people!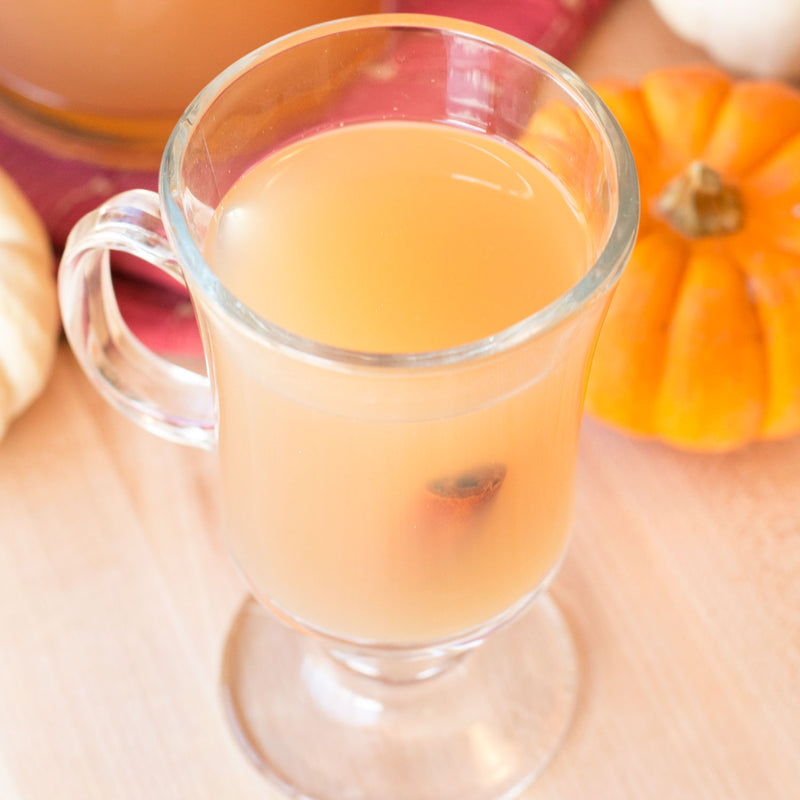 Who's thirsty?! Instead of hitting the wine this Wine Wednesday, I'm breaking out my slow cooker for some serious boozy deliciousness...
Nothing says fall and winter quite like a warm mug full of mulled apple cider. Cuddling up in a warm blanket, next to a wood burning fire, with some Netflix binging lined up for the remainder of the evening is how I like to take it easy.
This recipe is great to make and keep on hand in your refrigerator for the week so you can enjoy it each night, but it also works great as a holiday cocktail for your next party! Serve it up in some mugs with cinnamon sticks and everyone will go absolutely nuts over this stuff. It's highly addictive because it's so dang comforting. No matter how cold it gets outside, a glass of this cider will always warm ya right back up in moments.
The ingredients are super simple and the effort is basically NOTHING. Just dump it all in and let it simmer for the day. When you're ready to serve, stir in the vodka! We wouldn't want any of that booze burning off in the cooking process, now would we? ;)
I know what I am going to be whipping up all weekend long... And now you do too!
[vimeo 187844299 w=640 h=360]
Boozy Crockpot Apple Cider from Pig of the Month BBQ on Vimeo.
INSTRUCTIONS: Serves 12 Add apple cider, cinnamon sticks orange zest, cloves, star anise and allspice berries to the insert of a crockpot. Cook on low heat for 6 to 7 hours. When ready to serve, add vodka and stir to combine. Remove cinnamon sticks and spices with a fine mesh sieve. Serve immediately. If you are preparing this for a party, keep the slow cooker on it's lowest heat setting throughout the evening. Serve with cinnamon sticks for an added touch of deliciousness, and class.
*Recipe, photos and video by Meghan Bassett
1
2
3
Next »