Posts tagged: potatoes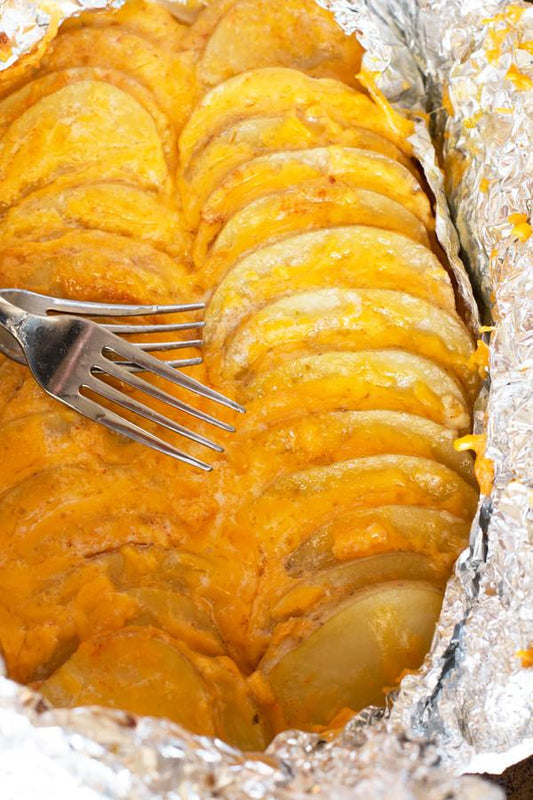 Have you broken out your grill yet? If not, I've got the perfect recipe for you to kick off grilling season with! Foil-wrapped cheesy potatoes! Whether you are grilling or heading out on a camping trip, these cheese potatoes are AWESOME. Wrapped up tightly in foil they can cook over any type of grill or straight over the campfire. They are bursting with all the flavors you love from cheesy potatoes, with just the right hint of spice to balance out that ooey gooey mess.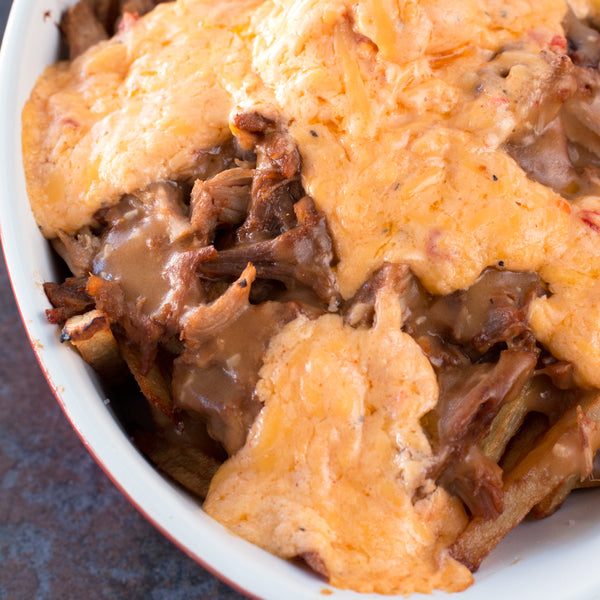 Pimento Pulled Pork Poutine! I dare you to say that five times fast...
Tongue-tied yet? Well, this poutine is exactly what you need to untie that bad boy and get down on some serious pulled pork. Poutine is one of my all-time favorite gluttonous meals to indulge in. After years and years of eating the same go-to recipe, I've decided to shake things up a bit by adding a hefty helping of pulled pork and ditching the cheese curds for some creamy, spicy pimento cheese spread. This is quite possibly the best combo of Canada meets Southern comfort you've ever tasted.
This dish is a glorious mess that people will be swooning for on game day this Sunday. Whether you're rooting for the Broncos or the Panthers on game day, this poutine is a must-have for your Super Bowl spread.
Hint: You can even whip up some frozen fries for this dish if you'd like to save time and get to the poutine sooner!
INSTRUCTIONS: Place the cut potatoes in a large bowl and cover with cold water. Refrigerate for about 1 hour.
While the potatoes are chilling, melt butter in a medium saucepan over medium-high heat. Stir in flour until the mixture is smooth. Stir in garlic and cook until fragrant, approximately 1 minute. Add beef stock, ketchup, and Worcestershire. Bring the mixture to a boil, stirring occasionally, until thickened, approximately 6 minutes. Season with salt and pepper to taste. Cover and keep warm on low heat until ready to serve.
Pour enough oil into a dutch oven to be 3" deep. Heat over medium heat until the temperature reaches 325 degrees. Drain potatoes and dry completely with paper towels. Fry the potatoes, working in small batches, until tender and just crisp. Remove to a paper towel lined plate to drain. Cool for 20 minutes.
Increase heat to medium-high and allow oil to heat to reach 375 degrees. Fry potatoes in the same small batches, until golden brown, approximately  2 minutes. Remove to fresh paper towel lined plate and sprinkle with salt. Preheat oven to 450 degrees F.
Add fries to an overproof baking dish. Top with the pulled pork, spreading it evenly across the whole dish.
Spoon the gravy over the fries and dollop the pimento cheese spread all over the top. Bake for approximately 5 minutes, until the cheese is melted and bubbly. Serve immediately.
Shop This Post
Recipe & Photos by Meghan Bassett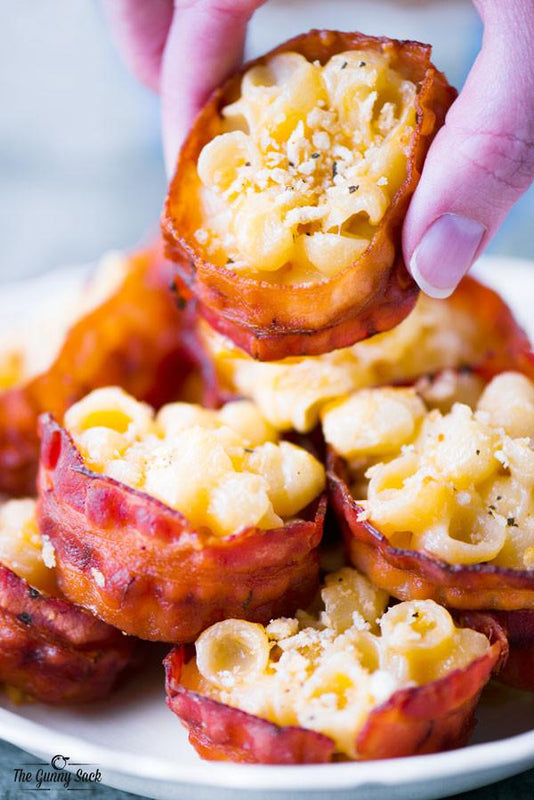 FOOTBALL IS FINALLY HERE! Who else out there is completely losing their minds? It feels like we've been waiting forever for the season to officially start - because we seriously have been - and now that it's here, we are going all out for every dang game. What does that mean for us Pig of the Month BBQ peeps? Wrap all the things in BACON. There's nothing much better than throwing bake some bacon deliciousness with those brews while taking in all that glorious pigskin action. You all know bacon is a part of daily life in our world, so having the excuse to whip it out yet again four days out of the week is our idea of hog heaven. Don't disappoint your favorite fans with some chips and dip and a couple beers this weekend. Bring out the bacon and make everyone lose their minds over all the goodness! Football was meant to be enjoyed with an extra side of bacon. Don't even try to argue with us. It's a FACT. Check out these KILLER bacon-wrapped recipes and head over to Pig of the Month BBQ's bacon section to get the good stuff. You can thank us later.
Teriyaki Chicken Skewers - Whitney Bond Parmesan Bacon Knots - A Spicy Perspective
Sweet Potato Fries Wrapped in Bacon - Spicy Southern Kitchen Tater Tot Bombs - Damn Delicious
Bacon Wrapped Pineapple Bites - Mama Loves Food
< Grilled Cheesy Potato Volcanoes - Tasty
Sriracha Bacon Wrapped Stuffed Jalapeños - Sauce + Style
Bacon-Wrapped Onion Rings - Sauce + Style
Bacon Wrapped Lil Smokies - Oh Sweet Basil Bacon-Wrapped Dates with Balsamic Reduction - Bright-Eyed Baker
Bacon-Wrapped Chicken Bites - Lovely Little Kitchen
Bacon Wrapped Avocados - Oh Sweet Basil
Bacon Mac and Cheese Bites - The Gunny Sack Bacon Cheeseburger Bombs - Pillsbury
Sweet and Spicy Bacon Wrapped Meatballs - The Gunny Sack Bacon Cream Cheese Bites - Garnish with Lemon
Bacon Wrapped Cheese Bombs - Crunchy Creamy Sweet
Shop This Post
Pig of the Month BBQ's INSANE bacon collection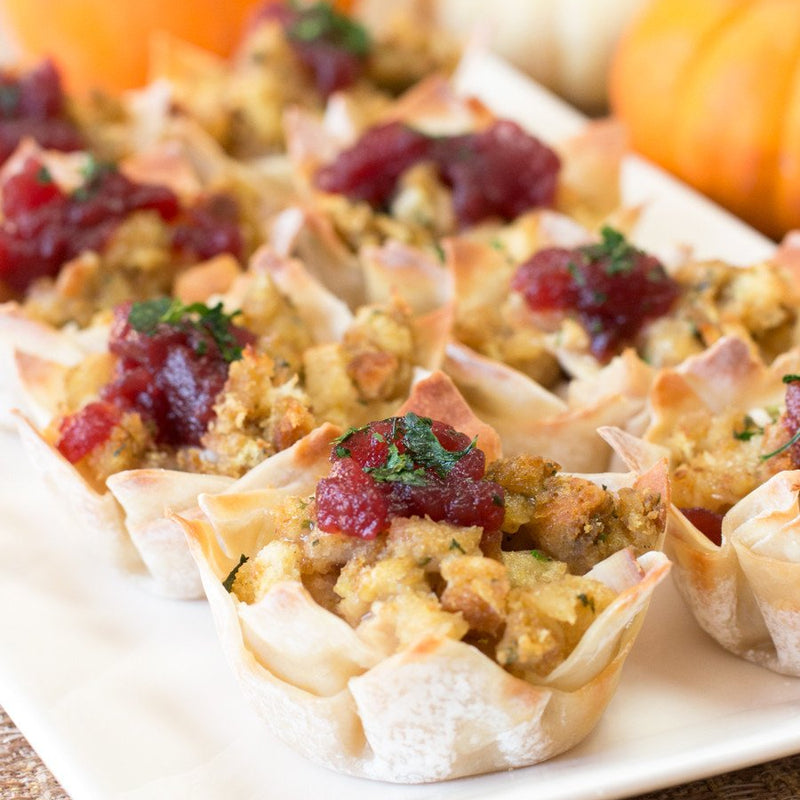 What to do with all those Thanksgiving leftovers....? That's the question that always haunts my brain when I wake up the day after Thanksgiving. You have so many tasty things stored up in containers, but eating plate after plate of the same thing is not exactly the most exciting thing in the world...
So I packed everything into these little crispy wonton cups to make the best, most portable Thanksgiving leftovers deliciousness known to man!
These cups layer up all the flavors that you love from Thanksgiving in the easiest and most delicious way possible. It's essentially Thanksgiving in a cup! If you have any parties to attend over the weekend and don't want to worry about making something from scratch, use up those tasty leftovers instead! Easy, delicious, and all the flavors that no one will ever get tired of. YUM!
[vimeo 192656878 w=640 h=360]
Thanksgiving Leftovers Cups from Pig of the Month BBQ on Vimeo.
INSTRUCTIONS: Preheat oven to 375 degrees. Grease a 12-cup muffin tin with cooking spray. Place one wonton wrapper flat in the palm of your hand with a corner pointing towards you. Brush with canola oil and place another wonton wrapper on top without a corner pointing towards you (so it looks like a square). Press stacked wonton wrappers into one muffin tin. Repeat with remaining wrappers. Add mashed potato, then turkey, and then stuffing. Top with 1 Tbsp of gravy. Bake for 10 minutes. Remove from oven and top each cup with 1 tsp cranberry sauce. Garnish with parsley and serve.
*Recipe, photos and video by Meghan Bassett
A couple of years ago, we served up a quick go-to appetizer of open-faced pulled pork sliders. We've been using this recipe ever since, but we decided it was about time to make a little update to this bad boy. Why not get on the food porn train and really blow your minds? So we broke out the waffle iron, all the cheese and piled on even more saucy pulled pork for this revisited version of an old fav.
This open-faced slider is the perfect combination of savory, spicy and sweet. Instead of being sandwiched between a bun, this pork sings with the crunchy, spicy coleslaw and the crisp waffle fry. I promise your mouth will be bursting with flavor! These sliders are the perfect opening bite to start your summer BBQ festivities with a bang. You get a little bit of everything you could ever want in each loaded bite!
Any excuse to get extra saucy at a BBQ, am I right? Happy BBQing, piggy fans!
Open Faced Pulled Pork Sliders from Pig of the Month BBQ.
INSTRUCTIONS: Heat up a waffle iron and grease with cooking spray. Add the shredded hash browns in batches, creating the base for your sliders. Remove once golden brown and crispy. Cut the hash brown waffle into 4 pieces. Top each piece of hash brown waffle with one slice of sharp cheddar cheese. Broil until melted. Set aside. In a small bowl, combine coleslaw, mayonnaise, lemon juice, salt and pepper. Stir until coated evenly. Warm the pulled pork in the microwave and stir in more BBQ sauce as desired. Top the cheesy hash brown waffles with pork and top with coleslaw. Serve immediately. Shop This Recipe: Pig of the Month BBQ Pulled Pork Pig of the Month BBQ Sauces Recipe, photos & video by Meghan Bassett