Posts tagged: potato salad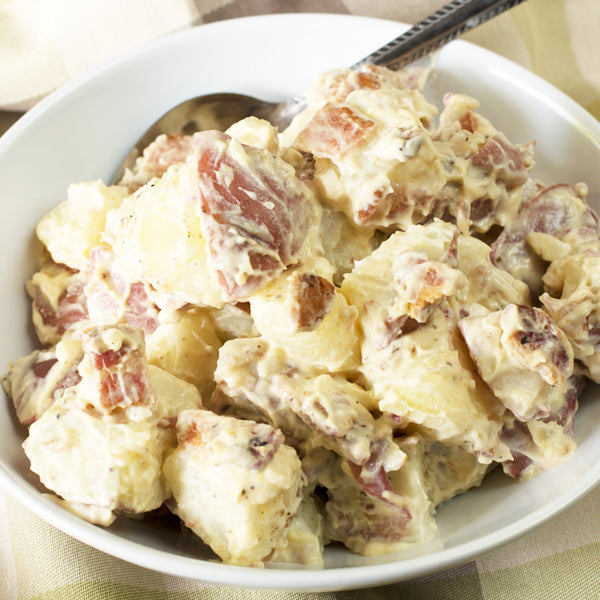 I've got a creamy, dreamy pile of bacon-packed potato salad for you today!
Before I go any further, tell me you've tasted the Pig of the Month Garden Herb bacon. If you haven't, I demand that you immediately order some RIGHT NOW. This just so happens to be one of my favorite flavors of bacon for summer cooking. It's the perfect balance of herbs and savory bacon in every bite.
And it just so happens to be the star ingredient of this garden herb bacon potato salad! The fresh herbs and bacon really come through in this super simple potato salad, making it a perfect side dish for your picnics and barbeques. The flavors are fresh and savory with a slight tang from the mustard and vinegar, making it a cooling salad to pair against a massive deli sandwich or a good ol' burger.
Happy picnicking!
INSTRUCTIONS Fill a large pot with water and season with 1 Tbsp salt. Bring to a boil over high heat and add the cubed potatoes. Cook potatoes until fork tender (approximately 10-15 minutes). Drain potatoes and add to a large serving bowl. Allow to cool completely. Add mayonnaise, onion, white wine vinegar, mustard, garlic, salt and pepper. Stir until all the potatoes have been evenly coated with the mayonnaise and spices. Cover and refrigerate for at least 2-3 hours before serving.
Shop This Post
Pig of the Month Garden Herb Bacon
Recipe & Photos by Meghan Bassett