Posts tagged: Pig of the Month recipe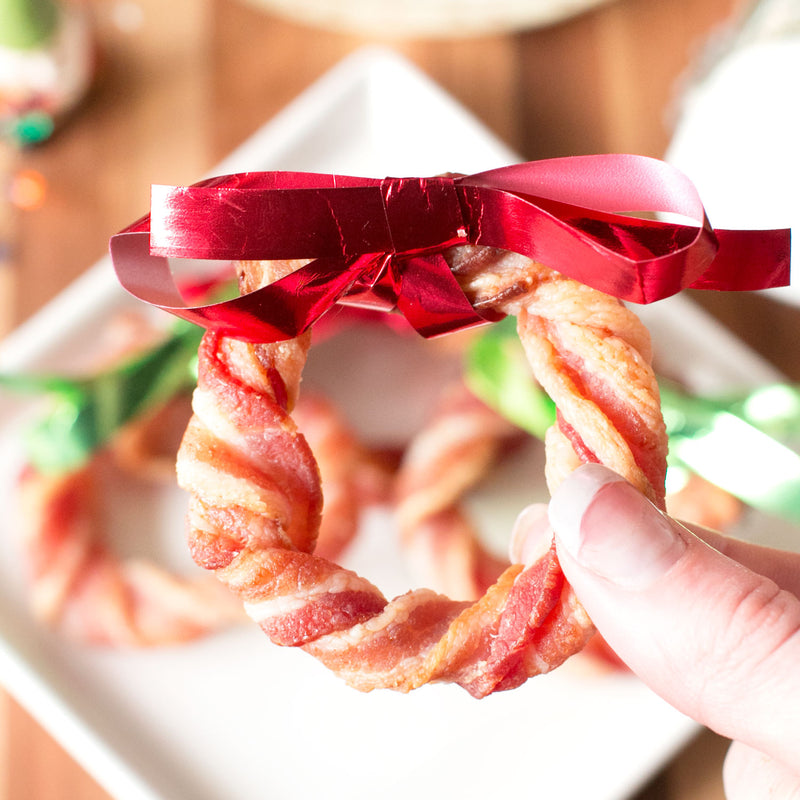 'Tis the season for all things BACON! Right?
I mean, everything's better with bacon, so really Christmas decorations should also be much improved with some crispy slices of delicious tasty bacon. These little bacon wreaths are the most adorable bacon surprise for all of you bacon-loving friends and family. You can hang them up on the tree (assuming you have no dogs of course...) or simply make them for Christmas morning breakfast to get extra festive!
They are super easy to make and everyone will think they are just the cutest darn things they've ever seen!
INSTRUCTIONS: Preheat oven to 425 degrees. Lay two pieces of bacon on a clean work surface, stacking the ends furthest away from you on top of each other.
Twist the bacon slices around each other to create a twisted rope of bacon.
Form the rope of bacon into a circle and attach all four ends of bacon together with a toothpick. Place on a rack on a lined baking sheet. Repeat with remaining bacon slices.
Bake for 15 minutes, until cooked through. Let cool. Once cool enough to handle. remove toothpicks and wrap ribbon around where the ends connect. Make a pretty bow and then give them out as presents to all your bacon-lovin' pals!
Shop This Post
Pig of the Month Applewood Smoked Maple Bacon (or any one of these flavors!)  
*Recipe and photos by Meghan Bassett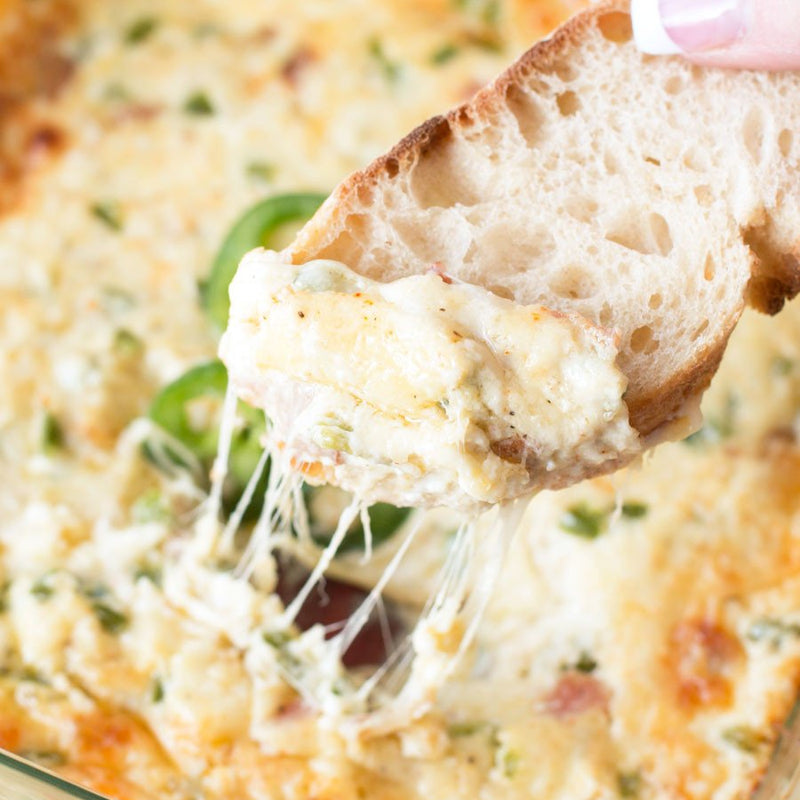 Y'all know I couldn't leave you hanging right before the big game on Sunday without something delicious to make, right? For the love of all things bacon and cheese, this Cheesy Jalapeno Bacon Dip is the one recipe that HAS to hit your game day spread this weekend.
I LOVE serving up cheesy dips for football parties because they are always the star of the entire day. The gooey cheese served up on crusty bread or tortilla chips is all too addicting (plus it helps balance out all those boozy drinks you'll be guzzling as you cheer your team on).
Heck, even if you are just watching for the commercials, you still need something to eat that'll warm you from the inside out! This creamy, cheesy dip is spicy and savory, with the perfect salty hit of bacon from Pig of the Month BBQ's Applewood Smoked Maple Bacon. The thick cuts of bacon really stick out in this dip, so it's ideal for all those bacon-lovers in yo life. When I dip, you dip, we dip! Time to DIG IN.
[vimeo 202231008 w=640 h=360]
Cheesy Jalapeno Bacon Dip from Pig of the Month BBQ on Vimeo.
Serves 6-8 INSTRUCTIONS: Preheat oven to 400 degrees. In a large bowl, mash together cream cheese, mozzarella cheese, jalapeños, mayonnaise, garlic, salt, pepper, cayenne, butter, and bacon until combined. Add mixture to a medium-sized baking dish. Bake for 20 to 25 minutes. Serve with tortilla chips or crusty bread. Shop This Post Pig of the Month BBQ Applewood Smoked Maple Bacon
*Recipe, photos and video by Meghan Bassett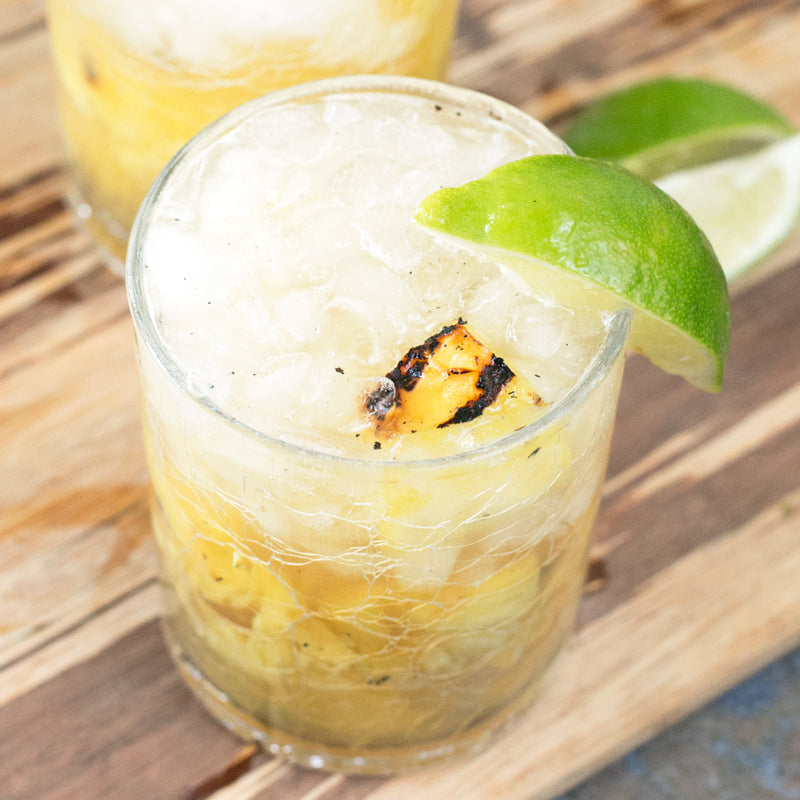 You all know we LOVE to get our grill on in the summer. There's only a few precious month's of grilling and boozing to make the most of before the cold weather sets in. As much as we still love those fall months (can you say 'tailgating heaven'?), we kind of wish we could grill all year round.
So when those warm temps hit, it's all about grilling all the things. We grill our meats, our veggies, our desserts and now, even our cocktails. Grilled pineapple is already one of our fav summer treats, so why not throw it in with some bourbon so you have something delicious to sip on while you're working hard over that hot grill? There's no reason not to, obviously.
These bourbon smash cocktails are packed with grilled pineapple so they are almost like a sangria with all that chunky fruit in there. Of course, instead of wine there's a ton o' bourbon - right up our alley for cocktail hour. Keeping those summer vibes going and working our grills as hard as possible is all we BBQ-loving peeps know how to do, after all. Cheers to the summer!
INSTRUCTIONS: In the bottom of a double old fashioned glass, muddle grilled pineapple with lime juice.
Pour in bourbon and stir. Fill glass with crushed ice and top with soda water. Stir once more to combine. Serve.
Recipe & photos by Meghan Bassett