Posts tagged: Pig of the Month brisket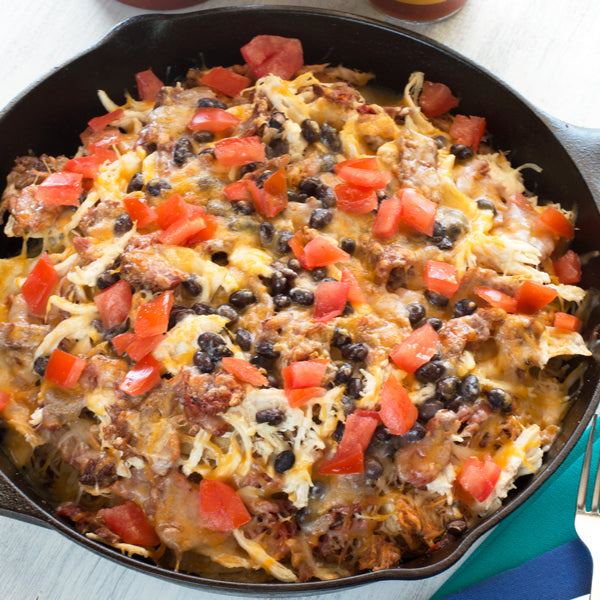 Imagine this… You're sitting around the campfire, drinking a couple beers and joking with your friends. Then someone says, "dinner's ready" and you all gather around a large cast iron skillet. The aluminum foil gets peeled off and you instantly smell the best campfire dinner smell ever – barbeque.
Now I'm turning that imagined experience into a reality for you with these campfire barbeque nachos! Featuring Pig of the Month meats, all you have to worry about is preparing shredded chicken prior to packing up and heading to your campsite. Then simply assemble all the ingredients, cover with foil and cook directly on the campfire until everything's warm and the cheese is melted.
You'll end up loving the three-meat combination on these campfire nachos so much, you'll be building fire pits in your backyard just for an excuse to eat them on a weeknight! DIG IN!
INSTRUCTIONS: Layer the tortilla chips on the bottom of the cast iron skillet, filling it approximately 1/3 of the way full. Add the pulled pork, brisket and pulled chicken in an even layer on top of the chips.
Top the meats with black beans, sliced jalapeños, and cheese. Cover the cast iron skillet with aluminum foil and place directly on the campfire. Cook until the dish is warmed through and the cheese is melted, approximately 5 to 10 minutes. You can also cook this under the broiler on low for approximately 5 minutes at home!
Remove from heat, peel off the foil and top with the fresh tomato chunks. Serve immediately with either barbeque sauce or salsa and hot sauce.
  Shop This Post
Pig of the Month Pulled Pork Pig of the Month Brisket
Recipe & Photos by Meghan Bassett