Posts tagged: Pig of the Month BBQ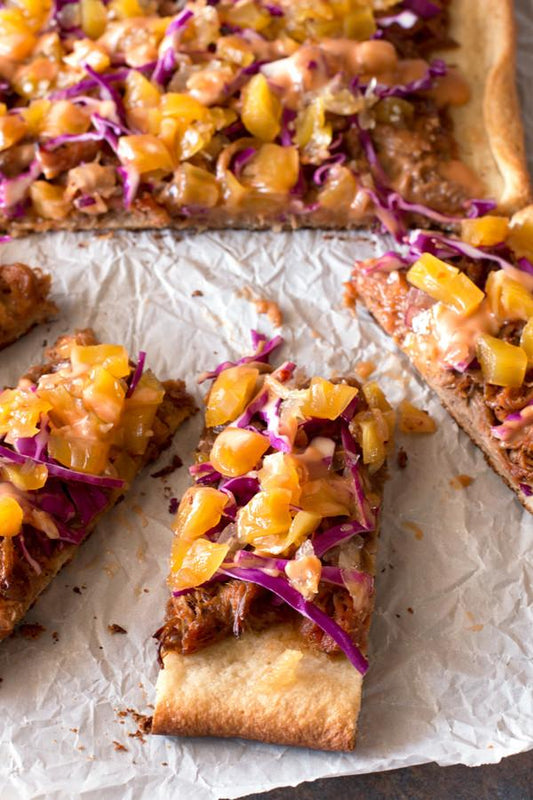 This is officially my new favorite way to devour pulled pork. I'm serious, I can't even begin to convey how much I love this flatbread. All of the layers of flavors on top of a perfectly crisp flatbread makes this dish a must have for anyone who loves pulled pork.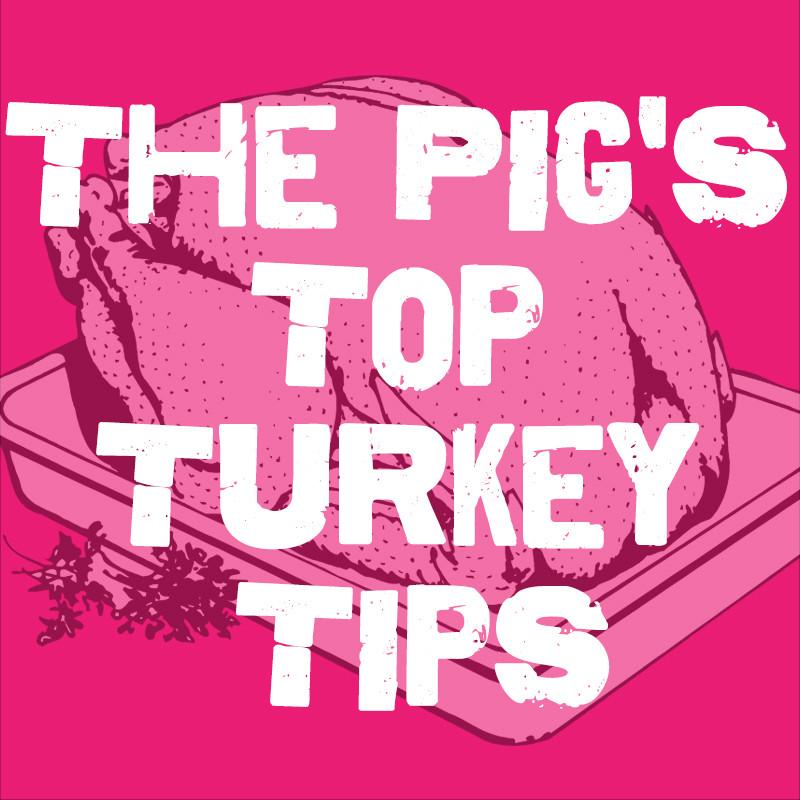 Thanksgiving is ONE WEEK AWAY! It always sneaks up on us and no matter how well-prepared we think we are, there are some last minute questions that always come up. We're rounding up our top Thanksgiving tips for you this year to make sure you're on your game! Look no further pig-lovin' friends, we've got your Thanksgiving covered.
Don't forget how long defrosting a turkey actually takes! You can thaw your bird either in the refrigerator or cold water. If you're using the refrigerator, use the equation of 1 day to thaw for every 4lbs of meat. Short on time? No problem. Cold water thawing is much faster at a rate of 30 minutes to thaw for every pound.
No one likes lumpy gravy... Bust out the sieve or strainer! This will get all those gross lumps right out. You can also use your good ol' blender to puree the lumps outta there.
Did you mail-order a Pig of the Month BBQ Feast, Whole Turkey, or Smoked Turkey Breast? First off, high five for being a Thanksgiving genius. You just made your life SO much easier. Now that you've got the main attractions covered, it's time to think sides that go with all the POM deliciousness. If you want to make something extra, go for the veggies. For a quick fix, grab your fav veggies, chop them up and toss with olive oil, salt, pepper, and a little garlic powder or chopped garlic. Roast on a lined, rimmed baking sheet at 400 degrees until tender. Have everyone else bring the rest of the fixings and kick up you feet to watch the Thanksgiving parade.
Come on, you can do better than plain ol' canned cranberry sauce. We'll solve this with one word – ORANGE. Add about 1 tsp of orange zest and 1/2 Tbsp of orange juice (or more if you prefer). This will brighten up that plain old canned cranberry sauce so much that your guests will be asking for the recipe. Shhhhh, we'll keep the secret for ya!
Aren't Thanksgiving leftovers the BEST? Answer = YES. The best (and safest) way is to cool everything down. Pack leftovers in shallow containers instead of big deep containers so they cool faster. Yes, it's a bit of work with all those containers and playing refrigerator Tetris, but the small containers will help your leftovers stay fresh and take up less space in the fridge!
This is the tip that will save you countless times in the kitchen on Thanksgiving Day. Chicken stock is your ultimate Thanksgiving savior. Simply keep a large saucepan of chicken stock warm on the stove throughout the day. It can rescue dry stuffing, too-thick gravy, dry turkey, and countless other emergencies that pop up at the absolute worst time. Anything you have leftover can be stored or frozen for later use, or use it as a base for leftover turkey soup! Who's ready to conquer Thanksgiving? You are! Don't forget to check out our mega list of 50+ Thanksgiving tips for even more turkey day wisdom! If it's all too much and you're tired of basting a bird for 6+hours, let us do all the work and order you smoked turkey today! Ships free with code "novship"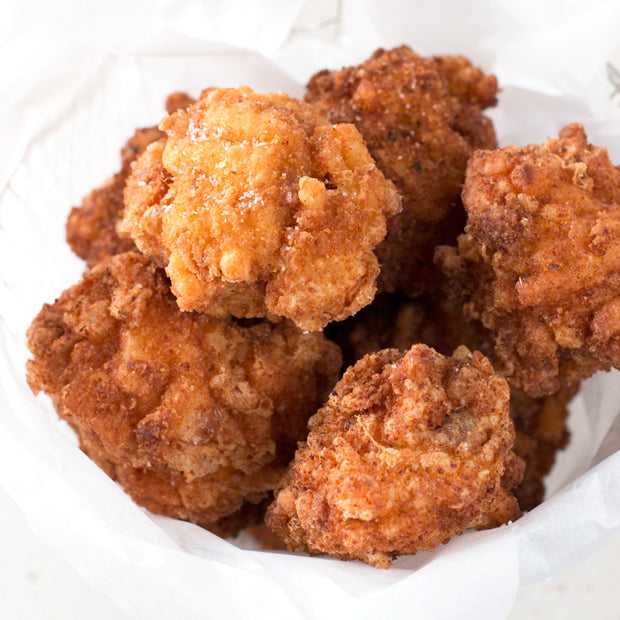 With the playoffs all wrapped up, that only means one thing. Time to get ready for the SUPER BOWL!
Since this year is the big number 50 for the Super Bowl, I'm going ALL out with the Super Bowl spread. Instead of the typical chips and dip, I'm opting to bring in the big guns with these golden, delicious fried bacon mac n cheese bites. They are crispy on the outside and warm, cheesy and bacon-packed on the inside.
The best part of this recipe is that you can simply use a few cups of leftover mac and cheese to make it! No need to let that mac and cheese sit lonely in the fridge anymore, you now have the best ever round two recipe for it that comes together in minutes.
No one will be able to step themselves at one, so be sure to triple this recipe if you've got a lot of hungry people headed your way on game day.
INSTRUCTIONS: In a medium bowl, mix together the mac and cheese and diced bacon. Form small balls (either one or two bite depending on your preference) out of the mac and cheese mixture and add them to a flat baking sheet. Once you have formed the balls (make sure you press them together tightly), cover with plastic wrap and freeze for at least 2 to 3 hours.
In a small bowl, beat the eggs. In another small bowl, combine the breadcrumbs and flour; season the coating with salt, pepper and cayenne. In a heavy bottomed saucepan, heat 3 to 4 inches of canola oil over medium-high heat. Working in small batches of 3 to 4, dredge the mac and cheese balls in the egg, then in the breadcrumb mixture. Add the the hot oil and fry until golden brown and hot in the center, approximately 4 to 5 minutes. Remove from the oil and drain on a paper towel-lined plate. Sprinkle with salt and repeat until all the mac and cheese balls are fried. Serve immediately.
Shop This Post
Pig of the Month Applewood Smoked Maple Bacon
Recipe & Photos by Meghan Bassett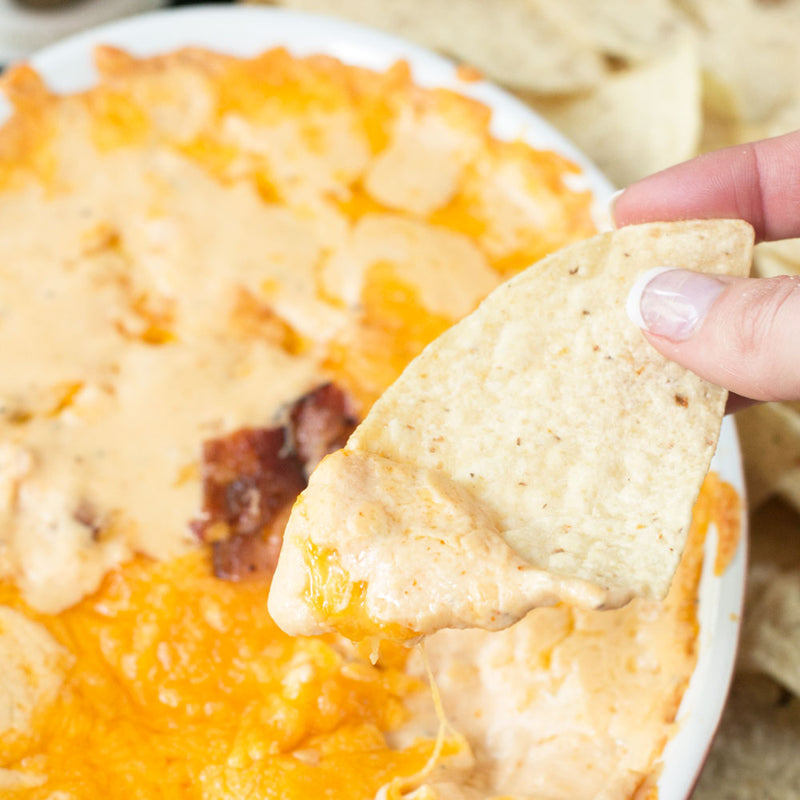 When beer, bacon and cheese come together, it's a beautiful thing. It's an even more beautiful thing when it's all baked up into a gooey dip like the one you see right here. I don't know of anyone who could resist diving into this dish headfirst. I mean, it's bacon and cheese so it's a given that everyone will be obsessed with it.
But it's the beer that really makes this dip insanely delicious. The hoppy IPA gives the dish a little bite of beer flavor that pairs so perfectly with all that crispy bacon and massive amounts of cheese. The result is a dip that needs to be busted out on the regular, especially during tailgating season. As you gather around the TV to watch your favorite team bring home the win, this cheesy mess of goodness will make the win that much sweeter (or cheesier....). Beer and beer always go hand in hand. Don't try to argue with that logic, because you'll lose.
Load up those chips and get to eating, piggy fans!
[vimeo 181794693 w=640 h=360]
Bacon & Beer Cheese Dip from Pig of the Month BBQ on Vimeo.
INSTRUCTIONS: Preheat oven to 350 degrees. In a medium saucepan over medium high heat, melt butter. Add onion and cook down til tender, approximately 3 minutes. Whisk in mustard, then pour in beer. Stir and bring to a boil for 5 minutes. Whisk in cream cheese and reduce heat to medium. Whisk until the cheese is melted. Remove from heat and add monterey jack cheese and 3/4 of the cheddar cheese. Stir until cheese is melted. Add spices and 3/4 of the bacon, stirring to combine. Pour cheese dip into a baking dish. Top with remaining cheese and bacon. Bake for 20 to 25 minutes.
Shop This Post
Pig of the Month Applewood Smoked Maple Bacon  
*Recipe, photos and video by Meghan Bassett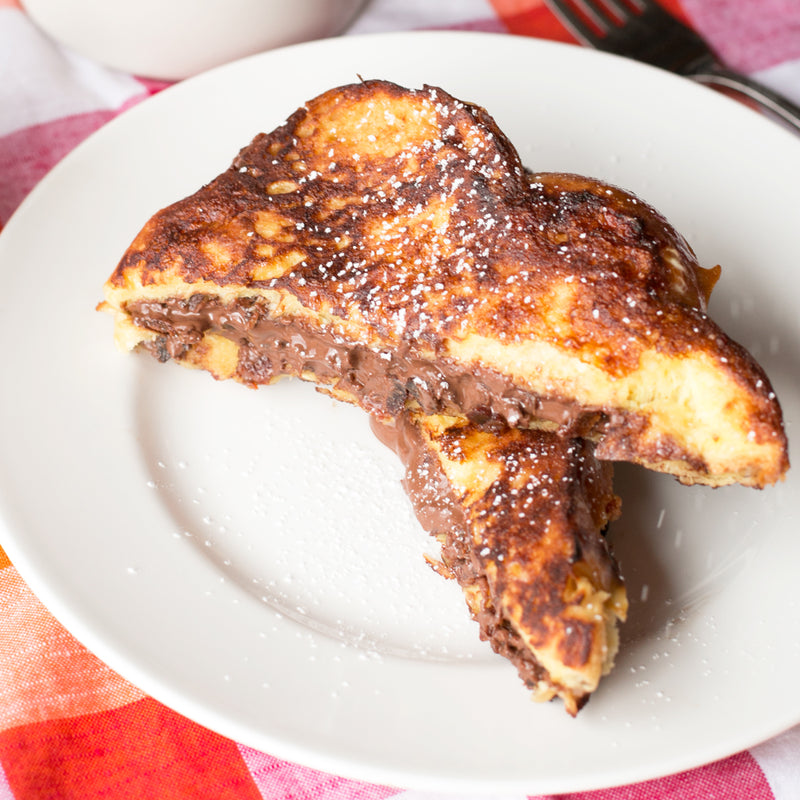 You guys.... It's time to find out what the BEST breakfast is EVER. Bacon-Stuffed Nutella French Toast... You will never believe the lusciousness that awaits you with every bite of this over-the-top French toast. The combination of bacon and Nutella is just about the best combination I've ever tasted. Just like chocolate-covered bacon, Nutella is an even better pairing for bacon.
This is the kind of breakfast that you serve when you are having a rough week or, especially, when you are trying to impress all those friends and family members. People will be swooning, they will be sighing, they will be melting in their seats when they take that first bite.
Or you can just hoard all of it to yourself and you don't have to worry at all about sharing. I totally support this decision, by the way. Just in case you were wondering.
INSTRUCTIONS: In a shallow bowl, whisk together eggs and milk. Spread four slices of the bread equally with Nutella. Sprinkle each with bacon. Top with the other slices of bread to form a Nutella sandwich. In a medium skillet, melt 1 Tbsp of butter. Dip both sides of one sandwich into the egg and milk mixture and place in the hot skillet. Cook for about 4 minutes per side, until golden brown on both sides. Repeat with remaining sandwiches. Cut each in half and serve. Shop This Post Pig of the Month BBQ Applewood Smoked Bacon
*Recipe & photos by Meghan Bassett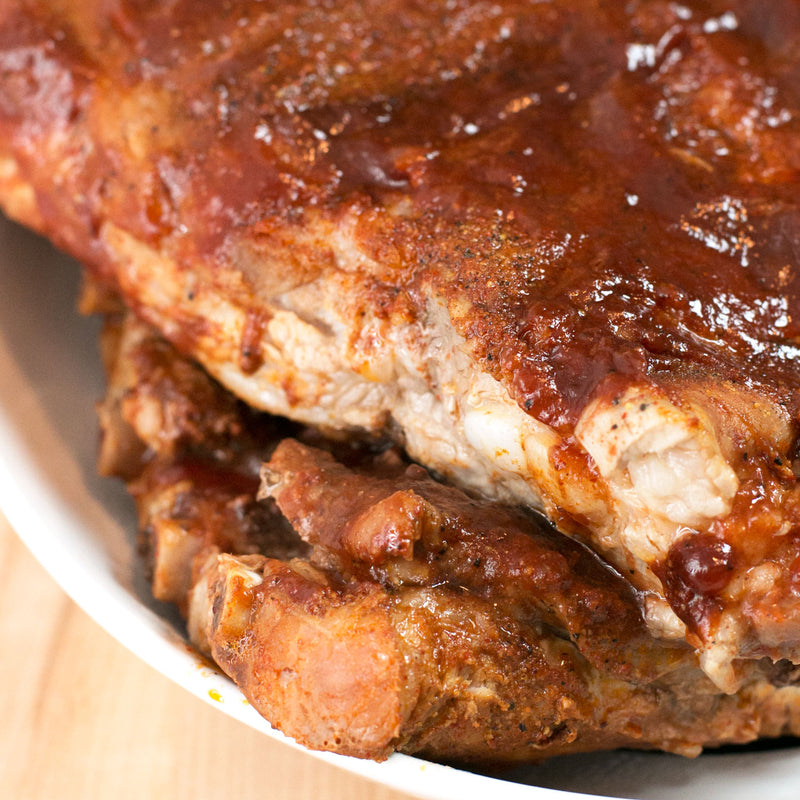 You know when you want those tasty, saucy, oh-so tender ribs but you don't have the time to slave away over the grill? I'm talking about those weeknights when you want to roll up to a giant slab of ribs without spending an arm and a leg, and without having to tend to a grill all dang day.
Wish no more, because I've got your weeknight meal run rescue right here. All you have to do is get your slow cooker ready for a day's worth of cooking those meaty bones low and slow. When you get home to these bad boys, your home will smell like BBQ and you'll be drooling in anticipation of that fall off the bone tender meat!
It's the rub PLUS the Pig of the Month BBQ Love Me Tender BBQ Sauce that make these ribs so ridiculously flavorful and delicious. You don't have to worry about adding extra liquid because these ribs will put their own juices to work. You don't end up with a gross watery mess at the end of this cooking round. Nope, you get those perfectly cooked, tender, melt-in-your-mouth ribs you've been dreaming of. So who's hungry?!
[vimeo 187700215 w=640 h=360]
Crockpot Memphis Style BBQ Ribs from Pig of the Month BBQ on Vimeo.
INSTRUCTIONS: In a small bowl, whisk together spices to create the super secret rub. Remove the membrane from the ribs and cut slab into three equal pieces. Add one of the three piece to the insert of a slow cooker. Top with one third of the rub, using your hands to rub it into the meat. Top the slab piece with one third of the BBQ sauce. Repeats these layers (ribs, rub, sauce) until the last layer of sauce. Cook on low for 8 to 10 hours. Remove from slow cooker and serve.
Shop This Post
Pig of the Month BBQ Love Me Tender BBQ Sauce  
*Recipe, photos and video by Meghan Bassett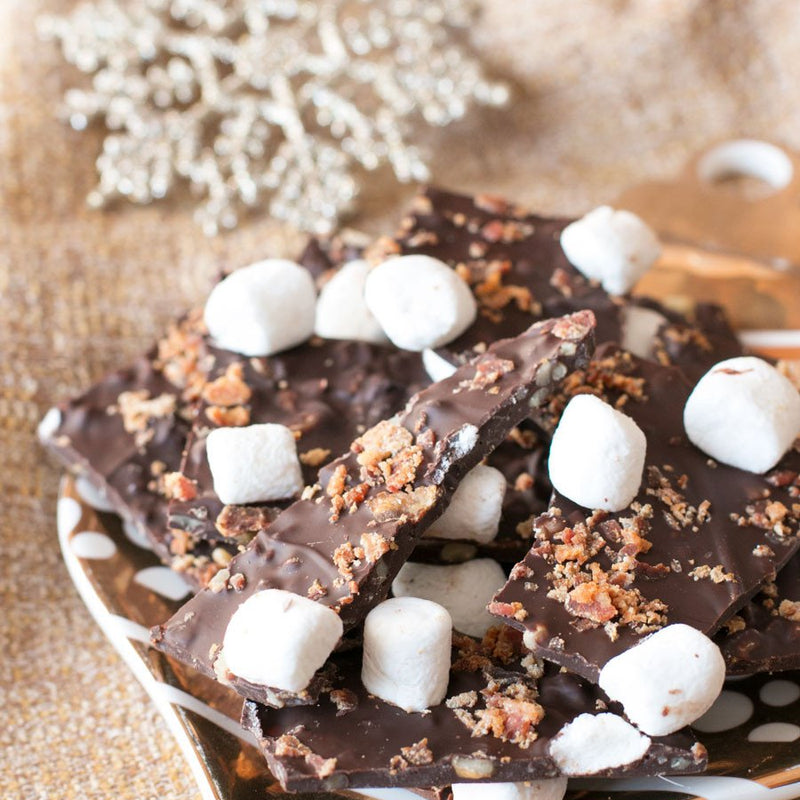 Can you believe it's almost December?! My mind is still reeling from Thanksgiving and holiday parties are already filling up each and every weekend from now until Christmas. I'm trying to think ahead and all I can think to give people is something food-related for Christmas presents...
Big surprise considering my entire life revolves around food. Well, more specifically bacon... This maple bacon marshmallow bark is a fun sweet and savory treat that no one will be able to get anywhere else! Forget candy canes or caramels, this chocolate bark can only be found in one place... your kitchen!
A treat like this one is SUPER easy to make and barely takes any time. You just need a microwave and a freezer to get this little pile of treats whipped up. Then box it up and give it out as Christmas presents, hostess gifts for all those parties you'll be attending, or just load up on massive amounts of this bark for yourself. The sweet and savory combination makes this bark the ultimate snack to indulge in on any chilly afternoon this December!
INSTRUCTIONS: Add the dark chocolate chips to a microwavable bowl. Microwave the chocolate for 45 seconds to 1 minute. Remove the bowl and stir. Place back in the microwave for 15-second intervals, stirring in between each, until the chocolate is melted and smooth. Stir in walnuts. Line a baking sheet with wax paper. Spread the melted semi-sweet chocolate in an even layer on the wax paper. It should be approximately 1/4″ thick. Sprinkle with bacon and mini marshmallows. Allow it set for 30 minutes in the freezer. Shop This Post Pig of the Month BBQ Applewood Smoked Maple Bacon 
*Recipe & photos by Meghan Bassett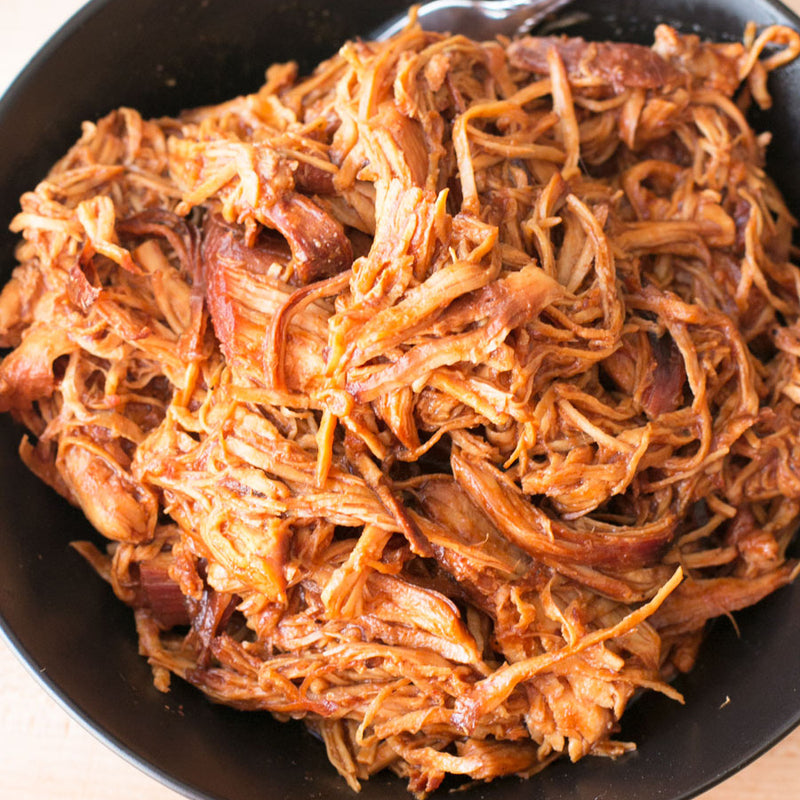 This new best ever crockpot BBQ chicken is going to be a family favorite in no time. With only 5 ingredients, all you gotta do is dump everything into your slow cooker and wait for the deliciousness to be ready. I love being able to dump meals like this before heading into the office. Coming home to a house filled with that tasty BBQ scent is more welcoming than any scented candle could ever be.
The final result is this tender, juicy chicken packed with flavor and ready to be eaten however you choose! You can eat it plain along with some veggies, make BBQ chicken sandwiches or sliders with it, or ever whip up some BBQ chicken tacos. You can even roll up the chicken with some avocado in an egg roll wrapper and fry them... The possibilities are endless with this simple recipe, and it'll keep the whole family happy! This crockpot BBQ chicken is even amazing for parties when you don't want to get stuck fussing over food in the kitchen for hours. You can simply leave the chicken in the sauce on low throughout the party to make sure it stays toasty and tasty.
No one will ever believe this recipe requires just 5 measly ingredients! Don't worry, I promise not to reveal our little secret... Let them think you slaved for hours!
[vimeo 186283536 w=640 h=360]
Best Ever Crockpot BBQ Chicken from Pig of the Month BBQ on Vimeo.
INSTRUCTIONS: Add chicken breasts to the insert of a slow cooker. Season breasts with salt and pepper. Add salt, cayenne, brown sugar and BBQ sauce. Stir briefly to coat the chicken breasts. Cook on high for 3 to 4 hours. Shred with two forks in the pan and let the chicken warm in the sauce for 15 minutes for extra flavor. Serve as sliders or sandwiches.
Shop This Post:
Pig of the Month Love Me Tender BBQ Sauce  
*Recipe, photos and video by Meghan Bassett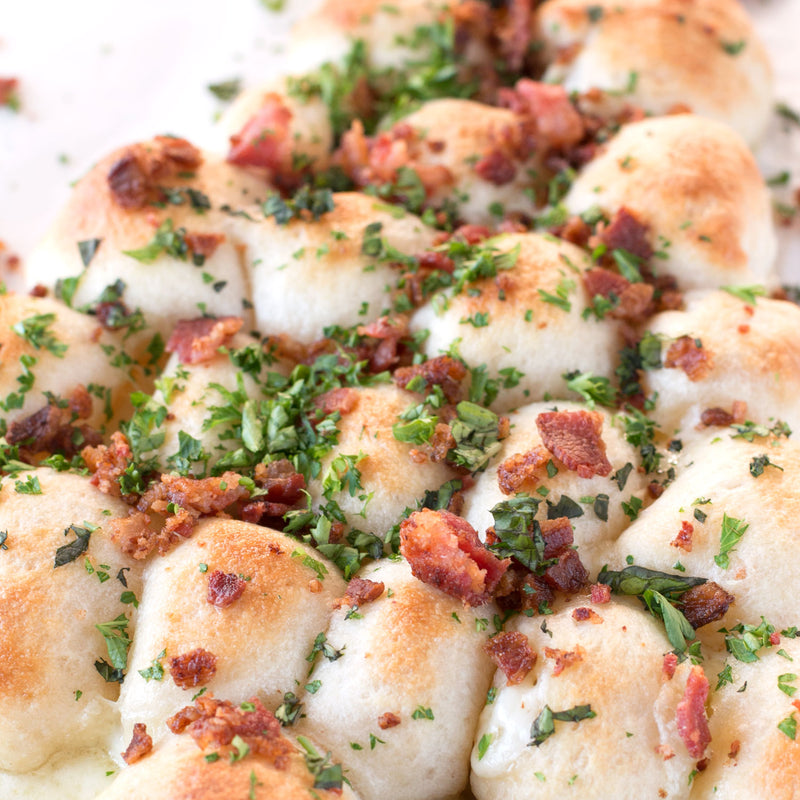 Nothing says Christmas like a Christmas tree, am I right? Even better than a Christmas tree? One made out of bread. Stuffed with cheese. Topped with fresh herbs and delicious, crispy bacon...
This treat of a tree is one of my favorite recipes to bust out around the holidays. It's bright and full of flavor, and being stuffed with gooey cheese in the perfect surprise for everyone attending your holiday meal.
The whole thing comes together in only 20 minutes, so there's no kneading. No waiting for bread to rise. And no sharing if you don't have the heart to... I'm just saying, I wouldn't blame ya if you don't share.
INSTRUCTIONS: Preheat oven to 400 degrees. Slightly roll out pizza dough and cut into 22 squares. Place one cube of cheese in the center of a square of dough. Wrap the dough up and around the cheese, pinching the edges together.
Place seam side down on a parchment paper lined baking sheet. Continue with the remaining cheese and dough, creating a Christmas tree shaped as shown in photos above.
Brush the tops of the dough balls with butter. Bake 15 minutes. Remove from oven and brush again with butter. Sprinkle with fresh herbs and bacon. Serve immediately.
Shop This Post
Pig of the Month BBQ Garden Herb Bacon
*Recipe and photos by Meghan Bassett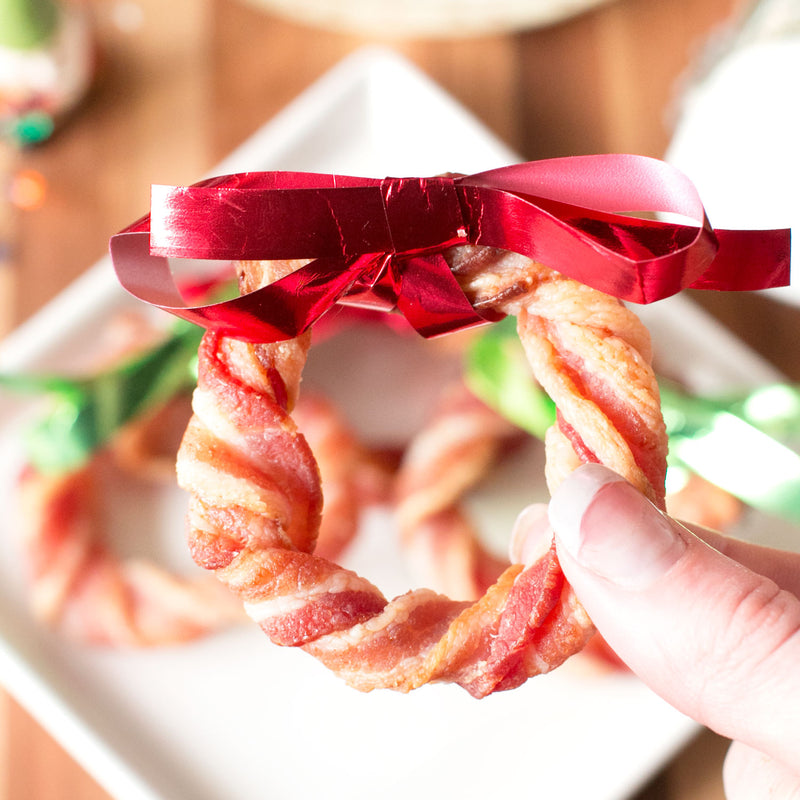 'Tis the season for all things BACON! Right?
I mean, everything's better with bacon, so really Christmas decorations should also be much improved with some crispy slices of delicious tasty bacon. These little bacon wreaths are the most adorable bacon surprise for all of you bacon-loving friends and family. You can hang them up on the tree (assuming you have no dogs of course...) or simply make them for Christmas morning breakfast to get extra festive!
They are super easy to make and everyone will think they are just the cutest darn things they've ever seen!
INSTRUCTIONS: Preheat oven to 425 degrees. Lay two pieces of bacon on a clean work surface, stacking the ends furthest away from you on top of each other.
Twist the bacon slices around each other to create a twisted rope of bacon.
Form the rope of bacon into a circle and attach all four ends of bacon together with a toothpick. Place on a rack on a lined baking sheet. Repeat with remaining bacon slices.
Bake for 15 minutes, until cooked through. Let cool. Once cool enough to handle. remove toothpicks and wrap ribbon around where the ends connect. Make a pretty bow and then give them out as presents to all your bacon-lovin' pals!
Shop This Post
Pig of the Month Applewood Smoked Maple Bacon (or any one of these flavors!)  
*Recipe and photos by Meghan Bassett
1
2
3
Next »