Posts tagged: peanut butter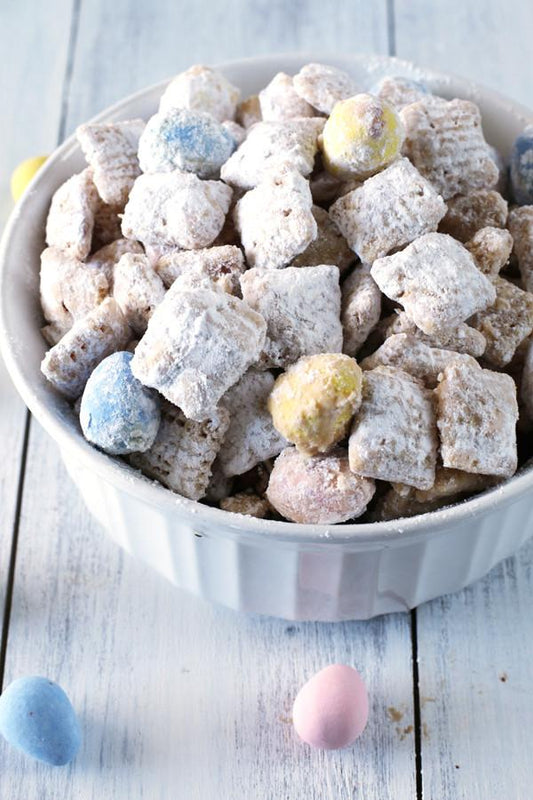 The Easter Bunny is on his way! If you plan to catch him and snag all the candy you can, be sure you are making a batch of this bunny bait. That Easter Bunny can't resist it! This Easter version of puppy chow is super simple to create and is dangerously addictive (you might finish it all before the Easter 
bunnys
 arrival). The combination of chocolate, peanut butter and crunchy cereal is already a draw, but add in the mini Cadbury milk chocolate eggs and you have powdered sugar-covered heaven.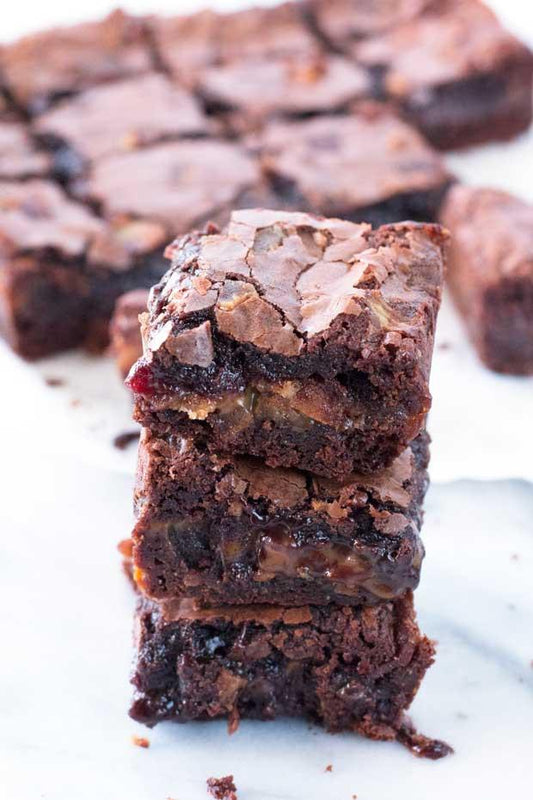 They say that everything is better with bacon and here at Pig of the Month BBQ, y'all know we are inclined to agree with them. ESPECIALLY when it comes to desserts with bacon. That salty, savory taste of bacon goes so perfectly with everything from apples to chocolate, caramel to maple - it's a insane party of flavor that we will stuff our faces with all day, erry day! Now that Thanksgiving is all wrapped up (and we are still a little sad that the leftovers didn't last longer...), it's time to hit that holiday baking and treat making... HARD. We are rounding up all the things that are topping our wishlist to make this holiday season, and a few that we're planning to make for a second (ok more like tenth) time. You really can't argue with a classic like Bacon Bourbon Caramel Stuffed Brownies, you know? So whip out the apron and turn that oven on. It's time to get into that sweater body with alllll the bacon-packed desserts. You can save hitting the gym for your New Year's resolution... ;)
Individual Pumpkin Spice Cakes with Cream Cheese Frosting & Candied Bacon - Sauce + Style
Bacon Bourbon Caramel Stuffed Brownies - Sauce + Style
Cinnamon Bun Bacon Cinnamon Rolls - Sauce + Style
Spicy Bacon Chocolate Chip Cookies - Sauce + Style
Slutty Brownies with Candied Bacon - Sauce + Style
Apple Pie with Bacon Lattice - Babble Chocolate Bacon Cupcakes with Dulce de Leche Frosting - Food Network
Bacon Bomb Pie - Wine & Glue
Bourbon Bacon Brittle - Baking the Goods
Easy Sticky Buns with Bacon - Just a Taste Beer & Bacon Pecan Bars - The Beeroness
Chocolate Bacon Bundt Cake - Your Cup of Cake
Chocolate Covered Bacon Bites - Cooking Classy Chocolate Bacon Truffles - Candiquik Blog
Chocolate Covered Pretzels with Maple Smoked Bacon Crumbles - Butterlust Maple Bacon & Chocolate Peanut Butter - Keepin' It Kind
Maple-Bacon Marshmallows - Epicurious Happy baking, piggy fans!