Posts tagged: party recipe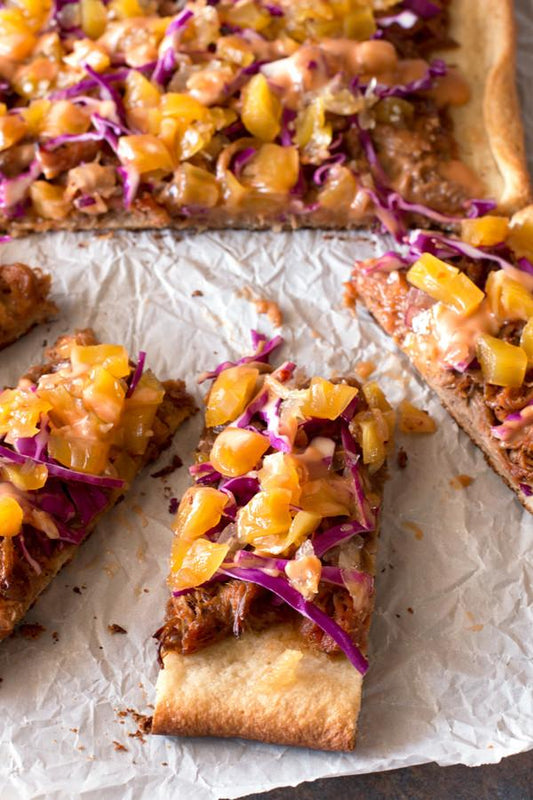 This is officially my new favorite way to devour pulled pork. I'm serious, I can't even begin to convey how much I love this flatbread. All of the layers of flavors on top of a perfectly crisp flatbread makes this dish a must have for anyone who loves pulled pork.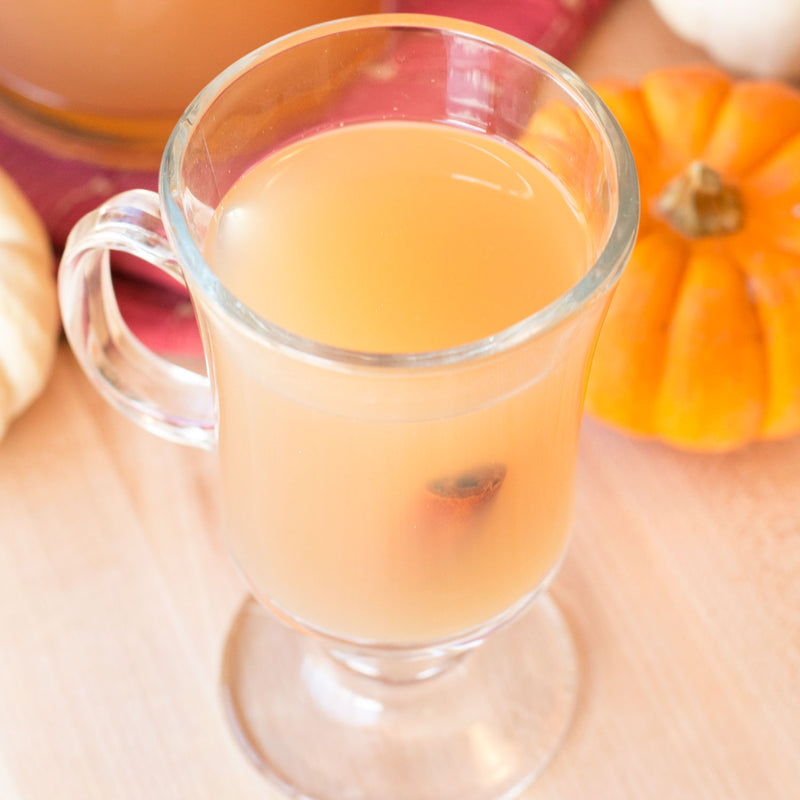 Who's thirsty?! Instead of hitting the wine this Wine Wednesday, I'm breaking out my slow cooker for some serious boozy deliciousness...
Nothing says fall and winter quite like a warm mug full of mulled apple cider. Cuddling up in a warm blanket, next to a wood burning fire, with some Netflix binging lined up for the remainder of the evening is how I like to take it easy.
This recipe is great to make and keep on hand in your refrigerator for the week so you can enjoy it each night, but it also works great as a holiday cocktail for your next party! Serve it up in some mugs with cinnamon sticks and everyone will go absolutely nuts over this stuff. It's highly addictive because it's so dang comforting. No matter how cold it gets outside, a glass of this cider will always warm ya right back up in moments.
The ingredients are super simple and the effort is basically NOTHING. Just dump it all in and let it simmer for the day. When you're ready to serve, stir in the vodka! We wouldn't want any of that booze burning off in the cooking process, now would we? ;)
I know what I am going to be whipping up all weekend long... And now you do too!
[vimeo 187844299 w=640 h=360]
Boozy Crockpot Apple Cider from Pig of the Month BBQ on Vimeo.
INSTRUCTIONS: Serves 12 Add apple cider, cinnamon sticks orange zest, cloves, star anise and allspice berries to the insert of a crockpot. Cook on low heat for 6 to 7 hours. When ready to serve, add vodka and stir to combine. Remove cinnamon sticks and spices with a fine mesh sieve. Serve immediately. If you are preparing this for a party, keep the slow cooker on it's lowest heat setting throughout the evening. Serve with cinnamon sticks for an added touch of deliciousness, and class.
*Recipe, photos and video by Meghan Bassett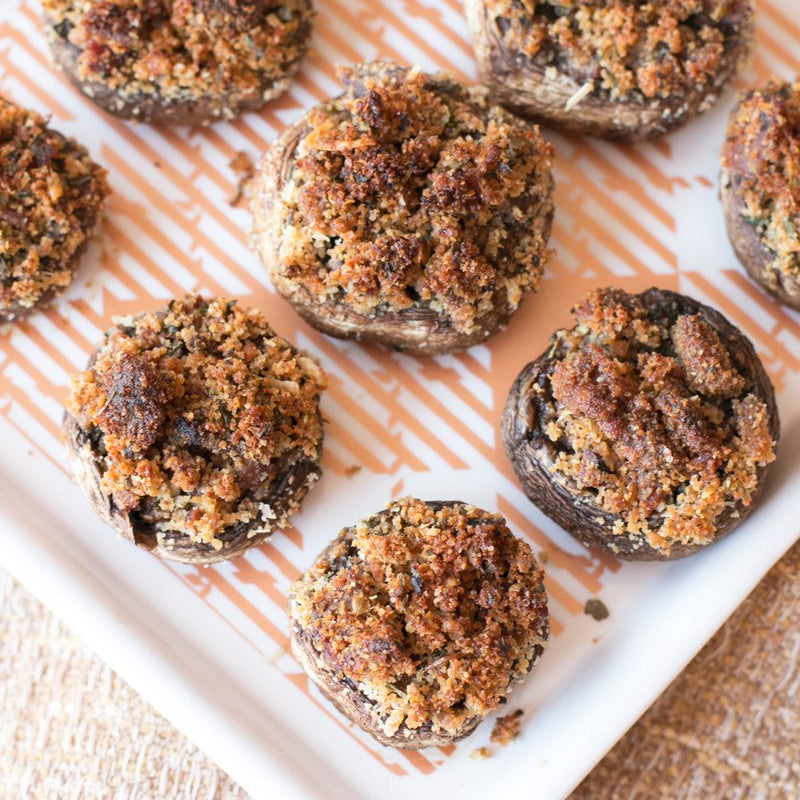 We are in prime holiday season and I don't know about you, but I need a ton of appetizer recipes on hand to get through to the end of the year.
From Thanksgiving to Christmas, Friendsgiving to New Year's Eve, there are about five million parties that are screaming for the perfect appetizer to stuff your face with. These little stuffed mushrooms are so easy to make and they are awesome for taking over to a party that you are attending. They are not too heavy so they won't spoil your appetite, but you might have trouble stopping at just one or too.
The earthy mushroom, the savory bacon and all the herbs blend together to make a delicious bite of crispy-topped perfection.
[vimeo 191819578 w=640 h=360]
Cheesy Bacon-Stuffed Mushrooms from Pig of the Month BBQ on Vimeo.
INSTRUCTIONS: Preheat oven to 400 degrees. In a medium bowl, stir together bread crumbs, cheese, garlic, bacon, oregano, parsley, pepper, salt and 2 Tbsp olive oil. Set aside. Drizzle a baking sheet with 1 1/2 Tbsp olive oil. Add 1 to 1 1/2 tsp of filling to each mushroom and place in an even layer on the baking sheet. Bake for 25 minutes, or until golden brown. Serve.
Shop This Post
Pig of the Month BBQ Applewood Smoked Maple Bacon
*Recipe, photos and video by Meghan Bassett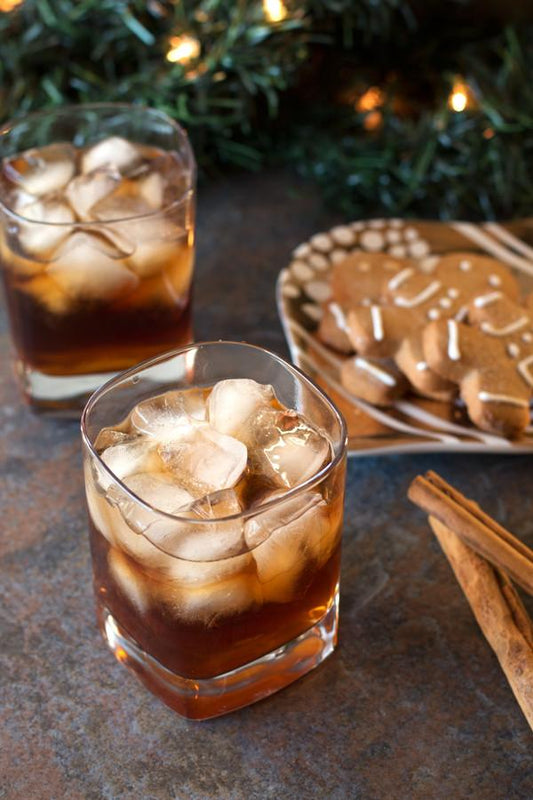 The holidays are all about making things merry and bright for everyone and anyone in your world, aren't they? It could be a little token of affection, a box of freshly baked cookies, or turning your next holiday cocktail hour/party into a true celebration with the best holiday cocktails. We know how important it is to bring extra cheer to the season, and we really know how important it is to have the perfect cocktail on hand. We're rounding up these 11 Cocktail Recipes to Make Your Christmas Merry & Bright to make sure you can celebrate in style all season long! From egg nog to cider, sangria to carefully handcrafted cocktails, this round up has everything you are looking for (and more!). Break out the bar cart, get those fancy cocktail glasses down from the shelves and let's toast to the merriest season of all!
Gingerbread Spice Cocktail - Sauce + Style
Cranberry Sangria - Sauce + Style
Boozy White Hot Chocolate - Sauce + Style
Candy Cane Cocktail - Mix That Drink
Sugar Cookie Martini - Crazy for Crust
Apple Pie on the Rocks - Gal on a Mission
Cranberry Apple Old Fashioned - Lipgloss and Crayons
Bourbon Eggnog - The Kitchen
Hot Cider Nog - Swanky Recipes
Winter WonderJam Whiskey Smash - She Eats
Candy Cane Shooters - Hairspray and Higheels Cheers to a very merry holiday season, piggy peeps!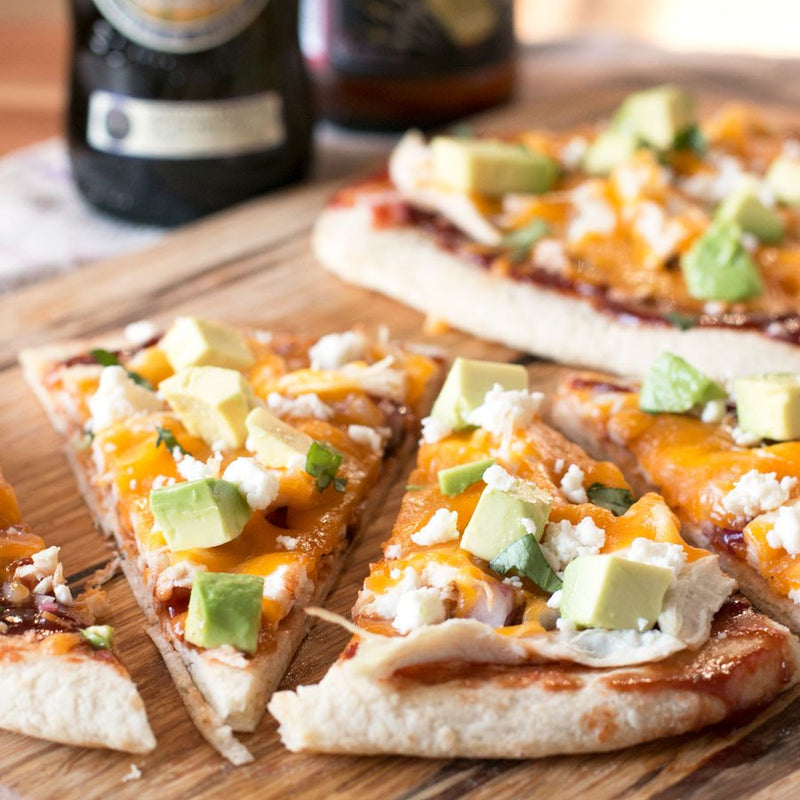 Welcome to 2017 piggy peeps! I don't know about you but I am not ready to get back into the swing of things to kick off the New Year. It feels like there are 5 million to-do's on my list and I am barely making a dent in them a few days into the new year... One thing that's falling off my radar? Dinner. I am struggling with pumping out tasty meals without spending wayyyyy too much time on them. Since I have too much to do at work, I am starting to rely on meals of popcorn and soda - NOT how I wanted to start the year.
Instead, I'm pulling out my Pig of the Month BBQ Shredded Chicken and I'm making something more than just a sandwich with it. These flatbreads are one of the easiest meals EVER and there's no one that can resist them, I don't care how picky of an eater they are. The fluffy naan with BBQ sauce, chicken and avocado is the best base for any pizza. Throw in the bite of some red onion and salty cheese and holy wow, this pizza is one the entire family will be begging you to make on a regular basis. Not to mention it's pretty dang healthy in terms of pizza, so you can feel ok about sticking to those New Year resolutions ;)
INSTRUCTIONS: Place naan on a lined baking sheet.
Spread each with half of the BBQ sauce.
Top with chicken, red onion and cheese.
Place under broiler set to high for approximately 2 to 3 minutes, or until the cheese melts.
Remove from oven, top with avocado, cilantro and a sprinkle of queso fresco. Serve.
Shop This Post
Pig of the Month BBQ Shredded Chicken
Pig of the Month BBQ Love Me Tender Sauce
*Recipe and photos by Meghan Bassett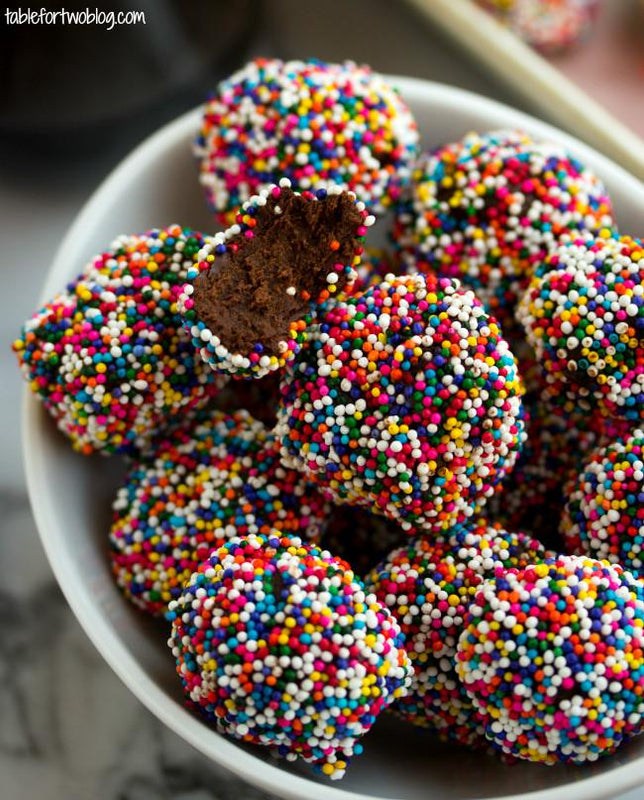 Now that the Christmas season is officially over, it's time to focus on all that New Year, New Me stuff. While other peeps are thinking about diets and how they can improve themselves in the coming year, we've got our eyes on the REAL prize... How to ring in the new year like a freakin' BOSS. There's no sense in making big plans for the new year if you are properly celebrating it's arrival, right? For us, it's all about DECADENCE. All the food, drink and more food that we want to double-down on before we feel the need to cleanse the holiday weight gain in January (you know, that diet that generally only lasts one week?). Check out our ultimate list of indulgent recipes from drinks to apps to desserts and even a burger made with beer cheese sauce and whiskey... Because why the F not? You can only say goodbye to 2016 once, so let's send that year out the right way.
Gingerbread Spice Cocktail - Sauce + Style
Cheesy Bacon-Stuffed Mushrooms - Sauce + Style Ultimate Hot Chocolate Bar - Sauce + Style
The Perfect Antipasti Platter - Sauce + Style
Peach and Vanilla Champagne Jello Shots - That's So Michelle
Sugar Cone Party Horns - Hungry Happenings
Glitter Champagne Bottles - Camp Makery
Double-Stuffed Oreo Jello Shots - A Beautiful Mess
Jameson Whiskey Blue Cheeseburger with Guinness Cheese Sauce + Crispy Onions - Half Baked Harvest
Chipotle Beer Shrimp Quesadillas with Spicy Guac - How Sweet It Is
One-Pan Baked Champagne Cream Sauce Fettucine with Truffle Oil - Half Baked Harvest
Crispy Beer Chicken with a Creamy Beer Mushroom Gravy - Cafe Delites
Drunken Cherry Galettes - The Brewer and the Baker
Boozy Truffles - Table for Two
Boozy Gummy Bear Cupcakes - Sweet Tooth Happy New Year, piggy peeps! We'll catch y'all on the flip side.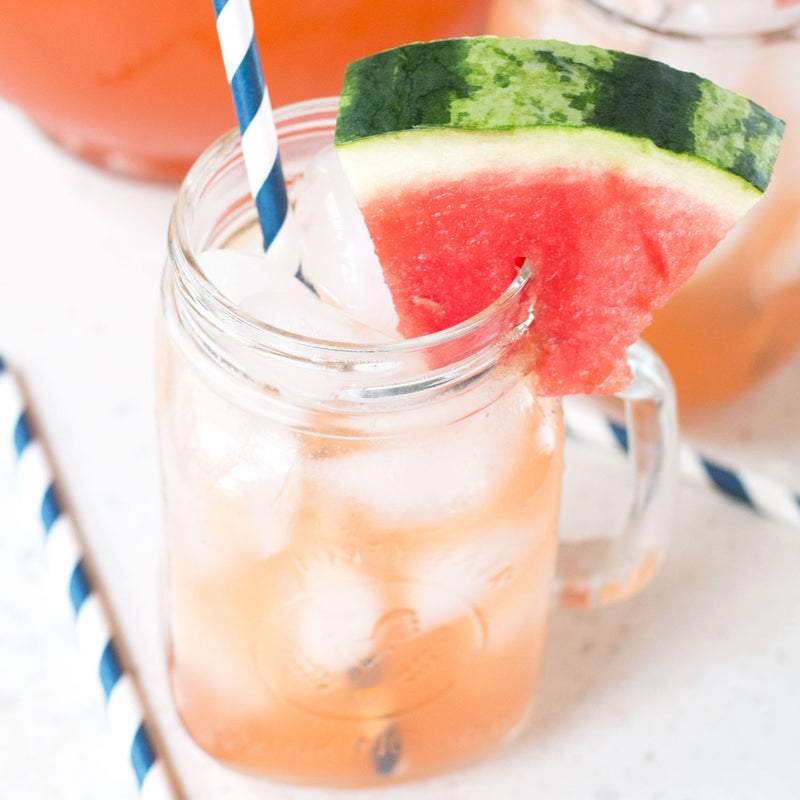 How is it already the end of August?! Before we know it the summer will be over and we'll be sipping pumpkin spice lattes while we tailgate for our fav football team. So how am I getting the most out of these final days of summer? Three words. Sparkling Watermelon Punch.
Watermelon is my favorite fruit to gorge on during the summer. It's refreshing and light so you can eat an entire watermelon and not feel like a total whale afterwards. Not that I've ever tried to do that or anything... So it's only natural to put all that fresh watermelon to good use - in a cocktail. This big batch punch is perfect for your next summer BBQ. It's light and bubbly, which is exactly what you want to be sipping on while you are grilling up all those meats. It's just a little tart and not too sweet, so even the dudes at the party won't feel too girly sipping on it too.
The best part? It's only 4 ingredients and it comes together in less than 2 minutes. Forget spending all that time fussing over complicated recipes! You need to be out on the patio, sipping this punch and soaking up what's left of the summer sun. Go ahead and pin this bad boy now because you know you're gonna want to bust this out all weekend long when Labor Day rolls around next week! Speaking of Labor Day, keep an eye out on the blog, because we're rounding up our favorite Sauce + Style recipes to keep your celebrations going all weekend long, Pig of the Month BBQ style.
[vimeo 180181266 w=640 h=360]
Sparkling Watermelon Punch from Pig of the Month BBQ on Vimeo.
INSTRUCTIONS: In a pitcher filled halfway with ice, combine, watermelon juice, pineapple juice, prosecco and cognac. Stir to combine. Serve in mason jar glasses and garnish with a wedge of watermelon.
*Recipe, photos and video by Meghan Bassett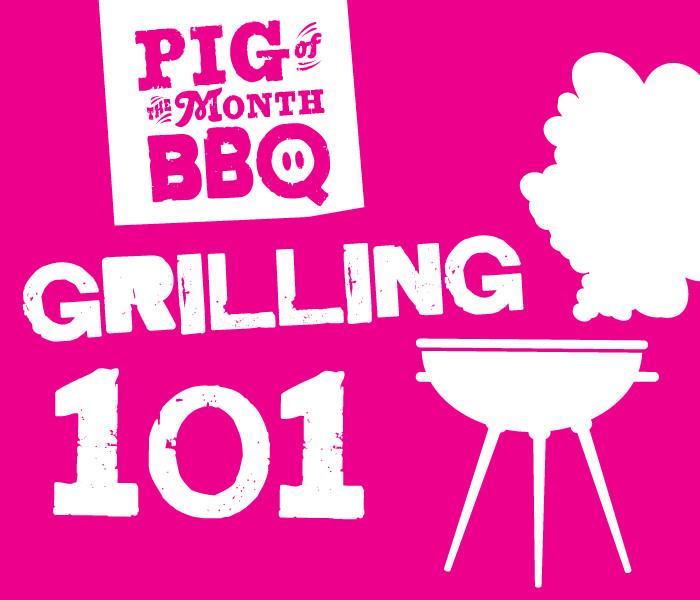 If you're anything like us, you're already busting out the charcoal and grilling ALL the things. Whether you are grilling up ribs, veggies or a whole lot of burgers and hot dogs, there's nothing better than the smell of burning coals and smoke. We get all sorts of grilling questions every year, from gas or charcoal preference to how to clean the grill. So this year we're going to be covering a ton of grilling recipes, techniques and tips and tricks throughout the summer! To kick things off, we've rounded up our most-asked grilling questions. Before you fire up those grills again, get to know your stuff!
What's better gas or charcoal? This is the ultimate grill question we get! There are a few factors that come into play to help you decide. First, price. Gas is more complicated and will cost more because of all the moving pieces inside the grill. Charcoal is a simpler grill so it will always be substantially cheaper. Second deciding factor? Taste. Gas burns clean so you'll get the char marks, but you won't get any special flavor in your food like using charcoal will get ya. Of course, gas grills will get to temperature faster and charcoal grills tend to take a long time to get hot. Gas grills are also a lot easier to clean up since charcoal grill cleaning can send ashes scattering all over the place. That's a lot of back and forth, you guys. Yea, we know. If you want our honest opinion, charcoal always wins out when it comes down to it. You get better flavor, better heat management and you aren't forking over as much money. When in doubt, go with the coal. Do I need to preheat my grill? YES. You need to preheat your grill whether you are using a gas or charcoal grill. A good rule of thumb is about 15 minutes for high temperatures (i.e. for searing) or 10 minutes for lower temperatures (i.e. for fish and such). Getting that preheat done before you start grilling the food will also help remove some of the residue left on the grill from past cooking.
How do I season my new grill? Oooohhhh look at you with your new killer grill! You are probably itching to get to grilling, but you have to season that baby first. No one wants the new grill residue on their food, trust us. Start with a cold grill and rub all the cooking surfaces down with canola oil. Wipe off any excess oil with a paper towel and light the grill. Let the grill heat up for about 15 minutes, or until the oil starts burning off and smoking. At this point the shiny finish that came with the grill should be turning dark brown or bronze. Turn off the grill and once coal, add a light coat of oil. To keep your grill in tip top shape, repeat this last light oil application step after each time you grill. Why you should never ever use lighter fluid...ever It's all about the taste and smell. If you use lighter fluid, you're going to get all those chemicals on your food. It's really pointless to use lighter fluid when you can use a chimney starter so easily. Plus no one wants to smell like lighter fluid all day. Yuck.
How do I deal with flare-ups? First, get that food off the grill so it doesn't get charred to oblivion. Then cover it up and wait it out. Flare ups survive off of the oxygen in the air so if you can smother it with the lid of the grill, do that. No matter what you do, DON'T squirt a water bottle on a flare up. It will get an ashy mess everywhere and it doesn't actually subdue the flare. Be sure to keep an extinguisher nearby though… Just in case.   Keep checking the blog for new Grilling 101 features throughout the summer. Your grill master status depends on it.  
Don't forget to check out our featured grilled recipes!
Grilled Chili Rubbed Flank Steak
Lemon Pepper Bacon Wrapped Shrimp Skewers
Recipes & recipes photos by Meghan Bassett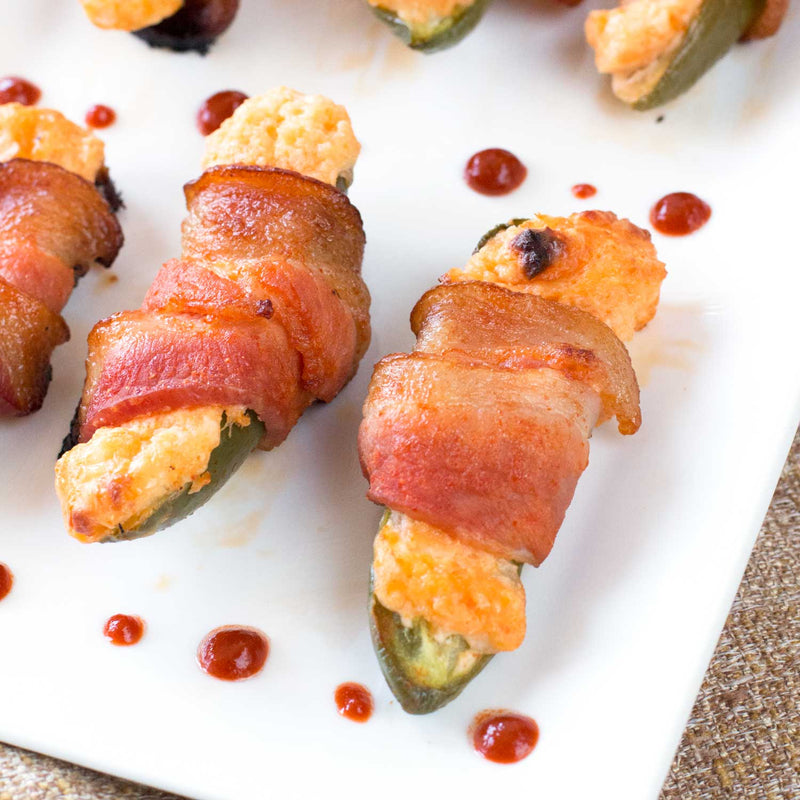 Sriracha Bacon Wrapped Stuffed Jalapeños really bring the heat! This spicy, crispy and creamy appetizer will win over everyone at your next party. 
Wrapping things in bacon is kind of a specialty of mine. If anything just isn't quite working for me in the kitchen, I usually head straight for the extra pound of bacon I always have sitting in my refrigerator. You know, just in case there's a bacon-related emergency - which surprisingly happens on a weekly basis for me. You'd be surprised by just how many things can be wrapped in bacon! Potatoes, rolls, scallops, shrimp, meatloaf, yea this list could go on forever. Today I'm bringing you one of my new favorite bacon-wrapped recipes that'll light a fire on your tongue and in your belly.
Sriracha Bacon Wrapped Stuffed Jalapeños are the best combo of crispy, creamy, spicy and extra cheesy. The Sriracha bacon and added Sriracha in the filling make these little guys just the right amount of wicked. You'll feel the heat but you won't be burning your taste buds off with each bite. Pro tip: try slicing a sausage or brat in half and stuffing it with one of these stuffed jalapeños. Next level amazingness right there, I'm just saying.
INSTRUCTIONS: Preheat oven to 400 degrees. Grease a baking dish and set aside.
In a medium bowl, beat together cream cheese, cheddar cheese, Monterrey Jack cheese, garlic, Sriracha and salt with an electric mixer until smooth and well-combined.
Add the halved jalapeños to the baking dish and fill each one evenly with the spicy cream cheese filling.
Wrap each stuffed jalapeño half with half a slice of Sriracha bacon, securing with a toothpick. Bake for 25 minutes, or until the bacon is as crispy as desired. Serve immediately.
Shop This Post:
Pig of the Month Sriracha Bacon  
Recipe & Photos by Meghan Bassett
If you are planning on celebrating St. Patrick's Day in any way this year, do it with these Ultimate Loaded Irish Skillet Nachos made with Pig of the Month BBQ Corned Beef. Forget the corned beef and cabbage (no one really likes cabbage as a side, do they?), these nachos are the best way to honor the land of the leprechauns! Regardless of when St. Patrick's Day falls during the week, you'll always find me celebrating with some corned beef and Guinness. Perhaps it's an homage to my Irish heritage, or perhaps it's just that I'll take any excuse to celebrate life with beer and some seriously delicious meat.
No matter why or how you celebrate this year, you owe it to yourself to include these Ultimate Loaded Irish Skillet Nachos. They are loaded up with thick-cut potato slices, a heaping helping of corned beef, cheese, avocado, sour cream and pickled jalapeños. It's the tastiest St. Patrick's Day recipe you'll come across, just trust us on this one.
And while you're digging in, remember to read what to eat before and after drinking so you can save yourself from a hangover tomorrow (bonus: this recipe covers those for you... Just saying - miracle recipe).
INSTRUCTIONS: Preheat oven to 400 degrees. Grease a baking sheet with cooking spray and set aside. In a large bowl, toss the sliced potatoes with olive oil, salt and pepper to coat. Place the potato slices on the greased baking sheet in one even layer. Bake for 15 minutes, flip the slices over and bake for another 15 minutes.
To assemble the nachos, add the potato slices to the bottom of a large cast iron skillet or other ovenproof skillet. Add the corned beef on top, followed by the pepper jack cheese and cheddar cheese. Place under the broiler set to high for 1 to 2 minutes, or until the cheese has melted.
Top with mashed avocado, pickled jalapeños, cherry tomatoes, cilantro, green onion and sour cream. Serve immediately.
Recipe & Photos by Meghan Bassett
1
2
Next »